I'll take a loaf of keto banana bread, hold the bananas, please. 
---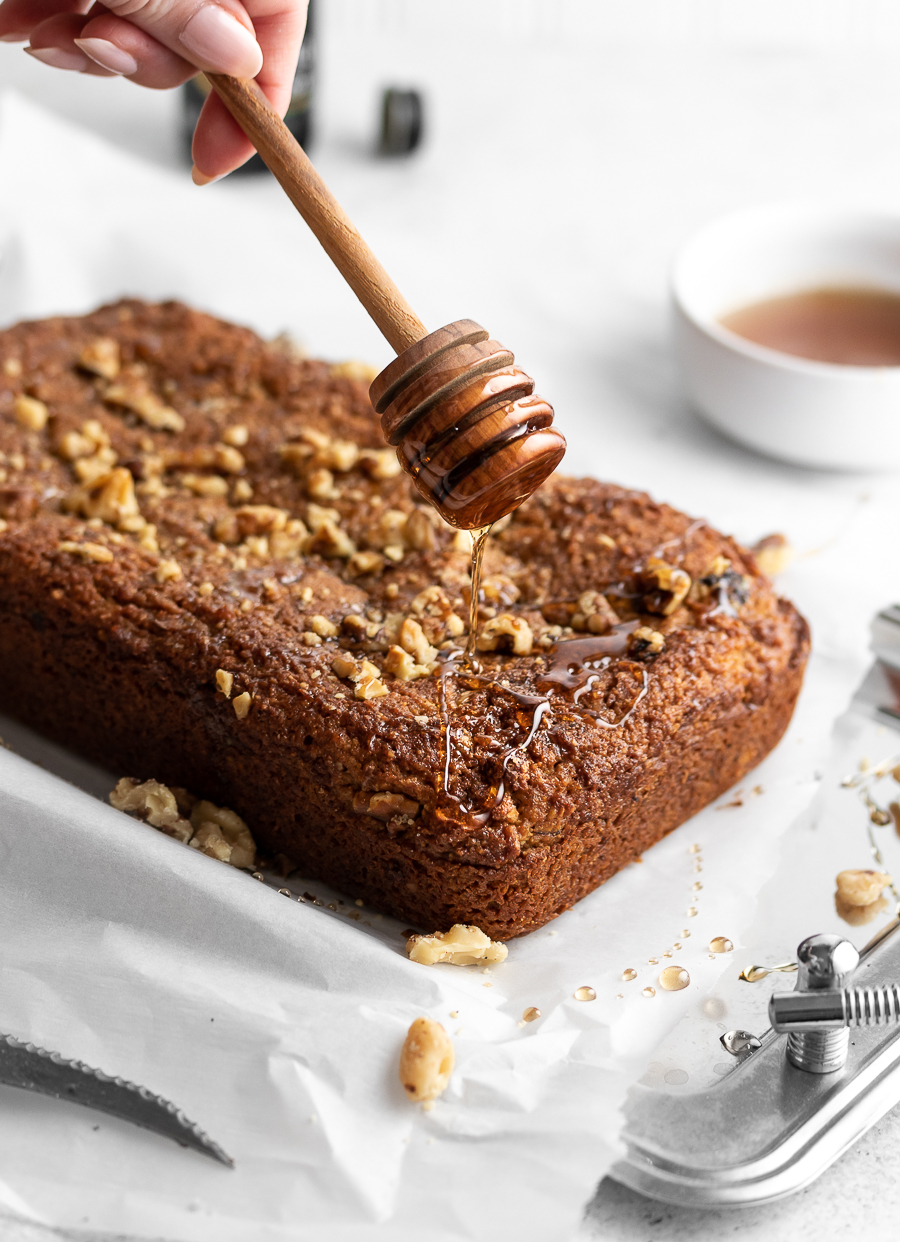 This Keto Bread Is B.A.N.A.N.A.S
Without any actual bananas! WHY? HOW? 
Welp, this is a low-carb blog and bananas are sorta carby. *Shrug* Not to say they aren't full of nutrients or anything. There are just other ways to get potassium, fiber, and Vitamin C (Oh hey hi cauliflower) that don't cause an enormous insulin response.
Relax, I didn't put cauliflower in the banana bread.
The HOW is a little bottled banana and some flax magic ✨ to give you the color and texture of banana bread. Choosing a great banana extract is paramount in your keto banana bread flavor.
Use really good extract and you'll have really good banana bread.
Keto Breads and Rising
Will it rise? No.
Will it taste good? Abso-frickin-lutely
This banana bread was double-blind taste tested by three very reliable participants, not including myself, and what we discovered might shock you. The rise of the loaf didn't matter in comparison to the flavor of the loaf!
Short answer—the loaf that was prettier (more traditional) was not as tasty.
That's why this loaf might seem a little short and flat in comparison to traditional loaves. But even with those differences, I truly believe it actually tastes BETTER than normal banana bread. Seriously!
Baking Tips for Keto Gluten-Free Banana Bread
To get the best results with this loaf (or any baked goodie) keep these pretty standard tips in mind.
Fresh Baking Powder/Soda:
Check the leavening power of your baking powder/soda! Add 1 tsp of baking powder to 1/2 cup of hot water. If it doesn't bubble right away, toss it. To test baking soda, mix 1/4 teaspoon with 2 tsp vinegar. If it doesn't bubble, it's lost its leavening power.
Pan Size Matters
A 9×5 loaf pan (most common) is going to yield a short loaf whereas an 8×4 loaf pan will give it more height. Both will taste good, but I prefer the smaller pan for shape and serving size. 
Tent Your Loaf
This is true with a lot of gf/keto baked goods. Tent the pan with foil (cover it) to protect the top from over-browning while the center continues to cook. If you don't tent the pan the edges and top may burn while the center remains underbaked. *If you feel you covered the pan too soon and want to brown the top, remove the foil and bake for a few minutes and it will brown.
Don't Overdo Leaving
Sure, it seems like a ton of baking powder and eggs, and whatever else will make your product rise sky-high, but the higher it rises, the more it can fall (deflate). The volume of batter vs the size of the pan is what gives you height. Measure the baking powder and baking soda carefully to avoid over-rising and subsequent deflation of baked goodies.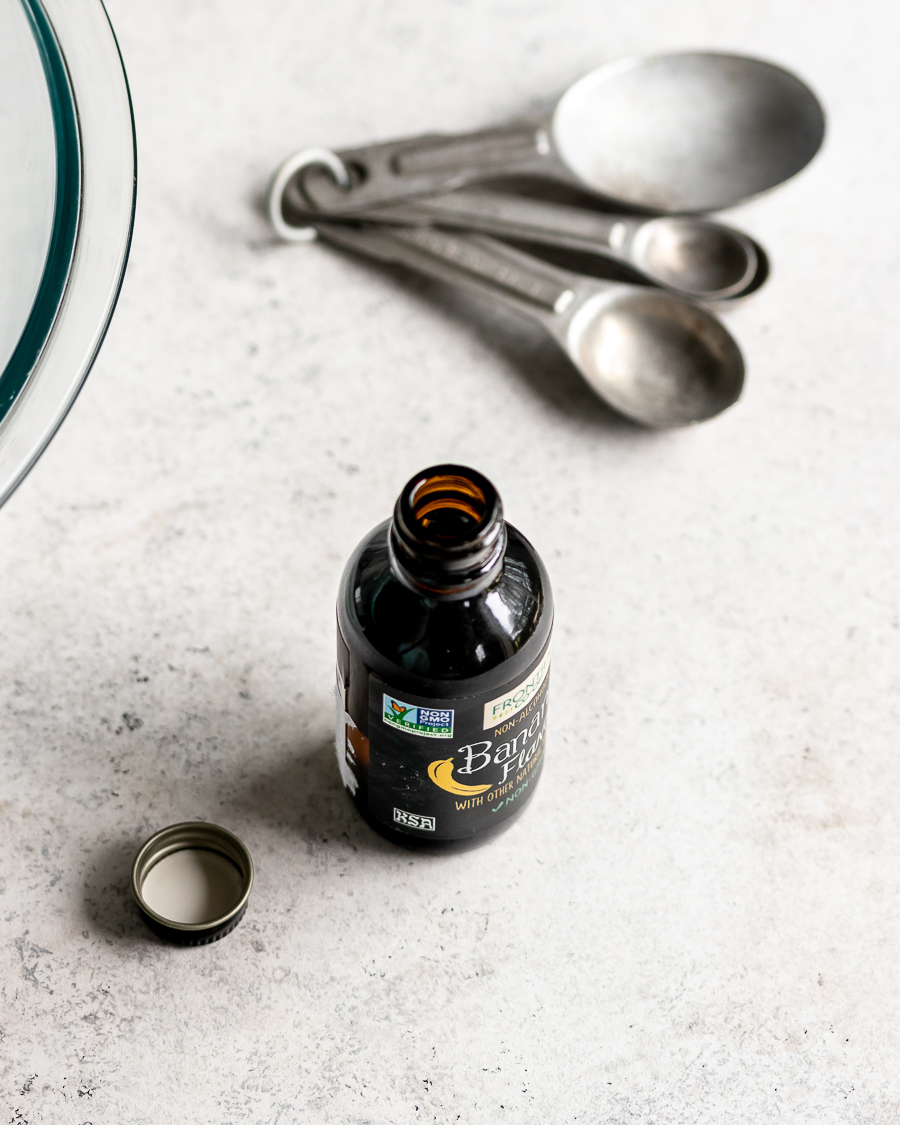 Like I said in the overly wordy above section, buy the good banana extract and save yourself the hassle. I have personally used this brand of extract and spices for years. It's legit.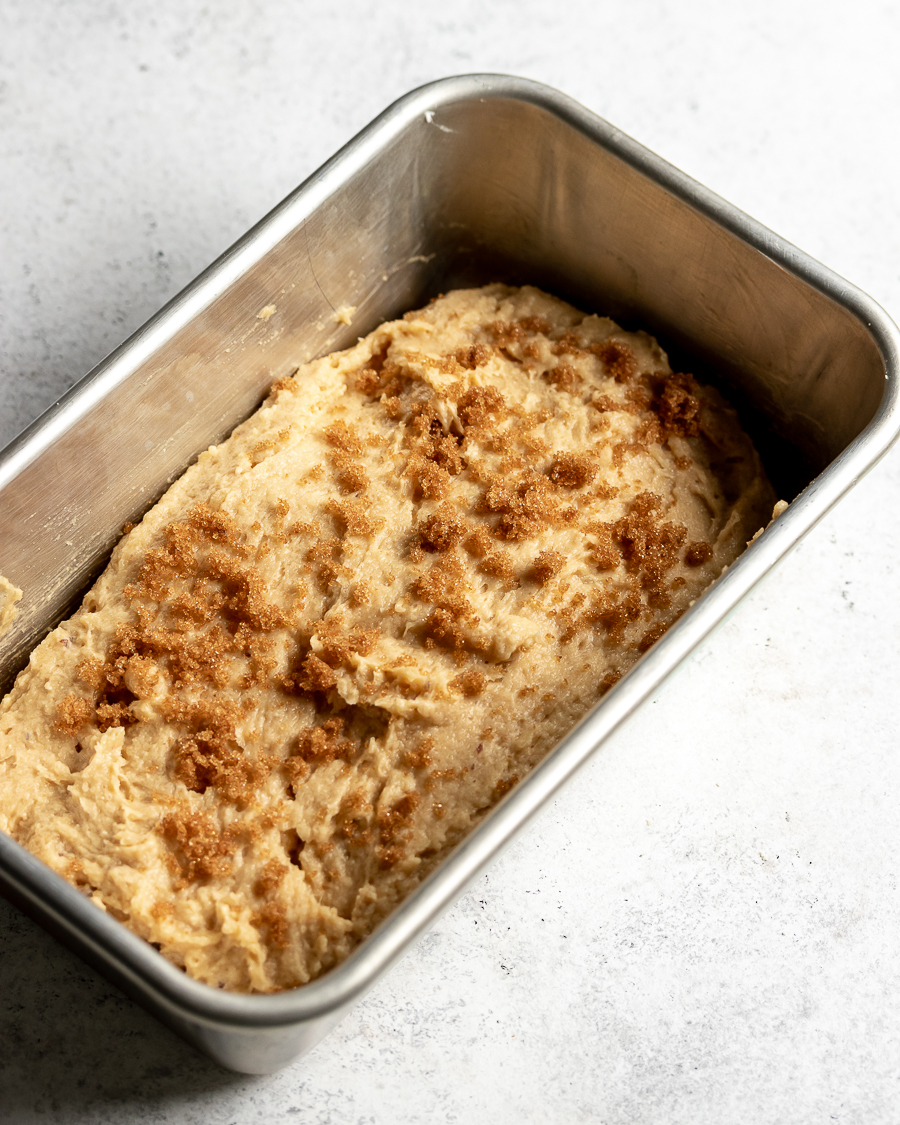 Topping Your Loaf
You can top it with nuts or you can be like me and top it with Swerve Brown. Both ways are great! The end.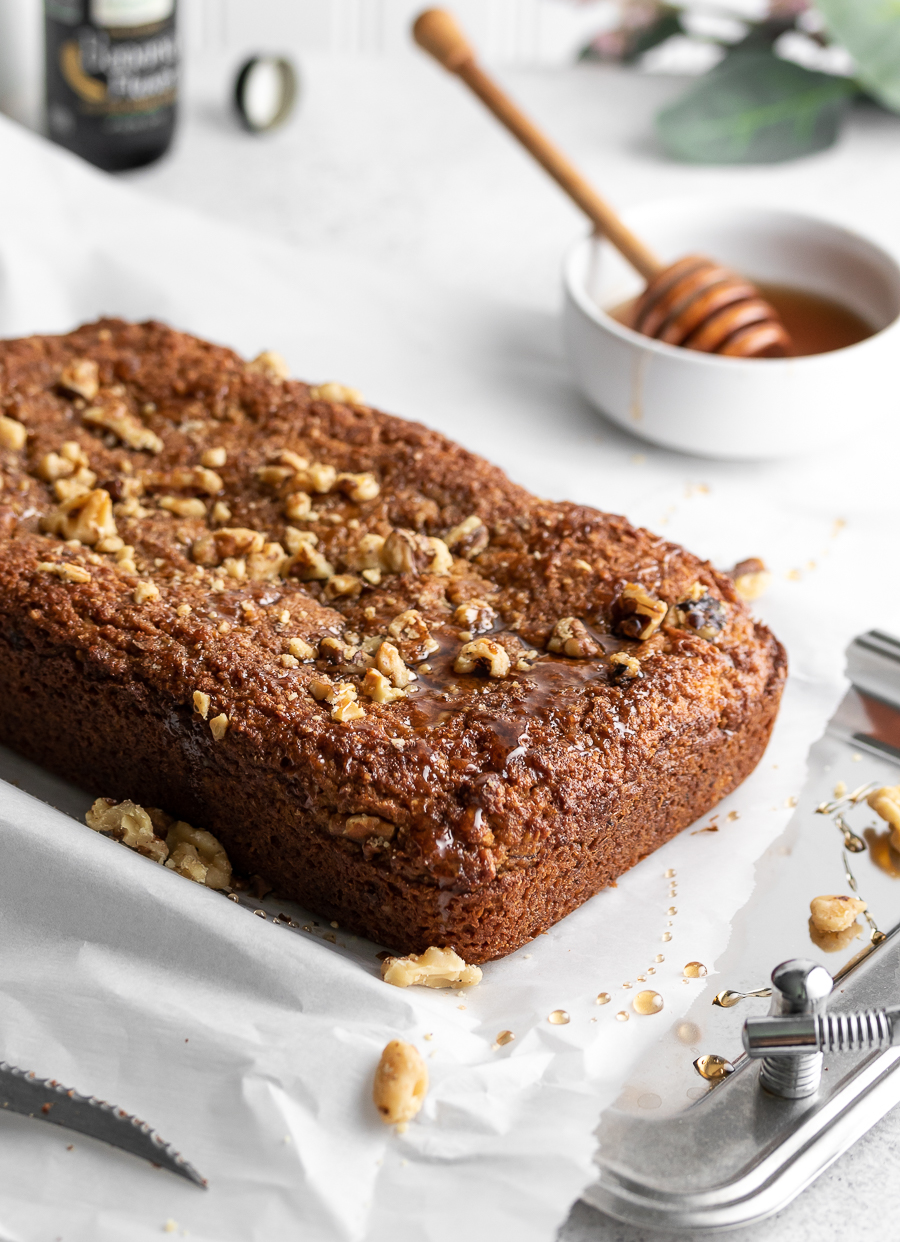 You may notice that my loaf of banana bread is short in these photos! I photographed the batch that I baked in the larger loaf pan, which made it look very short. I've made this bread in a smaller pan as well, and both turn out great, just different levels of thickness.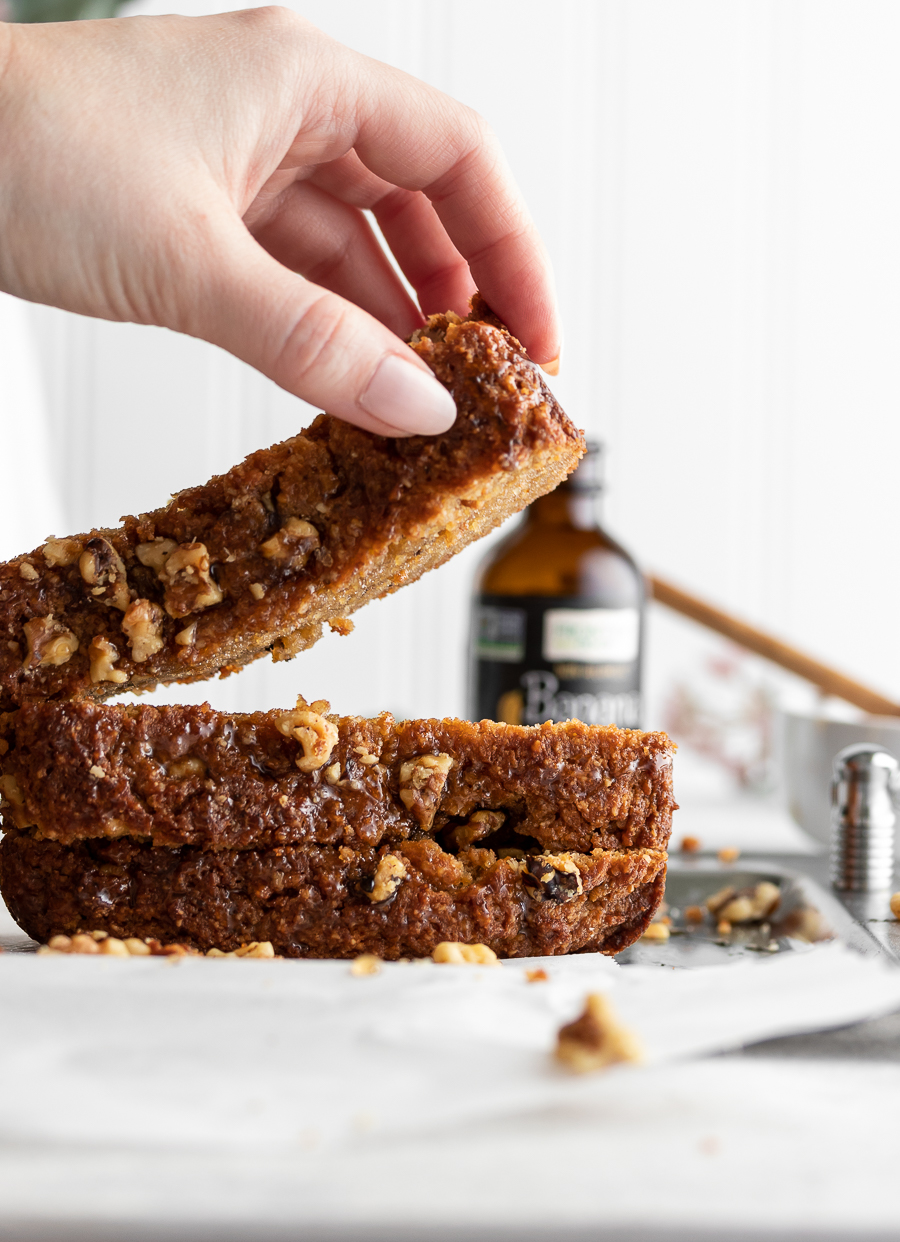 See that gorgeous golden goodness on top? That's Choczero Maple Syrup because, why not?!?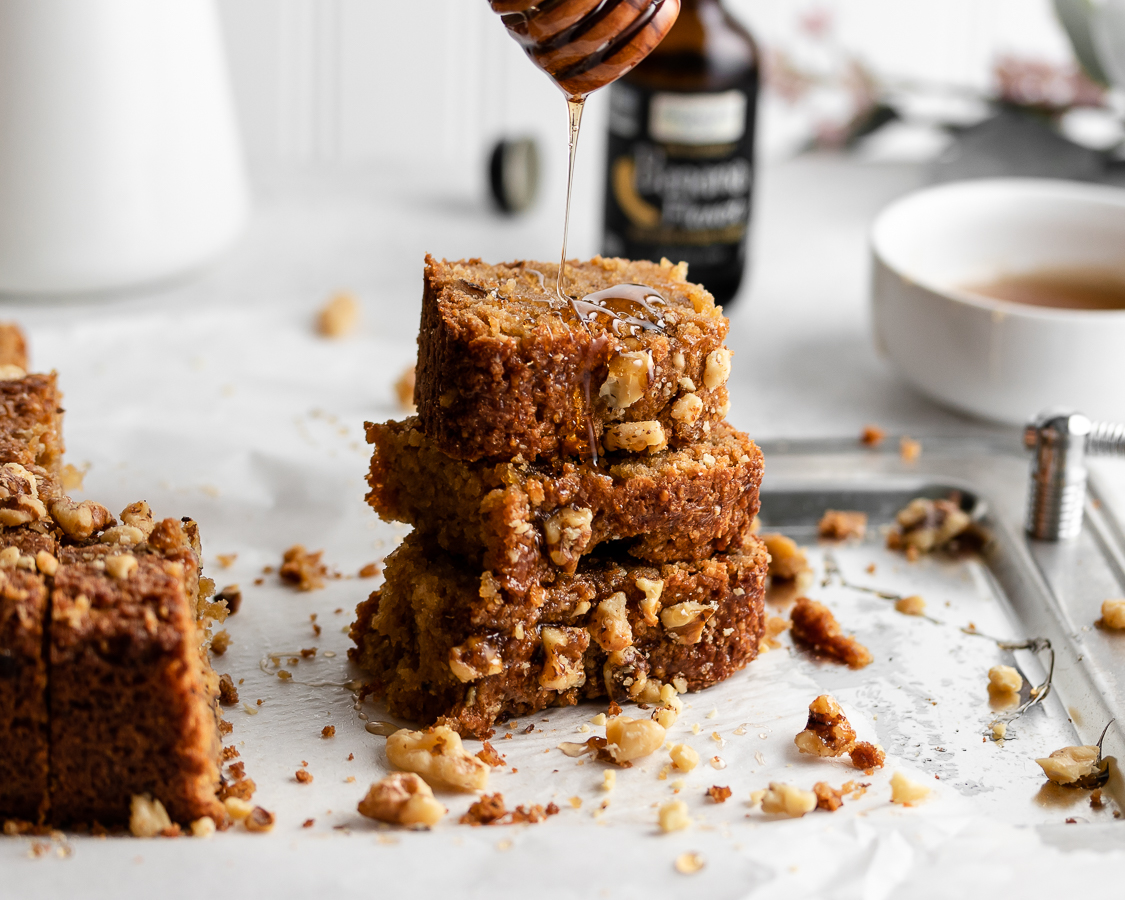 This post contains Amazon Affiliate links and any purchases made through those links offer me a small commission.
Looking for more keto treats? Try These!
Keto Banana Nut Bread with Zero Bananas
Total Time:
1 hour
15 minutes
No bananas? No problem! This is 2023 and we make banana bread with less carbs, more fiber, and superior flavor!
Ingredients
Wet Ingredients
3 Eggs, room temp
1/2 cup Butter, softened but not melted
1/4 cup Greek Yogurt
1 tsp Vanilla Extract
Dry Ingredients
1 tsp Baking Powder
1/2 tsp Baking Soda
1 tsp Salt
1/4 cup Chopped Walnuts
Instructions
You can make this in a food processor OR with a hand mixer! I prefer the food processor/blender version because it's quick!
Heat oven to 350 degrees and coat a small loaf pan with non-stick spray. An 8x4 pan works best.
Whisk together the dry ingredients and set aside, or add everything to a food processor! *It is very helpful to re-grind your flaxseed for the best texture, even if you don't do the food processor method.
Add the wet ingredients to the food processor and blend, then skip to step FIVE. OR if making by hand, in a large mixing bowl, use a hand mixer beat the egg and greek yogurt until smooth. Add the extracts and butter and continue to beat until incorporated.
Add half of the dry ingredients to the wet and mix well. You can use a hand mixer or a large spatula. Add the rest of the dry ingredients and give it another good stir. The batter will be very thick.
Fold in the optional nuts, then scoop the batter into the prepared loaf pan and leave the top slightly rounded.
Bake at 350 for 20 minutes (checking at 15 for browning), then cover with foil to prevent over-browning. Continue to bake for about 30-40 minutes*.
Let cool completely before slicing!
Notes
*Baking times can vary dramatically so watch your bread closely!
To prevent the bread from sinking too much or the slices from falling apart, make sure you let the loaf cool completely before digging in.
Recommended Products
As an Amazon Associate and member of other affiliate programs, I earn from qualifying purchases.
Nutrition Information
Amount Per Serving
Calories

295
Total Fat

27g
Carbohydrates

8g
Fiber

4g
Sugar

1g
Protein

9g