These keto breakfast tacos are made with mini keto tortilla shells for the perfect egg/avocado/salsa breakfast experience!
---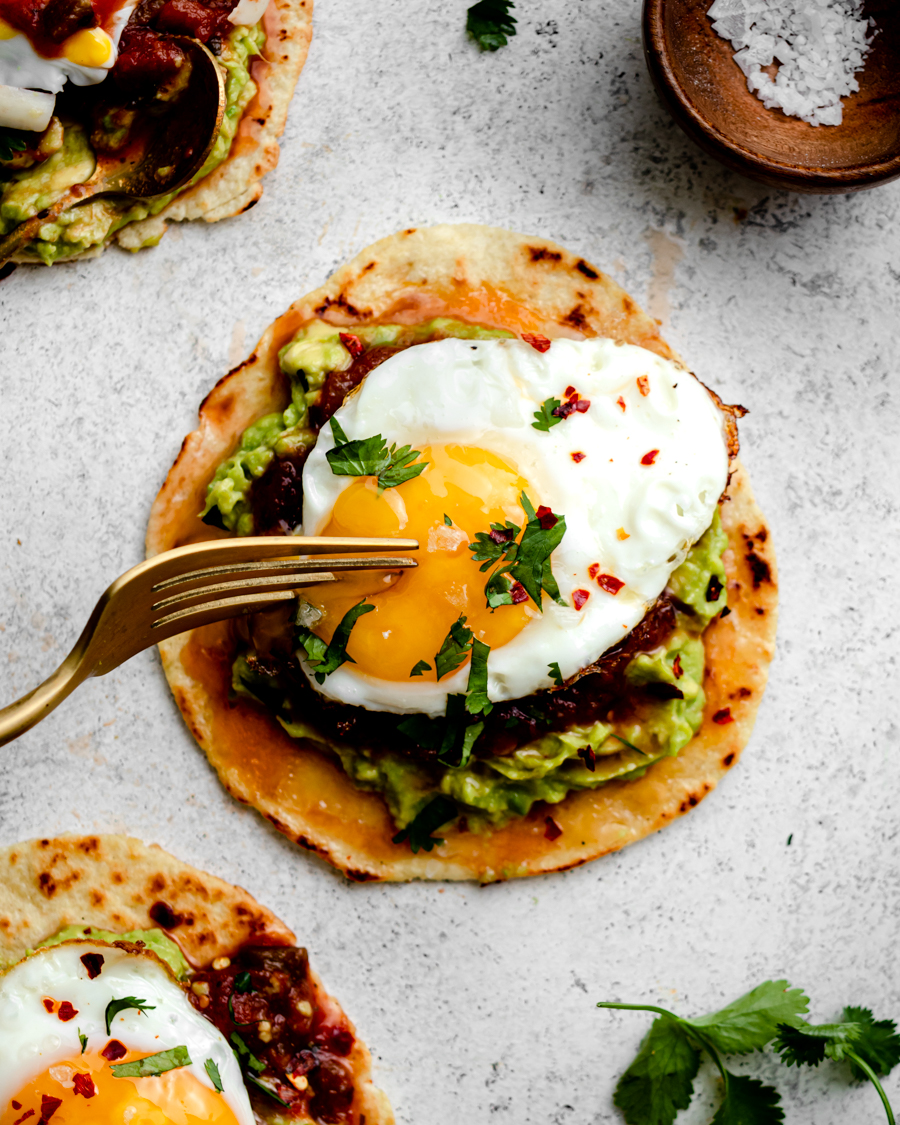 Like Avocado Toast, but make it keto tacos
Because breakfast is always better when there are keto tortillas involved.
I never really hopped on the avocado toast train because I couldn't really see the appeal. Avocados are great, but what was toast bringing to the breakfast table?
A lot of crumbs? And crust?
Seems shady. A more logical recipe would be avocado tortillas. Don't the folding capabilities alone make it superior? And at that point, you're just a fried egg and some (really good) salsa away from having breakfast tacos. WHICH SOUNDS WAY BETTER THAN TOAST. And is consequently what we are whipping up today!
Let's Taco Bout Salsa
So the breakfast taco sitch is this: we want something super healthy, light, fresh, and refreshing (gluten-free & keto for me) while still being flavorful enough that it will put all of your other breakfast options to shame. Yes, even pancakes. BUT it's nothing without high-quality salsa.
Let me introduce you to Green Mountain Gringo® aka my favorite salsa for topping breakfast, lunch, and dinner tacos.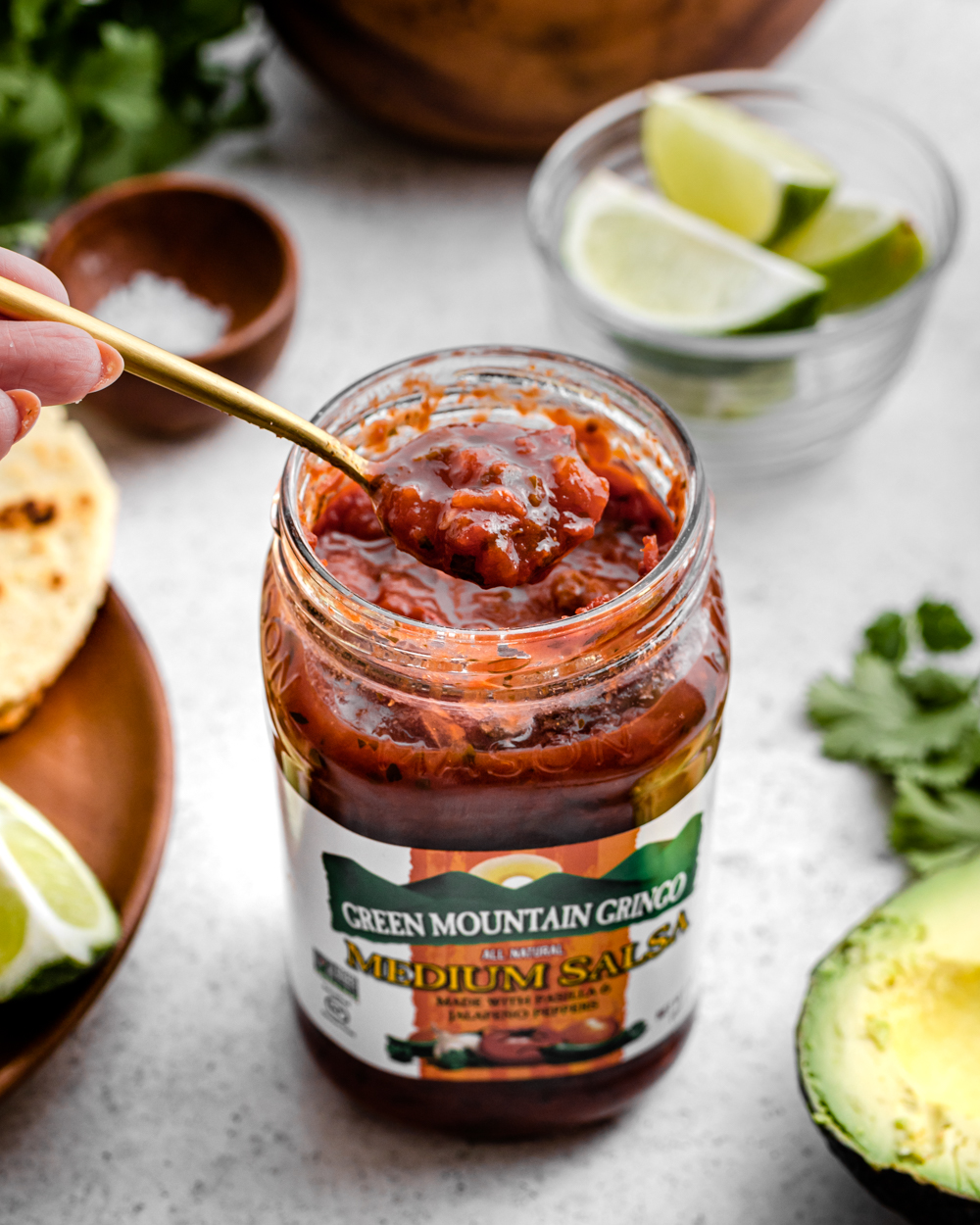 Look, when I say GOOD salsa, I don't just mean tasty salsa. It's GOOD, meaning it's got a truly good ingredient label. No hidden sugars. No hidden preservatives. No hidden agenda!
You can find a store using the Green Mountain Gringo® Locator or even order it on Amazon!
Now all we need is an amazing keto and gluten-free soft taco shell. My skillet flatbread works perfectly here but I've also slightly adjusted the recipe for optimal breakfast taco-ing. Just roll it really thin and char each side in a very lightly oiled skillet.
Then we make this breakfast tortilla better than any other breakfast tortilla recipe out there. We melt a handful of cheese on the shell. No more dry cheese falling out of your breakfast taco!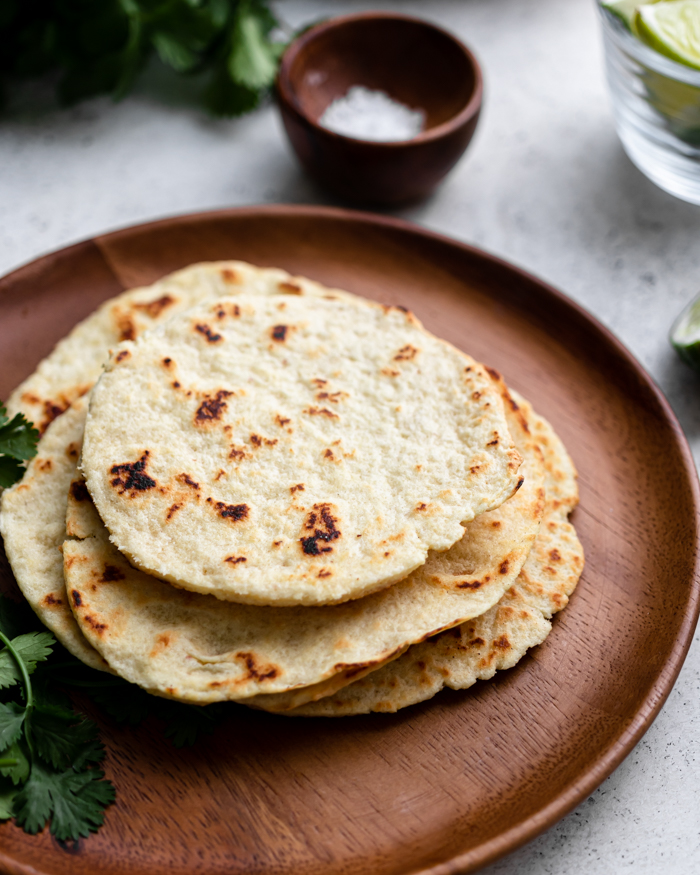 Layer It
If you have a picky 5-year-old in the house, you might stop there, but you and me? We are going all the way.
Smashed Avocado and Lime Juice
Green Mountain Gringo® Medium Salsa
A perfectly fried Egg
Crushed Red Pepper, Cilantro, more Salsa…
I have even tossed a few stray purple onions in. I was not disappointed.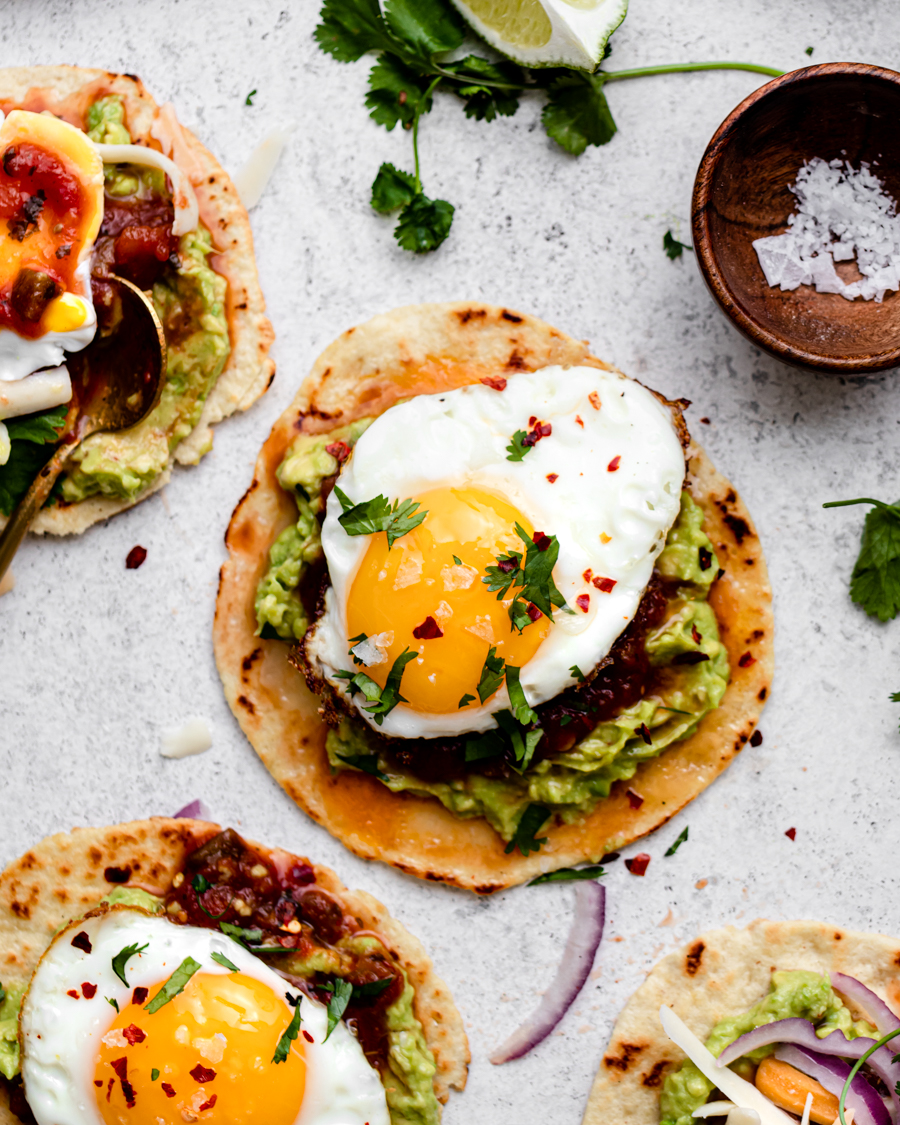 If you wanted to switch up your salsa flavor (maybe roasted garlic?) or scramble your eggs, you can. It's still going to be amazing. Toss in leftover veggies from dinner, too, and then you're cleaning out the fridge AND saving time/effort.
Is it just me or is this breakfast just getting better and better??
Looking for More? Try These!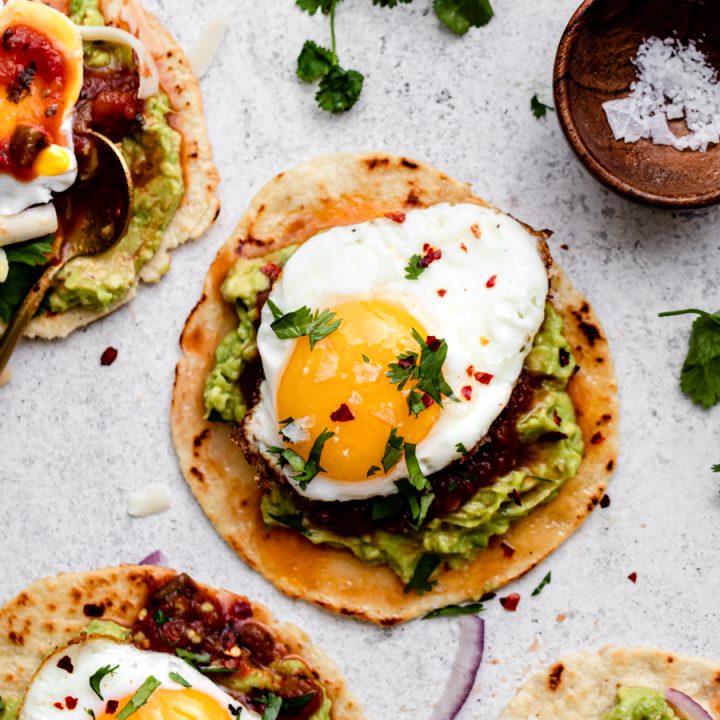 Keto Zesty Breakfast Tacos!
A gluten-free vegetarian breakfast burrito with a zesty for health! And a zesty avocado mash!
Ingredients
For the Tortillas
1 cup Almond Flour
2 tbsp Coconut Flour, leveled off, plus 1 tbsp for rolling
2 tsp Xanthan Gum
1/2 tsp Baking Powder
1 Large Egg
1 Egg White
For the Smashed Avocado
1 large Avocado
2 tsp Lime Juice
1/2 tsp Garlic Powder
Sea Salt
Other Essentials
7-8 Eggs, one per tortilla, fried to your liking
7 oz Shredded Monterey Jack Cheese
Green Mountain Gringo® Medium Salsa, for serving
Chopped Cilantro, for serving
Sea Salt
Crushed Red Pepper Flakes
Instructions
TORTILLAS: Whisk together the almond flour, coconut flour, xanthan gum, and baking powder. Add the whole egg and 1 egg white and beat with a fork until a soft sticky dough forms.
Layer a piece of clear plastic wrap (parchment will stick!) on a flat surface and dust with about 1 tbsp coconut flour. Place the dough on the floured surface and use the plastic wrap to gently work into a ball, just like kneading, for 30 seconds, then cut into 7 pieces for medium tortillas or 8 pieces for small.
Roll each section of dough between two pieces of plastic wrap until VERY thin. The tortilla should be between 5 and 7 inches in diameter. The thinner the dough, the more tortilla-like!
Heat a non-stick skillet over medium-high heat. Add the tortillas to the skillet one at a time and cook for about 1 minute, flip and cook for another 30 sec to 1 minute.
Avocado Mash: Mix all of the ingredients in a bowl and smash with a fork. Season to taste with salt.
Build Your Breakfast: Sprinkle a handful of shredded cheese on your shell and microwave for 15 seconds or broil in your oven. Layer a scoop of avocado mash and salsa, then top with a fried egg. Season with chopped cilantro and crushed red pepper.
Notes
This breakfast can be made EVEN EASIER if you make your tortillas ahead! Wrap any cooked tortillas in a clean dishcloth or store lightly covered in the refrigerator.
Nutrition Information
Yield

7
Serving Size

1 taco
Amount Per Serving
Calories

330
Total Fat

25g
Carbohydrates

10g
Net Carbohydrates

5g
Fiber

5g
Protein

20g