Want to jumpstart your day? Eat a breakfast salad! You won't regret it.
---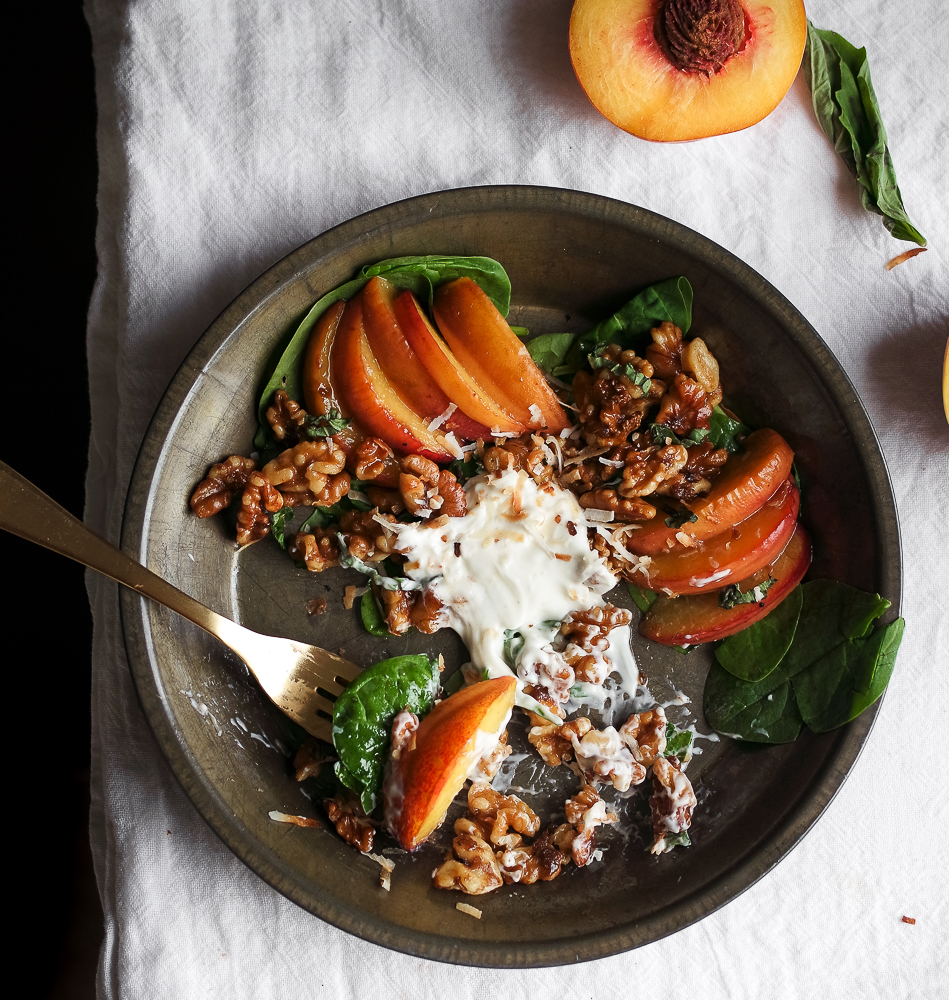 The Breakfast Salad
It may sound crazy, but a breakfast salad is an ingenious way to boost your vitamin and mineral intake while also enjoying the lovely flavors of a summery-sweet breakfast.
Salad for breakfast isn't a new idea. Having a savory or sweet salad for breakfast can knock a serious portion of fruits and vegetables off of your eating to-do list, not to mention all of those healthy fats, protein, and fiber.
The Most Important Salad of The Day
There's just something wonderful about having a salad as your first meal. I know it sounds corny and like total health propaganda, but the crispy, crunchy, sweet and salty mix invigorates my senses and it honestly sets the tone for my day of eating. Like, if I eat a beautiful crisp salad for breakfast, I feel excellent and want to keep the healthy vibes rolling. If I eat a Cinnabon for breakfast, I feel like dying by 10:30 am.
Annnnd it's delicious! Have I sold you yet???
Let's put down the protein bar, step away from the blender, and put a salad on your plate. 🙏
Warm Ginger Peach & Walnut Breakfast Salad
Salads can be breakfast if you want them badly enough.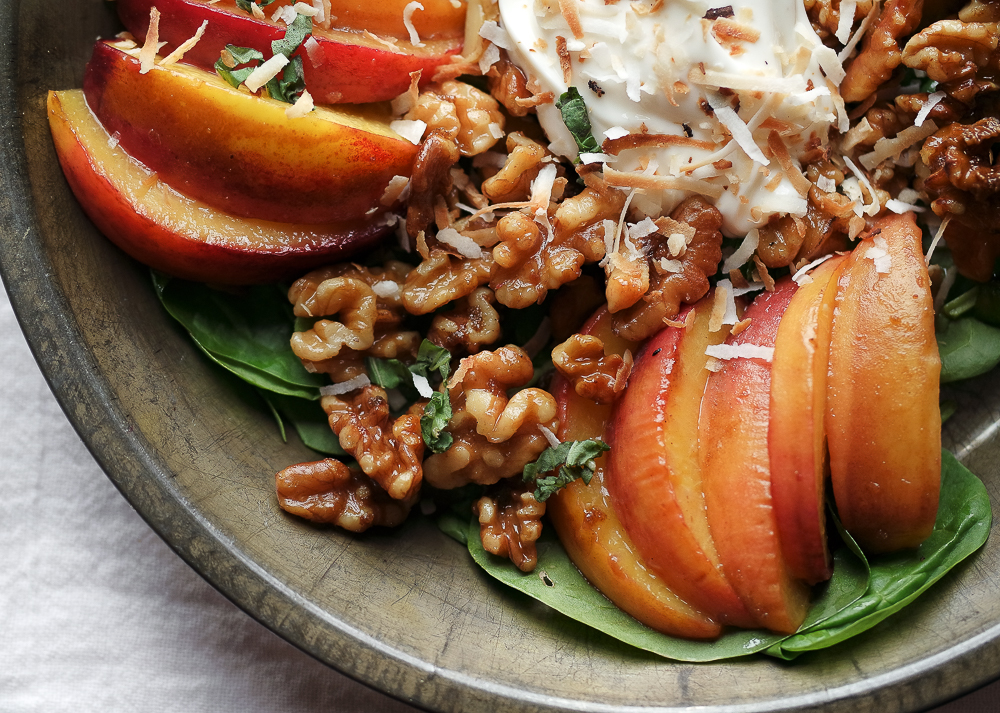 To build a breakfast salad, you'll want the freshest of farmers market fruits/veg! That means seasonal produce is key.
Seasonal fruits and vegetables are better for you (I read that here) because they may retain more nutrients than the produce that travels on a cargo truck for two months.
So even though peaches are not a low carb fruit, they are a lower-carb fruit and full of delicious nutrients when in season!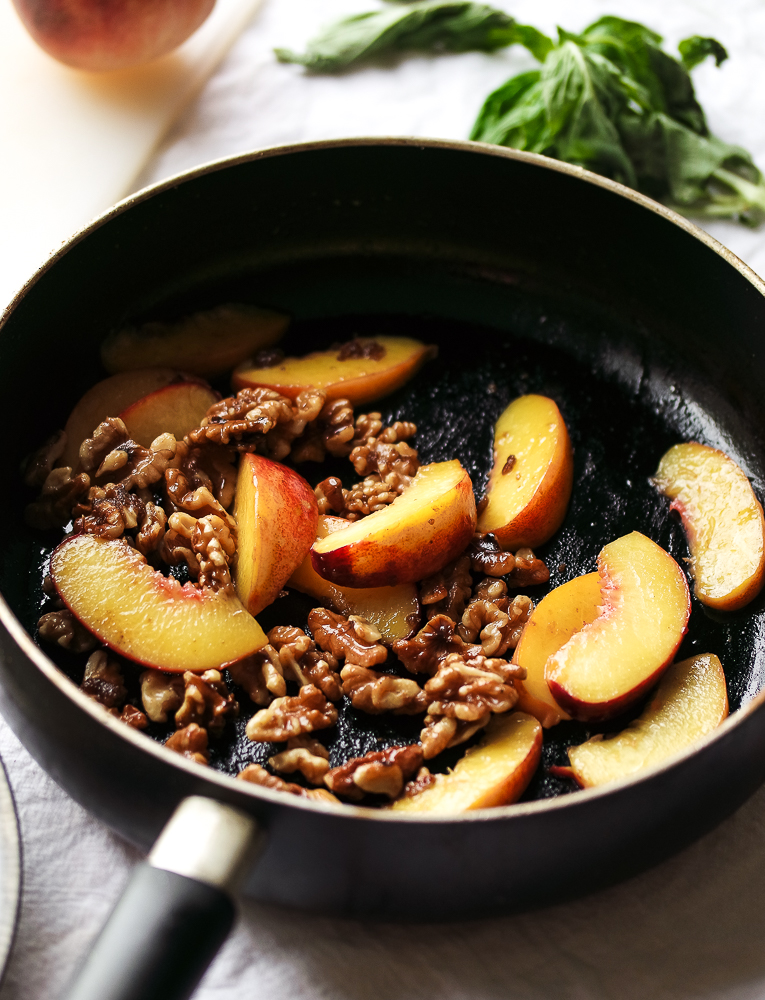 This breakfast salad isn't a huge deviation from your normal breakfast.
Instead of scrambling eggs or making an omelet, just toss some fresh sliced peaches, nuts, and ginger in your skillet and away we go.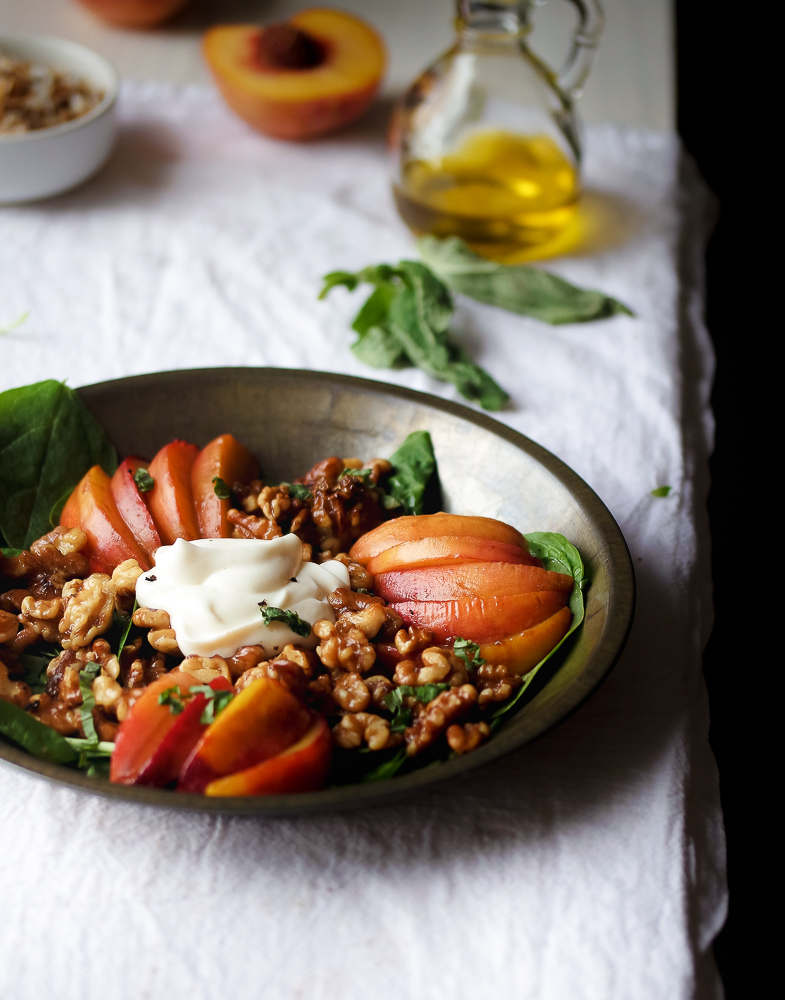 If you wanted to skip making this a salad and just do these ginger nuts, peaches n' cream DO IT and don't look back.
Greens are good but I do love me some ginger nuts.
Insert Ginger jokes and/or Nut jokes here. There were just too many for me to choose from.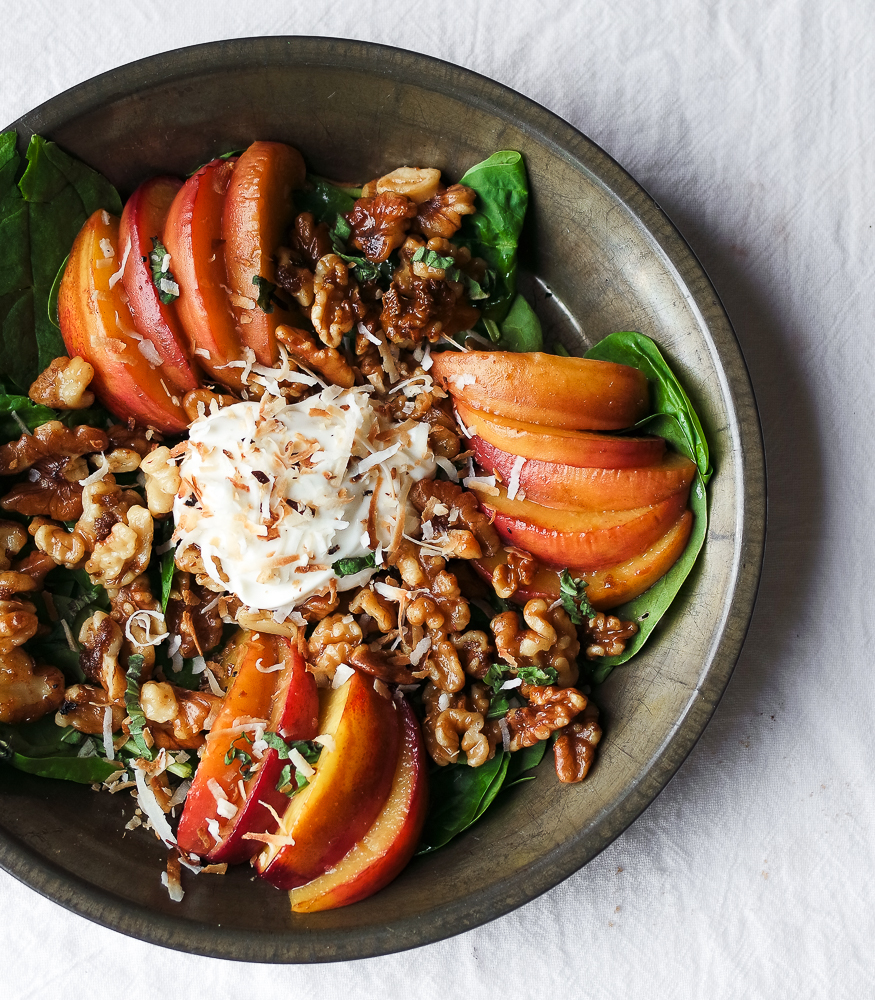 Did you know that eating a salad every day can boost blood levels of antioxidants?
And that adding a salad to your daily routine can increase fiber, reduce calories, and make you feel superior to all of those people not eating salads on the regular.
WIN WIN!
Warm Ginger Peach and Walnut Breakfast Salad
Sweet and Savory, Crunchy and Creamy, and perfect for breakfast!
Ingredients
Salad
1/2 Peach thinly sliced
2 cups Baby Spinach Leaves
2-4 oz Raw Walnuts
1/2 tsp Ground Ginger
1 tbsp Low Carb Sweetener like Swerve of Monkfruit
1 tbsp Coconut Oil
2 tbsp Toasted Unsweetened Coconut Flakes
Creamy Ginger Greek Yogurt
1/2 cup Greek Yogurt
1/2 tsp Ground Ginger
1/2 tsp Ground Cinnamon
1 tsp Low Carb Sweetener
Instructions
For the Salad
Toss walnuts in oil, sweetener, and ginger and heat on medium in a large skillet. Stir periodically until the nuts begin to brown and the brown sugar begins to caramelize. Add in peaches and sear on both sides, just until they begin to soften. Remove from heat and set aside.
For the Greek Yogurt
Combine Greek yogurt, ginger, cinnamon, and sweetener and mix until combined.
Plate by layering baby spinach leaves, warm nuts and peaches, sour cream and sprinklings of toasted coconut. Eat this salad warm or later as leftovers because without dressing there is no soggy factor!
Check out these other great salads that are
totally
breakfast worthy!
Grilled Peach 🍑 Brie and Basil Salad with Simple Balsamic Dressing
Detox Kale Chickpea Asparagus Salad with Kumquat Pumpkin Seed Pesto