Is there anything zucchini can't be? Raw or cooked. Sweet or savory. Stuffable boats, Lasagna layers, twirly noodles and even freakin' apple pie filling.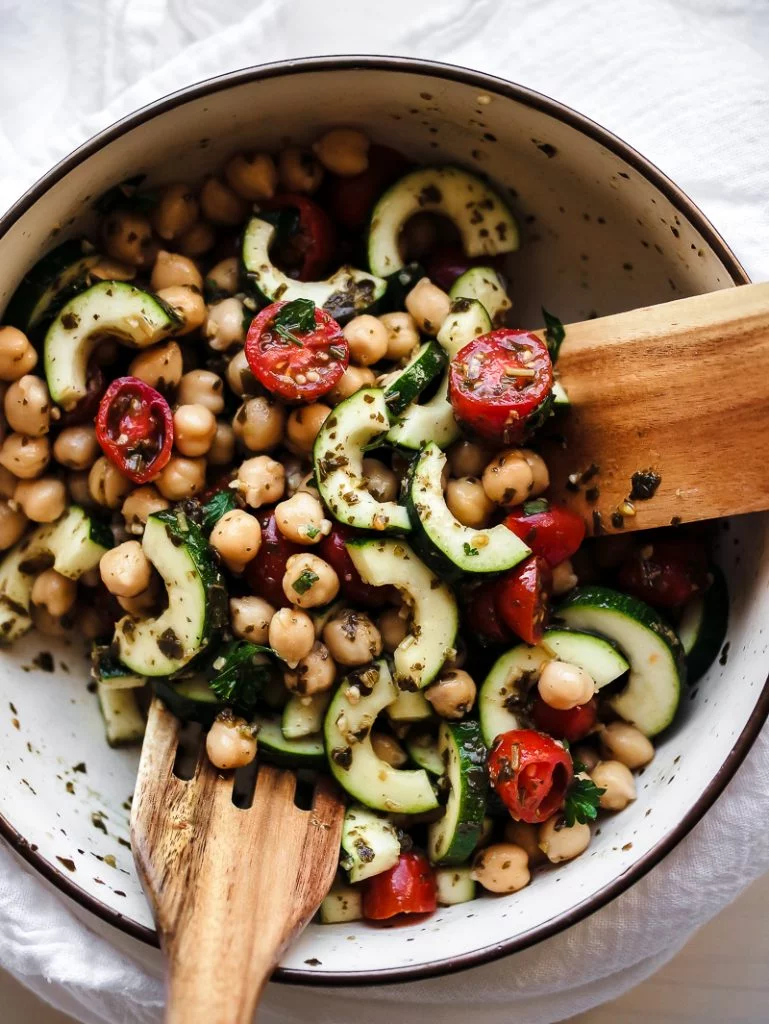 I have to come clean with all of you, I've been feeling a little burned out on cooking lately.
Now that the weather is changing and the sun is deciding to shine once in a while, I really don't feel like cooking a giant meal. I actually don't feel like cooking a small meal either. In fact, I don't feel like cooking at all. I'm a G R E A T food blogger, eh?
But even if I don't feel like cooking, I certainly care about eating well and feeling good as I prepare to move in FOUR MONTHS(!!!)….which is a problem. Did I mention I'm moving? I am.
You know how they say "stressed" is "desserts" spelled backward? Well, I'm desserts frontward, backward, and sideways. Just the thought of moving my expansive collection of crap which is my life makes me want to pull my hair out and eat a ton of chocolate. I came up with this salad so that between fistfuls of chocolate chips I might get a little protein and maybe something green. *Shrugs*
Oh, and it's picnic ready, too. If you are interested.
Zucchini Pesto Power Salad: pin it.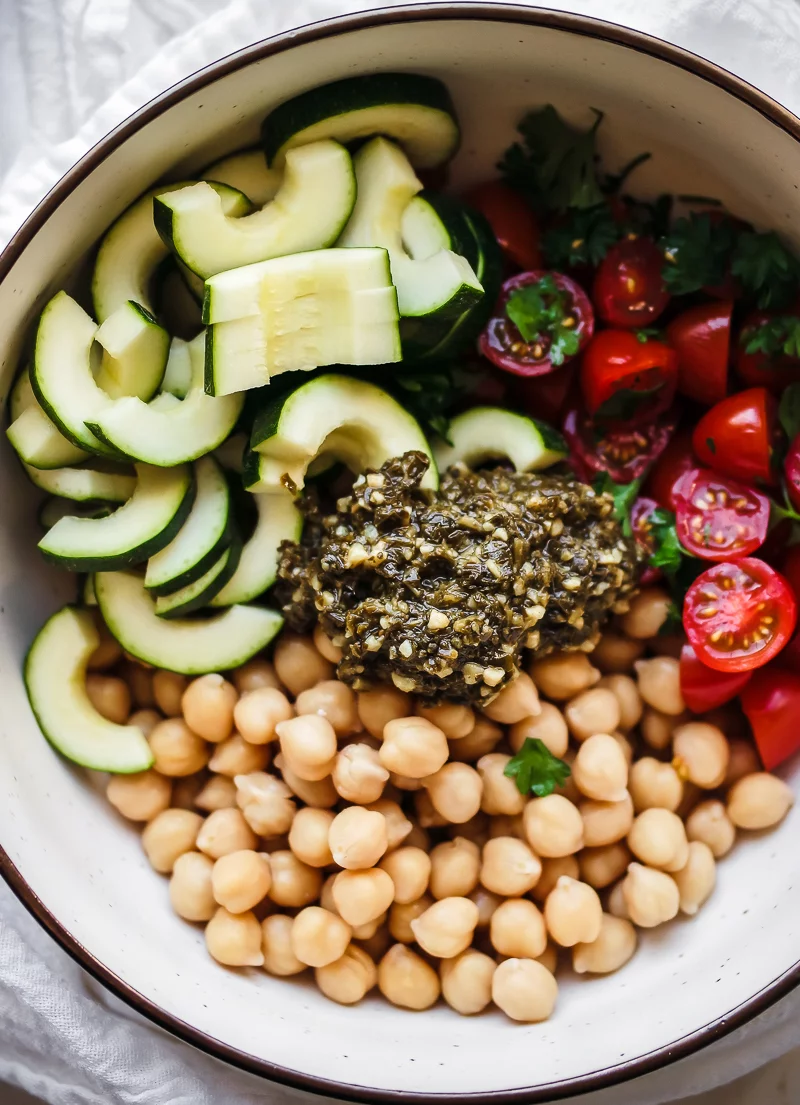 I'm also putting myself on a serious budget before moving because apparently, it's going to be spendy. Are you aware of the current housing market? Renting is expensive which is why I decided to look into buying a home. Super expensive as well. Plus I can't fix things so I need one that is move-in ready. This brought me to the logical solution of a tiny house, which I found out is exactly the same amount of expensive…but with less space.
So there's that.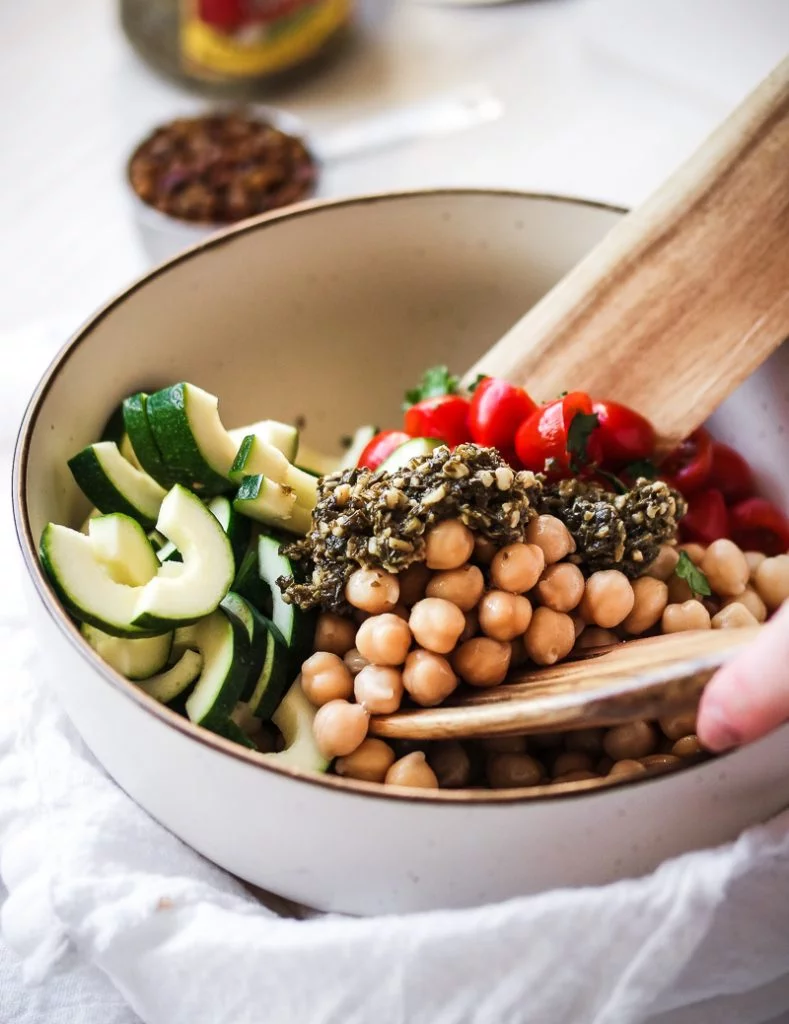 This salad, on the other hand, is cheap, and 2/5ths of the ingredients came out of a can. The others can (and will be) pilfered from any one of my generous friend's gardens.
If you think about it, this salad is practically free. PLUS it's freakin delicious.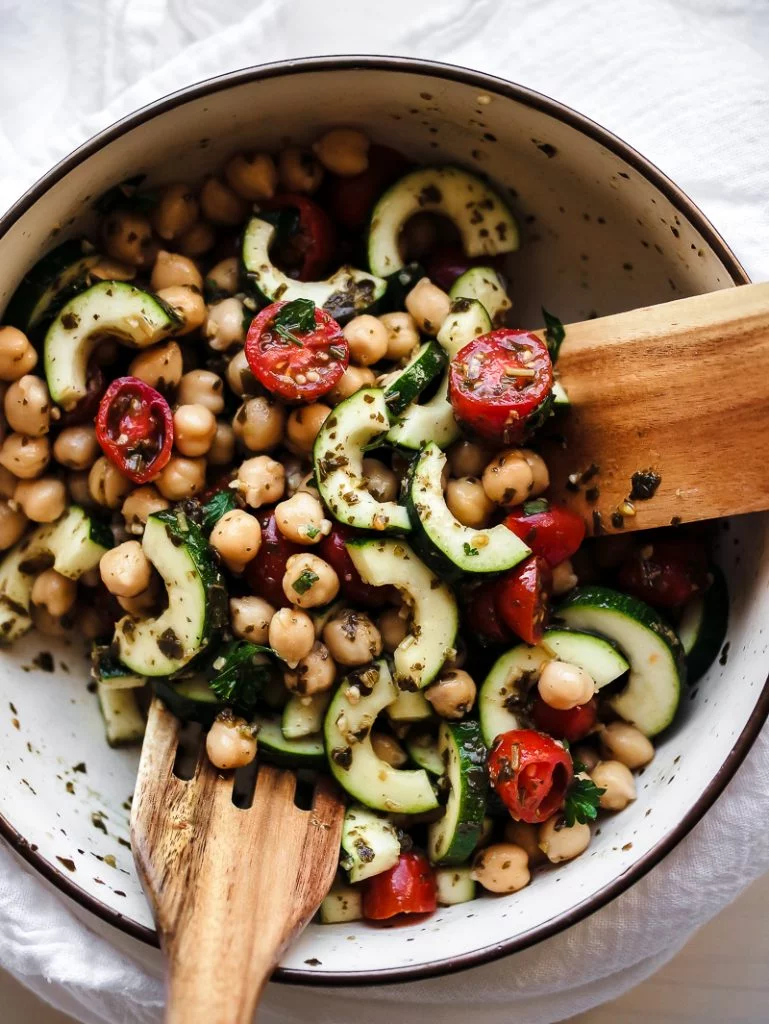 Pesto-y and rich with hunky chunks of zucchini and tomatoes is one way to describe this salad.
Jacked up on plant protein and bursting with basil is another way to describe it. I prefer all my foods to be jacked up in some form or another, but that's just me.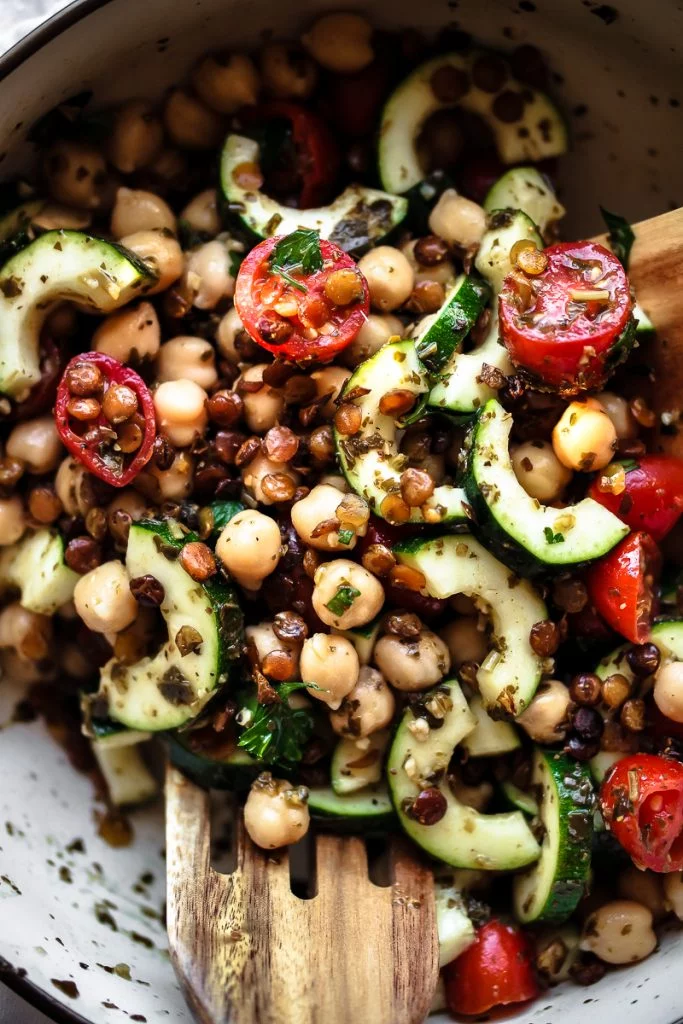 Looking for more healthy recipes? Try these!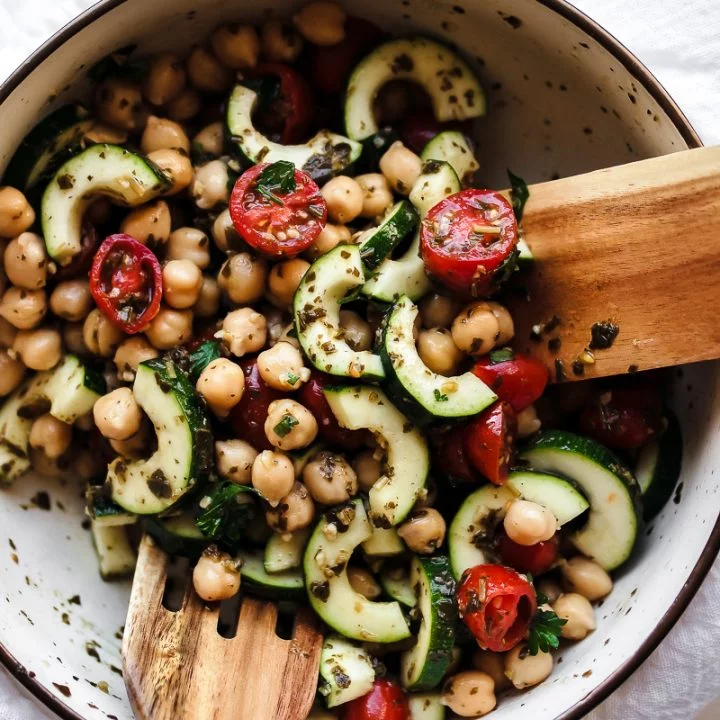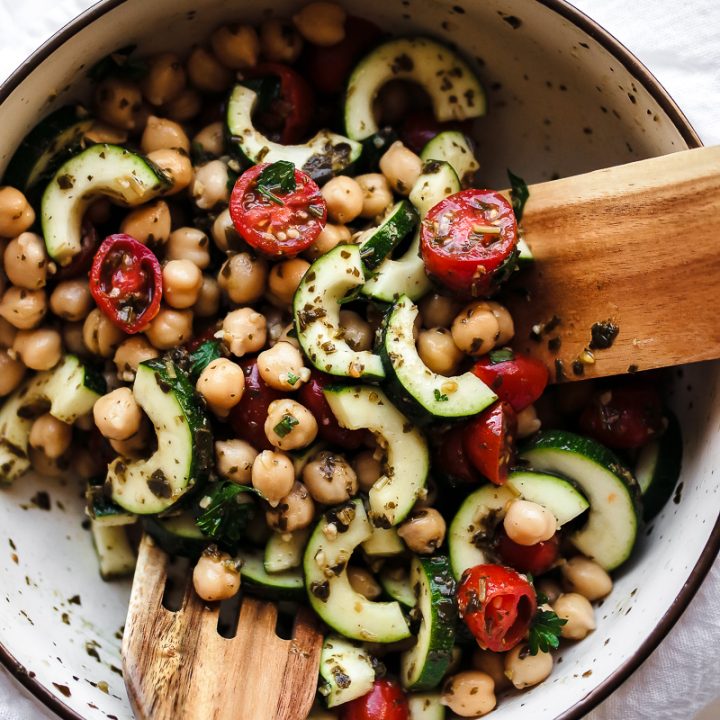 Zucchini Pesto Power Salad
Save money and your next picnic with this salad that is sure to make you look fancier than you are!
Ingredients
3 to 4 Medium Zucchini, cored and halved
1 cup sliced Cherry Tomatoes
2 tablespoons flatleaf Parsley, roughly chopped
1 tbsp Lemon Juice
1/4 cup Freshly Grated Parmesan Cheese
Salt and Cracked Black Pepper, to taste
Instructions
Clean and chop your veggies. I like to use this apple corer to remove the seeds from my zucchini!
In a large bowl combine the sliced zucchini, chickpeas, tomatoes, pesto, chopped parsley, and lemon juice. Toss to coat and add more pesto if desired.
Add the grated parmesan cheese, season with salt and pepper, and toss again. Top with crunchy roasted lentils to serve! This mixture is great on top of a bed of greens or tossed with baby spinach!
Nutrition Information
Yield

6
Serving Size

1 cup filling
Amount Per Serving
Calories

166
Total Fat

6g
Saturated Fat

1g
Trans Fat

0g
Unsaturated Fat

4g
Cholesterol

2mg
Sodium

250mg
Carbohydrates

22g
Net Carbohydrates

15g
Fiber

7g
Sugar

6g
Protein

9g