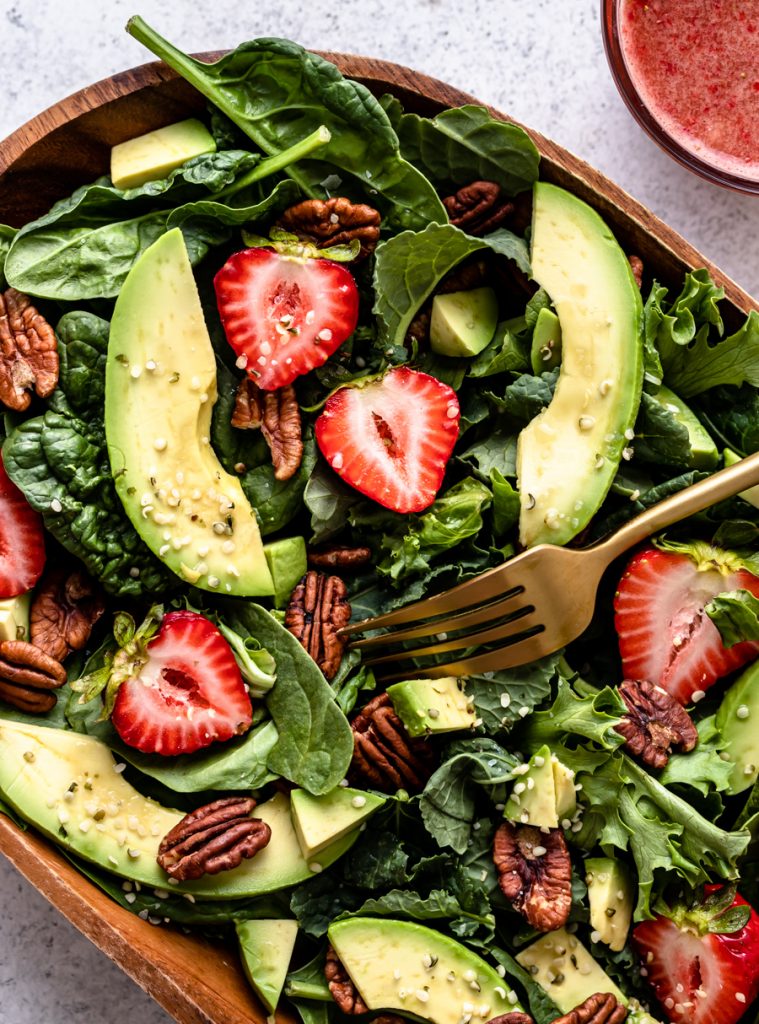 Salad Dressing Room
Making a salad "recipe" is slightly silly and I almost feel embarrassed to do it.
Almost…but not silly enough NOT to do it because of one detail—we all need dressing ideas! Hidden Valley Ranch isn't enough for me anymore and I know it's not enough for you either!
And since going topless really isn't an option these days (can you believe I ate undressed salad in college??) we need both viable topping/dressing combos that will make our salads shine.
Build A Bowl
There are a lot of salad mixes out there but the truth is there's a time for leafy greens and a time for crisp hearts of romaine. Even Sweet Pea Tendrils have their place! But the key is BALANCE.
The base of a salad should reflect what toppings you are layering on. For instance, a crisp and watery lettuce like romaine or iceberg is best for hearty toppings and thicker dressings (taco salad anyone?).
But a thin dressing, say a vinaigrette, works well with varieties like spinach, baby kale, or a spring mix. Why? I can't put it into words, but taste buds can attest.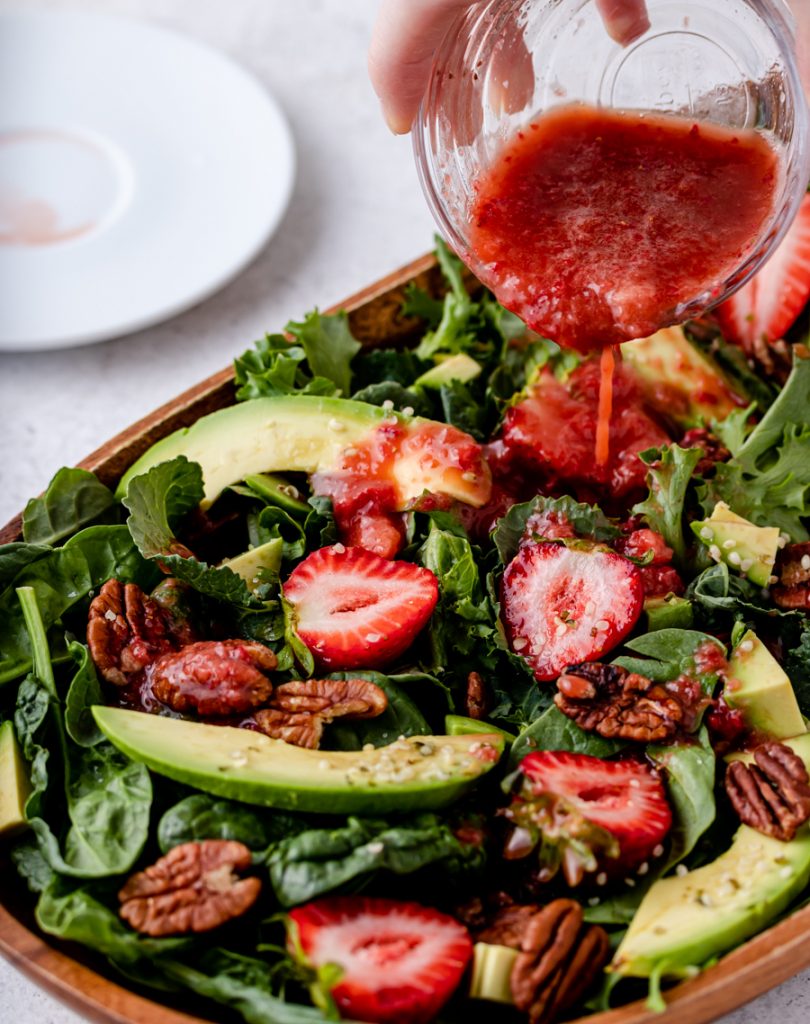 Additions & Subtractions
Toppings are key to the assembly of a salad. You want to balance textures of crunchy plus smooth and creamy. Think avocado plus pecans plus berries!
Meaning, if you go fruity, you probably don't want to add crunch with a garlic parmesan crouton.
Other common sense tips:
Seeds & Nuts add nutrition too, so toss in a spoonful of Hemp Hearts, Pepitas, Pecans, Walnuts, etc.
Elevate an otherwise snore-inducing salad with fresh herbs. Basil, Mint, Dill, or even Chives can give you a flavor boost (healthy boost, too)
Salt your salad. Seriously, why does everyone skip that? I love Falk Salt and I keep it on hand in a bunch of different flavors to add a salty crunch. Salt isn't evil! It's actually delicious in moderation.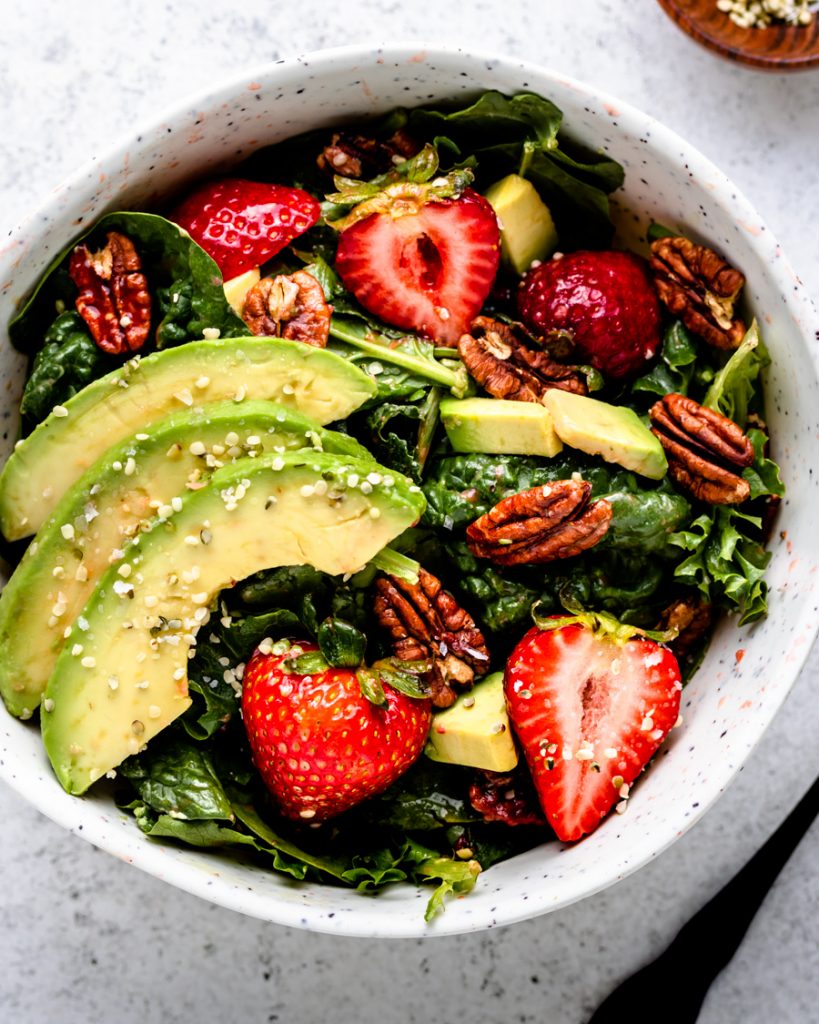 Heads UP! This post contains affiliate links. As an Amazon affiliate, I earn from qualifying purchases.
Hungry for More Simple Salads? Chew on These!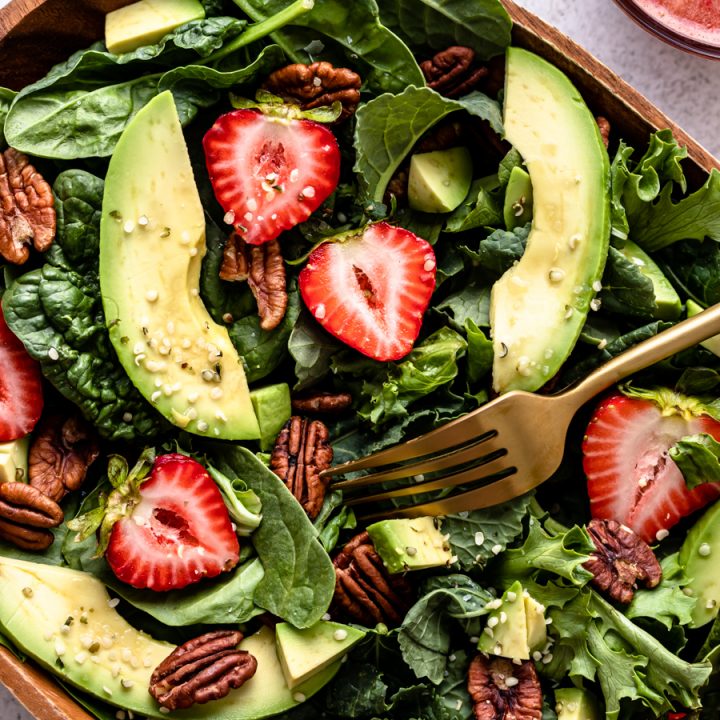 The "Anything Goes" Strawberry Avocado Salad
A summer salad full of berry and avocado goodness! Make it a meal with a hunk of feta and your protein of choice.
Ingredients
5 handfuls of Baby Spinach
10 leaves Fresh Basil
2 handful Baby Kale
1/2 medium Avocado, sliced
10 medium Strawberries, sliced
1 handful Pecans
2 tbsp Hulled Hemp Seeds
Optional Mix-ups!
Swap Pecans for Walnuts, Slivered Almonds, Sunflower kernels, or Pepitas
Use any mixture of leafy greens
Sub strawberries for ripe peaches, blueberries, or raspberries
Add Feta, Goat Cheese, or Fresh Mozzarella Pearls
Easy Strawberry Balsamic Vinaigrette
3 to 4 medium Strawberries
2 tbsp Balsamic Vinegar
Instructions
Layer all of your salad goodies in a large bowl.
Make the dressing: Add all dressing ingredients to the mini food processor or blender and whiz until smooth.
Add the dressing and toss to coat. This should make two big servings. Enjoy!
Nutrition Information
Yield

2 large salads
Serving Size

1/2 recipe
Amount Per Serving
Calories

393
Total Fat

34g
Carbohydrates

14g
Net Carbohydrates

7g
Fiber

7g
Protein

10g