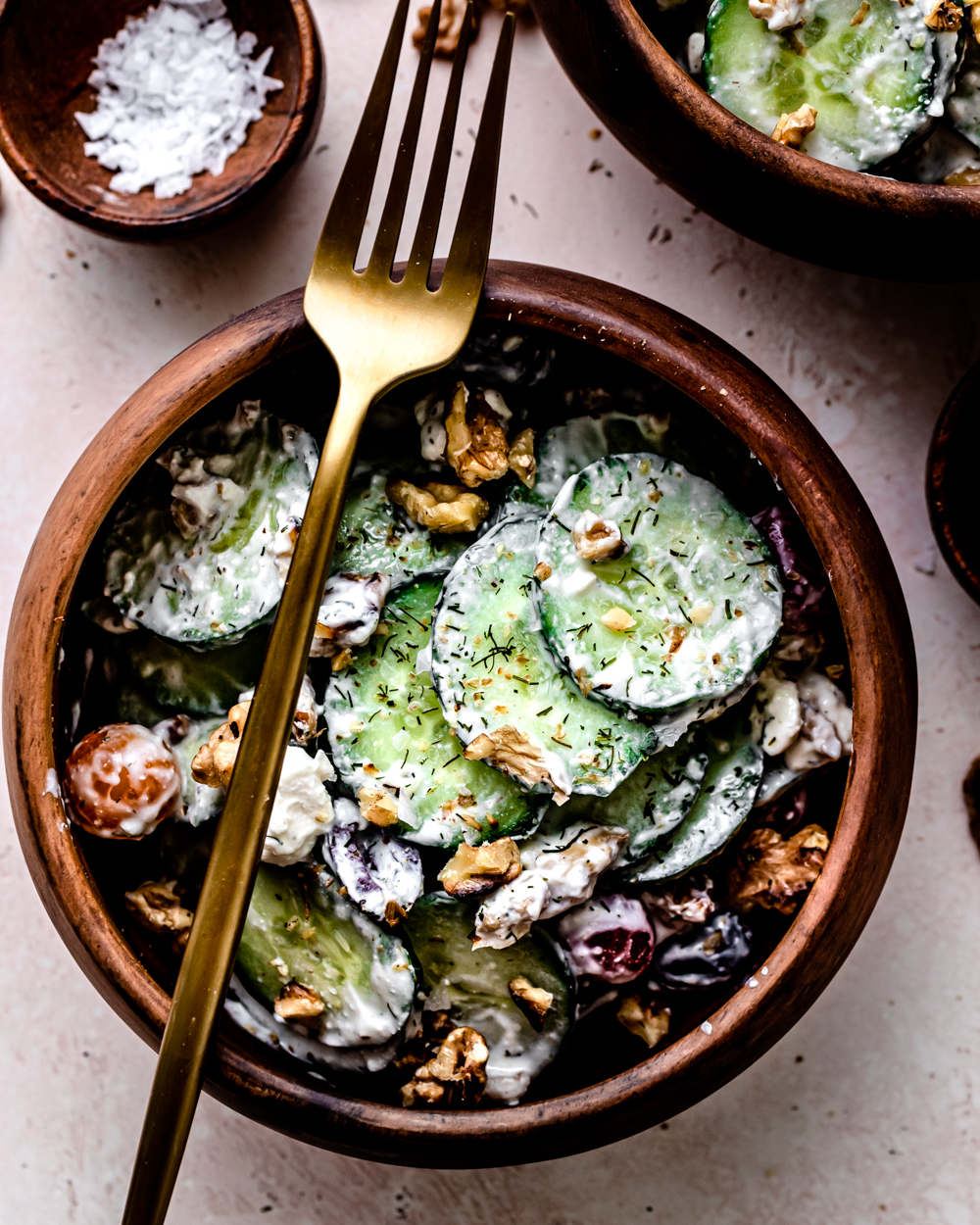 Finally, A Salad.
Because you can't eat desserts forever! Or so I'm told. 
Well, you could eat desserts forever and if being isolated for the last month has taught me anything, it's exactly that. But now that I've had the opportunity to eat donuts daily with reckless abandon (and without restrictive things…like jeans) I kinda just want a vegetable.
Wild, right?
Maybe it's the nutritionist part of my brain taking over? Or my body's way of saying "please, Liz, for the love of all things holy, no more chocolate chips!"? We honestly may never know.
Whatever the cause, it's time for some good old fashion nutrition in the form of a giant bowl of plants. And nuts!
Crunchy Cucumber Walnut & Dill Salad
Put down the chips and crunch into some omega-3s and fiber instead!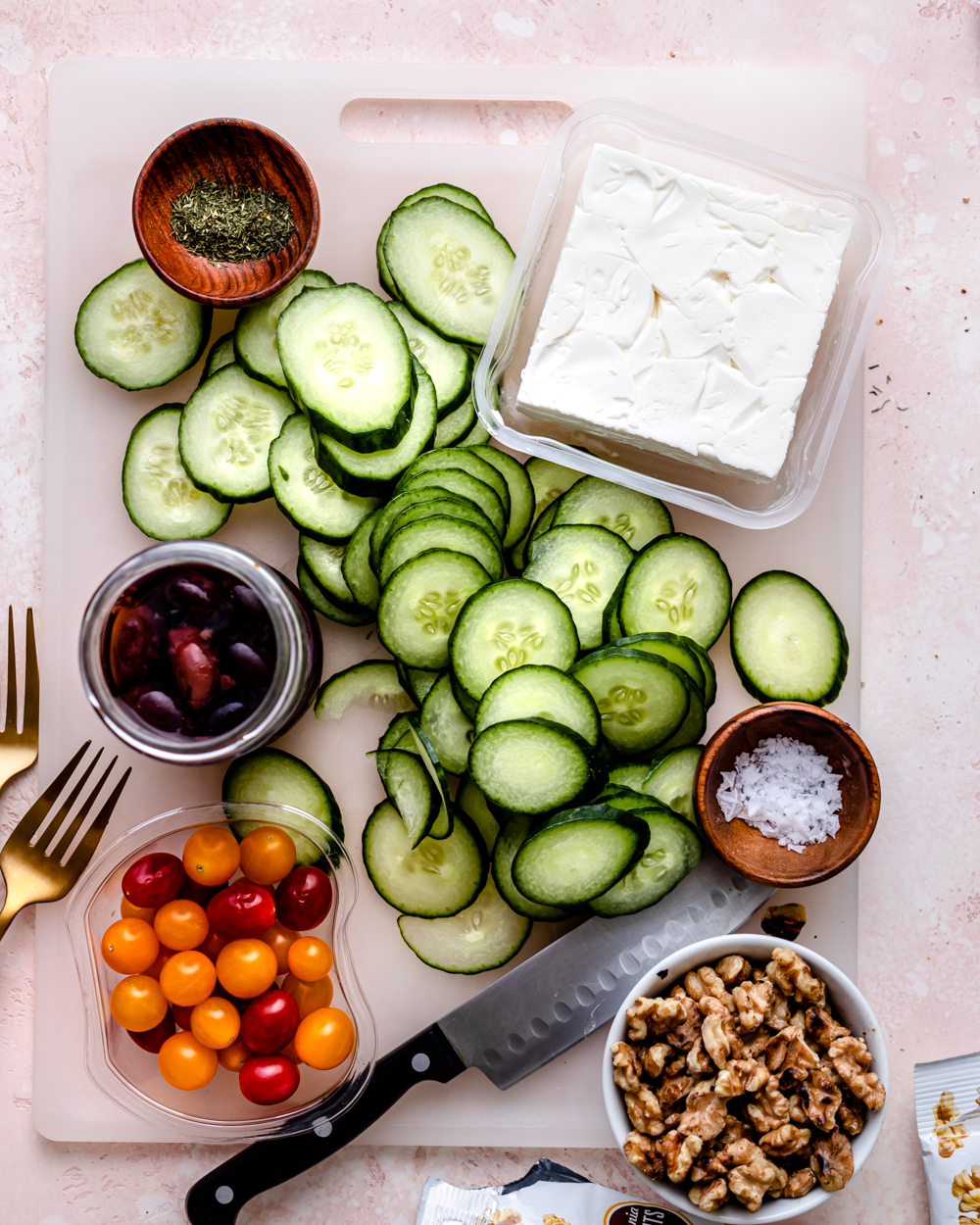 As you can see from the bounty before you, this salad is full of good stuff. 
Cucumber
Teeny tiny baby tomatoes
Salty feta
Briny olives
Dilly(?) dill
And…California Walnuts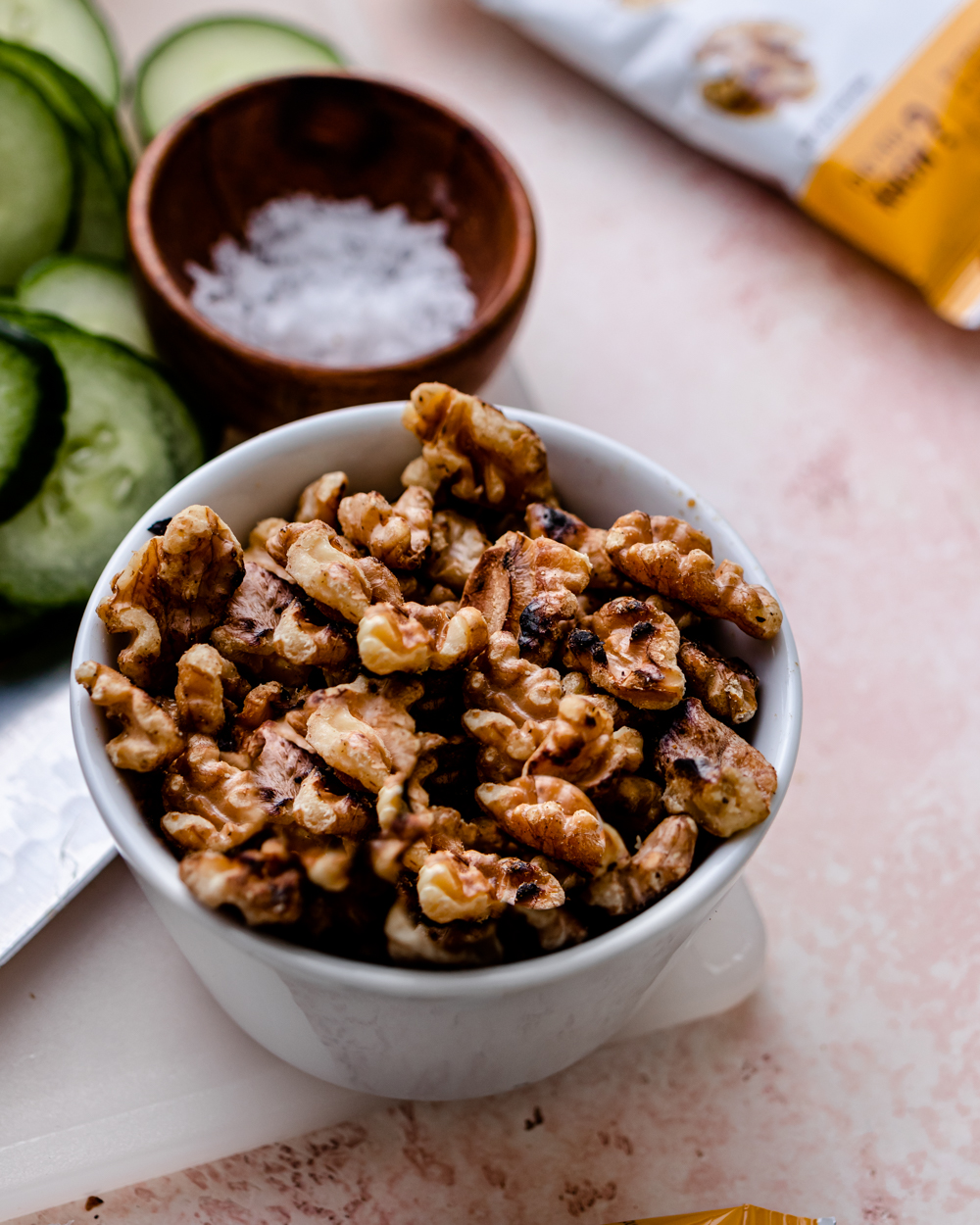 💡Fun Fact: A handful of California walnuts a great snack for both sweet and savory cravings. Whichever way you choose to enjoy them, walnuts are the only nut to provide an excellent source of the plant-based omega-3, ALA!
Impressive for a nut, eh?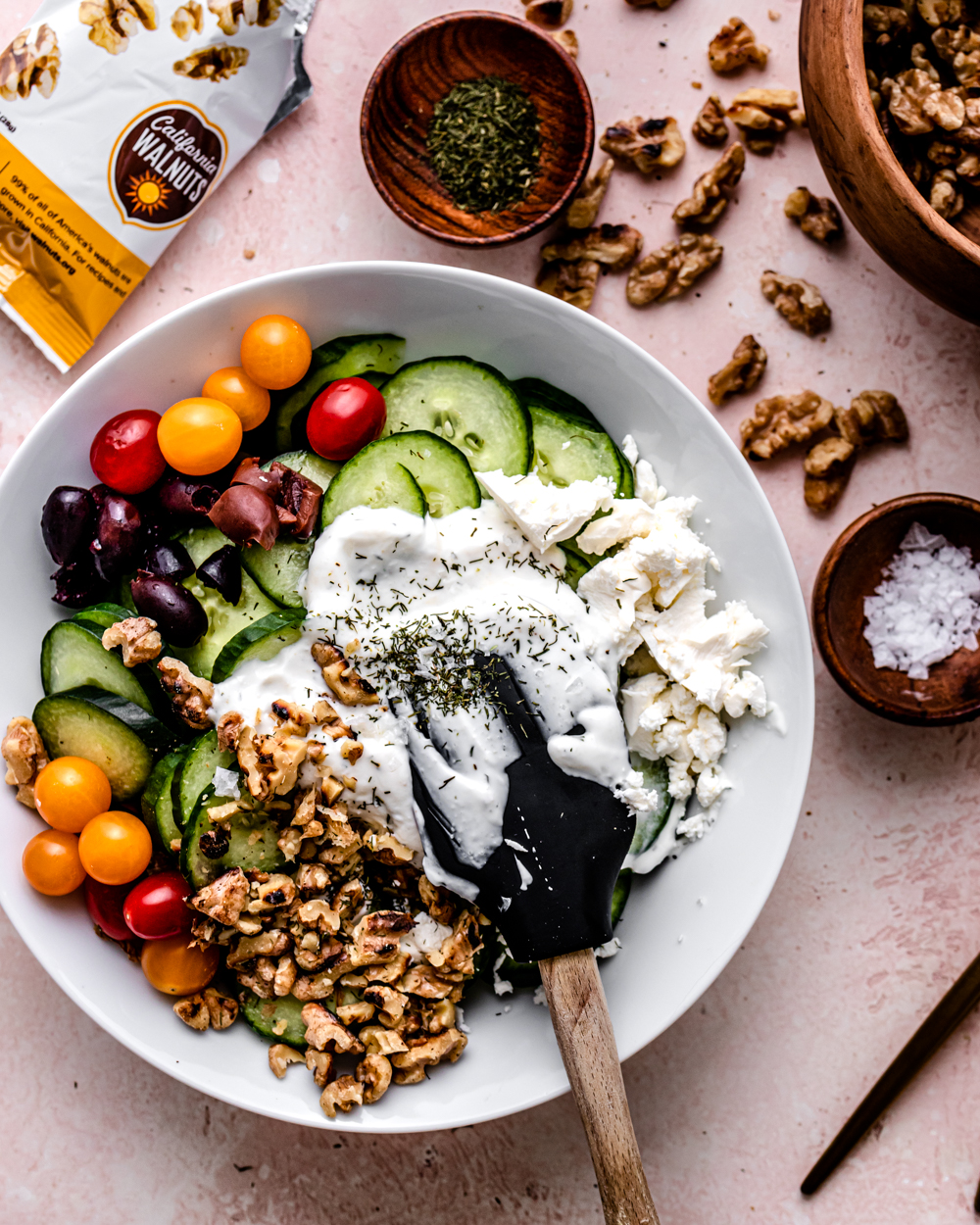 And then we have this SUPER easy dressing which can be bulked up with extra flavors or kept totally low-key with the classics like lemon juice and dried dill.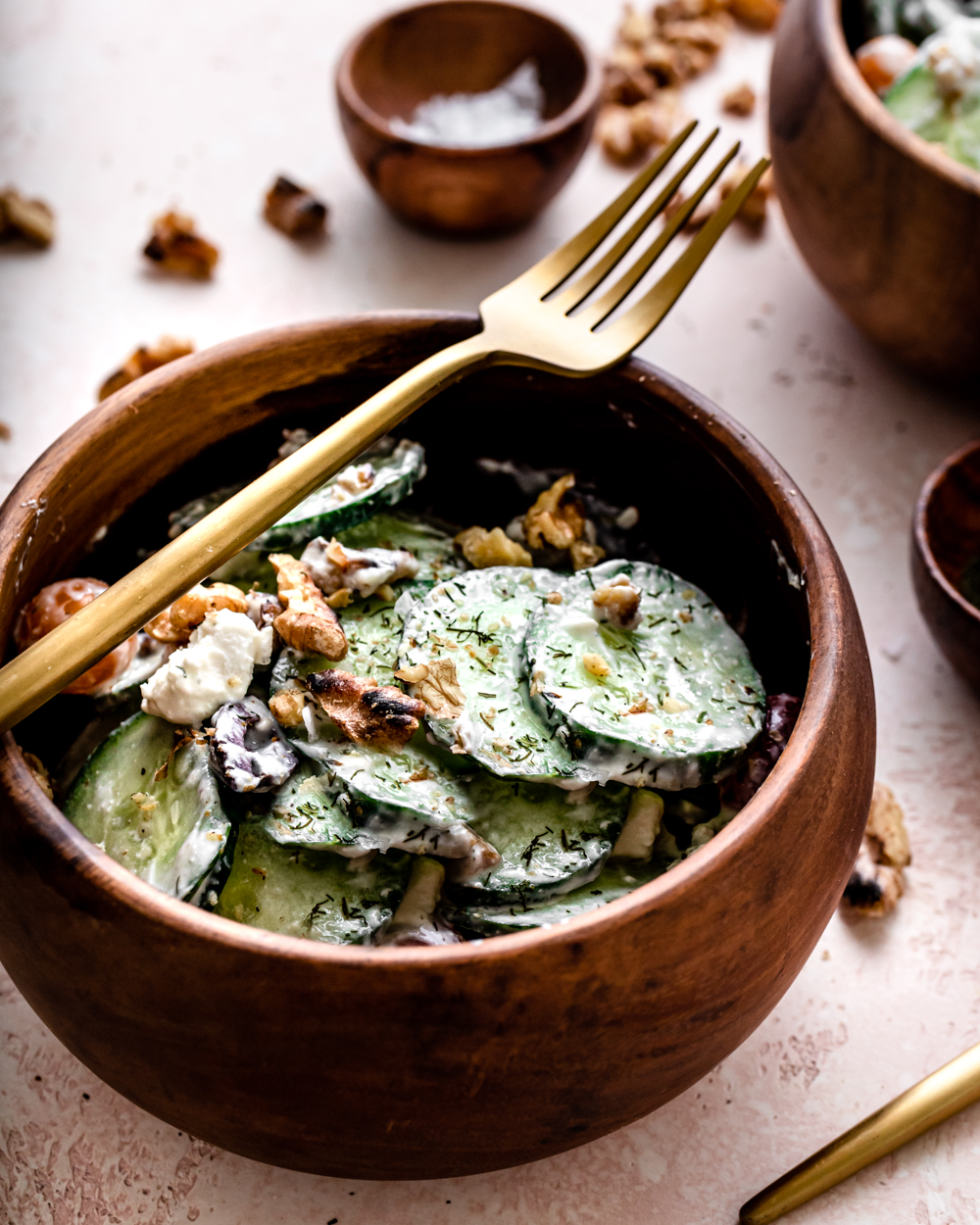 Salad, Hold the Lettuce
In my pre-isolation days, I would almost always have some sort of "salad" for lunch, but straight-up lettuce hasn't been on my shopping list lately. The shelf-life of leafy greens doesn't vibe with my bi-weekly shopping schedule. 
Nuts, seeds, and veggies like English cucumber and grape tomatoes are my "salads" now. Who needs leaves when a cucumber will last you a week+ in the fridge?? Plus, this salad can be eaten later or tomorrow. WHENEVER.
No lettuce greens = No wilted soggy salad leftovers!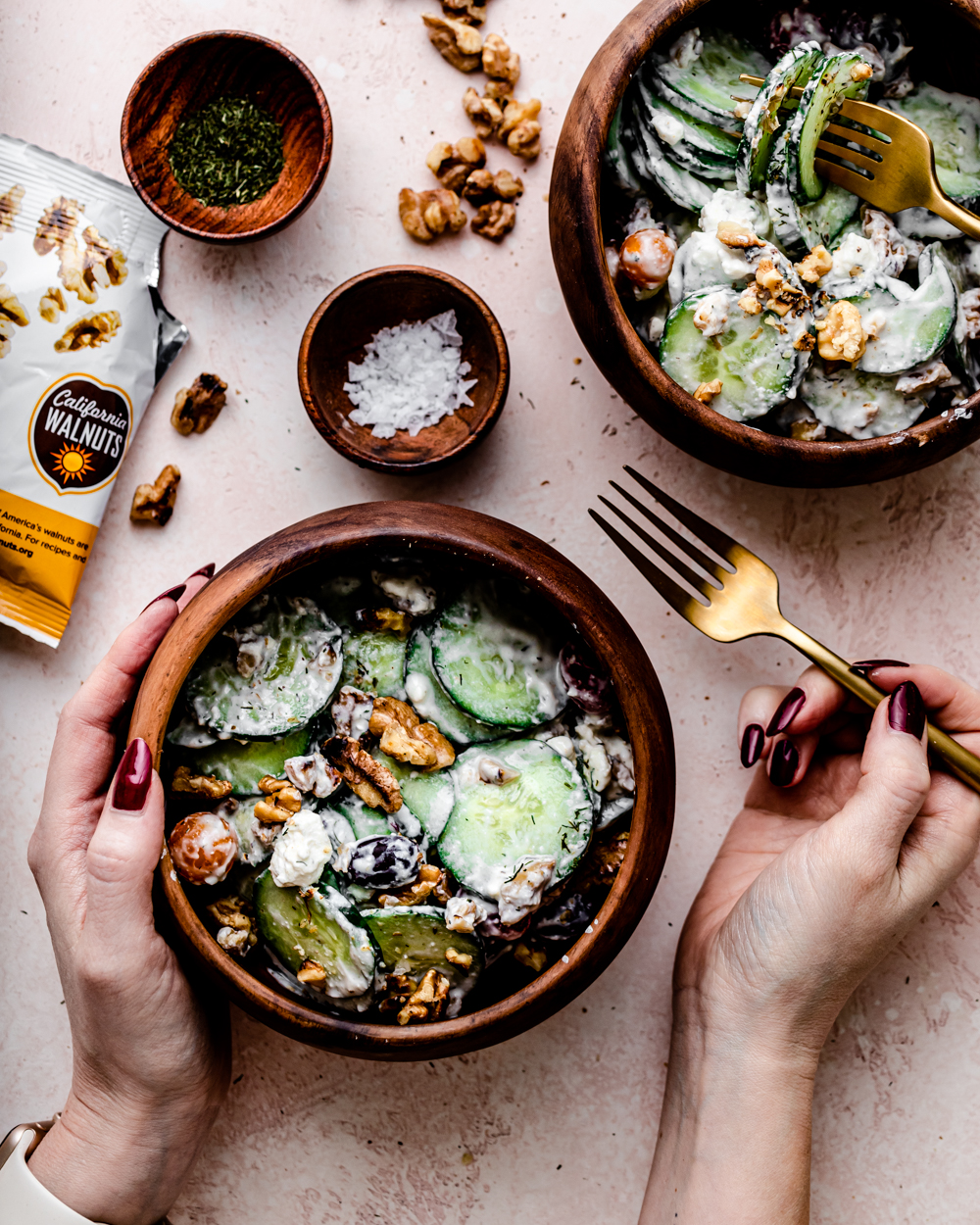 Not that you'll even have leftovers because you won't want to share this with 4 other people. You'll want to eat half of it immediately, followed by the other half 3 hours later.
I know because I checked.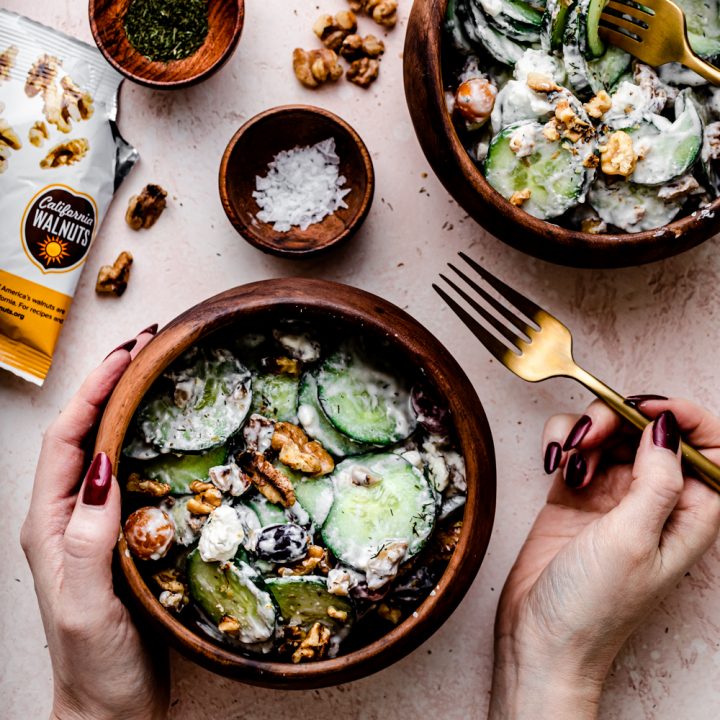 Crunchy Cucumber Dill Salad
Ingredients
1 large Cucumber, about 8 1/4 in long
1 cup California Walnuts, divided
2 to 3 oz Feta, crumbled or cubed
1/4 cup Kalamata Olives, halved
1/4 cup Grape Tomatoes, I used Sprinkles
3 heaping tbsp Greek Yogurt (or sour cream)
2 tsp Lemon Juice
1/2 tsp Dried Dill, plus more to serve
1/2 tsp Garlic Powder
Instructions
Toast the walnuts by heating a large nonstick skillet over medium-high heat. Add the walnuts to the pan and stir frequently until they become fragrant and begin to lightly brown, 2 to 3 minutes. Remove from pan to cutting board. *Be careful, they are hot!
Whisk together the 3 heaping tbsps Greek Yogurt (or sour cream), 2 tsp lemon juice, 1/2 tsp dill, 1/2 tsp garlic powder, and a pinch of falk salt.
Slice the cucumber into 1/8th inch thick medallions and place in a large bowl. *Or, make your life easier and invest in a cheap mandolin slicer!
Add the mini grape tomatoes, kalamata olives, and crumbled feta to the bowl. Roughly chop the toasted walnuts and fold in half.
Stir in the Greek yogurt mixture to coat the veggies. Top with remaining toasted walntus and garnish with a dusting of dried dill and falk salt. Serve immediately or refrigerate for up to 24 hours.
Nutrition Information
Yield

4
Amount Per Serving
Calories

248
Total Fat

23g
Carbohydrates

6g
Net Carbohydrates

4g
Fiber

2g
💡
California walnuts contain protein (4g/oz) and fiber (2g/oz) and are the only nut to contain an excellent source of plant-based omega-3 ALA (2.5g/oz). More nutrient information can be found at:
https://walnuts.org/health-professionals/