This post has been compensated by Inmar Intelligence and its advertiser. All opinions are mine alone. #FoldedIsHere
---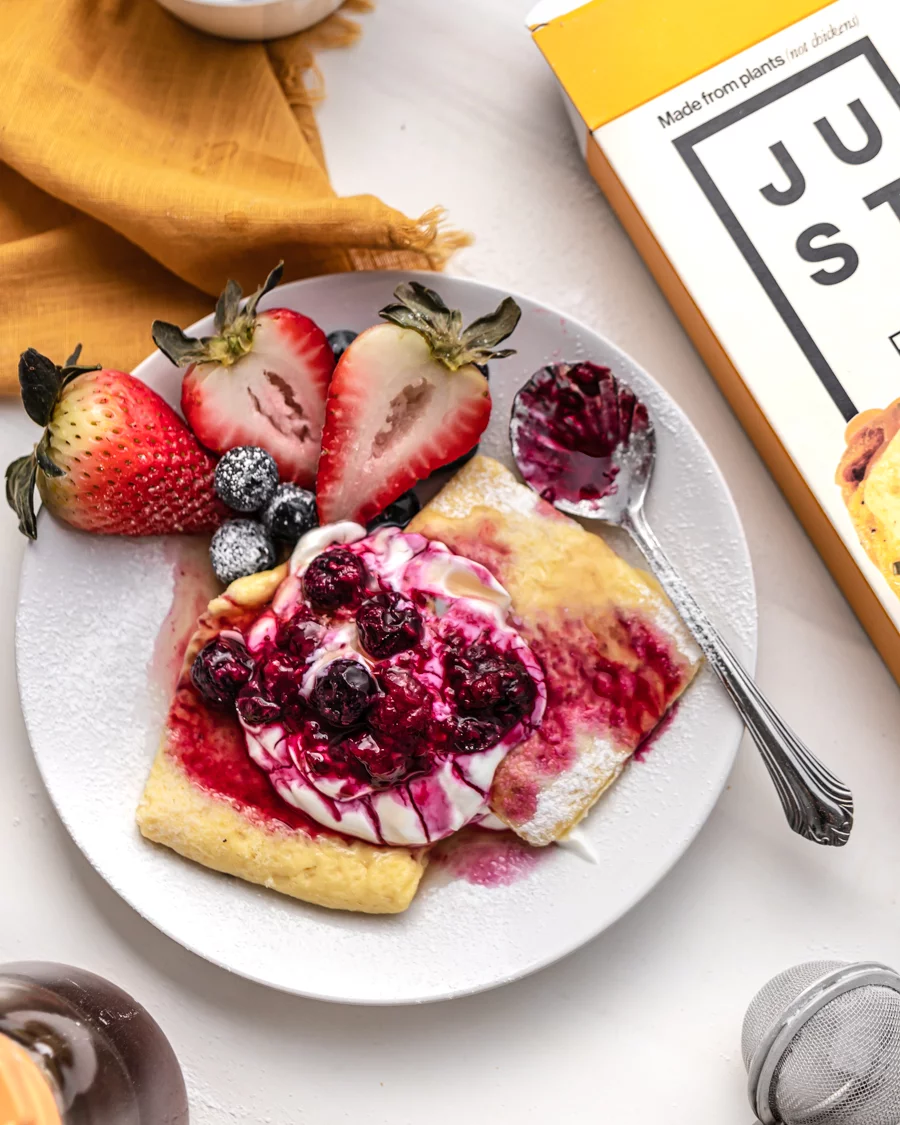 Sweet Little Omelette
Do you ever want all of the sweet breakfast toppings without the fuss of frenching your toast or crepe-ing your…crepes??
Well, I do. Pretty often, actually. Maybe too much for a food blogger who is supposed to happily live in her kitchen shackled to the stove all day….which is why I decided to go CRAZY with my brand new box of JUST Egg Folded. Could it become a pseudo french toast or instant crepe???
Spoiler…absolutely.
But first, what the heck is JUST Egg Folded?
Egg-Free Eggs & The Power Of Plants
Maybe you've heard whispers about the entirely plant-based, protein-packed JUST Egg, or have seen it's cute yellow box in your local Whole Foods and wondered "what's this all about?". ME. TOO.
JUST Egg is exactly what it sounds like, eggs! Only, there isn't a drop of egg in it. Because plants are amazing and science is magical, JUST Egg products are made entirely from sustainable plant ingredients and are totally cholesterol-free.
Better yet? The new JUST Egg Folded is still deliciously fluffy and egg-like, but now conveniently frozen into single-servings that go right from the freezer to the toaster to, well, your toast!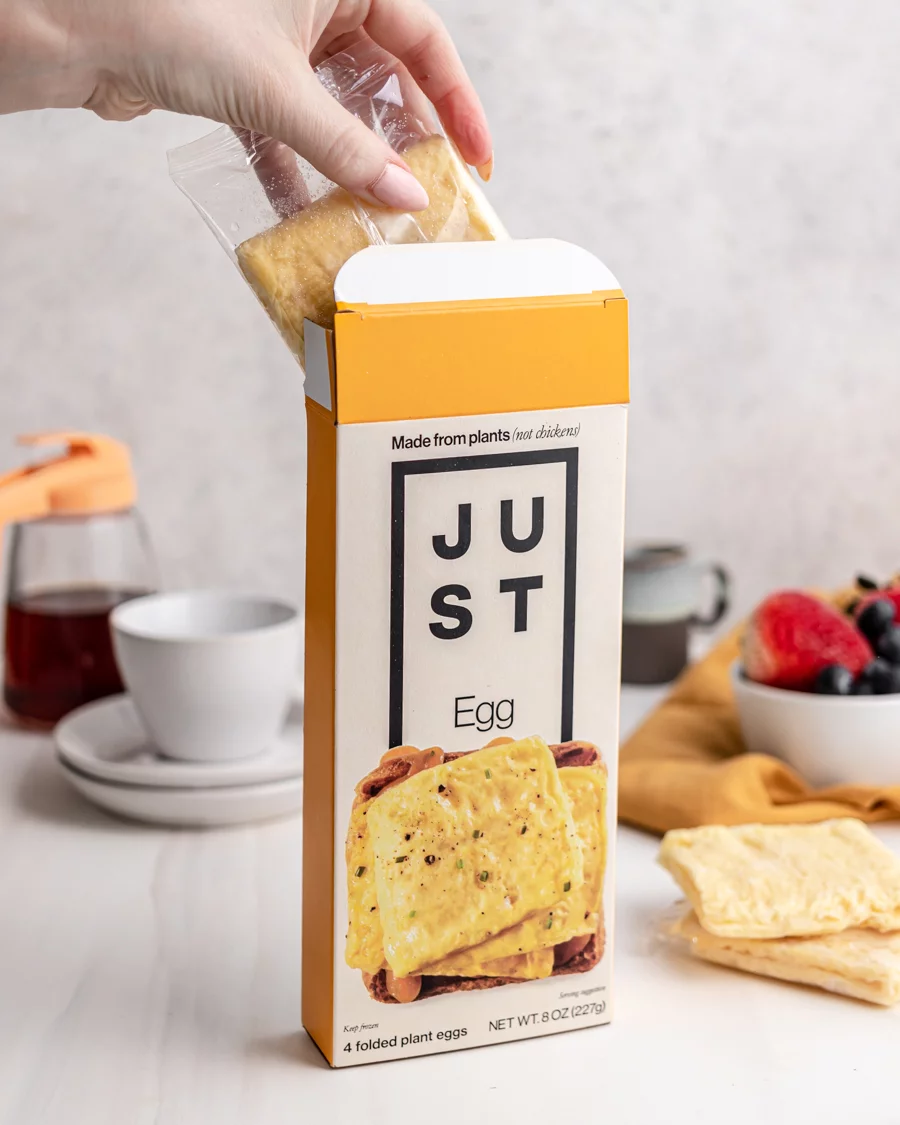 Still skeptical? So was I.
But then I fried one in a little olive oil and popped it on a piece of skillet flatbread with some sliced avocado and it was all over. I was a believer.
The Method
It's obvious that JUST Egg Folded could become the on-the-go-breakfast sandwich of your dreams (in under 3 minutes) but it can also be the sweet breakfast omelet of your dreams pretty quickly too.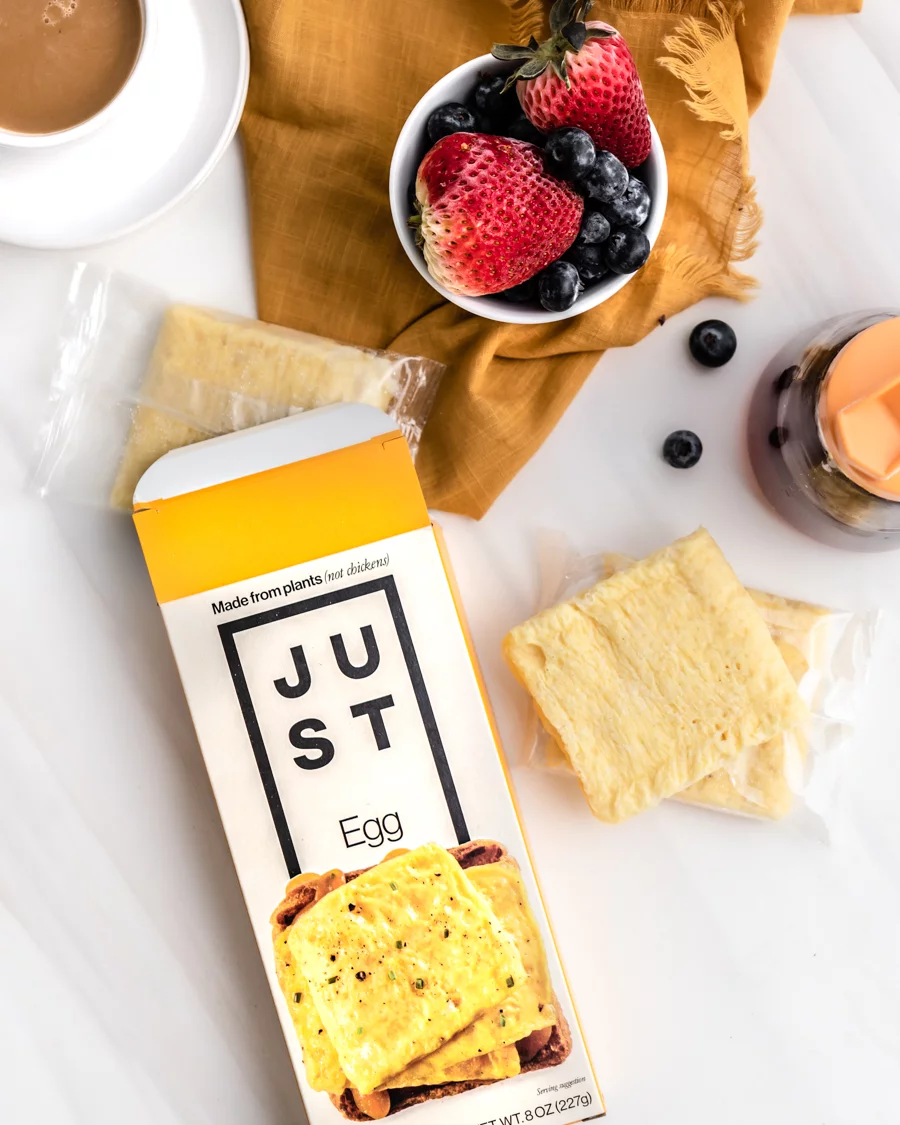 To build this breakfast/dessert combo you need:
Powdered No-Calorie Sweetener
Crème Fraîche (or dairy-free yogurt!)
Berry Compote (recipe below)
Stevia Sweetened Syrup (or your fave)
Heat your JUST Egg Folded in the toaster, microwave, or in a skillet and then layer it with ALLL the things. See? Easy.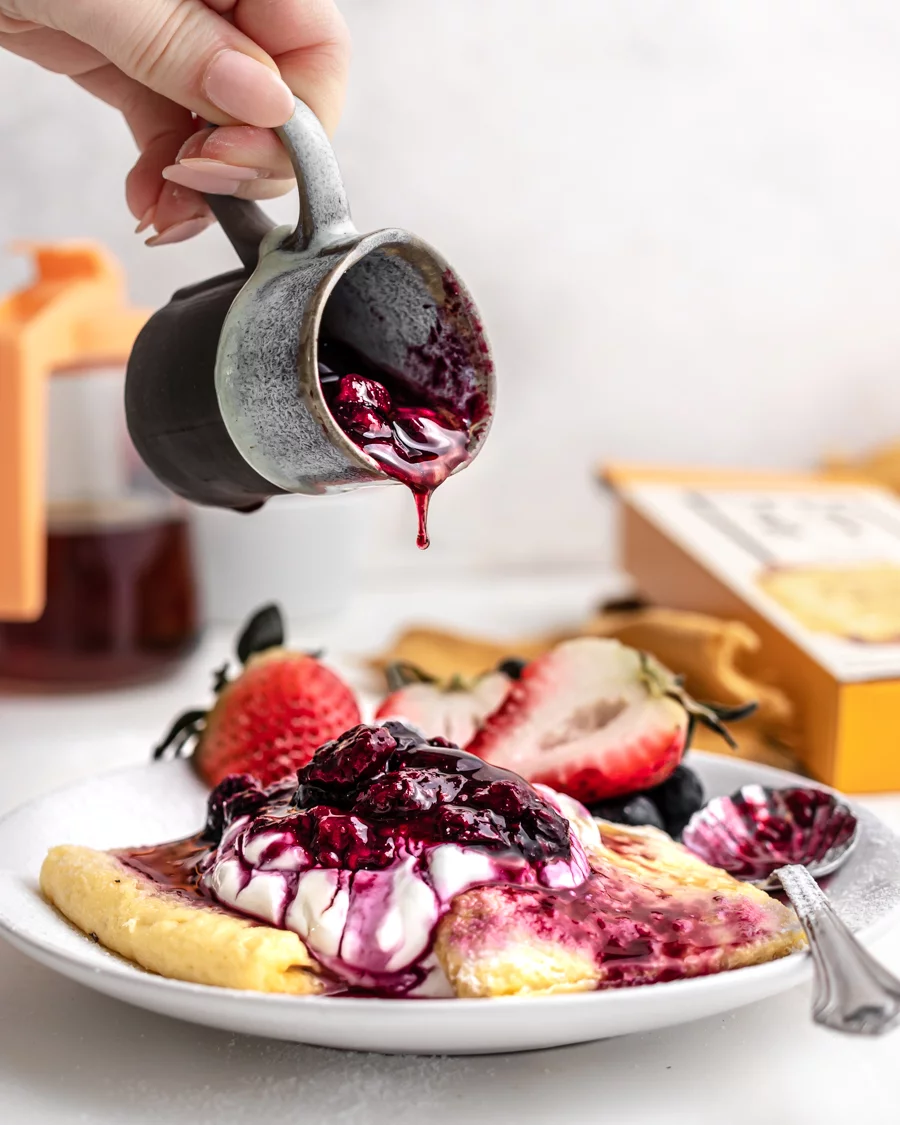 If you don't want to use crème fraîche or you are looking to make this totally plant-based, a dairy-free yogurt works perfectly.
Just don't skip the powdered sugar because it adds that extra *something* that feels fancy and necessary.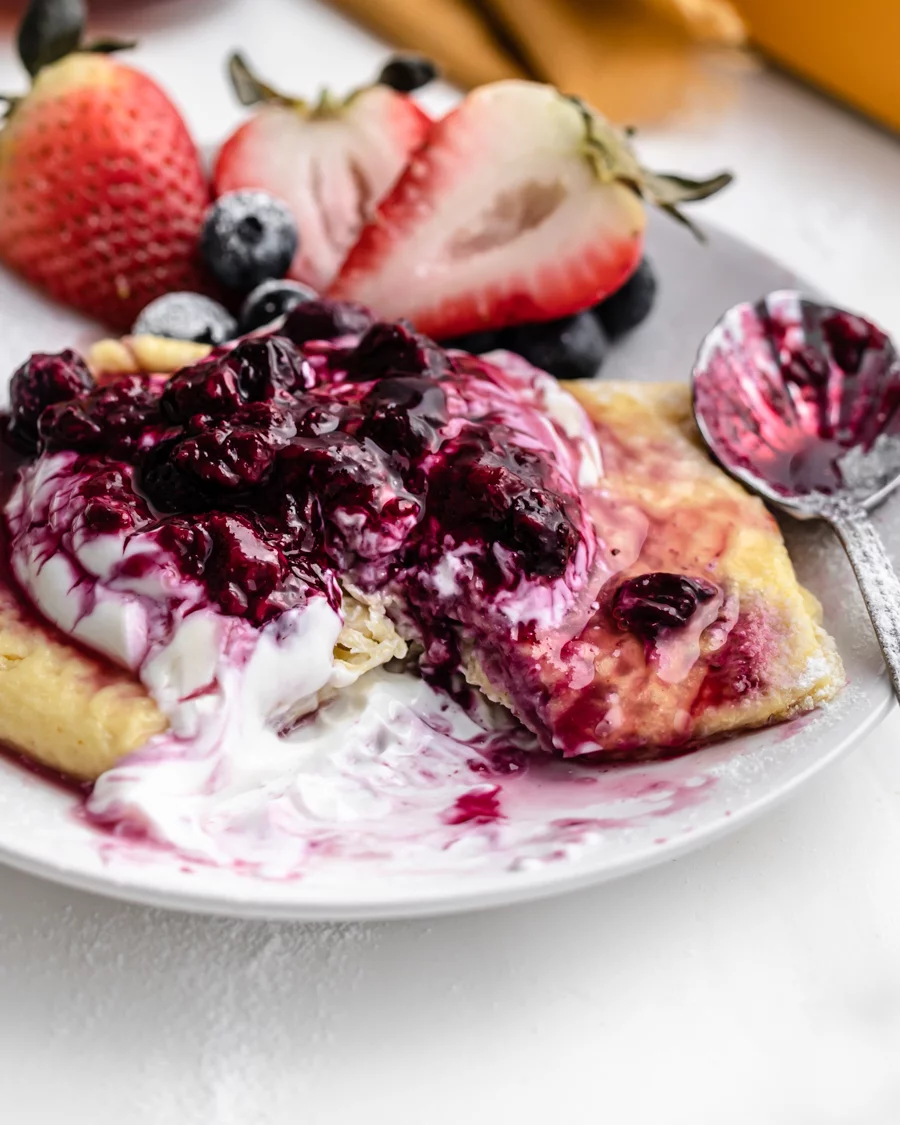 Find the new JUST Egg Folded at select Whole Foods nationwide. You can also purchase it online (my choice) through Amazon Prime Now Delivery!
Then, head to ju.st for more plant-based recipe ideas, cooking tips, and healthy meal inspo and get cooking!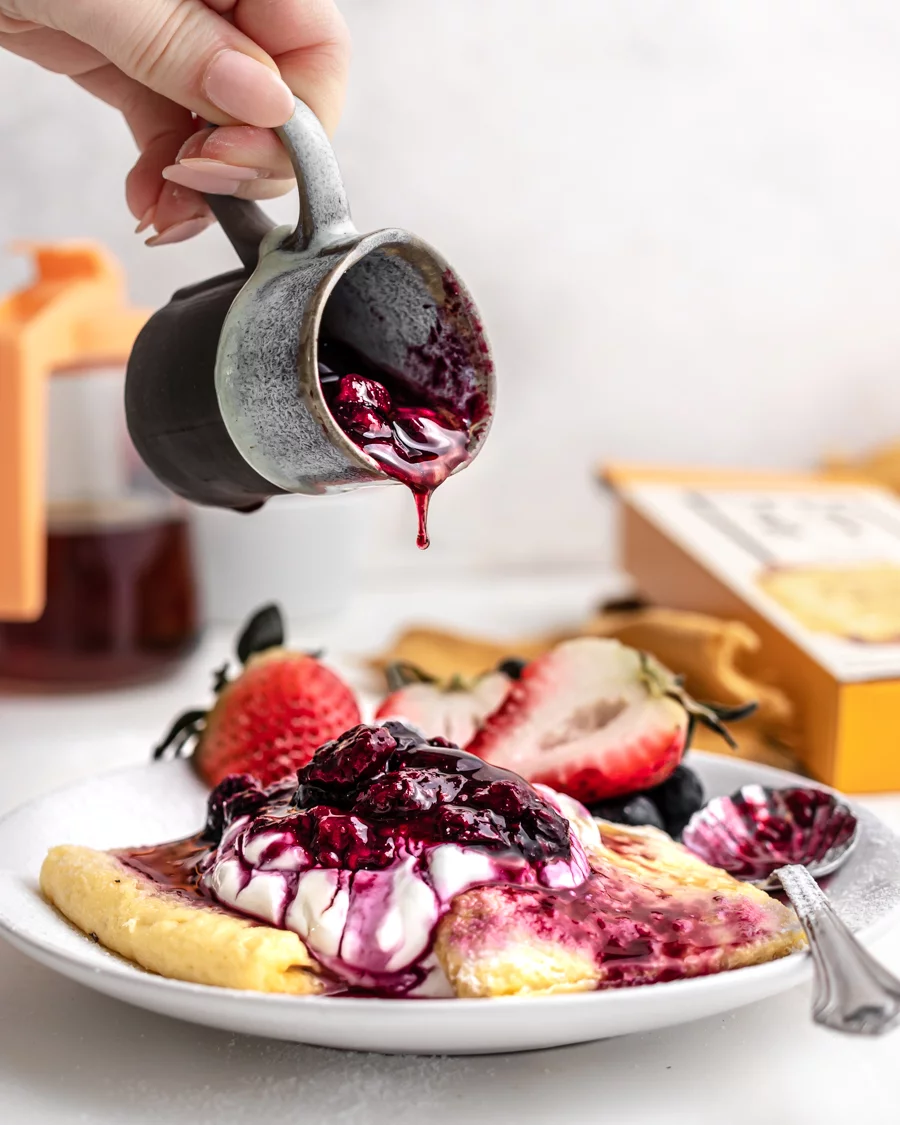 Sweet Mixed Berries N' Cream Omelet with JUST Egg
Indulge in a quick and easy protein-packed breakfast with this egg-free omelet and sweet berries and cream!
Ingredients
For the Omelet
2 JUST Egg Folded patties
2-4 tbsp Creme Fraiche, Greek Yogurt, or Dairy-Free Alternative
3-4 drops Liquid Stevia, or sweetener of choice
Mixed Berry Compote
Powdered Sugar Free Sweetener, to dust
Mixed Berry Compote
12 oz Fresh or Frozen Berries (Blueberries, Raspberries, Strawberries or a mixture)
4 tbsp Granulated No Calorie Sweetener
1/2 tsp Vanilla Extract 
1/4 tsp Ground Cinnamon
Instructions
Mixed Berry Compote
Add the 12 oz berries and 4 tbsp granulated sweetener to a medium saucepan and bring to a boil; stirring frequently.
Once the mixture is bubbling and the berries are releasing their liquid, reduce heat to medium, add the vanilla extract, and continue to cook for 5 more minutes.
Remove the pan from the heat and stir in the cinnamon. Use warm and store leftovers in a sealed jar for up to 1 week.

Build your Omelet
Heat the JUST Egg Folded with your method of choice. I fried mine in a skillet over medium heat with about 1 tbsp oil, turning to make sure they cooked evenly.
Meanwhile, mix your creme fraiche or alternative with a few drops of liquid sweetener and set aside.
Plate your JUST Egg Folded and dust with powdered sweetener. Layer on the sweetened cream, warm berry compote, and dust with more powdered sweetener.