There's nothing wrong with a classic keto cinnamon roll…but why stop there when you can fill it with strawberries?!?! And as always, ZERO mozzarella in this dough!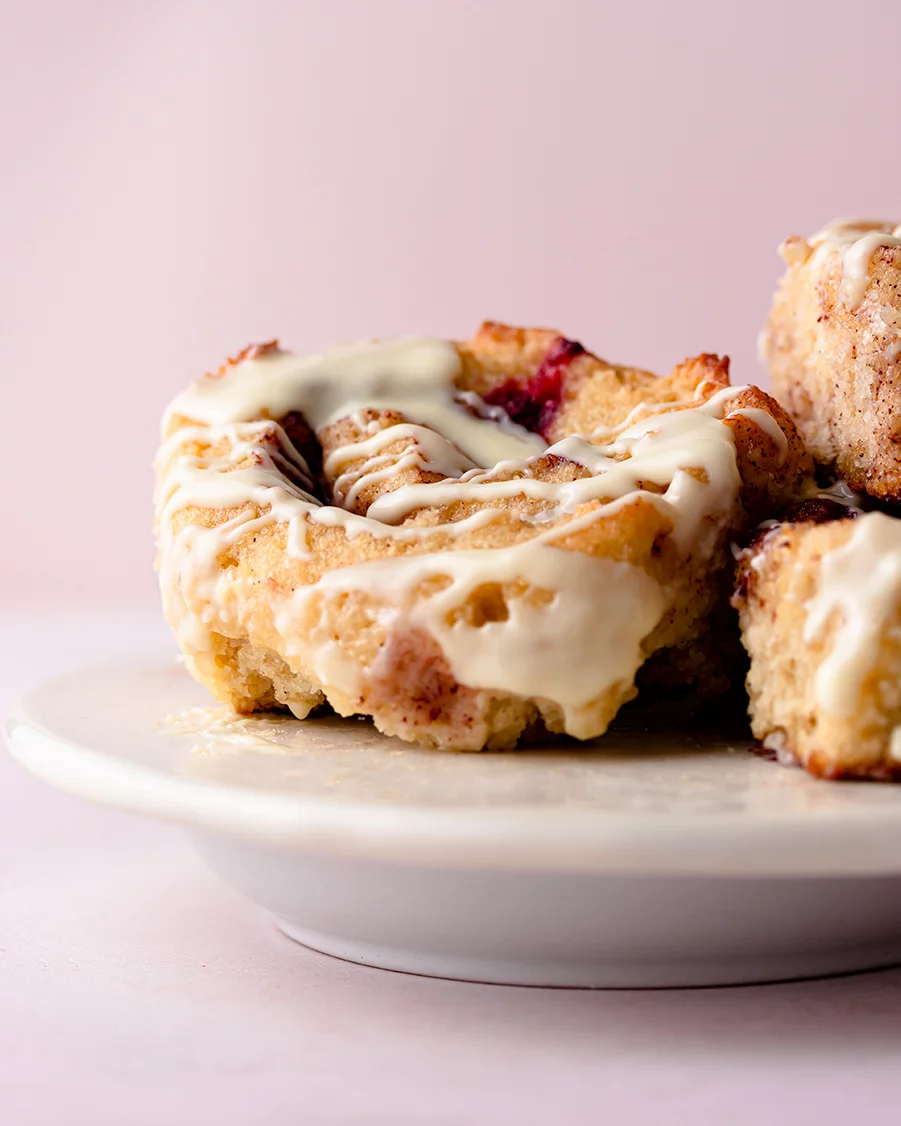 Stop Drop & Rollll
But really, stop and read some of the actual text because it's all about rockin' these rolls and not at all about life or philosophy or existentialism or whatever I normally write about.
On To the Tips!
Upon further testing (laziness), I found out you can actually use a whisk and elbow grease to make this dough. No stand mixer required! It is more difficult, but it works.
After making these so many times and listening to some reader's comments, here's what I found:
Room temp ingredients help but my eggs were chilly this time and the finished rolls were still amazing. (They didn't rise much pre-bake but baked up fluffy anyhow.)
Expectations: Don't mix this and expect the "dough" to resemble gluten flour "dough". It won't. It is a wet glob that will be sticky.
Use Plastic Wrap: I lay a piece of plastic wrap down, add the "dough", and then top it with plastic and press it into a rectangle about 3/4 inch thick. You don't even really need a rolling pin.
Rolling Tips Because This…is going to get messy.
Because this "dough" has to be wet enough to bake into a soft cinnamon bun, it's also very sticky to work with. It will NOT look like regular (gluten) flour dough and is somewhere between a solid and a liquid.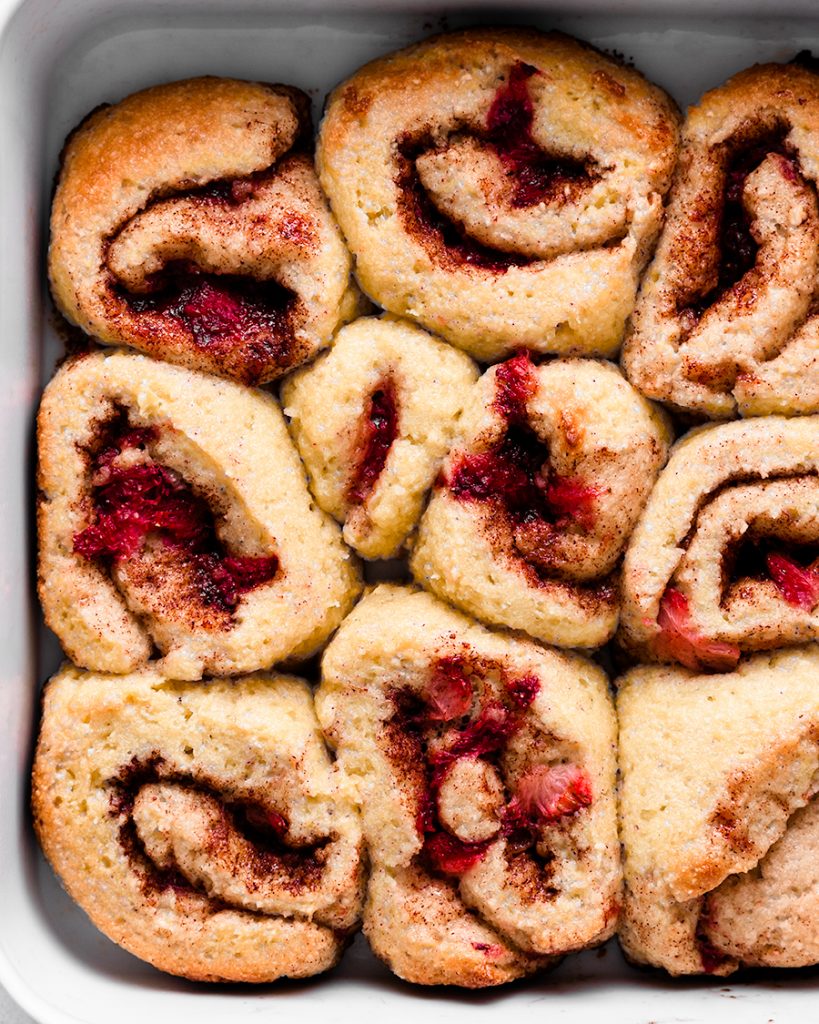 Bottom Line: You won't want to use your bare hands at all.
My go-to method is to use plastic wrap above and below the dough when forming the base to prevent an annoying and sticky mess.
Then, you can use the cling wrap to slowly roll it into a log of dough.
Imagine the long side of the dough rectangle facing your belly button. You want to roll the dough by lifting the plastic wrap and curling the dough away from you, using the plastic wrap to tuck the dough in (working side to side if needed) as you go. Then, peel a little of the plastic away and continue to roll.
When rolling, if some of the filling starts to squeeze out, that's okay! Mine did, too.
Once I finished rolling my dough log, I used the plastic wrap to sort of press everything together, including the ends since they tend to squish out a bit. Just put an open palm on each end of the dough and squeeze inward gently to reinforce the ends.
After rolling, make sure you have a sharp knife and a cup of water handy!!!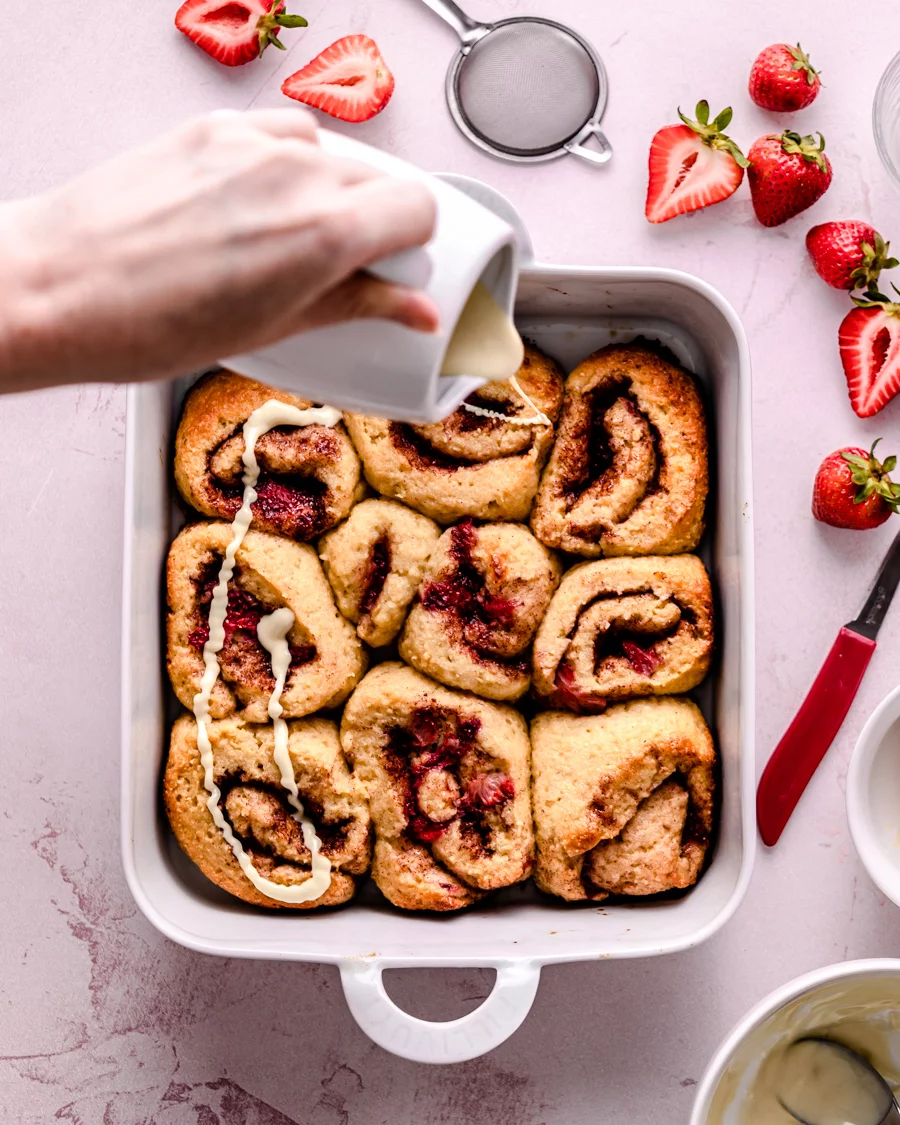 Now just drizzle or frost with your choice of frosting/drizzles!
I love SIMPLE so I used melted keto white chocolate with a touch of coconut oil to thin it out.
Another option is cream cheese frosting, which is what we used on the original Keto Yeast Cinnamon Rolls!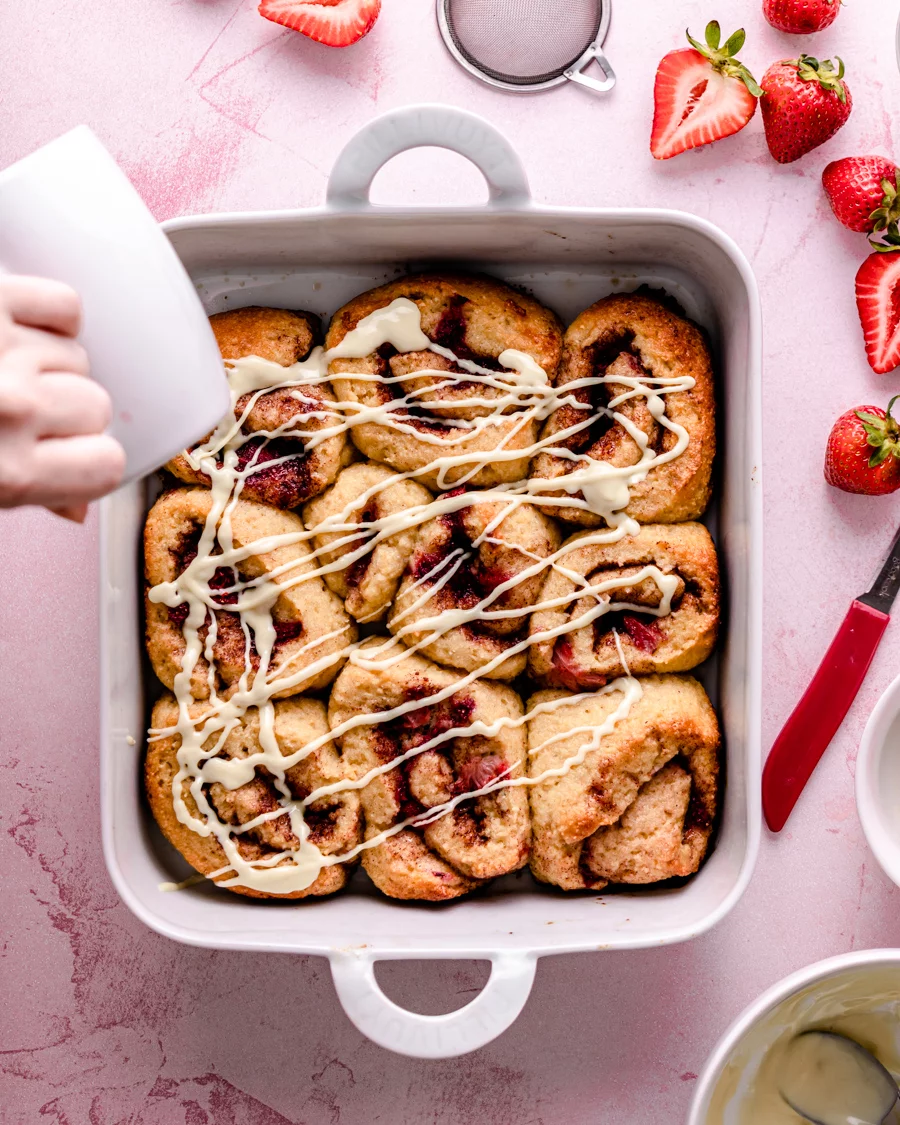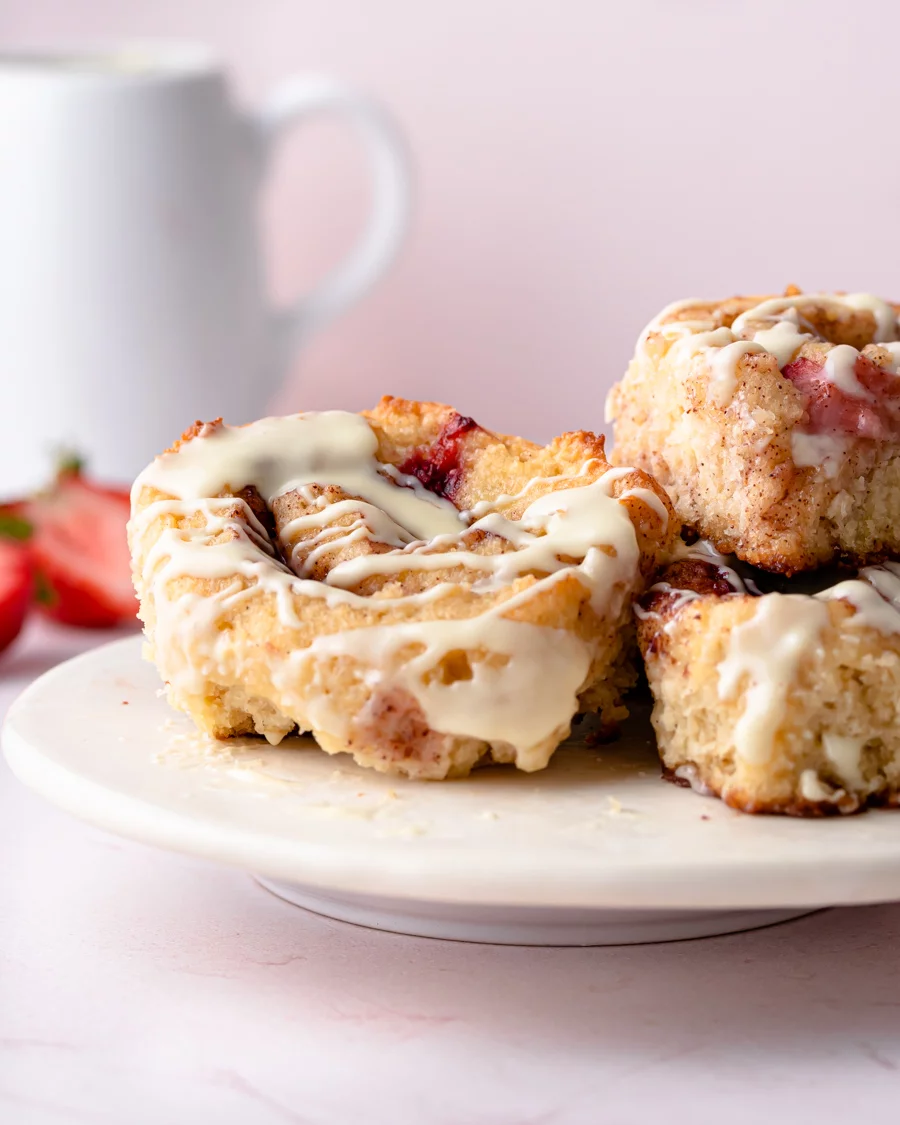 Heads UP! This post contains affiliate links. As an Amazon affiliate, I earn from qualifying purchases.
Want More Gluten-Free Treats? Try These!
Keto Strawberry Cinnamon Rolls
Additional Time:
30 minutes
Total Time:
1 hour
30 minutes
Don't sleep on this berry-licious twist on a classic made keto! Strawberry Cinnamon Rolls are the breakfast your boring morning has been waiting for.
Ingredients
CINNAMON ROLLS
2 cups Almond Flour
1 tbsp Coconut Flour
1 packet Dry Active Yeast
2 tsp Xanthan Gum
1 tsp Baking Powder
Pinch of Salt
3 tbsp Warm Water
3 Eggs, room temp (preferably)
1 Egg White, room temp
1 tsp Vanilla
2 tbsp Butter melted and cooled
1 tbsp Heavy Cream
Strawberry Filling
ICING Options
Instructions
Strawberry FIlling
In a microwave-safe bowl, add the diced strawberries and 1 tablespoon of sweetener and microwave for 1 minute. Mash with a fork and dust with xanthan gum; stir to thicken and set aside to cool.
Cinnamon Rolls
Whisk together the dry ingredients except for the sweetener (almond flour, coconut flour, yeast, xanthan gum, baking powder, salt) in a large bowl and reserve.
Using a stand mixer or a whisk, beat the eggs and 1 egg white, vanilla, butter, heavy cream, warm water, and sweetener until frothy.
Add half of the flour mixture and mix on low or by hand with a silicone spatula.
Add the rest of the flour mixture and continue to mix until a wet "dough" forms. By hand: use the spatula to fold and work the dough so the moisture can be absorbed; about 1 full minute. It will look like a mix between heavy batter and dough.
Place the dough on a sheet of plastic cling wrap and cover the top with a second sheet. Press out the dough in a rectangle approximately 1-inch thickness.
FILL: Add the softened butter to the thickened strawberries. Sprinkle the dough with cinnamon and sugar and top with the berry mixture, avoiding the edges to prevent leakage.
Using the edge of the plastic wrap, begin to roll the long edge of the dough into a log. It will be VERY sticky so use the plastic to gently roll it up, working from side to side.
Slice the dough with a sharp knife into 10 pieces*** (2 tiny end pieces and 8 full rolls) and place in an 8x8 baking dish coated with non-stick spray. Lightly cover with a towel to rise for 15 to 30 minutes. Make sure the area is warm (not hot!).
Bake the rolls at 350 degrees for 20 minutes, then lightly cover with foil (tent with foil) and bake for an additional 5-10 minutes.
Remove from the oven and drizzle with melted white chocolate or frost with cream cheese icing. Best served warm while in pajamas.
Notes
For TIPS see the video in the blog post and read the extra tips in the blog. It's helpful!!!
***Arranging the rolls: I used an 8x8 pan and made 3 rows of rolls. SO 3 rolls on the first row, 2 rolls plus the two "end pieces" in the center, then the third row of three rolls. See the photos for more detail!
Nutrition Information
Yield

about 9
Serving Size

1 unfrosted roll
Amount Per Serving
Calories

233
Total Fat

20g
Carbohydrates

8g
Net Carbohydrates

3g
Fiber

5g
Protein

8g