No Mozzarella dough here! These buns are powered by yeast.
And L O V E
---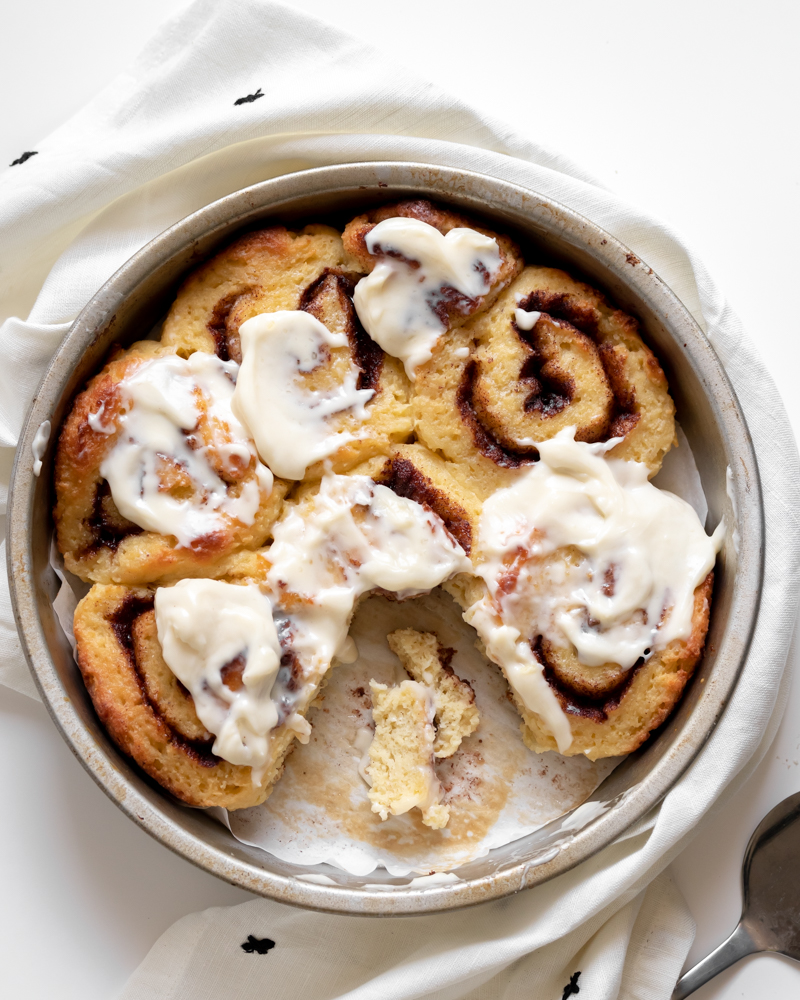 Hunger Buns
Or hunger busting buns, which would be more accurate and slightly less creepy!
Today we are talking about "buns of cinnamon" and breaking down the barriers of gluteny breakfast bread, one roll at a time. And though these might not be identical to the bakery-style cinnamon rolls you used to indulge in, these keto yeast cinnamon rolls will absolutely give you the flavor and sweet yeasty aroma that your bun-loving heart desires.
Plus, they are way more filling!
Completely Honest & Transparent
Texture Assessment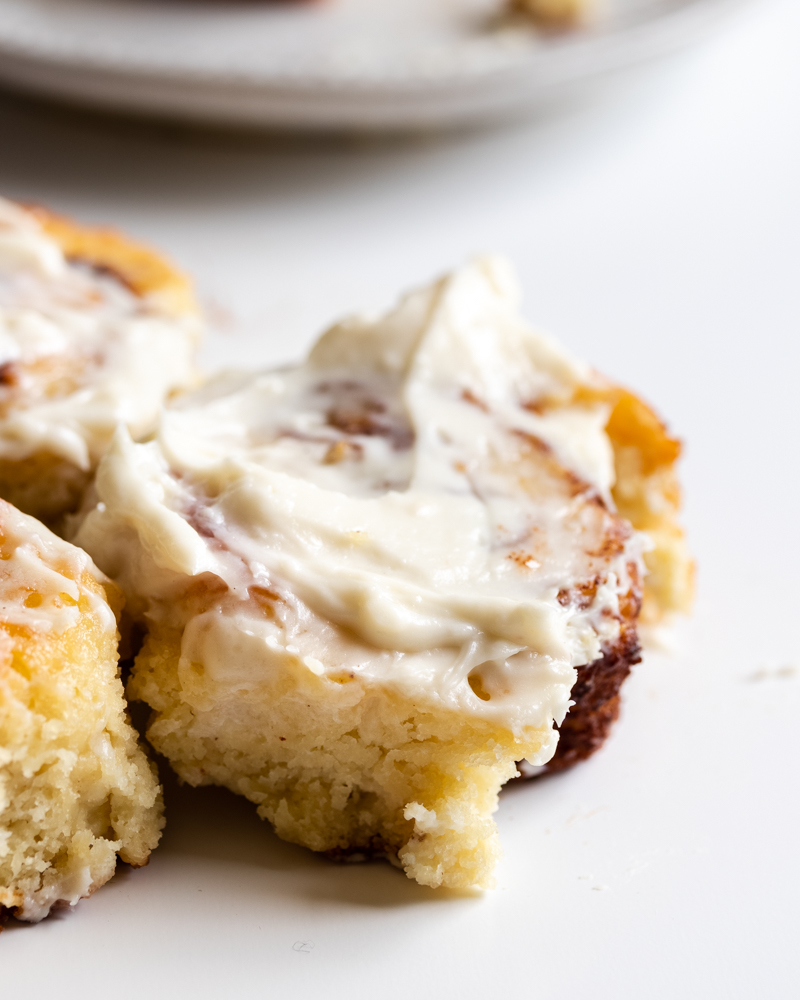 Texture is (in my opinion) the number one complaint in gluten-free or keto baking so I want to be VERY clear in what this recipe will produce. It's a two-way street, friends. I owe you that much!
These rolls are a texture somewhere near a dense cake, meaning they are going to be light with a soft crumb and a crustier exterior. That's because the yeast, baking powder, and egg white are doing a lot of leavening but there's still no gluten structure to trap enough air to simulate "super soft" bread. Now, there is an ingredient, whey protein isolate, that acts like gluten in baked goods, but my digestive system starts rebelling when I add too much whey protein isolate to my diet.
Luckily, these rolls take pretty basic gluten-free/keto ingredients that you probably have lying around your pantry!
Rolling Tips, So You Don't Go On A Murderous Rampage.
Because this dough has to be wet enough to bake into a soft cinnamon bun, it's also very sticky to work with.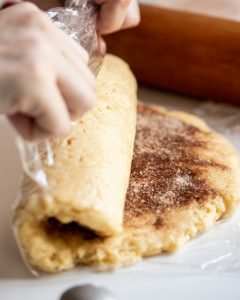 My best advice is to use plastic cling wrap above and below the dough when rolling it out to prevent an annoying and sticky mess.
Then, you can use the cling wrap to slowly roll it (again) into a log of dough. After that, make sure you have a sharp knife and a cup of water handy!!!
To slice, dip the knife into the water and gently cut through the dough to make your cinnamon rolls. The water keeps the dough from sticking, so dunk it every single time you remove the knife from the dough. Trust me, it works!
Before you try it, watch this Step by step video and bake along with me!
(Pretty Easy!) Keto Yeast Dough Cinnamon Rolls
Your kitchen will smell like a bakery that had a freak cinnamon explosion that it never fully recovered from. Zero casualties though.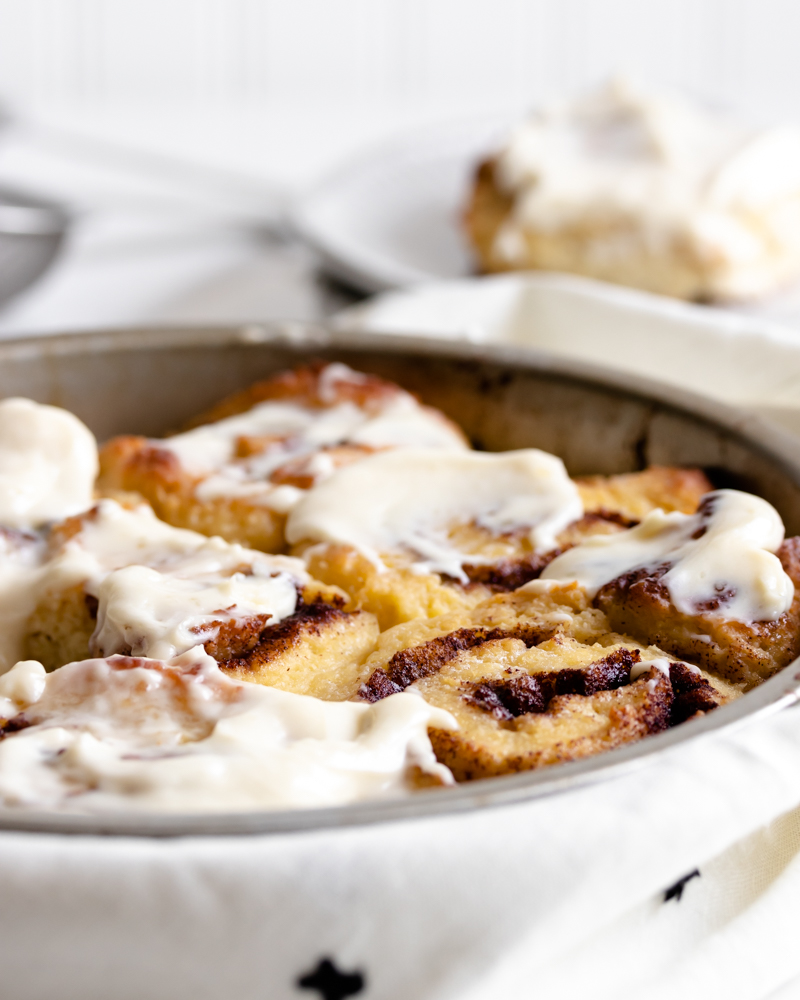 The pan you choose to bake your rolls in can be round or square. Just make sure you line the bottom with parchment to discourage bun-loss due to sticking. #stickybuns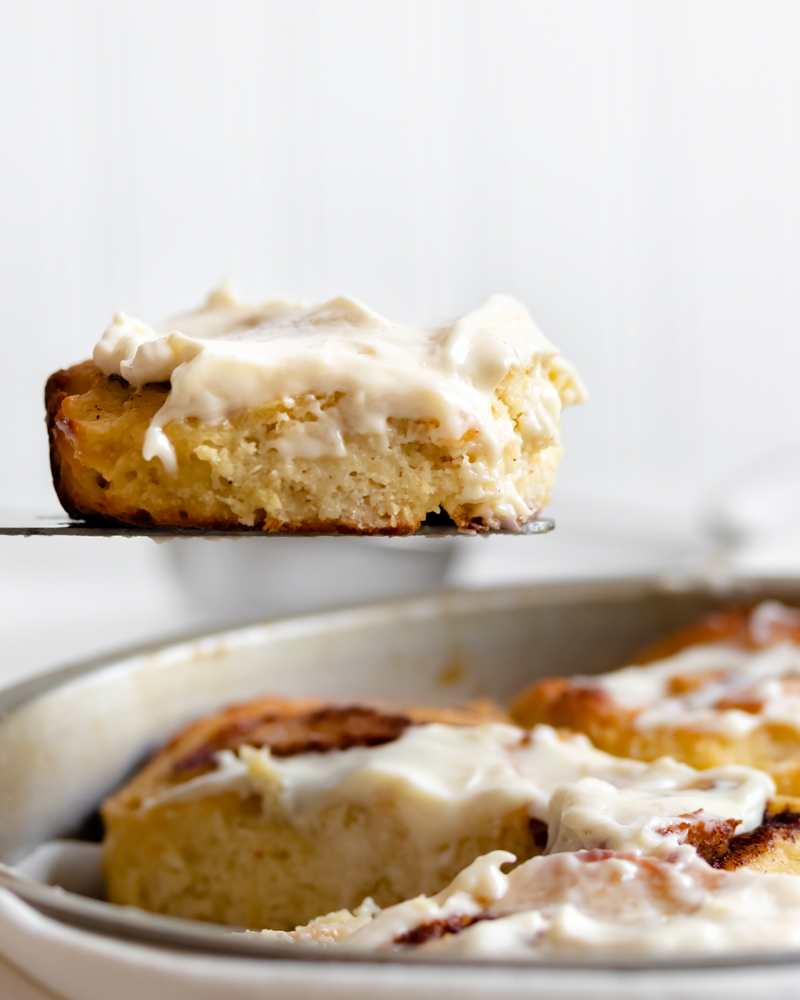 Obviously ice them with a mixture of cream cheese, butter, and powdered erythritol (swerve or another brand). A splash of vanilla never hurts either.
A splash of bourbon might be considered if you are adventurous (like me) or love bourbon (also me).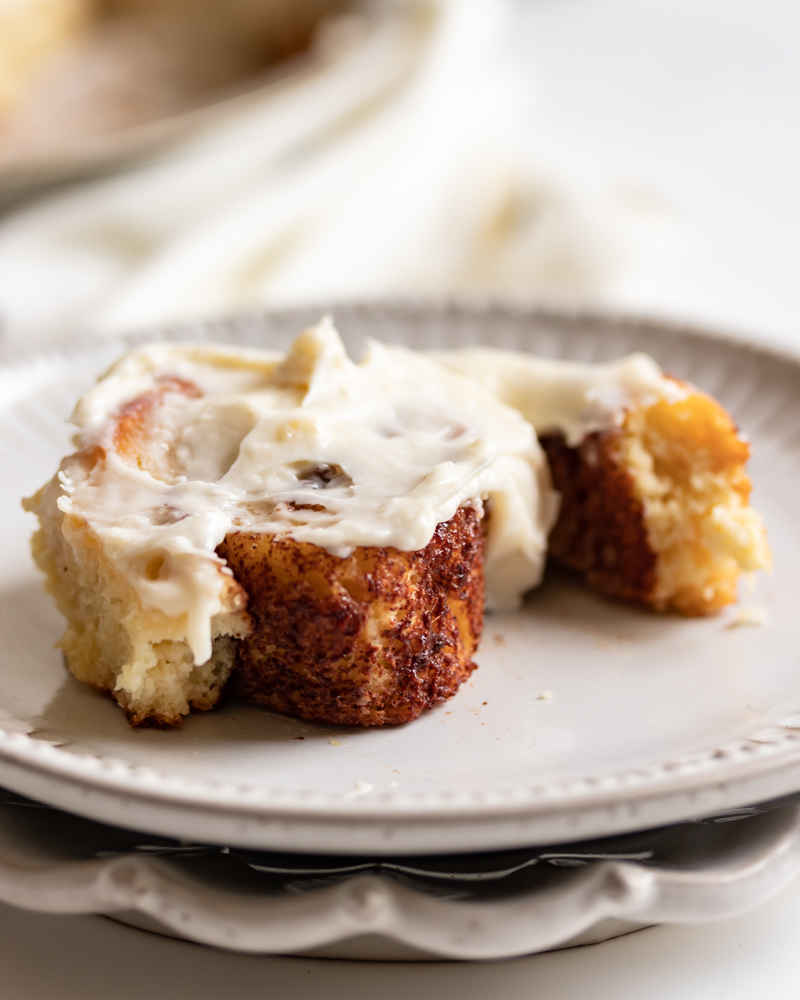 Other important notes and stuff
It's imperative that you make sure all of the ingredients are room temperature so the yeast will work it's magic.

If you forgot to leave your eggs out and you are super horny for cinnamon rolls, make a warm water bath that your mixing bowl will sit comfortably in.
Then, crack your eggs in there and beat the mixture. By the time you're done, the eggs will be warm enough to use!

The yeast rise time is up to you. The longer you let the dough rise, the stronger the yeast flavor becomes, which can be good or bad depending on your taste buds.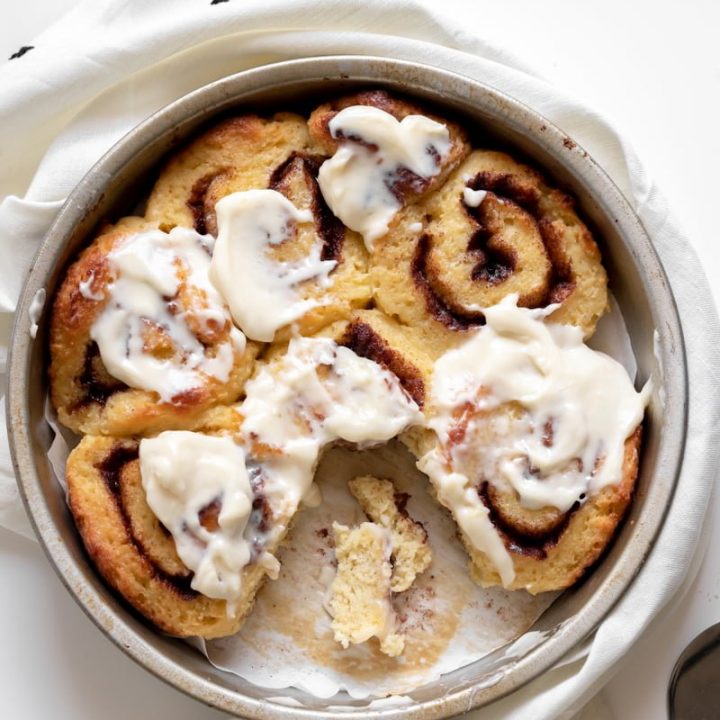 (Pretty Easy!) Keto Yeast Dough Cinnamon Rolls
Total Time:
1 hour
25 minutes
Gluten Free yeast cinnamon rolls that are worth the hassle!
Ingredients
Cinnamon Rolls
2 cups Super Fine Almond Flour
2 tbsp Coconut Flour
1 packet Dry Active Yeast
1/3 cup Granulated Erythritol or sweetener of choice
2 tsp Xanthan Gum
1 tsp Baking Powder
Pinch of Salt
3 large Eggs, room temp
1 large Egg White, room temperature
3 tbsp Warm Water
1 tsp Molasses or Sugar, for the yeast
1 tsp Vanilla
2 tbsp Butter melted and cooled
2 level tablespoons Greek Yogurt or 1 tablespoon Sour Cream
Cinnamon Sugar Mix
4 tbsp Granulated Sweetener
1 tbsp Ground Cinnamon or to taste
Icing
4 oz Cream Cheese softened
3 tbsp Butter
1/4 cup Powdered Erythritol like Swerve
Instructions
WATCH the video (it's long but helpful!) on how to make these rolls and what the dough should look like!
Proof the yeast by adding the water, yeast, and a tsp of sugar or molasses to a small dish. Let it hydrate for 5 minutes.
Whisk together the dry ingredients except for the sweetener (almond flour, coconut flour, xanthan gum, baking powder, salt) in a large bowl and reserve.
By hand or with a stand mixer, beat the room temp eggs, vanilla, butter, greek yogurt, yeast, and sweetener until combined.
Add half of the flour mixture to incorporate, folding with a spatula or with the mixer running.
Add the rest of the flour mixture and continue mixing until a wet sticky dough forms. If it isn't coming together, use a silicone spatula to really mix it. You need the flours to absorb the liquid!
Place the dough on a sheet of plastic cling wrap and cover the top with a second sheet. Roll out the dough to approximately 1-inch thickness.
Sprinkle the dough with cinnamon and sugar and using the edge of the plastic wrap, begin to roll the long edge of the dough into a log. It will be VERY sticky so use the plastic to gently roll it up, working from side to side.
Slice the dough with a sharp knife into 12 rounds and arranged in a parchment-lined baking pan and lightly cover with a towel to rise for at least 30 minutes. Make sure the area is warm (not hot!).
Bake the rolls at 350 degrees for 25-30 minutes, checking for excessive browning. If they are browning too soon, gently cover the pan with foil to prevent burning.
Icing
Beat together the icing ingredients until smooth.
Once the rolls have cooled, smear them with an obscene amount of frosting and serve!
Notes
When Rising you can choose how long to let the rolls rise. The longer the rise, the more volume and the stronger the yeast flavor.
Sticky Dough if you have trouble handling the rolls, a bit of water on the knife or your fingers helps! After you slice each roll, use your knife as a spatula to transfer the roll to the pan (keep it close to you!)
Nutrition Information
Amount Per Serving
Calories

233
Total Fat

20g
Carbohydrates

10g
Fiber

5g
Protein

8g