If you love summer berries and buttery biscuits, you'll adore this simple gluten-free keto berry cobbler! It's full of fresh fruit and minimal ingredients!

I love cobbling up a sweet summer's bounty of berries with keto biscuits. There's just something about the warmth of a baked biscuit and fruit that reminds me of pie. And there's nothing better than things that taste like pie!
This keto berry cobbler is simple, fresh, and super delicious for those of us who follow a gluten-free keto lifestyle. But I promise that your non-keto friends and family will love it too!
Why You'll Love These Keto Biscuits
Gluten-Free/Keto biscuits are super filling

I can't eat more than one or two (even if I try really hard). That's called portion control, right?

These biscuits don't get gooey!

Because almond flour doesn't absorb a ton of moisture, the biscuits stay kinda crispy up top with a soft biscuit belly. YUM.
Trust me when I say that you want your biscuit belly soft and the top crisp and buttery. Kind of like my Keto Strawberry Shortcakes! Wink Wink!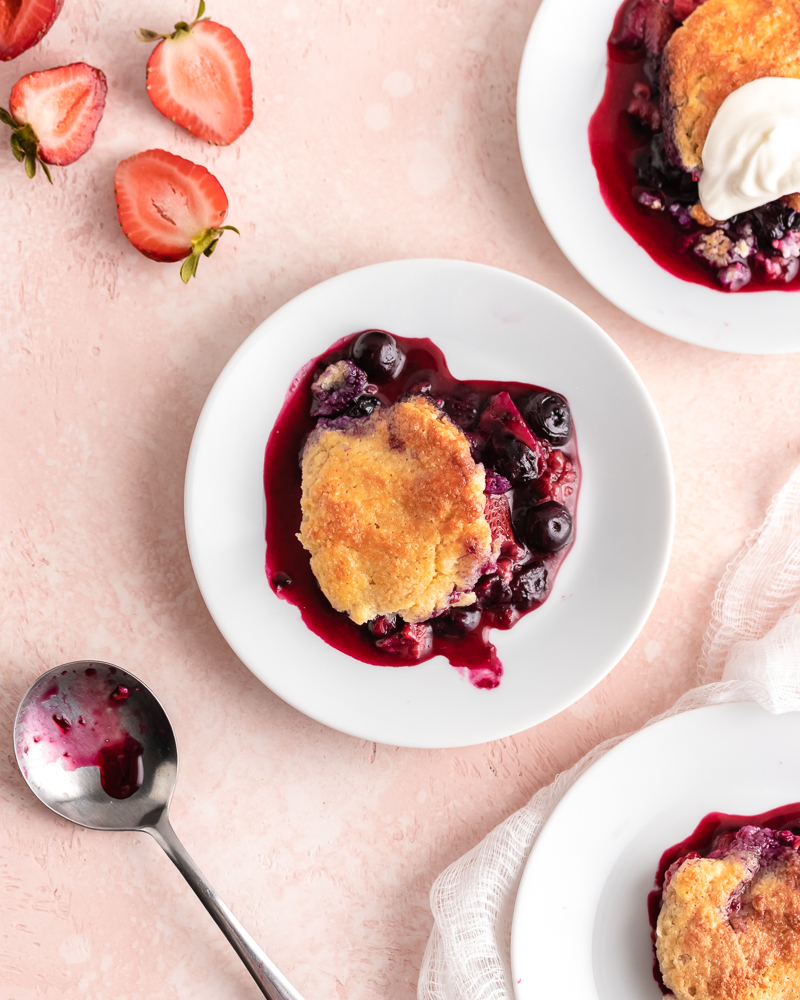 Carbohydrates and Berries
You might be wondering why I call this dish a delish low-carb option with fruit. and it's simple really—there's no gluten and tons of nutrients from fresh fruit. In my book, that negates any looming worries about carbs from berries.
This recipe has 10g of carbohydrates per serving and a total of 6g of net carbs. That's with a large serving of berries and a whole biscuit, but feel free to reduce the berries in your serving to make it fit your macros. It's all about being flexible!
If you are strictly counting carbs, portion size and planning your menu are key here. I no longer count carbs daily and focus on more on maintenance. This works for me but everyone is different. No judgments here!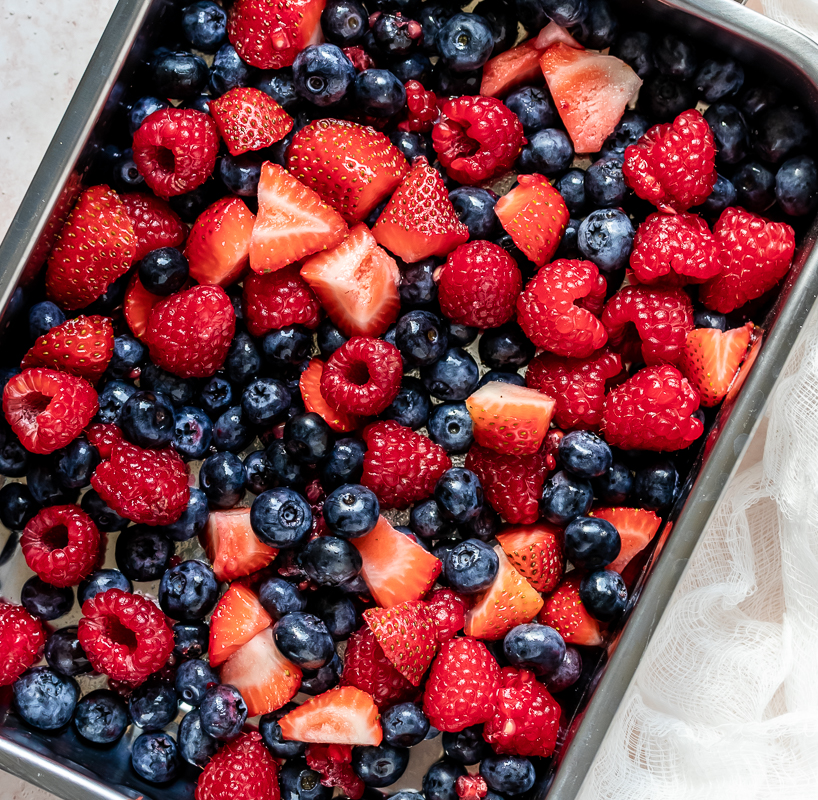 How To Make Keto Berry Cobbler
STEP 1: Berries go in the baking pan. Just toss them with a bit of keto sweetener or sugar (for non-keto) and arrange in your baking dish.
STEP 2: Mix your biscuits by whisking the dry ingredients together and cutting in the cold butter. Add the wet ingredients and mix until a soft dough forms.
STEP 3: Form your dough into 8 "biscuits" that are mostly flattened. Arrange on your berries and brush with an egg wash, then bake!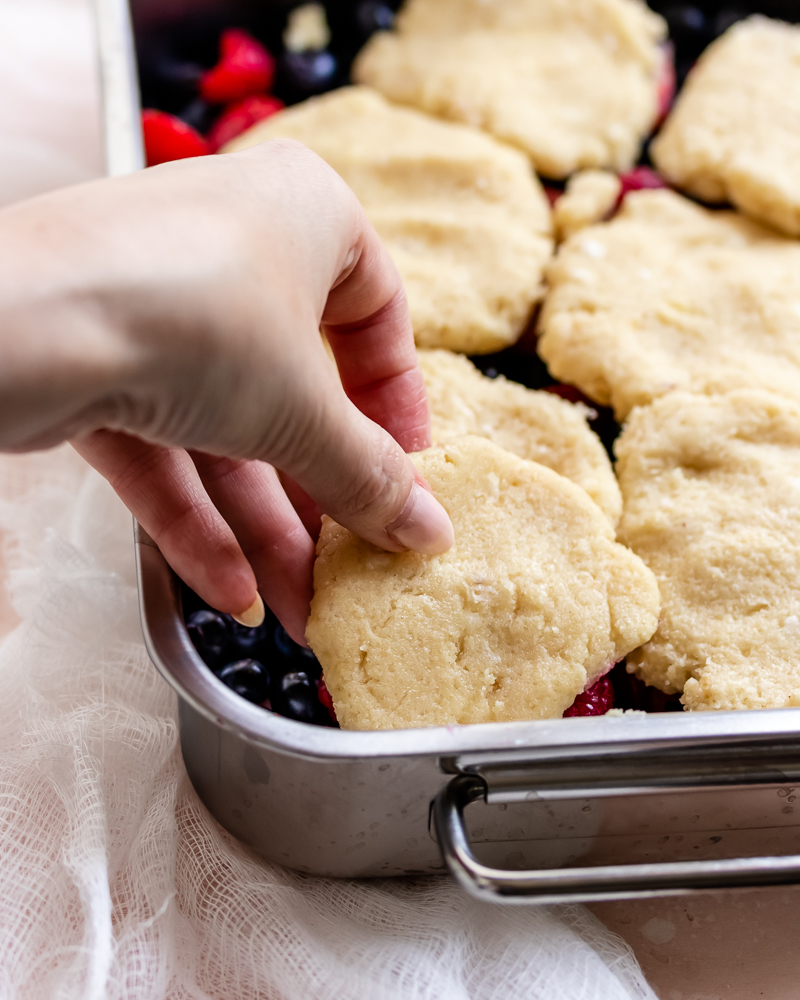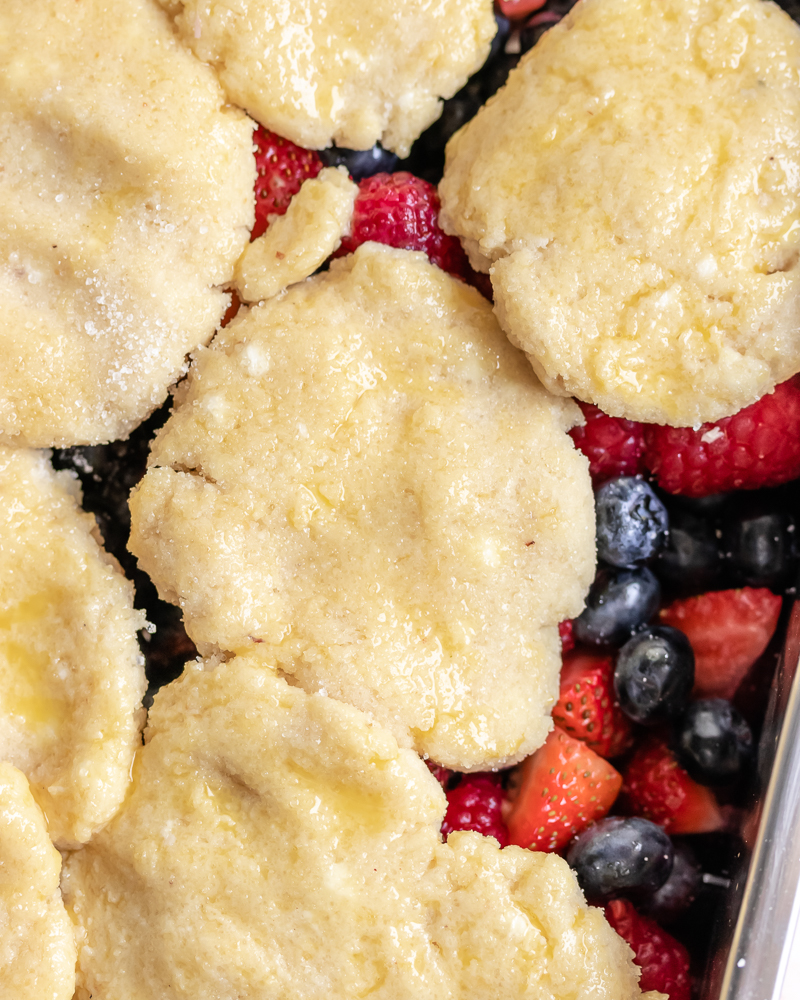 Can you even imagine how magical it would be to cobble some peaches? Don't worry, I'm on it. 🙌
Here are More Keto Recipes to Try!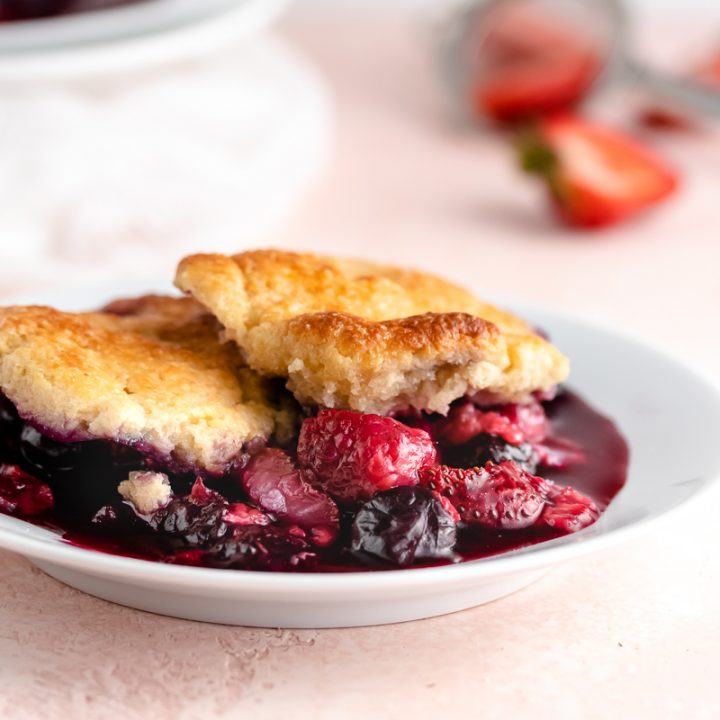 Keto Summer Berry Cobbler
Cobble all of your summer berries in this gluten free, keto friendly dessert!
Ingredients
For The Biscuits
1 cup Almond Flour
6 Tbsp Erythritol
1 tsp Xanthan Gum
1 tsp Baking Powder
1 tsp Vanilla Extract
2 tbsp Butter
2 Egg Whites, 1 yolk reserved
1/2 tsp Sea Salt
Filling
1-pint Raspberries, washed
1-pint Blueberries, washed
5 medium Strawberries, washed and quartered
2 tablespoons Erythritol, or allulose
Egg Wash
1 Reserved Yolk
2 tsp Water
Instructions
Whisk together the almond flour, sweetener, baking powder, and xanthan gum.
Cut in the butter using a fork (or your hands) until the mixture resembles sand.
Lightly beat the egg whites and vanilla, then add to the flour mixture. Using a fork or your hands, mix until a smooth dough forms.
Layer the berries in a small oven-safe baking dish and sprinkle with 2 tablespoons of sweetener.
Portion the dough into 8 equal balls and form into flat rounds.
Whisk together the egg yolk and 2 tsp water to make the egg wash. Layer the biscuit dough over the berries and brush with the egg wash.
Bake at 400 for 20-30 minutes, covering with foil once the biscuits begin to brown. Serve hot with a scoop of keto ice cream!
Nutrition Information
Yield

8
Serving Size

1/8 th
Amount Per Serving
Calories

146
Total Fat

10g
Carbohydrates

10g
Fiber

4g
Protein

4g