These gluten-free keto strawberry shortcakes are packed with protein, chia jam, and LOVE!

Short Cake, Long Story.
Actually, it's a short-cake story.
I really love strawberry shortcakes, I do. But I don't make it often because I have limited self-control when there a ton of shortcake-making ingredients hanging around.
Let's just say if there's a basket of biscuits, they will last as long as it takes me to butter an entire basket of biscuits. For reference, I can butter a biscuit in literally no time.
Why am I like this???
It's anyone's guess, really. But the point is that I need desserts to meet a few important criteria (you may have noticed?) for them to be allowed in my home: be grain-free, be able to "small batch", and have some healthy redeeming quality that tricks my mind into not feeling guilty (it's a mind-game, folks). That's where these keto strawberry shortcakes come in!!!
Keto Strawberry Shortcake Smart Swaps
1. Greek yogurt isn't whipped cream, I am aware, but it tastes good with strawberries and cake so work with me on this! You won't even miss the whipped cream because it gets all mixed up with some beautifully jammed strawberries.
Greek yogurt is full of protein, calcium, and probiotics baby! Whipped cream can't put good bacteria in your guts. Science!
2. Chia Berry Jam is another swap that I promise you won't hate because it is so delightfully similar to regular jam. But unlike its sugary friend, chia berry jam gets thick because chia seeds are hydrophilic (love water) and they absorb up to 12x their weight when soaked.
Chia seeds also contain so many nutrients that I won't even list them. Just know it's A LOT. How's that for dessert?
Just smash freshly washed berries with sweetener and chia seeds and BAM. Jam.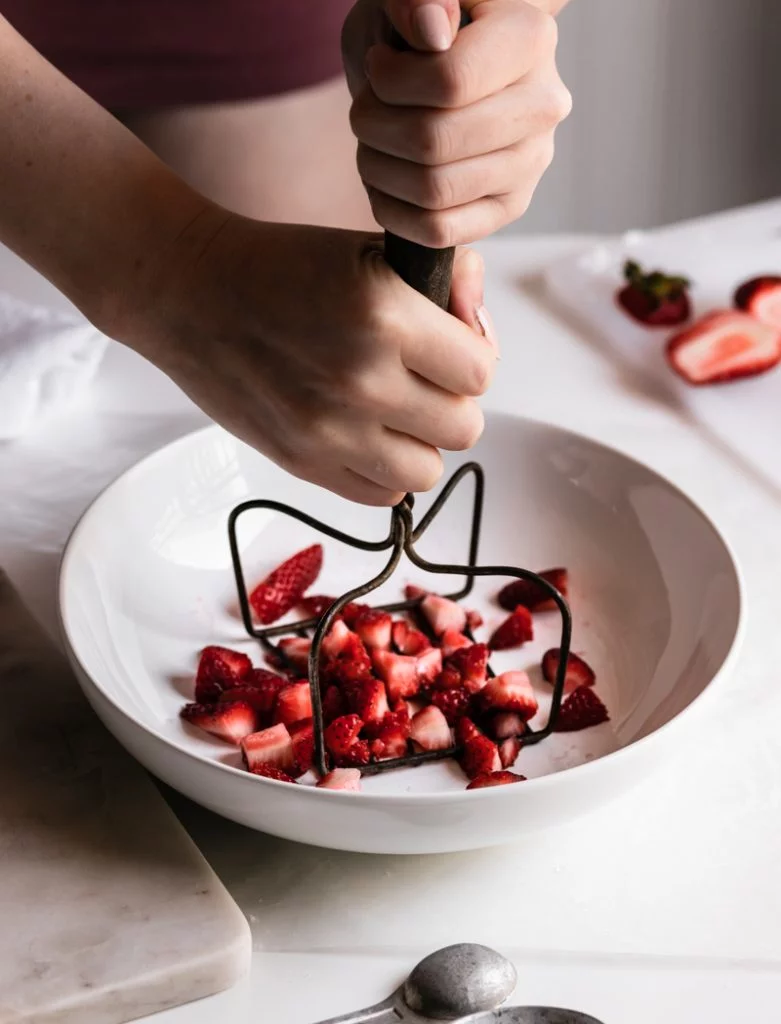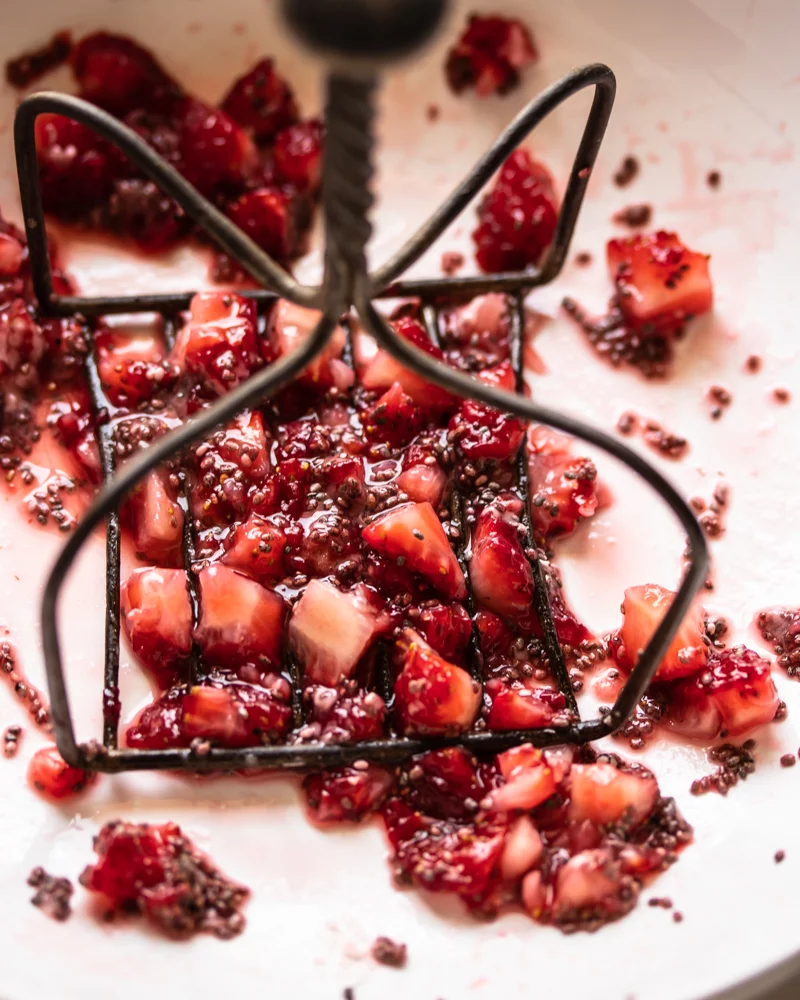 3. Small Batch Biscuits are the other lifesavers in this recipe. These biscuits are so simple, contain ZERO butter which is a nice change of pace from the typical low carb recipes and they taste and feel like a mix between pound cake and a dense biscuit.
Oh ya, and there are only four (!!) per batch, so no mountain of biscuits lying around to tempt you at 9 pm.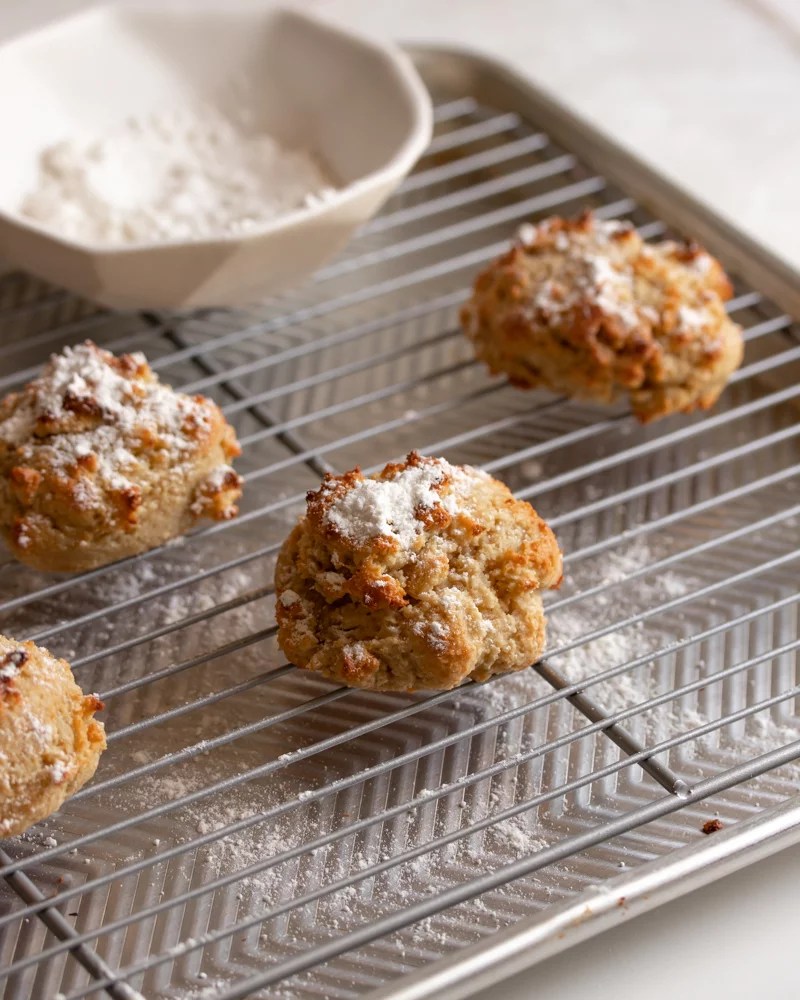 A prefer my shortcakes to be "jammed" rather than whole berries. My mother always mashes her berries, too. Must be hereditary.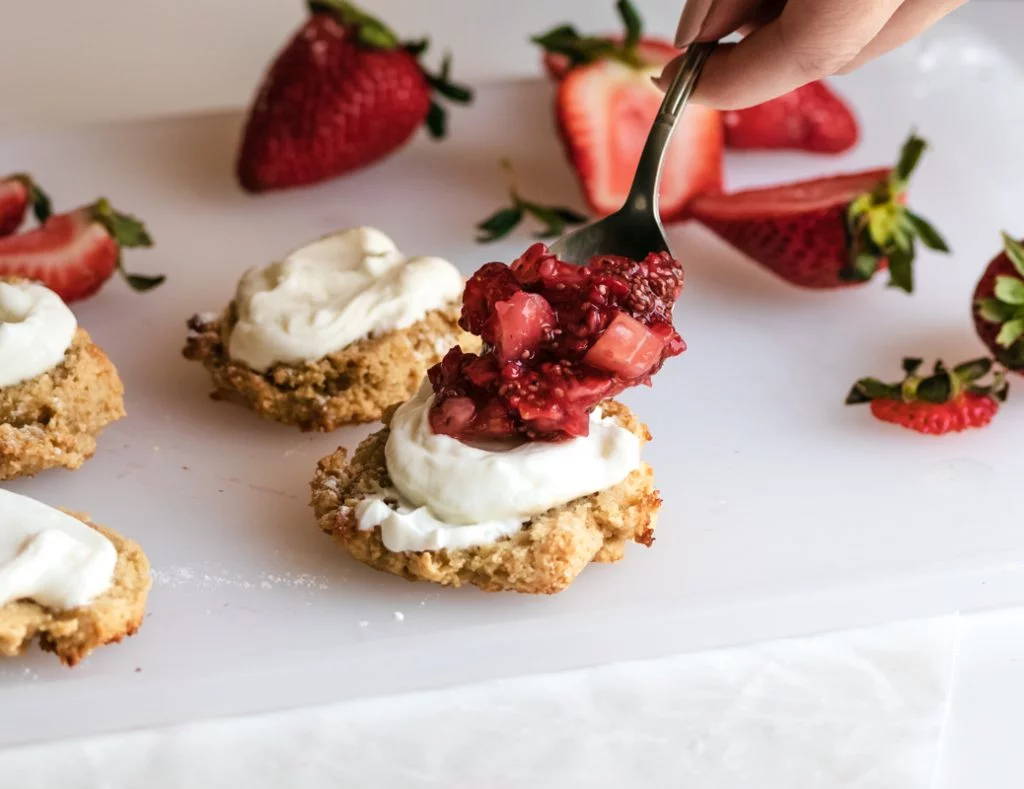 Keto Drop Biscuit Texture
These particular biscuits are not dry but are dense. Because measuring almond flour can be tricky, you really need to watch the consistency of the dough. It should be soft and formable without being dry at all. Some of the dough should slightly stick to your fingers. IF the dough is too dry, add water 1 tablespoon at a time, then work the dough until it's absorbed. IF the dough is too wet, add 1-2 tablespoons of almond flour, then mix. Refrigerating the dough can also help if your ingredients have gotten too warm!
These biscuits are soft and sweet on the inside. But as far as taking this particular recipe and making it savory? I don't think it's what your biscuit-loving heart would want. It's a little too soft and dense.
Try my keto drop biscuits for a savory side instead!
For the best keto shortcake results, I recommend baking on a silicone baking mat! It's reusable (good for the ol' planet) and it prevents over-browning on your bottoms.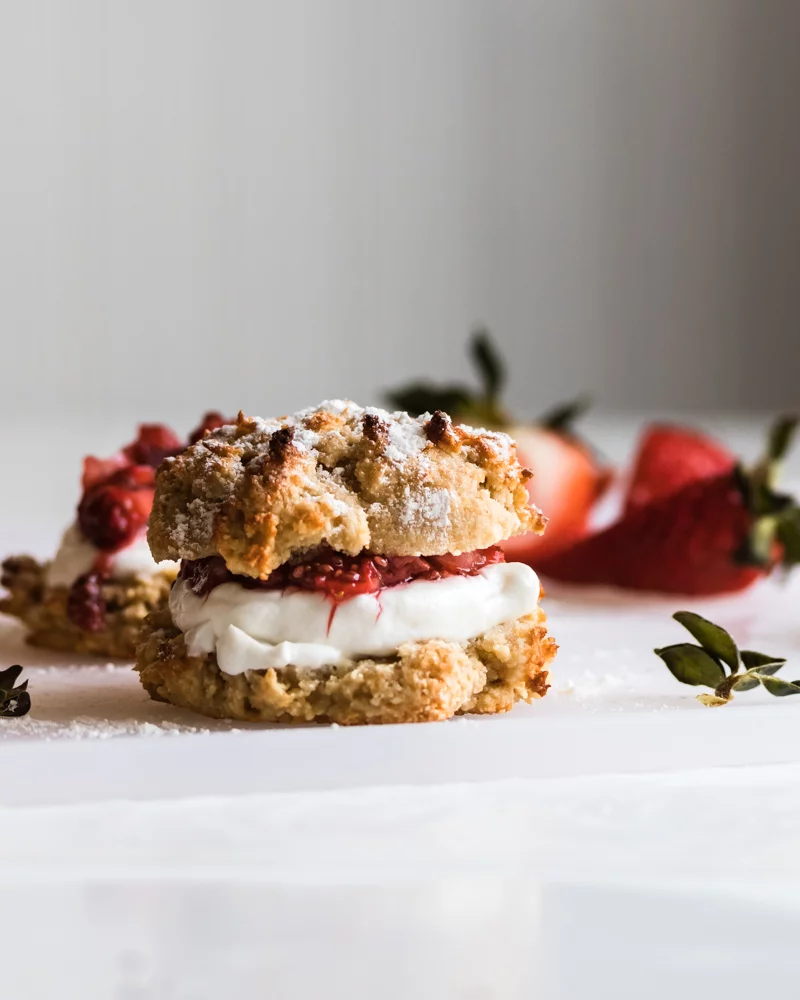 I love that these shortcakes look like they are one fork stab away from bursting into a delicious mess.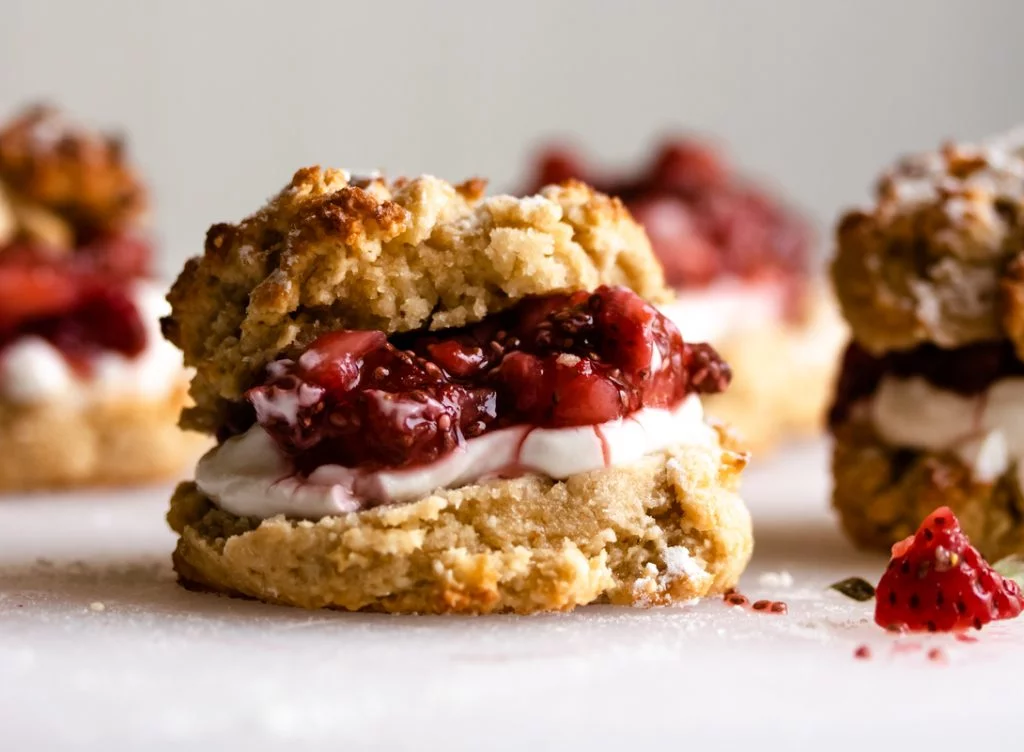 Looking for More? Try These!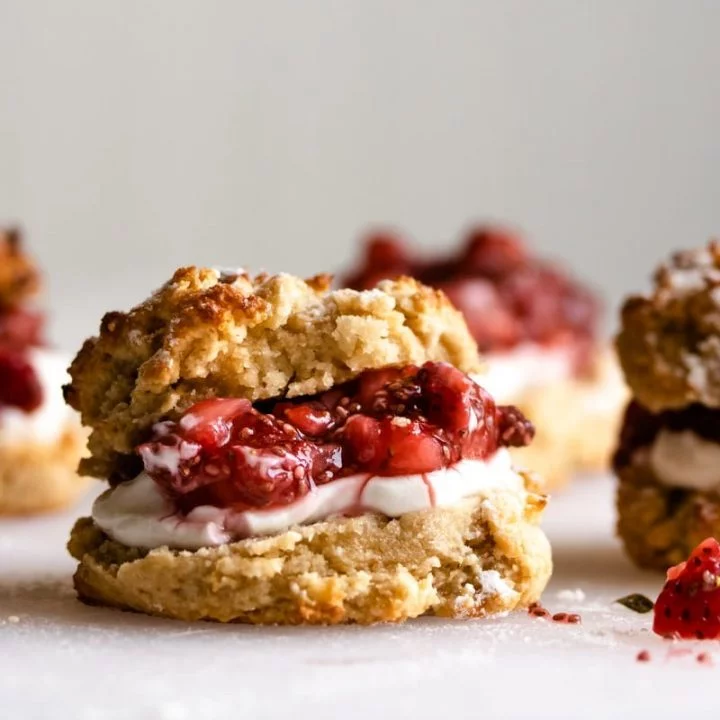 Greek Yogurt Strawberry Shortcakes! Grain Free & Low Carb
This lightened up version of Strawberry Shortcake is super awesome because it's grain-free and protein-packed via Greek yogurt and chia seeds.
Ingredients
Shortcakes
1 tsp Coconut Flour
1 tsp Baking Powder
1/4 tsp Baking Soda
1 Large Egg
1 tsp Vanilla Extract
1/4 tsp Salt
Chia Berry Jam
8 Medium Strawberries washed and sliced
1/2 tsp Lemon Zest (optional but yum, right?)
Greek Yogurt
Splash of Vanilla Extract
Instructions
Shortcakes
Heat oven to 350°F and line a baking sheet with parchment or a silicone baking mat. Beat the egg, Greek yogurt, and vanilla until smooth.
Whisk the dry ingredients, then add to the wet and mix until a sticky dough forms, making sure all of the flour is distributed and no dry lumps are visible. If the mixture is VERY DRY you may have packed too much flour in the measuring cup, add 1-2 teaspoons of water. If the mixture is VERY WET, add 2 tablespoons almond flour, then chill to set up.
Use a spoon to scoop a heaping portion of dough and drop it onto a parchment-lined baking sheet. You can also hand-form them into a "biscuit" shape. Gently smooth out any rough edges. This batch should equal four small biscuits.
Bake for 10 minutes, check the tops for browning, and continue to bake until the edges are golden. About 12-15 minutes in total.
Let cool completely to set. They may feel dry if left out for a few hours at room temperature, but place them in a sealed plastic bag to bring back some softness!
Berries and Greek Yogurt
Mash the berries, sweetener, optional lemon zest, and chia seeds until the mixture resembles a chunky jam. You can thin the mixture with a tsp of water if desired. I keep mine thick. I use a hand chopper for this!
Whip together the plain Greek Yogurt, vanilla, and sweetener and refrigerate until ready to use.
Assemble the Shortcakes
Slice the top off of each biscuit.
Add a dollop of Greek Yogurt and a spoonful of berries.
Top with the other biscuit half and sprinkle with powdered sweetener.
Nutrition Information
Yield

4
Amount Per Serving
Calories

220
Total Fat

16g
Carbohydrates

10g
Net Carbohydrates

5g
Fiber

5g
Protein

11g