Why make pop-tarts?
EASY. Pop-tarts are delicious. Plus, all the gluten free tarts on the market (that I've found) are lying about being healthy and also about being pop-tarts.
But it's not actually EASY per se. I want to tell you it's easy. I want to tell you that you'll make this recipe every damn time you feel the urge to fit your mitts around a piping hot fruit filled pastry, but you won't.
It's ok. I won't either. BUT I will make them sometimes and I will absolutely Instagram them every time.
Recipe Level-Expert
Not only does this recipe call for things you probably don't have in your pantry, it also takes a hunk of time to roll dough, cool it, make filling, fill/bake, and then drizzle with icing. Sorry. If you can get through all of that, it's worth it. Really.
Just ask my parents who conveniently ate them all…
SO now that I've talked you into it (ha!) you can check out the products I used HERE and scroll through my quick pictorial of how I made a really bad for you breakfast into a badass healthy breakfast.
Eat it, Kellogg. We don't need you anymore.
Low Carb Strawberry Protein
Pop-tarts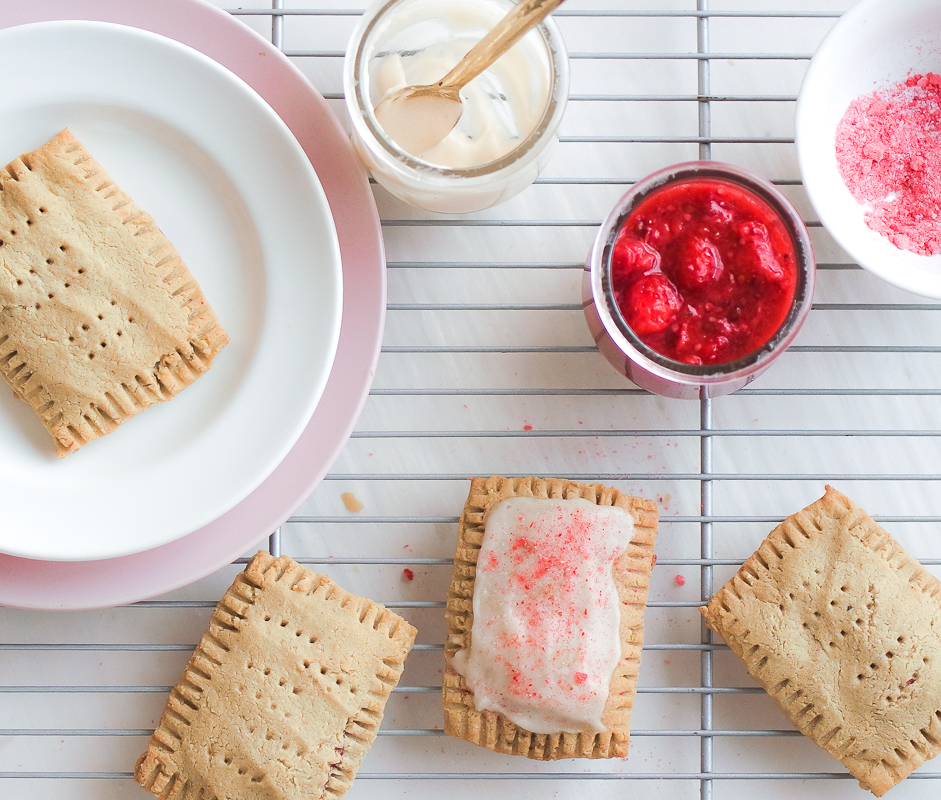 Trick #1 Keep it cool and take it slow
This dough looks easy to handle until you get your hot little hands on it.
To minimize sticky finger freak outs, cool your dough before rolling and don't hesitate to pop it in the freezer periodically while you are workin' it.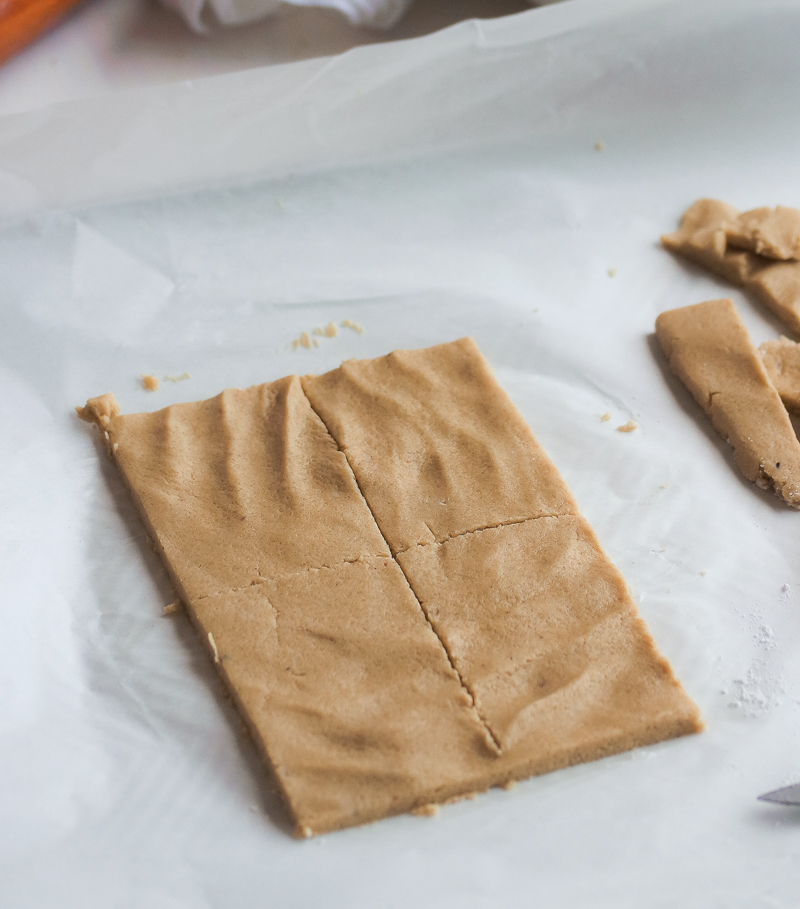 Trick #2 Don't Slice Each Piece Perfectly
It's absolute madness to try to slice 8 identical rectangles out of this dough.
Don't.
Slice the dough down the center and then across and you'll get 4 rectangles.
THEN you trim the edges enough that the excess can be re-rolled (not rick-rolled) and formed into the pop tart toppers.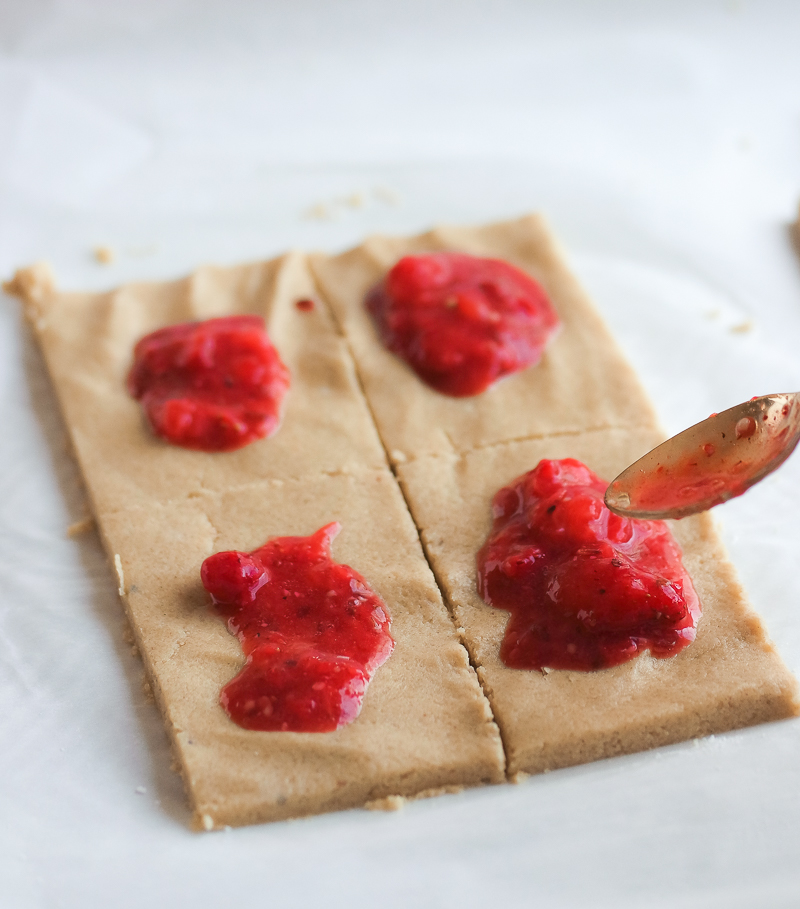 NOTICE the imperfect tops on the tarts.
That's because I flattened some dough between my palms and sort of laid it on top, then trimmed the edges.
Patience is a virtue I lost a long time ago. Rolling pin had ta go.

Don't forget the forking holes so they don't leak all of the goodness out!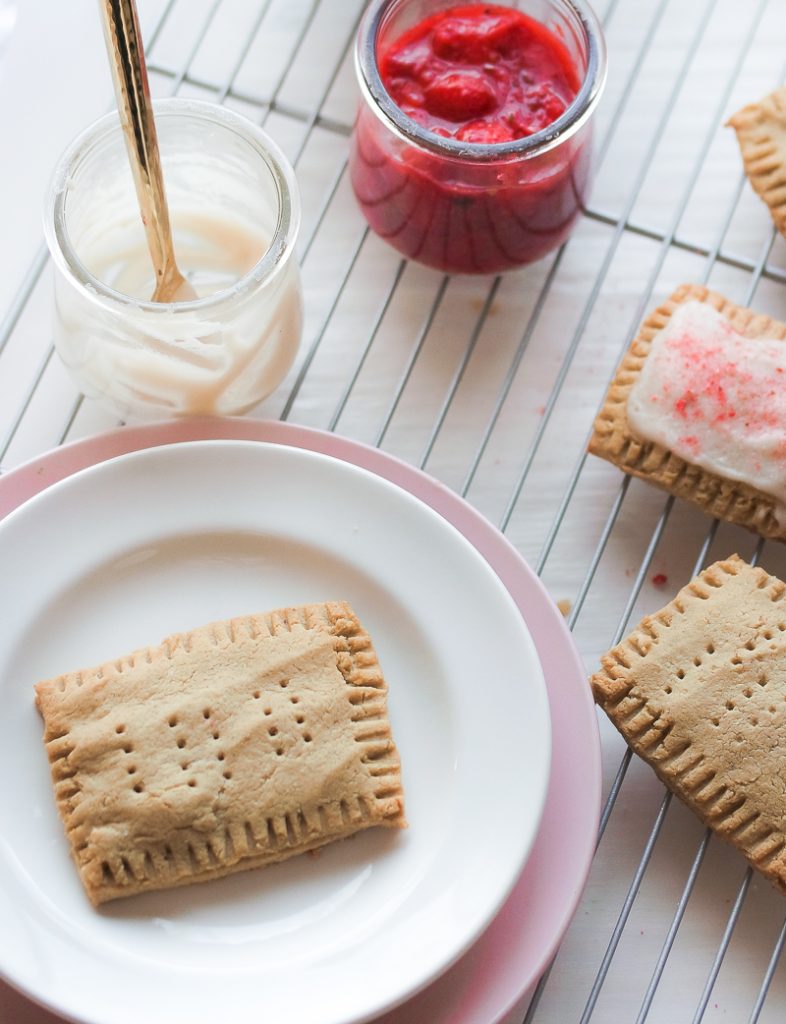 Crisp and buttery with a hint of vanilla protein powder. Mmmmm!
Trick #3 Skip Sugary Sprinkles
You may be noticing the red sprinklings?
I crushed 3 dehydrated strawberries into some granulated Swerve.
Genius? Probably.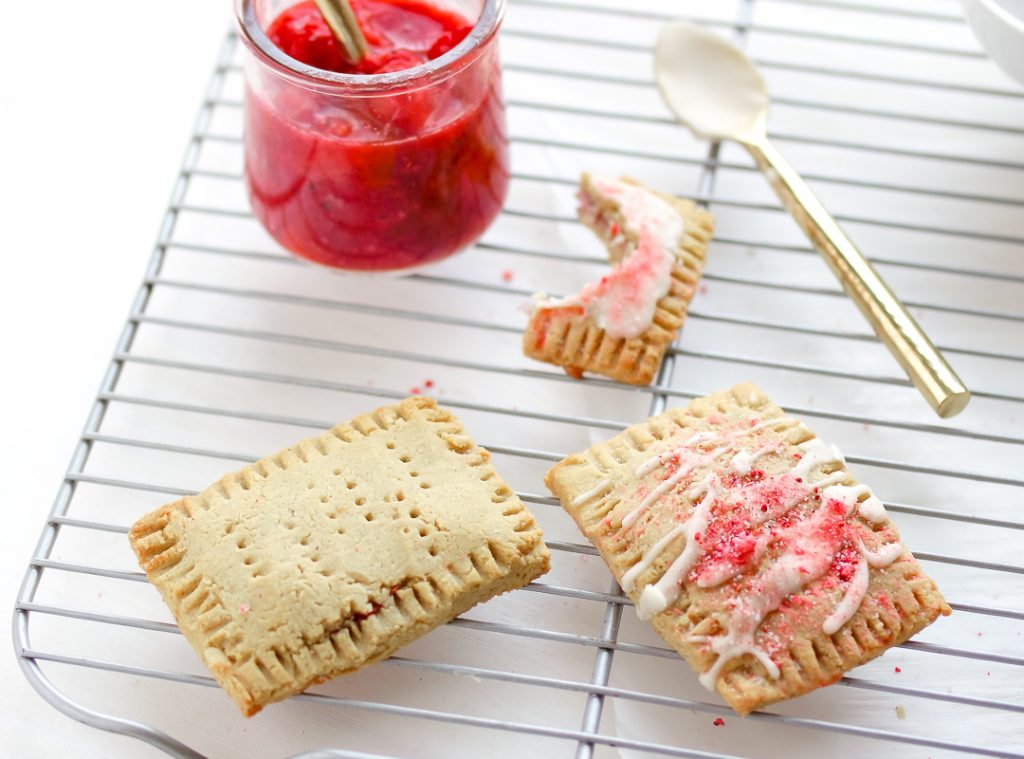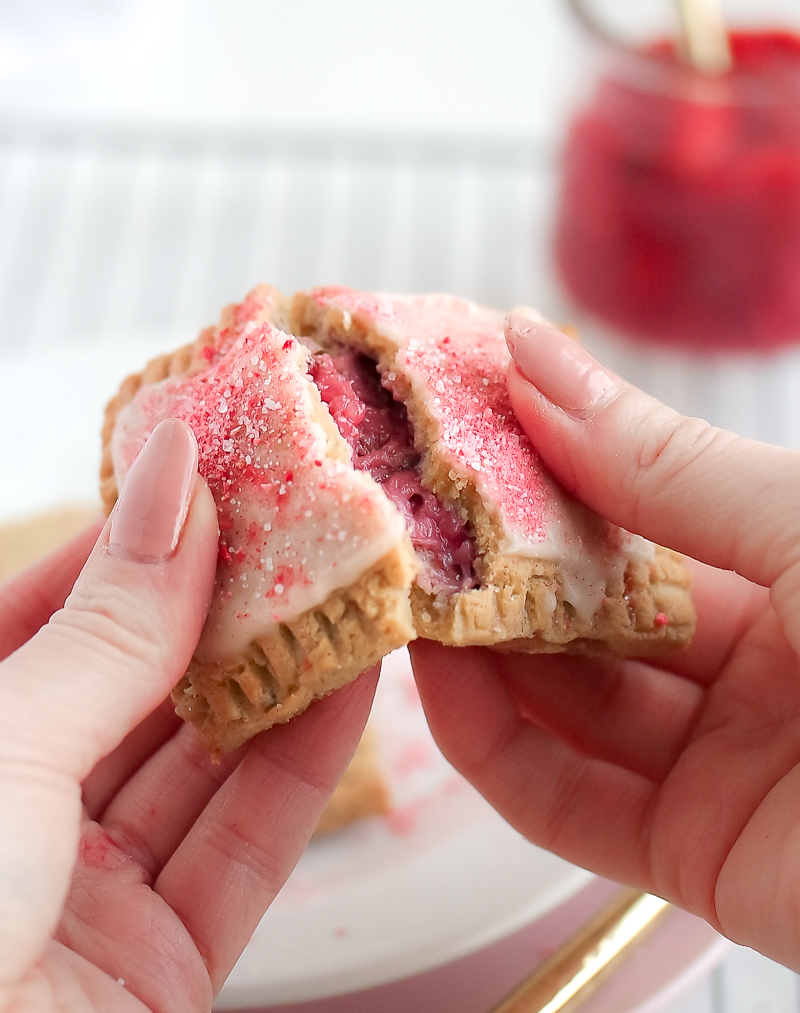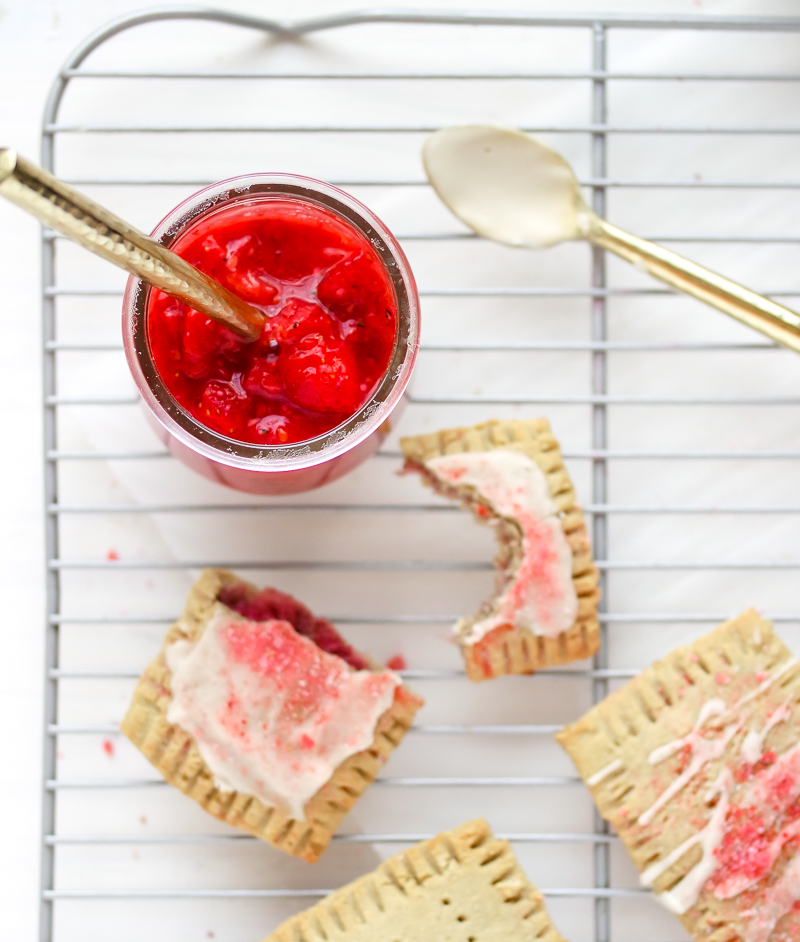 OH! And check out even more detail on how I made the filling in my Peanut Butter and Jelly Protein Cups if you want.
Low Carb Strawberry Protein PopTarts
This is a complicated, sticky, messy recipe that is 1,000% worth it. Godspeed pop-tartiers.
Ingredients
For the tart
3/4 cup Almond Flour
1/2 scoop Vanilla Protein Powder
1 tsp Psyllium Husk Fiber
3 tbsp Butter, melted
1 Egg, beaten
The Fillins
4-5 Strawberries, cleaned and diced
2 tsp Ground Flax Seeds or Chia Seeds
1 tbsp Granulated No Calorie Sweetener
1/2 tsp Vanilla
The Icing
2 tbsp Swerve Confectioners Sweetener (or powdered sugar)
2 tsp Non Dairy Milk
Crushed Dehydrated Strawberries (optional)
Instructions
Heat oven to 350 degrees and line a baking sheet with parchment.
Combine the dry ingredients for the dough and sift or stir with a whisk to ensure the mixture is uniform.
Add the melted butter and mix, followed by the beaten egg.
Rub some of the confectioner's sugar on a rolling pin and on the surface you will be rolling the tarts on. Roll out the dough very gently until you have a 1/4 inch thick disk. I did half with the pin and the rest with my fingers.
Place dough in the freezer while you make the filling.
Combine the filling ingredients and mash with a fork. You can puree this as well.
Once the dough is cool, slice four similar size rectangles from 3/4 of the dough.
Using the discarded edges, form four similar sized rectangles that are thinner for the top of the tart. *These can be oddly shaped and imperfect because they will be covered with icing.
Spoon filling onto the four base layers of dough. Place the other four, less perfect sheets of dough on top and smooth over. Trim any edges necessary.
Bake for 15-20 minutes or until brown.
Ice with the Confectioners sugar/non diary milk mixture. Top with crushed dehydrated berries.
Notes
1 Kellogg Pop-Tart (50 g)
Calories 180
Total Fat 2.5 g
Total Carbohydrate 38 g
Dietary Fiber 3 g
Sugars 15 g
Protein 2 g
Nutrition Information
Amount Per Serving
Calories

230
Carbohydrates

11g
Fiber

3g
Sugar

2g
Protein

8g