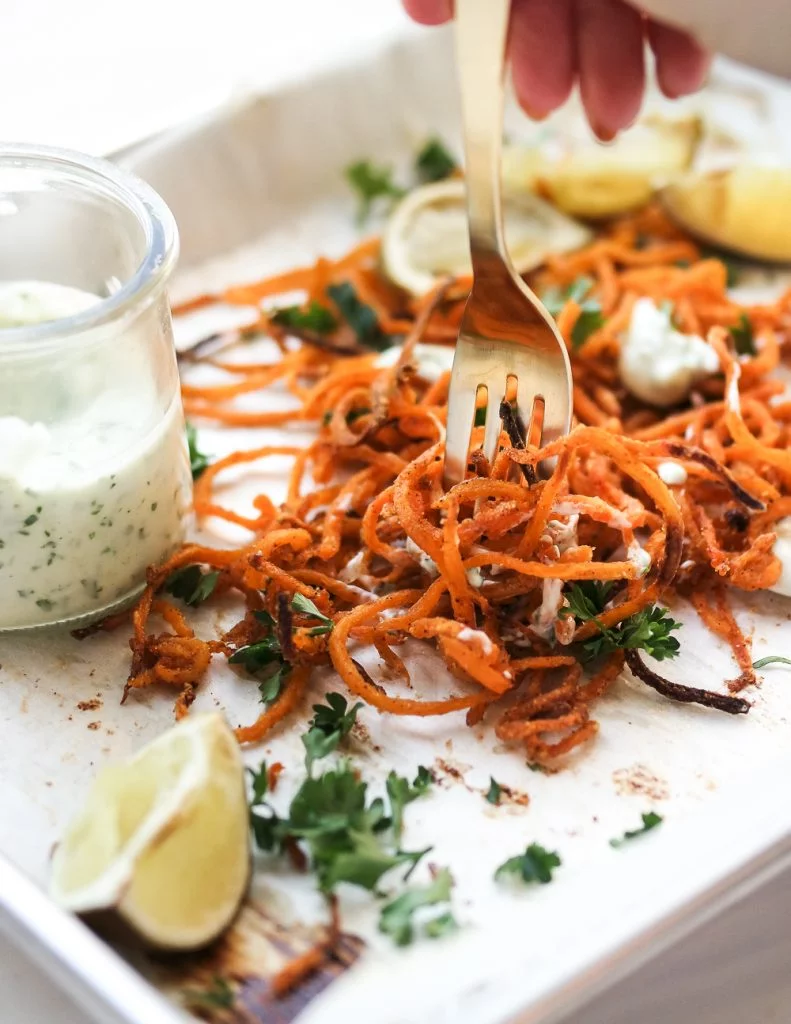 I'm taking a pretty big risk today by calling these "fries"
Luckily, I'm fearless. So I am calling them fries. 
But, yeah. They aren't fries because they aren't fried-which I'm betting is why you are here-for the not really fried but resembles fried items.
Am I wrong?
Probably not.
Unless you're the creep who keeps googling "sexy comment for inspector" and landing on my page. In that case, you can go ahead and see yourself out. 
"Bakes" not "Fries"
Let's get one thing absolutely straight before we begin-I will happily fry the french out of some vegetables and sleep like a baby. Guilt is a useless emotion and it has no place in my kitchen. And noooo, I'm not over here hyping deep fry Fridays or anything, but certain vegetables are just dtf. Down To FRY. Mushrooms, onions, (potatoes if I'm being honest and not keto) and cheese are all vegetables I prefer fried over baked.
I know what typed. Keep moving. 
BUT squash is one of those treats, ya know? You can bake it and it's not a french fry but no one cares because it's sweet and delicate and maybe even covered in a spicy, salty garlic rub AND THAT'S OK.
You don't have to be a fry, squash. I love you the way you are. Soft, sometimes out of shape, but you showed up and you did your best.
Let's hear it for the squash.
Skinny Cut Chipotle Lime Squash Fries
Baked not fried, only slightly carb'd, super spiced and lime-o-licious.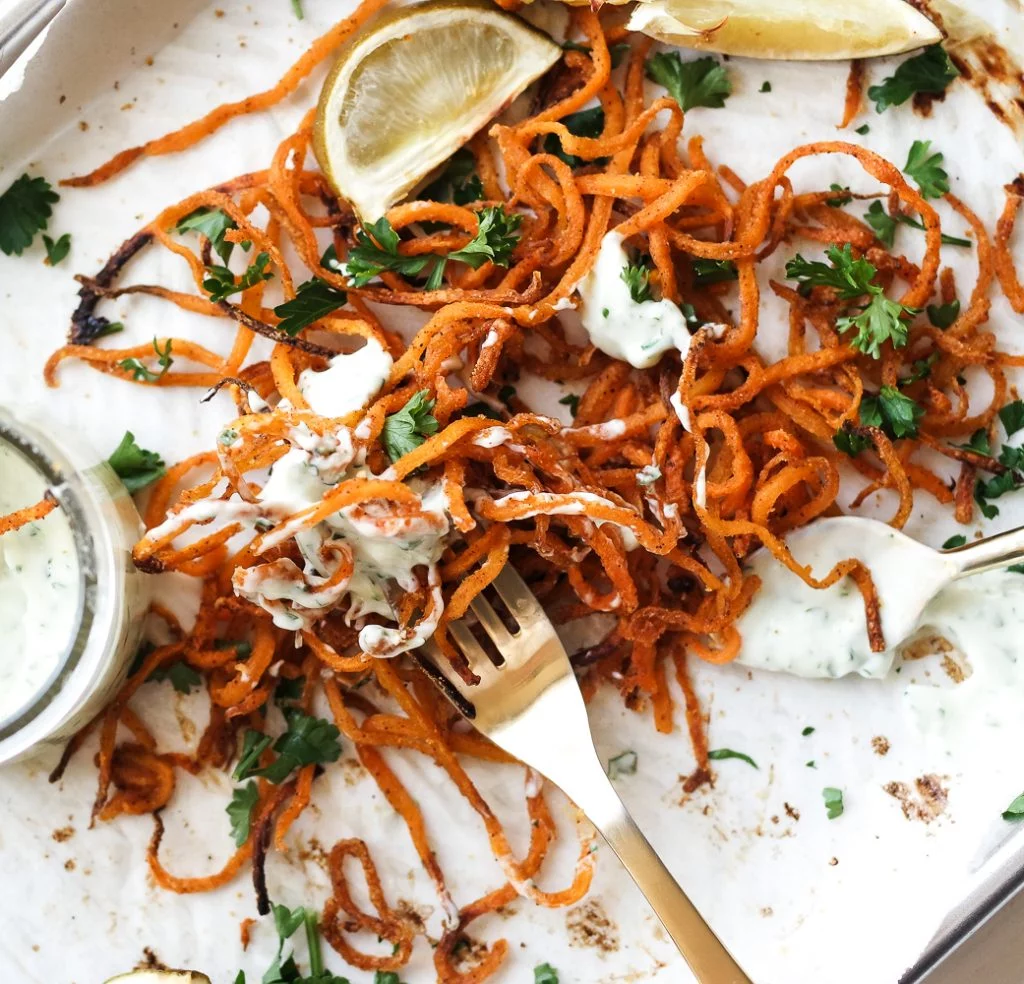 Because I'm a real person and not some blonde blogging robot, I used pre cut squash.
Stop judging! Then go buy some. They are ridiculously priced but insanely easier than a big, bulbous squash.
You can also buy them in chunks or hunks if you aren't into the super thin, shoestring style fries and make this recipe THE EXACT SAME WAY. 
Just a tip.
Nothing could be easier than taking pre-spiralized veggies out of a package, coating them in CHIPOTLE and GARLIC and other herbs, and baking them till crisp.
I mean, aside from buying them from a fast food joint…but those are crappy for you and these are not soooo…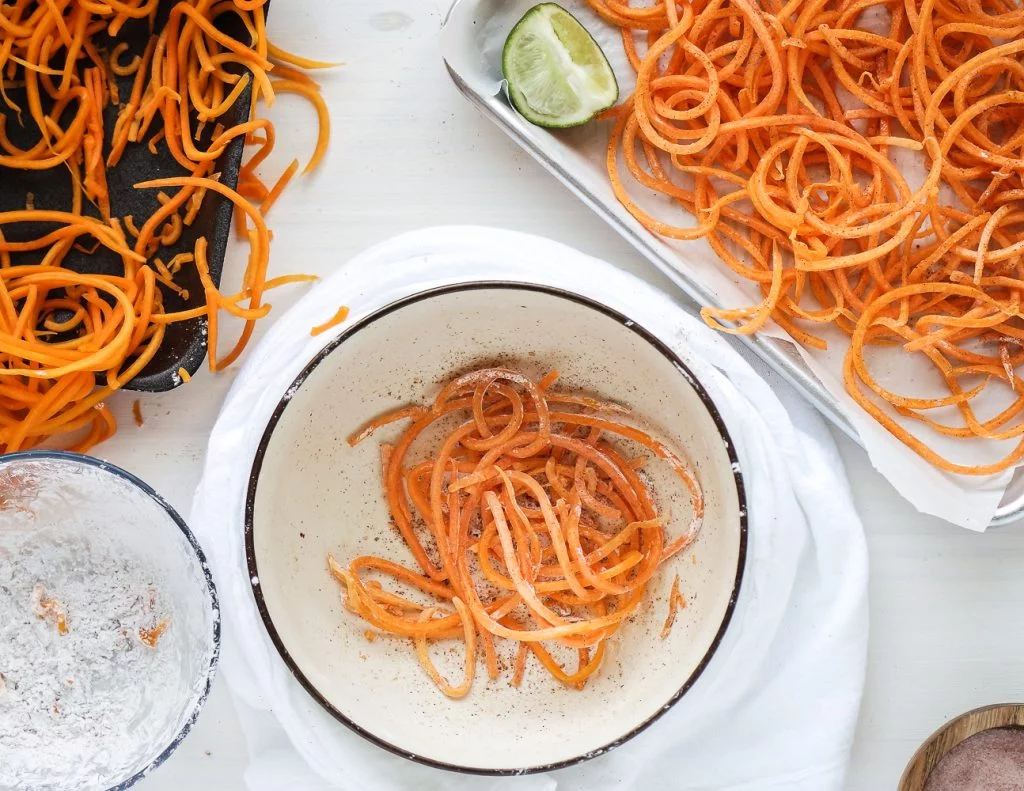 You may notice that white stuff I'm coating them in. 
It's called Arrowroot Starch and it's not a requirement. I just like the added texture.
Feel free to put your squash in a coat or not. Or maybe a light jacket, I dunno.
Just kidding, either starch or no starch is fine.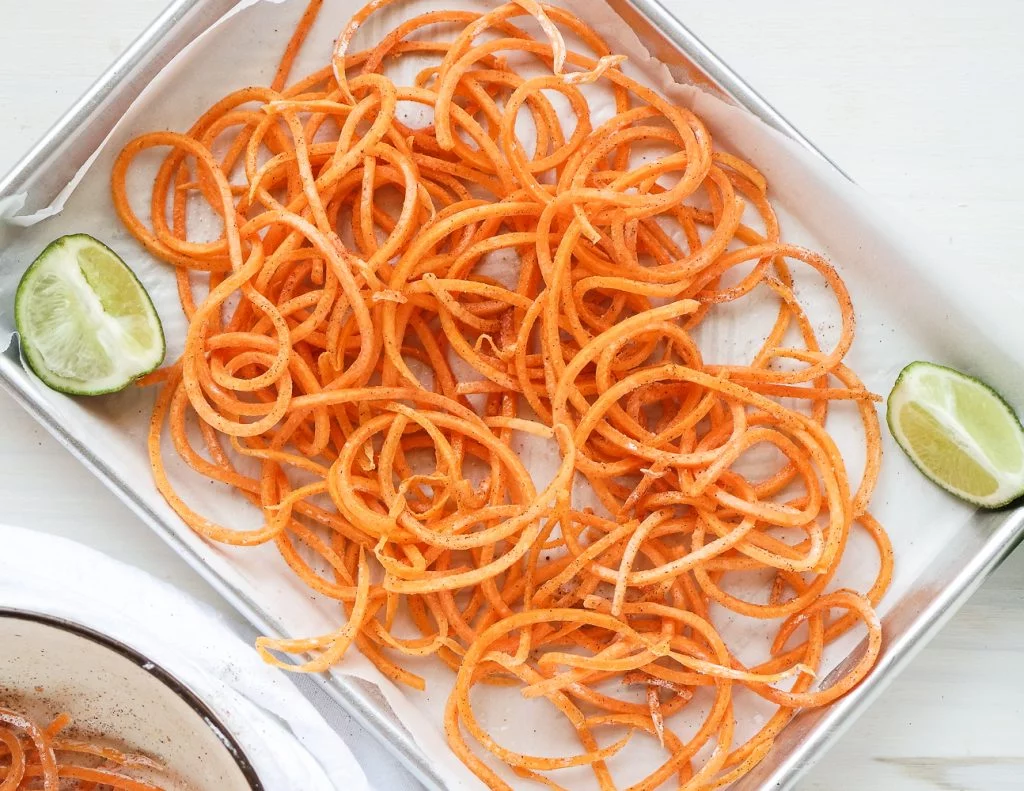 Look at that pile of crispy goodness.
LOOK AT IT. It's beautiful! And now for the tips.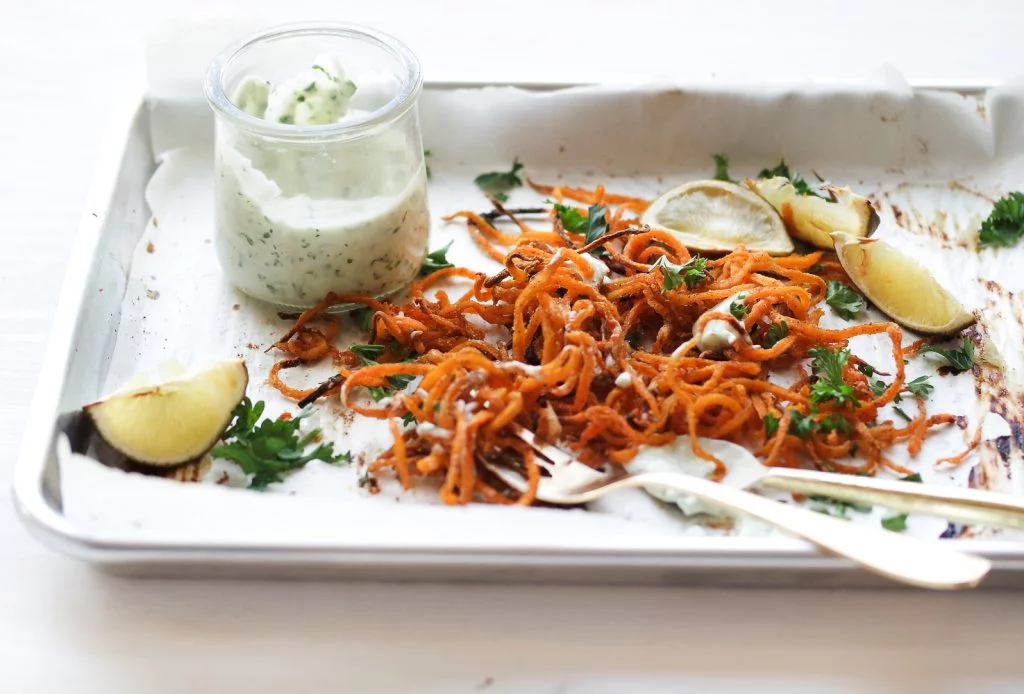 Tip 1: Give the squash some space
Making fries is kind of like dating. Make sure there is plenty of heat but equally plenty of space.
If you suffocate the fries, they won't get crisp and nobody likes a soggy, limp fry.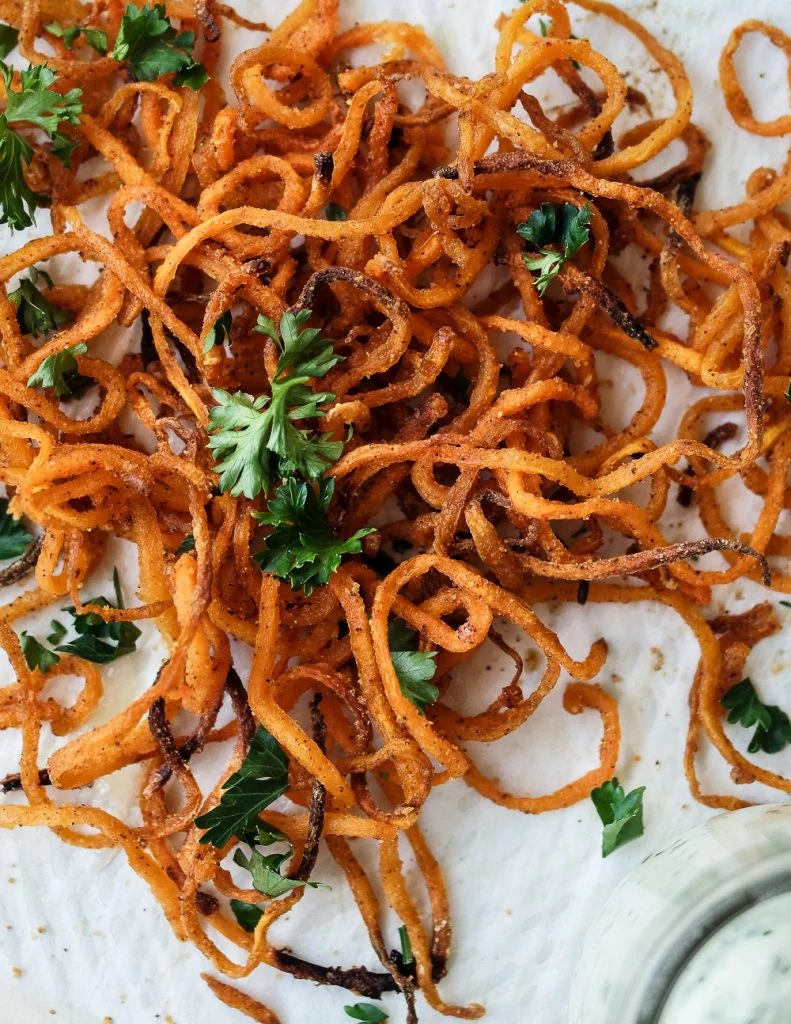 Tip 2: Use A Cooking Spray vs Oil
The spray may be less desirable because it's in an aerosol can BUT it distributes the oil evenly.
If you can find a better way, by all means do it. Until then, spray away.
Tip 3: Dip them in something cooling
These babies are spicy. What better way to cool them down than with a creamy green dip?
I just mixed some Lite Mayo, Garlic Puree, Sour Cream, and blended it with Parsley.
Voila.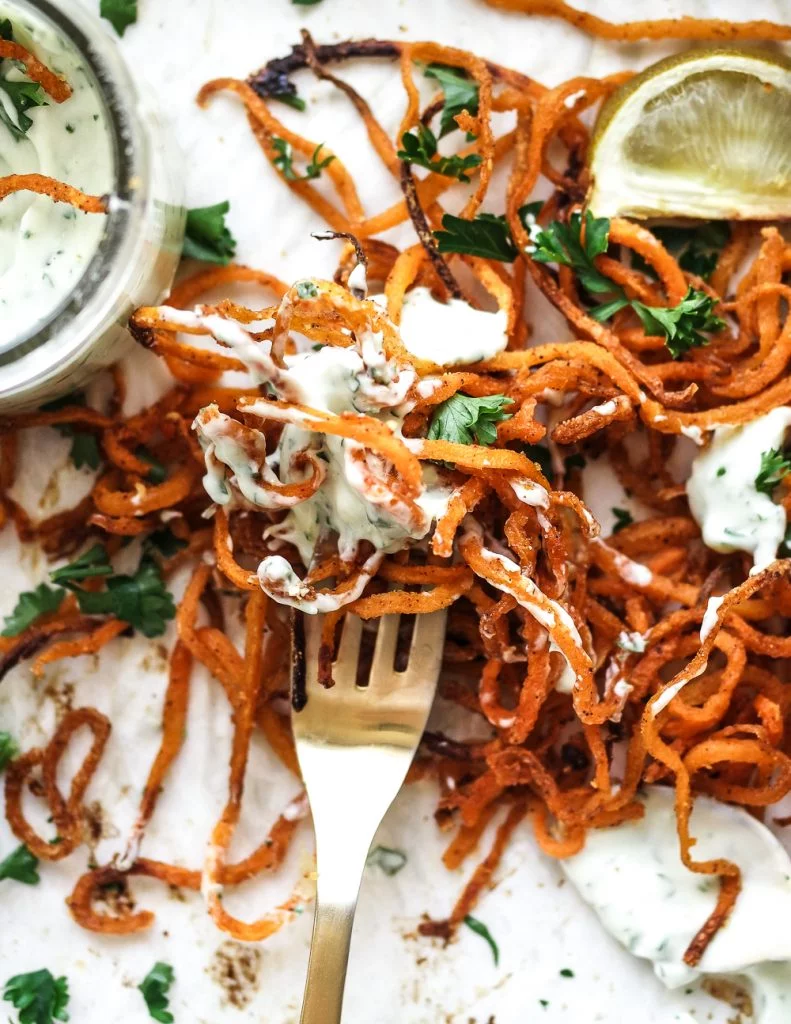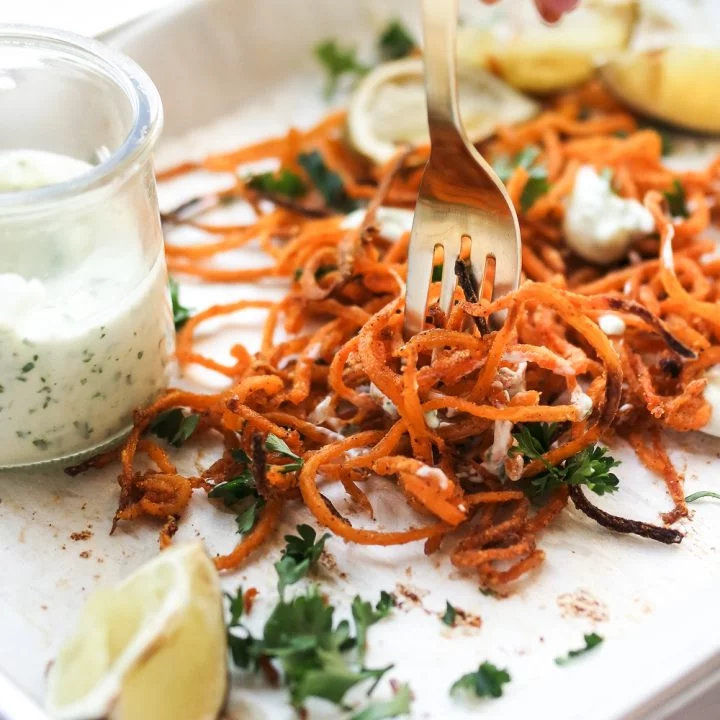 Chipotle Lime Baked Squash Fries
Sweet and spice and everything nice, in shoestring fry form.
Ingredients
3 cups Butternut Squash, spiralized
2 tbsp Arrowroot Starch (optional)
1/2 tsp Ground Chipotle (1/4 tsp if you like less heat or 1 tsp if you like it hot)
2 tsp Garlic Powder
1 tsp Salt
1 tsp Onion Powder
1/2 tsp Smoked Paprika
Oil*
1 lime, quartered
More salt to taste
Instructions
Heat oven to 400 and line two baking sheets with parchment.
If the squash is in long strands, cut them into 4-6 in strips or leave them long for messy curls.
Spray the squash with cooking spray and toss to coat each strand.
Combine the seasonings in bowl and mix.
Dip the squash in the coating in batches and spread evenly on baking sheets along with the quartered lime.
Bake for 20 minutes. Toss the fries, then bake for another 15 minutes or until crispy.
Top with more salt and a squeeze of the roasted lime.
Notes
*Cooking spray is what I use to ensure even oil coating of the fries. You can use olive or coconut oil but go easy on it because too much oil results in a limp fry!
Ok, so who's bringing the low carb margaritas?