Thanks to Avery Road Products for sponsoring this post and providing this product to review.

---
Healthy Cereal?
Yep. And It's Dino-mite.
This is *part two* of the two-parter recipe! If you missed part one, it was the Blueberry Almond Granola that you see floating around in this prehistoric dish of deliciousness. Check it out, PIN IT, then come back over here and pin this one so you can bake and make healthy, low carb cereal. Deal?
Learning to love (cereal) again.
I have to admit, I've been missing cereal lately. It really comes and goes and currently, it won't go. SO when Avery Road Products said they had a new Dinosaur Gummy Mold for me to test, I wanted to go off-script and make something *other than* another gummy candy.
The Epiphany
Fast forward to me re-watching Vampire Diaries for the hundredth time and thinking about how good a bowl of Captain Crunch OOPS! All Berries would taste and it hit me! A healthy, low carb, high flavor Dinosaur shaped cereal with Dried Blueberries!?!?!
YES.
SO I found out if the molds could withstand my oven temps and got the OK to heat 'em up…and well here we are. Embarking on this journey of healthy (filling) cereal with the best brand of molds out there -so clean up as a literal breeze- and not one bit of cereal will ever get stuck because SILICONE.
No dino left behind!
Low Carb Blueberry Almond Dino Cereal
Crispy & sweet cookie-like bits of Dinosaurs to make being an adult a little less painful.
Kids love them too.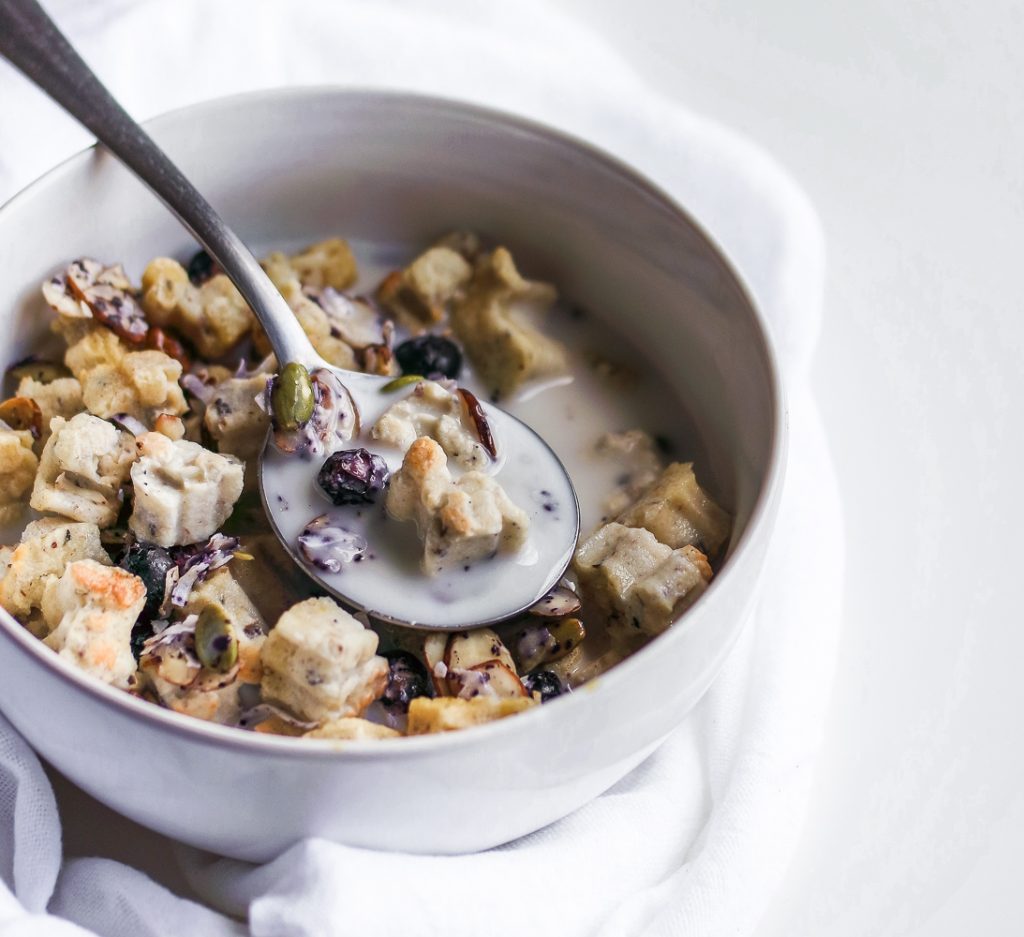 To achieve the perfect crunchy-yet-firm AND filling dino-cereal, I had to test (and taste) a lot of versions of this recipe.
I'm going to walk you through what WORKED and what DIDN'T…just in case you try to go rogue with substitutions in the final recipe.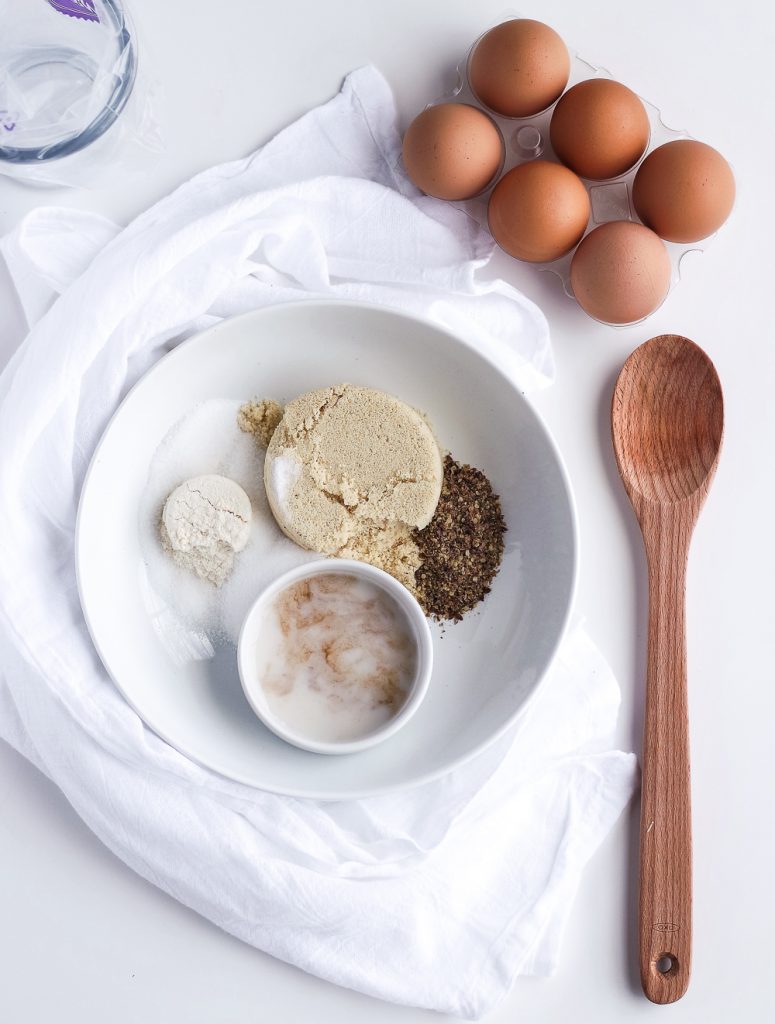 Trial One: Using Coconut Flour & Extra Liquid/Egg
Produces a crisp from the oven but ultimately chewy, yet somehow hard to swallow, dino.
*Thanks, coconut flour. You never cease to ruin baked goods.
Trial Two: Using A Flax/Hemp Egg and Coconut Oil
Produces a dense, muffin-like dino that gets a weird texture after day one.
Trial Three: See the recipe at the bottom because it's PERFECT.
So the KEY to getting the dinos to look like dinos is all in the filling process.
Make sure to only fill the wells of the mold *half full* and tap them gently to allow all of the mixture to settle into the crevices.
↓ Here's a picture of my better batch, where I had finally gotten the shape right ↓
And the dinos in the cup to the right ↓ are the ones that were GREAT out of the oven but not as good the second day.
Luckily, I didn't stop until I was certain that the cereal was perfect.
Unluckily, I didn't take pictures of the perfect batch because they looked pretty much the same, just more golden.
Kind of like my Low Carb Snickerdoodle Cereal.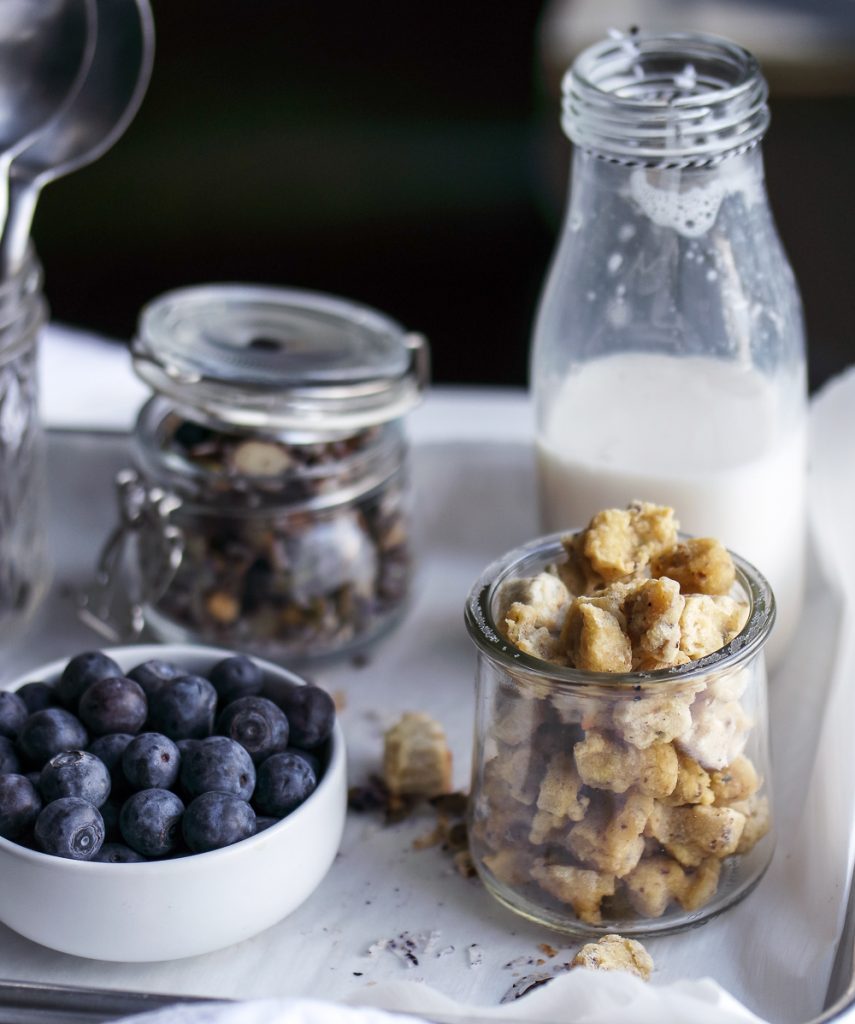 Let's just be clear on one thing, I ate Every. Single. Batch.
Because they were "good" but not "great".
It was so crisp on the outside and soft on the inside.
OH! And this cereal (while baking) smells like a cinnamon vanilla heaven on earth.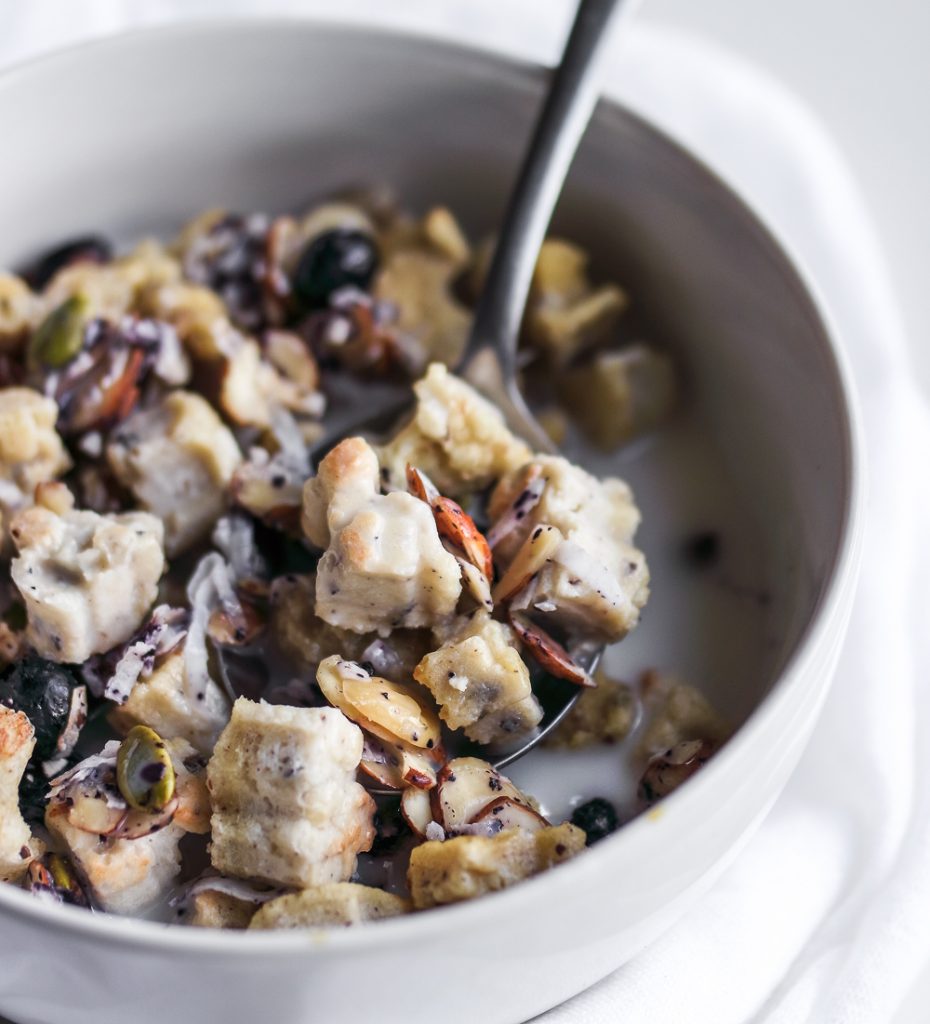 AND THEN BLUEBERRIES.
Yes, I mixed in my Blueberry Almond Granola and a handful more of dehydrated blueberries.
It's like when Captain Crunch added crunch berries to the mix.
Just the absolute best idea *ever*
Crunchy, berry crisp that turns your milk a fantastic shade of purple.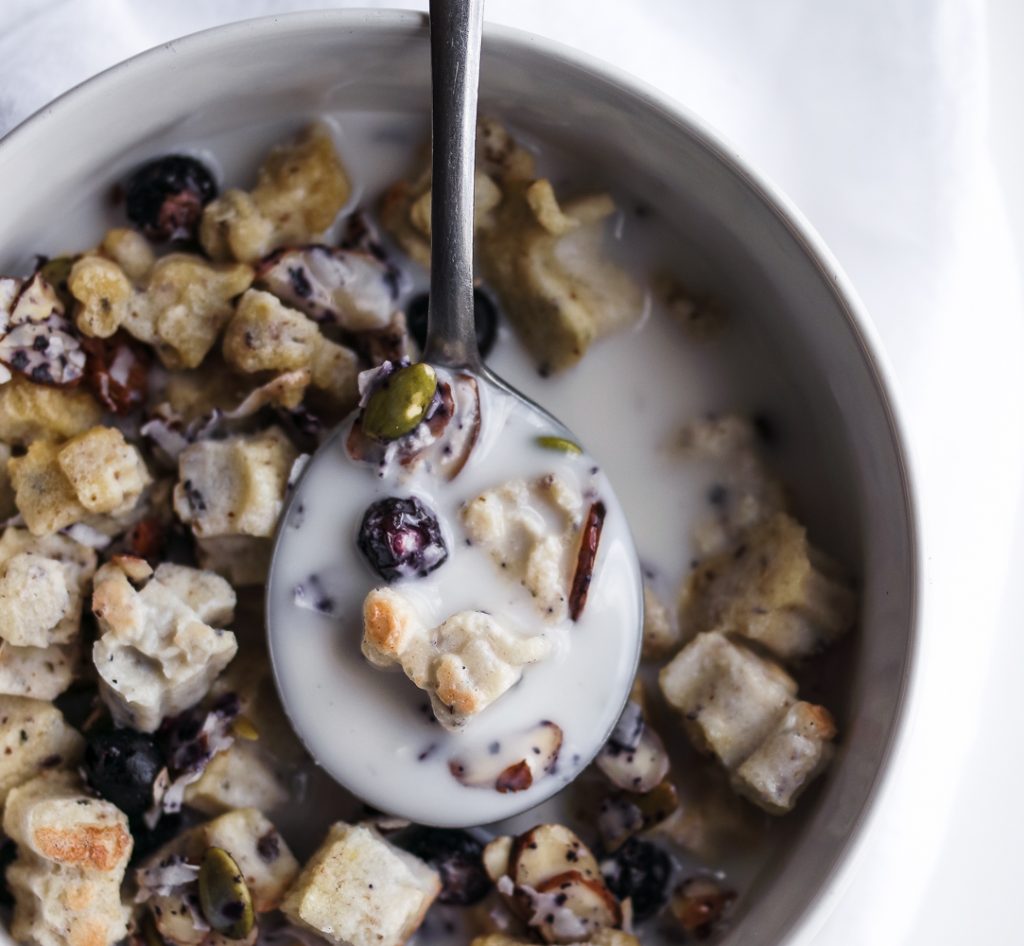 Can I just say that this is about *the cutest* shape to eat cereal in?
I mean, other than unicorn shapes…
if Avery Road wants to manufacture those, I will buy them all.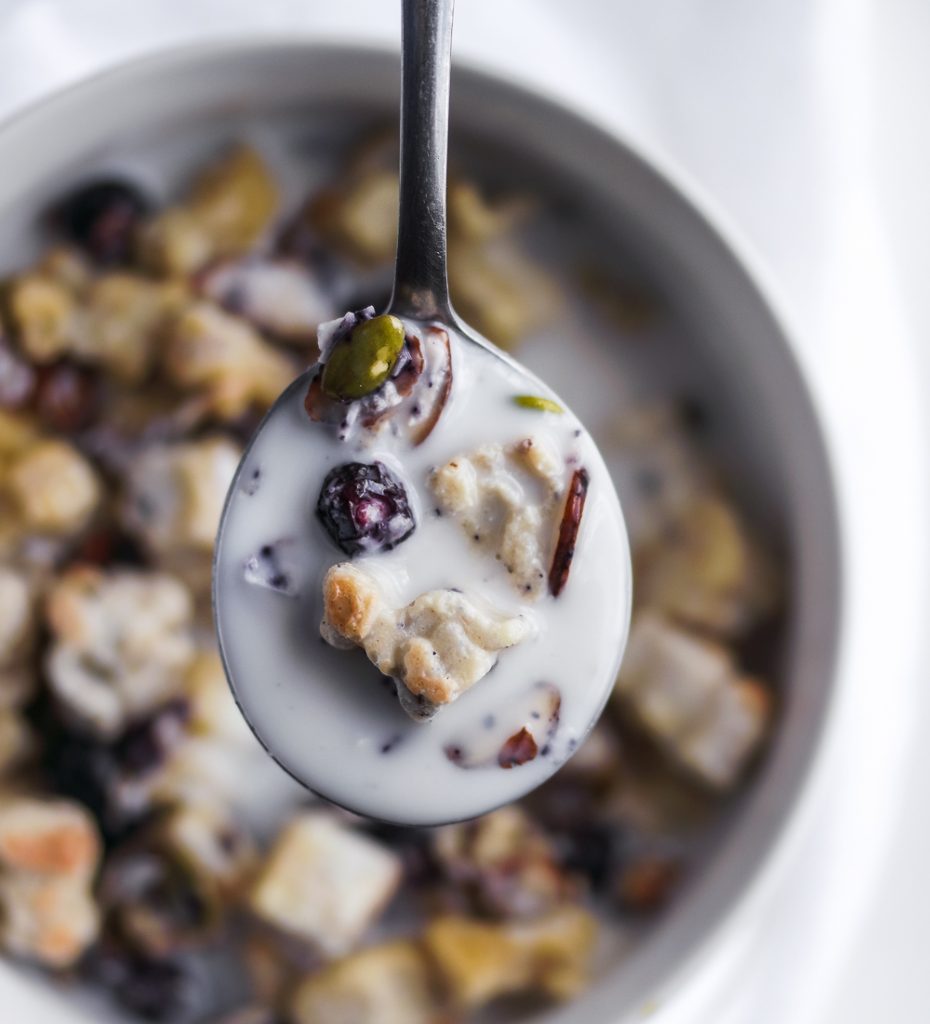 SO follow this recipe and I can pretty much guarantee that you'll love it because it's been tried and tested and tasted.
Low Carb Blueberry Almond Dino Cereal
Sweet and crispy Dinosaur Cereal to bring you back to your childhood, but healthier and NOT by means of shredded wheat...
Ingredients
1 cup + 2 tbsp Almond Flour
1/2 tsp Xanthan Gum
1 tsp Baking Powder
1 tsp Cinnamon
1/4 cup Granulated Zero Cal Sweetener *
2 tbsp Butter, soft but not melted
1 egg, lightly beaten
1 tsp Vanilla
1 cup Assorted Dried Fruit, Seeds, and Slivered Almonds, optional
Instructions
Heat oven to 350 and place silicone dinosaur molds on a baking sheet.
In a large mixing bowl, combine the dry ingredients (not including the sugar) and whisk together. Set aside.
In a separate bowl, cream the butter and sugar together until smooth.
Add the egg and vanilla and mix well.
Combine the wet with the dry and stir until a batter forms.
Scoop the batter into a large piping bag and cut the tip at about 1/2 inch.
Fill each well of the mold about halfway to allow for expansion and tap the molds well to ensure the batter fills each crevice.
Bake for 20 minutes or until the tops begin to brown.
Once cool, pop the cereal from the molds. For additional crunch, return the cereal to the oven for 5 more minutes on a baking sheet to crisp.
Toss in optional dried fruit and seeds and enjoy!
Notes
*This amount of sweetener makes a very sweet cereal. Reduce by 1 tbsp if you are sensitive to sweet.
**Blueberry granola recipe is linked at the beginning of this post! In a pinch, regular freeze dried fruit is a fine substitute!