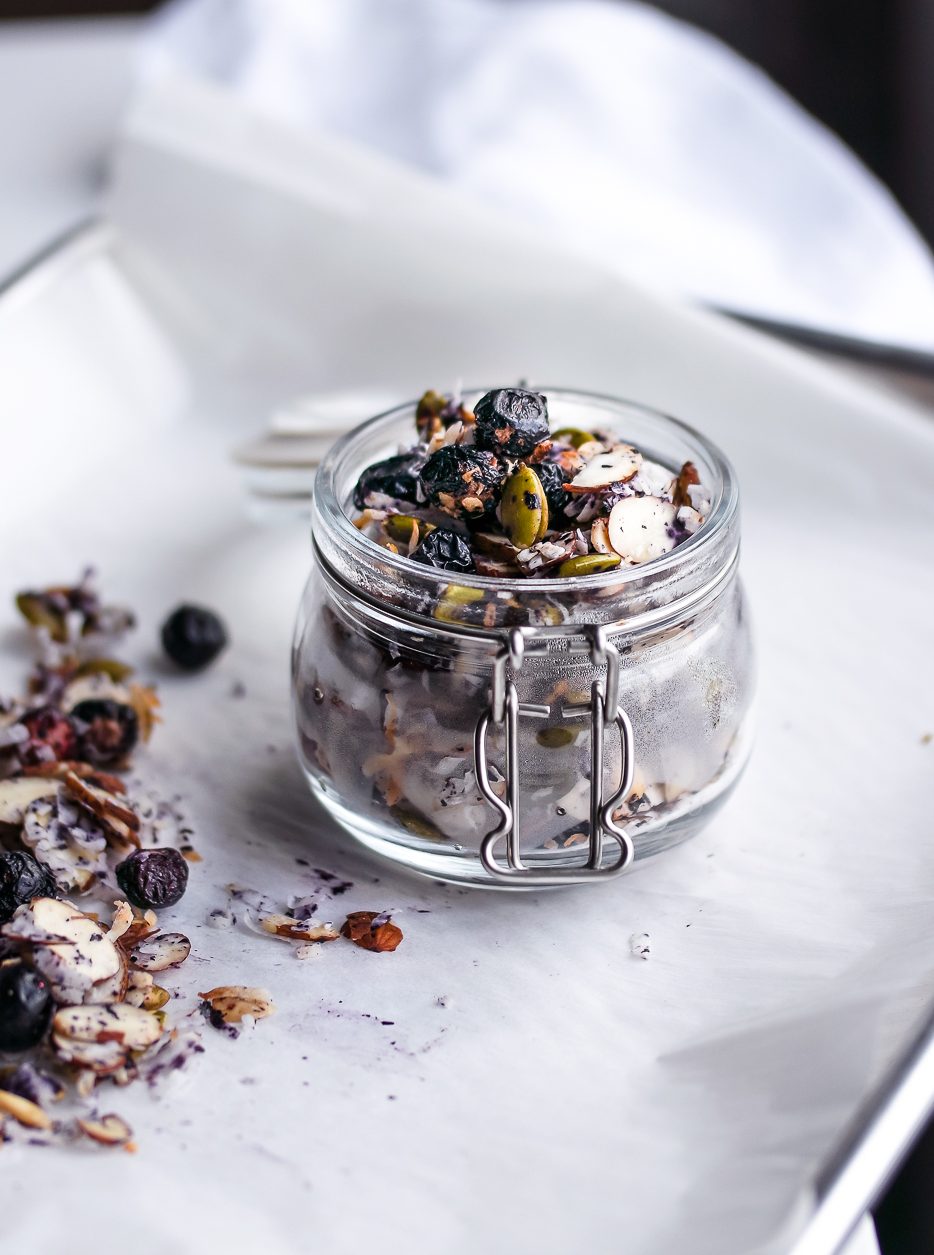 Too Much of a Good Thing
and a TWO PARTER blog post/recipe. 
Today is part one of a two-part recipe, and it's a life lesson. A life lesson learned through fistfuls of granola and overflowing bowls of cereal, and why "health food" isn't always healthier.
Wednesday is part two of this two-part, breakfast cereal party. And like the idea of a breakfast cereal party, it will knock your socks off.
But it's healthy, right?

-Me three bowls of cereal later.
YES! And no.
The idea that "health food" had a limit was lost on me for a long time.  To you bright beaming boss babes out there, that may be common sense, but once upon a time, it was news to me.  The rationalization that "it's better than eating a tub of ice cream" was my reality for much of my (youth and professional) life. I think I even tried to use it Friday night. About wine.
I didn't fall for it…this time. 
BUT I used to fall for it. A lot. And I couldn't understand why it was hard to maintain a healthy weight. It wasn't "cheat foods" making the scale tip, but the misconception that those "healthy" foods were unlimited. GRANOLA was a huge one. CEREAL was even huge-er, which is why Wednesday's cereal recipe is tied into this one. 
I had to detox from granola for a while just so I could get back into my jeans.
Same goes for avocado, coconut oil, nut butter, blonde dudes with blue eyes, espresso shots, and all trendy dishes that boast huge and beautiful portions of superfoods.
See? Life lessons.
Due to the state of denial I was in when it came to portion size *among other things*, I had to make a change. I scaled down my recipes and sometimes (cover your keto ears!) I use low-fat versions of full-fat foods to PROTECT myself from myself. I know how much willpower I have. It's not a lot. There's nothing wrong with a little food insurance (low cal options) that ensure I won't get too much of a good thing.
Low Carb Blueberry Almond Granola
Sweet honey-like clusters for your perfectly portioned yogurt or mix it into Part Two Blueberry Dino Cereal recipe…coming Wednesday…so you should subscribe now so you don't miss it……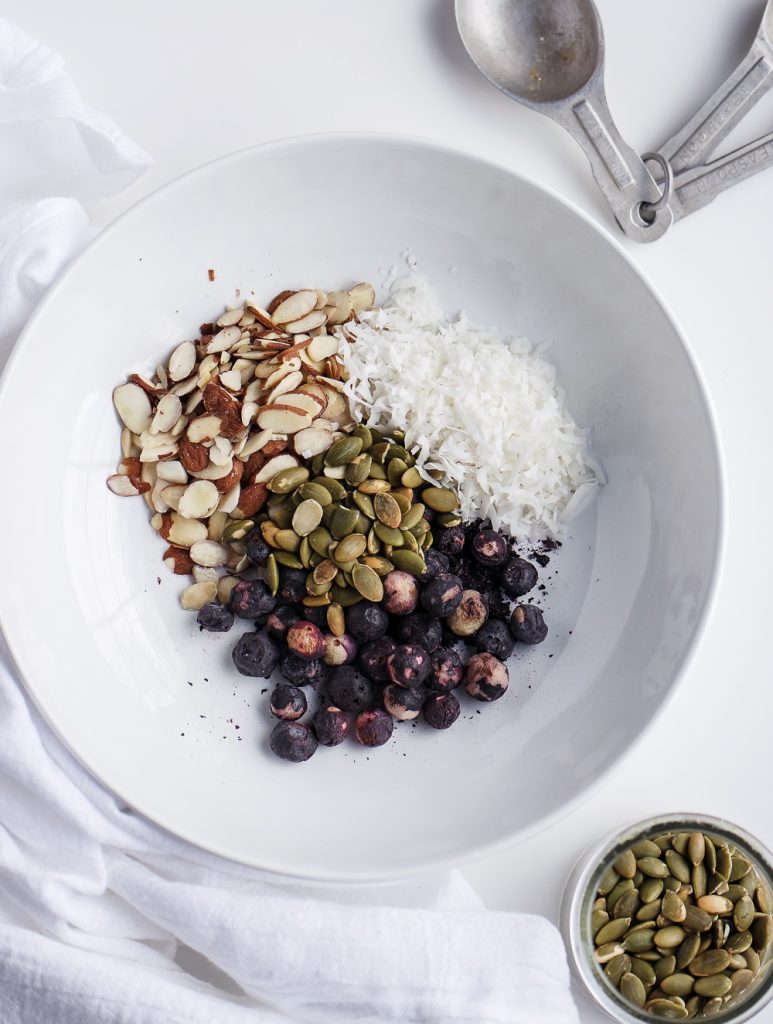 SO this granola isn't like the *traditional* granola you may be used to.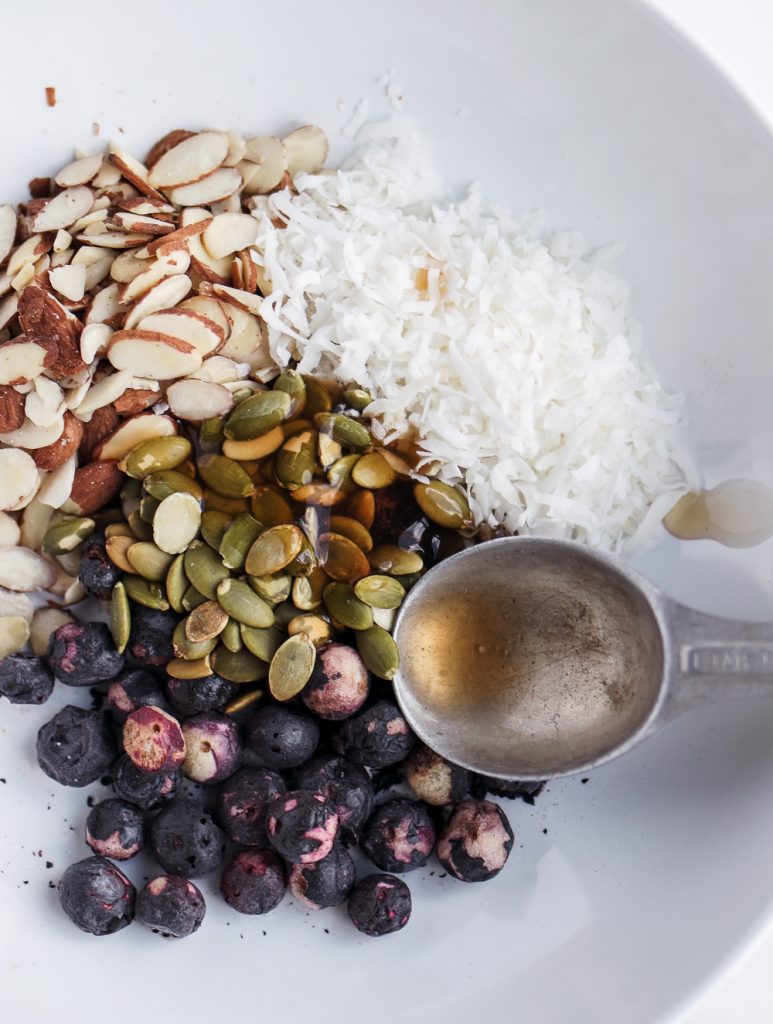 It's not as hunky and chunky, therefore I will use less of it and resist the urge to snack on it like typical granola.
It's also got Zero Calorie syrup and ZERO oils to keep it lighter.
Don't freak, there's still puhhhlenty of fat from the nuts and seeds.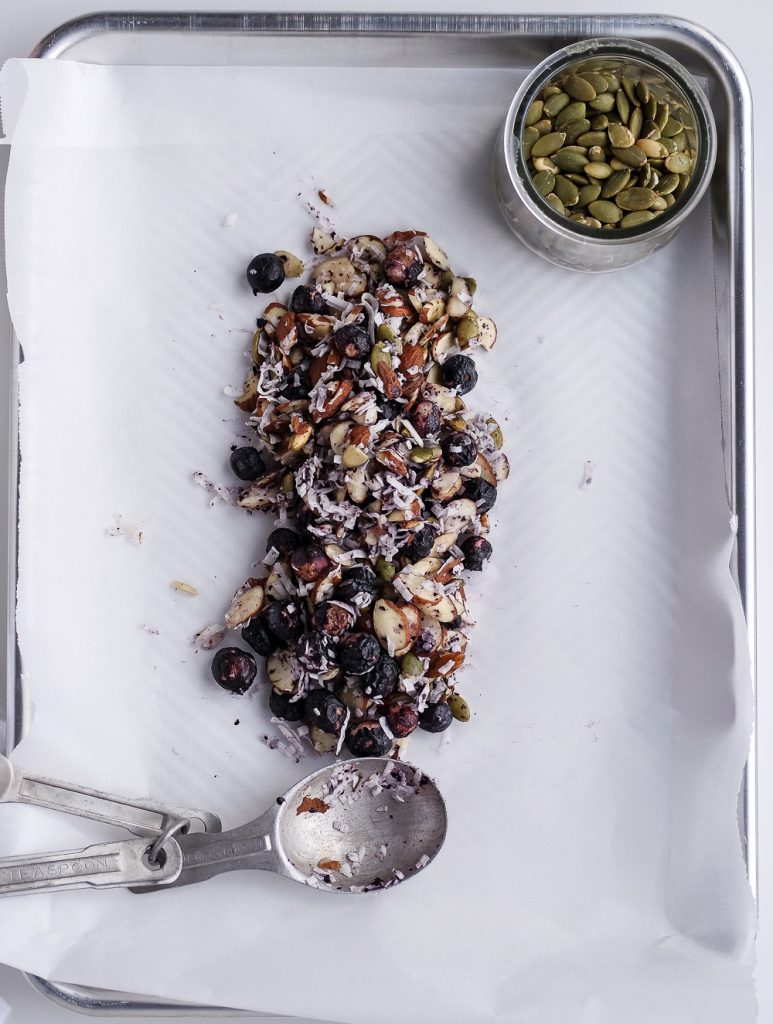 Lighter also means it's great to add to the DINOSAUR CEREAL I'm going to share Wednesday.
Or a fantastic topping for yogurt or low carb ice cream or whatever.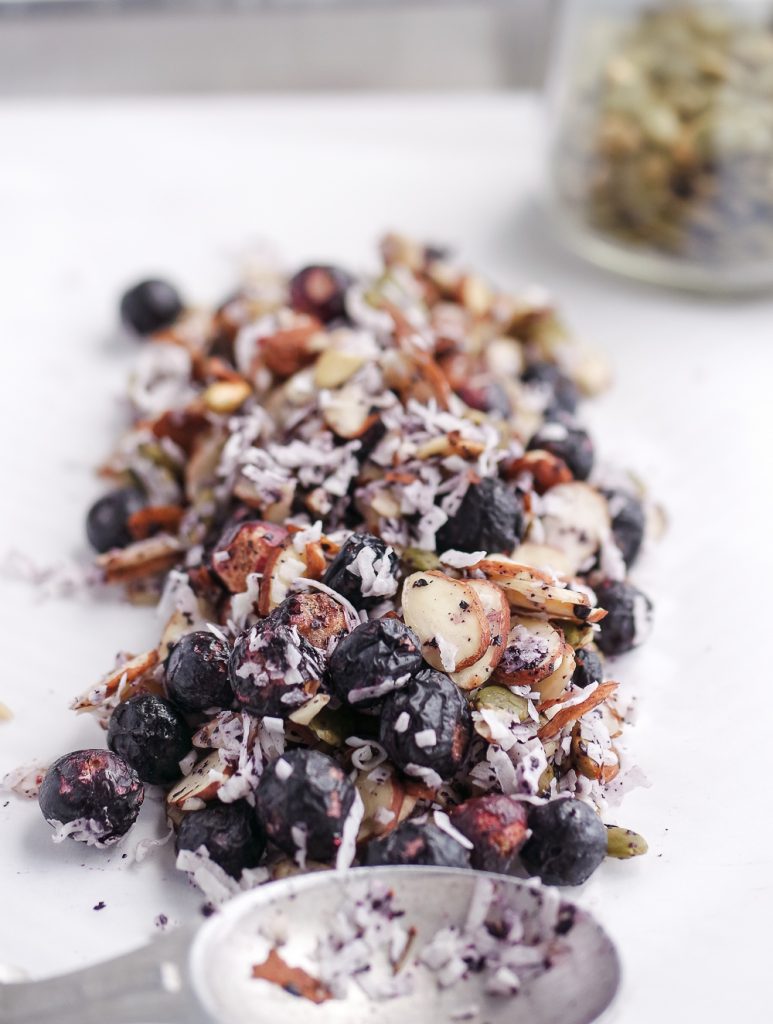 Don't skip the Pumpkin Seeds aka Pepitas.
They add a beautiful green crunch that cannot be substituted.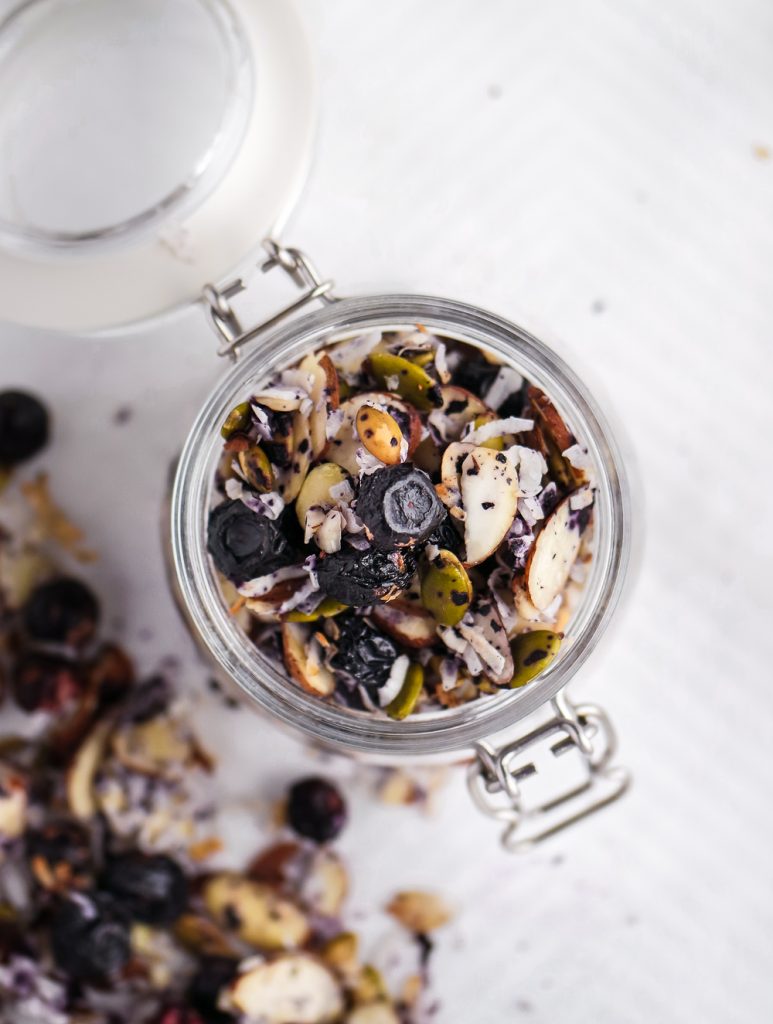 Freeze dried blueberries are the way to go because fresh ones just get all gooey, FYI. 
Other freeze dried fruits would be equally as splendid.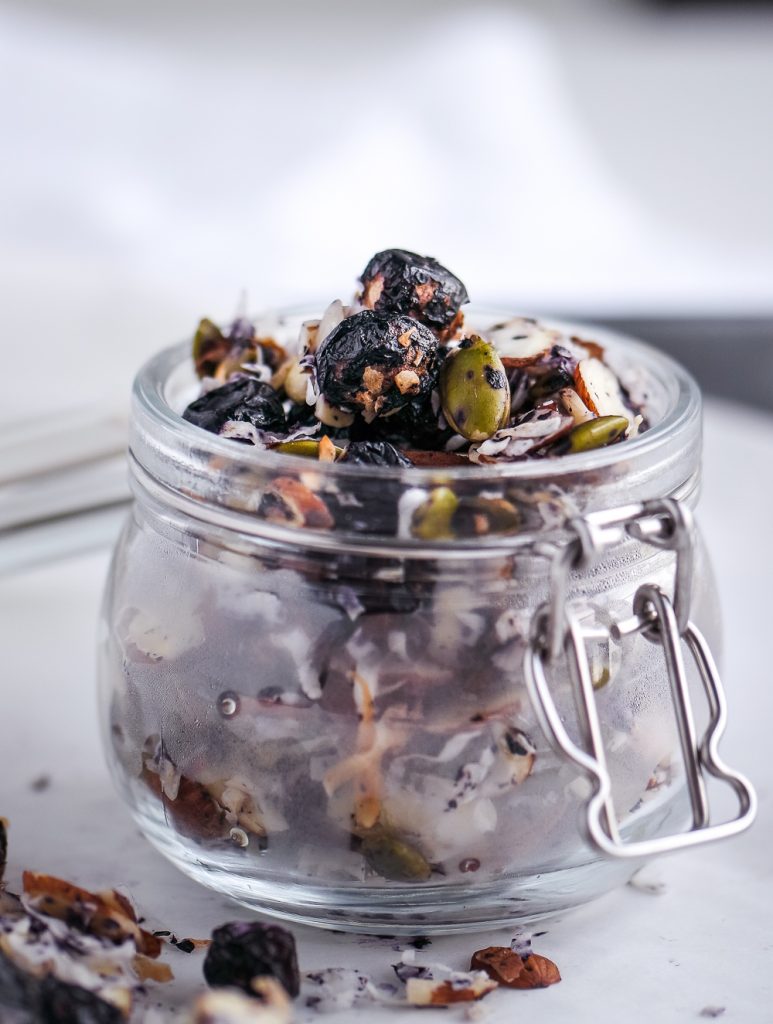 HEY! Wanna sneak a peek of the goodies I keep referencing in bold?
This cereal is DINO-LICIOUS and it's coming to a Saturday morning cartoon binge near you…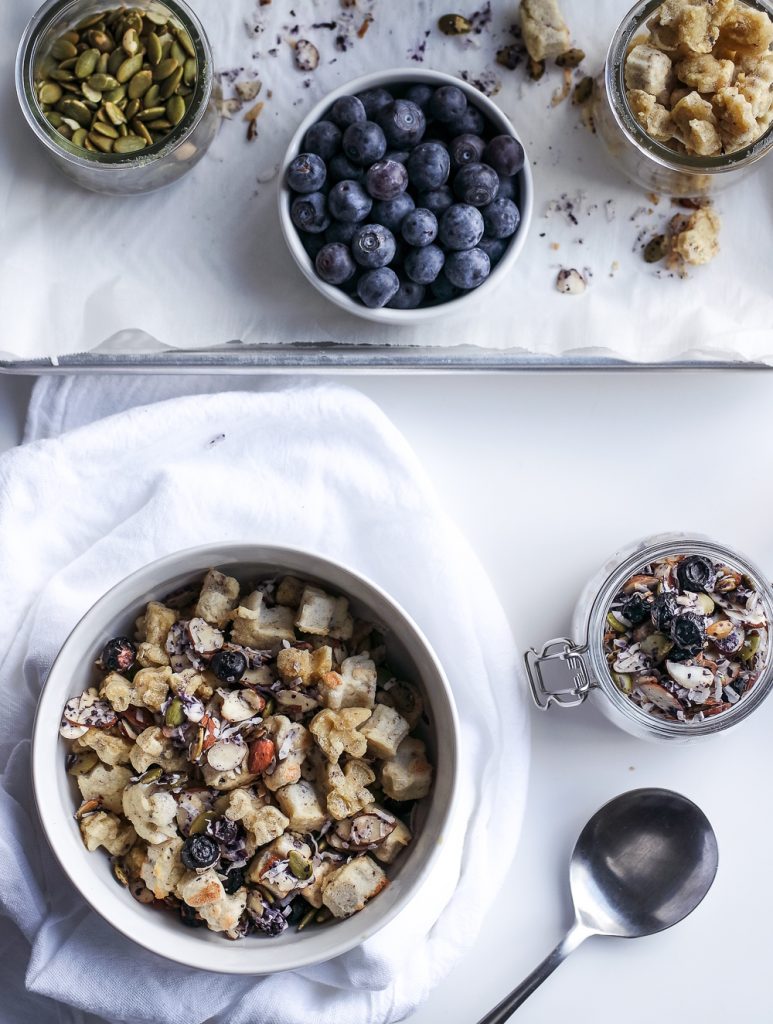 Low Carb Blueberry Almond Granola
Dense little clusters of sweet and crispy goodness that are perfect for sprinklin' and crunchin' your way through the day.
Ingredients
1 cup Slivered Almonds
4 tbsp Unsweetened Coconut Flakes
1 cup Blueberries, freeze dried
2 tbsp Roasted Pumpkin Seeds
1/2 tsp Salt
2-4 tbsp Sticky Sweetener*
1 tsp Vanilla Extract
Instructions
Heat oven to 350 degrees and line a small baking sheet with parchment.
Combine the dry ingredients (nuts and seeds) in a large bowl.
Mix the sweetener and tsp of vanilla in a small dish and pour into the dry ingredients.
Toss gently to coat and spread on baking sheet.
Bake for 10 minutes or until the coconut is visibly browning. Let cool, store in airtight container.
Notes
*SWEETENERS vary based on what way of eating you follow. I used Walden Farms "pancake" style syrup and it was perfect, not that sticky but enough. You could use any liquid low carb syrup replacement or Honey/Agave for vegan or carb eaters!

3 tbsp Melted butter and 2 tbsp Swerve or Truvia will work the same way but more cals!
What are your trigger foods? Did you ever fall victim to the "health food has no limits" way of thinking?