---
Quit eating cereal out of the box and hating yourself. Make this healthy cinnamon swirl cereal, put it in a bowl and watch your life get exponentially better.
---
Do you ever have days (or weeks) when life seems off? Those times when you can't quite put your finger on it, but your mood and your 'tude are not meshing with society. Guess what? You are in a funk.
Now I'm not talking about a daylight saving time, sleep deprived, knee deep funk here. I'm referring to a funk so funky, so deep, that you start fantasizing about quitting your job and moving to kokomo. Is KoKomo even a real place you ask? I have no clue! I'm not googling it-I have too much pride and not enough bandwidth-but The Beach Boys loved it so if it's good enough for those guys it can surely fix our funk issues.
A Funk Buster!
Ok, Liz. Back it up. As fun as an island vacation for life might sound, I have student loans to pay off (till death do us part) and a lease to wait out. Clearly Kokomo is not an option. What's left? Cereal. The answer is always cereal. A sweet, satisfying bowl of milk-saturated cereal…and possibly some cartoons.
∗People who enjoy their cereal crunchy (before the milk sinks in) must have chops made of steal. I honestly don't know how you have any skin left on the roof of your mouth so kudos to you.
More problems-as if the funk wasn't enough-I have cereal portion control issues. Taking down a box of cinnamon toast crunch was a feat I accomplished by age 12. Maybe earlier. I know I lost my "finish a box of cereal in a single day" virginity very early. Sometimes I wish I would have waited until I was old enough to understand the consequences of eating that much cereal.
Regrets.
So what's the solution? Make this filling cereal that won't cut your mouth like a million tiny sugar knives and will make you feel like the righteous champion you are.
Don't fret if you love crunchy cereal. This recipe is a crisp enough to satisfy you without needing to soak up a gallon of milk first.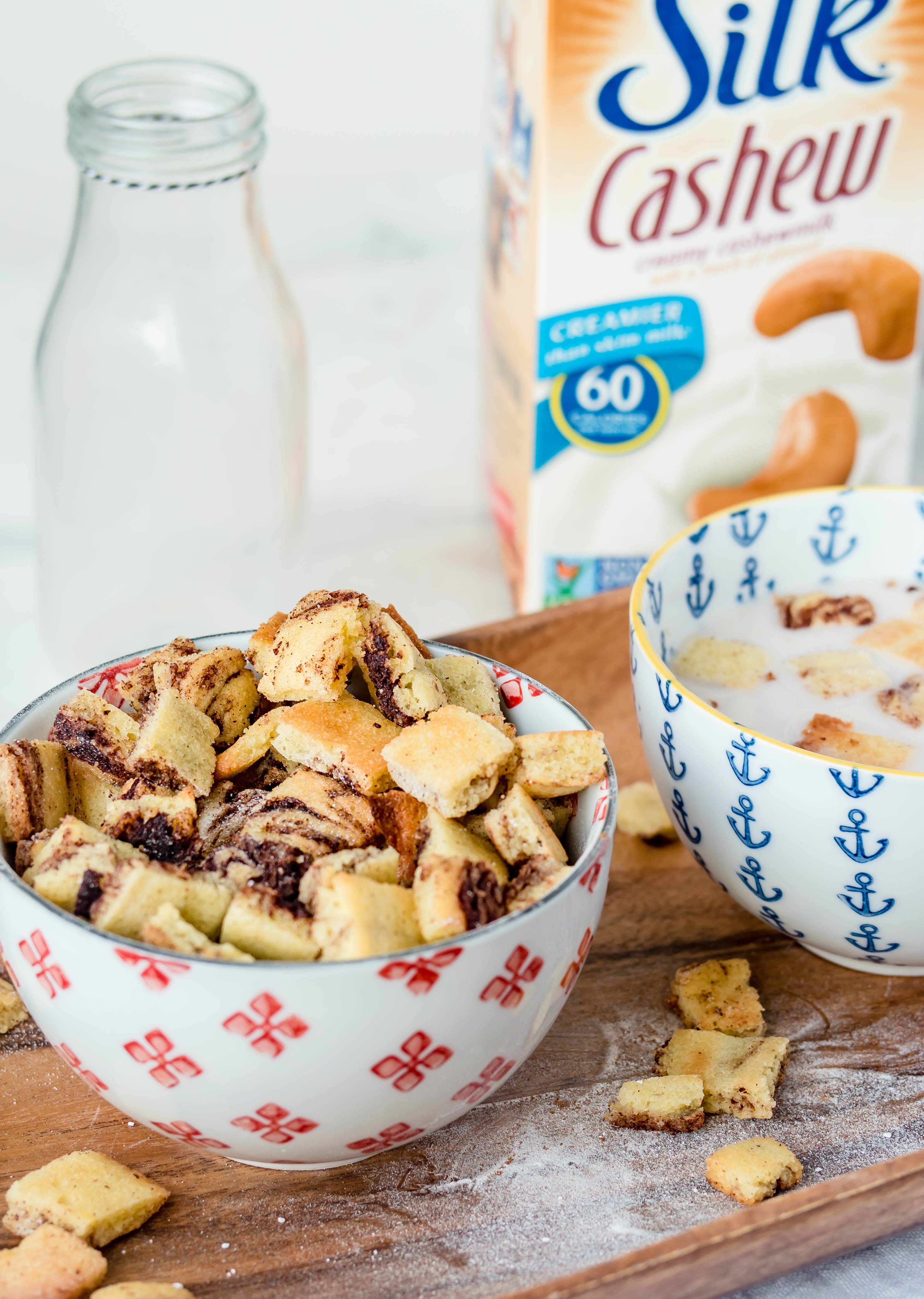 Don't you wish you could experience a giant, saturated spoonful of this bliss?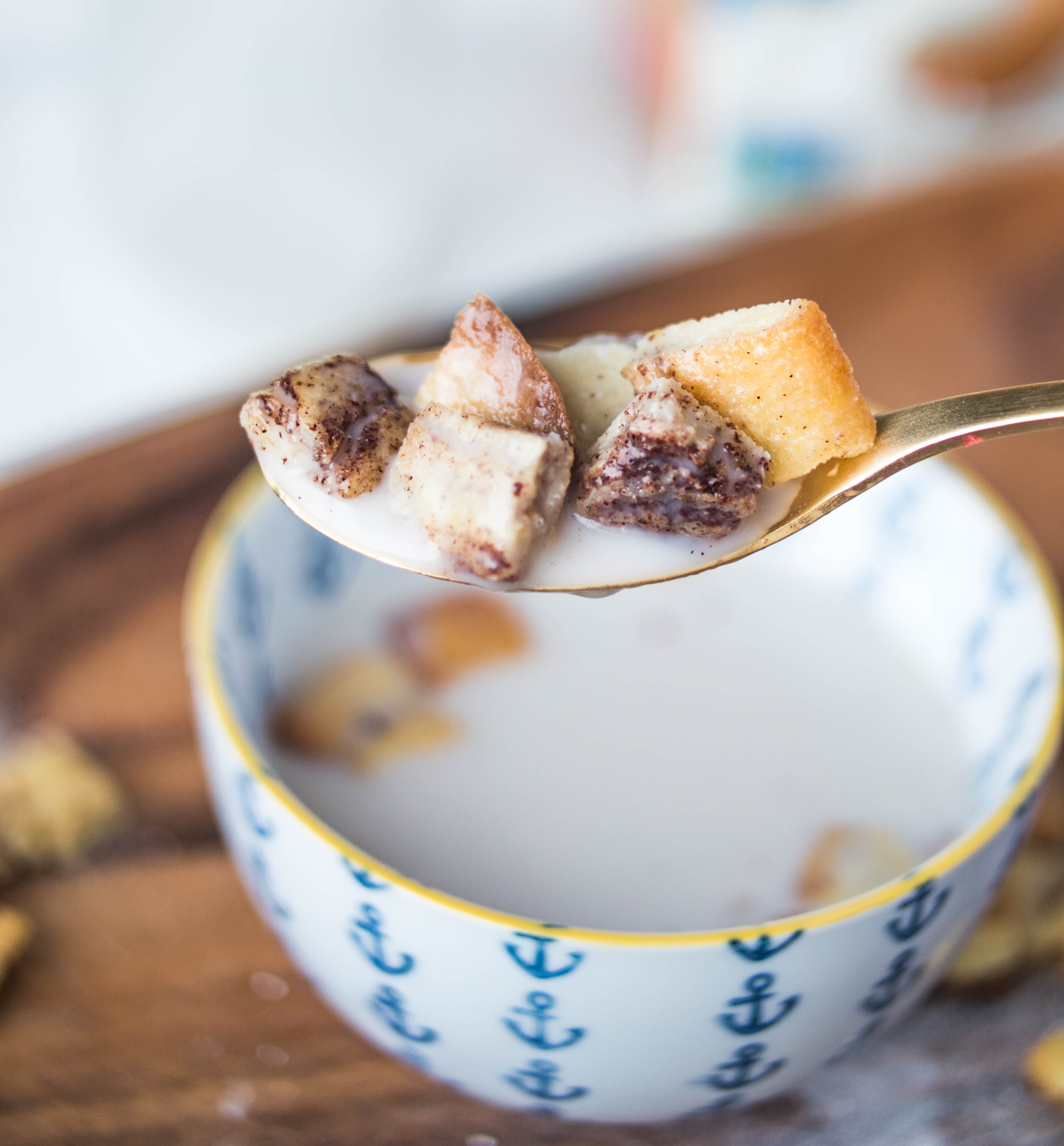 Mmmm. Saturated in (cashew) milk.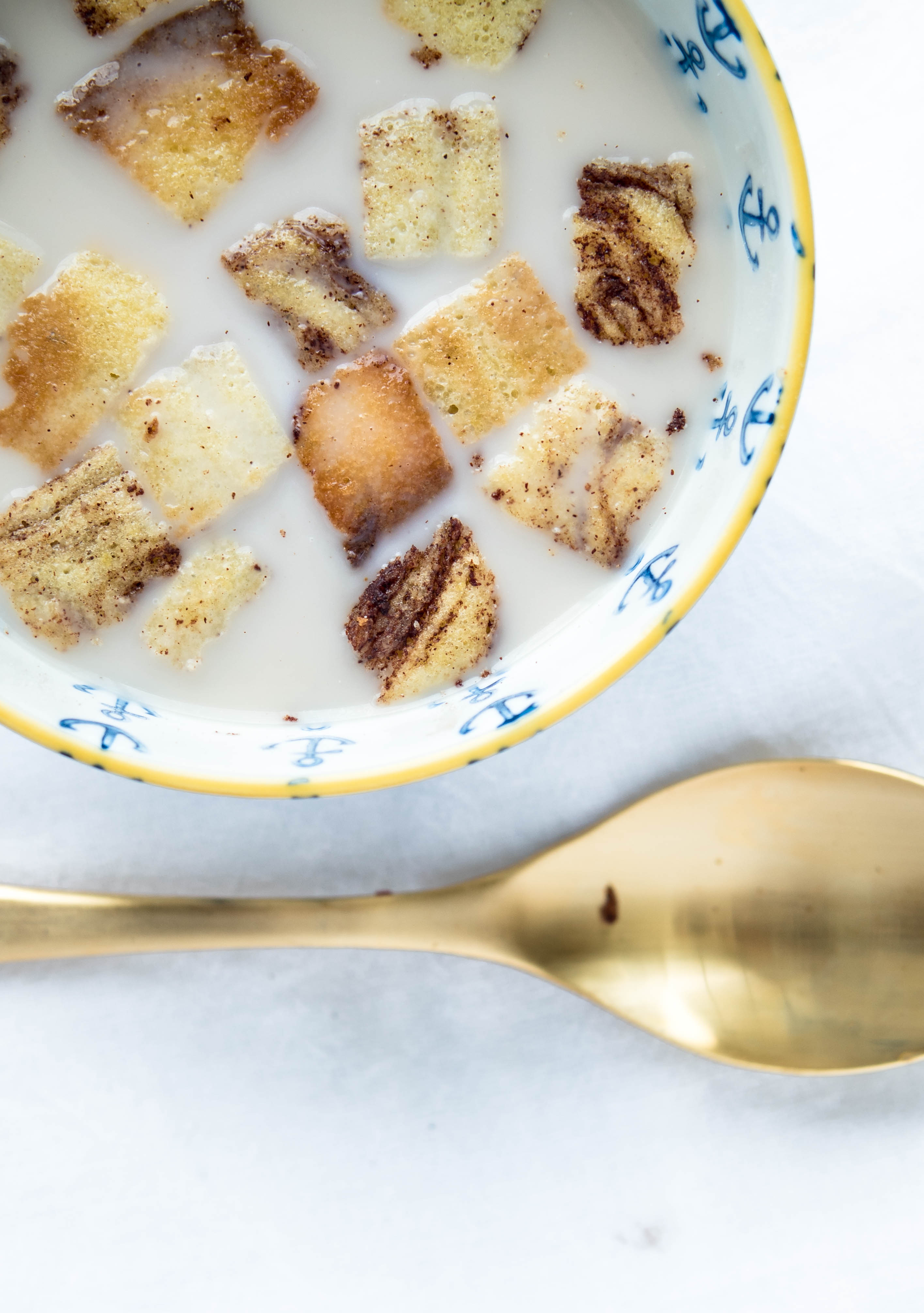 Funk? What funk? All I'm feeling is full of satisfaction and cinnamon sugar swirls.
Gluten Free Snickerdoodle Cereal
Ingredients
Vanilla Cereal Parts
1 cup Almond Meal ( I used THIS Bob's Red Mill)
1/4 c. Truvia Baking Blend (Or regular Truvia for zero sugar)
3 Eggs - 1 whole egg, two egg whites
3 tbsp Butter, softened 
1/2 tsp Vanilla
1/2 tsp Xanthan Gum -Bob's Red Mill (optional but gives better texture)
Cinnamon Swirly Parts
2 tbsp Butter, softened
1 tbsp Cinnamon
1 tbsp Sweetener (Truvia or Swerve)
Instructions
Preheat oven to 350°
In a large mixing bowl, combine all vanilla cereal ingredients and mix well. Spread on a cookie sheet lined with parchment and set aside.
Prepare the cinnamon swirl by mixing butter, cinnamon, and sweetener. You don't want the butter to be liquid in this process so If it seems to thick to dollop onto the vanilla batter, add 1/4 tsp of warm water to thin it slightly.
Spoon the cinnamon butter mixture onto the vanilla batter in small mounds. Using a fork, gently swirl going to each edge of the cookie sheet. Bake for 25-50 minutes.
Remove from oven, let cool and cut into squares. Reduce heat to 300 and bake for 10-15 minutes.
Notes
Gluten Free, Grain Free, Low Carb
Go ahead and share if you want but beware! Once word gets out that you have healthy cinnamon swirl cereal the beggars will be lining up to "taste" it. Just sayin'.
♥ Liz