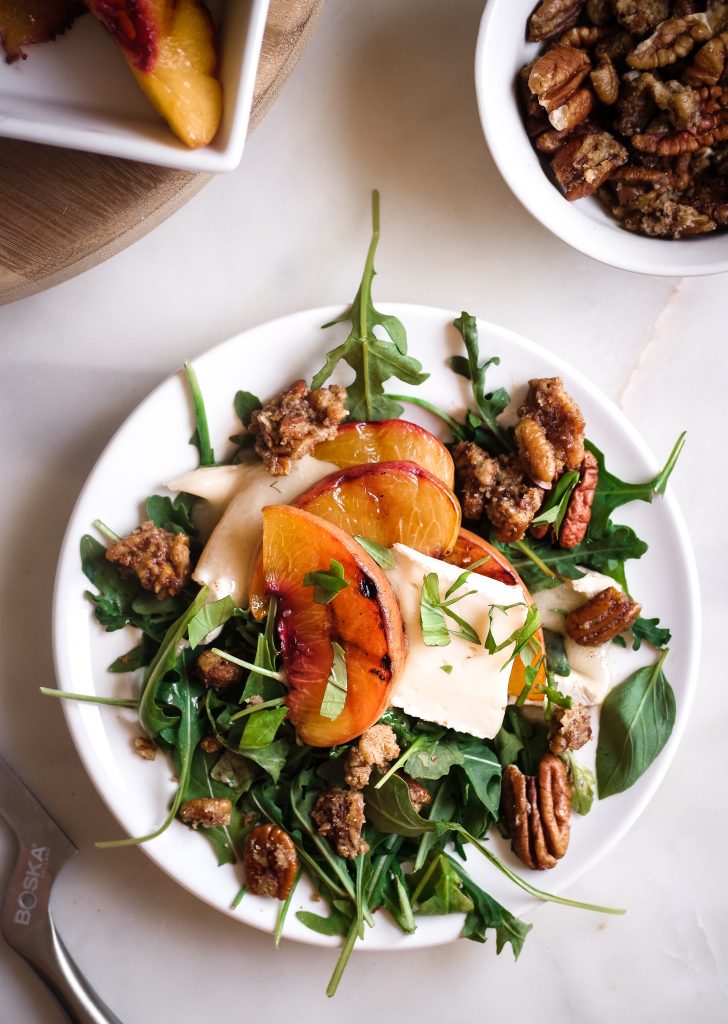 Cheese Board + Salad =Salad Board?
Isn't Charcuterie the best? It's like the ultimate adult snack. Tons of yummy, snacky foods arranged on a block of wood or marble and served with wine. Very classy, very chic. Only Charcuterie is actually describing the salt cured meat, not the whole of the board, which is often confused (by me) and misrepresented (by me) because what I really love is the other stuff the board offers. The actual good stuff. The vegetarian stuff. The cheese and nuts stuff. 
SO being vegetarian, self-proclaimed snack-aholic and seeker of super good salads, I've taken all of the crunchy-creamy stuff from a traditional charcuterie board and added salad. How's that for ingenuity?
Plus-we've made it more "low carb" friendly with the restriction of dried fruits and sugary jams. Just a slice of grilled peach or two with a hunk of brie adds the perfect balance of sweet-to-creamy ratio. Salty and crunchy sides round it all out. Not that many carbs but so many flavors! Eat it from the board or plate it on a bed or arugula. Maybe crisp and crunchy romaine and fennel?
The possibilities do not end.
They are ENDLESS.
For the Sweet & Cheesy Board:
Grilled Peaches
Assorted Nuts or Lolli's Low Carb Granola for sweetness
Toasted Coconut Chips
Brie, Parmesan, Gouda, etc.
Fresh Basil
Balsamic Redux (for drizzling and dipping)
Olives, Artichoke Hearts and other briny items
Other Crunchies-Seed Crackers, Cheese Chips, etc.
For A Salad:
All of that plus mixed greens and arugula.
Easy peasy, peachy, squeezy…or something like that.
Also, check out last year's End of Summer Peach and Ginger Walnut Salad which is lacking brie but winning with gingered walnuts.
Grilled Peach 🍑 Brie & Basil Salad with Sweet Balsamic Reduction
"If you like it then you shoulda put a grilled peach and hunk of brie on it"
–Lonely Bowl of Arugula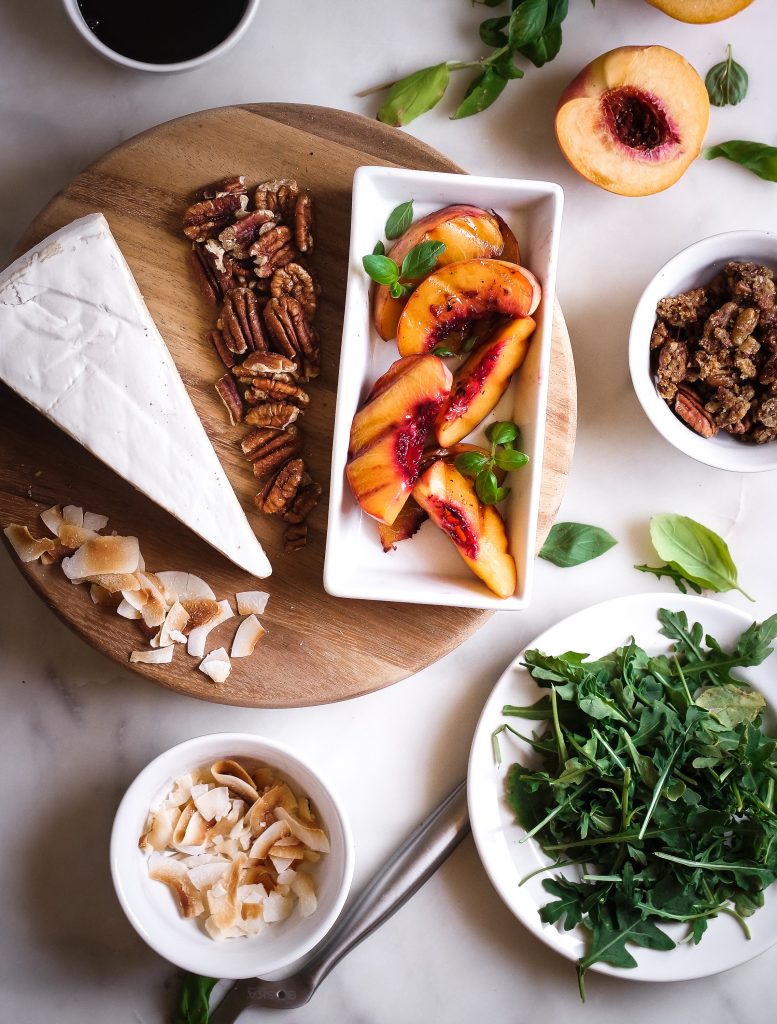 This is just a small representation of what could be on your
vegetarian cheese and salad board.
I didn't have enough space for my olive bowl and my other assorted briny items…
but they were there. In the background. Being snacked upon.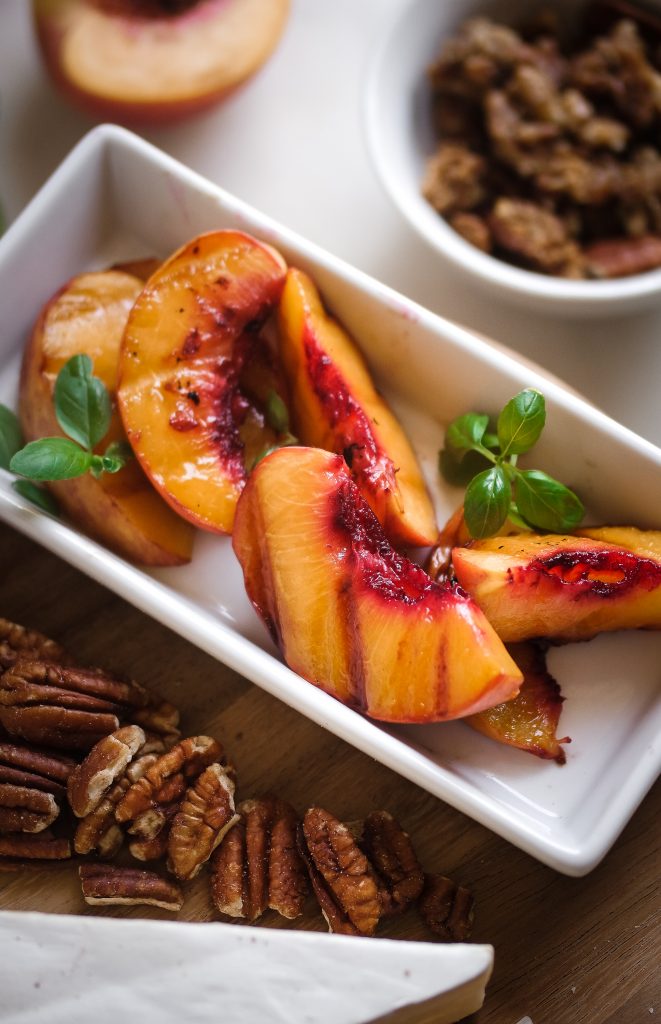 The balsamic reduction is such an easy way to spruce up a bed of greens.
Two ingredients is all it takes. Balsamic 'Vin and Sweetener of choice.
I like to dress it in a bit of oil first, then drizzle this on, but that's absolutely optional.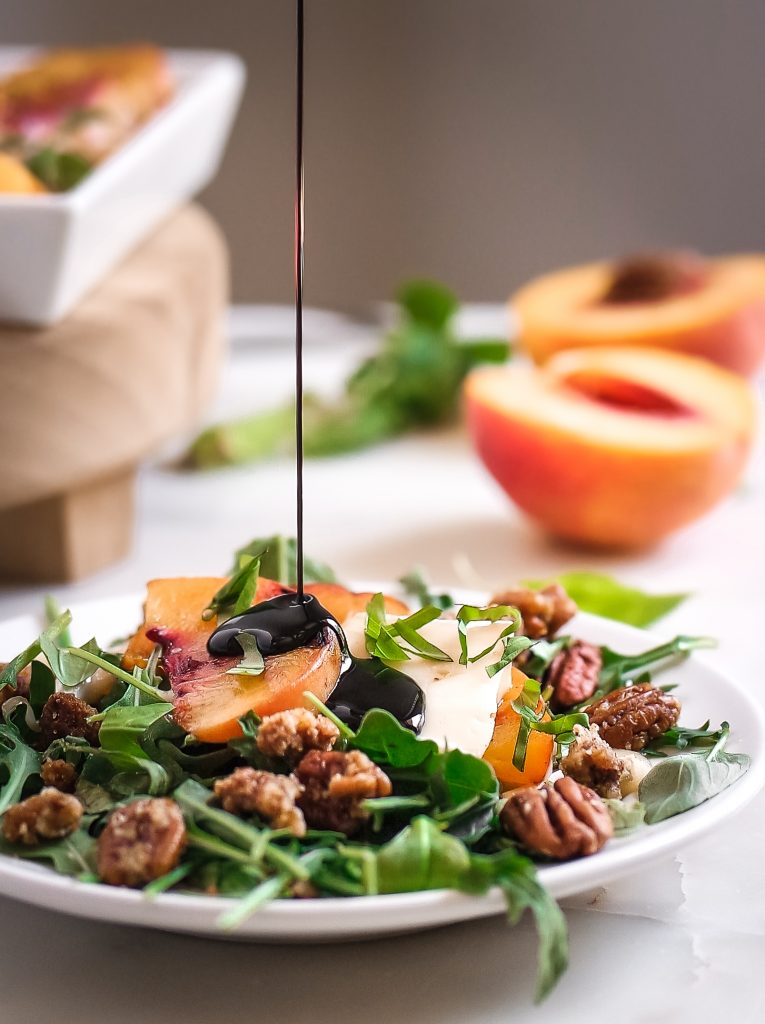 If you work this salad just right, the heat from the peaches melts the brie…
Then the heat from the balsamic reduction melts it EVEN MORE!
So it's melty, creamy, sweet, tangy and crunchy-all on one plate.
In other words, it's a dream salad.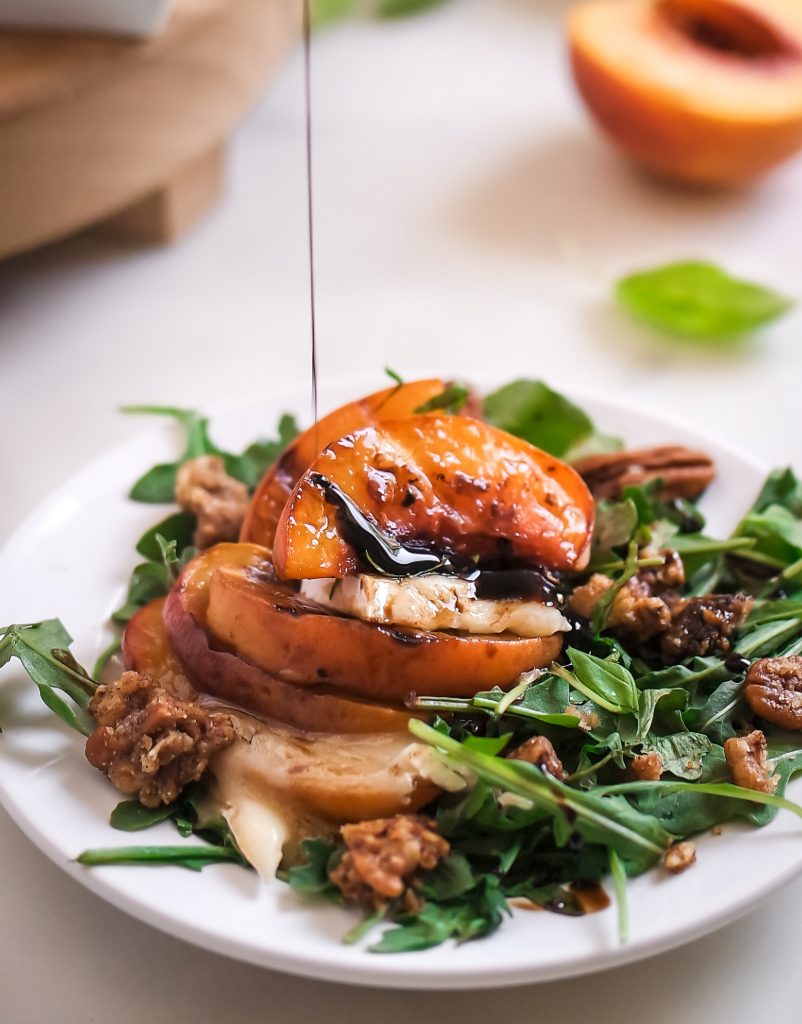 I think because you were so darn healthy with the peaches and greens, you should probably just use the leftovers to make some sort of low carb pie or something…

Grilled Peach Brie & Basil Salad with Simple Balsamic Dressing
Ingredients
For the Salad
Peaches + Oil for grilling
Arugula, Chopped Romaine, or Mixed Baby Greens
Candied Nuts or Lolli's Low Carb Cinnamon Pecan Granola
Brie
Fresh Torn Basil
For the Dressing
Balsamic Vinegar
Granulated Swerve or sweet of choice
Avocado Oil or any old salad oil
Instructions
For The Salad Board
No real instructions, just layer and squish everything onto the biggest wood cutting board you have!
For the Balsamic Redux
Heat 1 cup Balsamic Vinegar and 2 tbsp Swerve on medium, bring to a simmer.
Cook until the liquid has reduced enough to coat a spoon. It will continue to thicken as it cools.
Peaches
Simply wash and slice peaches into 1-1/2 inch thick sections.
To grill, skewer the peaches on a wet bamboo stick and brush with a bit of oil.
Sear on both sides. *This can also be done on an electric table top grill or even a panini press! In those cases, you don't need to skewer the peaches.
Assembly
Layer warm peaches, hunks of brie and basil over a bed of lettuce or greens.
Drizzle with Balsamic Reduction and a touch of Olive Oil.