This keto avocado egg salad has smashed avocado, Greek yogurt AND mayo, dill, and a ton of protein!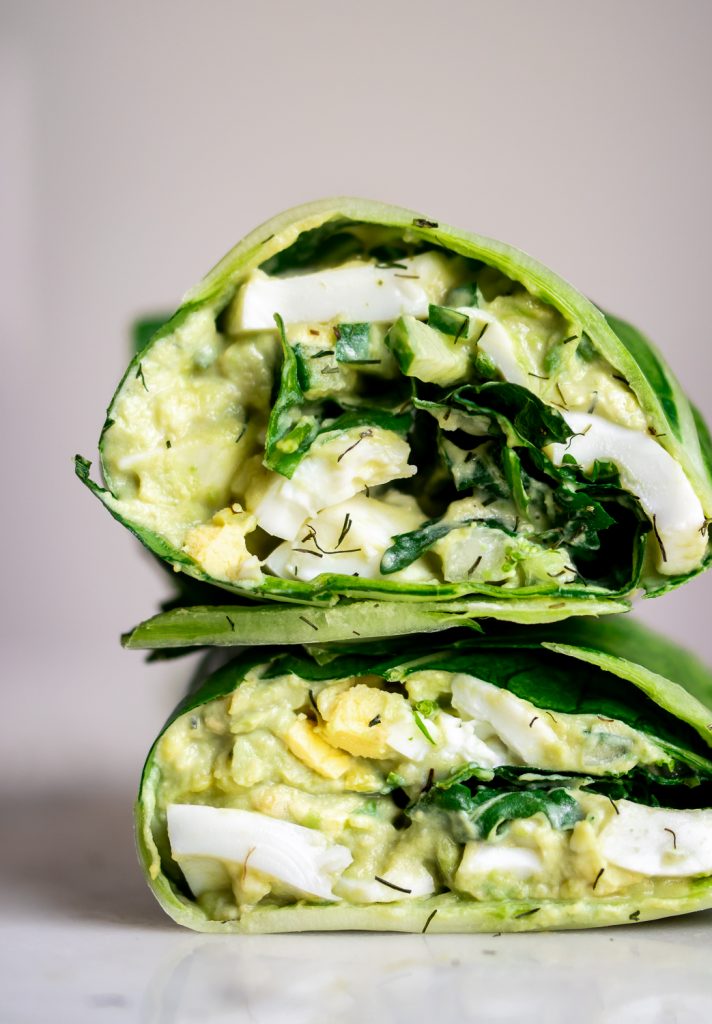 Let's Wrap About Protein
Knowing what your body needs is a tough thing and I will be the first to admit that, at times, I struggle too. There are a handful of folks out there that need to be told what to eat, how much to eat, and how often to eat it. I am one of those folks, folks! I need to make a conscious decision to eat enough of the 9 essential amino acids that my body cannot produce…daily.
I have more of a sweet tooth than a meat tooth…and I have a veggie tooth. I do have a cheese tooth but it's way in the back, behind my cocktail tooth.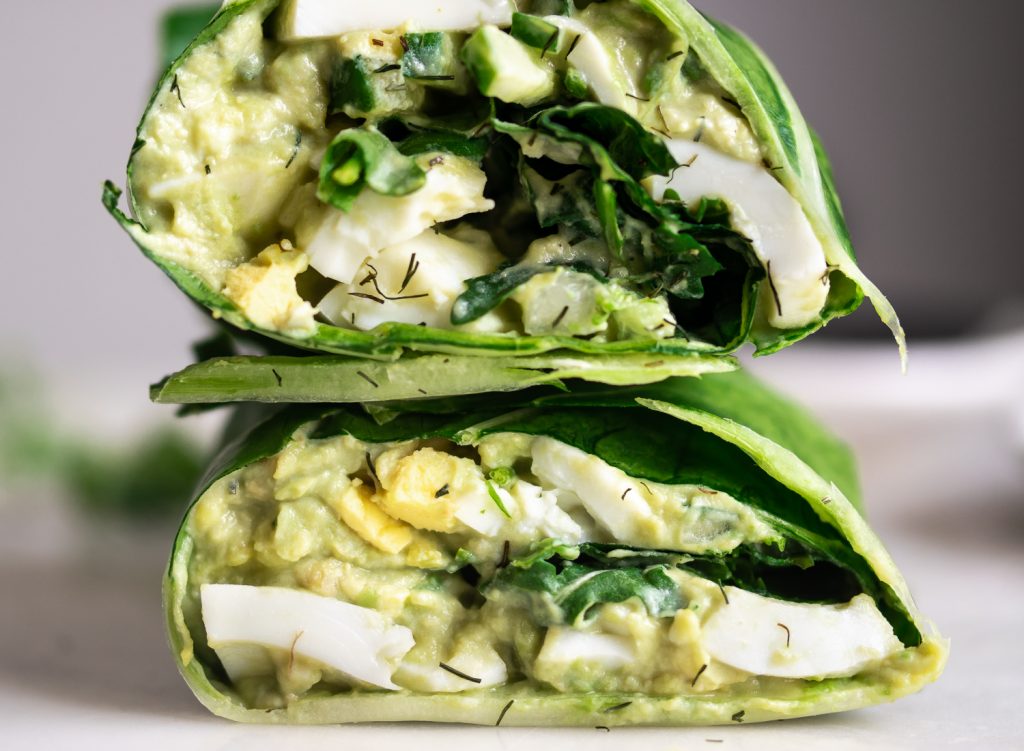 One of the easiest ways for me to increase protein is HBE (hard-boiled eggs) and my FAVORITE way to get my HBE down is in a keto Green Goddess Egg Salad! The MAYO and the HERBS are really what makes it great, but then I was like…more PROTEIN?! Greek. Yogurt. 
I found an avocado egg salad spin from Pinch of Yum and I was inspired to make the GREENEST and GODDESS-IEST of egg salad wraps for gluten-free vegetarian protein seekers! With dill! PLUS- for any vegans who don't mind carbs, this would be delicious with chickpeas…
How to Cook A Perfect Hard-Boiled Egg
For egg salad, you don't want to overcook your eggs! An overcooked egg is dry and…unpleasant. Here's my favorite method:
STEP ONE: Place eggs in a large pot and cover with water. Turn the heat to high and bring the pot to a boil.
STEP TWO: Once boiling, turn off the heat and cover. Set a timer for 8 minutes.
STEP THREE: Drain and transfer eggs to a bowl of ice water to cool, then peel.
EASY EGG SALAD HACK: Buy them pre-boiled and peeled, which I do occasionally (weekly).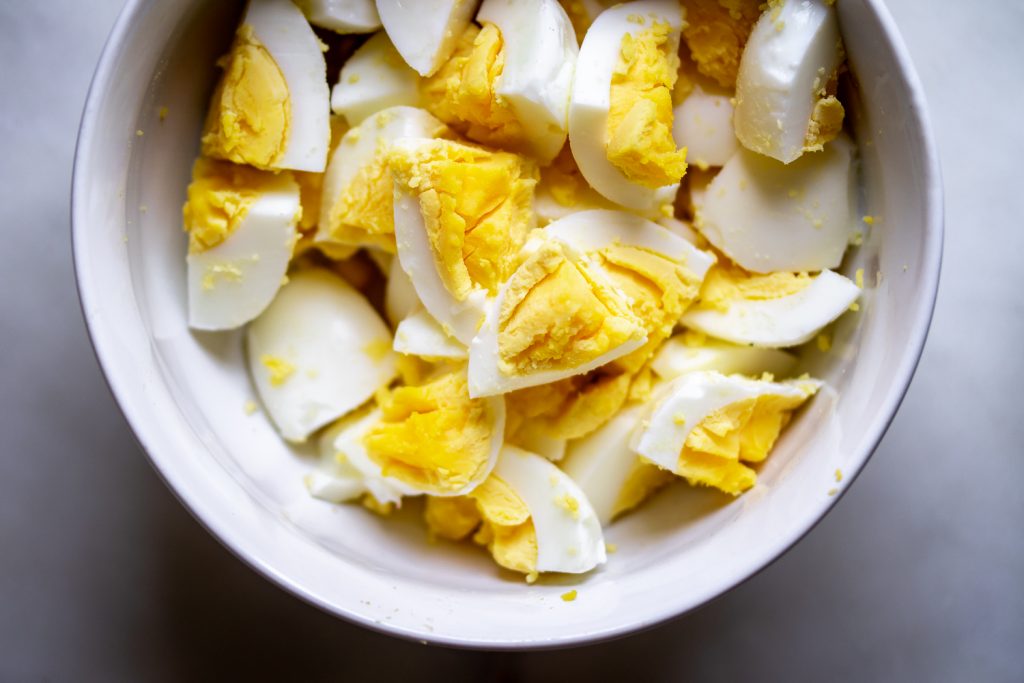 Prepping Your Avocado Egg Salad
I don't recommend smashing the avocado into oblivion because it gets pasty and brown. Simply mash it gently and allow it to fold gently into the Greek yogurt and dill. Then, fold that into the eggs with a dollop of mayo for good measure.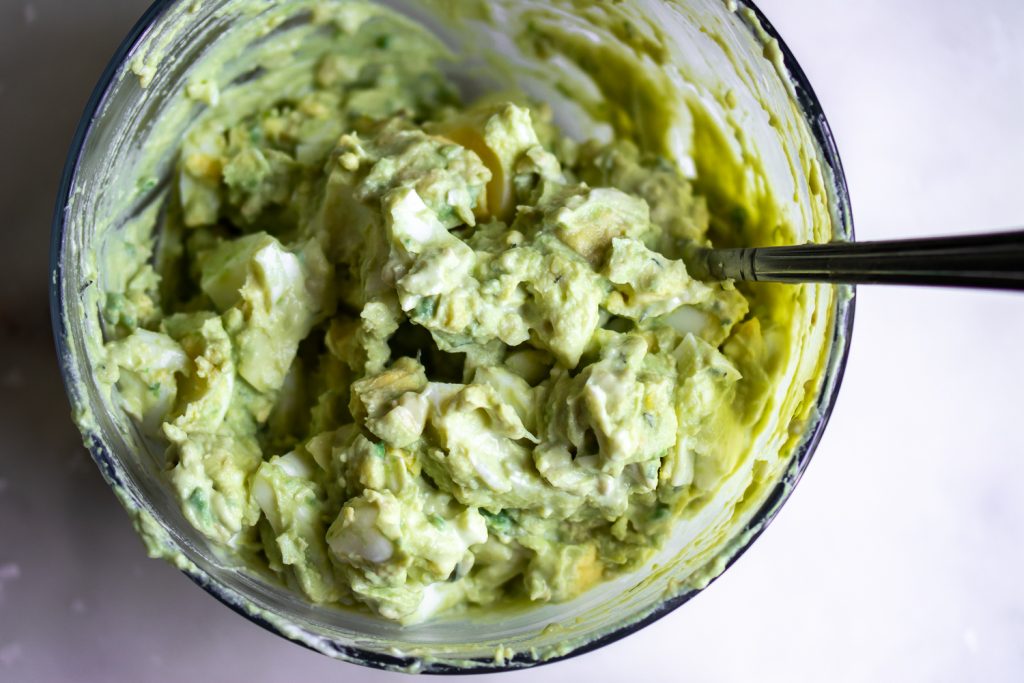 NOW you can wrap it with a collard green (stem removed and blanched), or drop a large leafy lettuce cup. Spoon it on a salad…Spoon it on a spoon… your call!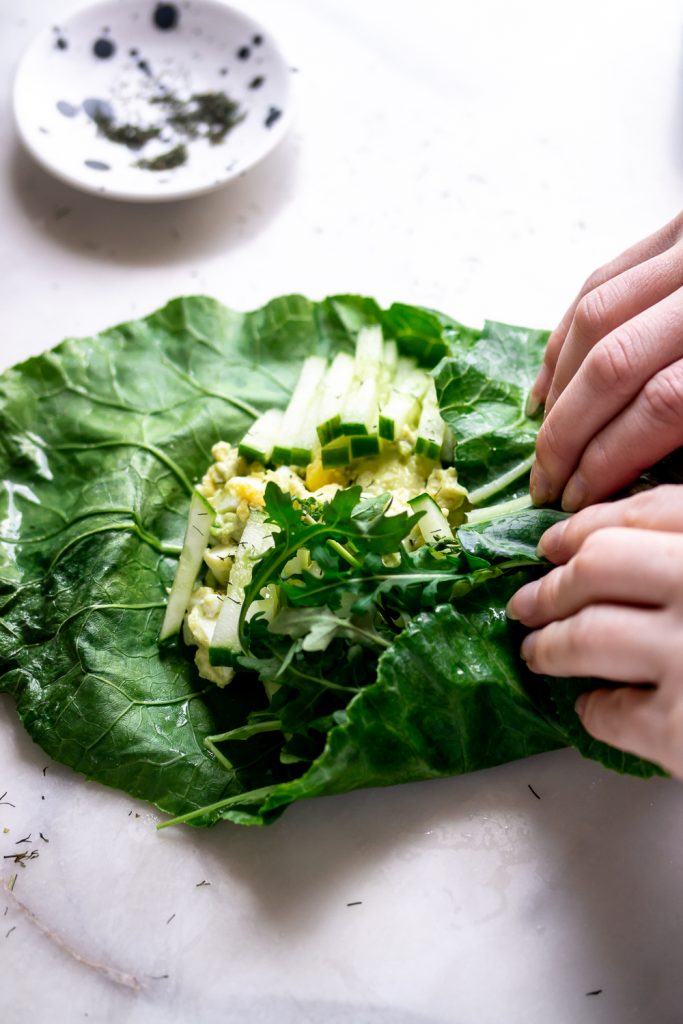 Wrapping Your Keto Egg Salad
Not everyone loves collard greens as a wrap because they can be tough. You will want to blanch them before eating. That begin said, there are plenty of other options to wrap your fillings!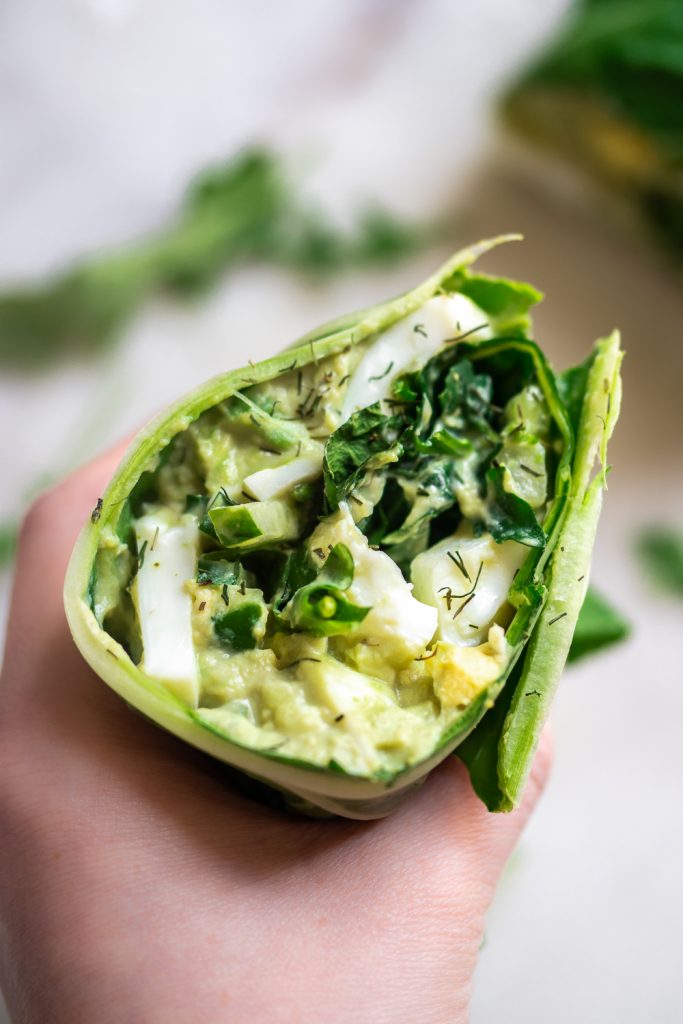 Looking for More? Try these other Keto Recipes!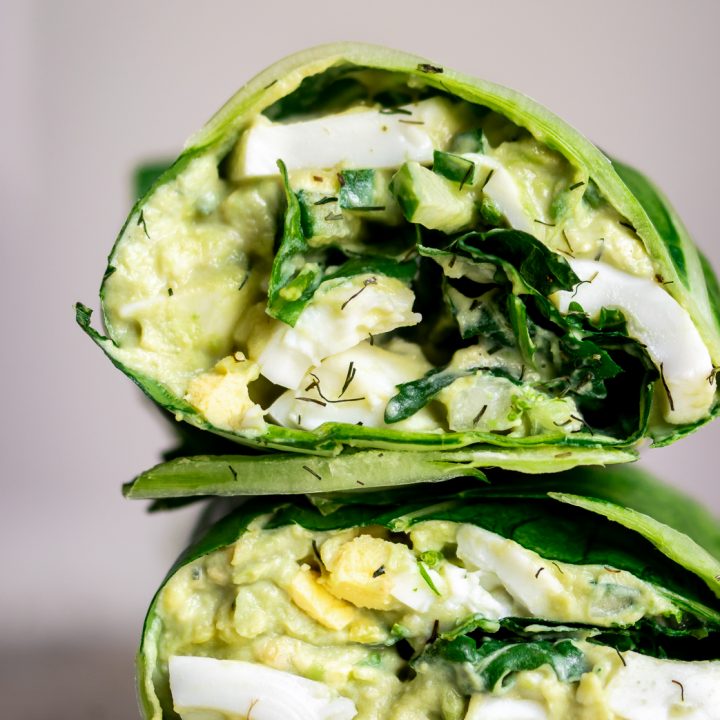 Green Goddess 🥑 Avocado Egg Salad Wrap
Low Carb and Protein Packed Avocado Egg Salad. It's a wrap.
Ingredients
5 Eggs, hard-boiled
1 medium Avocado, diced
2 tbsp Greek Yogurt
1 tsp Dill, dry but can sub fresh
Sea Salt and Cracked Black Pepper
Fillings
Sliced Cucumber
Microgreens
Arugula
3 Collard Greens or leaf lettuce cups, to wrap
Instructions
Simply boil the eggs to desired doneness and let cool, peel, dice.
Gently mash the avocado, greek yogurt, and seasonings until the mixture is combined but avocado hunks are still recognizable.
Fold the mayo into the eggs, then add to the avocado mixture.
Gently fold (again) so that both are mixed. *My mixture was dry because my avocado was less ripe so I added another tbsp mayo...this is not always the case so use your discretion.
For the Wraps
Use a sharp knife to trim the stem from the collard leaves. You may remove most of the stem from the center of the leaf which is ok. Use that as a guide to slice it in half, effortlessly.
Blanch the leaves in hot water to soften (see link in blog post) by placing the leaves in boiling water for a few minutes, then transferring them to ice water. Pat dry.
Fill each leaf with egg salad and top with sliced cucumber, greens, and cracked pepper.
Wrap like a lean mean green burrito. Slice in halves.