You don't have to love mushrooms to eat this burger because it doesn't taste like mushrooms that much!
---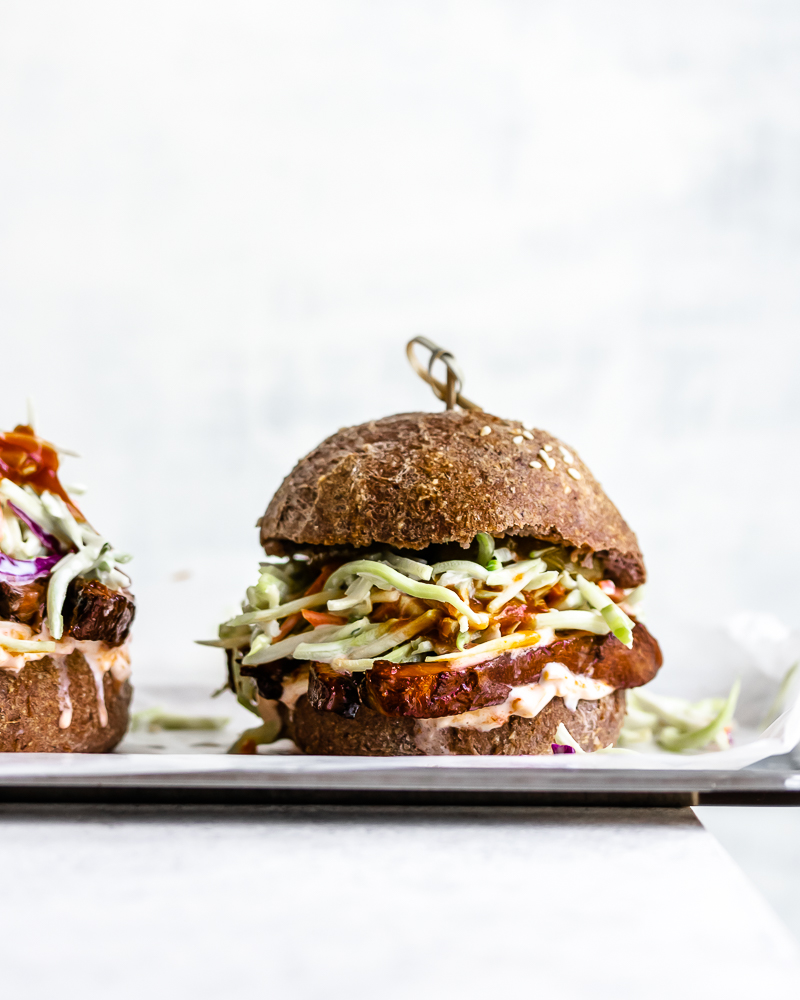 It has recently occurred to me that most of the bbq portobello burger recipes out there are just a bunch of mushroom caps trying to be beef patties and honestly—both the mushrooms and I are offended. As if we have to act like beef patties to be loved?! 
Also, I speak for mushrooms now because if not me, then who?
Patty Probs
For the record, I'm not saying you should never eat another mushroom cap again. I love a good mushroom cap. The deepest love you can legally have for a plant in fact. But If we are committing to eating a mushroom in place of meat, let's not pretend it's meat. Let's l-o-v-e that it is a deliciously barbecued mushroom! 
Like Meat, Only Mushroomier
Treating your portobello burger more like a mushroom and less like a burger is how you get a superior portobello mushroom burger. I know because I've tried allll the ways!
Slice it.
Gently cook the water out.
Sauce it with care.
And don't just throw it over an open flame and *hope* for the best!
Spoiler: it will not be the best. 
Oh, and as far as barbecue sauce—that's up to you. I've laid out my lazy-girl bbq sauce in the recipe and it's more of a mix-and-taste situation. I've never (honest to God) measured it until yesterday. 
I love it. Maybe you'll love it?
And if you don't love it or you wanna cut corners (I do, a lot) then I SUPER support you and recommend G Hughes Original Sugar-Free Barbecue Sauce.It's pretty spot on with flavor and holds up to the cooking process!
Pimento Cheese Barbecue Portobello Burgers 🍔 Low Carb & Gluten-Free
Stacks on stacks on stacks!
Plants on plants on plants!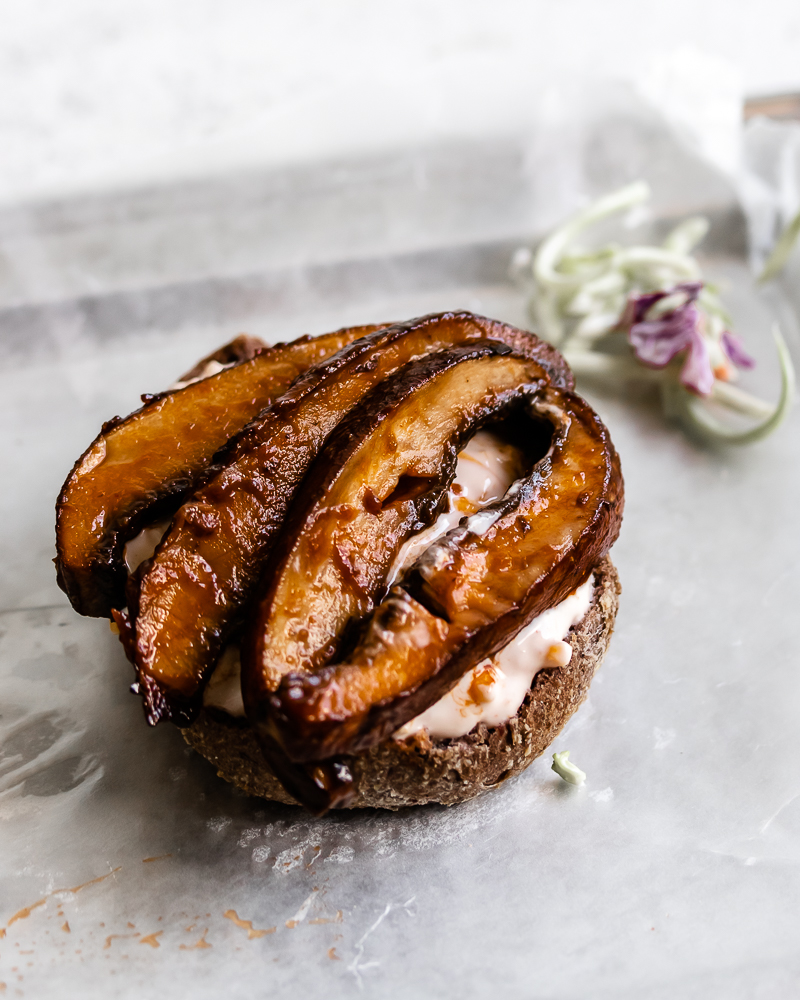 Slicing your mushroom cap and getting it nice n' hot before adding the bbq sauce is key to making this burger the best burger it can be. 
Slices are easier to eat than a fat hunk of fungus. Plus, there's more surface area for sauce to be placed.
That's geometry, but for foodies.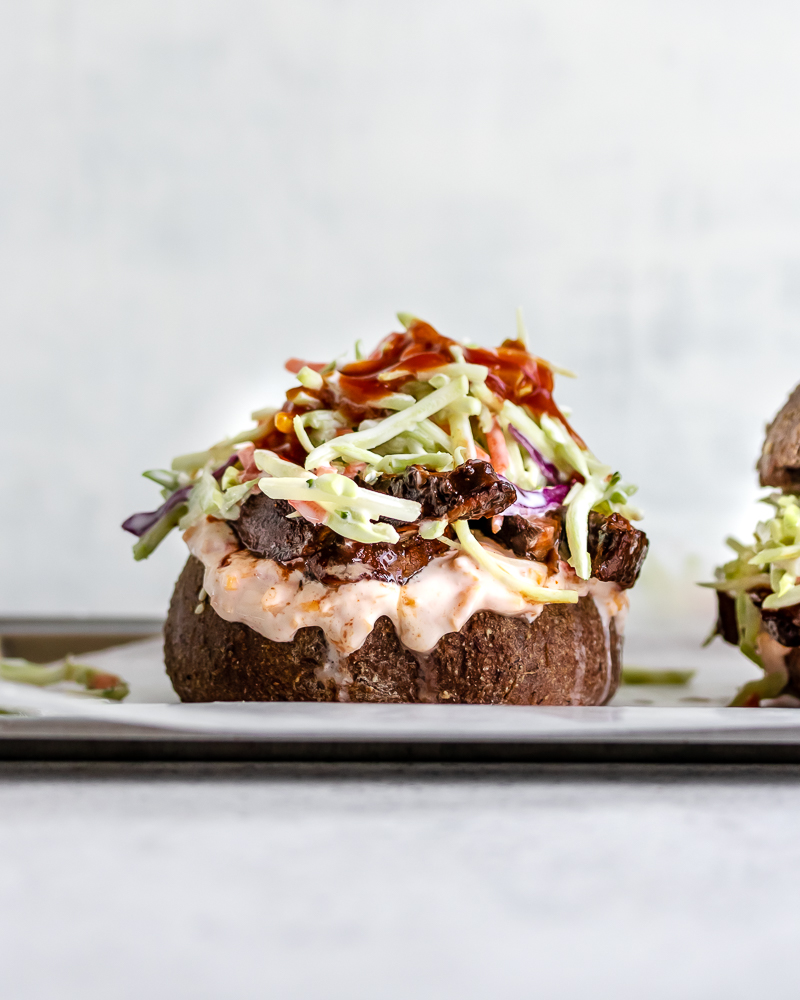 This burg also has a hefty portion of broccoli slaw that is the laziest slaw you can throw together.
Just a bag of broccoli slaw, some mayo, and some apple cider vinegar.
Mix it up, toss it around, let it absorb all of the tangy mayo goodness.
THEN add it to your burger and watch people think actually know how to cook.
Slaw, slayed.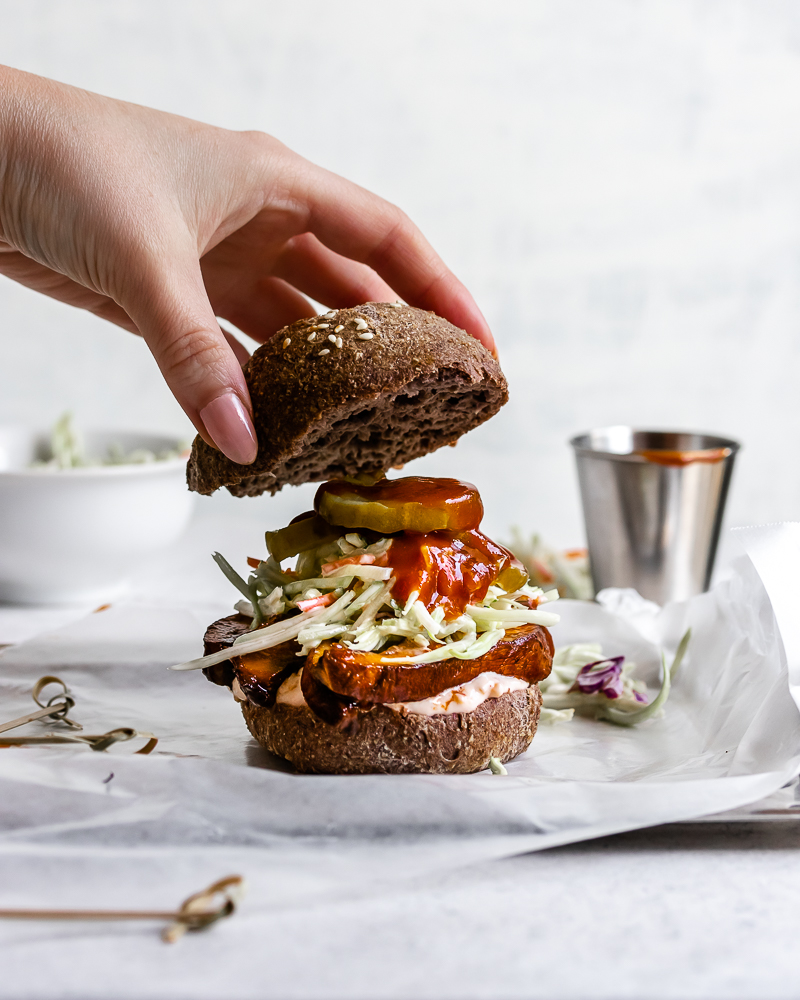 As for these buns, I got 'em from Diet Doctor and I altered it a bit to meet my tastebuds and my texture buds because both are equally important. 
I don't make it a point to eat other people's buns, but these are legit. 
I swapped a few things around because I like flax and I'm into coconut flour for a hint of sweetness.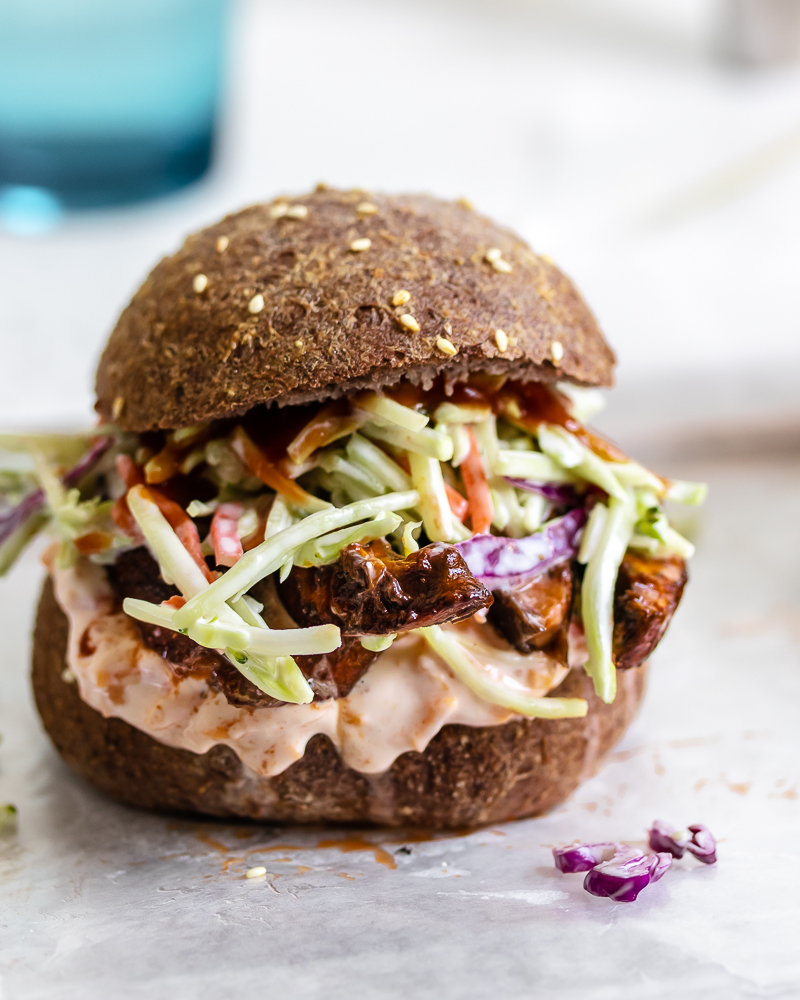 Heads UP! This post contains affiliate links. As an Amazon affiliate, I earn from qualifying purchases.
Want More Gluten-Free Treats? Try These!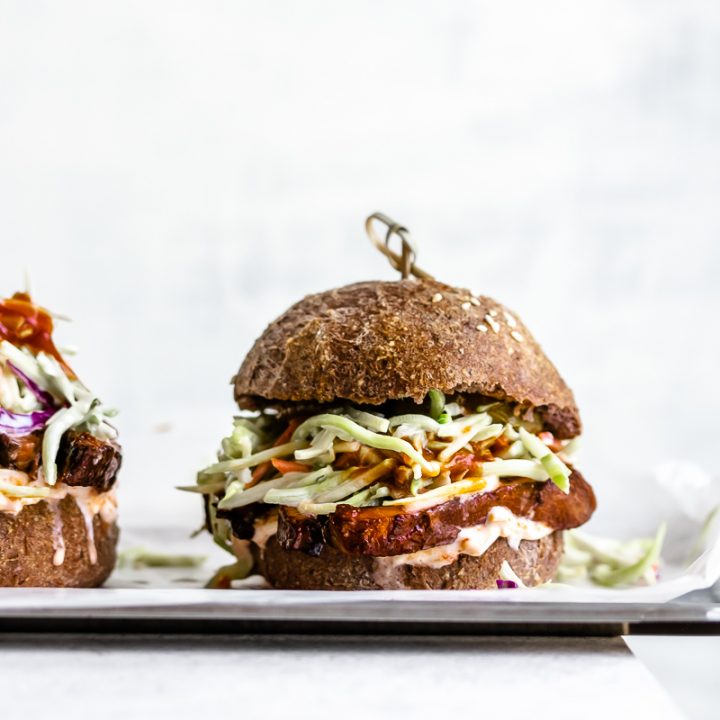 Keto Loaded Barbecue Portobello Burgers
Perfectly sauced barbecue mushroom strips, lite pimento cheese, and broccoli slaw all on a keto burger bun! *Plus feel free to use/buy my fave Sugar Free BBQ Sauce to skip a step*
Ingredients
For the Keto Buns
1/4 cup Coconut Flour
2 tsp Baking Powder
1/2 tsp Salt
2 tsp Apple Cider Vinegar
2 Egg Whites (reserve 1 yolk + 1 tbsp water for egg wash)
1 Whole Egg
1 cup Boiling Water
For the BBQ Mushrooms
4 Portobello Mushroom Caps, stem and gills removed
1/8 cup Water
1 tsp Smoked Paprika
1/2 tsp Dry Mustard Powder
1/2 tsp Garlic Powder
1 tsp Hot Sauce optional
2 tbsp Swerve Brown Sugar 
Lite Pimento Cheese Spread
1/2 cup Greek Yogurt
1/4 cup Real Mayonnaise
2 cups Shredded Sharp Cheddar Cheese
1/2 tsp Garlic Powder
1-2 tsp Worcestershire Sauce
2 oz diced Pimentos, drained
Instructions
For the Keto Buns
Heat oven to 350 degrees.
Whisk together all of the dry ingredients until combined.
Using a hand mixer, beat in the egg, egg whites, and vinegar.
While the mixer is still running, pour in the boiling water until a sticky dough forms. Use about 3/4 cup of water to start, then only add enough water to give you a soft, stretchy dough. You might have about 1 tbsp of water left.
Form into either 4 or 6 rolls and arrange on a large baking sheet. Brush with remaining egg yolk + 1 tbsp water and sprinkle with sesame seeds. Bake for 1 hour. Let cool before slicing.
For the BBQ Mushrooms
Whisk together the sauce ingredients in a saucepan over medium heat. Once the Swever brown is fully dissolved, remove from heat. About 5 minutes.
Heat a skillet with coated with nonstick spray over medium heat.
Slice the cleaned mushroom caps into 1-inch strips and saute over medium heat until they begin to release their moisture.
Use a silicone brush to brush the sauce onto the mushroom slices, letting them absorb the flavors.. Continue to add sauce and turn the mushrooms slices until the strips are soft and evenly coated. Remove from heat.
Lite Pimento Cheese Spread
Mix all cheese spread ingredients together and refrigerate for 1 hour before serving.
As the mixture cools it will thicken. If you prefer a thicker cheese spread, add 1 extra handful of cheese.
Assemble the burger
Layer pimento cheese, barbecue mushrooms, and your favorite slaw on a burger bun. Top with extra bbq sauce. Sliced pickles make an amazing addition, too!