Take your frozen yogurt to the next level with a little more roasted raspberry sauce and a lot less sugar.
---

Fro Frickin Yo.
Because regular temperature yogurt is boring!
SO why aren't we still wasting our time with regular yogurt every day when we could be eating froyo??
Probably because traditional frozen yogurt isn't that healthy. It's actually full of sugar (sad but true) which makes it a not-so-rad breakfast option. BUT now we can make keto friendly, low carb frozen yogurt so BREAKFAST YOGURT IS ON. 🙏
Let's Fro this Yo
Getting your yogurt from a liquid to a frosty solid isn't rocket science (it's actually food science!!!) but it's hard to get that luscious frozen texture without adding a bucket of sugar and/or sugary syrups. Here's how you increase the luscious factor while decreasing the icy yuckness factor.
1. Use Whole Milk
Yogurt and Strain It
You might be tempted to use Greek yogurt because it's thicker, creamier, and less watery than regular yogurt, but resist the temptation! The high protein level in Greek yogurt can add a gritty texture. For frozen yogurt making, traditional yogurt works best.
Though, you can use Greek yogurt. Just be realistic to how it will turn out. 🙌
Super-strained whole milk yogurt will offer the best froyo possible. It's a big fat burden, especially when you are jonesing for that low carb frozen yog, but it's worth it.
Just strain the water from your whole milk yogurt by lining a fine mesh sieve with cheesecloth and fill it with the yogurt.
Place the strainer over a bowl and let it rest in the refrigerator overnight.
Discard the extra water and voilà! The texture will be similar to Greek style, but it will still have a lower protein content and creamier finished product!
2. Add a little cream
To get a super lush sugar-free frozen yogurt, a little heavy cream goes a long way. The extra fats help reduce the icy texture and cuts down on the tangy flavor. You can skip the cream and your frozen yogurt will still be good, but it will taste more like yogurt that has been frozen rather than frozen yogurt.
Another soft-serving tip for keto frozen yogurt—add a tablespoon of alcohol to the frozen yogurt mixture. Since you don't have all of that sugar keeping the froyo soft and ice crystal-free, a splash of booze will do the trick.
👼 No need to worry about the kiddos—there's not enough alcohol per serving to worry about!
3. Use An Ice Cream Maker
Here's the quick and dirty truth: ice cream makers make ice cream and froyo softer because they whip air and reduce ice crystal formation from the distribution of super cold temps.
Yes, you can make frozen yogurt without an ice cream maker. No, it won't be as smooth or as "whipped" as froyo. Yes, it is less work and fewer tools. SO do what you can in a pinch and just know what the difference in texture will be!
Low Carb Vanilla Frozen Yogurt with Roasted Raspberries
For the breakfast yogurt lovers who feel like getting frosty.
🍭Low Carb Sweeteners for a Softer-Serve
I super love Swerve (really) but I have found that Allulose does a better job of softening ice cream than erythritol, which will make your frozen yogurt rock solid. IF you give allulose a try, taste-test the level of sweet since allulose is about 70% less sweet than erythritol.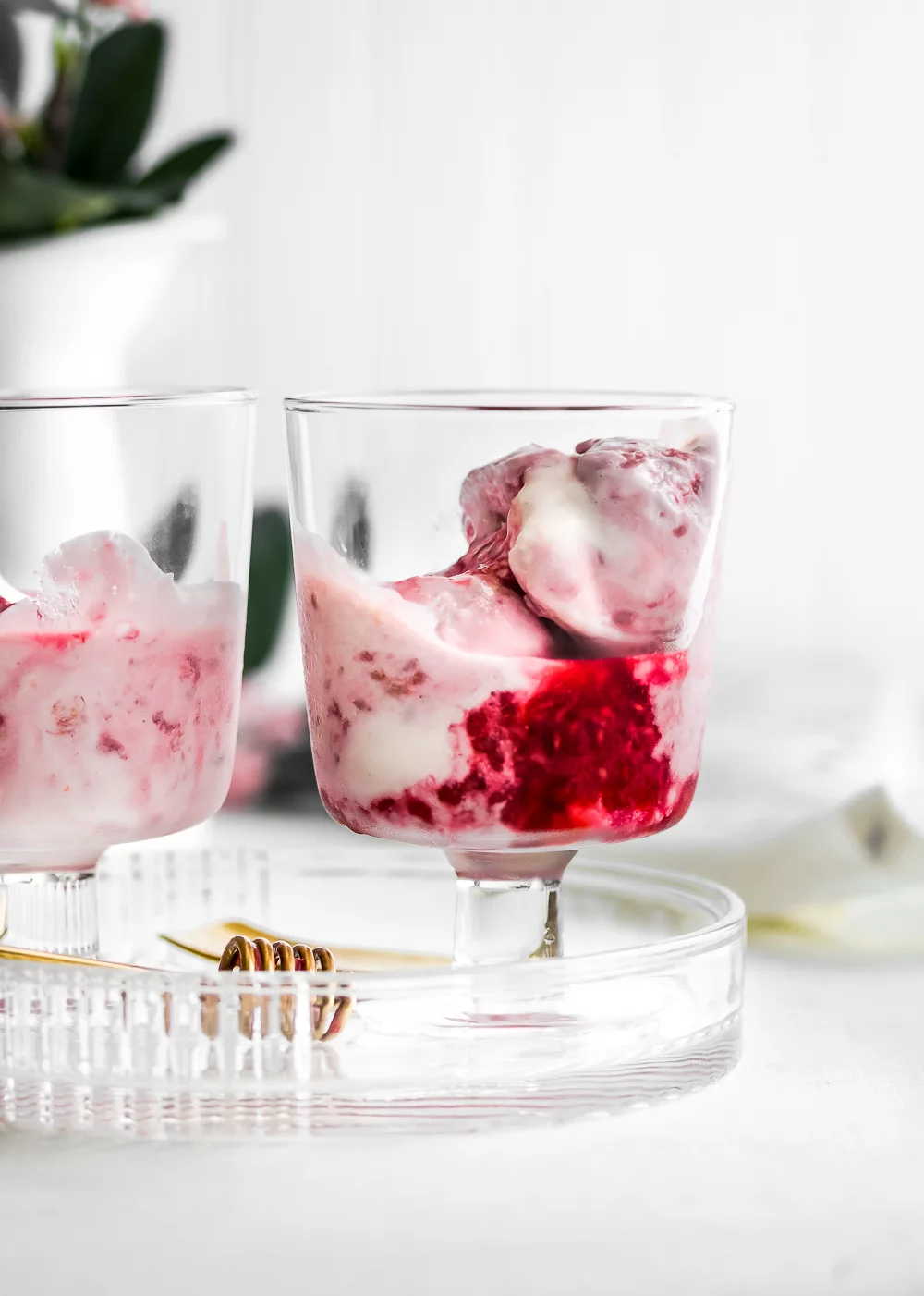 Roasted 🔥 Raspberries
Want to make the best add-in ever created for frozen yogurt?
Just roast some fruit (most berries will roast beautifully!) with a little vanilla and low carb sweetener. Then scoop, drip, and drizzle that magic until you can't see yogurt anymore.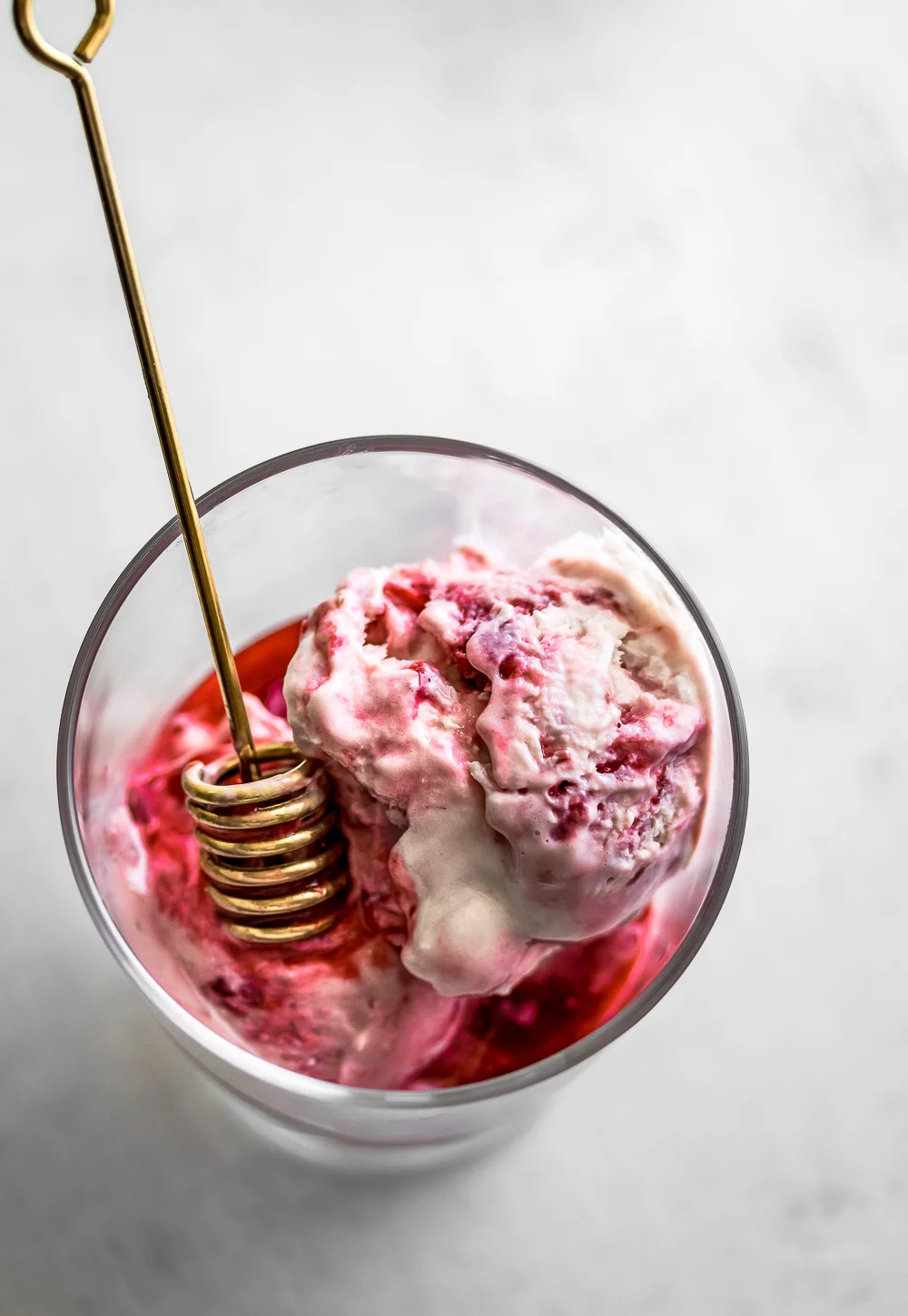 Doesn't that look like a refreshing summer treat?
OR BREAKFAST???
Get the Ingredients 👇
These are Amazon affiliate links. Any purchases made through these links offer me a small commission.
Ice Cream and Frozen Yogurt Maker
Healthy Roasted Raspberry Froyo
Sweet and tangy low carb frozen yogurt swirled with roasted raspberries!
Ingredients
3 cups Plain Yogurt strained or Greek Yogurt*
1/2 cup Heavy Cream or Full-Fat Coconut Milk for reduced lactose
3/4 cup Allulose* see notes
2 tsp Vanilla Extract
1/4 tsp Xanthan Gum
1 tbsp Vodka optional to add softer texture
For the Raspberries
2 cups Fresh Raspberries
1 tsp Vanilla Extract
3 tbsp Swerve Brown Sugar Substitute
Instructions
For the Roasted Raspberries
Heat oven to 400 degrees. Toss raspberries with Swerve brown sugar and vanilla, then arrange in a shallow baking dish. Roast for about 15 minutes or until the berries start to burst and darken in color. Let cool.
Frozen Yogurt Base
If using Greek Yogurt skip this step! Strain the plain yogurt in a fine-mesh sieve lined with cheesecloth for at least 4 hours.
In a large bowl whisk together the heavy cream, vanilla extract, sweetener, and vodka. To add the xanthan gum, whisk vigorously and dust the xanthan gum over the mixture to avoid lumps.
Add the greek yogurt or strained plain yogurt to the milk mixture and mix until smooth. If your mix has been out for more than 10 minutes, return it to the refrigerator until chilled, about 20 minutes.
Scoop the yogurt mixture into your ice cream maker and churn for about 20 minutes.
Gently swirl the roasted raspberries into the frozen yogurt, reserving some of the liquid for topping!
Transfer the frozen yogurt to a shallow container and freeze for at least 2 hours before scooping.
Notes
Plain yogurt that has been strained will give the best texture because Greek yogurt is higher in protein. You can still use Greek yogurt but it won't be quite as smooth!

You can use Erythritol in place of Allulose but your yogurt will freeze more solid with Erythritol! If not low carb, you can use a bit less of coconut sugar or granulated sugar + tablespoon of honey.