Before the viral baked feta and tomato pasta, there was creamy baked feta with roasted veggies–for keto lovers like me! This is one of my go-to easy weeknight sides that can also be a light dinner!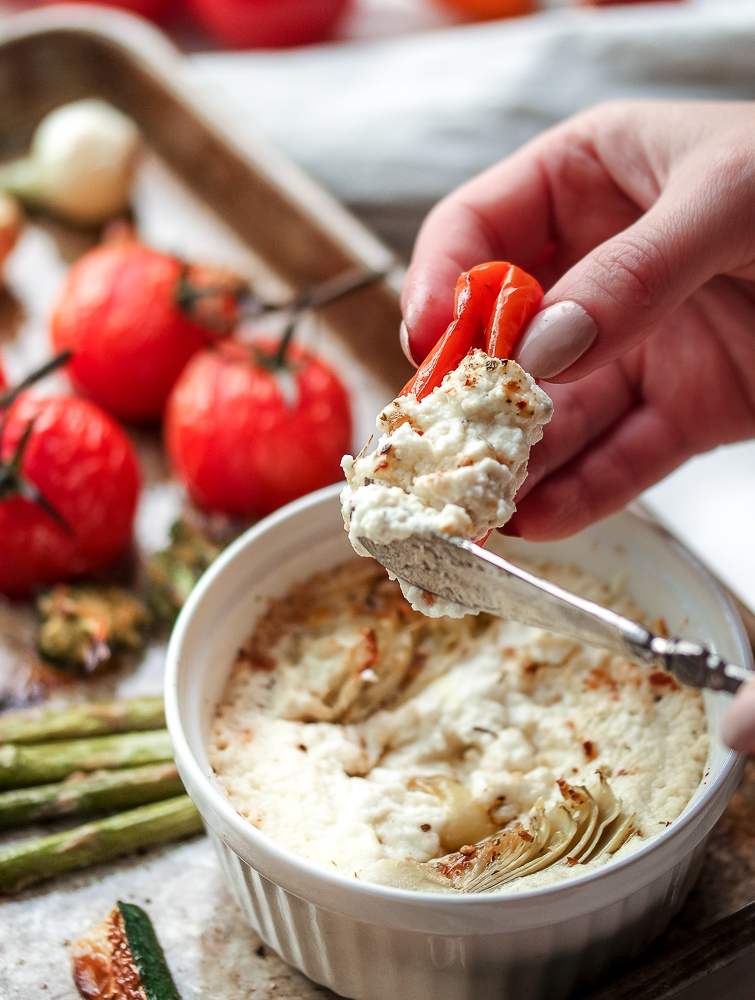 In my life as a vegetarian (previously), it was a constant hunt for delicious plant-forward recipes to satisfy my cravings! Now, even though I'm no longer a vegetarian due to health reasons, I still gravitate toward lots of veggies and cheese. This keto creamy baked feta is still one of my all-time favorite ways to eat a meatless meal without feeling deprived!
Does Feta Melt When Baked?
Short answer, YES! Feta melts when baked, but it's not like a cream-based cheese dip. Feta stays firm while also being creamy (wild, right?) which is why I like to add a very small amount of cream cheese to help this feel more like a "dip".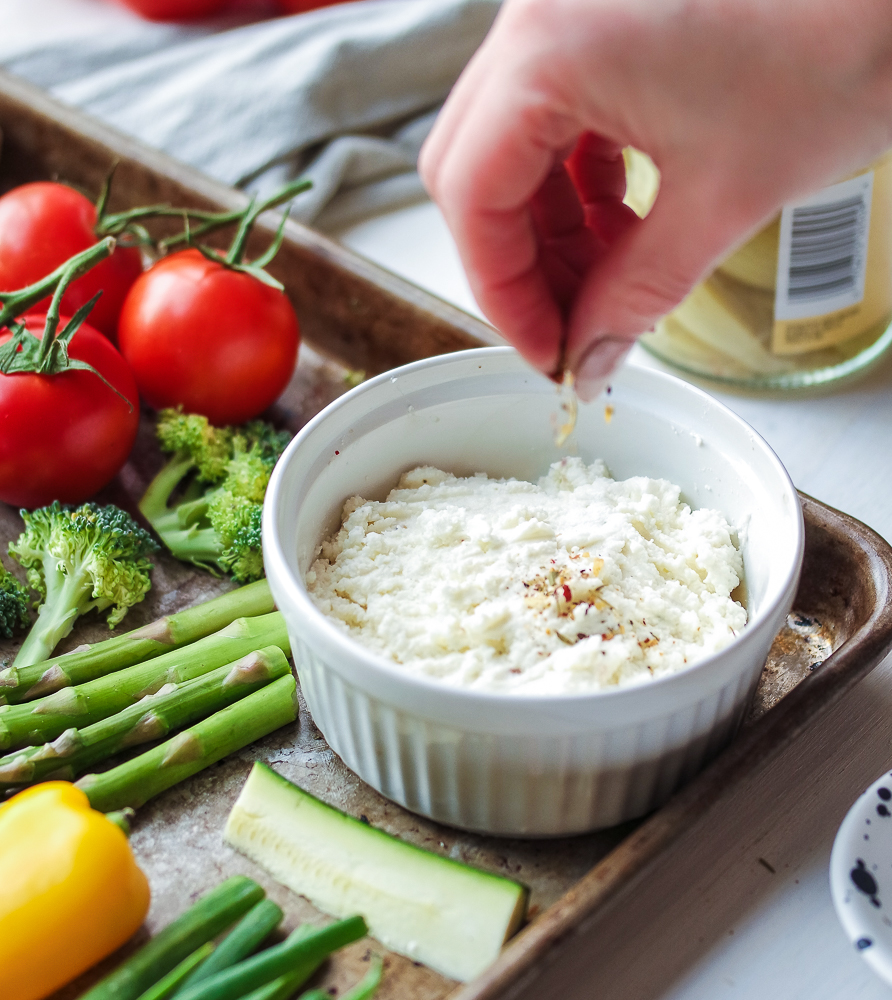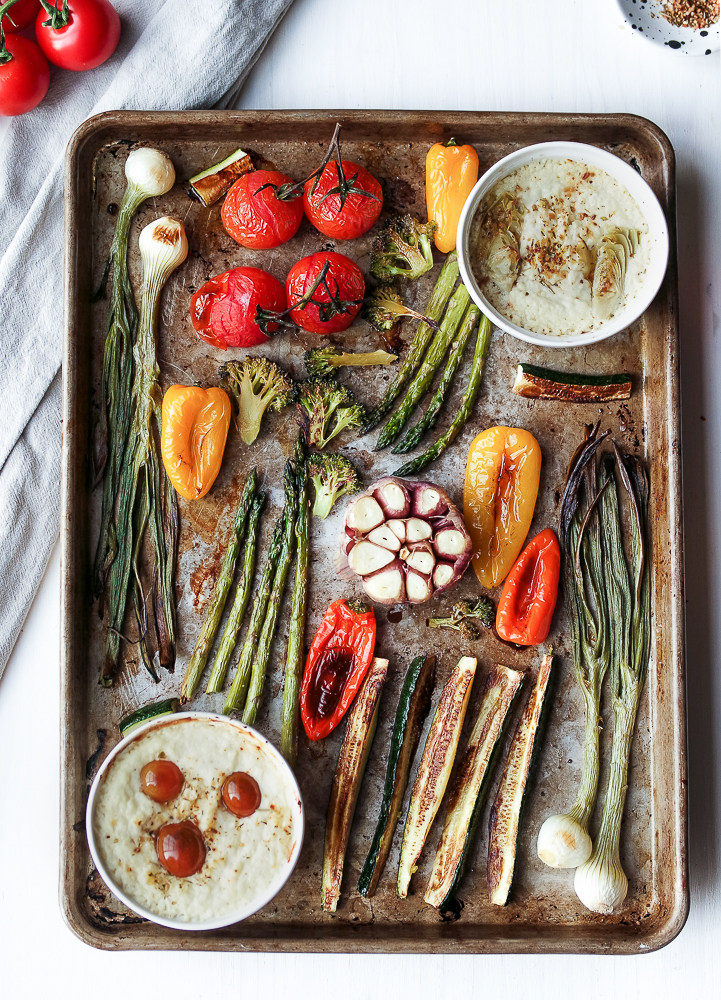 Cream cheese is completely optional and this keto baked feta dip is also great without it!
Why this Recipe Works (and is Amazing)
Feta is a salty, flavorful cheese that is perfect for crumbling on all sorts of dishes. When it's baked, the texture changes to a soft and easy-to-spread cheese that's perfect for smearing on raw veggies, seedy crackers, or even sweet roasted peppers!
Whipped feta is even better because it's got a smoother consistency when baked. You also have the opportunity to add a little seasoning when you whip feta which takes the flavor to addictive levels!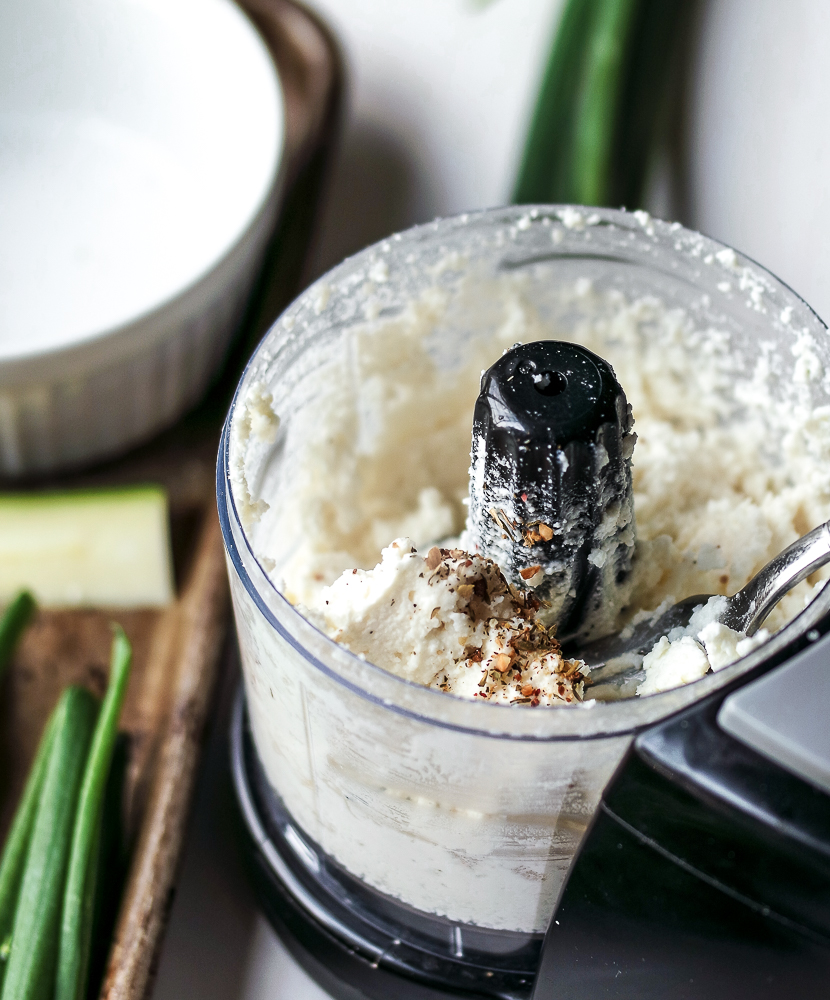 Keto Baked Feta Ingredients
This spread is not like that hot artichoke stuff from Chili's, even though it sort of resembles it. It's got a creaminess to it but it's also feta, which holds together even when whipped. It's going to stay spreadable and have a salty, tangy deliciousness that will make you want to swallow the whole dang container and lick the spoon.
BLOCK FETA CHEESE
Crumbled feta does not work well here. Block feta in brine is the best, but any block feta you can find will work!
GOOD OLIVE OIL
Make sure you use olive oil you like the flavor of! You want an oil that is suitable for baking with versus an oil for drizzling or dressing a salad.
MEDITERRANEAN SEASONING
I love an Italian or Greek seasoning blend for added flavor in a pinch. I alternate between the two types depending on what I have on hand. You can really get creative with seasoning here!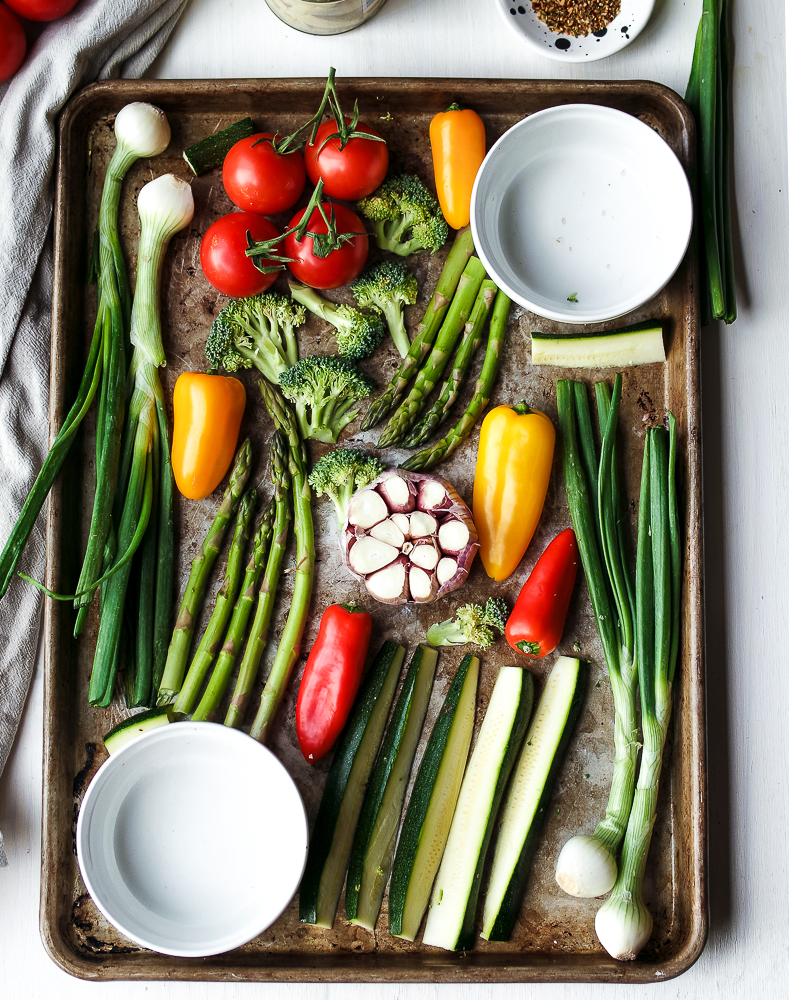 TOPPINGS
I love topping this dip with a few cherry tomatoes, kalamata olives, or marinated artichokes.
ASSORTED ROASTED VEGGIES
This recipe is one of my favorites because you can roast the veggies on the same pan that you bake the feta! It's just a fun and easy way to whip up a snack or light meal!
How To Serve Keto Baked Feta Dip
Eat it like I do, all baked on a large sheet pan with an assortment of roasted veggies! Or try some of these suggestions because they are all delicious as an appetizer or a light meal.
SEEDY CRACKERS: my homemade super crunchy seed crackers or store-bought are excellent.
LOW-CARB FLATBREAD: smear this dip on a butter keto flatbread or gluten-free pita.
ROASTED or RAW VEGGIES: I love this on roasted sweet peppers, broccoli, or zucchini!!! Delish and nutrish 🙂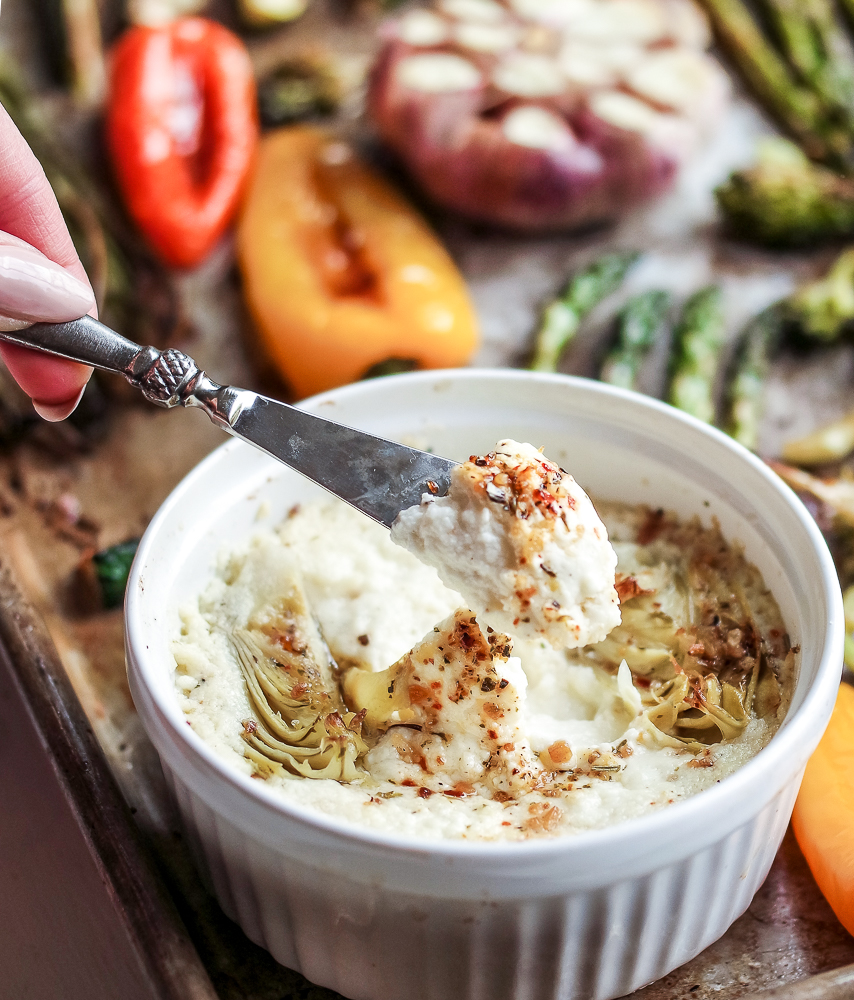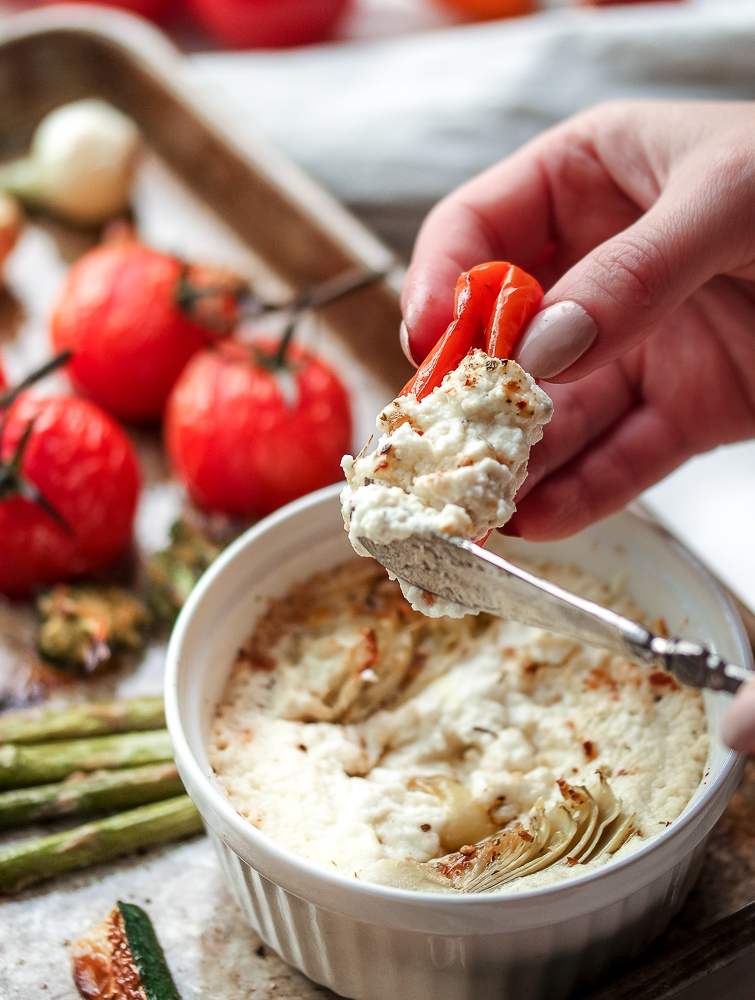 Looking for more healthy recipes? Try these!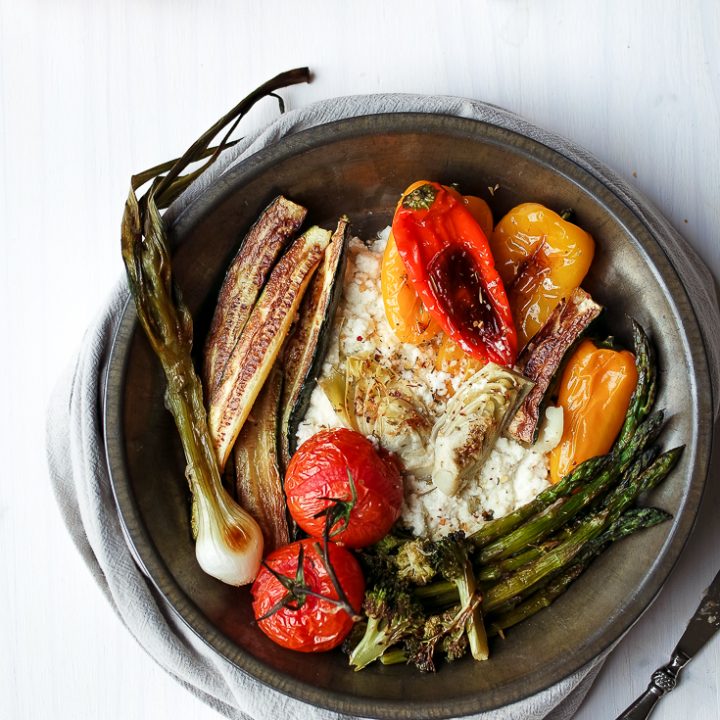 One Pan Roasted Veggies and Creamy Baked Feta
Roast veggies and baked feta spread all on one pan! Perfect for an appetizer but filling enough as a complete vegetarian meal!
Ingredients
10 Asparagus Spears, fibrous ends removed
5 Sweet Mini Peppers
5 Broccoli florets,
4 Green Onions
1 Medium Zucchini, cut into spears
4 Tomatoes, small on the vine or cherry tomatoes
1 head Garlic, optional
2 tbsp Avocado Oil
Sea Salt to taste
For the Dip
8 oz Feta
2 to 4 oz Cream Cheese, softened
1 tbsp Mediterranean Seasoning, plus more for sprinkling
Marinated Artichoke Hearts, olives, or grape tomatoes, optional
Instructions
The veggies I used were to clean out the fridge, but adjust the veggies based on which you like to eat!
Heat oven to 400 and prepare a large sheet pan with non-stick spray.
Prepare the dip by processing the feta in a blender or food processor until all of the hunks are pulverized. Add the softened cream cheese and seasoning. Pulse until combined.
Spoon into oven-safe ramekins and top with artichoke hearts or sprinkle with more seasoning. A little shaved Parmesan could be an option, too!
Arrange the cut vegetables on the baking sheet and drizzle with oil and sea salt. Toss to coat.
Bake vegetables and feta spread on the lower rack for 20-25 minutes or until the dip is bubbling and the veggies are browned, turning once if you'd like.
Serve hot!
Notes
NUTRITION Data is calculated for DIP only. One ramekin is two serivings.
Nutrition Information
Amount Per Serving
Calories

267
Total Fat

23g
Carbohydrates

5g
Protein

11g