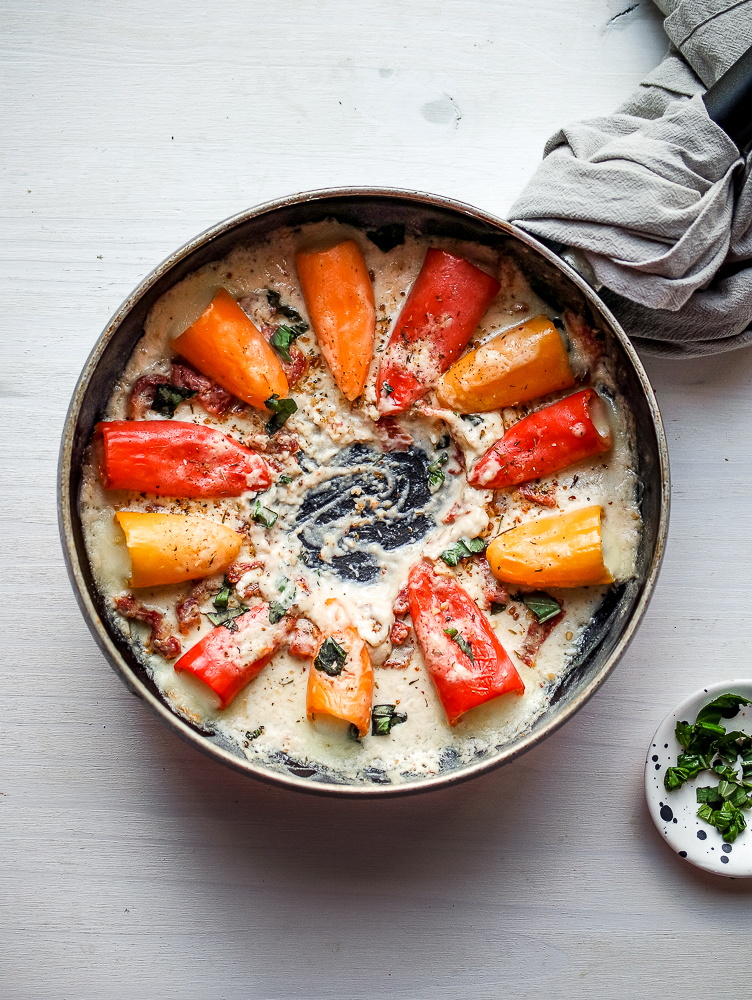 I don't know if you remember from last week or not, but I love peppers.
HERE's the proof, though it's not a pepper recipe but a rather a pepper commentary. I'm complicated like that. Anyway, I really really like them and I buy them every single week and what do I do with them? I cut them up and eat them raw like the boring foodie that I have become.
Yes. Depressing. I am aware.
I used to be more adventurous but lately, I have been in a rut, just eating convenience foods and getting thick. Then I had a really huge change happen in life and BAM! I'm ready to get things cookin' (if you know what I mean) and take charge of my food and my life.
If you *don't* know what I mean…I meant cooking figuratively and literally because I will be working to make my life better and also cooking actual food.
SO the first thing I did was get back to my regimen of keeping a to-do list and actually getting stuff done. My God, I did not know the ecstasy that is having clean, folded laundry for work every single day! AND I've been eating right, exercising and waking up at a decent hecking hour which makes that whole to-do list bull a lot less difficult.
Oh, and I made this mind-blowing dish out of my beloved peppers….
Mozzarella Stuffed Peppers
with Sundried Tomato Cream Sauce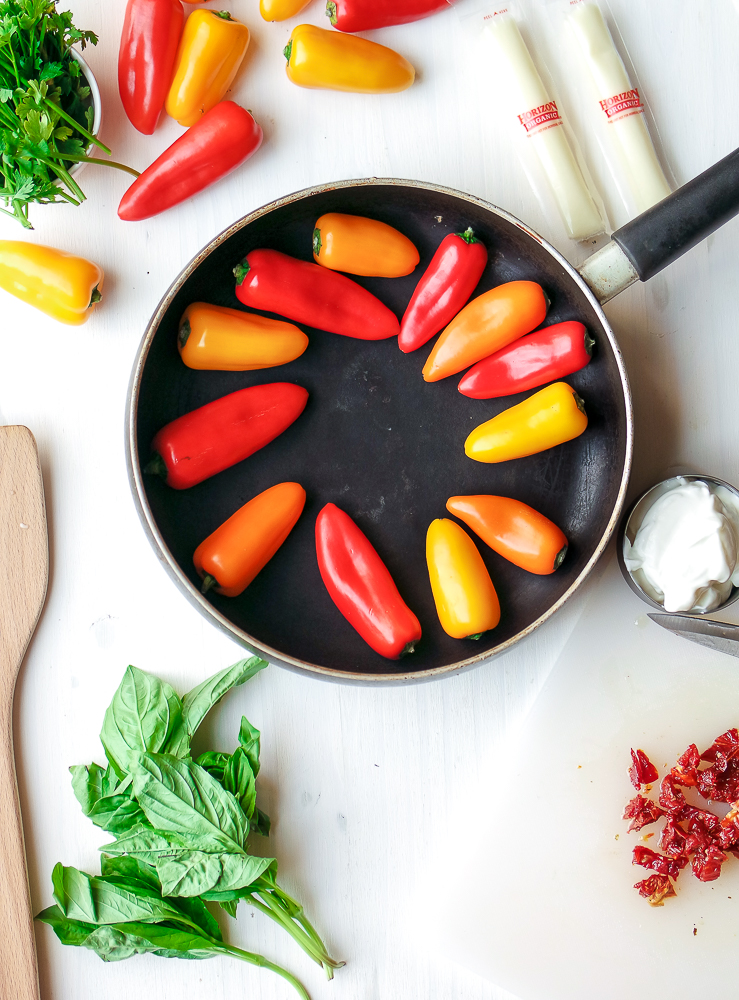 The beauty of this recipe is that you probably have everything in your home already.
Mozzarella String Cheese Sticks-If you don't have them then what exactly are you doing with your life?
Sundried Tomatoes- Keep them in your fridge always. Non-negotiable.
Sour Cream- Same.
Parmesan Cheese- Samezies
Which leaves mini peppers and fresh basil. Probably, you should buy those too.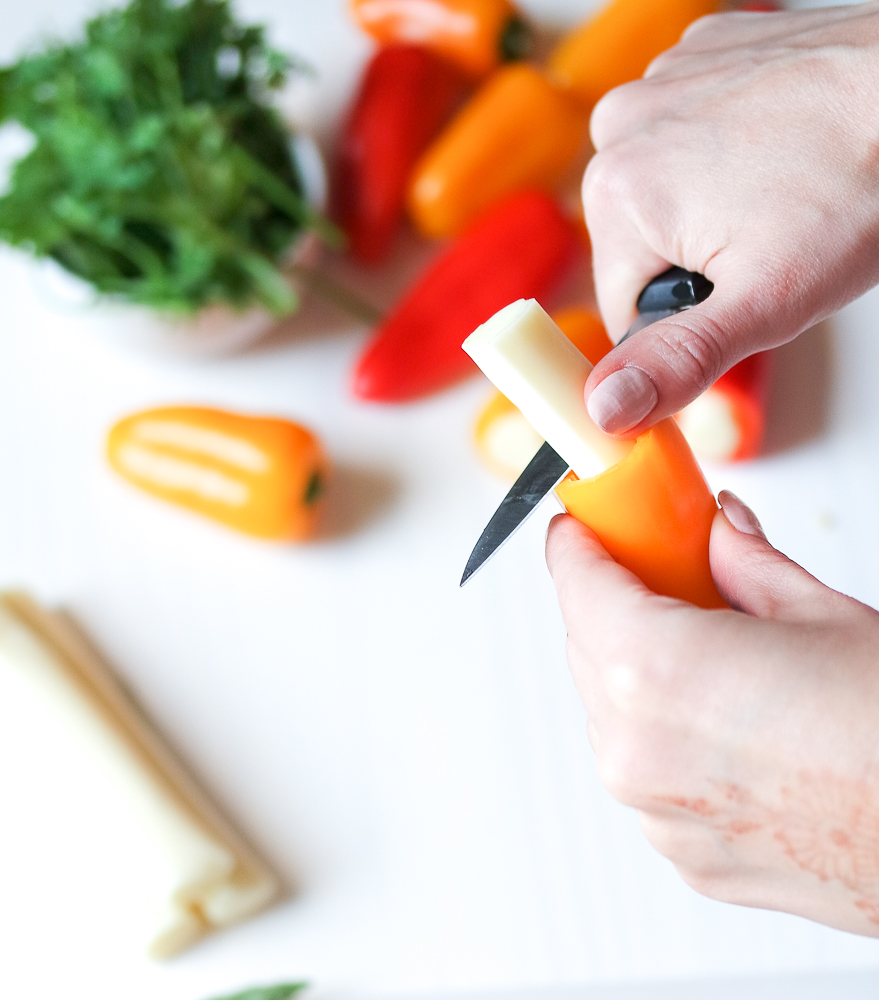 When assembling these, you don't have to get all the seeds out because they are soft and baby seeds.
Cut off the end, stick in the cheese and trim it just below the rim.
Shoving some basil and sundried tomato in there is optional.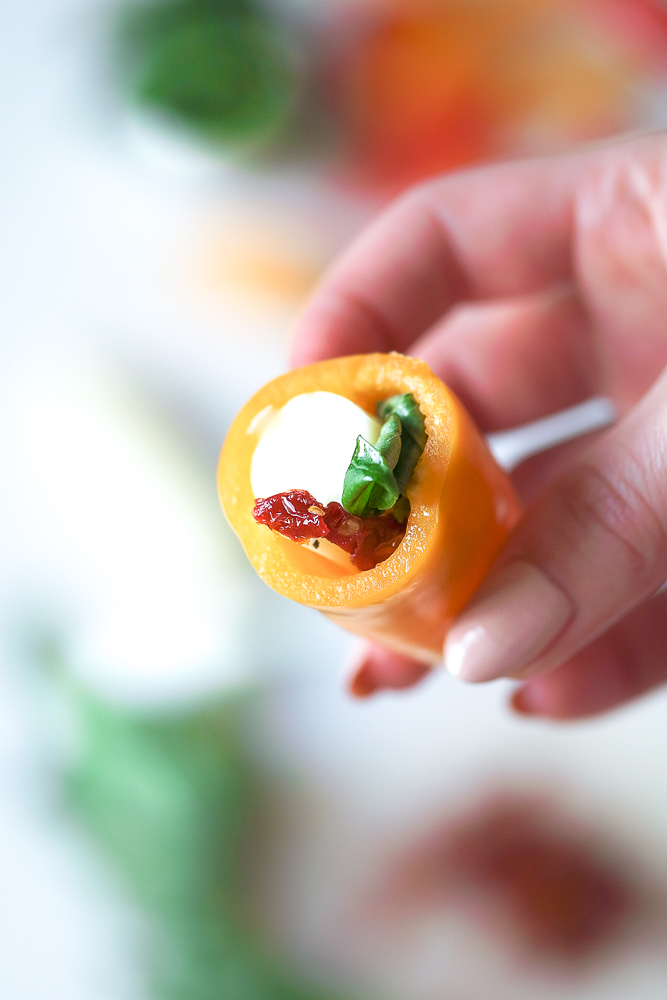 Start the sauce by mixing the saucy ingredients and turning on the heat until it melts together. Slow and steady! Add both the peppers and a lid.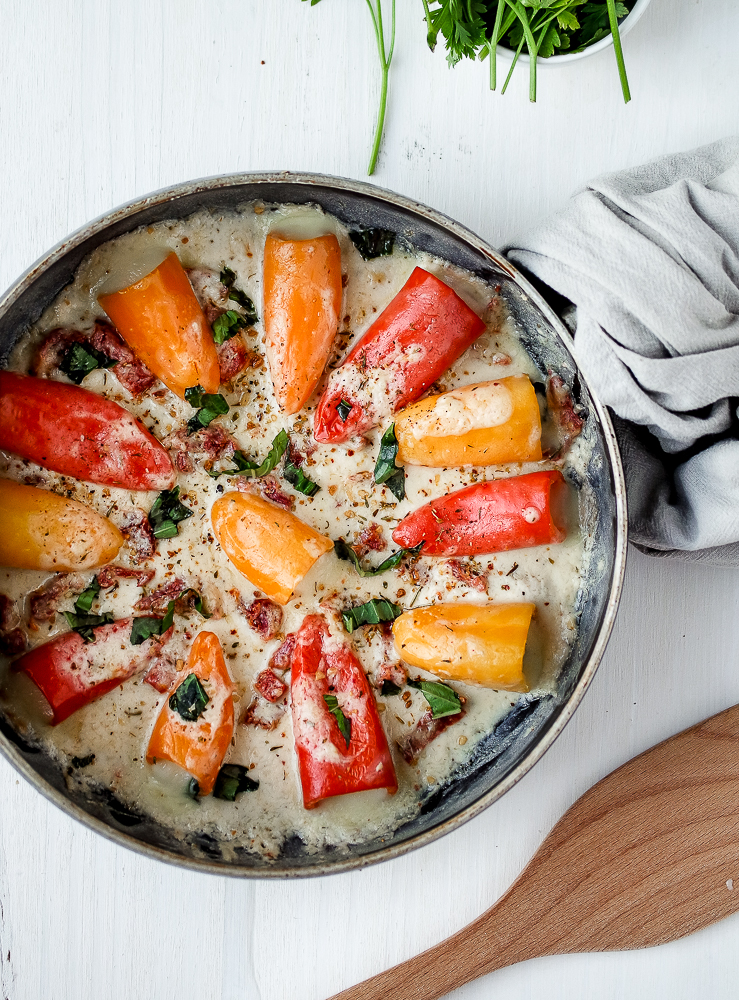 Once it's nearly ready, remove the lid and pop that pretty little dish under the broiler for a few to really brown the parmesan. Sprinkle with italian seasoning and DONE. How can this be any more simple?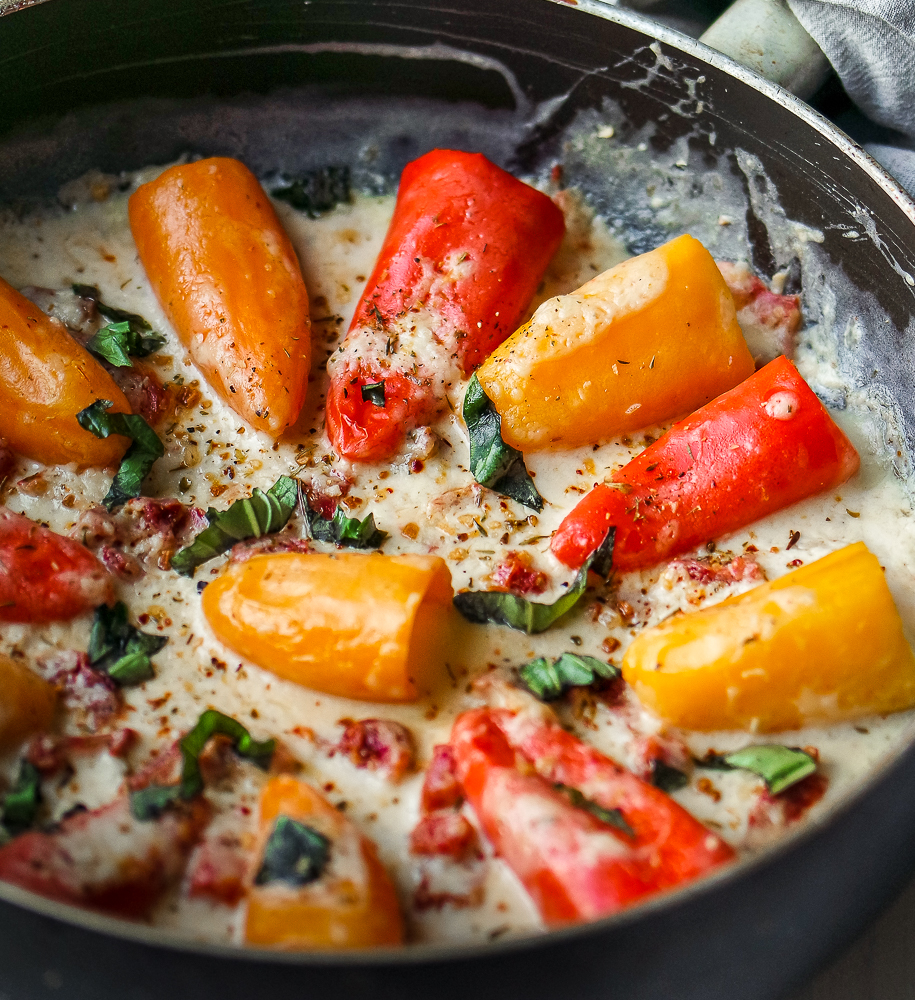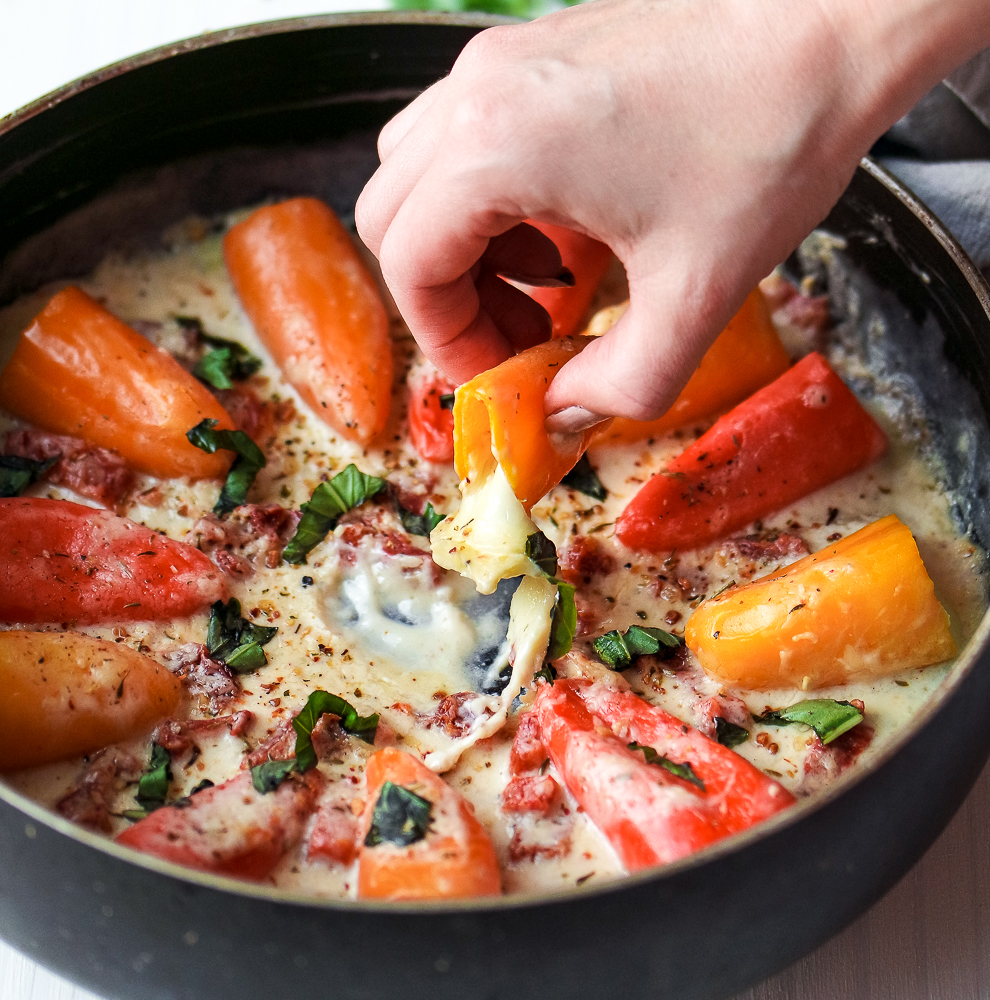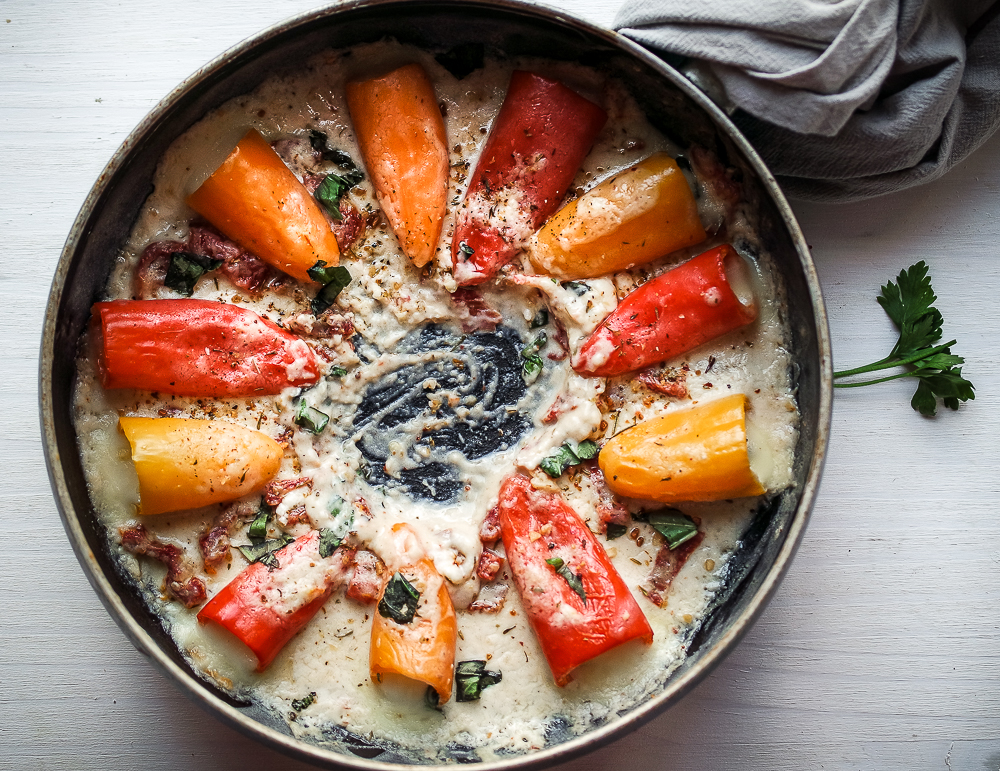 Looking for more vegetarian dinner ideas? Try these!
Smothered Greek Broccoli With Roasted Lemon
Mediterranean Roasted Cabbage Steaks with Pesto!
Creamy Kale & Pesto Stuffed Peppers
Mozzarella Stuffed Peppers in Sundried Tomato Cream Sauce
Sweet peppers stuffed with Mozzarella and pan roasted in a simple sundried tomato cream sauce!
Ingredients
12 Mini Peppers
3-4 Mozzarella String Cheese Sticks-Regular or Low Cal
2 tbsp Olive Oil
1/2 cup Sour Cream, light or regular
1/4 cup Parmesan Cheese, shredded
3-4 Sundried Tomatoes, chopped
1/4 cup Milk, dairy or non-dairy
1 tbsp Italian or Mediterranean Seasoning
2 Fresh Basil Leaves, torn, to garnish
Instructions
Remove the tip of each pepper and discard any unwanted seeds.
Insert a mozzarella stick and trim just at or right below the opening of the pepper. Repeat until all of the peppers are filled and set aside.
Drizzle olive oil in a large skillet and turn heat to medium-low. Combine sour cream, milk, seasoning and sundried tomatoes and stir until the consistency is uniform.
Sprinkle in parmesan cheese and turn heat to medium. Continue to stir until the cheese begins to melt.
Add stuffed peppers to the skillet in an even layer. Bring to a simmer, cover and reduce heat to medium-low. Baste the peppers in the cream frequently and continue to cook until they begin to soften and the sauce thickens.
*Optional* Remove lid and place under broiler for about 3 minutes watching carefully until sauce slightly browns.
Garnish with fresh basil and serve hot!
Nutrition Information
Yield

4
Serving Size

3 peppers
Amount Per Serving
Calories

189
Total Fat

13g
Carbohydrates

12g
Net Carbohydrates

9g
Fiber

3g
Sugar

6g
Protein

6g