There's only a handful of vegetables…
that don't bore the HECK out of me! Chalk it up to being a vegetarian for so long?
Orange bell peppers are #1. I can snack on or make-a-meal-of those little buggers every day, till death do us part. My dear friend Emily however, would disagree.
We had a come to Jesus talk the other day about the vegetables we used to force ourselves to eat but are no longer slaves to. This is what you do when you are a nutritionist and have a union mandated 15 minute break. SO mine were baby carrots. She felt pretty strongly about bell peppers. Apparently one day Emily woke up and decided that raw bell peppers were rude and disgusting and she was no longer packing them for her midday snack. Freedom from vegetables took us 30+ years.
The struggles.
So she doesn't eat raw peppers and I don't eat carrots but we find common ground on the slender superstar of gardens across the midwest: the zucchini. But how many ways can you prepare a zuch? Well you could make a sweet like my Cinnamon Zucchini Muffins or a savory like the infamous Zoodle Hash Brown Pizza . Maybe toss it with a little sauce and get things poppin' with some Zoodle Ramen?
Heh. Amateur hour!
Yes. I just called my own recipes amateur but only because I've come up with the best way in the history of ever to prepare your glorious bounty of homegrown goodness and it's pretty healthy, too.
Oven Fried Parmesan Zucchini Stacks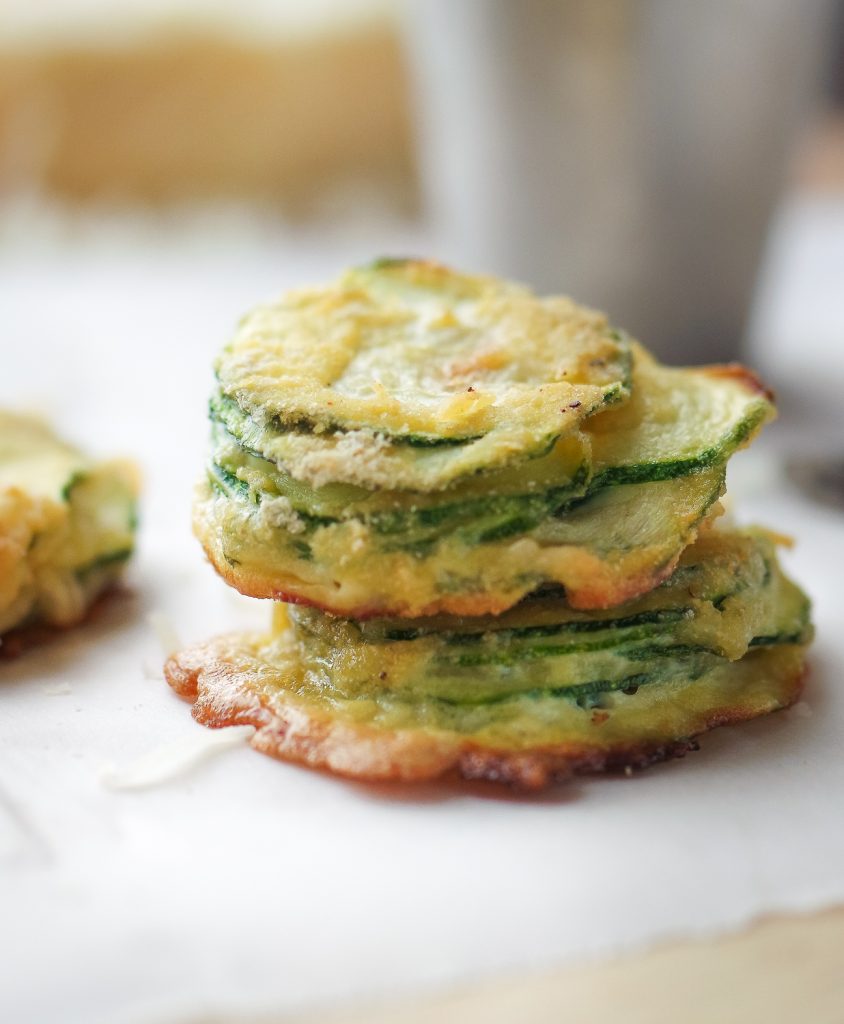 The secret to success is in the method.
It's all about stacking your zucchini slivers and layering them with delicious flavor.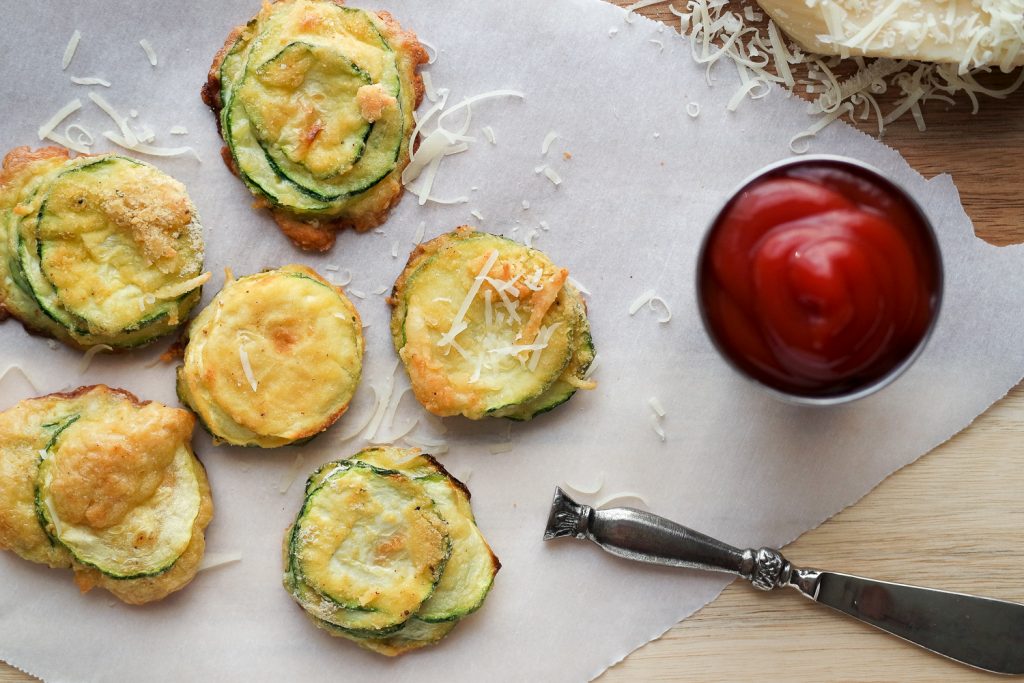 Crisp outside and cheesy inside.
Add a dipping sauce and it's the trifecta.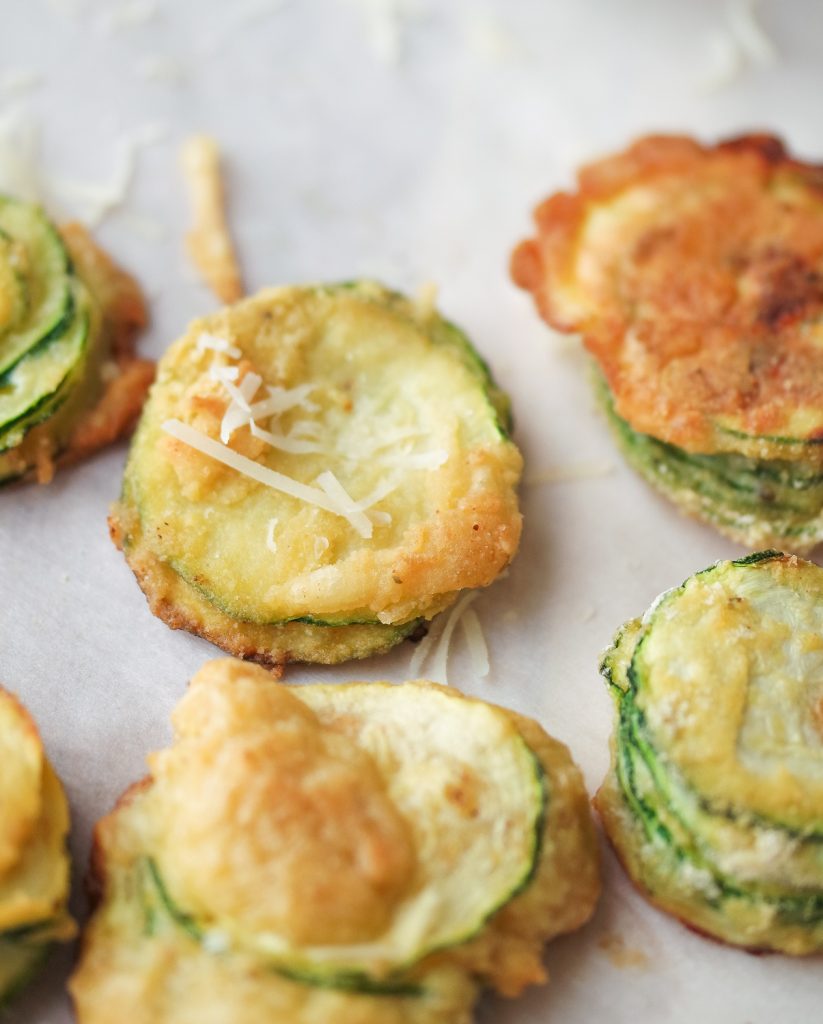 The best part is that they cook with a quickness.
If you get your oven hot they will cook in ten minutes.
That's dinner in ten, folks.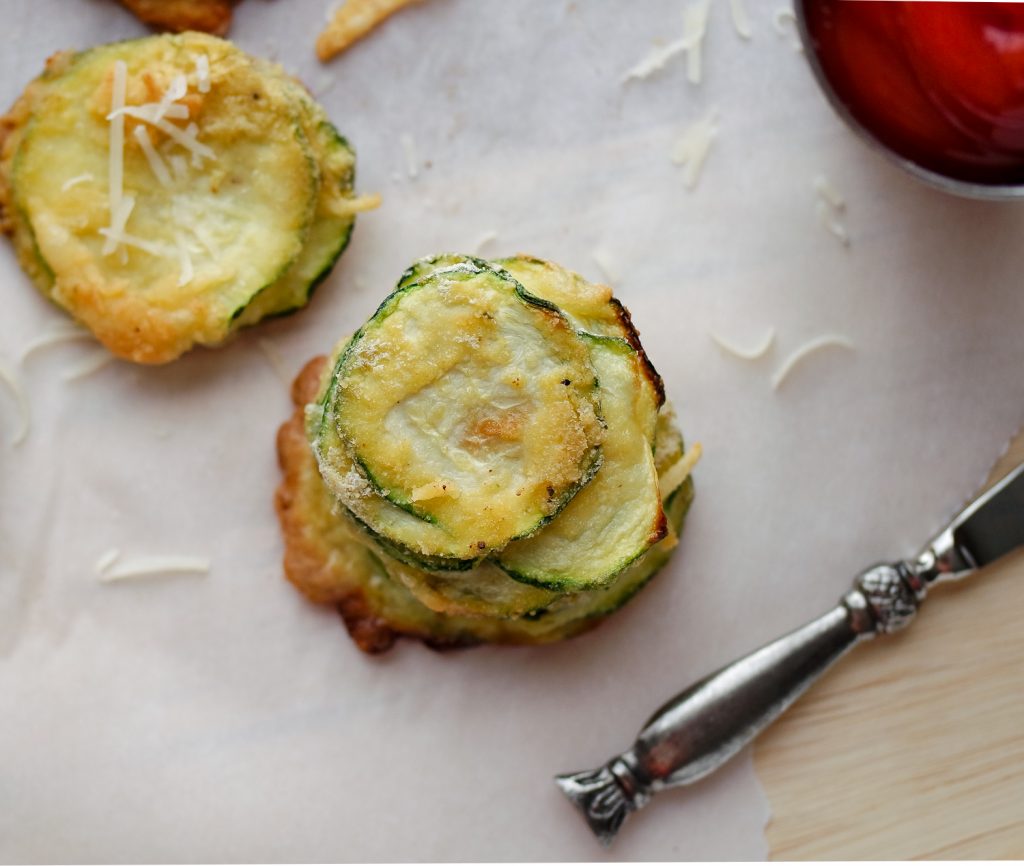 I dip in a variety of sauces but I was feeling ketchup yesterday.
I had been out of the red for a while and I found reduced sugar ketchup so I was itching to dunk something.
Don't act like you've never been there before.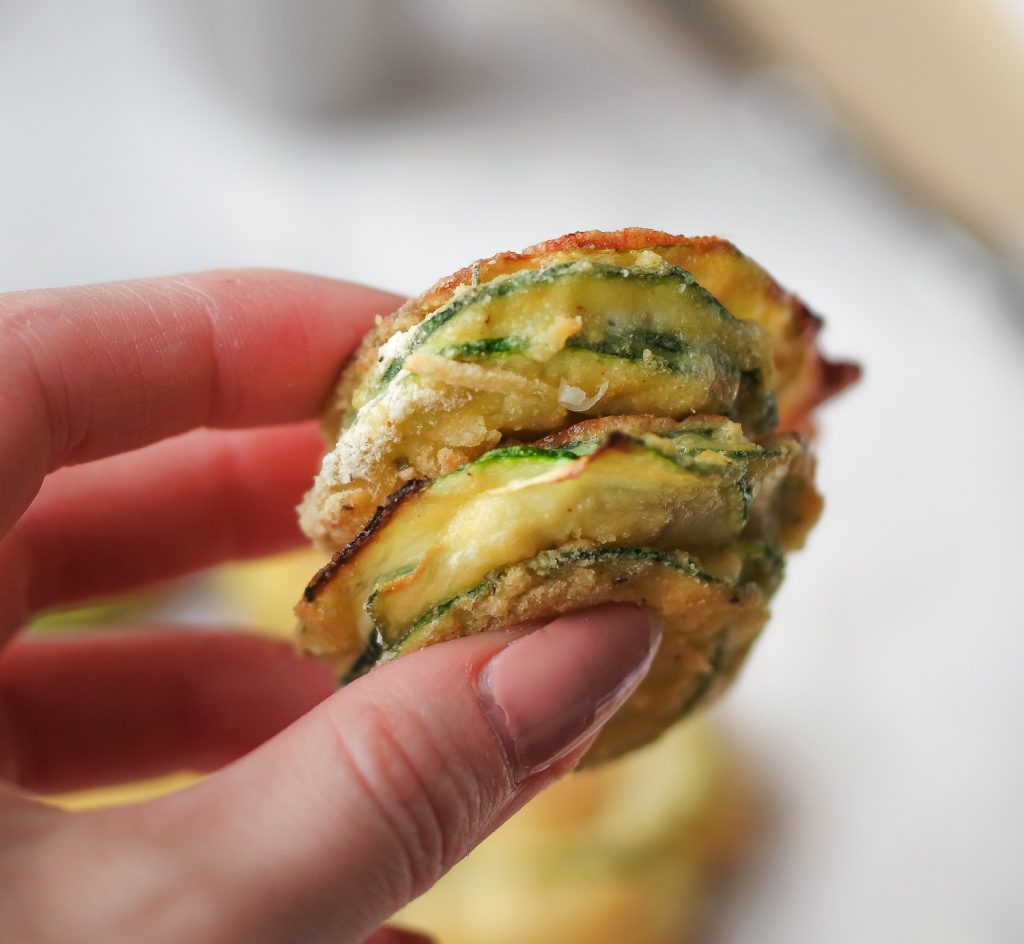 Ketchup and chipped nail polish.
All class.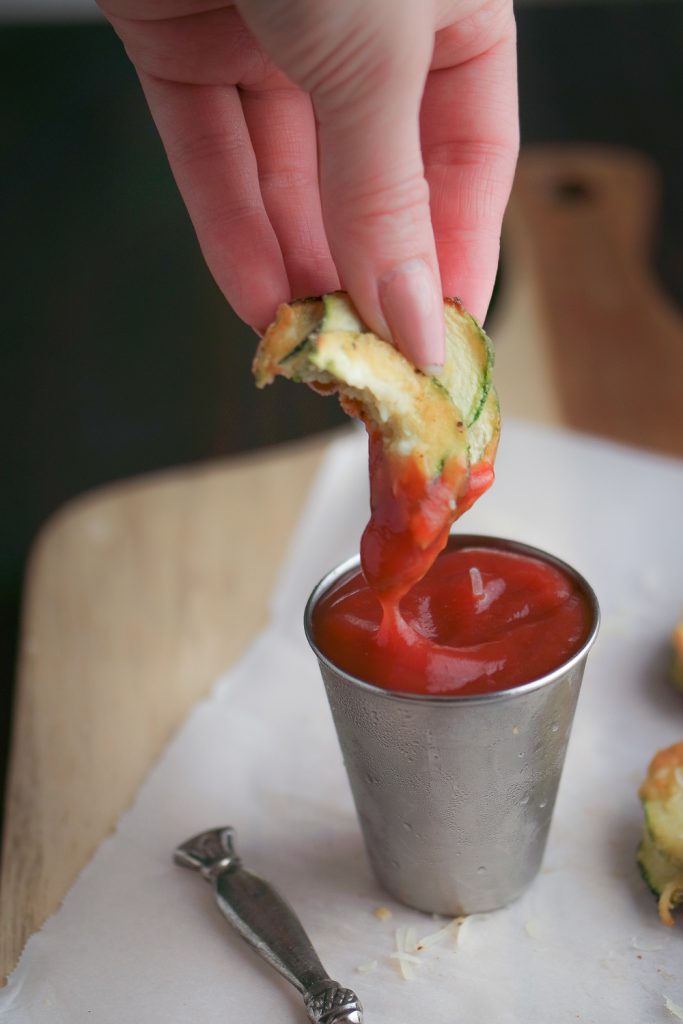 Don't forget to Pin it!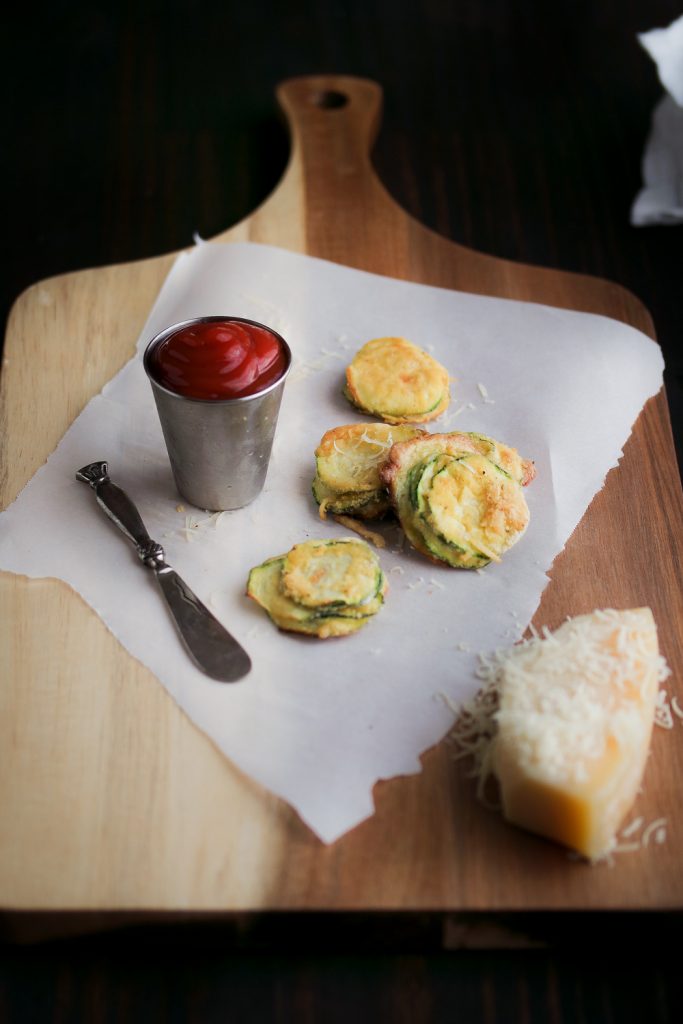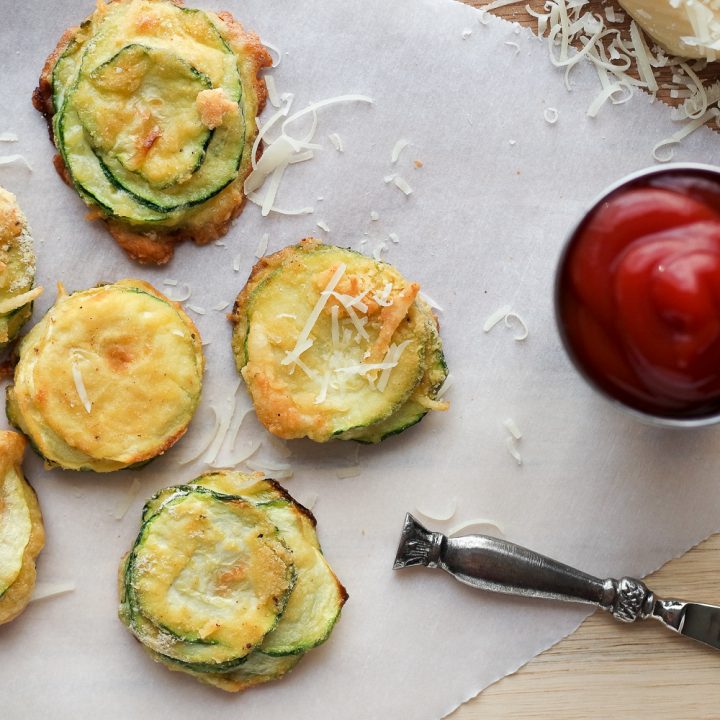 Oven Fried Parmesan Zucchini Stacks
Ingredients
2 Zucchini, medium, sliced
2 Eggs, beaten
1/2 cup Parmesan Cheese, shredded
1/2 cup Chickpea Flour (or wheat flour if you are not gluten sensitive)
1 tsp Garlic Powder
Extra Parmesan to garnish
Instructions
Heat oven to 400 and line a large cookie sheet with foil.
Using three separate containers, portion out the beaten egg, parmesan cheese and chickpea flour mixed with the garlic powder.
Coat zucchini slices in the egg. Transfer a portion of the zucchini to the parmesan cheese container and coat. Stack the zucchini slices 4-6 high and coat the top and bottom in the chickpea flour mixture. Repeat with the rest of the zucchini.
Place each stack on the baking sheet and roast for 10-15 minutes or until golden.
Serve hot with pesto aioli or if you're a nut like me, ketchup!
These are a great side but I can be stuffed by just eating these for dinner! Who's with me?
−Liz