How many recipes can one make with zucchini noodles you ask?
Somewhere in the ballpark of one a day, everyday, for the rest of my life. Till death do us part. That's how many.
I'm just that committed.
I'm aware that zoodles (zucchini noodles) were a trend-food for a while and YES I get sick of the trends too, but just like yoga pants and my stretchy chokers, zoodles are here for the long haul. How can you ever stop loving something that looks like pasta, tastes like whatever the hell you want it to and calorie counts like salad?
#ZoodleLyfe4Eva
So now I've gone and added a second trend (runny egg yolk) on top of the zoodle trend (staple) and added a pizza flavor to make what I like to call magic health food pizza hash cheese bake. It's a working title. AND the best part is that this whole sheet pan of glory is like, worthless when it comes to calories. Maybe 350 kcals if you go heavy-handed on the cheese.
Please make me proud and go elbows deep in the Parmesan. Please.
Zoodle Hash Pizza
Topped With A Fried Egg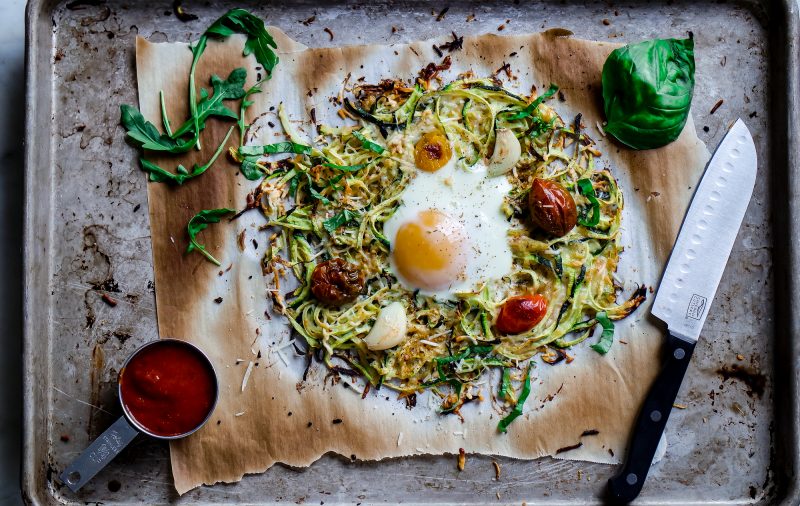 Please notice that there are not eighty-million pictures of the raw food before we get to the cooked food. It felt unnecessary to spend my prime patio drinking time painstakingly photographing this recipe step-by-step when ya'll can figure it out on your own.
All good, right? Right.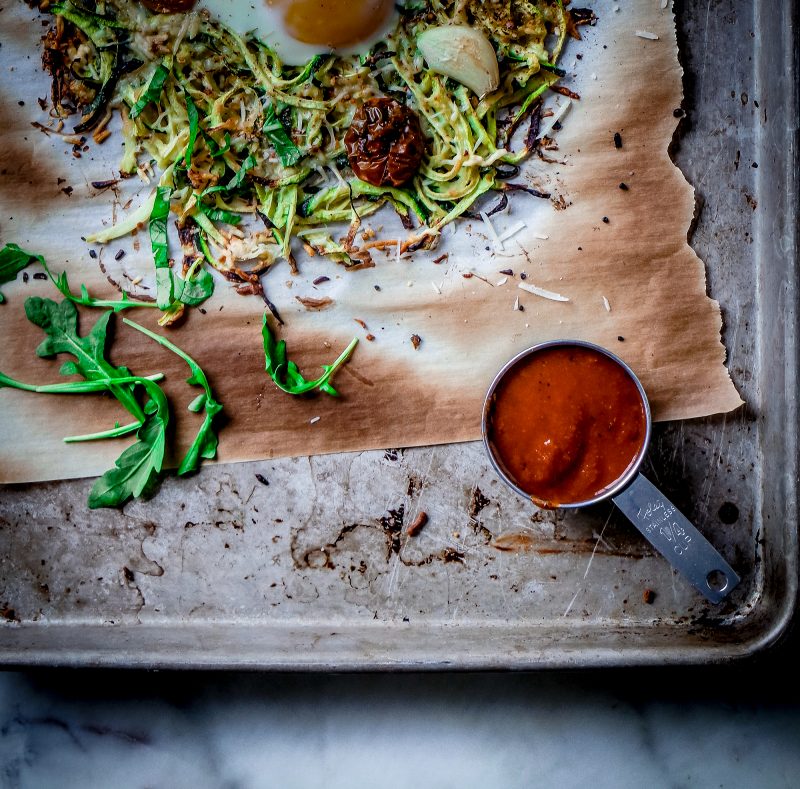 Just zoodle your zucchini into a bowl, add your seasonings, parmesan cheese, and flour of choice.
Get your oven screaming hot and arrange zoodle magic on your baking sheet like a giant nest for your perfectly cracked egg (but don't crack it yet).
Bake – Crack the Egg – Bake – Done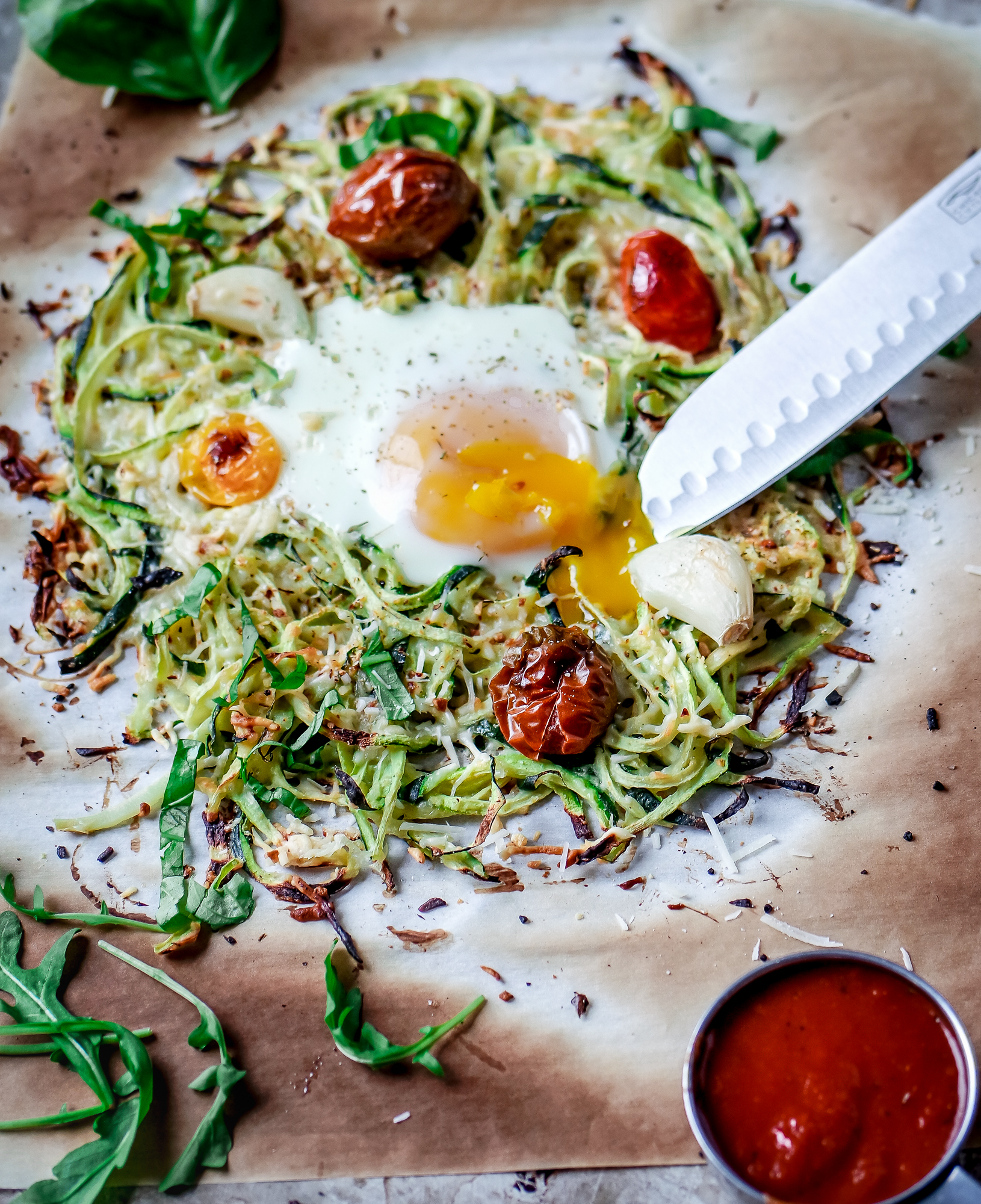 Yolk Porn.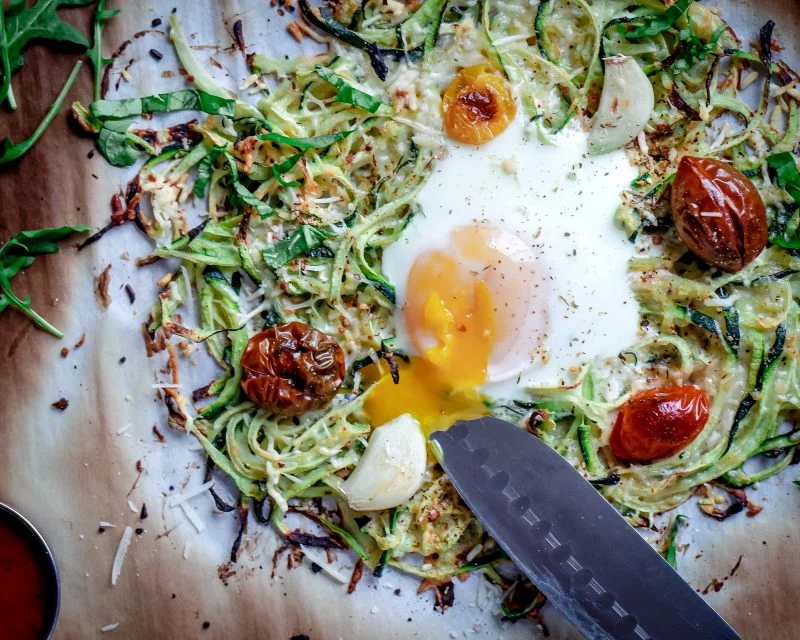 Relax, mom. That's just another way of saying, "that yolk seems nice" and "that's the kind of yolk I'd respect" or "three-date minimum yolk for sure".
I'm two more examples away from going facebook official with that yolk…
Zoodle Pizza Bake & Fried Egg
Crispy parmesan zooldes are the perfect mechanism to hold a drippy fried egg and that is a fact!
Ingredients
1 Medium Zucchini
1/4 c. Flour - Chickpea for GF or Wheat for everyone else
1/4 c. Parmesan Cheese, grated plus more for topping
Splash of water
2 cloves Garlic, whole, peeled
1 Egg
2 Basil Leaves, torn
3-5 Cherry Tomatoes
1 handful Arugula
Instructions
Bring your oven to 400 and prepare a baking sheet with nonstick spray or oven-safe parchment.
Zoodle the zucchini or shred with a thick grater. Sprinkle with flour and a splash of water and toss the noodles to coat. Fold in parmesan cheese and transfer mixture to a baking sheet.
Arrange however your heart desires. A nest seems fitting with the addition of an egg! Top with garlic cloves and tomatoes.
Bake for 10-15 minutes or until the edges start to turn light brown and the tomatoes blister.
Remove from the oven and add the egg to the center well of your zoodle nest. You can double the recipe and make multiple zoodle wells and eggs!
Bake for another 10 minutes or until the egg is at desired firmness. I broiled mine for the last three minutes to give it a nice firm top.
Garnish with torn basil and arugula. Dip it in your favorite pizza dippin' sauce!
Nutrition Information
Serving Size

1/2 Pizza
Amount Per Serving
Calories

182
Total Fat

7g
Carbohydrates

15g
Fiber

3g
Protein

12g