I couldn't handle how many delicious mushroom recipes I kept seeing…
So I made one.
I lay the blame on Pinterest. I keep coming across this chick The Recipe Critic and her next level foodporn photos up and down my feed and I just couldn't take it anymore. The drool was too intense. I was DREAMING about these mushrooms. When you start losing REM sleepover a mushroom recipe, there's really no other option than checking yourself into some sort of bloggers anonymous support group…or you make the damn recipe.
Long story short, I immediately followed her and copycat-ed the heck out of her Creamy Garlic Parm Mushrooms, but with my own Inspector Gorgeous spin obviously.
Copycatting is the sincerest form of flattery.
SO I fiddled with it and put the two fave ingredients that I use in every recipe-cream cheese and sunny t's aka Sundried tomatoes.
I don't care if my recipes are predictable. Sunny T's are my jam but in cooking terms. Hey, there's an idea. Sundried tomato jam! On cream cheese!
Guys, I'm on a roll.
Creamy Cheesy Garlicky Mushrooms & Sundried Tomatoes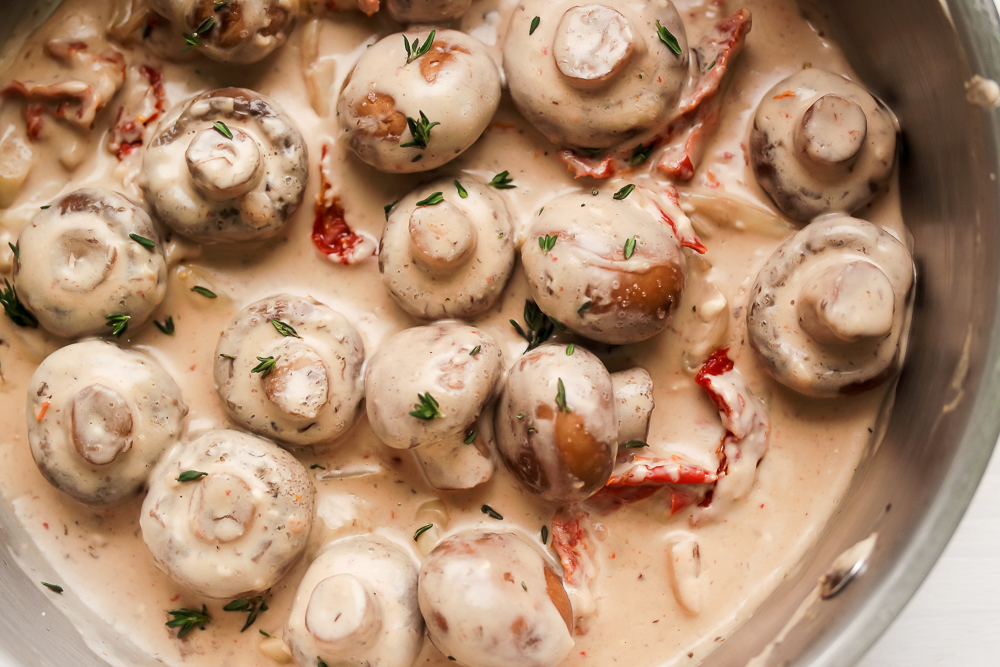 So as you can clearly see with your eyes, this is amazing.
And It all begins with a bunch of fresh Thyme, a bucket-o-butter
and some hunky chunks of garlic and cream cheese.
Oh, and some mushrooms, too.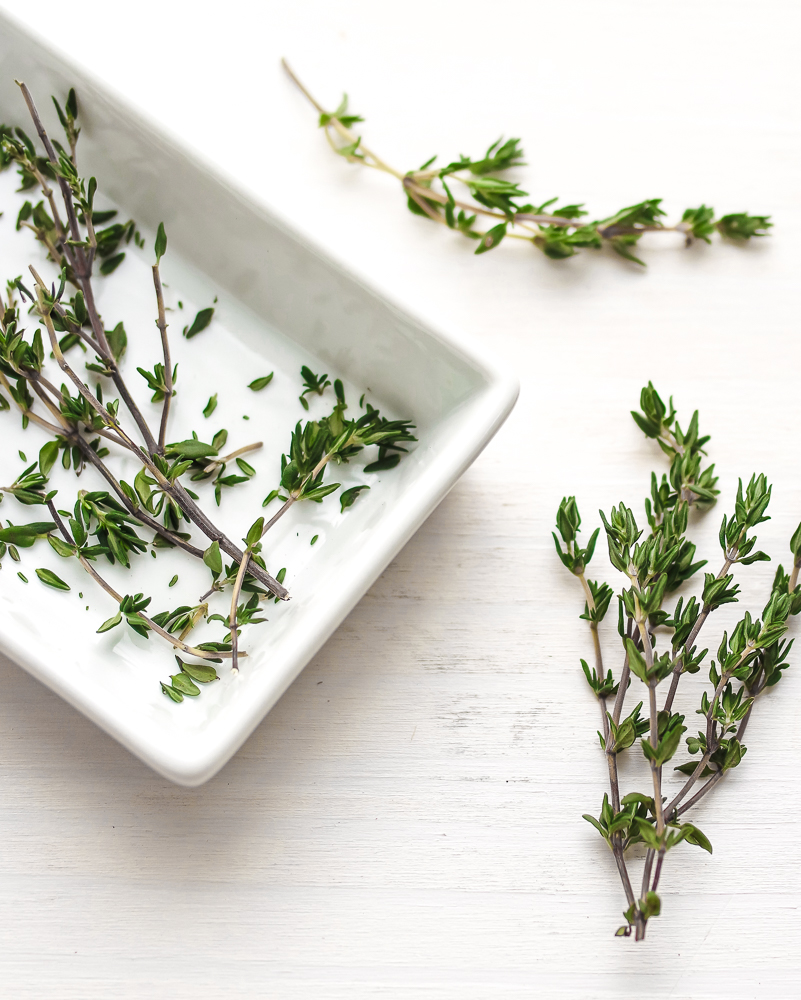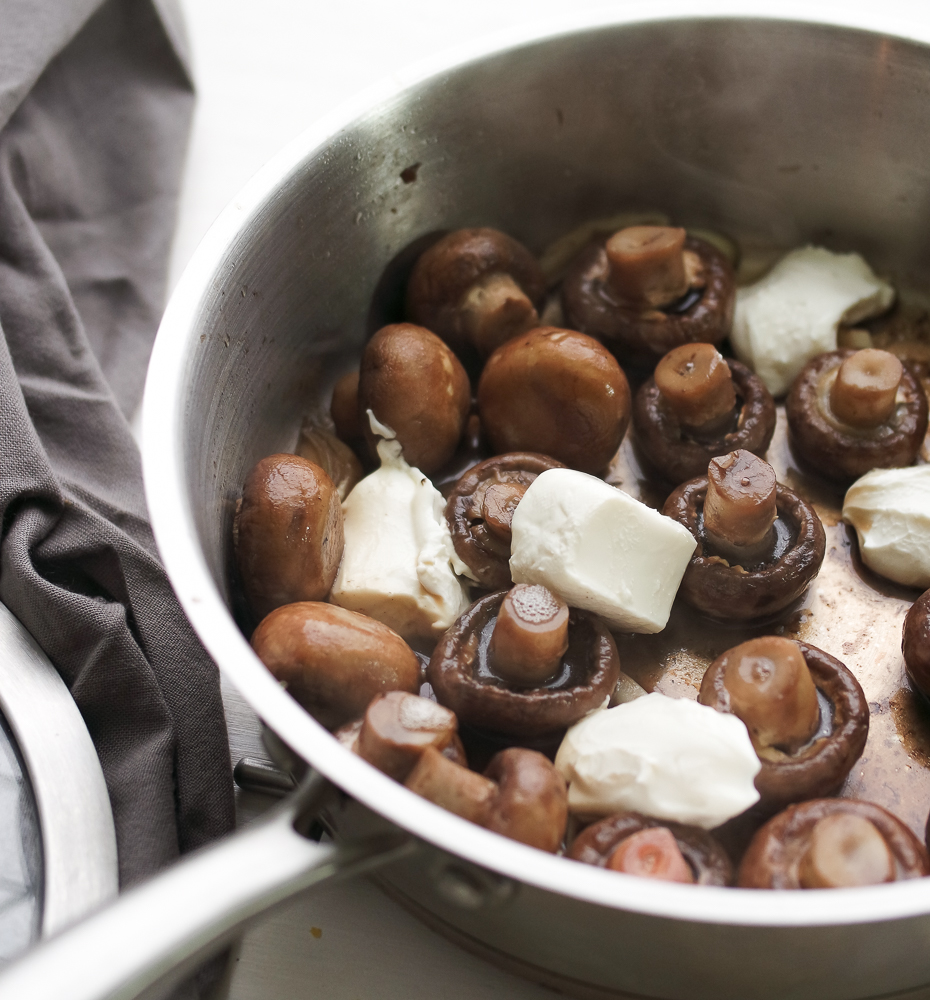 My method is so sloppy you guys. Really, they should take my blog away.
Just sauté all of the garlic in the world in butter and toss around some shrooms.
Add a lil' vegetable stock and a splash of Red Wine. Let that burn off a tad.
Cream it with cream cheese and….voila!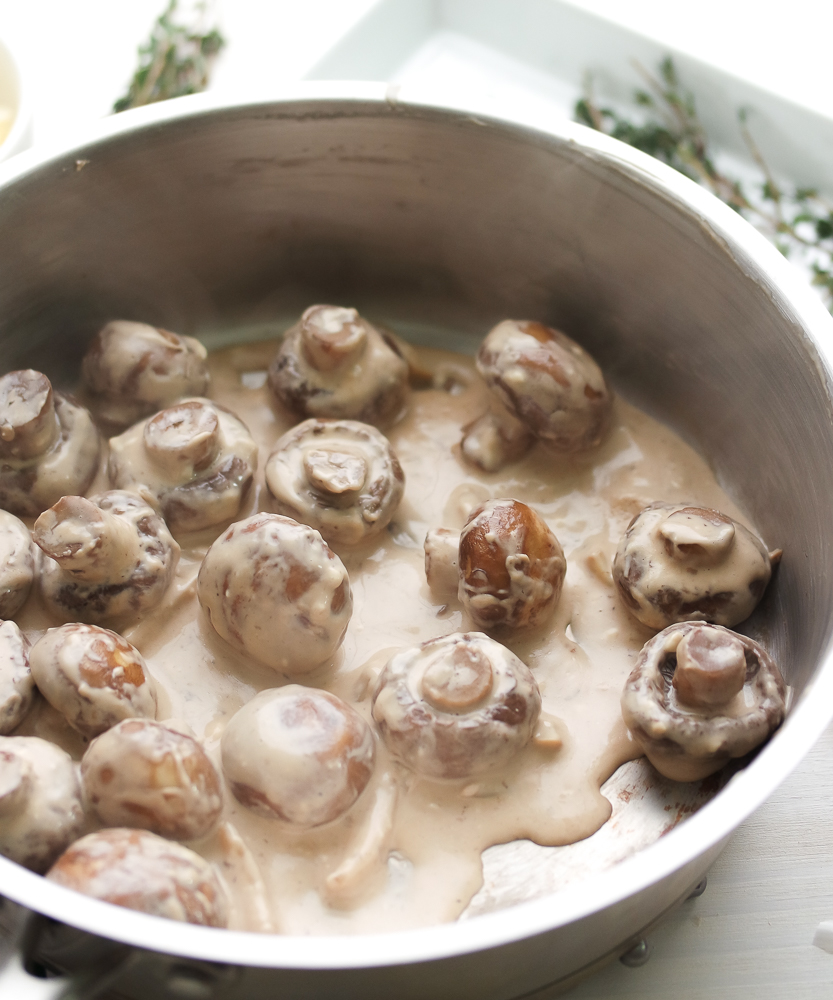 Now all you need is the Sunny T's and the Thyme. BOOM. Done.
Guests-impressed.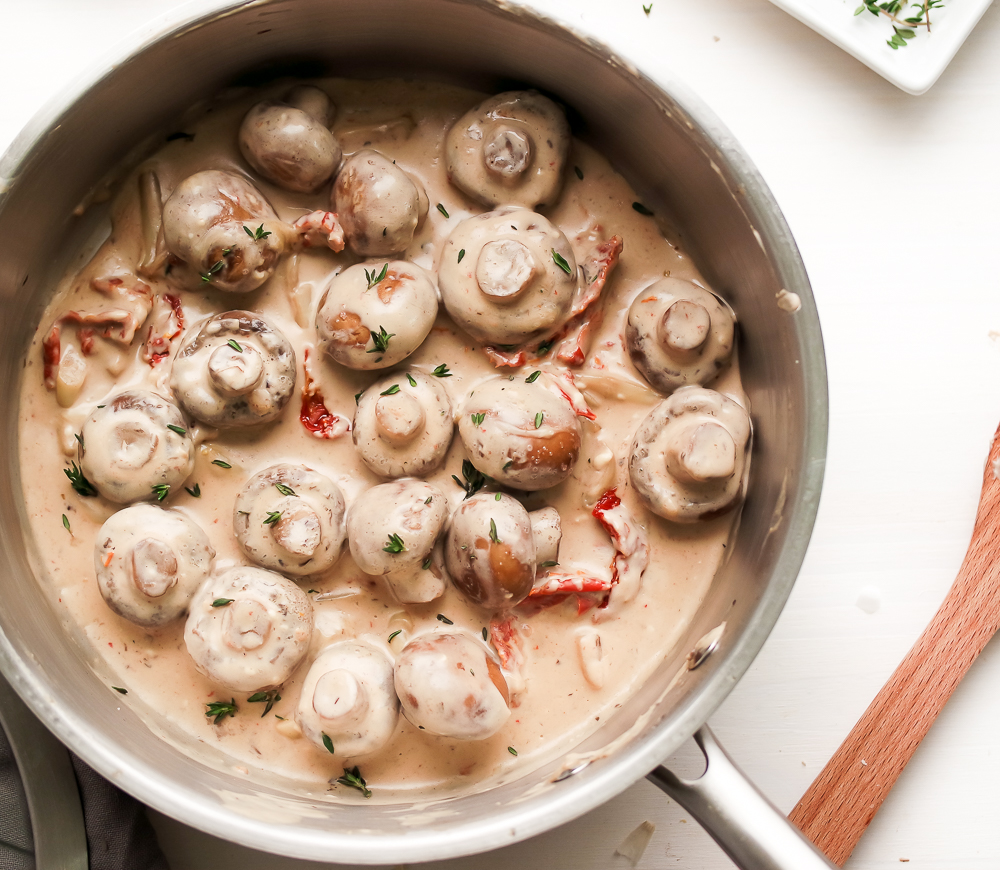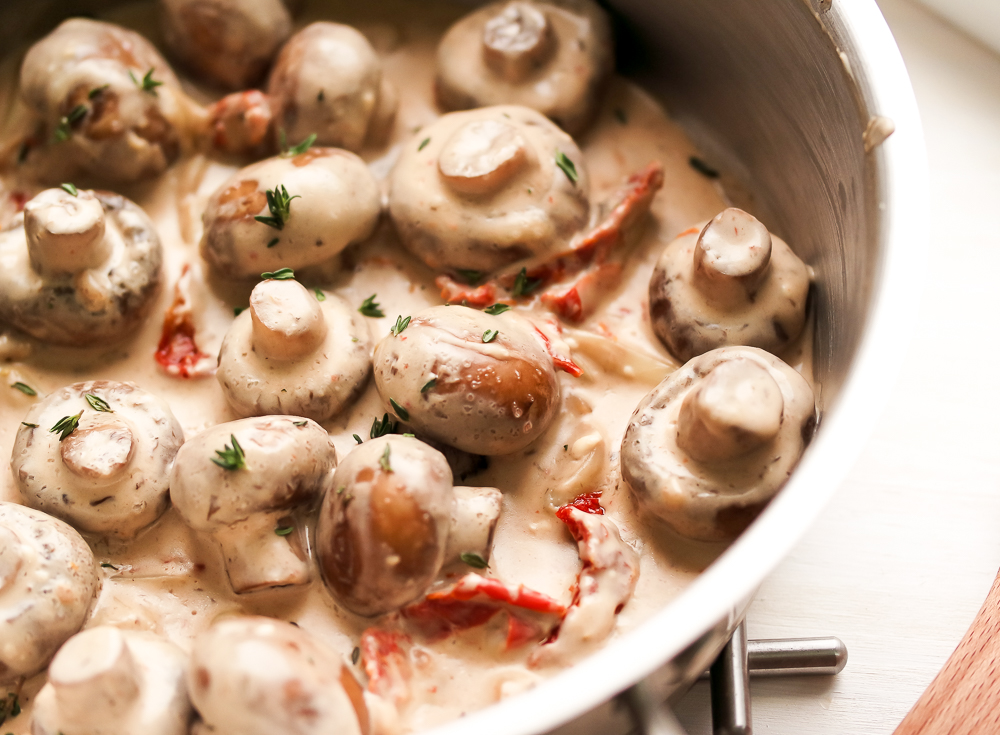 I can't even with this recipe. Just so good.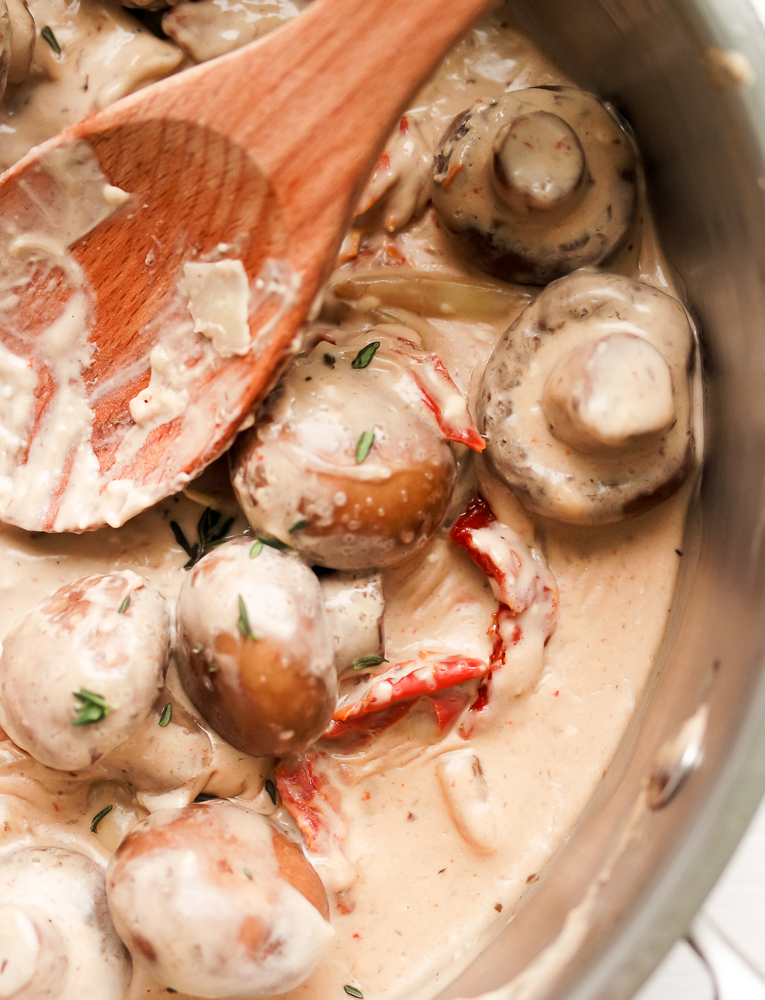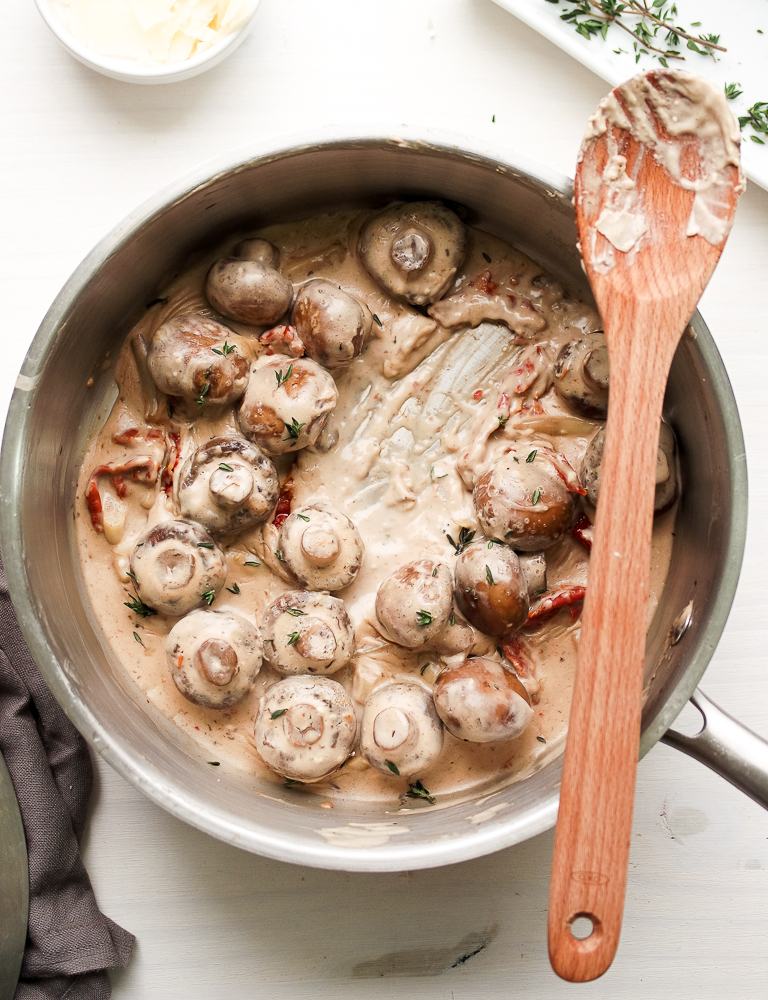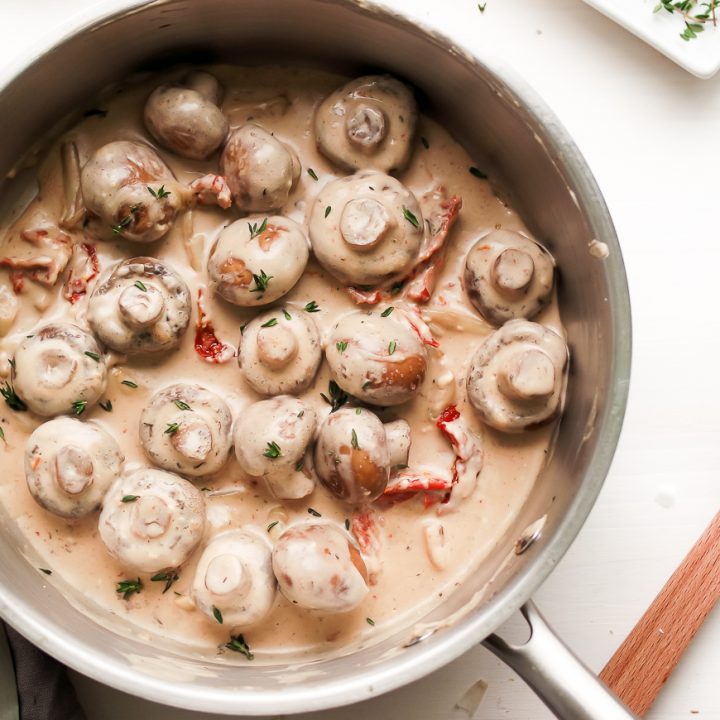 Creamy Cheesy Garlicky Thyme Mushrooms & Sundried Tomatoes
Get out the cream cheese and the stretchy pants because it's Creamy Mushroom o'clock.
Ingredients
1 lb Baby Bella Mushrooms, cleaned
2 tbsp Butter or Coconut Oil
5 cloves Garlic, chopped
1/2 cup Vegetable Stock
1/4 cup Red Wine
2 oz Cream Cheese, light or regular
2 tbsp Parmesan Cheese
2 tbsp Diced Sundried Tomatoes, packed in oil
Sprinkle of Salt to taste
Garnish with Fresh Thyme
Instructions
Saute the garlic in butter on medium. Toss in the mushrooms.
Once they begin to brown, add the stock and the red wine and bring to a simmer.
After some of the liquid has evaporated and the smell of wine dulls, add in the hunks of cream cheese and stir to coat.
Sprinkle in parmesan and fold in sundried tomatoes.
Top with Fresh Thyme and salt to taste.
Nutrition Information
Yield

4 servings
Serving Size

about 5 mushrooms
Amount Per Serving
Calories

182
Total Fat

12g
Carbohydrates

8g
Net Carbohydrates

6g
Fiber

2g
Protein

7g
Who's ready for some tofurkey and low carb mashed cauliflower? WITH THESE MUSHROOMS ON TOP!!!!!!
Ha, sorry. I'm excited!