A Case For Cauliflower
I've been watching a lot of the hit TV Series Bull lately because I have a fantastical crush on Michael Weatherly and a slightly unhealthy fascination with crime dramas. I've also been seeing a lot of really pointed memes about cauliflower that never fails to get me riled up, ergo I've been inspired to skip the boring blog blah blah blah and sell this recipe litigation style if that's a thing.
The Narrative:
Cauliflower

Isn't Chicken But It Is Still A Vegetable

Let's forget for a moment that the cauliflower is baked in a sauce traditionally used for chicken wings. I'm not trying to sell you on cauliflower being chicken. It's not. If it were, I probably wouldn't want it. Vegetarian, you know. But it is still a vegetable, and what we know about living a healthy lifestyle is that our bodies thrive on the nutrients that vegetables (especially cruciferous ones) contain.

Vitamin C 472%

Calcium 12%

Iron 13%

Vitamin B-6 55%

Magnesium 22%

Those are the facts. Science!

SO if you must eat vegetables to gain this wonderful nutritional benefit, why not find new and delicious ways to prepare them? Topped with cheese, sautéed in butter, DOUSED in tangy bbq sauce?

I ask you, the jury, to think of this innocent vegetable as what it is: a vegetable. Treat it as which and eat it with an open mind!

How am I doing so far? Lawyerly or what?

In closing, though cauliflower may not be a substitute for meaty wings, it IS a new and different way to eat cauliflower. Haven't we steamed and roasted it enough? Let's try something new and feel good about it.
Low Carb BBQ Cauliflower & Sweet Onion Petals
Cauliflower Hunks plus Sweet and Tangy Onion Petals.
*Meat Not Included*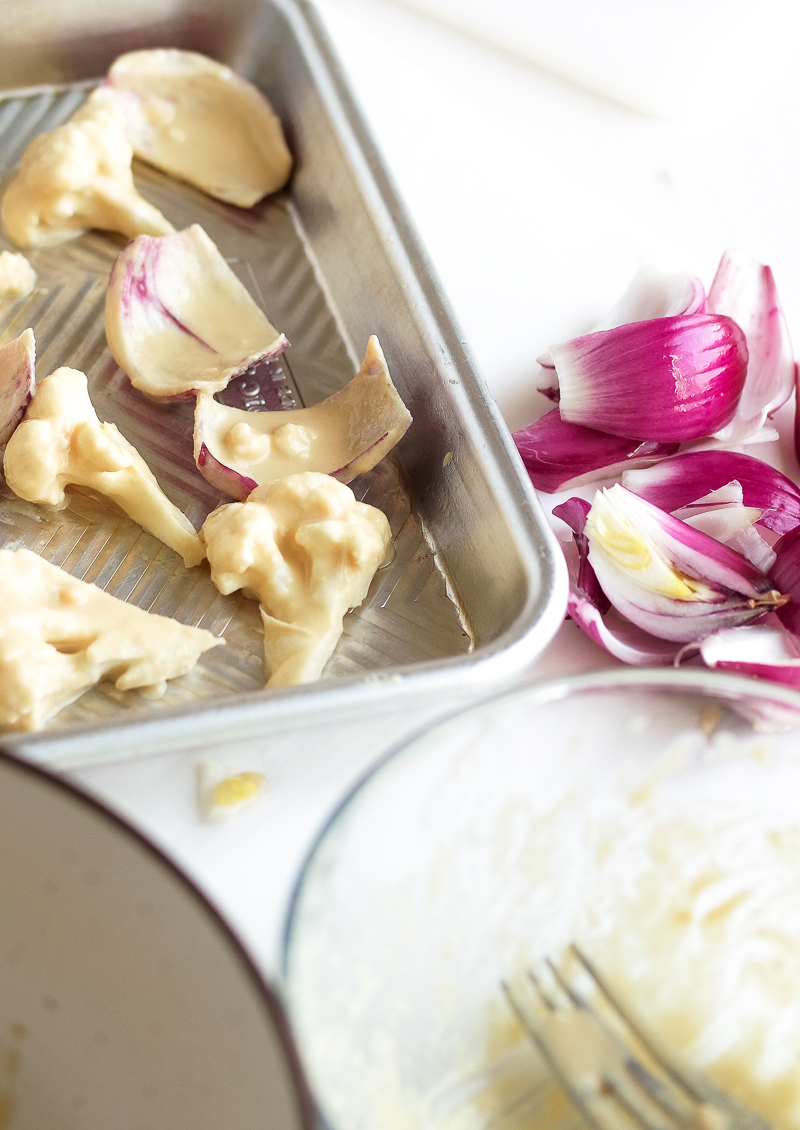 SO I couldn't decide between making Cauliflower Wings or Onion Petals.
Luckily, I didn't have to. Made em both.
SAME batter (chickpea flour) and SAME sauce but two TOTALLY different tastes.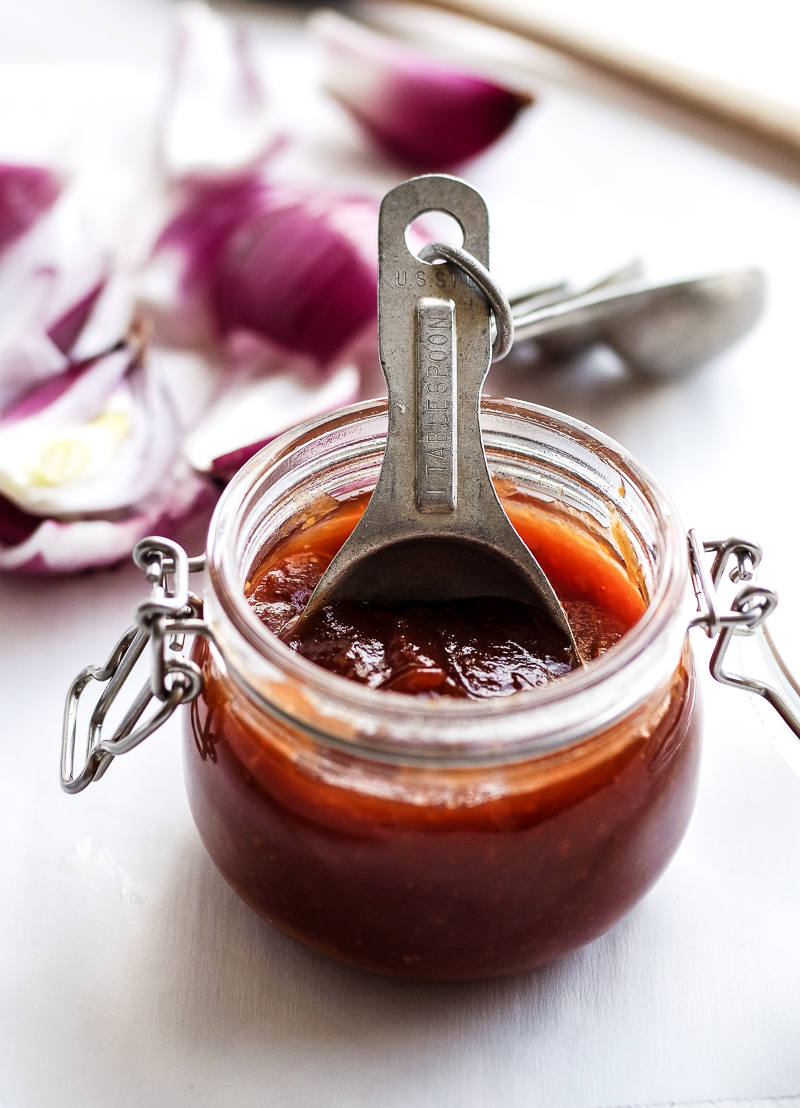 I personally loved the onion petals best, but I would honestly eat an old flip flop if it was baked with bbq sauce on it.
Some of you might feel that way about cauliflower, which is why we are gathered here today.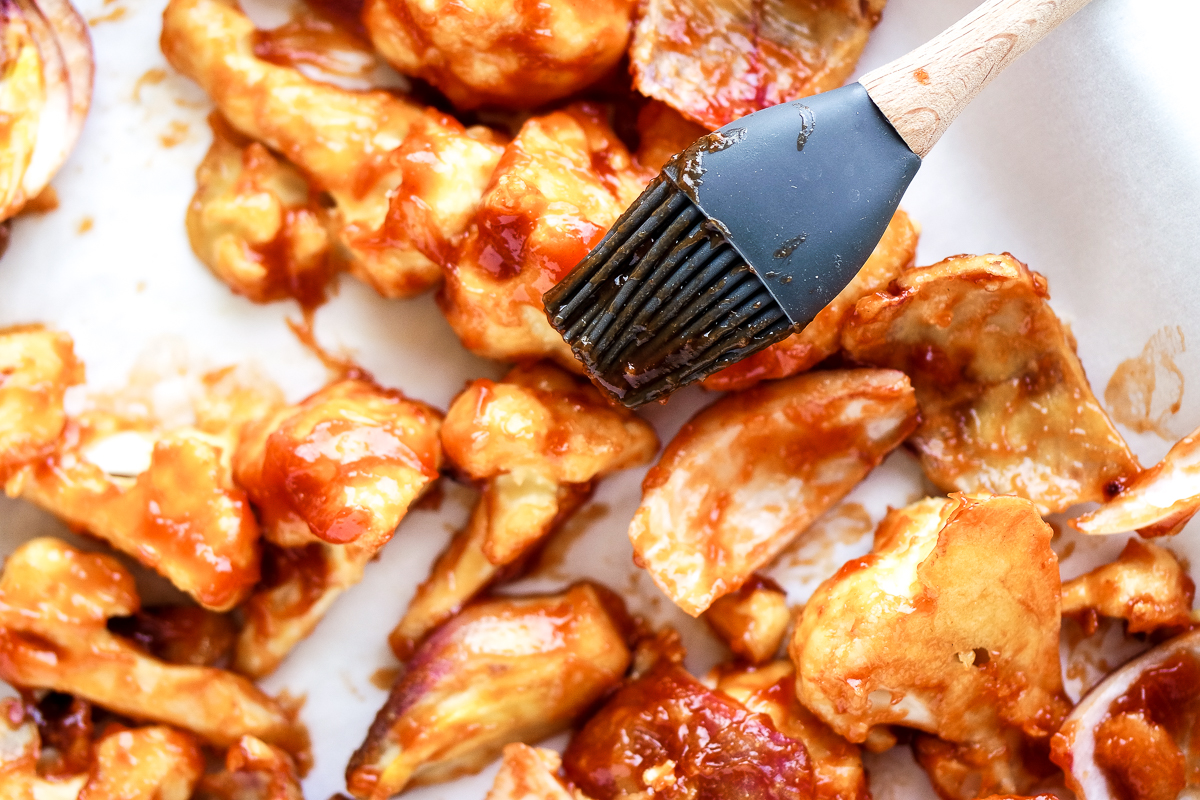 They don't get crispy and that's OK.
They get saucy which makes up for it.
I also used the "hearts" of the onion whole and OH MAN are they yummy.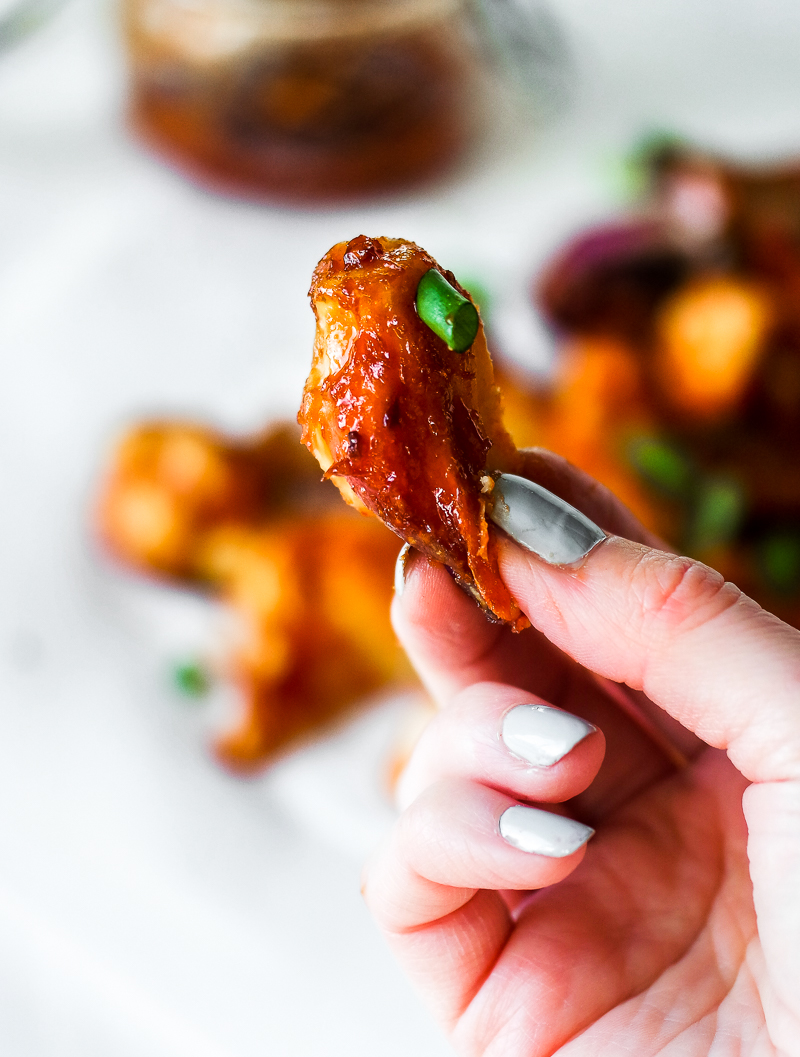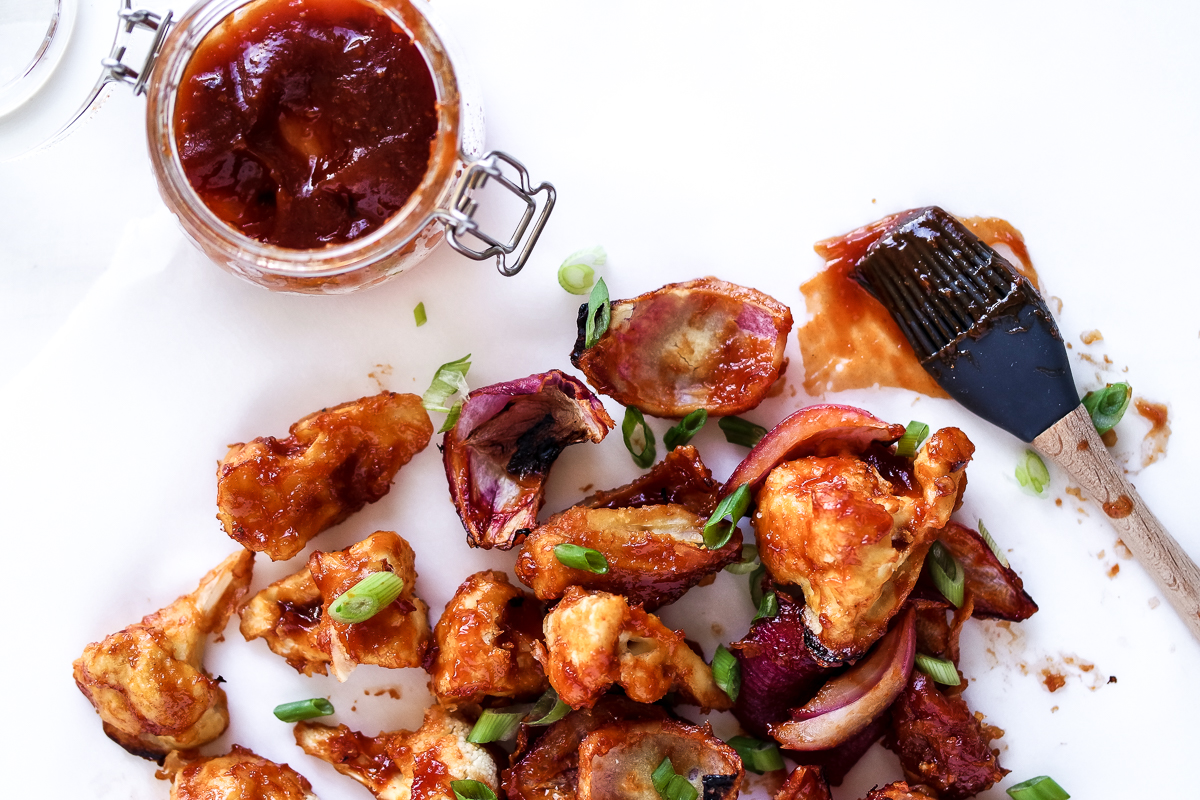 And this is how you eat an entire head of cauliflower.
BY YOURSELF.
*high fives air*
Low Carb BBQ Cauliflower & Sweet Onion Petals
Just another way to squeeze in your veggies in a deliciously complicated way!
Ingredients
3 cups Cauliflower Florets
1 cup Onion, cut into wedges or "petals"
Other various veggies you'd like to sauce!
Batter
1/2 cup Chickpea Flour
1 tbsp Avocado Oil or Olive Oil
1/3-1/2 cup Water
BBQ Sauce
1/2 tbsp Unsalted Butter, or Avocado Oil for you foodies out there
2 tsp Crushed Garlic
3/4 cup Reduced Sugar Ketchup*
1 tbsp Apple Cider Vinegar
1 tbsp Worcestershire Sauce
1 tsp Liquid Smoke
1 tbsp Truvia Brown Sugar Blend **
2 tsp Onion Powder
1 tsp Smoked Paprika
Salt to taste
Instructions
Heat oven to 425 and line a baking sheet with parchment.
Mix the batter ingredients until it is the consistency of pancake batter or slightly thinner. Begin with the 1/3 cup water and add slowly as needed.
Dip the veggies FIRST in the batter, then let them rest in a separate bowl to drain off any excess.
Move the veggies from the second bowl to the prepared baking sheet and roast for 15 minutes.
While the cauliflower bakes, heat a saucepan on medium low and saute the garlic in butter or oil until it becomes fragrant.
Add the rest of the sauce ingredients into the pan and simmer until thick, tasting and adjusting as needed.
Toss the baked cauliflower in 3-4 tbsp of sauce and return to oven for 5-10 minutes.
Serve hot!
Notes
*Because I don't always have the time for a truly homemade sauce, I used low sugar ketchup. Feel free to use tomato paste + 1/2 cup water + 1 tbsp sweetener
**Truvia still contains some sugar, but 75% less than traditional brown sugar. Sub with equal parts erythritol if desired