These Keto Strawberry Cheesecake Truffles are super simple to whip up and are the perfect little treat to curb a sweet tooth!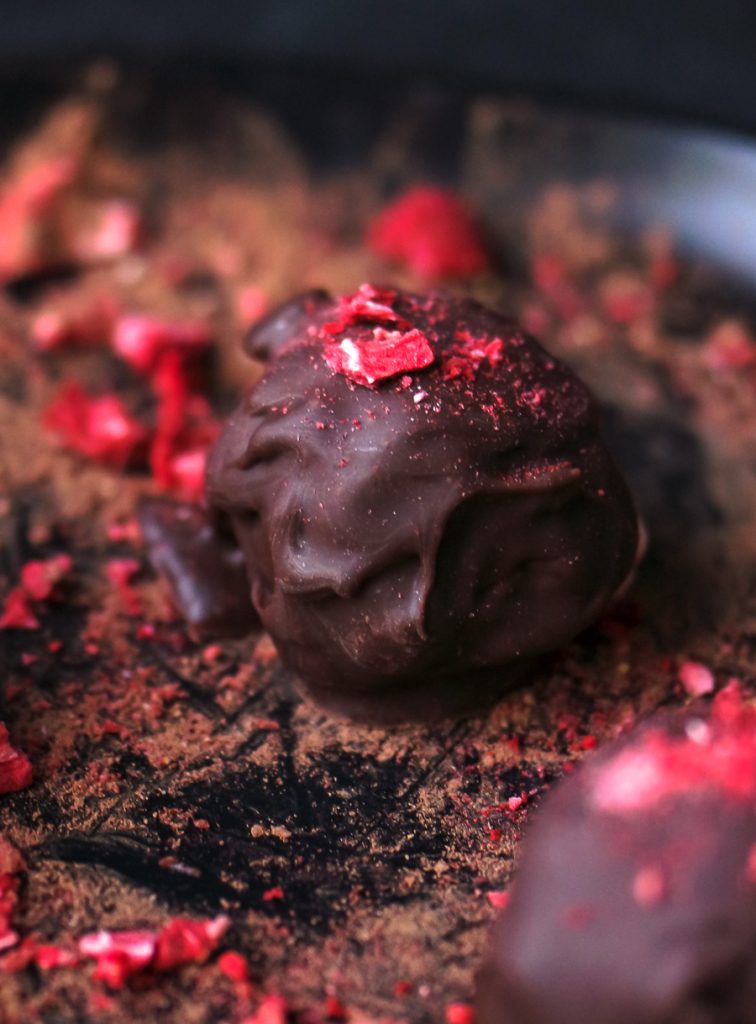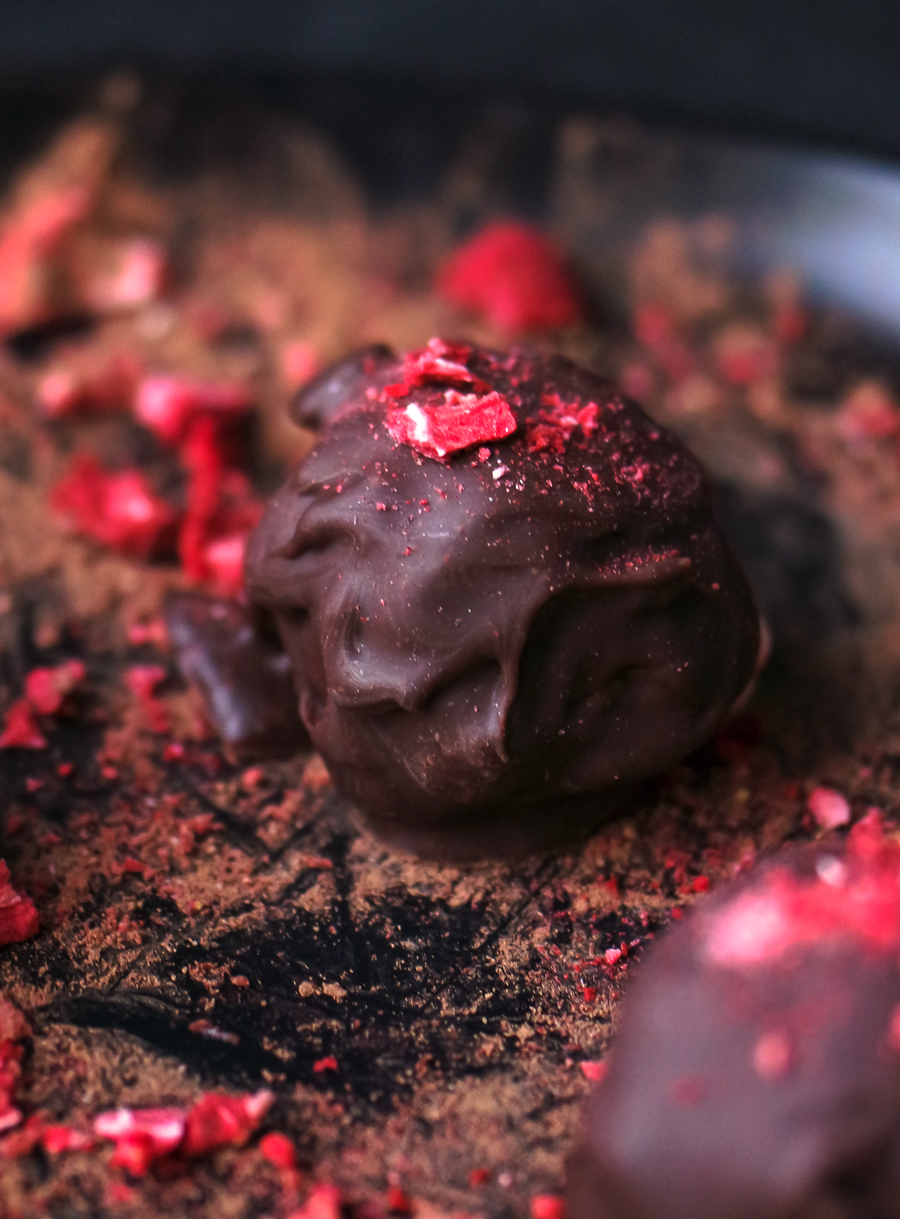 Easy Creamy Dreamy Keto Truffles!
I will be the first to admit that a recipe has to be really good to put forth hours of effort and chill/setting time. Most of the time I prefer quick, simple, and single serving. But these babies are the exception! Cheesecake truffle filling has always been one of my top-tier chocolate choices, so to have a low-carb keto strawberry truffle that tastes AMAZING is what I call a healthy lifestyle win.
Choosing Your Keto Truffle Ingredients
I guess the jury of my keto peers has decided that full-fat dairy is best on keto. But what about those who are not "keto" and follow a low-sugar, low-carb lifestyle?
For a lot of us doing this low-carb lifestyle, we get left out because everything is very high in fat and also very high in calories. That's great if you are a very strict keto dieter! But if you are simply watching your sugar intake it's perfectly OK to use a Low-fat cream cheese option!
For the strawberry flavoring, I ALWAYS use dehydrated strawberries! Fresh berries are too wet and will ruin the filling and the shelf life of your keto truffle. This method also works with frosting in my Keto Strawberry Frosted Cupcakes!
Simply add dehydrated strawberries to a food processor and pulse until the berries become a powder. Make sure there are no large chunks of berries remaining. Any large pieces will absorb moisture from the recipe and will give the finished truffle a chewy and undesirable texture.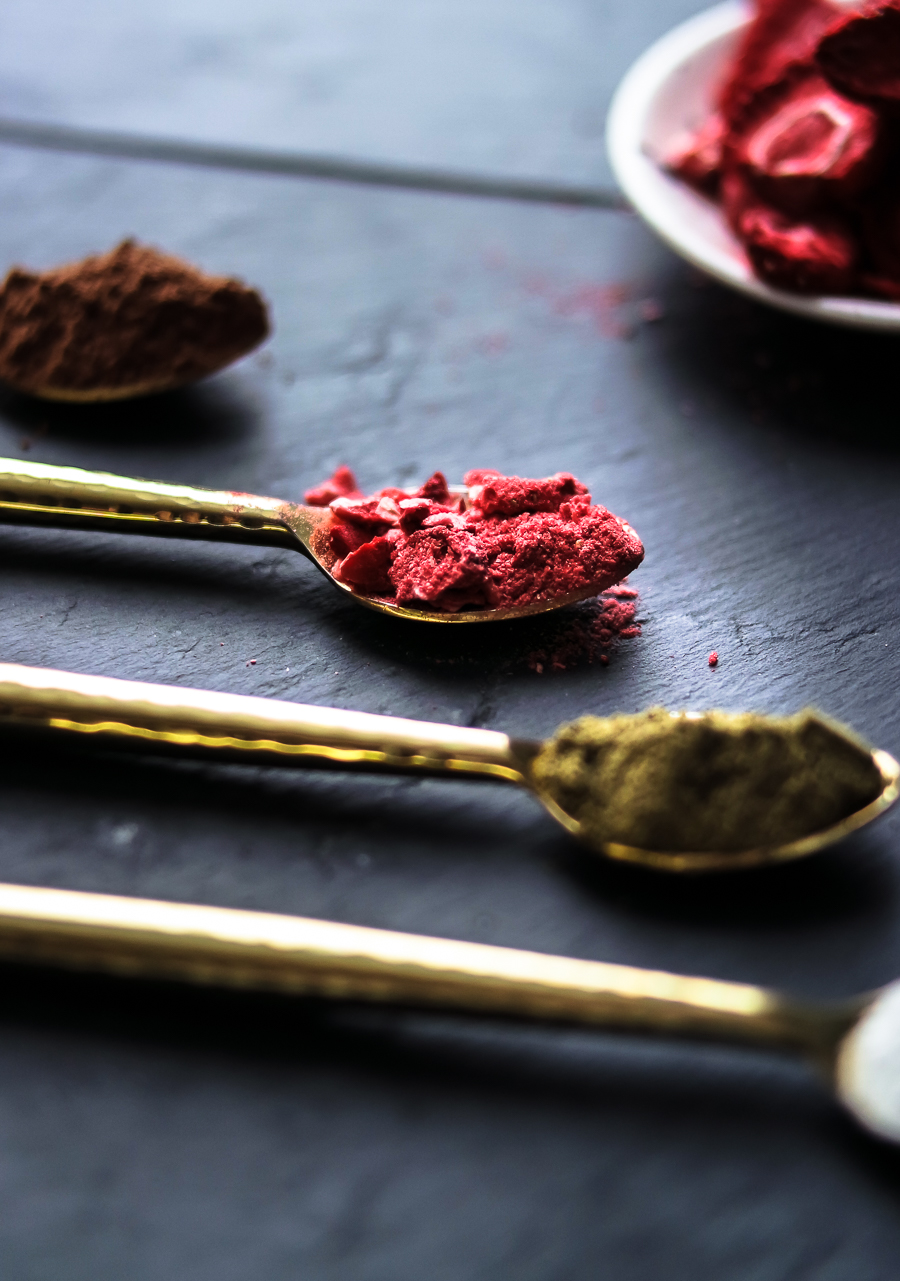 Keto Truffle Rolling Tips!
Keto cheesecake truffles can be sticky and hard to work with. I recommend chilling the filling both before you roll and after your roll the truffles for easy handling. This also gives the filling time to absorb the strawberry flavor.
Cocoa Powder is also a huge help in keeping these truffles from sticking to your fingers. Just add some unsweetened cocoa powder to a shallow dish and roll each undipped truffle to coat. It's sort of like using flour when you work with bread dough. It prevents things from getting too sticky!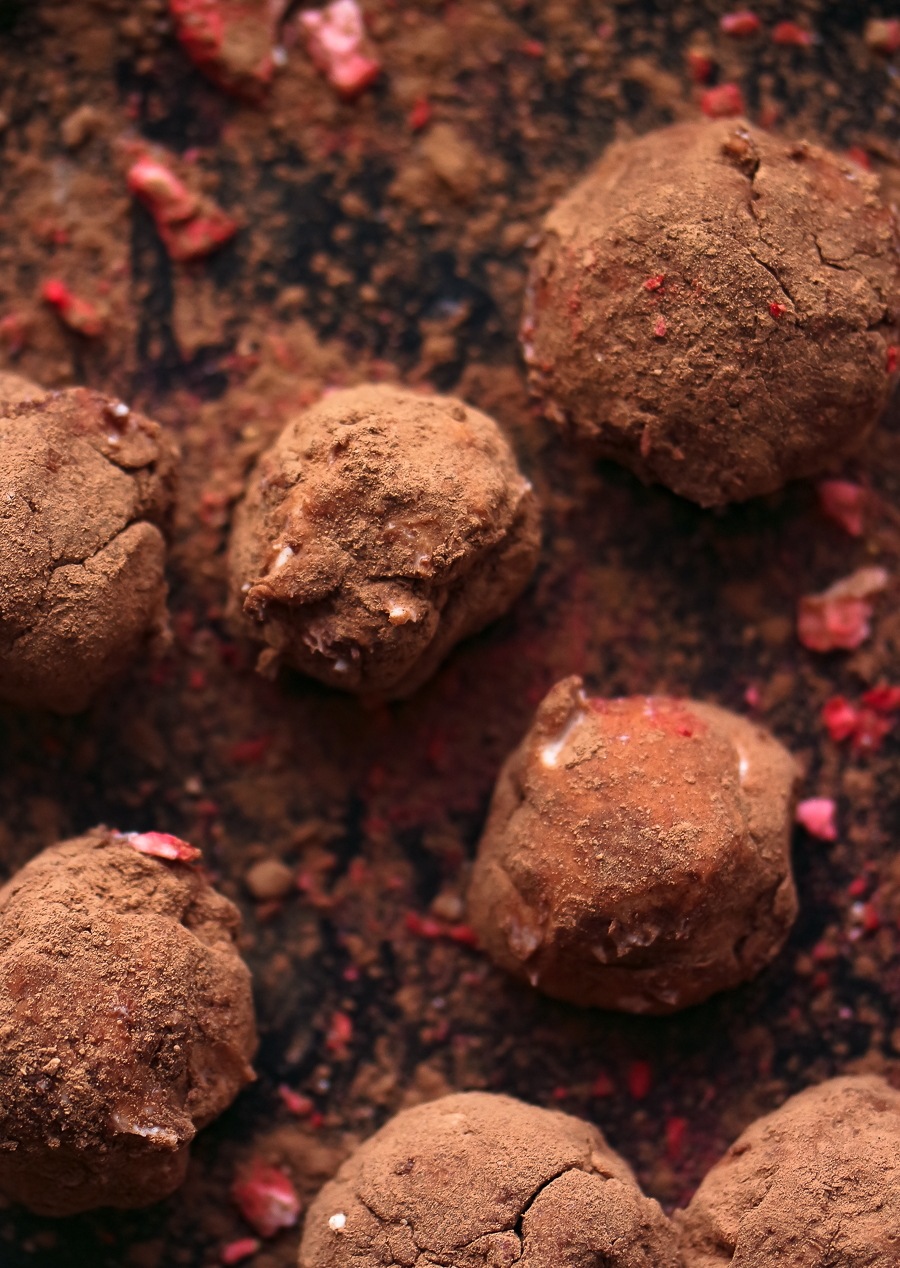 Finally, dipping time! To dip these, a great method is to warm up 1/4 of a cup of chocolate at a time. Because the truffles will be chilled, the chocolate will get cold very fast and become hard to work with. By melting a little at a time, you can add newly melted chocolate to the dipping bowl to avoid repeated re-heating or seized chocolate!
Pro Tip: use the dehydrated berry dust on top of your truffles for a delightful pop of color! And flavor!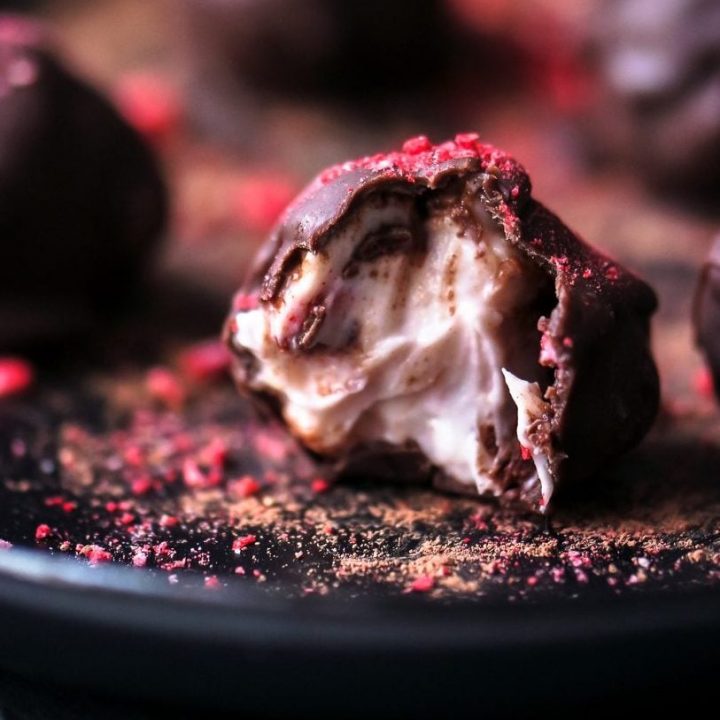 Keto Strawberry Cheesecake Truffles
Lighten up the calories or go full fat. This is your treat, do what you do!
Ingredients
2 tbsp Unsalted Butter, softened
4 tbsp unsweetened Cocoa Powder
8oz Low Carb Dark Chocolate, melted
1 teaspoon Avocado Oil, or coconut oil
Instructions
Make the Strawberry Powder: Add the freeze dried strawberries to a food processor and pulse until the berries are a powder. Any chunks will become chewy in the filling so make sure to blend well!
Make the Filling: Using a hand mixer cream the butter, sweetener, and cream cheese until well combined. Fold in about 3 tablespoons of the crushed strawberries mix well. Place the mixture in the freezer for at least 30 minutes to firm. If you're dipping these truffles later, store the un-dipped filling in the refrigerator to avoid freezing solid.
To Dip: Add the cocoa powder to a shallow dish. Once the filling is set, gently scoop a spoonful of the mixture and quickly form it into a ball. Roll it in the cocoa powder and place it on a tray. Repeat with the remaining filling and return the tray to the freezer to firm up for about 20 minutes. This makes it easier to handle when dipping.
Melt the chocolate in a small microwave-safe bowl at 20-second intervals until smooth, stirring frequently. Add the oil and mix well.
Dip each chilled ball into melted chocolate and top with the remaining strawberry powder. Place in the fridge to cool. To serve, bring these truffles out to warm up and enjoy! These will keep if refrigerated for up to 5 days.
Notes
You make need to reheat your chocolate before all of your truffles are dipped. Because the truffles are so cold the chocolate will chill very quickly. Just pause the dipping and pop it in the microwave for a few seconds to continue!
Nutrition Information
Yield

10
Amount Per Serving
Calories

190
Total Fat

17g
Carbohydrates

15g
Net Carbohydrates

8g
Fiber

7g
Sugar

3g