What's smooth as silk and easy as pie? This gluten-free keto no bake cheesecake, obviously!
---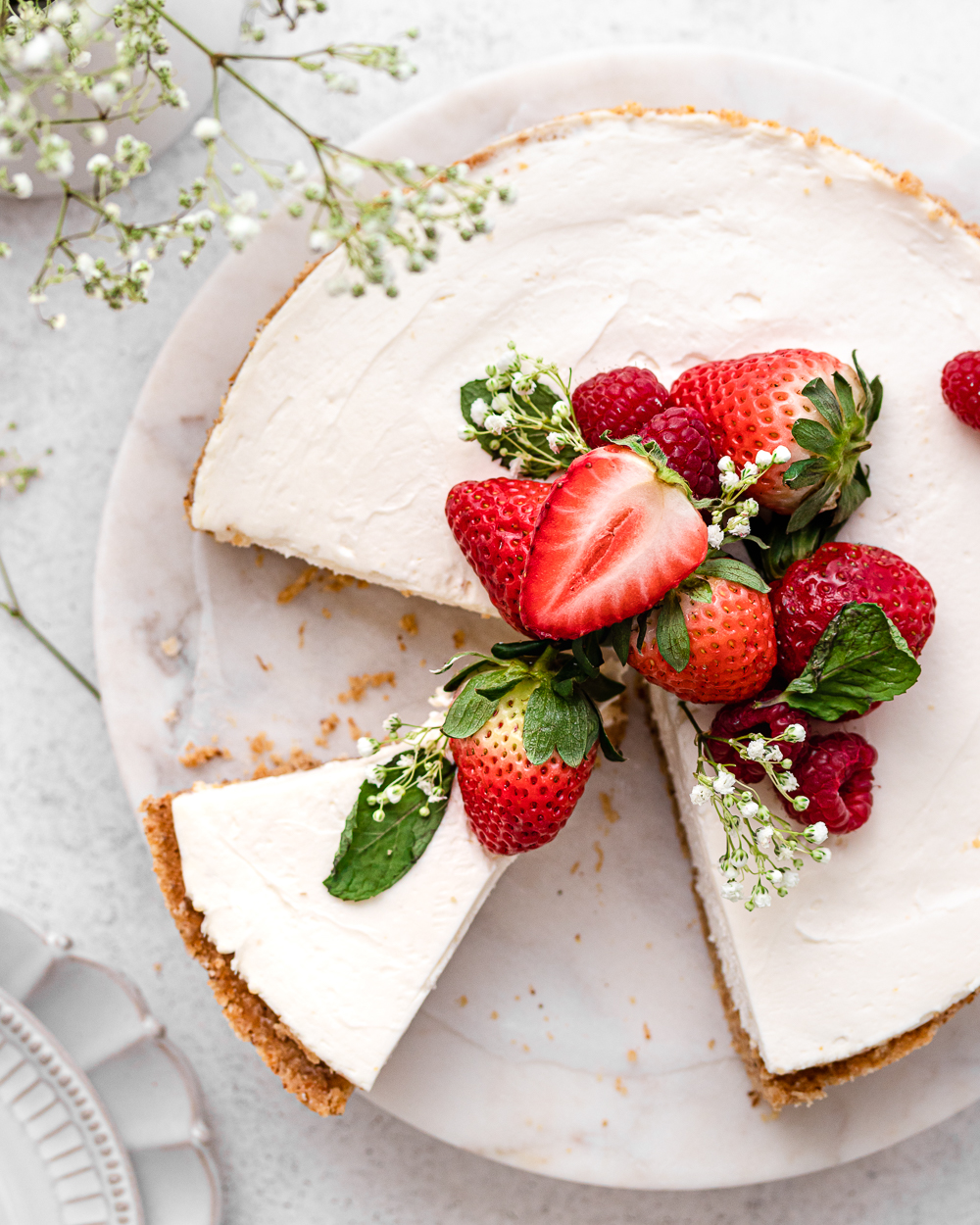 Heatless & Meatless
No oven, no gelatin, no problem!
Why do omnivores and vegans get all of the food attention? Take a humble no-bake cheesecake for example. There are millions of vegan versions along with tons of gelatin-based omnivore versions but like, NO vegetarian versions.
Um, hi. There's a whole subsector of humans who want allll of the cheese but none of the gelatin!
Maybe I'm being overdramatic (probably), and I do LOVE a good vegan recipe here and there, but I also really love no-bake cheesecake and I don't want to make it out of cashews as the vegans do.
SO I've taken it upon myself to whip up the best vegetarian, non-vegan, omnivore-friendly, no-bake cheesecake for people who watch their carbs!
It's a mouthful, but at least it's got CHEESE in it.
Perfectly Silky Keto No-Bake Cheesecake
Say YES to real cream cheese, NO to baking, and the yes again to a second slice because this cheesecake is only 3g net carbs per serving!
J-E-L-L No Thanks
So you might be wondering "how firm we can really get our keto cheesecake WITHOUT gelatin?" And the answer is: firm enough, baby!
Too much? OKAY.
But the serious answer—it's firm enough to slice and fork, thanks to 16 oz of cream cheese!
Not too firm though, because we whip the cream until it's airy and fold it in for the silkiest, lightest texture possible.
Also, I should probably stop saying firm now.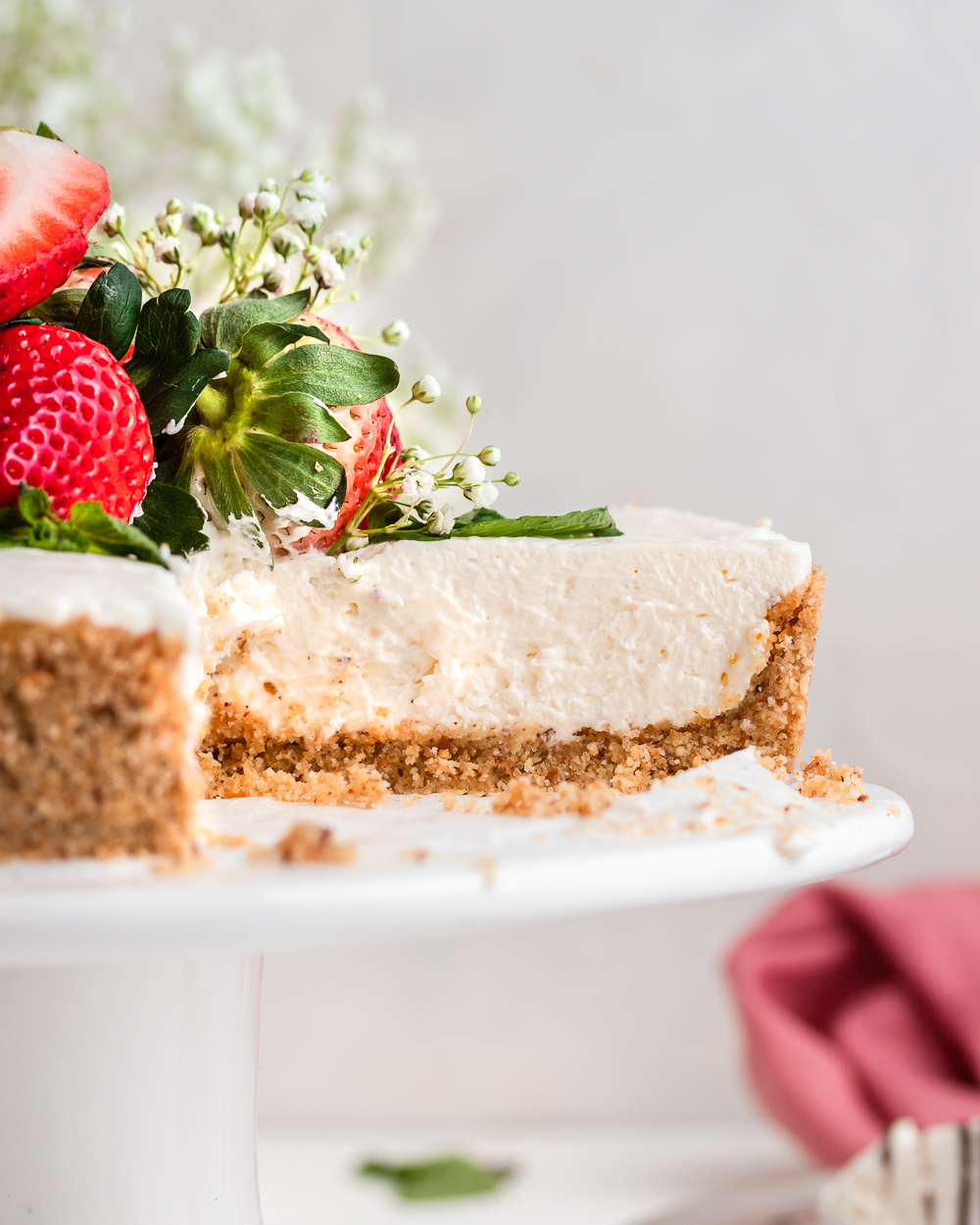 Faking It: A Lesson In Keto Graham Cracker Crust
If you want to bake this crust, do it, but it does sort of defeat the purpose of a no-bake dessert. My advice? Fake the bake by toasting your almond flour. Here's how:
Get a skillet and get it (medium) hot.
Constantly stir the flour by moving the bottom layer of flour to the top.
DON'T walk away. You'll burn it.
Remove the flour from the pan IMMEDIATELY because whatever is in contact with the pan, even off of the heat, will continue to toast and you'll burn it.
Be patient. Slow and steady wins the race! And prevents you from burning your nuts.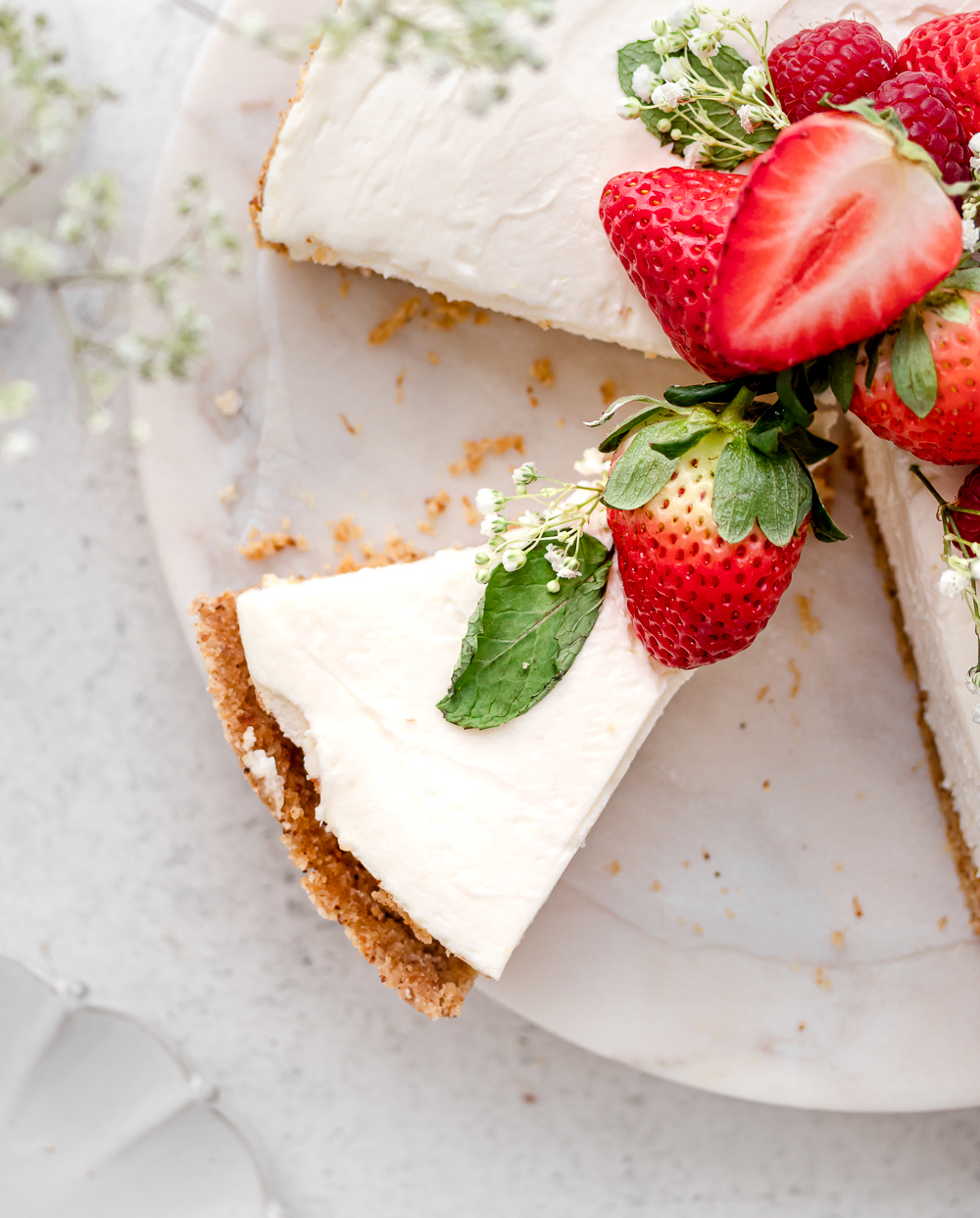 Is crust super delicate and crumbly?
Yes. It hasn't been baked, remember?!
Does that mean this crust is any less delicious or worthy?
NOPE! The delicate and crumbly texture is a perfect match for the silky smooth cheesecakey interior.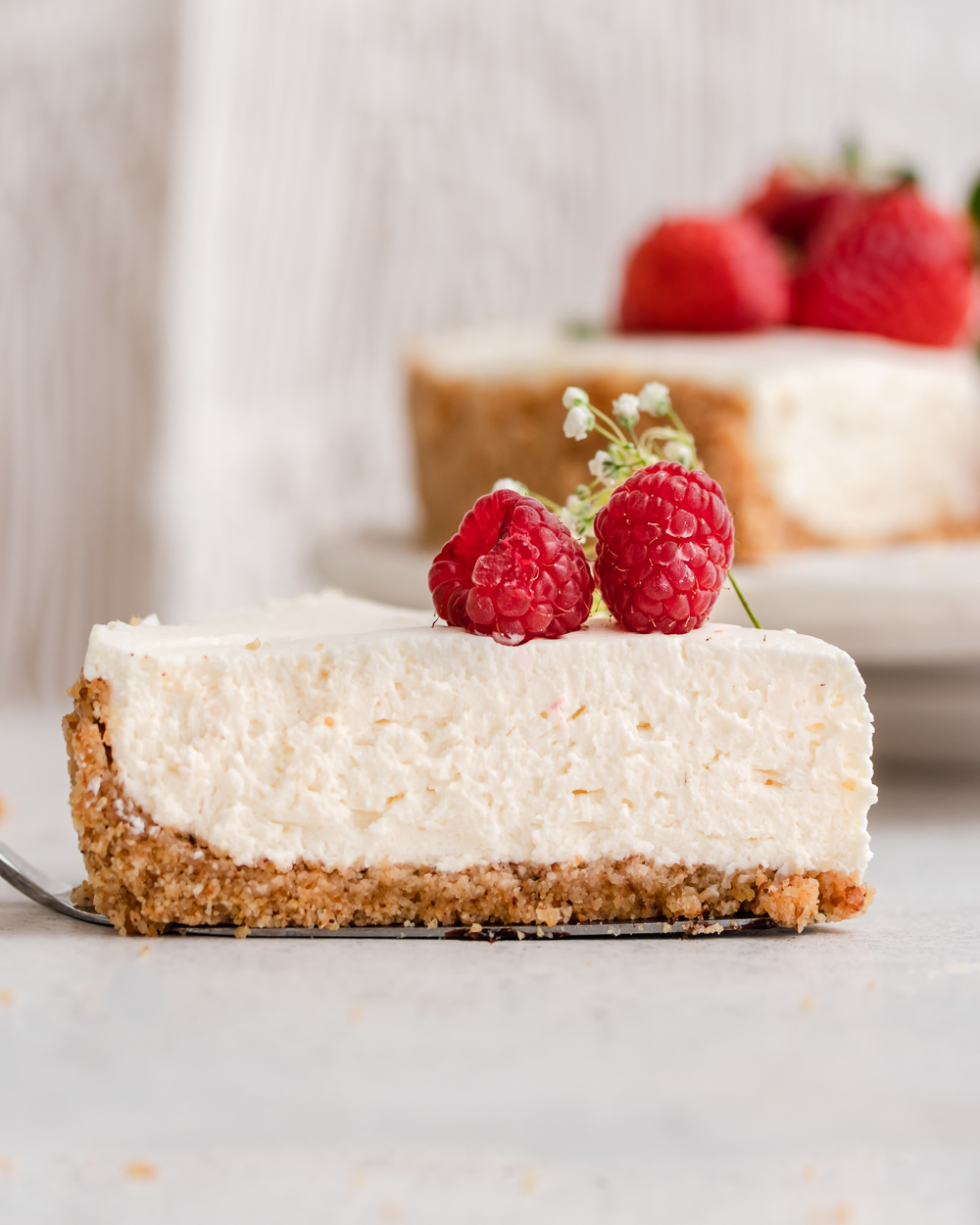 And again, you can bake the crust for 8 minutes at 350 if you want! The crust will be more sturdy that way.
Just know that when your oven is already occupied (get it, occu-pied…like with pie…) or it's 80 bajillion degrees outside, you can toast your flour and skip the bake!!
Want More Keto Desserts? Try These!
---
Keto Lemon Blueberry Galette
Gluten Free Warm Summer Berry Cobbler
Greek Yogurt Strawberry Shortcakes! Grain Free & Low Carb
Silky Keto No Bake Cheesecake!
Total Time:
4 hours
15 minutes
If you hate baking and love cheesecake, this recipe is for you! Rich and silky smooth keto no-bake cheesecake with ZERO gelatin!
Ingredients
Crust
1 1/2 cup Almond Flour, toasted
1 tbsp Finely Ground Flaxseed Meal
1/2 tsp Xanthan Gum
1/3 cup Swerve Brown
6 tbsp Butter, melted
Filling
16 oz Cream Cheese
3 tbsp Greek Yogurt, or sour cream
1 1/2 tsp Vanilla Extract
1 tsp Lemon Juice
1/2 cup Swerve, or sweet of choice
3/4 cup Heavy Whipping Cream
1/4 cup Swerve Confectioners
Instructions
The cream cheese and greek yogurt need to be soft (ROOM TEMP) to mix well so set them out early!
Prep the Crust
Toast the Flour: Add the almond flour to a large skillet and set heat to medium. Use a spatula to toss the flour continuously, moving the bottom layer to the top so it doesn't burn. Continue until all of the flour is lightly browned, then remove from the pan immediately to prevent burning.
In a small bowl, whisk together 1 1/2 cups toasted almond flour, 1 tbsp finely ground flaxseed meal, 1/3 cup Swerve Brown, and 1/2 tsp Xanthan Gum.
Add 6 tbsp melted butter and stir to combine. Press into an 8 or 9-inch parchment-lined springform pan. You can make a thick-bottomed crust (easiest) or go up the edges slightly. Refrigerate or freeze while you make the filling.
Filling
Whip the 3/4 cup Heavy Cream and 1/4 cup Swerve Confectioners until stiff. Set aside.
In a separate bowl, beat 16 oz softened cream cheese, 3 tbsp greek yogurt, 1 1/2 tsp Vanilla, and 1 tsp lemon juice until smooth.
Gently fold the whipped cream into the cream cheese mixture until smooth. Don't overmix or you will lose the light and airy texture from the whipped cream!!
Spread the filling over the prepared crust. Refrigerate (don't freeze!) until set, at least 4-6 hours or overnight. The longer, the better.

Nutrition Information
Yield

12
Serving Size

1 slice
Amount Per Serving
Calories

280
Total Fat

22g
Carbohydrates

5g
Fiber

2g