Granola doesn't have to be complicated or full of refined carbs, and neither do you. Simplify your snacks and your life with a no-brainer keto granola bar!
---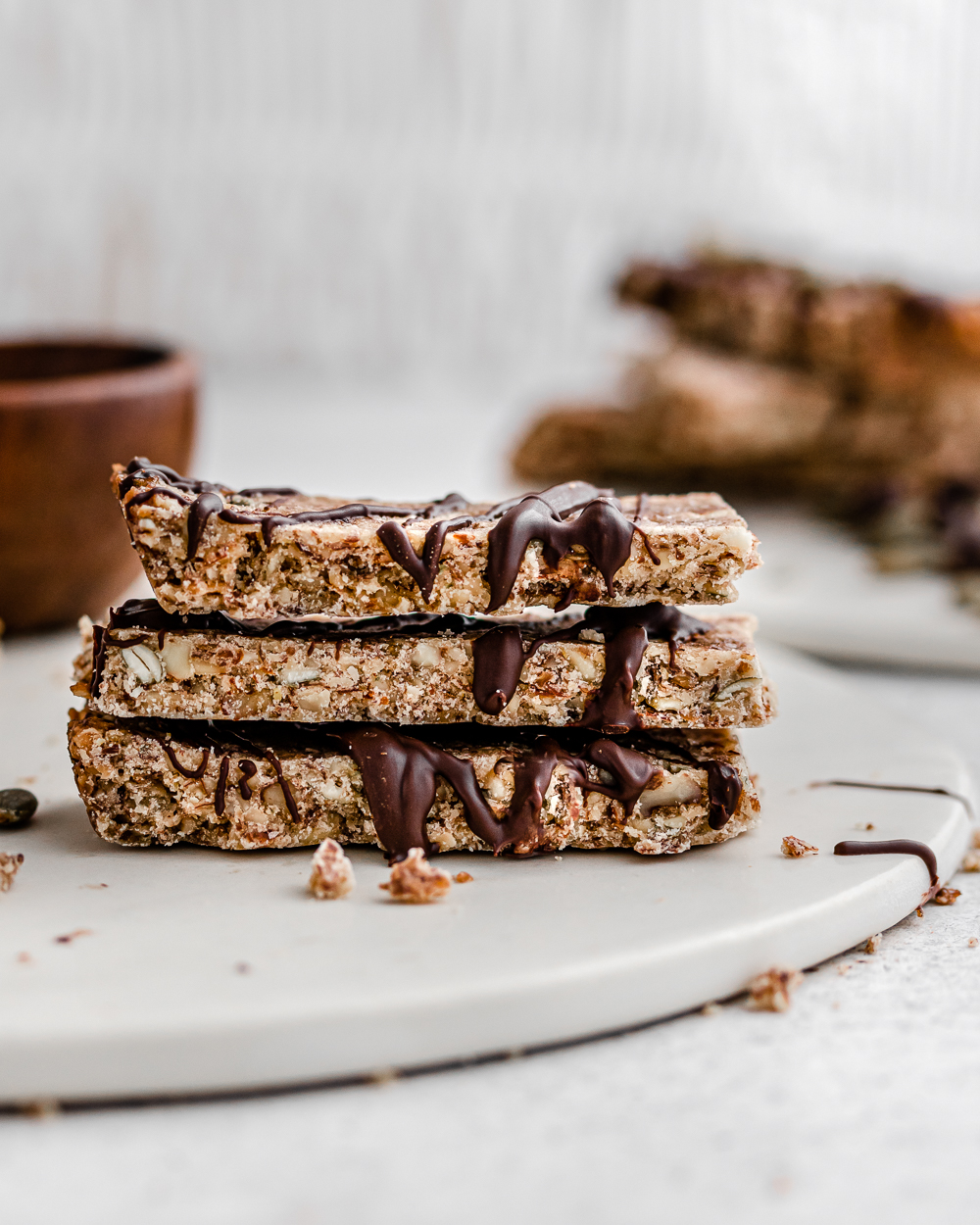 Let's Get Nuts
And by get nuts, I mean go to our pantry and pull out all of the necessary ingredients to make keto granola bars! 
It's weird out there right now. Everything is closed. People are hoarding paper products and actually washing their hands as opposed to just getting them wet and pretending like that did something. I'm drinking wine out of a coffee mug at 11:24 a.m. and googling possibly causes of my scratchy throat. 
We all have our coping methods. No judgments. 
But no matter what is happening in our world, the cooking must go on! This is why we have a super easy, totally keto, 4-ingredient granola bar recipe today. AND…it's crunchy!
Mix & Match Your Granola Bars
Okay, so maybe there are more than FOUR ingredients to this recipe. But I really don't think you can count water as an ingredient unless you're Jesus and you are whipping up a quick batch of wine.  
I'm still working on that recipe.
Then if you take into consideration that the nuts can be mixed and matched, they all count as one, too! That's cooking math.
Use any combo of nuts (within reason) you're heart desires as long as you stick to the ratio and use a firm nut as the base. Basically, don't try to make a granola bar completely out of macadamia nuts or something because it would probably be a disaster.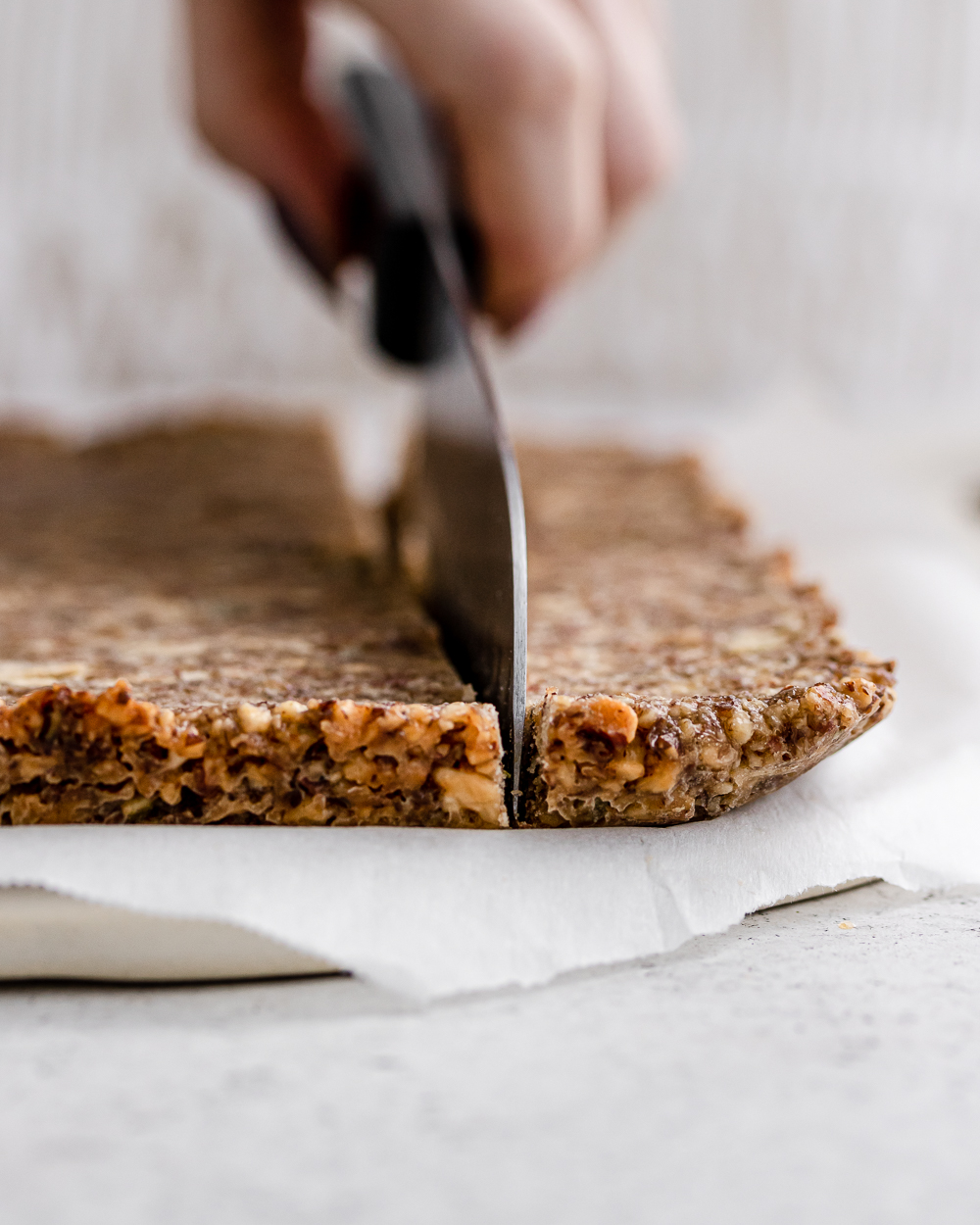 Slice Twice
My only other BIG piece of advice on getting a crunchy granola bar is the double slice. Slice it once before you bake it. Real chefs call that "scoring". Then slice it again and sort of separate the pieces mid-baking so the insides can get crunchy too! 
Do you have to do it this way? No. Will it make your bars crunchier? Yes, but either way you'll get a great granola bar.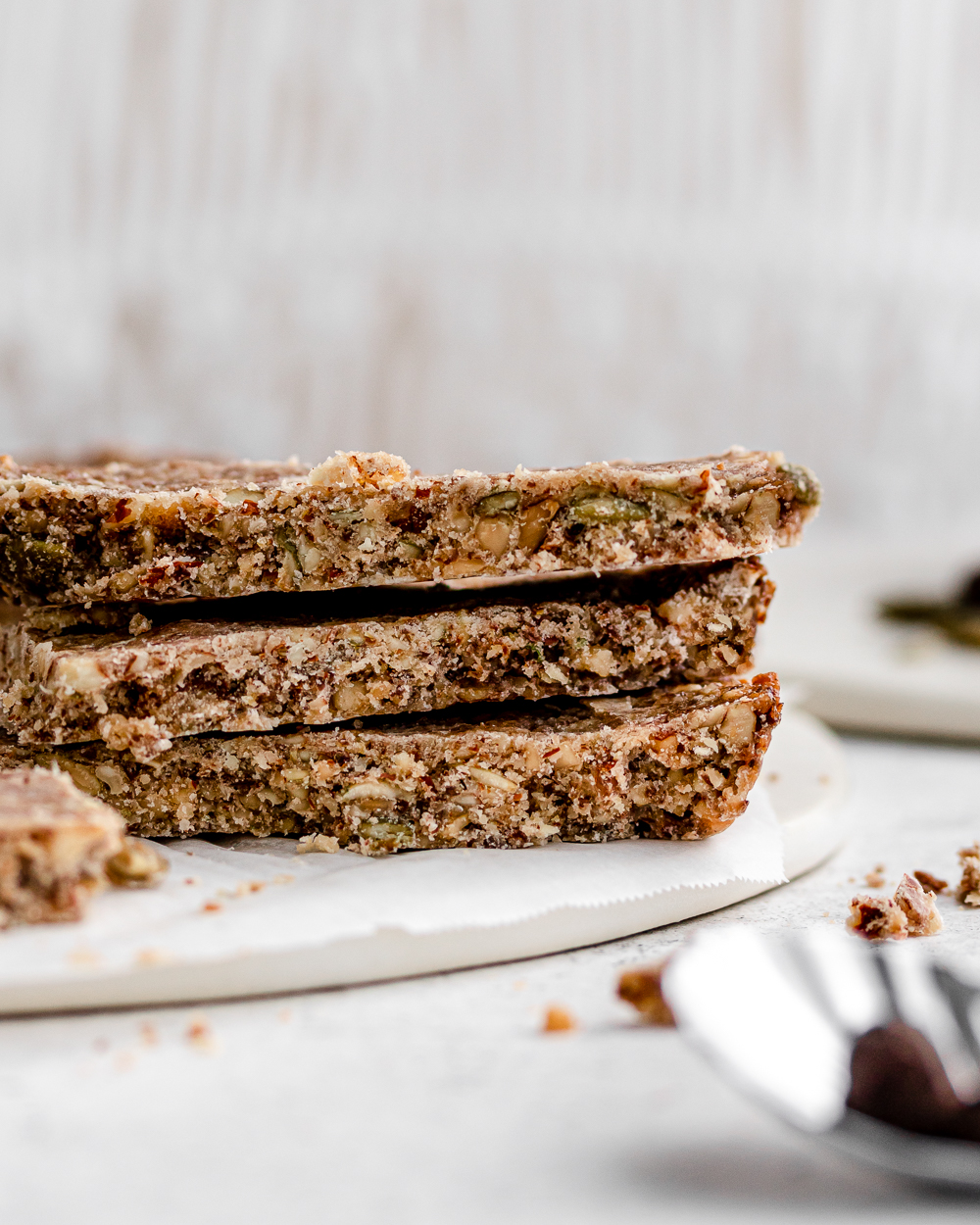 Liz, how MIGHT I ruin the granola bars?
Glad you asked!
It's tough to ruin granola bars because it's your basic mix-and-dump situation. That said, I totally ruined batch #3 because I got a little too loose with my nut ratios and I didn't spread the mixture thin enough.
Granola Bar Mantra: thin = crisp  
You can swap the binder but don't skip the binder. Flax absorbs moisture and holds these bars together so if you can't use flaxseed meal, replace it with equal parts Chia Seeds. Trust me, this recipe needs something to help it bind other than the sweetener.
Plus, you need that nutrition.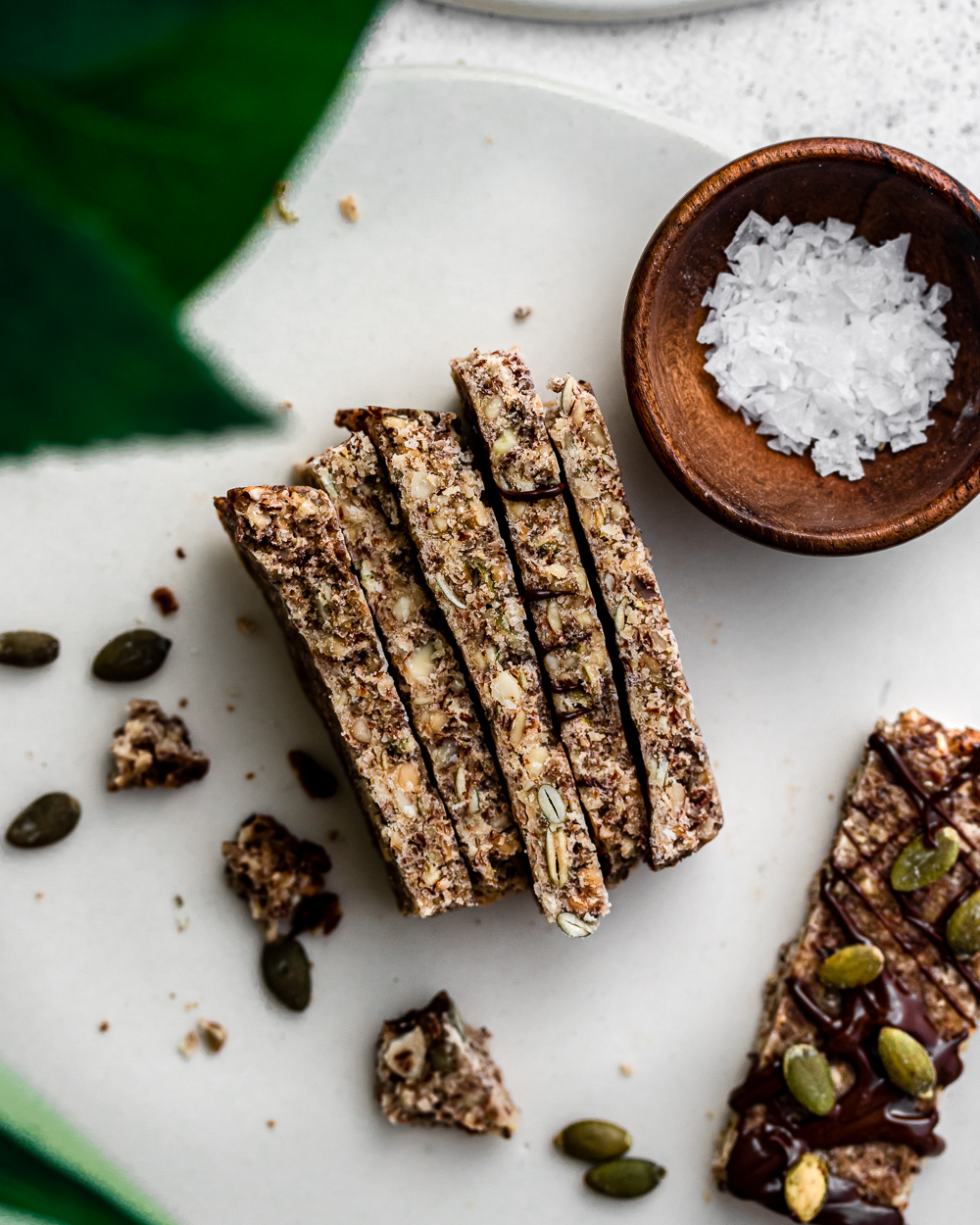 Personal opinion: drizzle chocolate. 
Why not add a little chocolate to your granola bars? I mean, it's so healthy that you'd be doing yourself a disservice if you didn't add chocolate. I love using Lily's Milk Chocolate Baking Chips because they have a great flavor and are pretty low in carbs.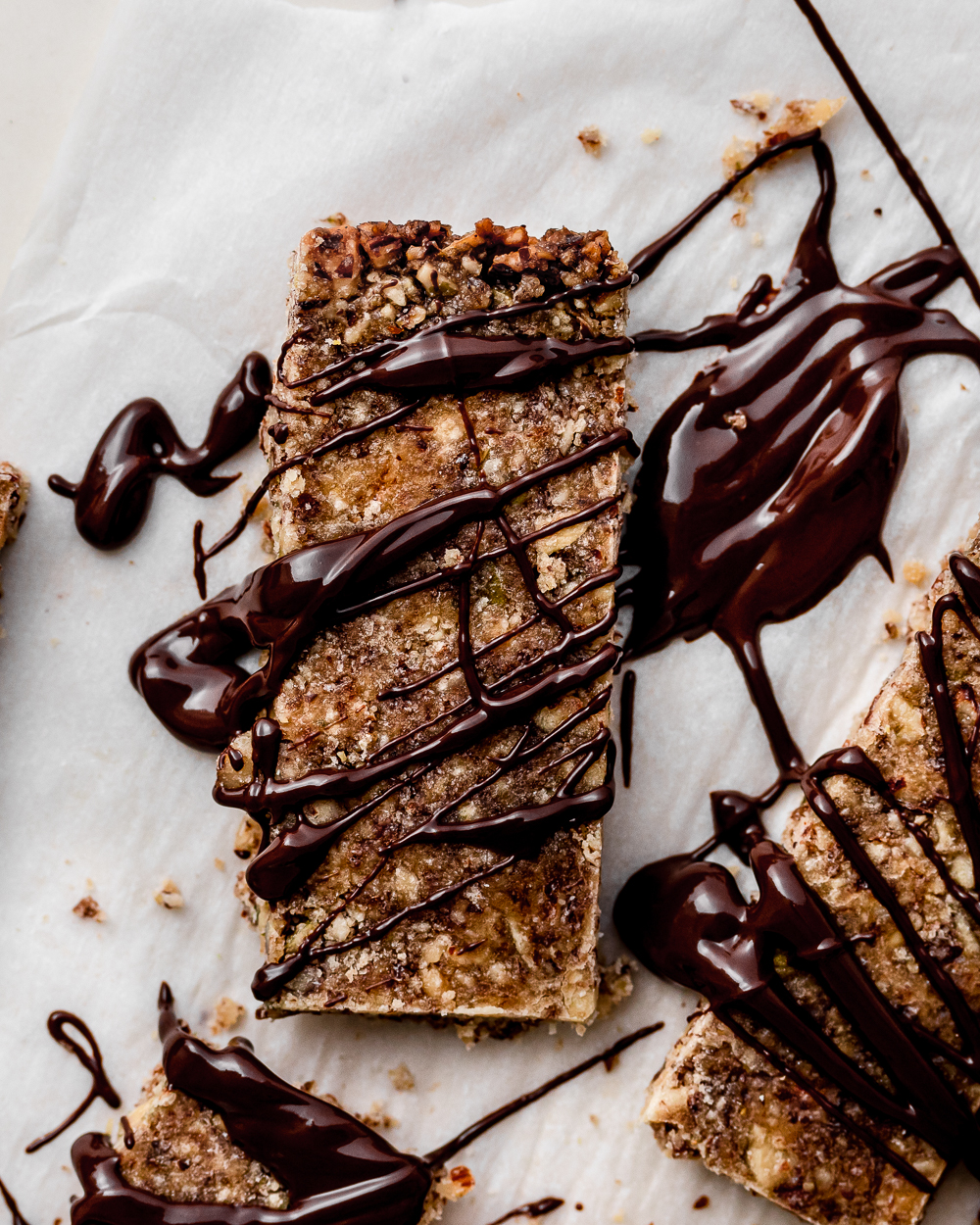 Seedy sprinkles are also acceptable because they contain all of the basic genetic makings of life (I think) which is very healthy and whatnot.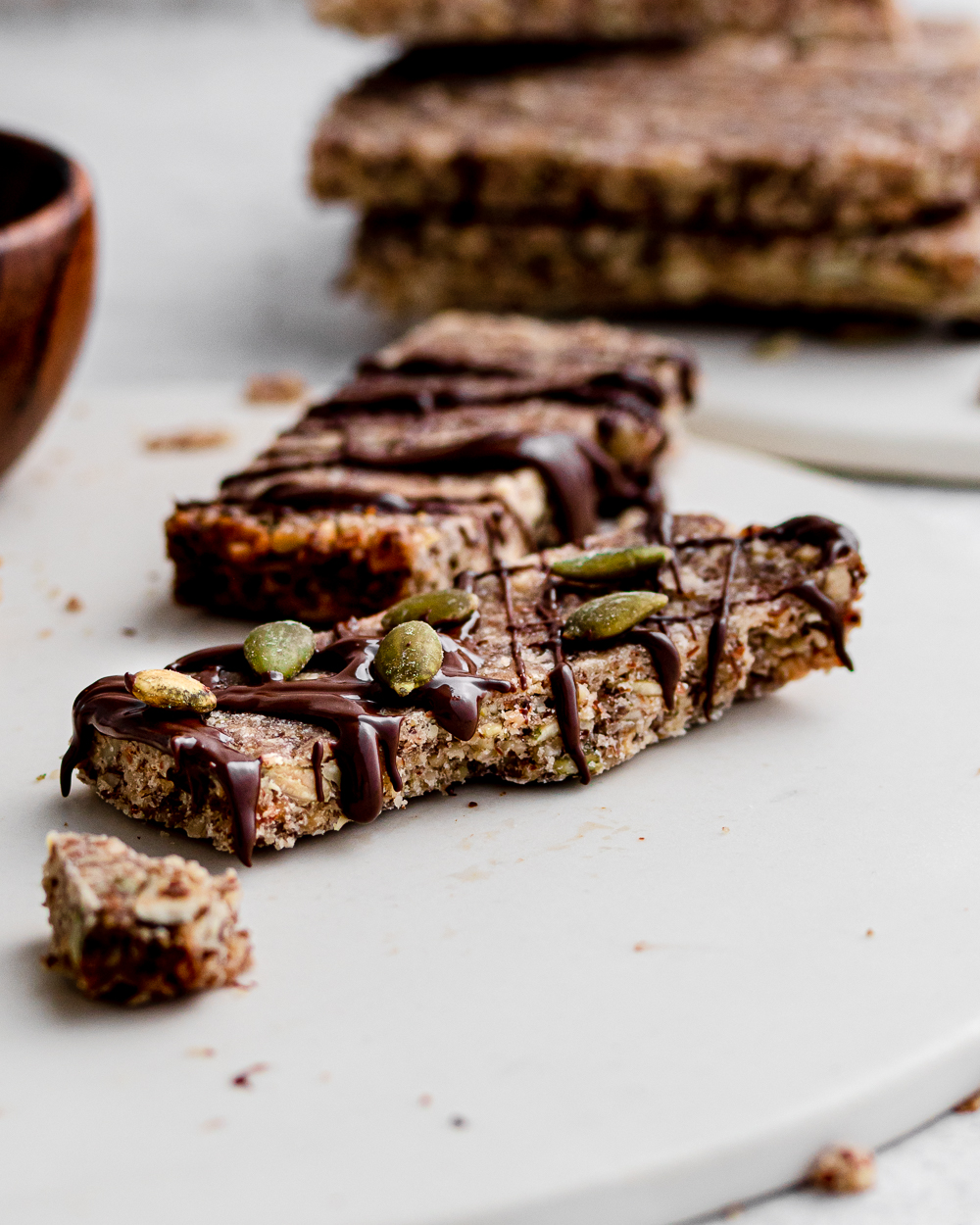 I sliced these into about 10 bars but you could make them even thinner (crunchier too) and get more servings! 
Looking for More Snacks? Try These!
Keto Pumpkin Spice Protein Balls!
Unbelievably Crunchy Super Seed Crackers &Whipped Herb Ricotta Dip
Magic Coconut Hemp Seed Clusters
4 Ingredient Keto Granola Bars!
Total Time:
1 hour
25 minutes
These crispy granola bars get their CRUNCH from Swerve Sweetener and finely chopped nuts!
Ingredients
1/4 cup Roasted Pecans
1 tbsp Vanilla Extract
2 tbsp Water
1/4 tsp Xanthan Gum
Lily's Milk or Dark Chocolate Chips, melted, to drizzle
Instructions
Line a small rectangle baking sheet with parchment and heat oven to 400°.
Heat the sweetener and vanilla extract in a pan over medium. Let it melt and stir only once or twice to combine. You will cook this for about 5 minutes.
While the sugar melts, blend the almonds and flax in a food processor until the nuts are roughly chopped. Add the pumpkin seeds, pecans, and xanthan gum and pulse a few times.
Add the 2 tbsp water to the melting sweetener and stir to dissolve.
Remove from heat and add the crushed nuts; mix well. If the mixture is too dry, add 1 more tbsp of water.
Spread into the prepared pan and press the mixture down firmly. I make my bars into a small rectangle that takes up about 1/2 of my 1/4 sheet pan! Just use a spatula to smooth the edges and flatten the top. Score the bars; 5 slices horizontally, then 1 slice down the middle to make 10 bars.
Bake for 10-12 minutes. Slice at the scoring; 5 rectangles, then one slice down the center to make 10 bars. Gently separate them and bake for another 2-3 minutes and let cool completely to get crunchy! Top with melted chocolate for added decadence.
Nutrition Information
Yield

about 10 thick bars
Serving Size

1 bar
Amount Per Serving
Calories

144
Total Fat

12g
Carbohydrates

5g
Net Carbohydrates

2g
Fiber

3g
Protein

8g