This crunchy chocolate stuffed keto granola bars are 100% dairy-free and lightly sweetened for a creamy, crunchy, chocolatey treat anytime!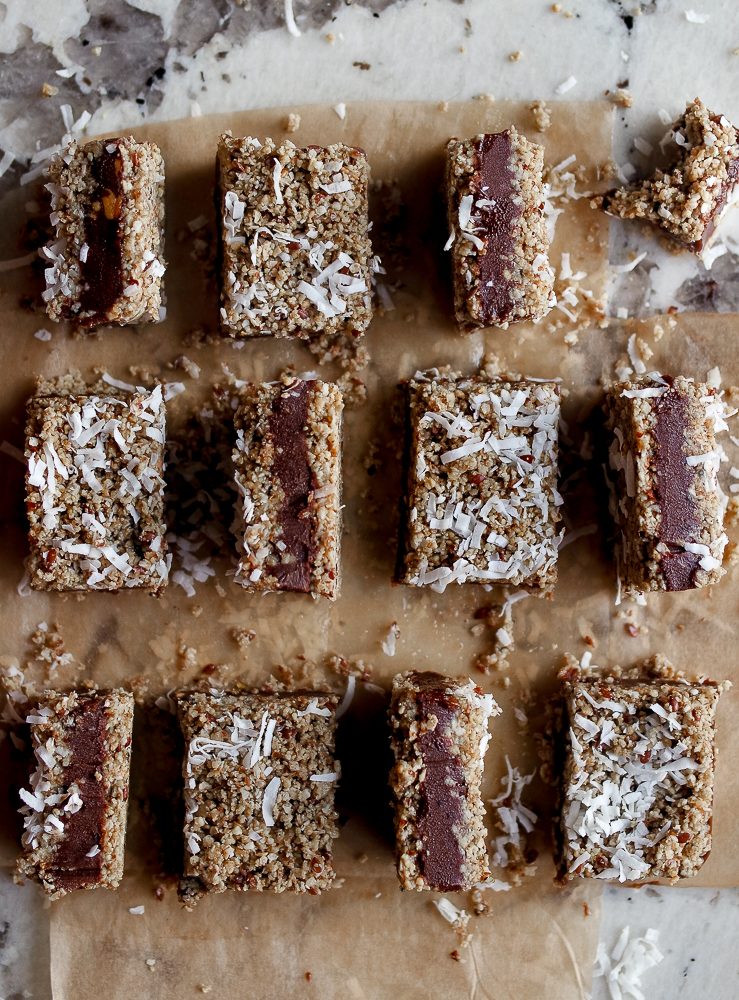 Stress, Chocolate, & HEMP
Those three words sum up my life most of the time. 
Not to say I am encouraging you to eat your feelings, though it happens, but that sometimes the instances in which we eat and the times in which we have intense feelings coincide and in that "eye of the hurricane" moment, the choices we make may be deep-fried or dipped in chocolate.
It's science.
Keto Comfort Food
So what does a gluten-free health foodie eat while in the midst of an emotional and mental struggle?  Something sweet. Probably chocolate. But then "I feel like I need something salty". We've all been there.
I actually live there.
Raising the (Keto stuffed Granola) bar
So these bars are bringing it with good fats, low in carbs, and are crunchy + salty + silky smooth sweetness. Basically, really good. I keep a pan of these NO BAKE (!!!!) bars in my fridge or freezer and pop one out when my world is exploding and I need to nosh. Try it with a cup of coffee and watch your life get 99% better!
The ingredients ↓ don't have to be vegan but they are pretty delicious so don't be a baby. Give it a try.
Sunflower Seeds • Ground Hemp & Flax • Unsweetened Coconut • Sweetener
Though I'm not SHOWING YOU that the keto granola bits are made in a blender, the granola bits are made in a blender! Or a food processor. Whichever you have on hand! Just make sure you process the seeds until the mixture is very fine. The finer the better! You want to press VERY firmly on the bottom layer, which helps these keto-stuffed granola bars hold their shape.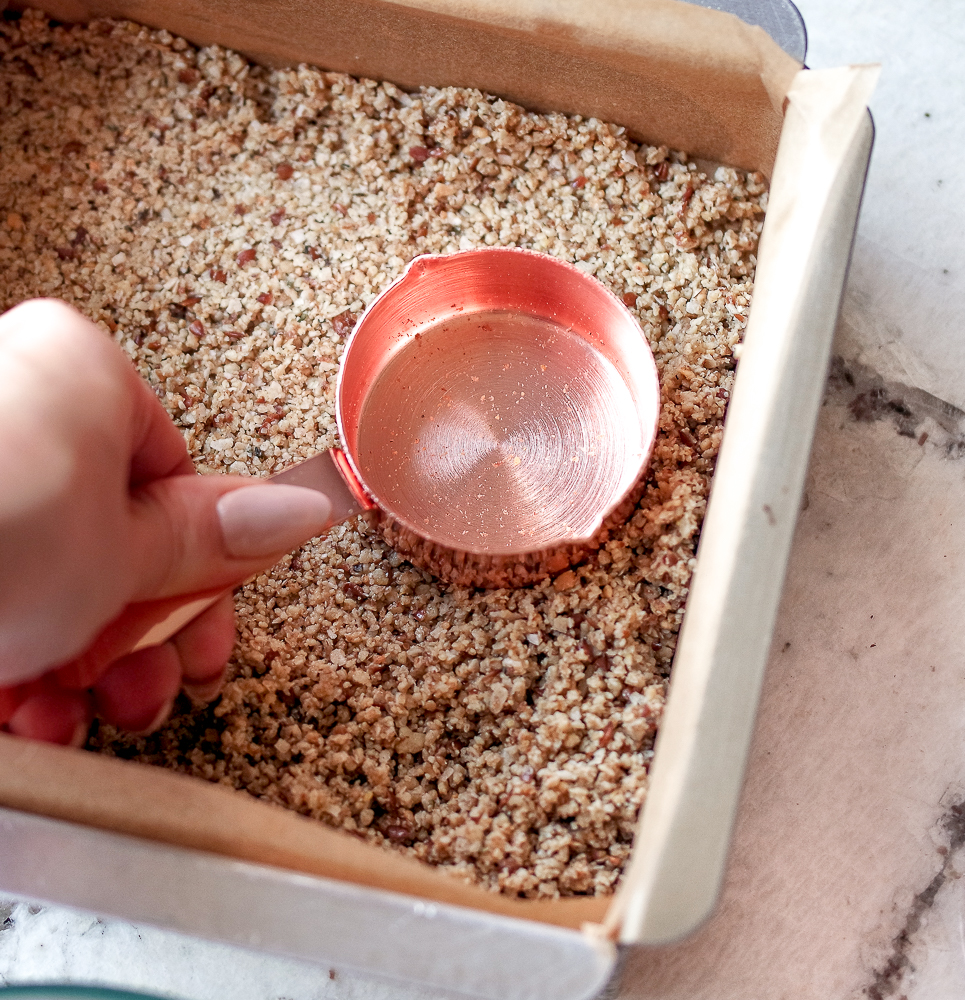 Press half of the seedy mixture into a lined square cake pan. My pan is about 6×6 which is hard to come by. If using an 8×8 square pan, your bars will be a little shorter than mine but still amazing and delicious!
How to make Coconut Cream from a can
For the coconut cream, there's an easy trick. Put a can of coconut milk in the fridge for one hour, then take it out and turn it upside down. Opening the can from the bottom allows the liquid portion to be on top (the solid part gathers at the top) and scoop out the solids. That is the fancy way to get coconut cream! You can also buy coconut cream in a can which is actually much easier.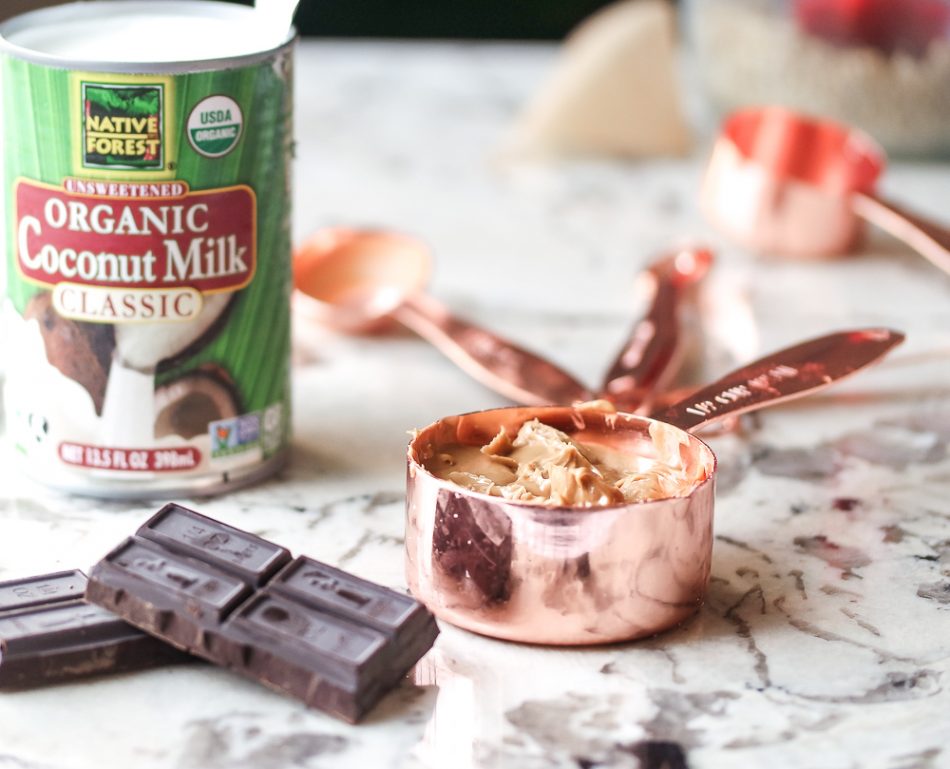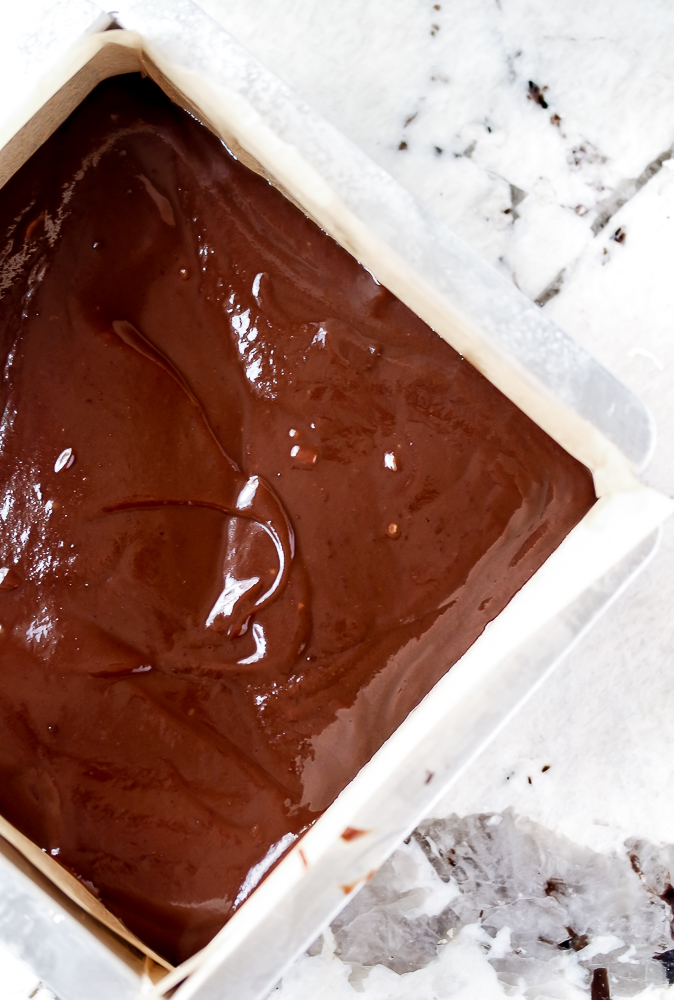 Top with the rest of the keto granola stuff and more coconut and pop it in the freezer to get hard. BUT you can store it in the fridge after that. . Did I mention the best part? NO BAKING?! Oh, I did. Anyway, no baking so…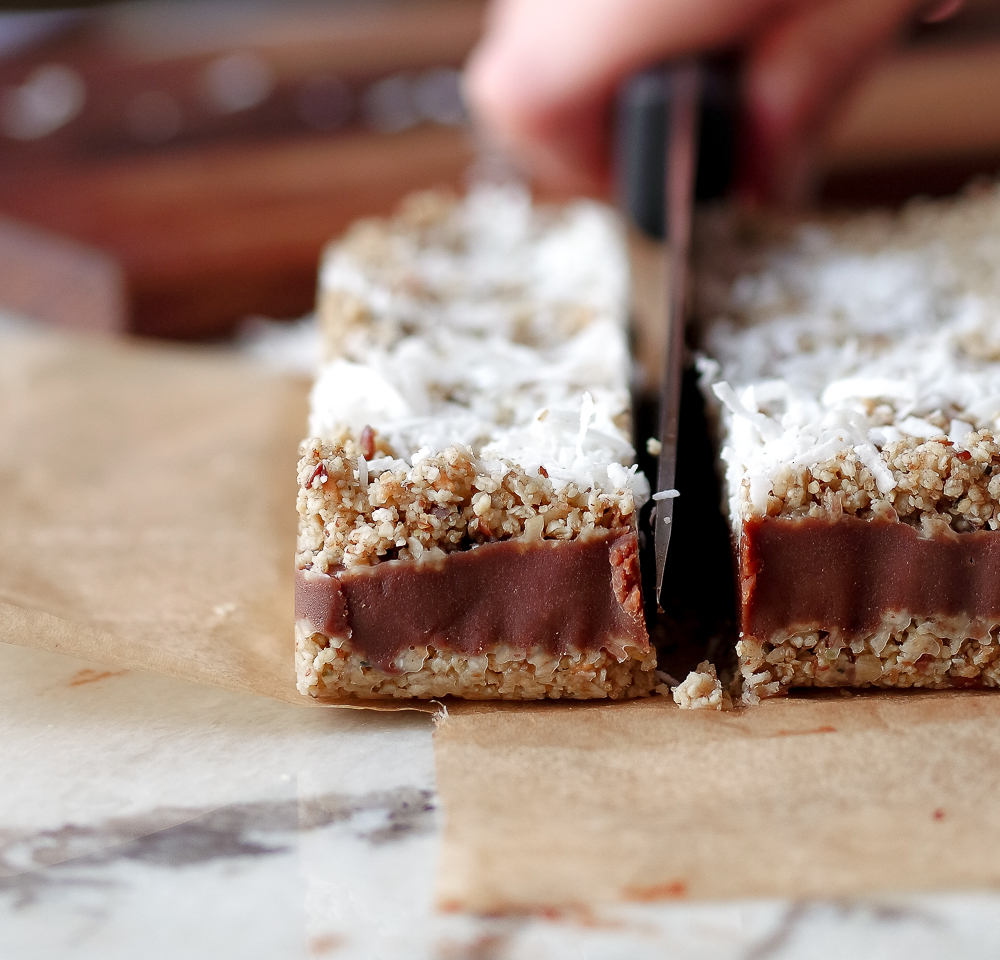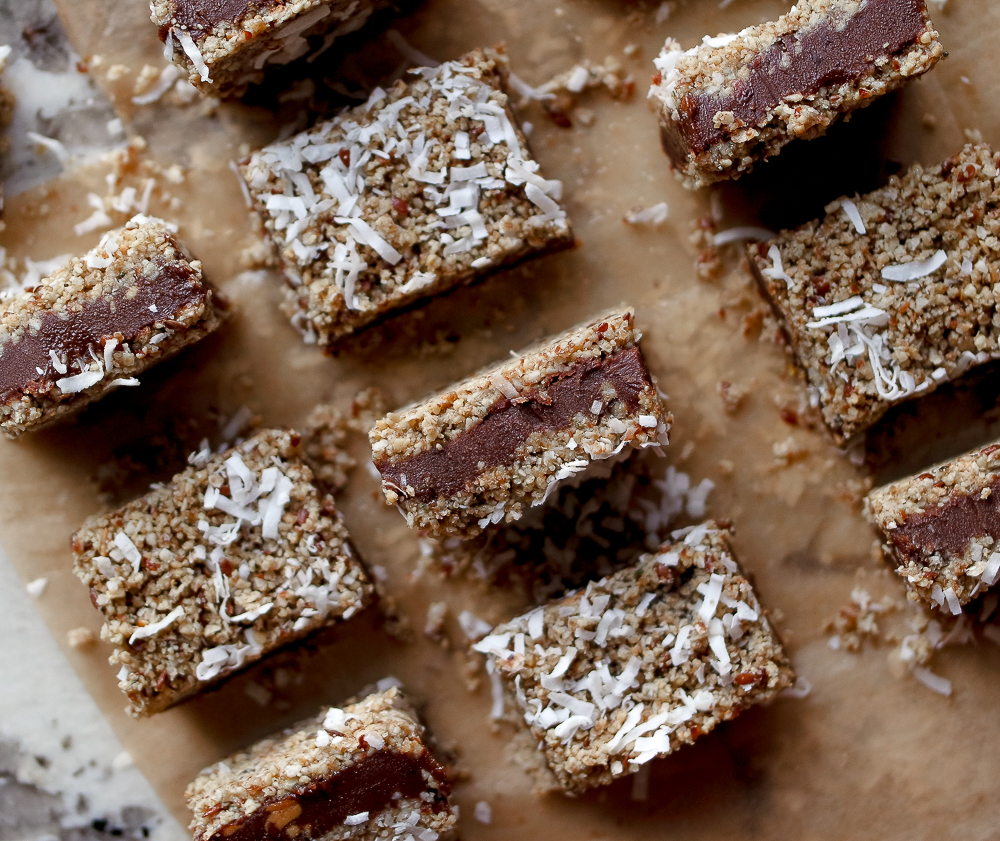 Have you ever seen anything so beautiful AND VEGAN?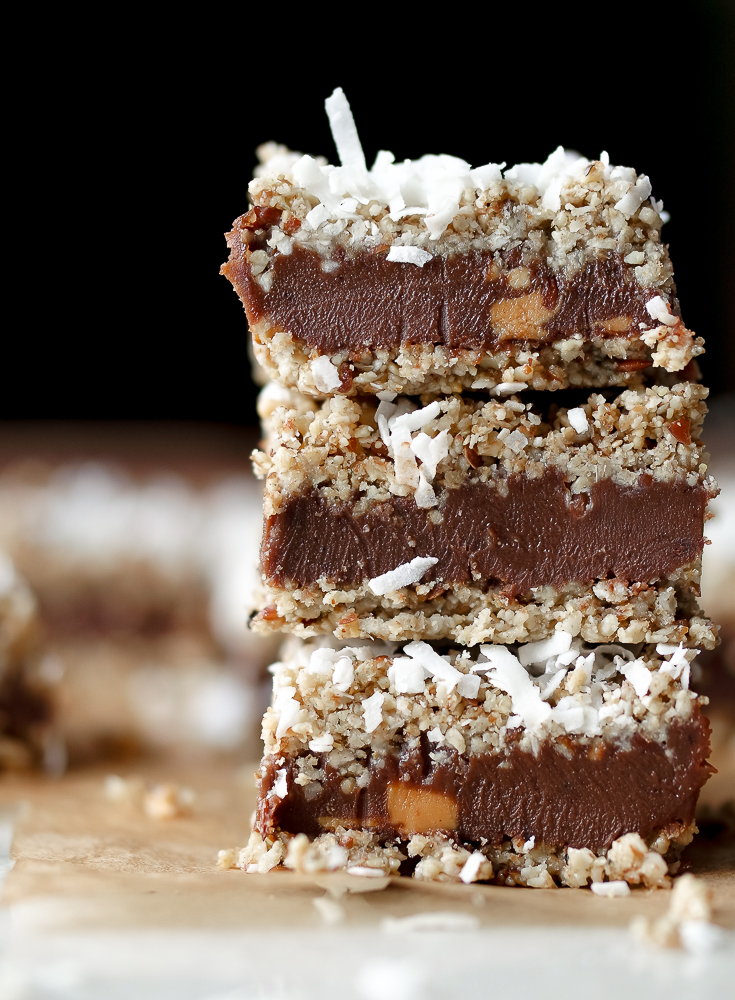 Looking for More? Try These!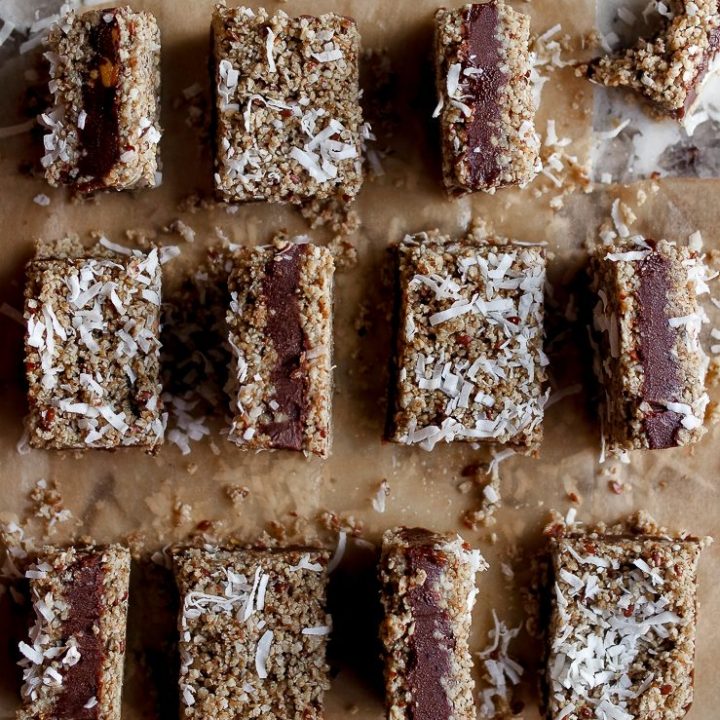 Chocolate Silk Coconut Granola Bars
Total Time:
2 hours
10 minutes
Creamy peanut butter and chocolate silk sandwiched between two layers of simple sunflower seed and flax granola! Health food on health food on healthy food...
Ingredients
Granola
1 tbsp Coconut Oil, melted
Chocolate Silk
1/2 cup Creamy Peanut Butter
1/3 cup Erythritol or allulose
Instructions
Before you begin, make sure to use a CHILLED can of coconut milk so you can separate the cream from the liquid. You can also buy Coconut Cream (in a can) to use as well! The measurement for cream is 1/2 cup.
Granola Layer
Line an 8x8 square cake pan with parchment for easy removal.
In a food processor, pulverize the sunflower seeds, coconut flakes, brown sugar, and hemp/flax, scraping down the sides of the food processor cup, until it is a fine texture. Add coconut oil and pulse a few times to combine.
In a microwave-safe bowl, heat the granola mixture for about 3 minutes, stirring occasionally. This will melt the sweetener and help the granola to hold together! Press about half of the mixture into the lined baking pan.
Chocolate Silk Layer
Turn the can of chilled coconut milk upside down to open it from the bottom. Pour the liquid portion into a container to save.
Add the coconut cream solids and sweetener into a small saucepan. Heat the mixture on medium- high and bring to a simmer. About 3-5 minutes. Remove from heat and add in chocolate squares or chips and whisk until smooth, then stir in peanut butter until melted. A few chunks are ok!
Pour the mixture into the prepared granola pan and top with the remaining granola and extra coconut flakes. Gently press down on the granola to smooth.
Chill in the freezer for at least 1 hour before slicing into squares!
Notes
Chocolate Notes! To keep this recipe simple I used unsweetened baker's chocolate. This chocolate is very dark and bitter, which is why I use only 1 oz. If using chocolate chips that are already sweetened (like Lily's) I recommend reducing the sweetener in the filling to 1/4 cup and tasting as you go for the desired level of sweet.
Nutrition Information
Amount Per Serving
Calories

234
Total Fat

20g
Carbohydrates

8g
Fiber

3g
Protein

6g