Stacks of grilled eggplant, lemon basil aioli, tomato, and mozzarella are all panini pressed to perfection for this delish keto snack!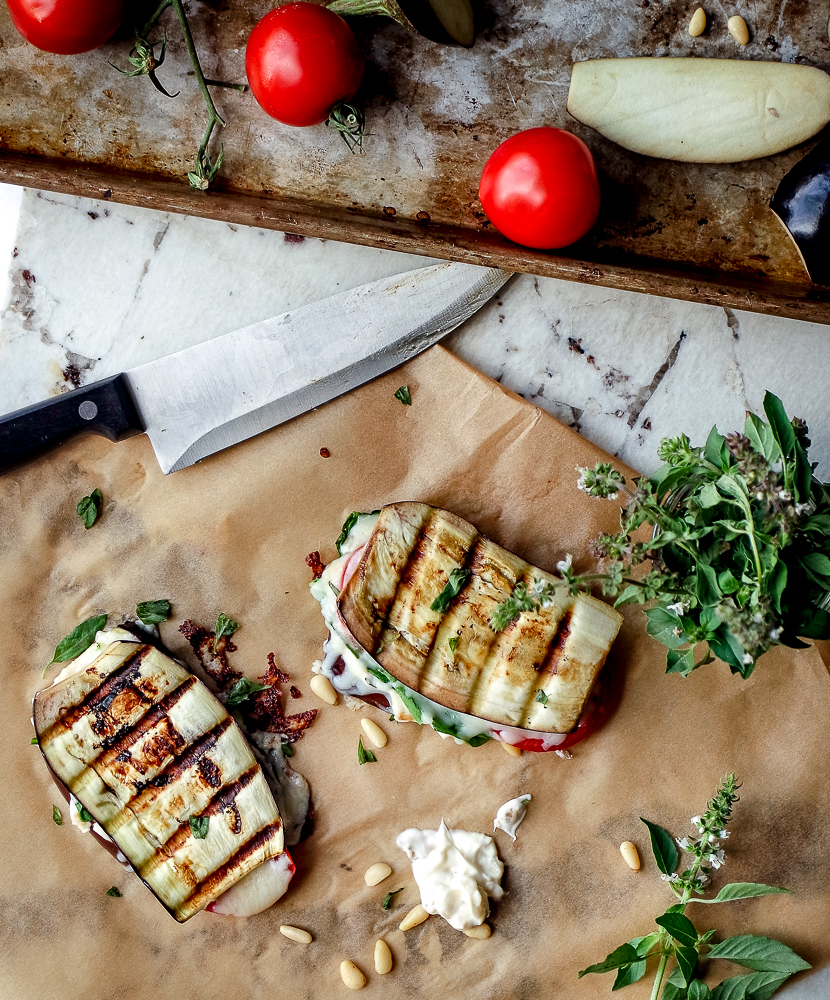 I have a lot of feelings about this recipe today. One is hunger because this Panini is just really super delish! I also feel feelings about the number of action shots you are about to see. I wanted to make this recipe easy so, there. Now you know every step, chipped mani and all.
So what's an Eggplant Panini?
Recently I've realized I can use eggplant in lieu of bread! It felt like the perfect keto hack and once I tried it, I was hooked. The eggplant panini is essentially slices of Italian eggplant that act as the "bread slices" and you can layer on whatever you want!
Add lots of delicious fillings like cheese, other veggies, sauces (like Lemon Basil Aioli), or even meat if that's your thing! All you need is a panini press, grill pan, or even a countertop grill! I think this keto eggplant panini could also work in an air fryer!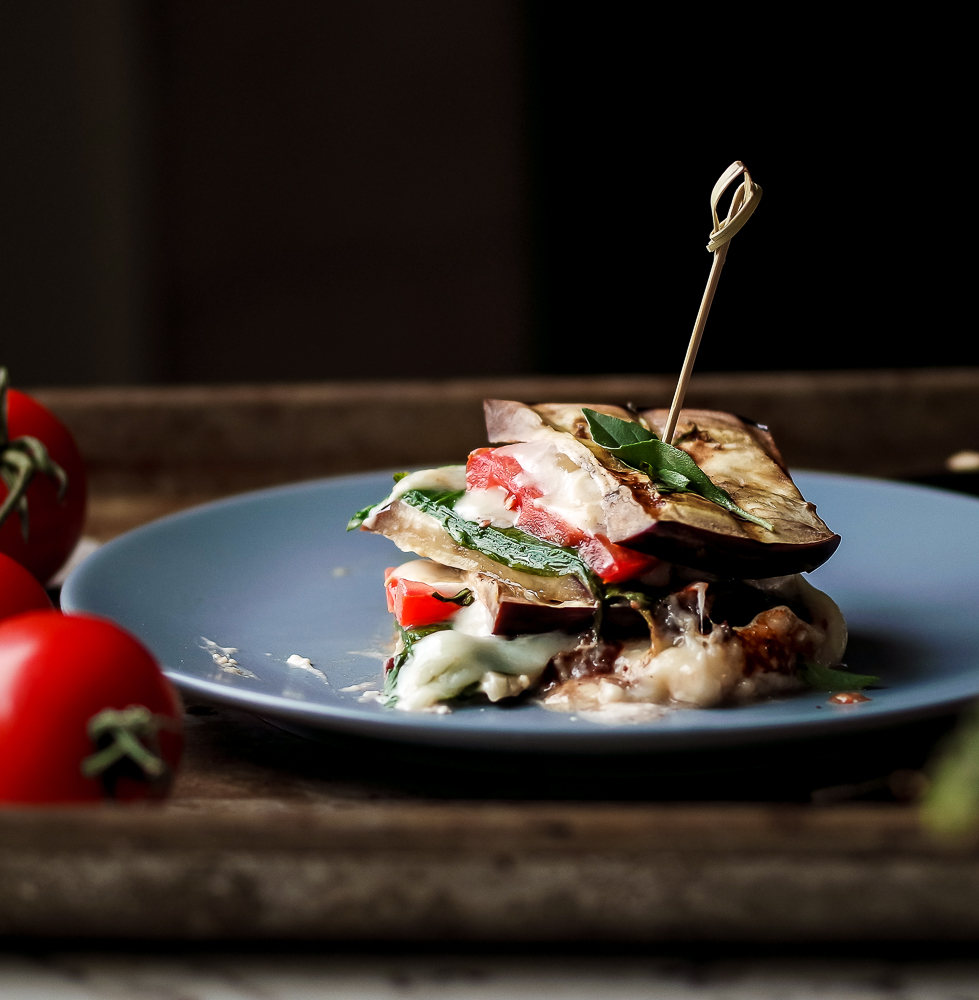 What is lemon basil?
This particular bread-less eggplant panini is stuffed with fresh mozzarella, spinach, and tomato and slathered with Lemon Basil Aioli. If you haven't tried lemon basil, is a hybrid of basil and American basil. It's grown in southern Asia and Africa and is known for it's lemony scent. My great friend Daih brought me some from her mom's garden and it added that extra special something that took this aioli over the top. Think of it like traditional basil but superior in every way!
Check out how beautiful this herb is! (Pictured below)
I want a bouquet of this magic herb on my wedding day. Not only will I look beautiful carrying the basil bouquet, but I will also smell amazing. And yes, it's gonna be one lucky guy that finally snags me (haha).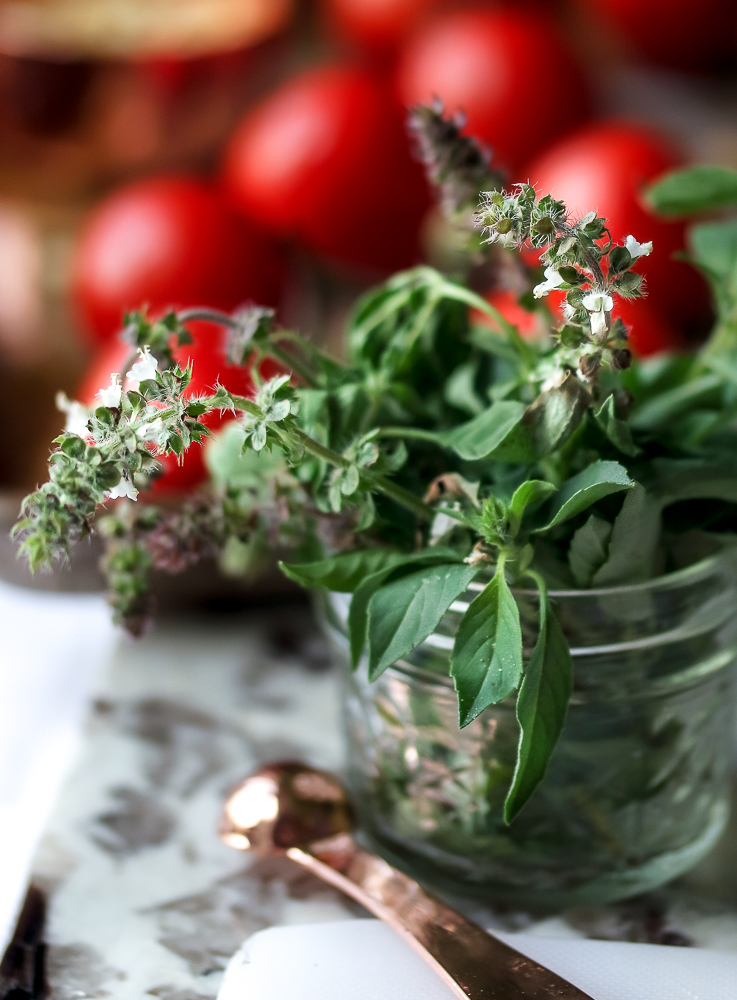 Let's Get Grilling! Putting your panini together
Don't judge the poorly cared-for manicure and let's focus on the beauty that is this keto caprese panini! Because getting your veggies in a delicious way is the only thing that matters.
To start, carefully slice your Italian eggplant into 1-inch thick slices. Remove the stem, then slice the eggplant into uniform pieces. You will get about 4-5 slices depending on the eggplant.
Next, layer the toppings! I chose spinach, sliced tomato, pine nuts, and that fabulous lemon basil aioli.
Finally, toss it on the grill. I used a countertop grill but you could use a grill pan or panini press as well!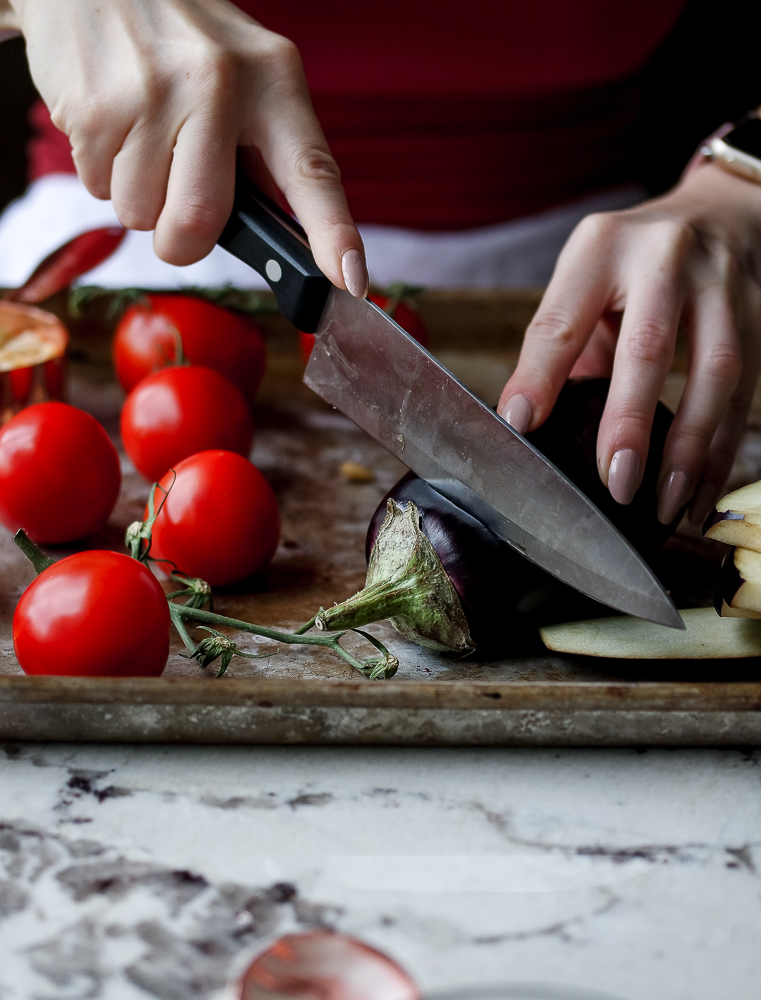 Caprese Eggplant Panini Tips
Look for small or "baby" eggplant for this recipe. Baby eggplant, also called Italian eggplant, is smaller than traditional eggplant and has softer skin. It's the perfect size for panini-ing!
Don't overcook the eggplant. Make sure the grill is hot enough to really sear the eggplant and heat the sandwich through quickly. The longer it's on the heat, the more flimsy the eggplant slices get so give it a good grill and then remove it from the heat (and eat)!
Mozzarella is a key component! For this recipe, I used freshly shredded mozzarella because it melts much better than the bagged version. A couple of slices of fresh mozzarella would also work beautifully!
Fake Aioli- it's fake but it's still Delicious. I love this lazy girl hack of adding pan-fried garlic and chopped lemon basil to mayonnaise to make a luscious spread. Simply peel the garlic and briefly "fry" it in a bit of olive oil, just until soft. Then just mash or finely chop it and voila!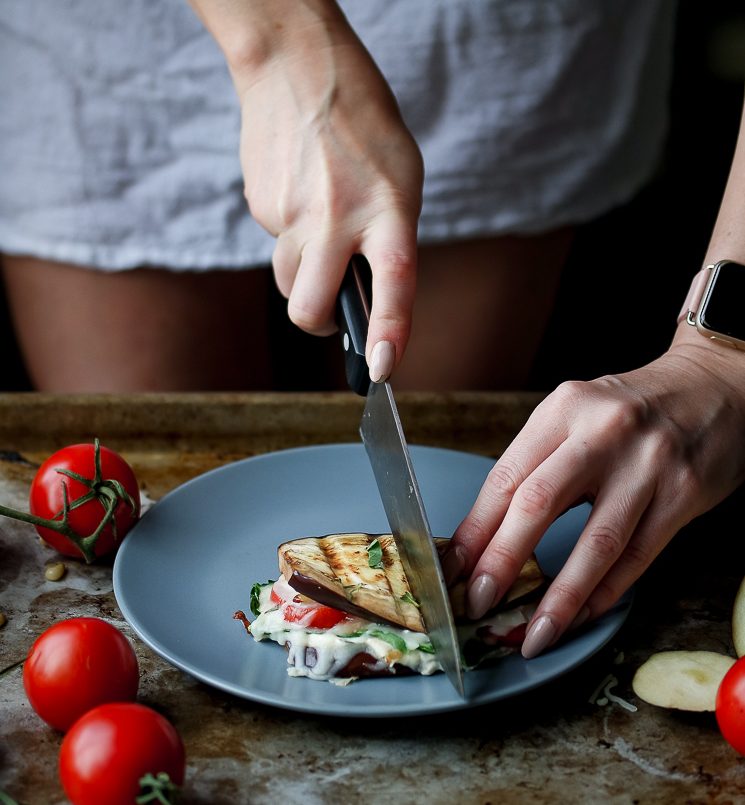 What else can we shove into an eggplant Panini? So many ideas!!!
Looking for more? Try these!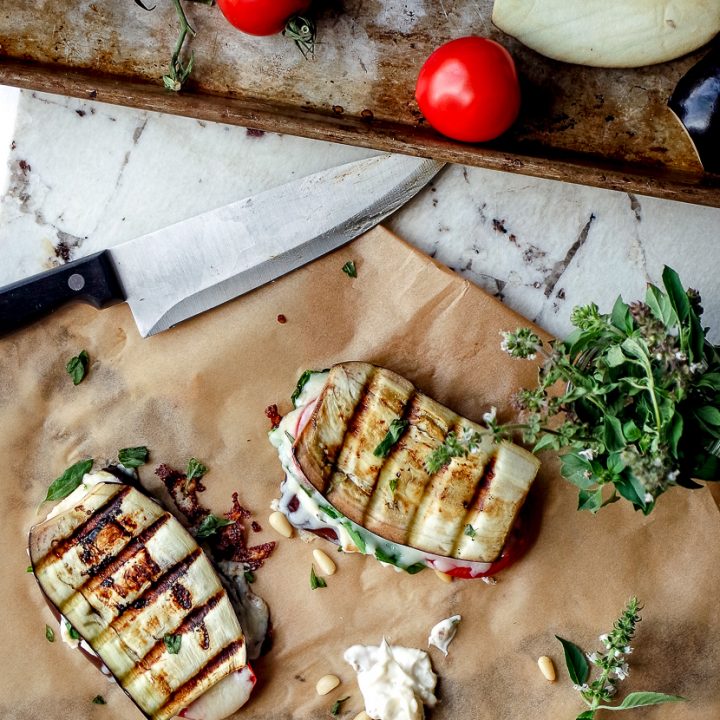 Caprese Eggplant Panini with Lemon Basil Aioli
Skip the bread and press your caprese fillings between two slices of eggplant! Slather with lemon basil and roasted garlic aioli and top it off with toasted pine nuts!
Ingredients
2 Small Eggplants, ends removed
1 tablespoon Olive Oil
2 cloves Garlic, peeled
2 tbsp Mayonnaise
2 small Tomatoes, campari or other petite variety
2 tbsp Toasted Pine Nuts
1 cup Spinach Leaves
Instructions
Heat a panini press (or countertop grill with closable lid) to medium high heat.
Remove the ends of each small eggplant and slice in half, cutting end to end. Slice the remaining eggplant into 1/2 to 1-inch pieces and discard any pieces that are mostly skin.
In a hot skillet, brown garlic cloves in olive oil until fragrant and soft. Once cool, mince garlic and add to mayonnaise. Stir in chopped lemon basil to finish the aioli.
Assemble panini.
Spread aioli onto an eggplant slice and top with spinach leaves, tomato slices, fresh mozzarella and pine nuts. Spread more aioli on another eggplant slice and place ontop. Grill until cheese is melted, being careful not to overcook it. Serve hot!
Nutrition Information
Serving Size

4
Amount Per Serving
Calories

172
Total Fat

12g
Carbohydrates

14g
Fiber

6g
Protein

8g