In case you were wondering, "deconstructed pesto" is just my laziness in recipe form.
It's not even laziness. It's that I'm just not that good at making pesto. Every time I attempt it, the consistency just never comes close to the jar stuff that I'm so used to. A new food processor would probably be a solution but I have bills and stuff so, no.
Better solution? Deconstructed pesto! It's just ground hemp seeds, which I discuss HERE and HERE, torn basil, avocado oil, and a substantial amount of shaved parmesan cheese. It works because there are no nuts to pulverize and the torn basil is actually more appealing to me than tiny basil leaf slivers. Plus, you can add less oil and more parmesan cheese which is, in my opinion, ideal.
I eat a form of this dinner, whether I have the blistered tomatoes or just halved tomatoes that are tossed in, at least once a week. It's so filling and really hits my (pasta) spot which gets neglected due to my mutiny on gluten. My gluteny, I guess. AND what better way to eat a little healthier while using up your five thousand lbs of garden zucchini?
Deconstructed Hemp Pesto and Zoodles with Blistered Tomatoes
So this is the hemp (again) so you can all get very familiar with it.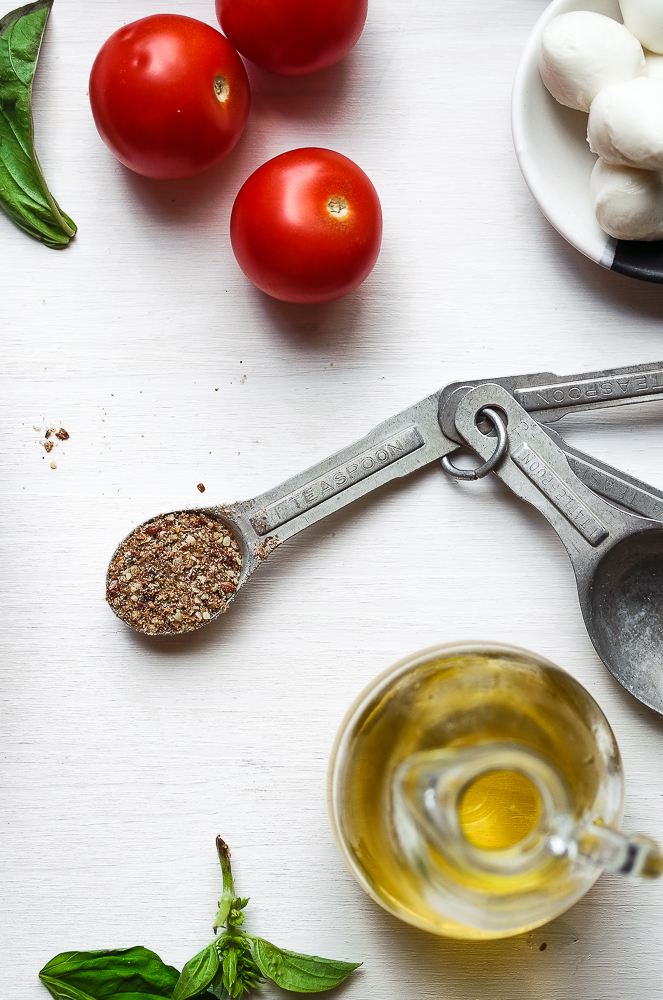 This is how I blister tomatoes on the stove top.
Skewers make the job so much easier because they can be turned and blistered consistently.
You don't have to…but it's part of the lazy thing.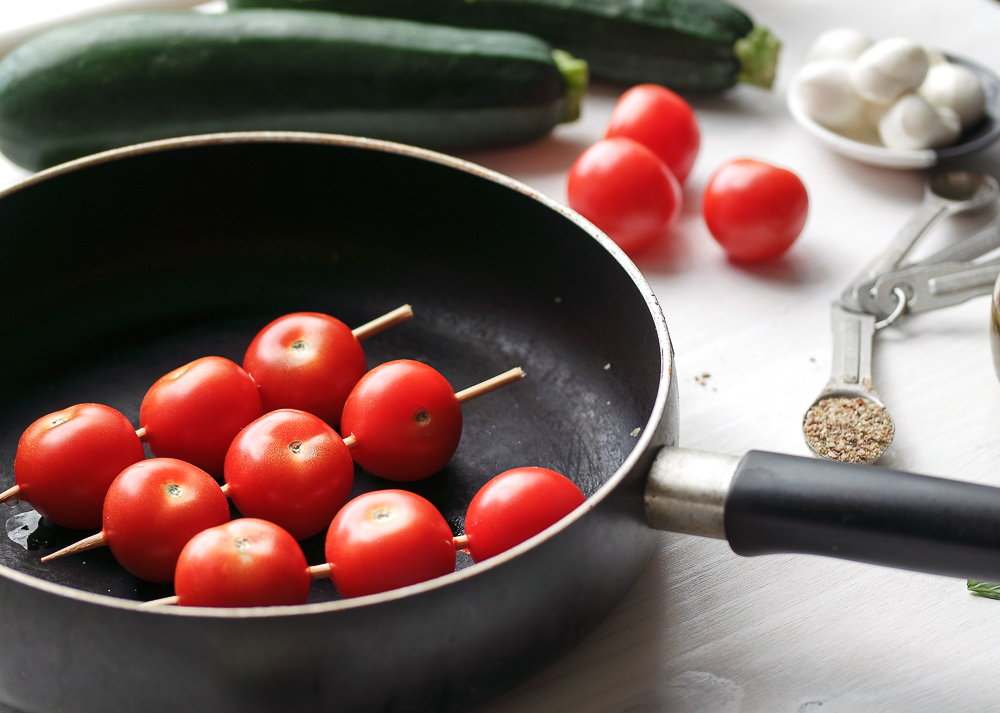 Zoodling in action.
Also, that's my new plate from Ikea. I could have just taken ten pictures of
that damn plate, I love it so much.
I have a pink one too.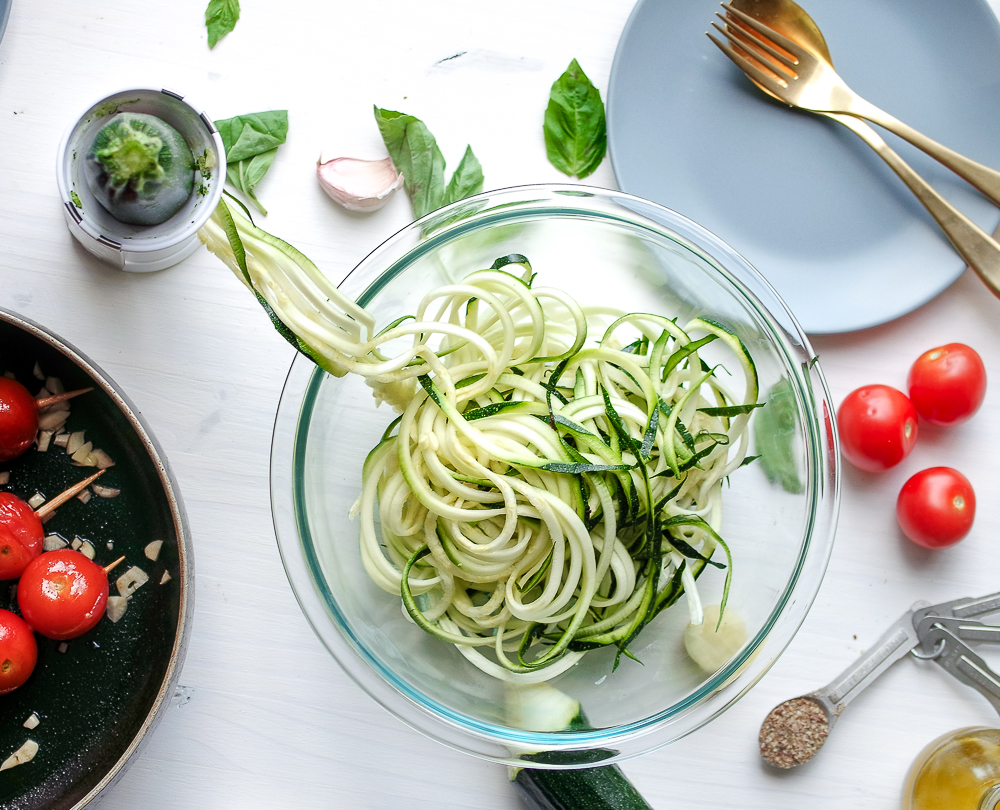 Cooking the zoodles in the pan that you've blistered the tomatoes in is recommended.
You can add less oil and you get all of those hot tomato juices up in your z's,
which means flavor.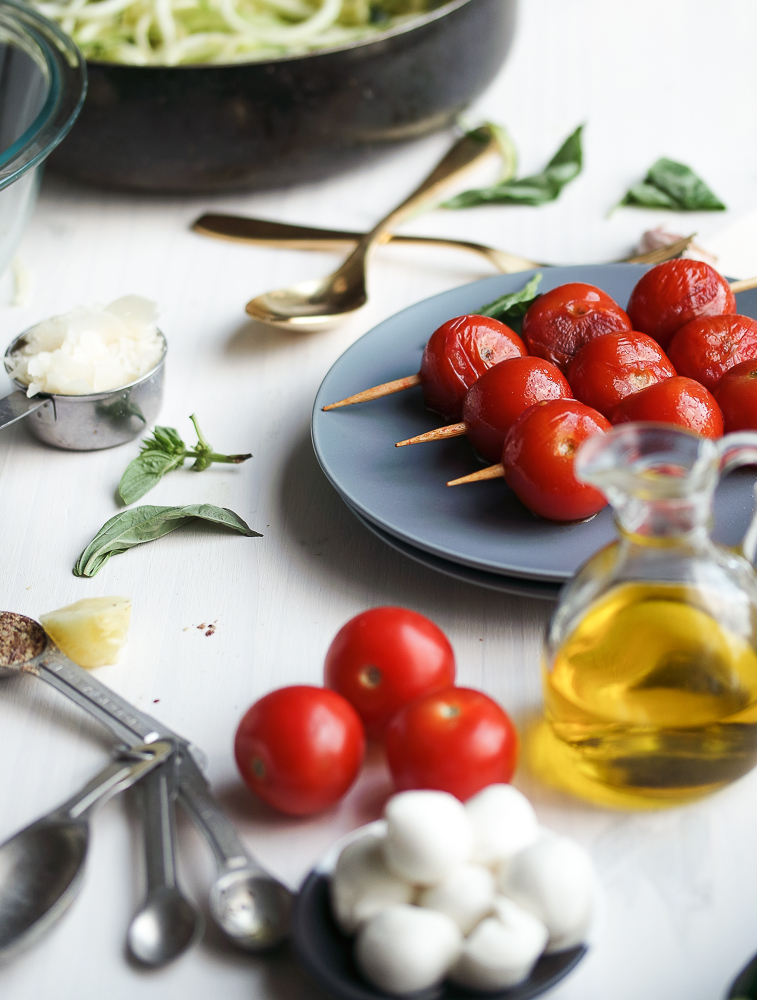 Here's the best of 75 shots I took of twisting these damn noodles.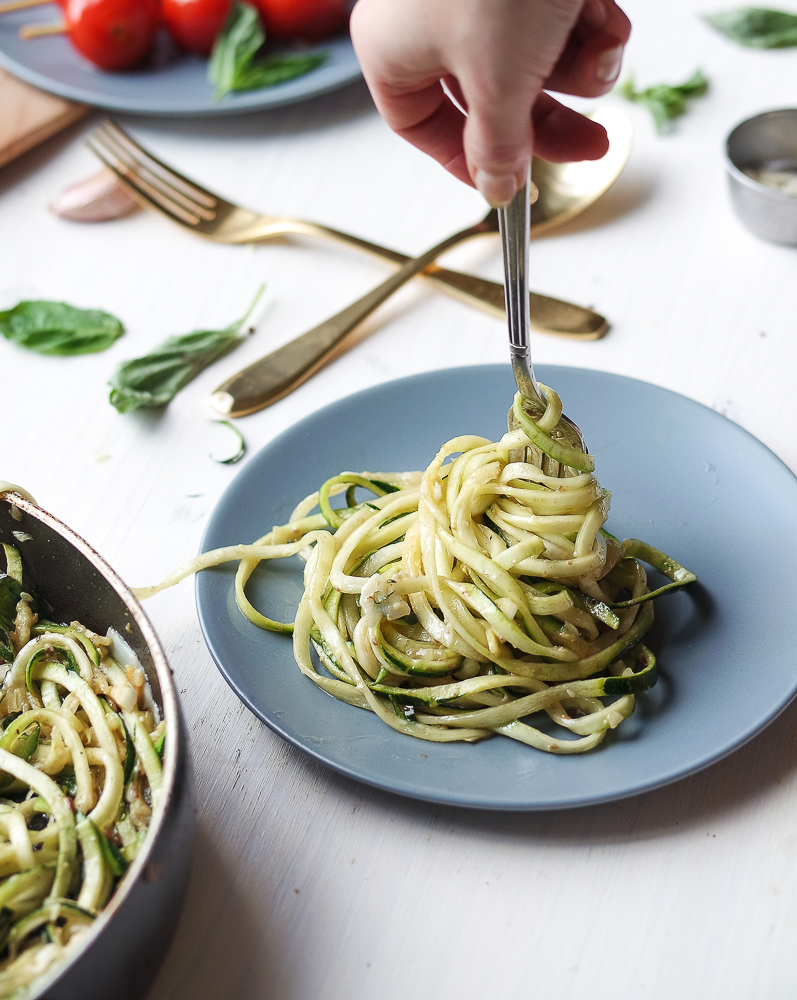 Adorn your masterpiece with fresh mozzarella, Mediterranean seasoning, and basil.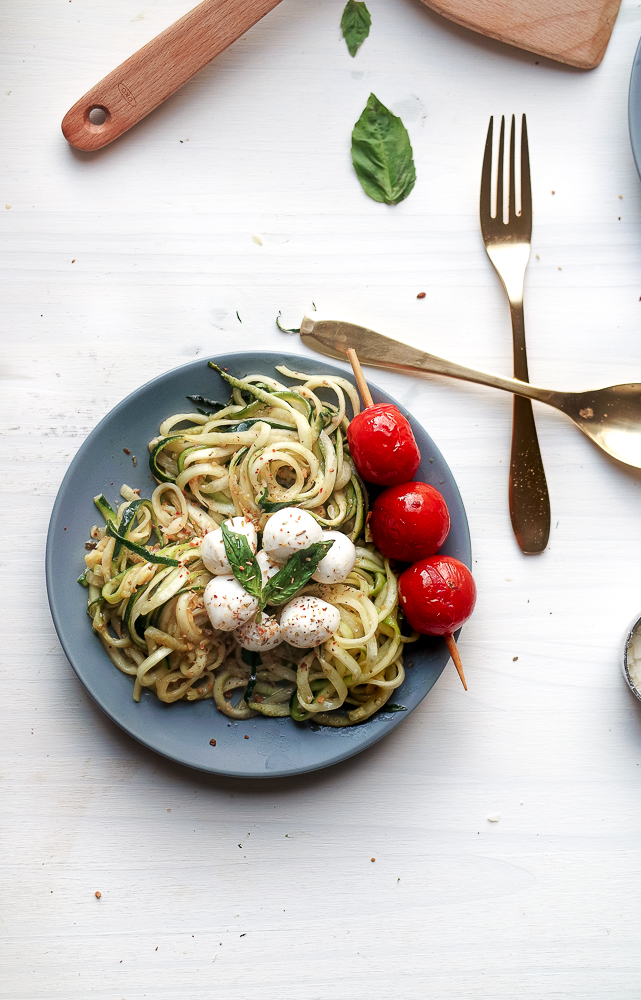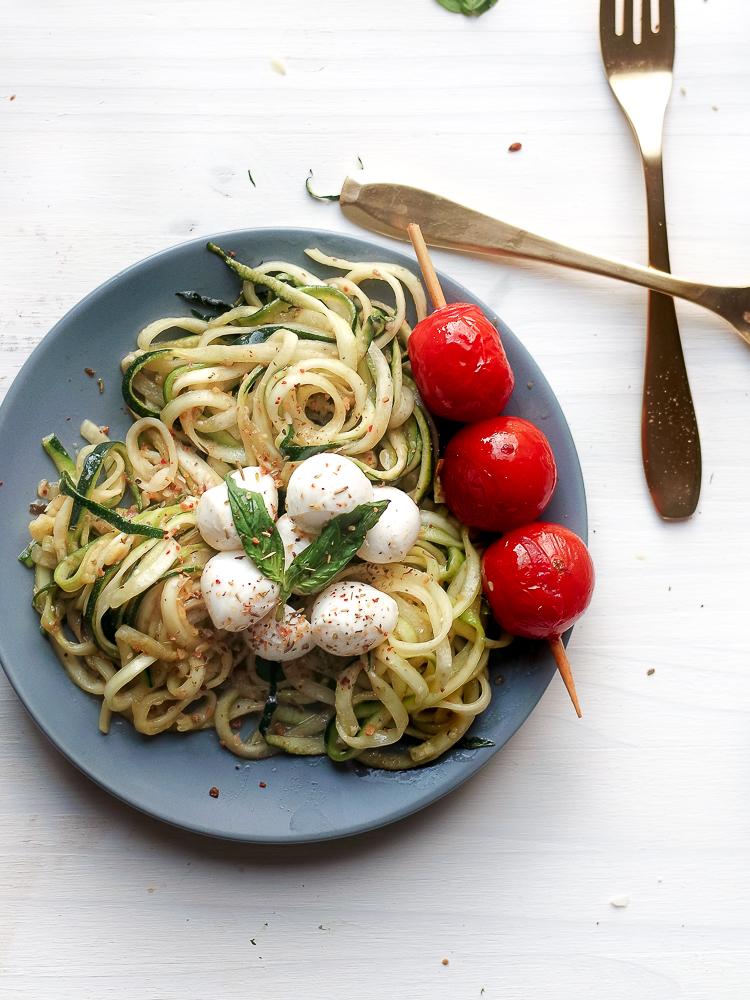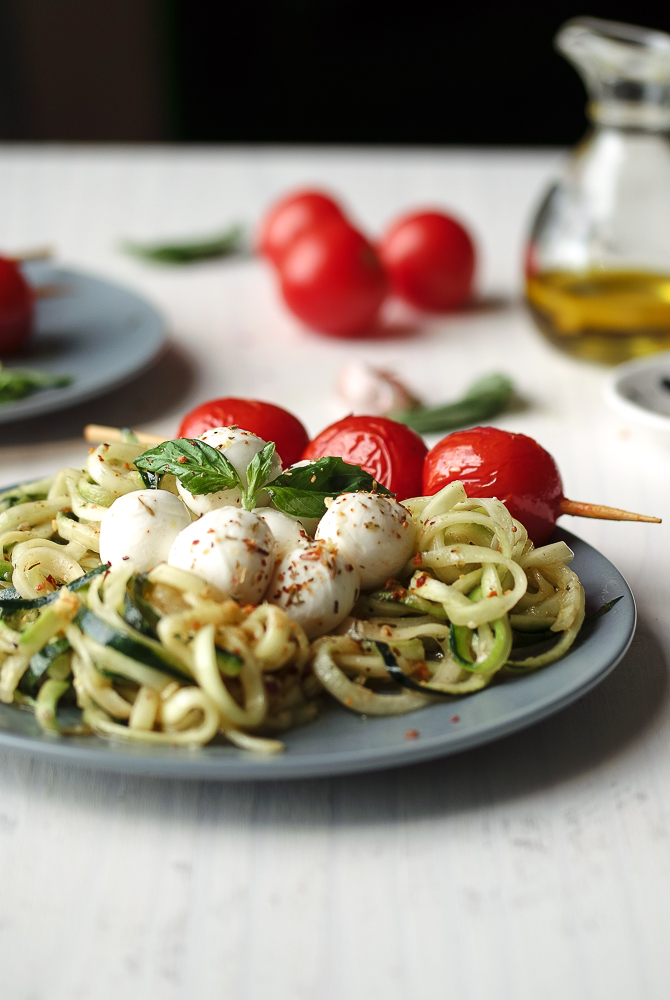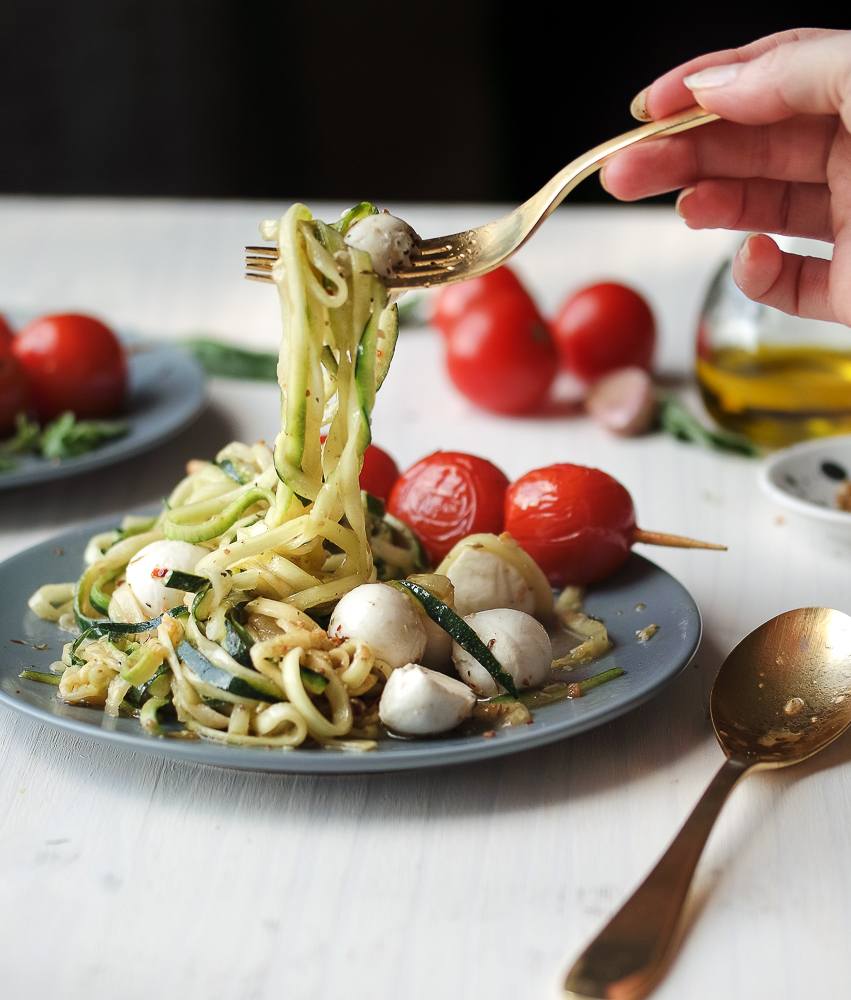 Deconstructed Hemp Pesto and Zoodles with Blistered Tomatoes
Forget the food processor for this low carb, high protein Hemp Pesto with Zoodles!
Ingredients
1 tbsp Ground Hemp Seeds
2 Medium Zucchini, zoodled
6-9 Campari Tomatoes
2-4 oz Fresh Mozzarella, pearl size balls
2 Cloves Garlic, minced
1/4 cup Parmesan Cheese
1 tbsp Mediterranean Seasoning, or italian seasoning
2 tbsp Avocado Oil
4-5 Basil leaves, torn or chopped
Instructions
Heat a skillet to medium high with 1 tbsp Avocado Oil. Place the skewered tomatoes in the skillet and heat until they begin to darken on each side, turning frequently. Once the juices are released, add garlic. Cook until fragrant and transfer to a dish.
Add the zoodles to the same skillet and toss in oil, hemp, and mediterranean seasoning. Toss to coat and heat on medium until them begin to soften. Remove from heat and mix in parmesan cheese and torn basil leaves.
Top with mozzarella and blistered tomatoes.