Oh so buttery melt-in-your-mouth keto butter cookies are here to class up your afternoon dessert fix!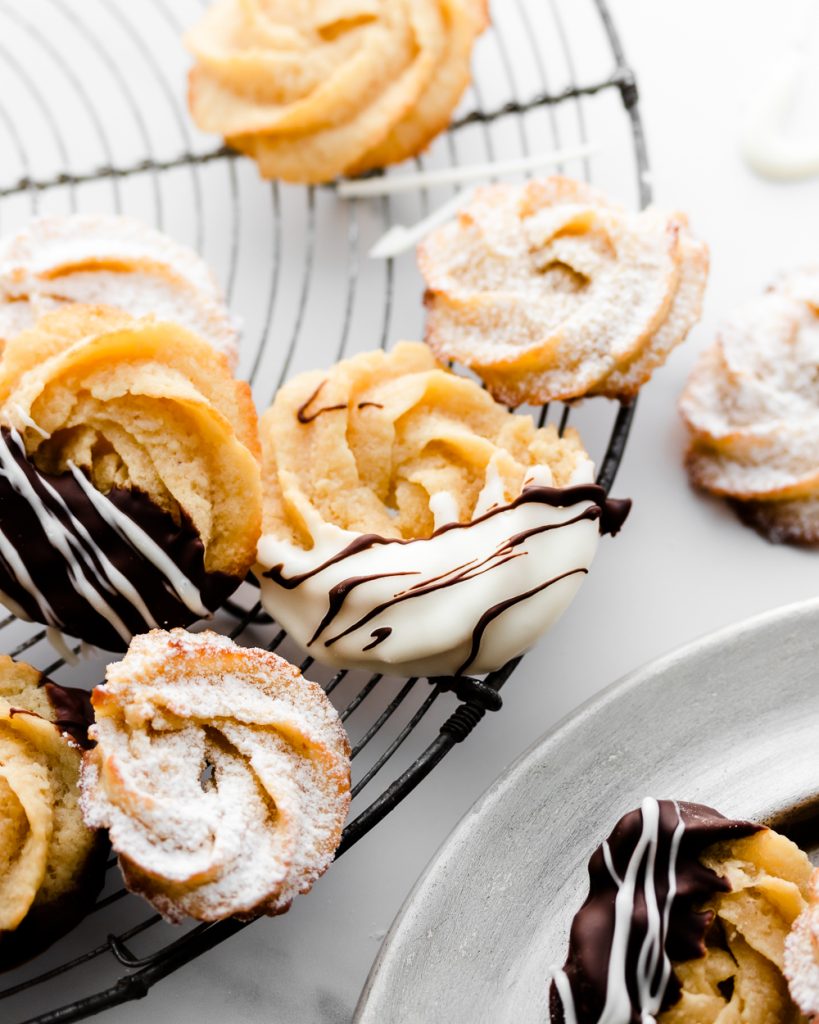 Those Great Danes
By golly, they've done it again! I mean, technically they've been doing it (making buttery sugar cookies) since 1933 but I feel like no one appreciates their contribution to the cookie world.
Poor little underappreciated Danish cookies.
How can it be that these cookies are possibly the best cookies ever invented but the whole world is just making them once a year?
Just Christmas?
That's it?
I'm sorry, but that's just not enough calendar days to celebrate a cookie that's 50% butter and looks like a beautiful rose.
SO until I get a petition around to put these cookies on some sort of culinary award list, we are focusing on making these delicious little morsels of cookie heaven GLUTEN FREE and…yes…KETO! ✨
Maybe then they can get the appreciation they deserve!
Let's Pipe Some Keto Butter Cookies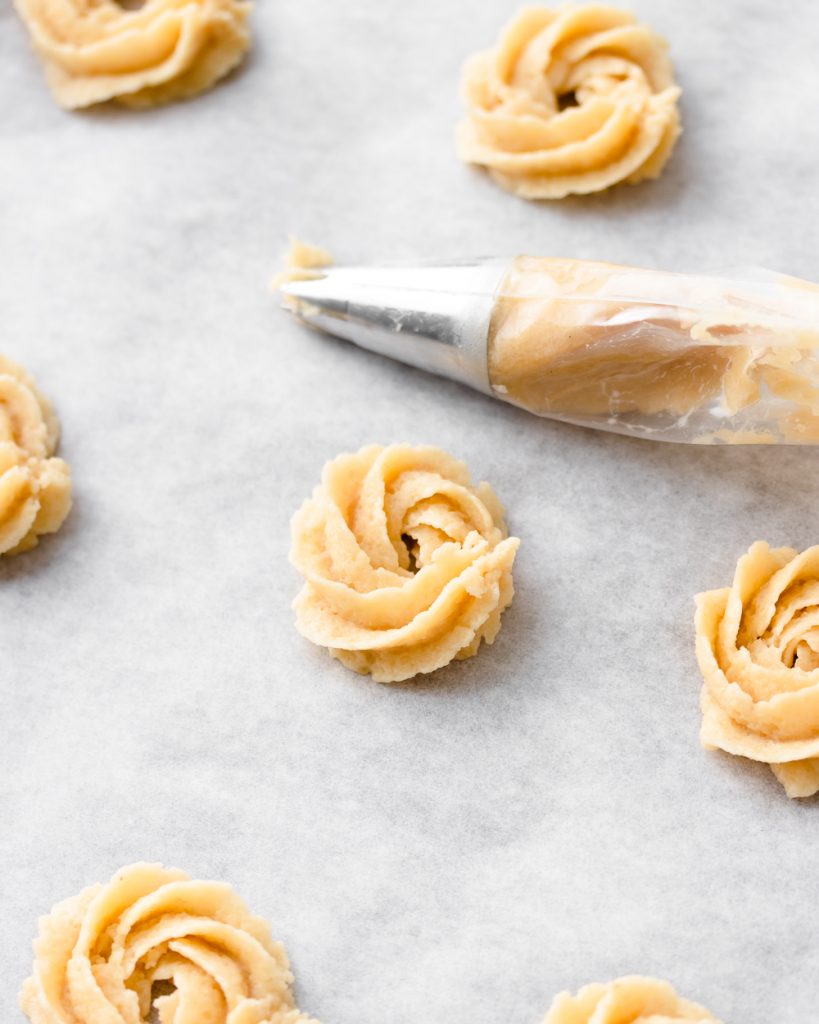 Don't be scared of the piping technique. It's actually super simple and will make your friends think you're some sort of cookie goddess.
Just keep the tip close to the baking sheet and the piping bag vertical and use BOTH hands. Firm pressure guys! Without enough pressure you'll get a bunch of cracks in your cookies.
No cracked cookies on my watch folks!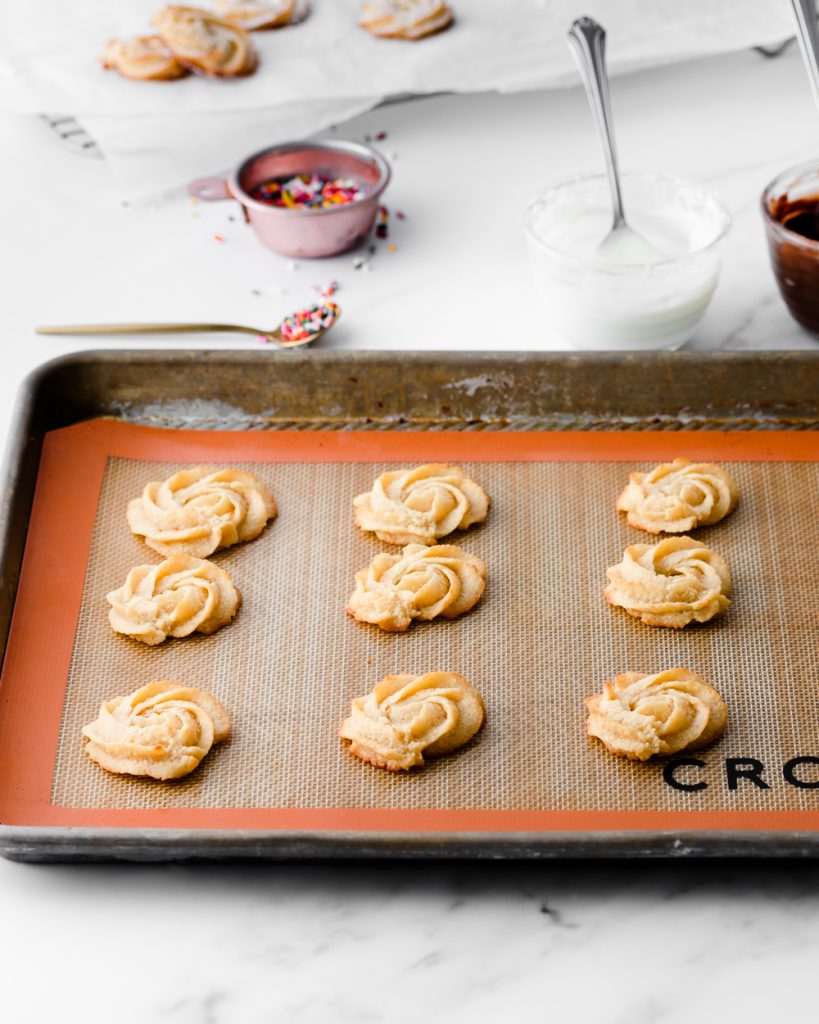 Other super important things!!!
TO PIPE the dough, it has to be warm. That's why we are using melted butter. Soft dough pipes like a dream. Cold dough is mission impossible.
But once those cookies are piped, they need to be COLD.
Do not—and I mean it—skip chilling these cookies. The butter HAS to be solid or else they will bake into like mounds of melted cookie and all of your tedious piping will have been for not.
Chill em!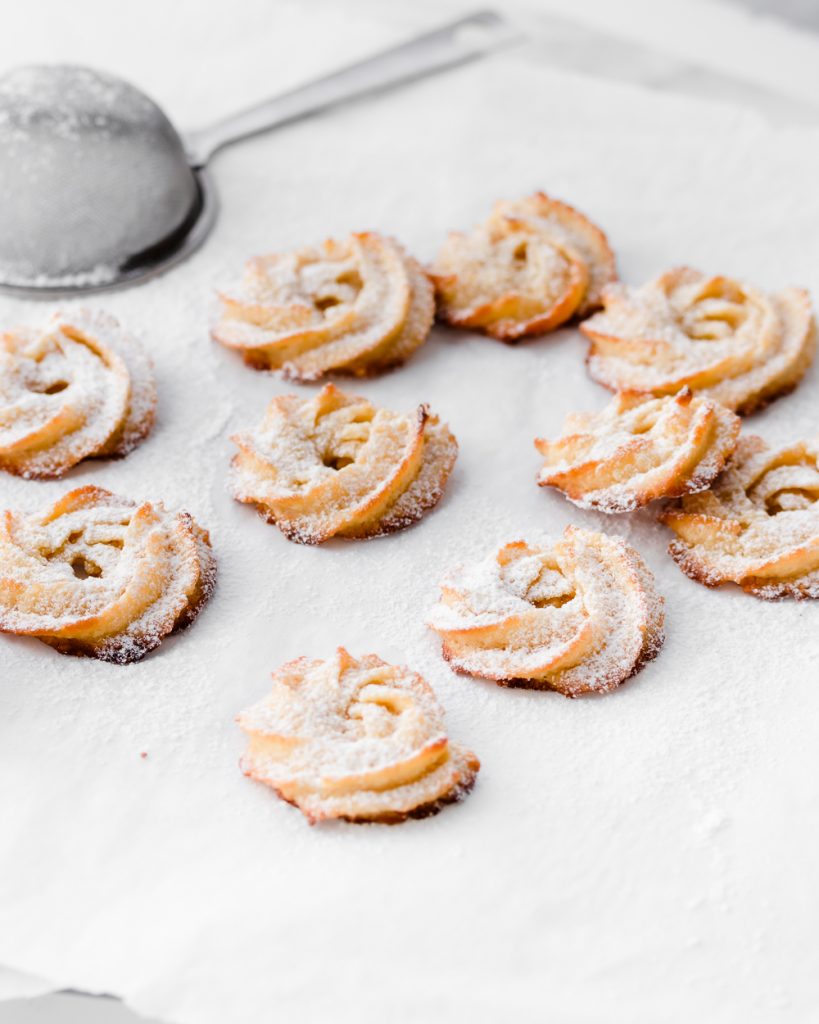 We've Got (Decor) Options!
My personal favorite keto butter cookie adornment is a dusting of powdered sweetener (while they are still hot!), then a dip in some melted sugar-free chocolate.
Feel free to adorn your buttery Danes any way you like. Chocolate, sprinkles, chopped nuts, rainbow jimmies (that means sprinkles but in a fun way)…anything goes!
We are making these for every holiday, remember? So we have options!
OH yeah and guess what? These cookies are 1g net carbs for TWO cookies!
Butter does a body good.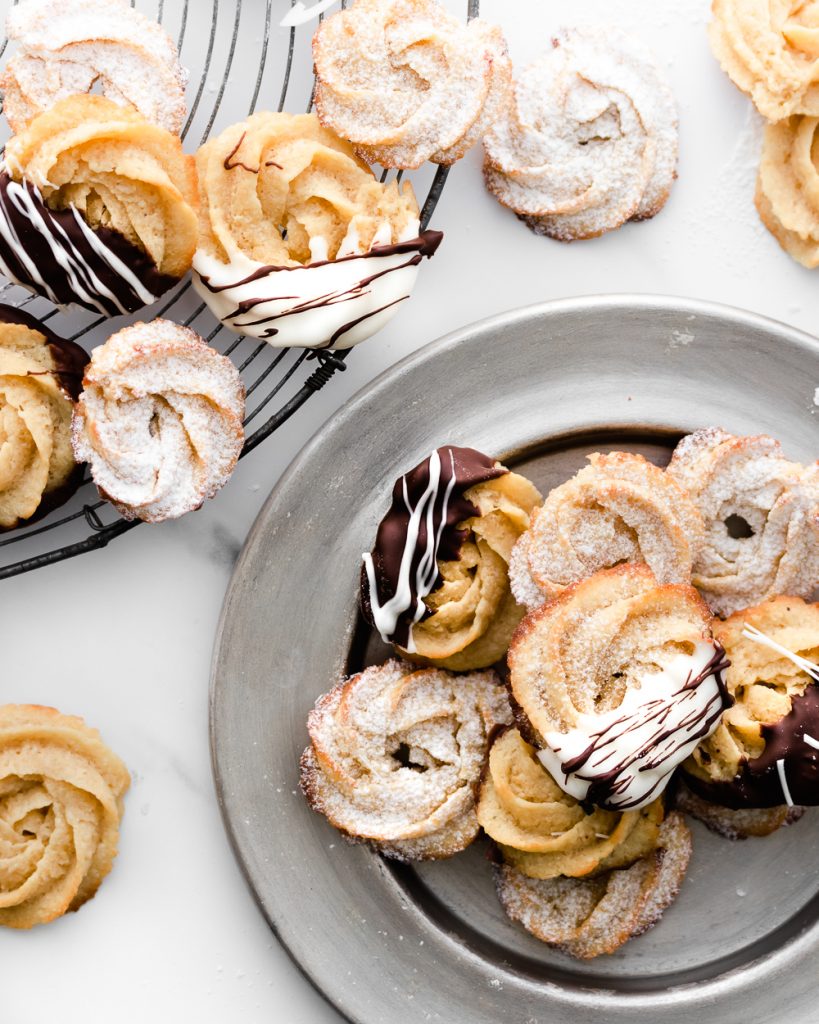 Heads UP! This post contains affiliate links. As an Amazon affiliate, I earn from qualifying purchases.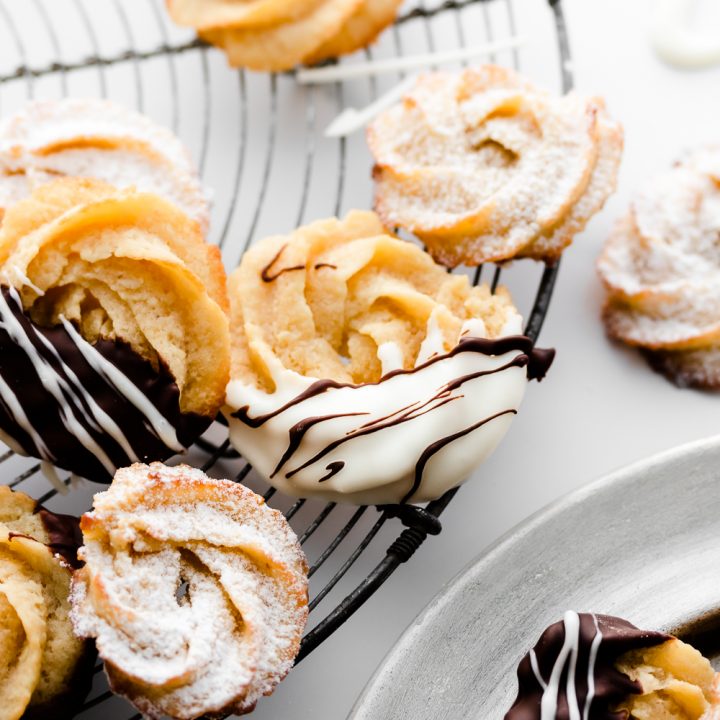 Keto Butter Cookies!
Additional Time:
30 minutes
Beautifully light and crisp butter cookies made from almond flour! And shaped like roses!
Ingredients
Tools
For the Cookies
1/8 teaspoon Salt
6 tablespoons Butter, melted
1 Large Egg, beaten
Instructions
Line two large baking sheets with silicone mats or parchment and prep your piping bag with a Wilton 1M tip.
In a large bowl, whisk the melted butter, powdered swerve, and vanilla until smooth.
In a separate bowl, whisk together the almond flour, coconut flour, xanthan gum, and salt until well combined. Make sure to get out ALL of the lumps!
Add the beaten egg and the flour mixture to the butter mixture and fold until a wet sticky dough forms. You want this dough to be nice and warm so it pipes easily!
Use the spatula to press the dough into the edges of the bowl using smooth strokes to help remove any air pockets. You want as few air bubbles as possibly the dough pipes smoothly! Next, gently form into a mound and scoop the dough into the prepared pastry bag.
Keeping the piping bag vertical, gently pipe the dough into rounds using two hands and firm pressure. You want to press hard enough that the ridges stay intact! Refrigerate the dough for AT LEAST 30 minutes before baking.
Heat oven to 350°F. Bake each tray for 9-12 minutes, watching for the ridges to brown slightly. Let cool completely before moving (they are delicate when warm) or dust immediately with powdered sweetener. Dip in chocolate of your choice!
Nutrition Information
Yield

13
Serving Size

2 cookies
Amount Per Serving
Calories

106
Total Fat

10g
Carbohydrates

2g
Net Carbohydrates

1g
Fiber

1g
Protein

2g