Soft, chocolately, and PACKED with peanut butter flavor! These 4 ingredient keto peanut butter cookies are going to be your new besties.
---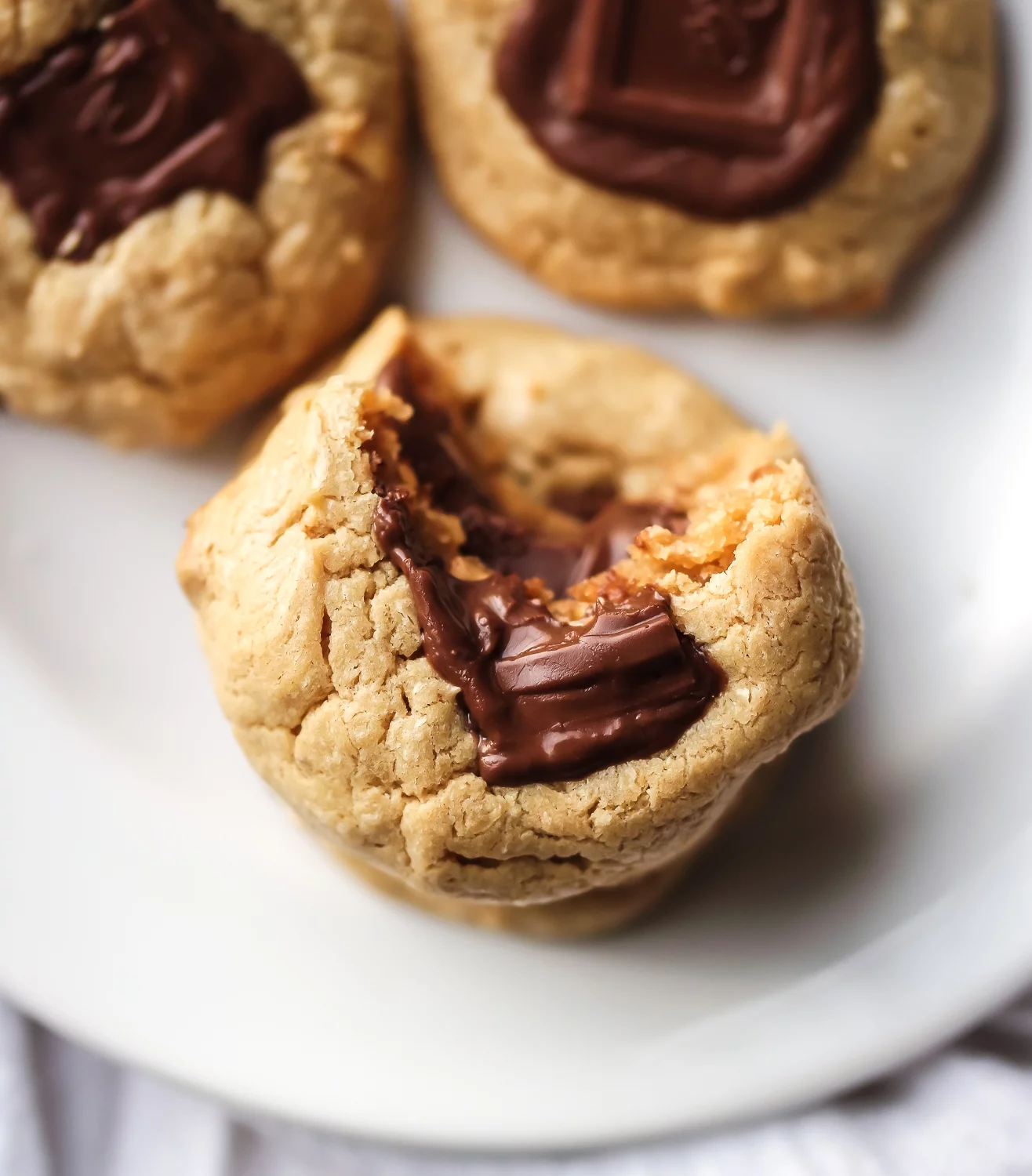 Who else loves a semi gooey cookie center?
I know I can't be the only one that despises dunking a dirt dry cookie into a tall glass of cashew milk and watching helplessly as it crumbles to the bottom of the cup.
The horror.
Alliterations aside, it's a real bummer. No one should suffer through a dried out cookie that doesn't stay together. ESPECIALLY the gluten-free ones. My life is sad enough. I don't need this kind of cookie drama.
SO I took the most generic gluten free peanut butter cookie recipe that exists everywhere on the internet –you know the one…it's just pb and egg and sugar whipped up and baked-and I softened it up a bit with some mostly dairy-free whipped topping (Truwhipor you can use your own keto whipped cream) and voila!
The ooiest gooiest peanut butter cookie that will never bake fully firm and will always hit that gooey spot we underbaked cookie lovers love.
Mmmmm…the gooey spot.
THEN I TOPPED IT WITH LOW CARB CHOCOLATE BITS.
Sorry for yelling, it's just so damn good. And then I ate the test batch and the subsequent confirmatory batch. That's two batches. No, let me clarify. Two cups of peanut butter. In my belly at one time.
I'm working on my thickness.
Super Soft Keto Whipped Cream Peanut Butter Cookies!
For the ooey, gooey cookie lovers, myself included.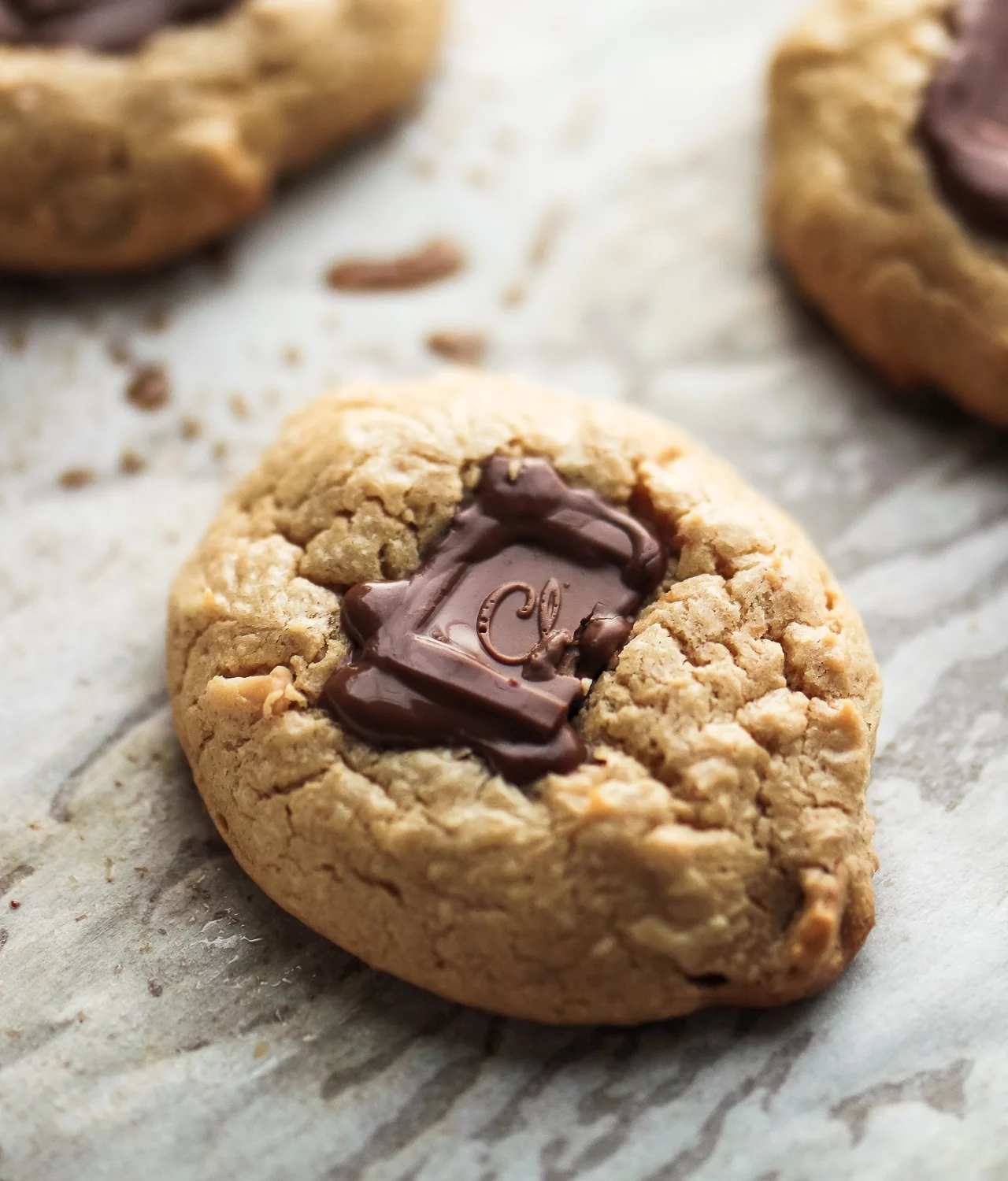 Don't worry if they seem under baked. They aren't.
We like them gooey, remember?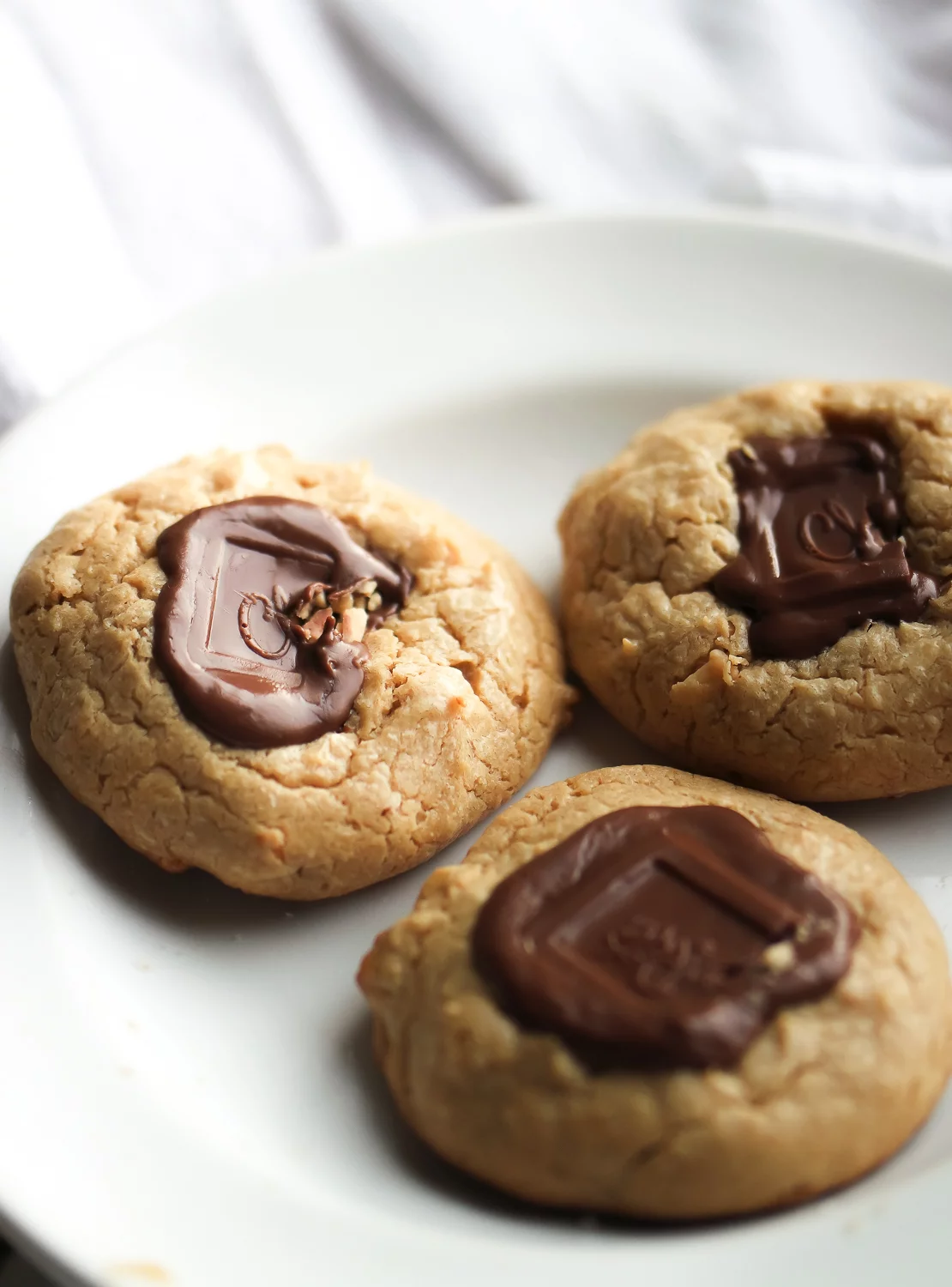 Also, DO NOT SKIP the step with the chocolate hunk pressed into the center.
I tried a few without the chocolate hunk and it wasn't that good.
I guess hunks really DO make everything tastier…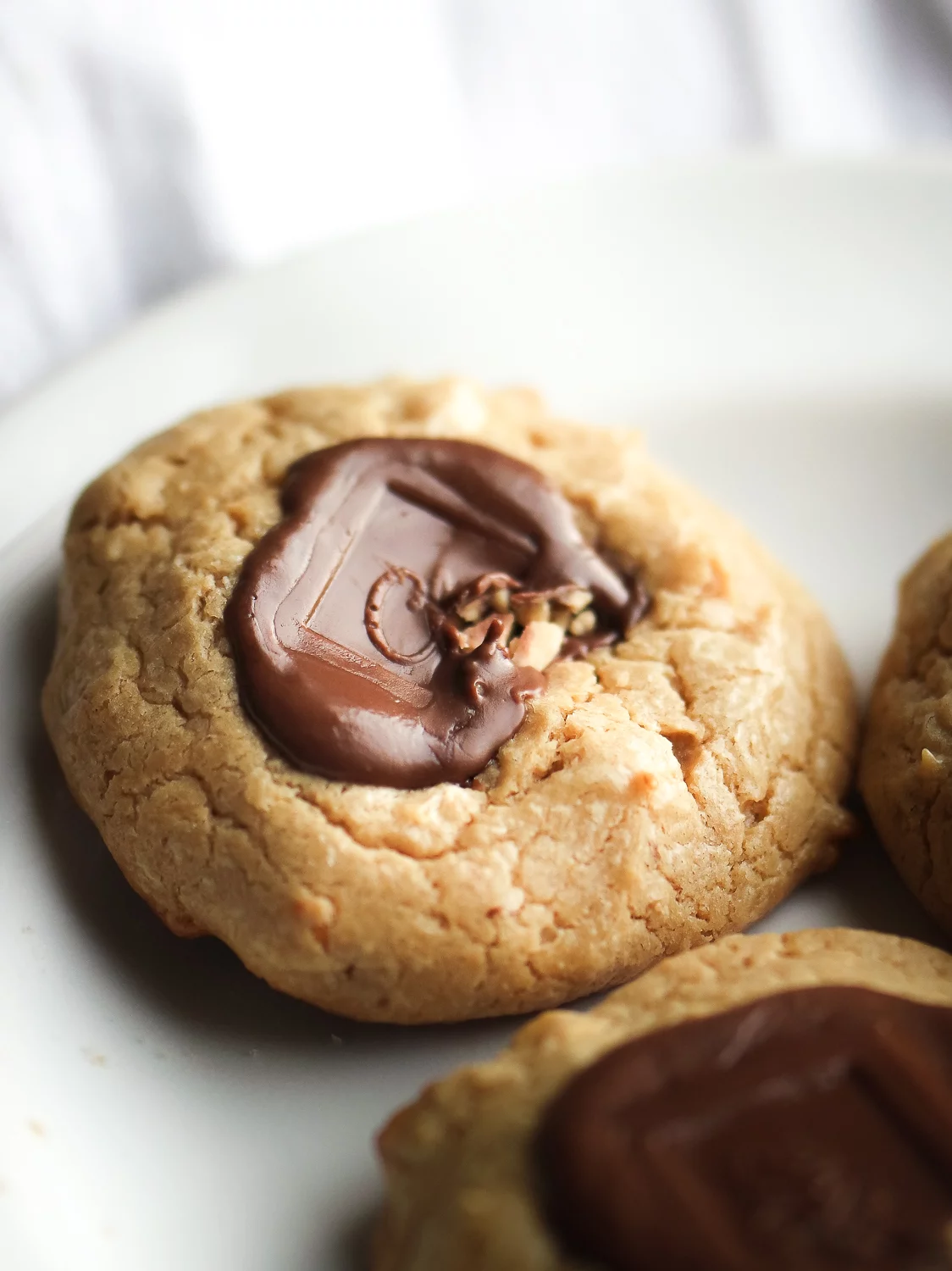 My friend Libby was the first one to say she wanted this recipe when I posted it on Instgram due to its decedent demeanor, which is why I've berated you with all of these delicious pictures and no step by step photos.
Libby would have wanted it that way!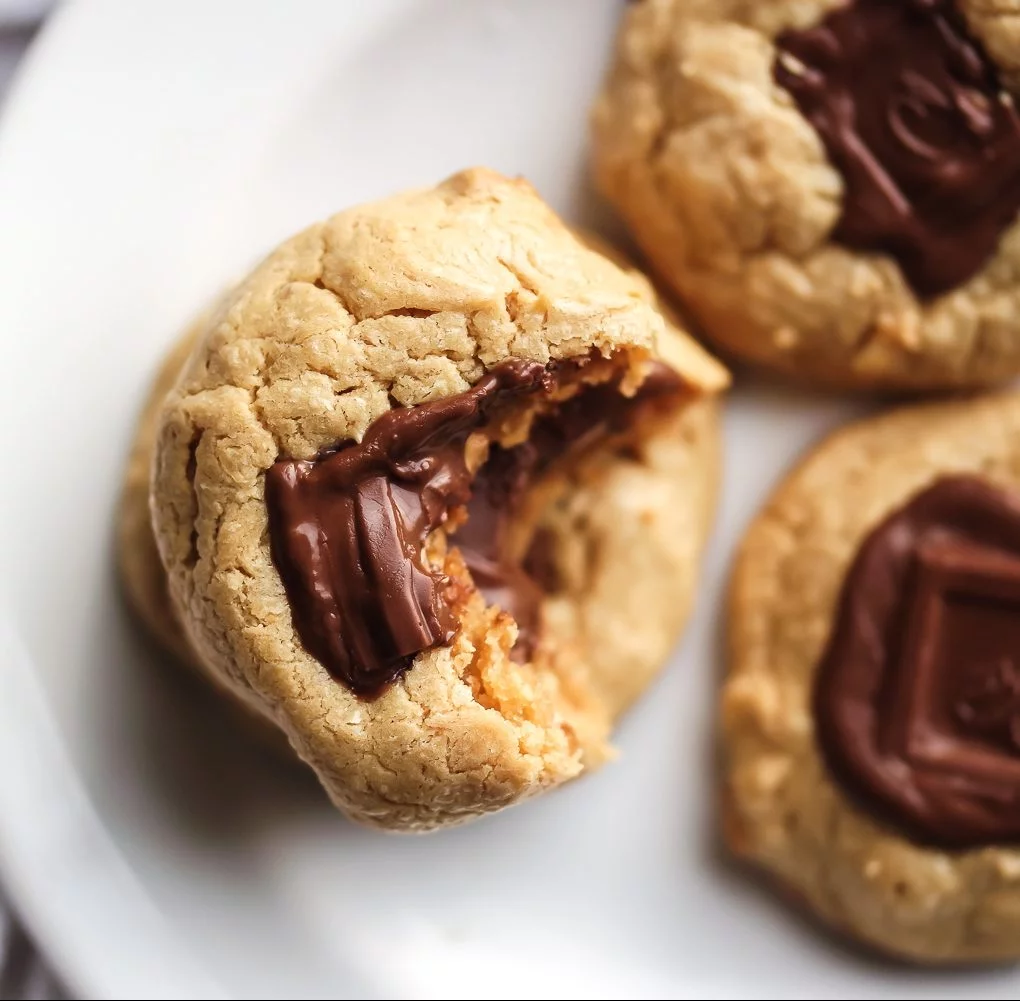 AND while we are on the subject of Libby, she has the coolest jewelry that is handcrafted by, well, her hands.
Find her awesome stuff at Goldeluxe.com and on Instagram!
PS-If you are going to buy me a Christmas gift from her, I have petite fingers and love geometric everything….
Ok, so here's one more of the cookie and then you can go back to watching baby panda videos on youtube.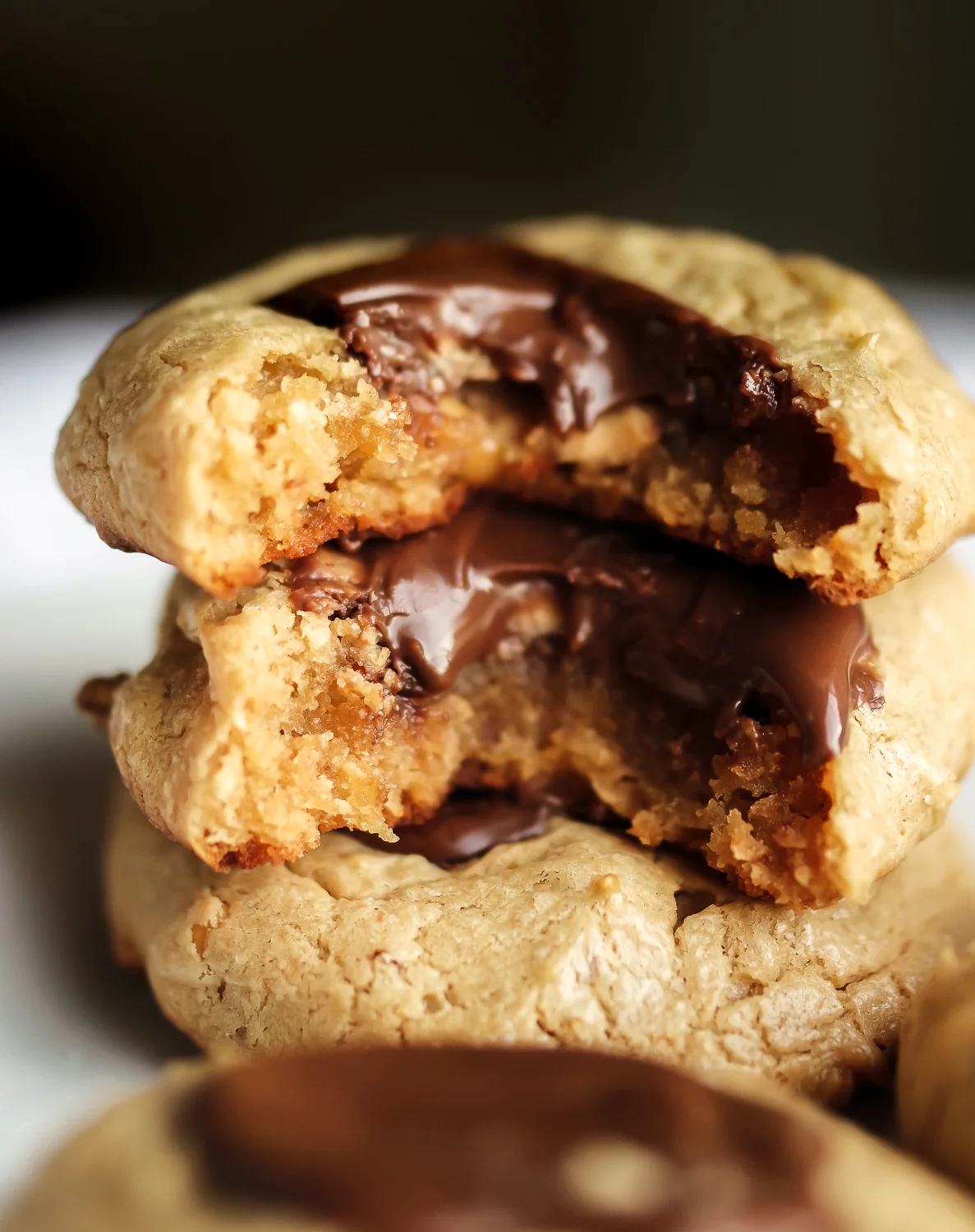 These cookies will be VERY soft and hard to move at first but once they begin to cool they set quite nicely! They will still be soft so handle with care.
Keto Whipped Cream Peanut Butter Cookies!
Super soft keto peanut butter cookies with a gooey center and melted Chocolate. Basically, a keto dieters wet dream.
Ingredients
1 cup Natural Peanut Butter, or no-stir natural pb
1/3 cup Sugar Free Whipped cream, *See Notes for Keto Whipped Cream
1 egg
Instructions
Heat oven to 350 and line a baking sheet with parchment.
Beat the egg and sweetener with a fork until the egg is light in color and frothy.
Stir in the peanut butter until the mixture is uniform.
Gently fold in the whipped cream* until there are no streaks and the dough is smooth. Be careful not to break down the air bubbles in the cream!
Spoon 1 tbsp of dough onto the baking sheet and smooth over the tops and edges. You will flatten them once you add the chocolate at the end!!!
Bake for 10-12 minutes. Let cool for 2-3 minutes before adding the chocolate (DON'T skip the chocolate!!)
Break the chocolate bars into 16 pieces and press each hunk into the center of the cookie.
Let the cookies cool slightly before moving them too much! They are very soft at first, but as they cool they set perfectly!
Notes
Keto Whipped Cream can be achieved by whipping heavy cream and your favorite keto sweetener together. I opt for Swerve or Truvia. So make a small batch, then scoop out the 1/3 cup for the recipe!
Carbohydrates for this recipe mostly come from the chocolate bar here so they may differ depending on the brand. DON'T skip it though because it's the best part!
Nutrition Information
Yield

16
Serving Size

1 cookie
Amount Per Serving
Calories

134
Total Fat

11g
Carbohydrates

7g
Net Carbohydrates

4g
Fiber

3g
Protein

5g