Whether you love a classic Deviled Egg or a Bougie Eggs a la carte, this decked-out deviled egg bar has you covered!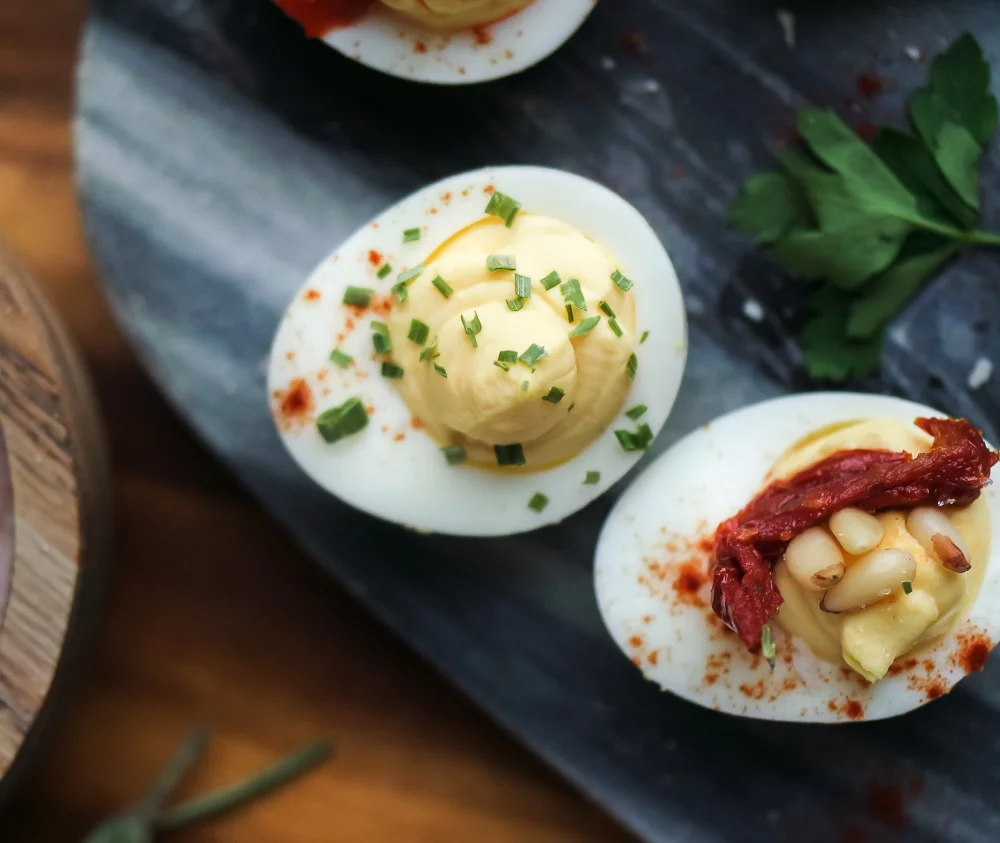 Since the holiday week is upon us, I'm not going to bore all of you with my silly stories and ramblings. Instead, I will bore you with all of the foods I plan to make. One being these lovely deviled eggs!
Yay?
Golly, it's tough being a progressive, gluten-free, grain free, vegetarian, former vegan but still kinda judgy on the animal products, carb-less monster like me. Imagine trying to survive the holidays without getting sloppy when the only thing filling your stomach other than the family's secret hooch is the crudite platter your dear sweet mother has prepared.
Carrots are not an appropriate chaser, nor do they soak up hooch. This is a problem.
Gourmet Deviled Eggs to the rescue!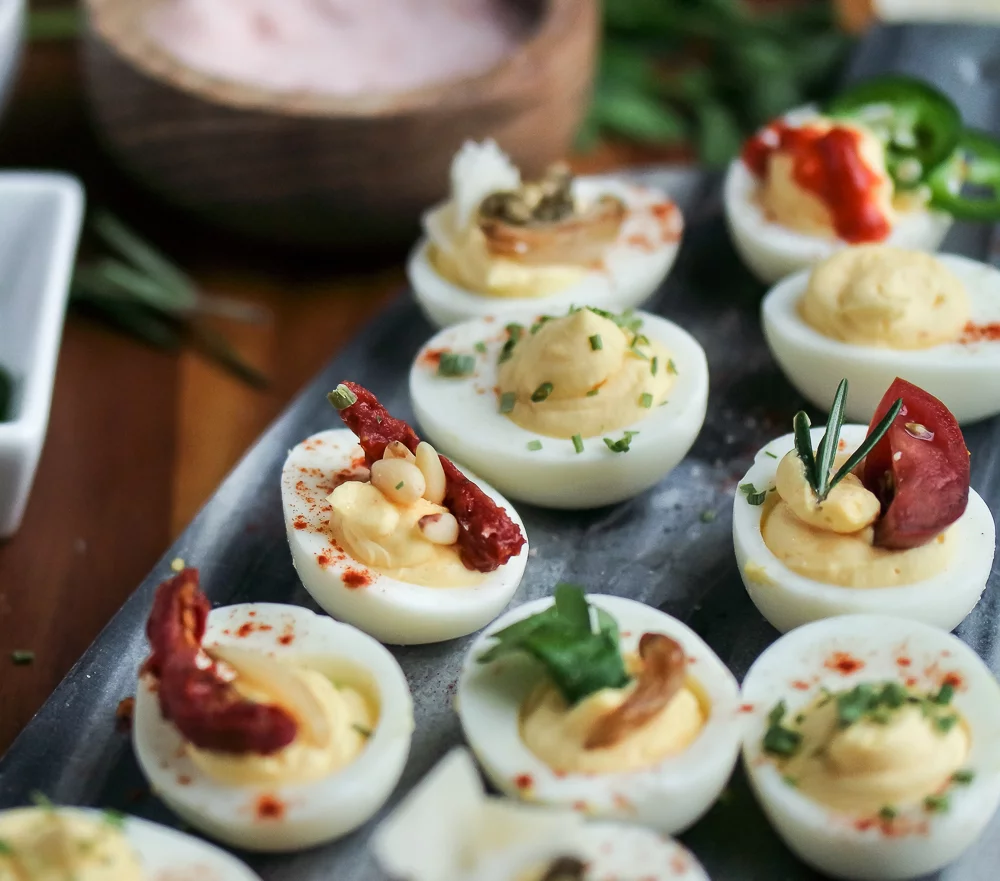 No, I know. That's ridiculous. BUT it's not that ridiculous. Fat and protein mean slower absorption of holiday cheer and even better, less space for those tempting treats that I don't need to be treated to.
Choosing Your Deviled Egg Bar Toppings
There are SO many toppings and choices. If you were one of those people who wanted to please everyone, this is your jam. Do this and win Thanksgiving. Or Christmas or Easter.
Pretty much any gathering where you need to feed a lot of picky eaters!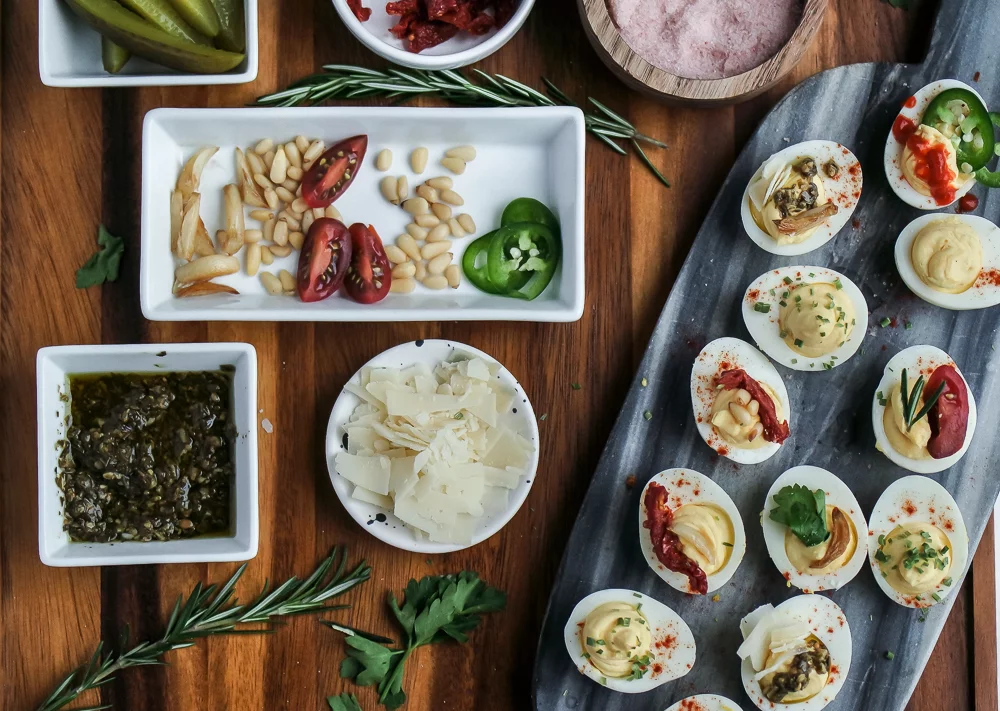 Imagine how cool you look rolling up to a holiday dinner with all of your mini containers full of gourmet toppings and some perfectly portioned classic deviled eggs.
-Decked Out Deviled Egg Bar-
Must be born on or before this date (11/20/2016) to be served at this bar!
Mainly because babies can't eat the whites…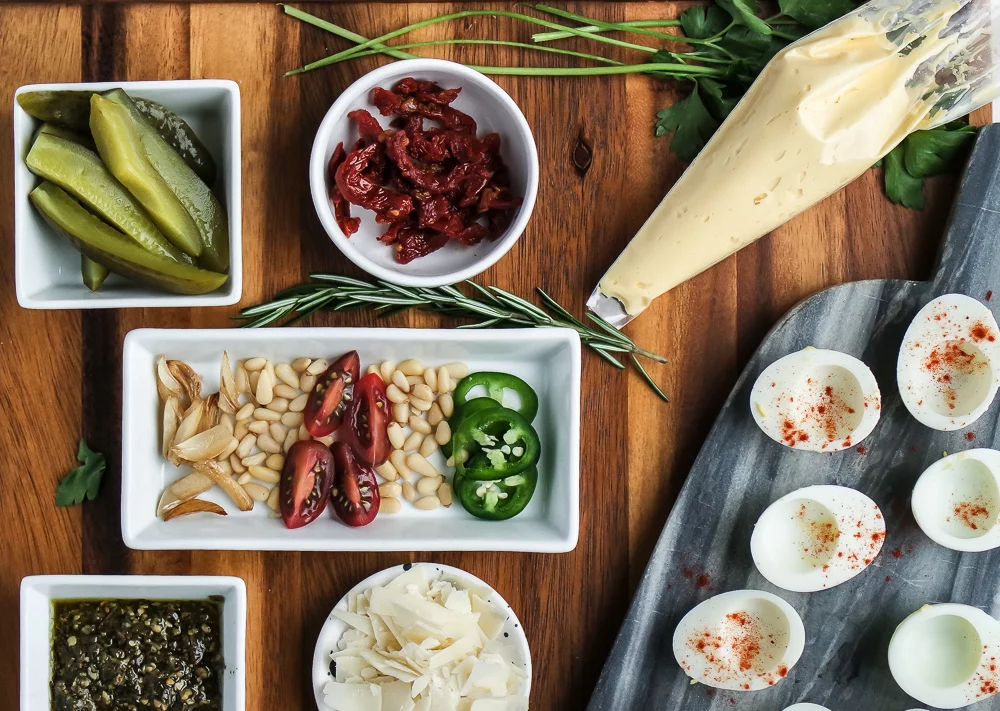 So, I'm a deviled egg purest.
I like to utilize a super classic and basic deviled egg when we are going elbows deep in topping options. Just MAYO, Lemon Juice, and SALT, then leave it alone. Seriously, don't mess with it. Let the egg filling be the egg filling and not some amped-up egg filling. That's what toppings are for.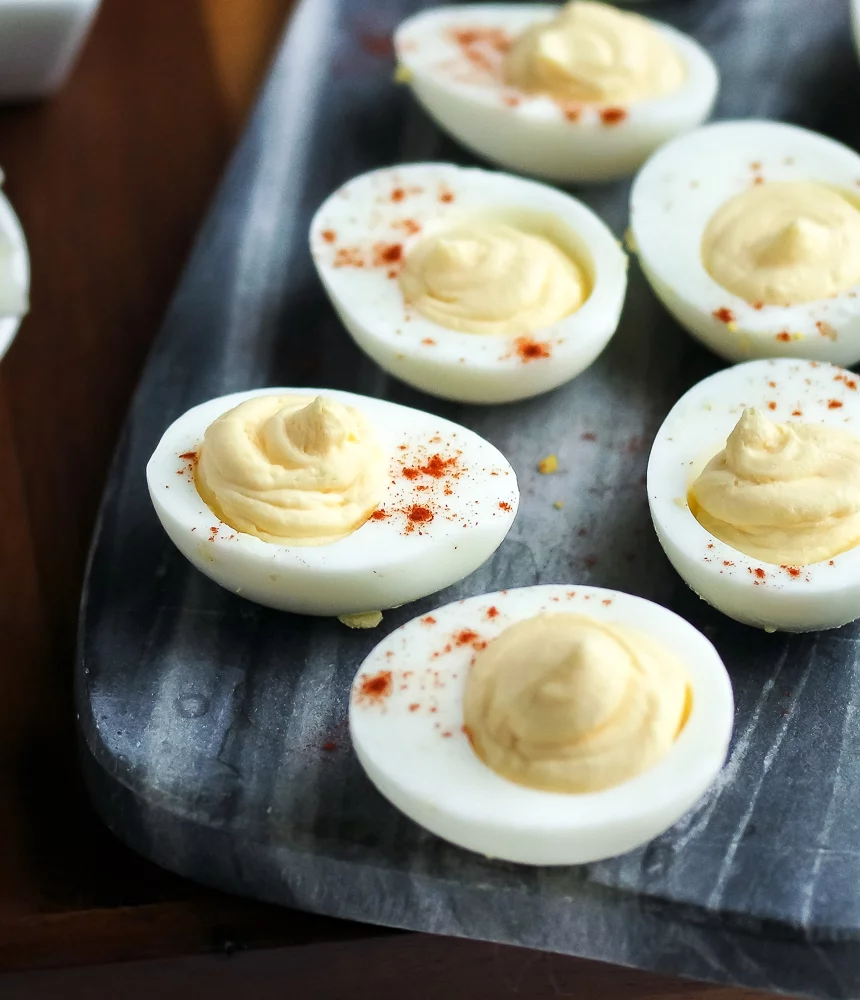 Now we can add some flavor. Or, go topless. This is your bar. There are no rules. BUT if you are putting a top on, here are some options.
1. Fried Garlic-Pesto-Shaved Parmesan Deviled Eggs
2. Sundried Tomato- Toasted Pine Nuts
3. Tomato-Pink Salt-Rosemary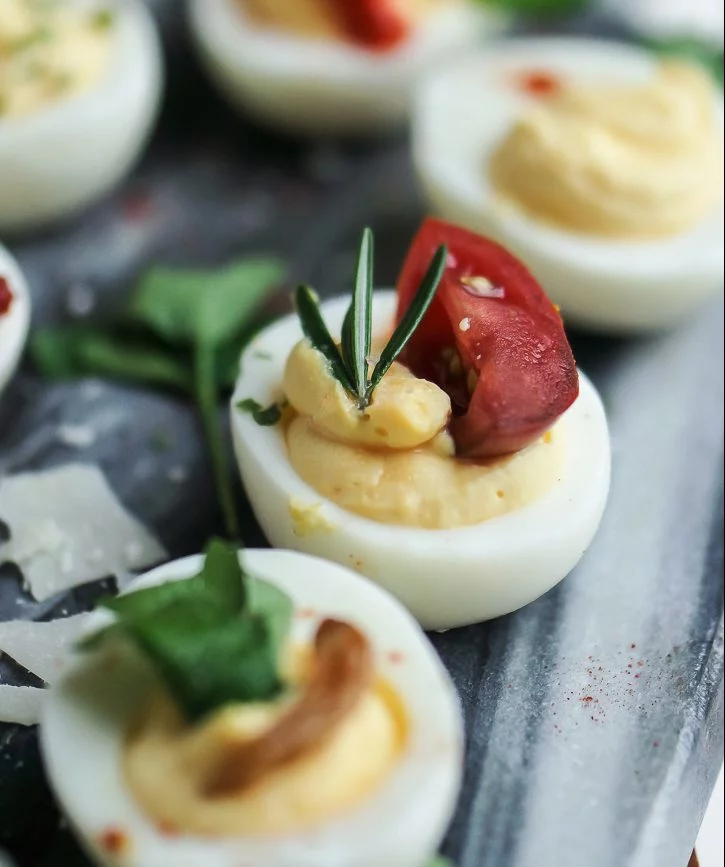 4. Sriracha-Jalapeno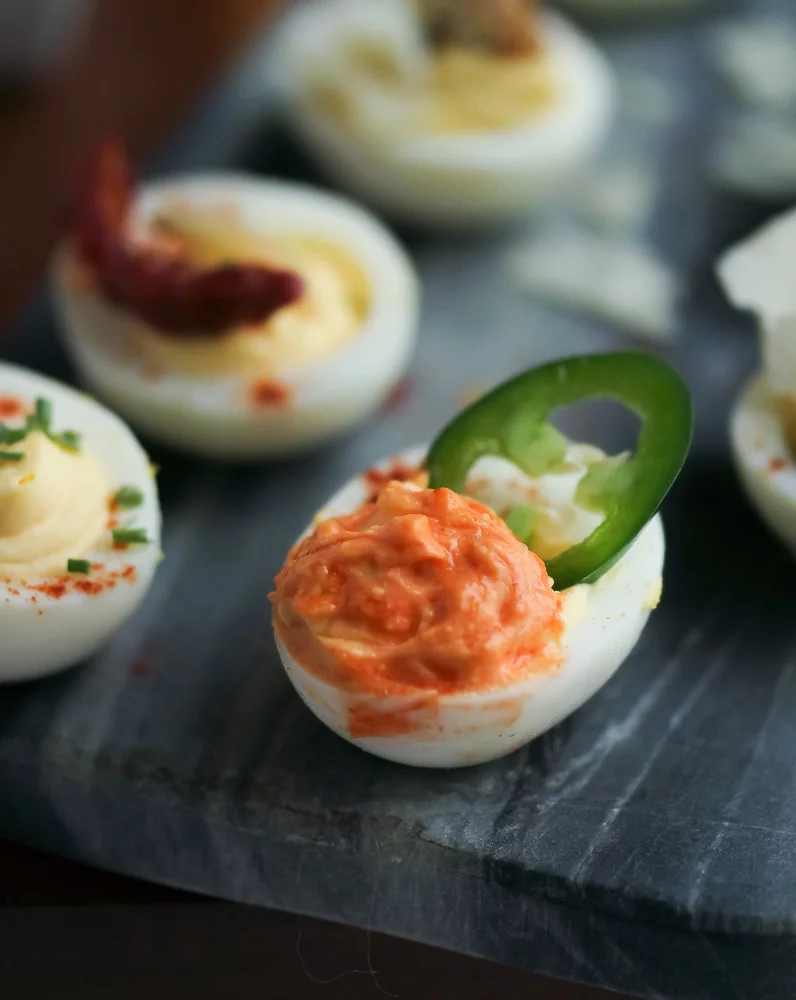 5. Smoked Paprika- Chives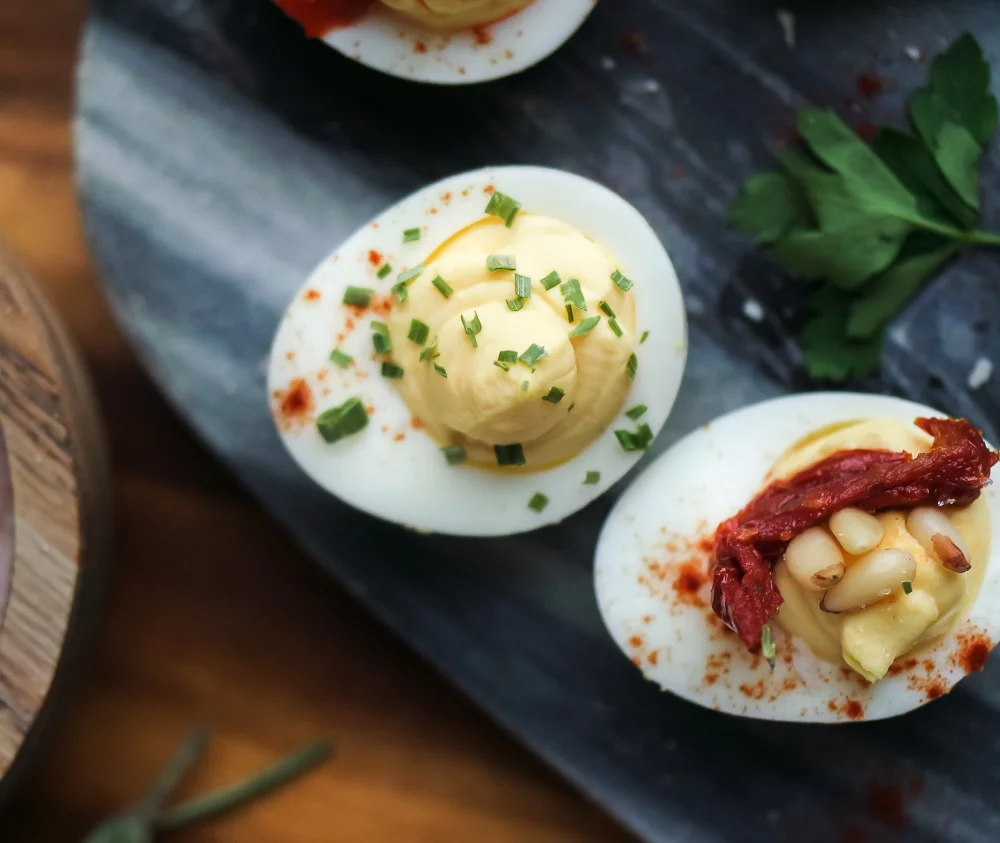 Plus a million other combos! I couldn't show them all (the sun was setting) but I will just list all of the ideas I have and you can add to them in the comments!
Looking for More? Try These!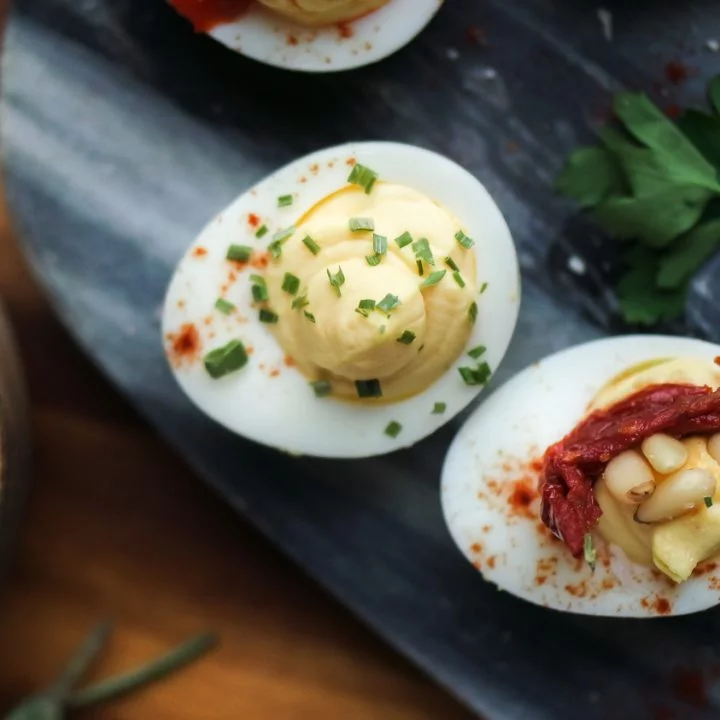 Decked Out Deviled Egg Bar!
Why choose one deviled egg recipe this year when you can have ALL OF THEM?!
Ingredients
10 Hard Boiled Eggs
1/4 cup Mayonaise
1 tbsp Lemon Juice
1/2 tsp Salt
Topping ideas
Smoked Paprika
Italian Seasoning
Sundried Tomato Slices
Roasted Red Pepper slices
Toasted Nuts like Pine Nuts, Chopped Pecans, Slivered Almonds
Parmesan Cheese- Blue Cheese- Shredded Cheddar
Sriracha or Franks Red Hot
Fried Garlic
Pesto
Fresh Herbs- Chives, Rosemary, Parsley, Mint, Dill
Chopped Fresh Veggeies: Tomato, Sweet Onion, Avocado
Instructions
Peel and slice hard boiled eggs and remove the yolks.
Mix the yolks with mayo, lemon juice and salt until very smooth.
Fill a plastic bag or piping bag with the egg mixture and cut a small portion from the tip.
Dust the egg whites with smoked paprika or seasoning of choice, then fill the eggs with the creamed yolk mixture.
Arrange your chosen toppings in small containers for easy access.
Top a few eggs with whatever you like or leave them for your guest!