Craving mounds of fluffy keto marshmallow, salted pecan pieces, and dark chocolate? Here's the secret to candy store quality Rocky Road!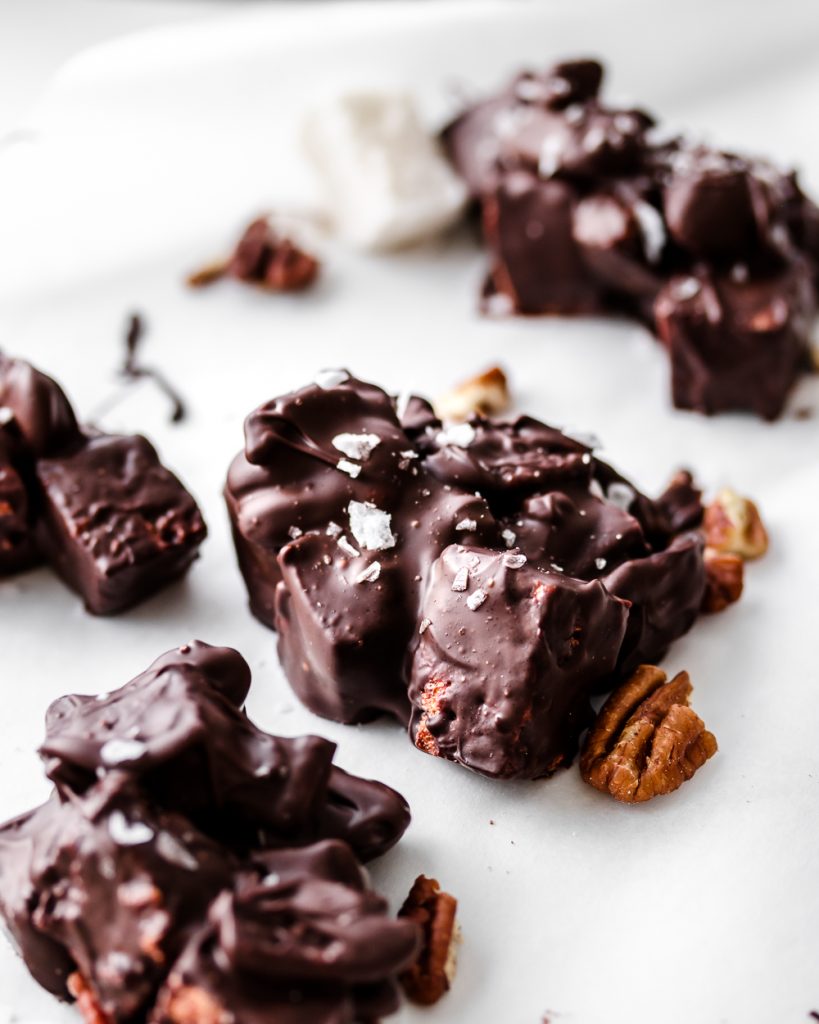 Yes, there's a right way to make Keto Rocky Road
That might sound crazy since rocky road is essentially a hunk of marshmallow, pecans, and chocolate…but it's the balance and method that takes your candy from just okay to "Wow is that a cloud covered in liquid heaven and sprinkled with salty hunks of pure happiness?".
I'm not even exaggerating.
Candy Class with An Expert
That's my mom! You'll see her hands in this post 👇 since she was a candy maker for 13 years and hand-dipped exquisite candies like a frickin boss.
The best rocky road needs to have enough SALTED pecan pieces (yes, pieces!!) to add the buttery/salty flavor and texture. Then you need at least 4 keto marshmallows per cluster to add that melt-in-your-mouth experience. Those two components are the "rocky" part.
THEN there's the road. That's the chocolate. Deep and dark is best to offset the sweetness but you can go milk (my fave) if you want it over the top orgasmic good.
Thinning out the chocolate is KEY to making sure it's easy enough to work with, it coats the pieces evenly, and doesn't break your jaw when you try to bite into your RR cluster.
Let's Hand Dip some Keto Candy!
Here you can see my beautiful mom prepping her clusters like a pro!
First off, you add the pecans to the prepped chocolate a little at a time. THEN, you toss in only 3-4 marshmallows at a time.
This is mucho important to get the ratios right and make sure every cluster is perfectly balanced while subsequently rOcKy.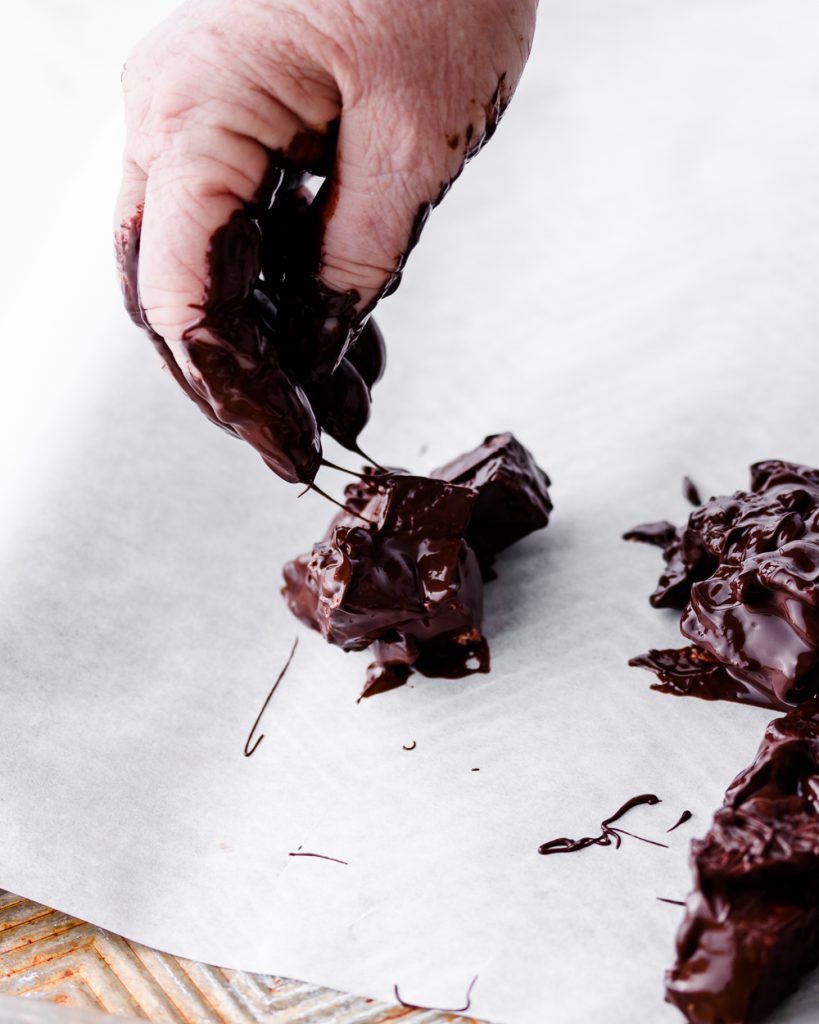 DIPPING FACTS: Why only add a little at a time to the chocolate?
Because when you add ALL of the ingredients, it cools the chocolate too quickly and makes it harder to get a clean balanced coating on your fillings!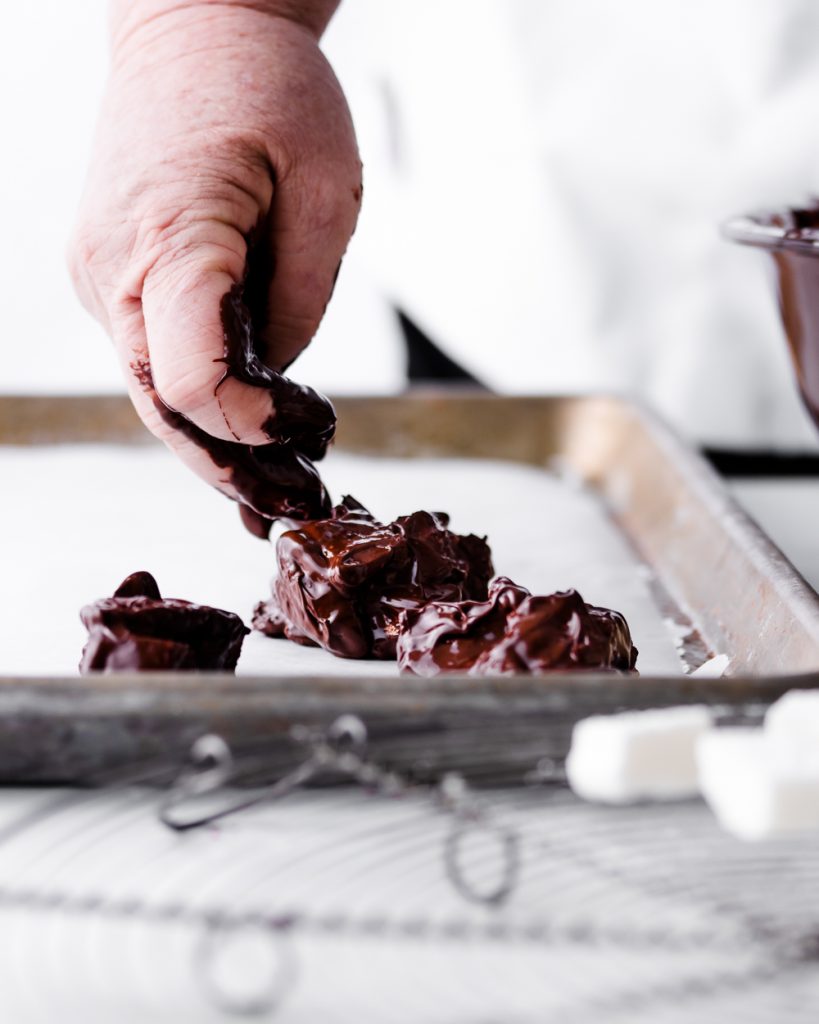 DO you HAVE TO hand dip these?
I guess not. But it's a lot easier to make sure you only get *just enough* chocolate and you have plenty of nuts and the right number of marshmallows.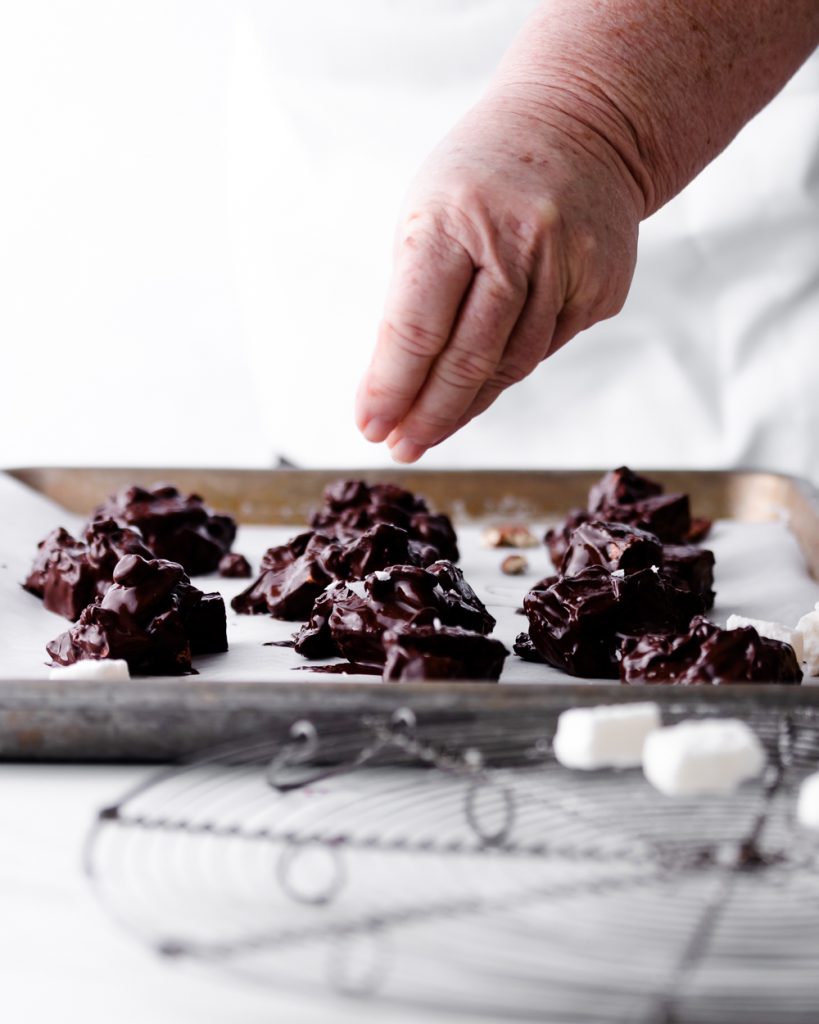 DO you HAVE TO sprinkle these with Falk Salt?
My opinion, yeah you do. But if your pecans are nice and salty you can skip the salt.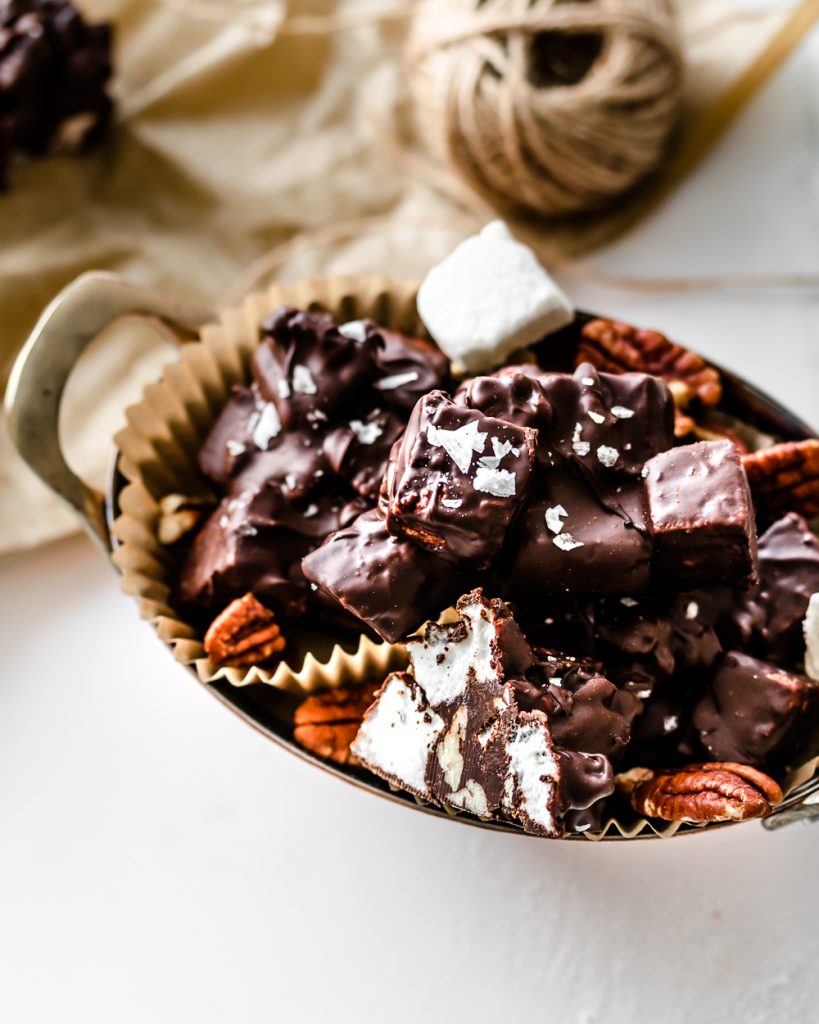 Final Lesson: Getting Your Chocolate Right.
Mom says that a successfully hand-dipped rocky road relies heavily on how thick your chocolate is. Here's how you get it right!
Heat your chocolate VERY slowly (like 20 sec intervals in the microwave) and make sure it's warm to the touch.
For every 9 oz of keto dark chocolate chips, add 1/2 to 1 teaspoon liquid coconut oil. This prevents chocolate that is too thick and difficult to work with. Thinner chocolate will give you a lighter coating on your candy.

The solid coconut oil works too, but liquid coconut oil keeps it from setting completely firm and essentially the chocolate will melt instantly in your mouth.

Use one hand to work through the chocolate and really get a feel for the thickness. Keep the other hand chocolate-free to grab marshmallows and pecans while you work.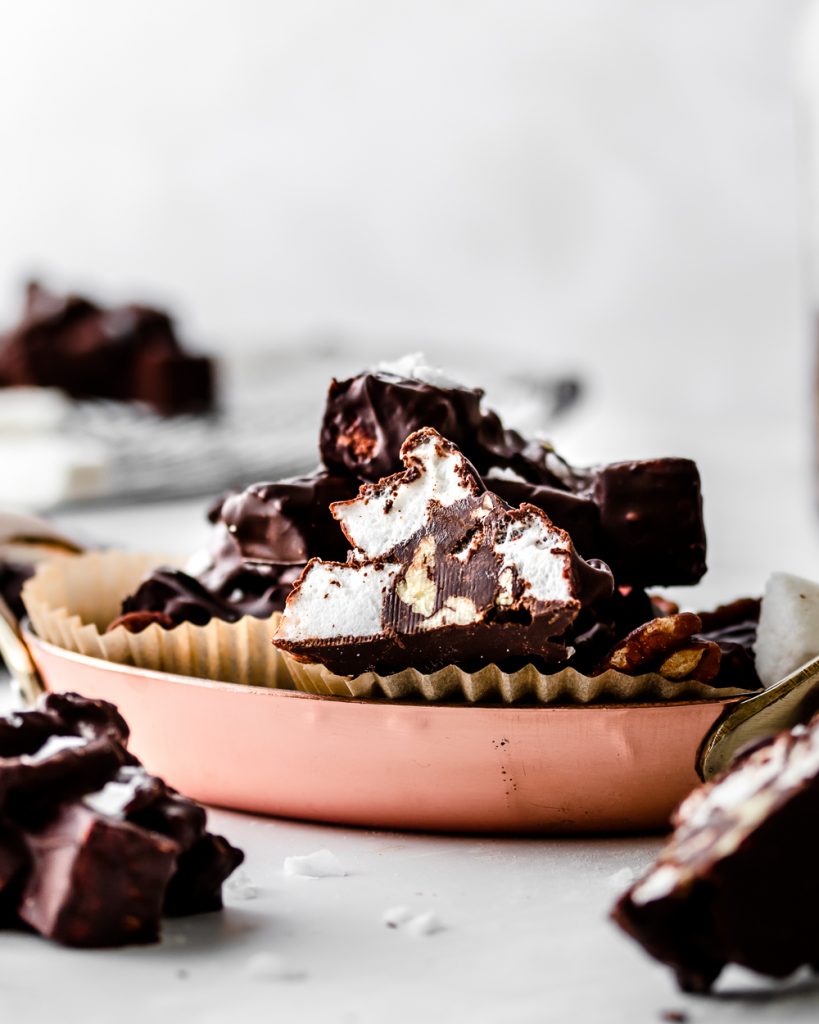 See how THIN that coating of chocolate is on the marshmallow??
That's the perfect layer. That's the goal.
That's the Rocky Road sweet spot.
Heads UP! This post contains affiliate links. As an Amazon affiliate, I earn from qualifying purchases.
Want More Keto Treats? Try These!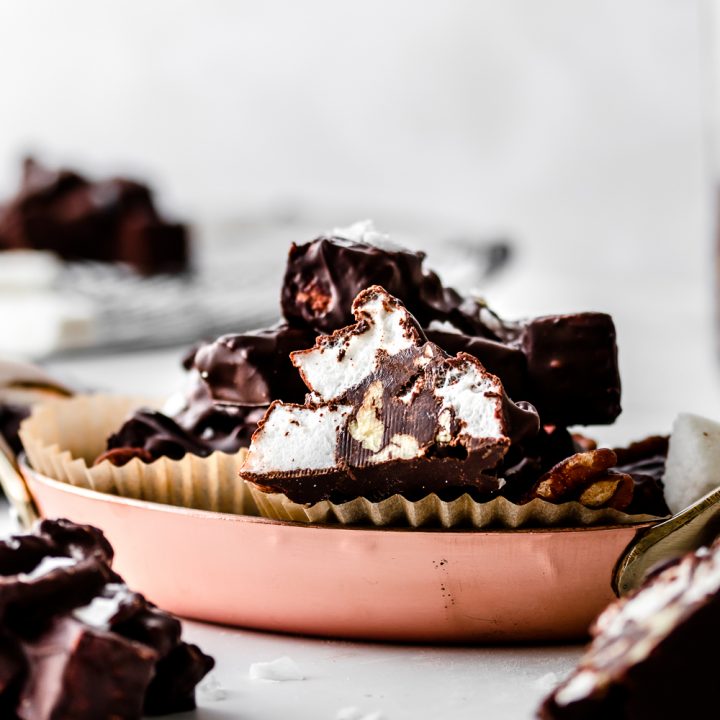 The Best Keto Rocky Road Clusters!
Total Time:
1 hour
5 minutes
Here's the secret to the best sugar free keto Rocky Road Clusters! Pockets of perfectly soft keto marshmallow, salted pecan pieces, and rich dark chocolate!
Instructions
Prepare The Marshmallow at least 6 hours before you begin. It needs time to dry and set before you slice it!
Cut your marshmallows into 1-inch cubes using a sharp knife sprayed with non-stick cooking spray. Dust the marshmallow cubes with powdered no-calorie sweetener. This helps them from sticking to your fingers.
If using whole pecans, crush them into pieces by adding to a large plastic bag and whacking it a few times with a rolling pin.
Line a baking tray with parchment and set up your dipping station. Have one large bowl for the chocolate, your marshmallow cubes and 1 cup pecan pieces both nearby.
Melt the chocolate in 20-second intervals until smooth and warm to the touch. Add the coconut oil and mix well. The chocolate should easily coat your finger and stir smoothly.
Working in batches, add about half of the pecans to the chocolate and mix with one hand to coat, keeping the other hand clean. *Your dominant hand goes in the chocolate!*
Add 3-4 marshmallows to the chocolate and scoop a handful of chocolate and nuts. Gently work the chocolate to coat the marshmallow, then with your palm up, using your fingers like a strainer, let any excess chocolate drip back into the pan. Now use your thumb to push the cluster to the edge of your fingers gently place it on the parchment.
Repeat, doing 3-4 marshmallows per cluster and adding pecans as needed. Garnish immediately with salt if desired.
Notes
Hand dipping chocolates is a BIG skill that takes lots of practice, but once you get the hang of it, you'll never go back to the old way!
Nutrition Information
Yield

12 clusters
Serving Size

1 cluster
Amount Per Serving
Calories

128
Total Fat

11g
Carbohydrates

12g
Net Carbohydrates

4g
Fiber

8g
Protein

2g