Ever know the frustration of trying to make a cookie with a marshmallow in the middle? Well frustrate yourself no longer because we've got TIPS!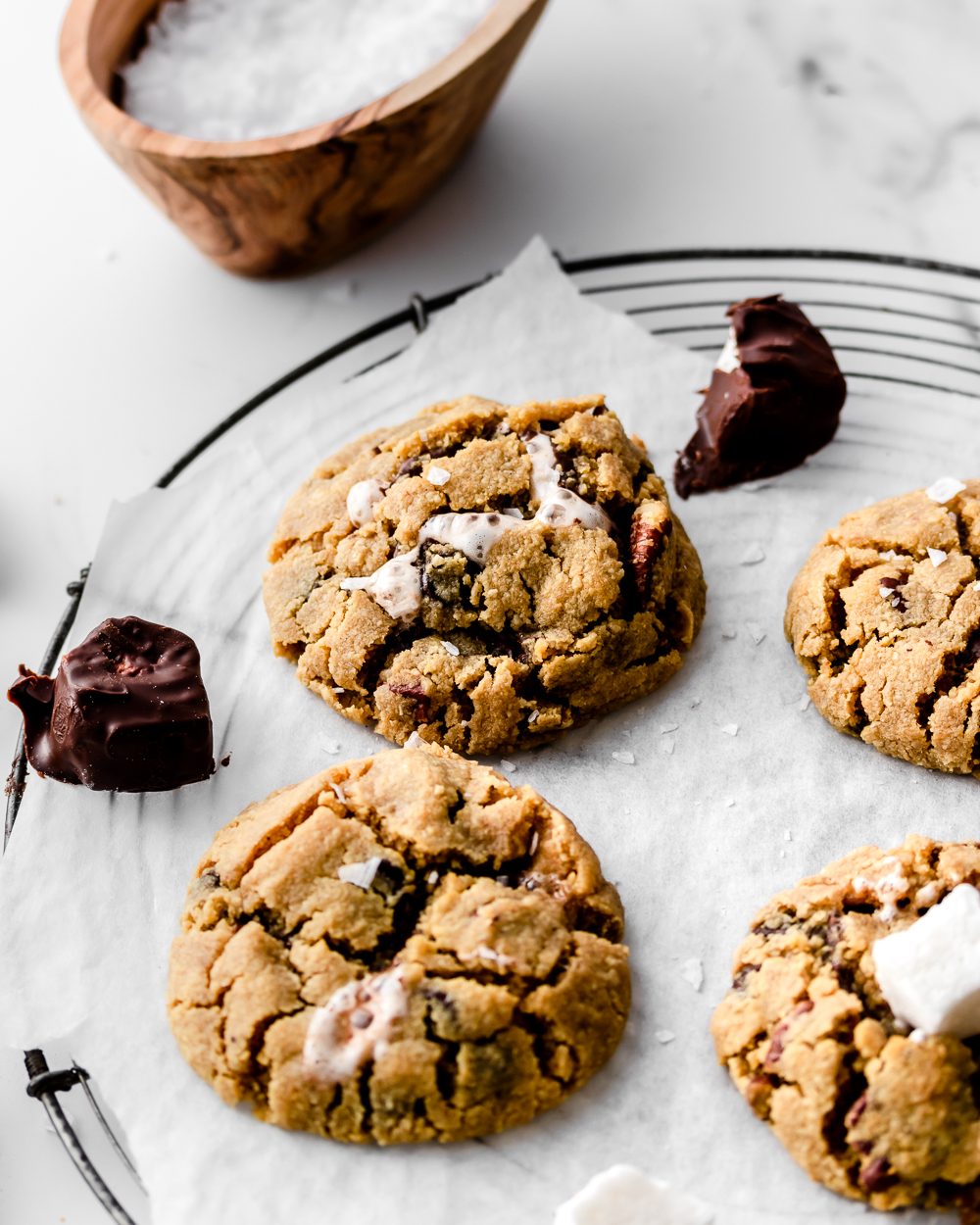 Marshmallow in the Middle
It's a well-known fact that a cookie with a surprise filling is the superior cookie in the cookie jar. But stuff'd-up cookies are easy in theory…difficult in execution. Meaning the filling melts out into a disastrous mess. BUT not anymore.
That's right, friends. I lost an entire night's sleep trying to devise a way to preserve a delicious fluffy homemade keto marshmallow inside a hot baked cookie.
BTW, totally worth it. I mean, look.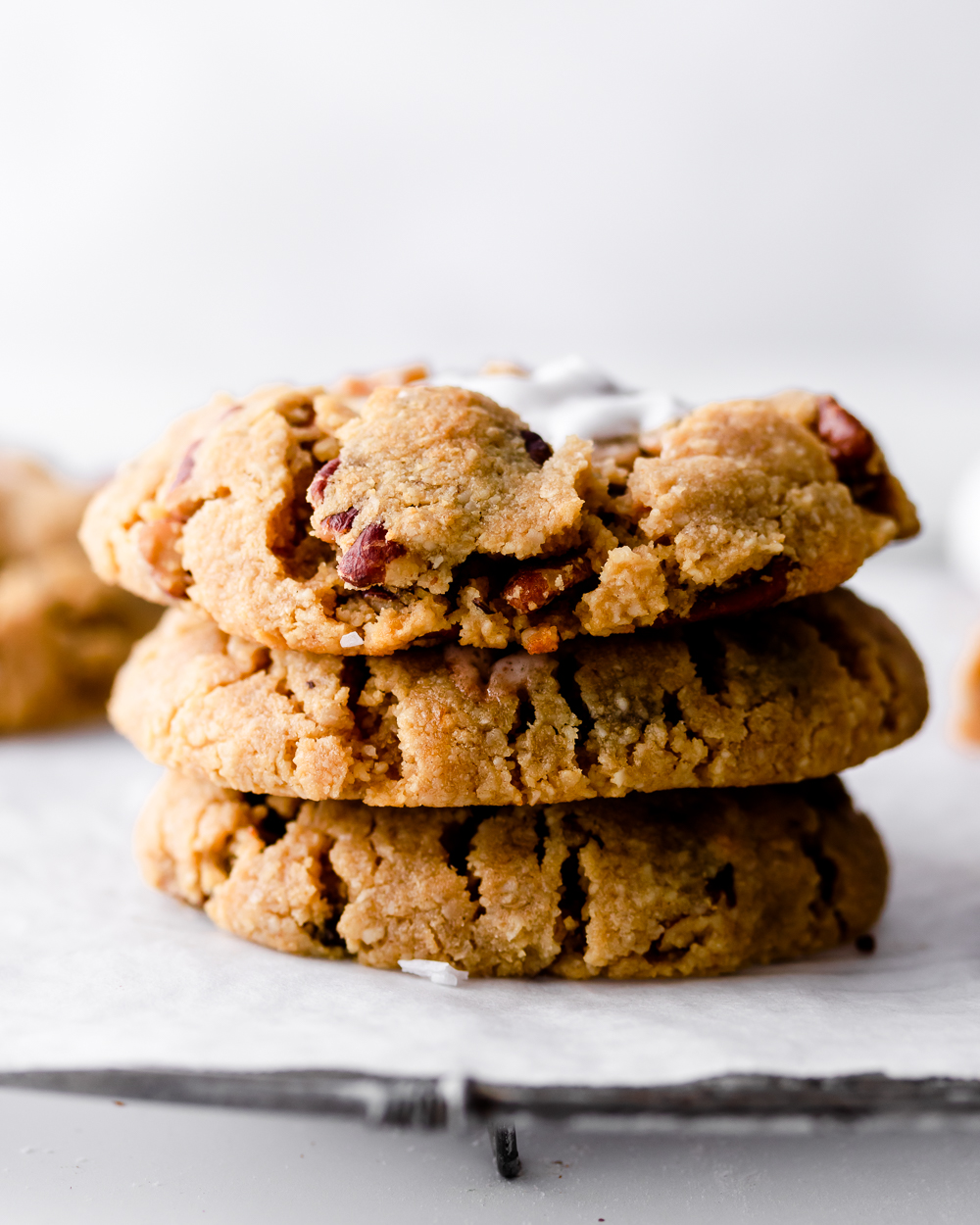 How To Stuff A Cookie With
Marshmallow Without It Disappearing
Marshmallow has a reputation for melting and disappearing in high-heat situations. So the secret? DIP IT IN CHOCOLATE!
Equal parts delicious and genius, I know.
Coat your marshmallow square (1-inch cubes work best) in dark chocolate and pop it in the freezer. The chilled chocolate layer protects the marshmallow from completely disappearing while still getting that gooey smores texture!
Alternate Method: Use a marshmallow that has gone completely stale. I swear! The slightly dried out and chewy keto marshmallows will dissolve slower in the heat of the oven and the result is still a perfect marshmallow center!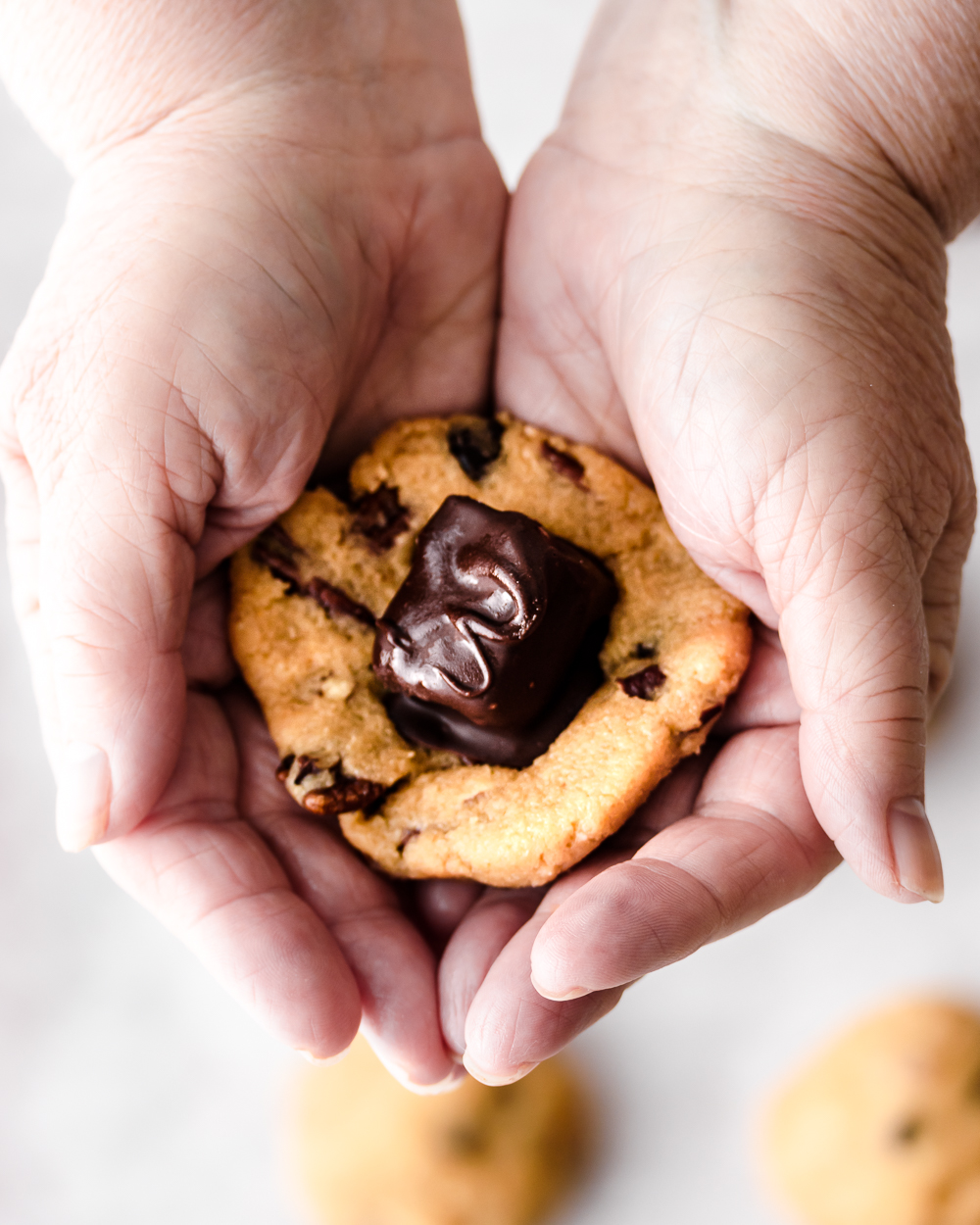 Cookie Size Matters
Spoiler: You need a lotta dough.
Grab yourself a respectable handful of dough (a light 1/4 cup worth) to form these cookies. Press that dough hunk into a flat round in the palm of your hand, then wrap the chocolate covered marshmallow with the dough.
*We went with a chocolate chip and salted pecan cookie dough because we are currently on a rocky road kick and it felt right.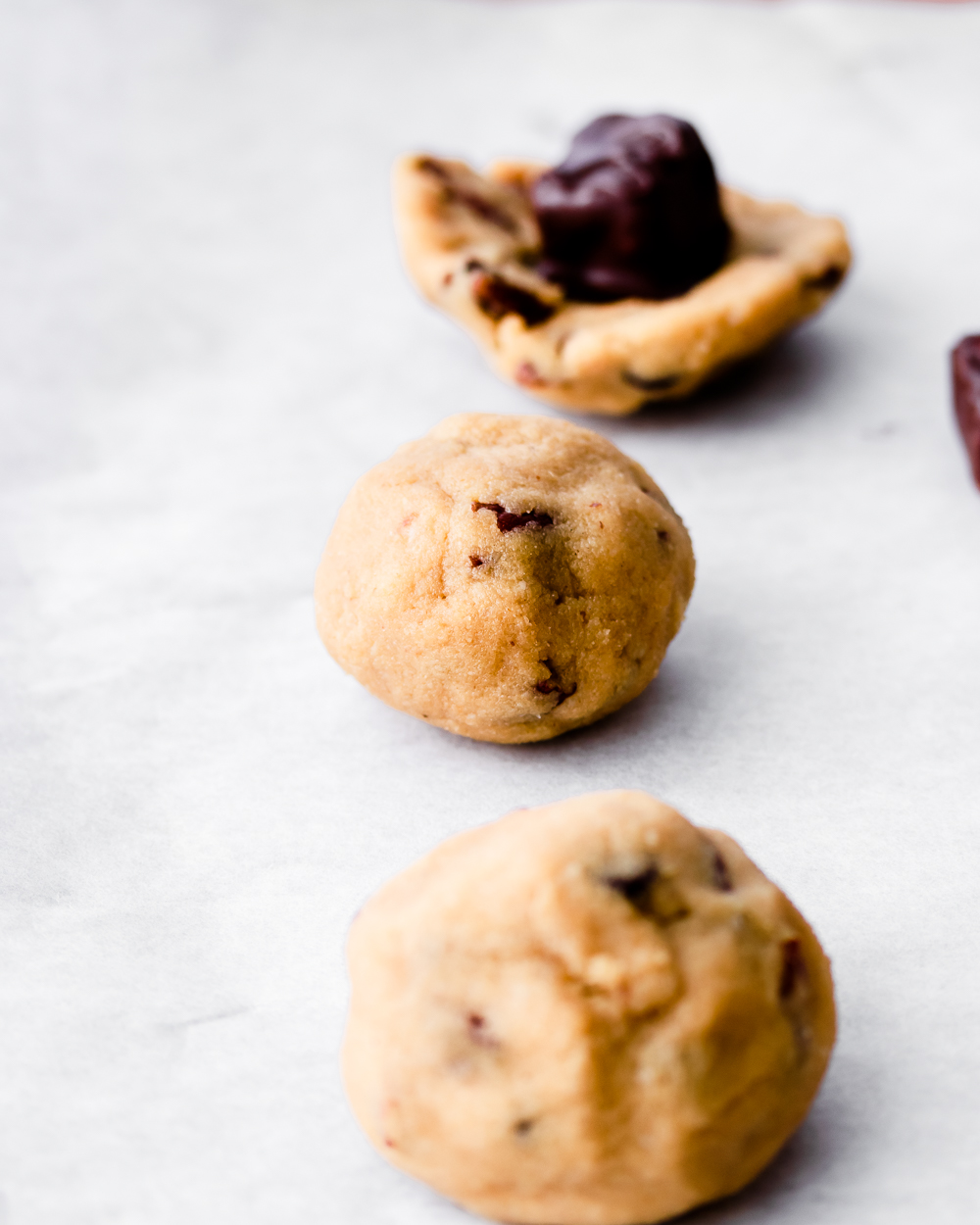 Smooth out any seams and arrange on a silicone mat lined baking sheet. I bake all six (plus the tiny leftover piece of dough) on one pan.
YEEP! I said silicone mat on purpose! It prevents icky burnt bottoms that we all dislike. Believe you me, it's worth the investment in you love batchin' up cookies.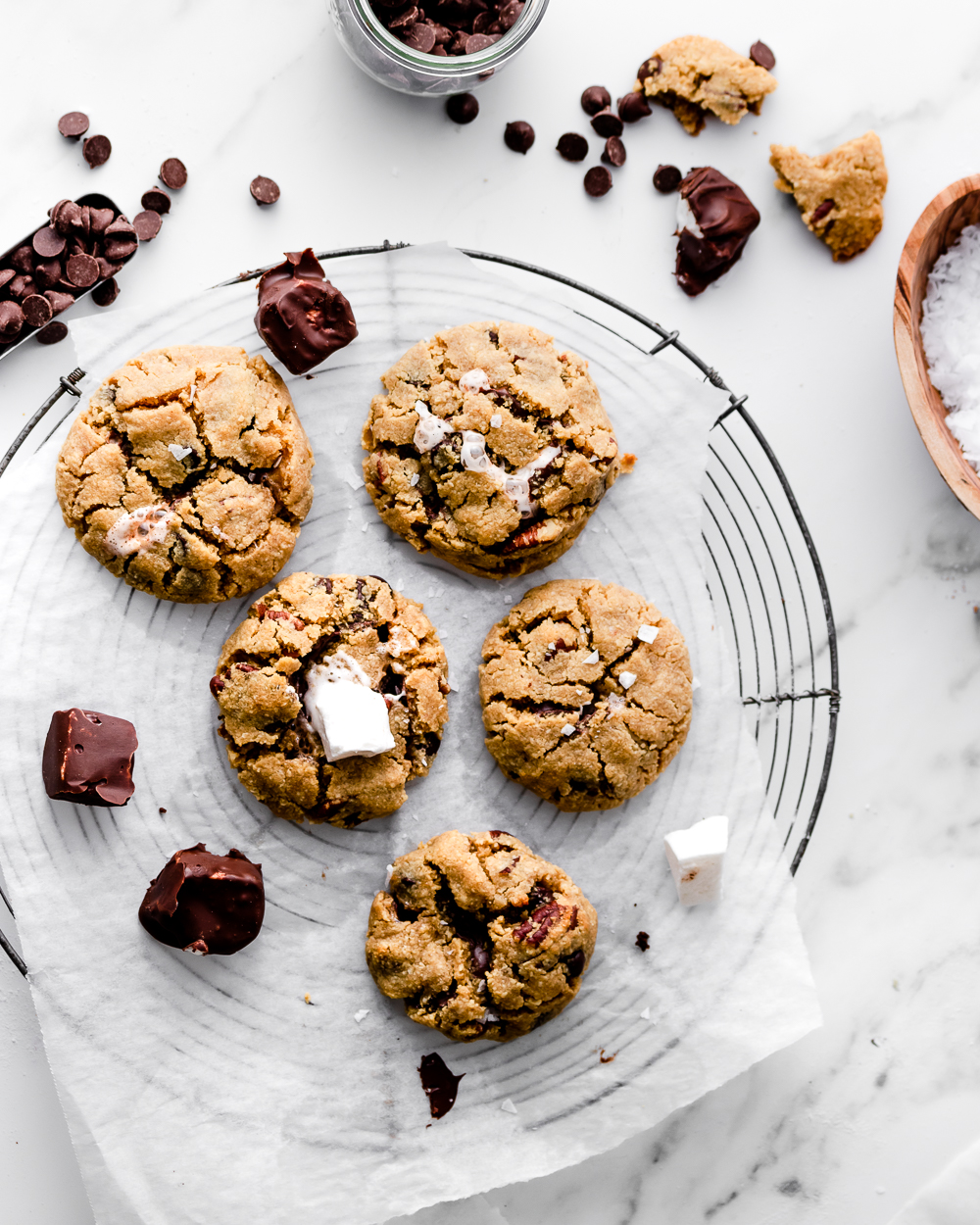 To get that crinkly busted top, you gotta slam that pan.
Just like my Keto Chocolate Chip Slam Cookies, this dough is thick! It won't spread (and ruin our filling) which means the centers have a better chance at survival.
When you remove the pan from the oven, give it a swift bang or two on a sturdy countertop and watch the tops crack and break open. Note: they will be really beautiful and I know you will be tempted to try and move the cookies. Don't do it.
DO NOT move the cookies yet.
Seriously, quit touching them.
They need to cool.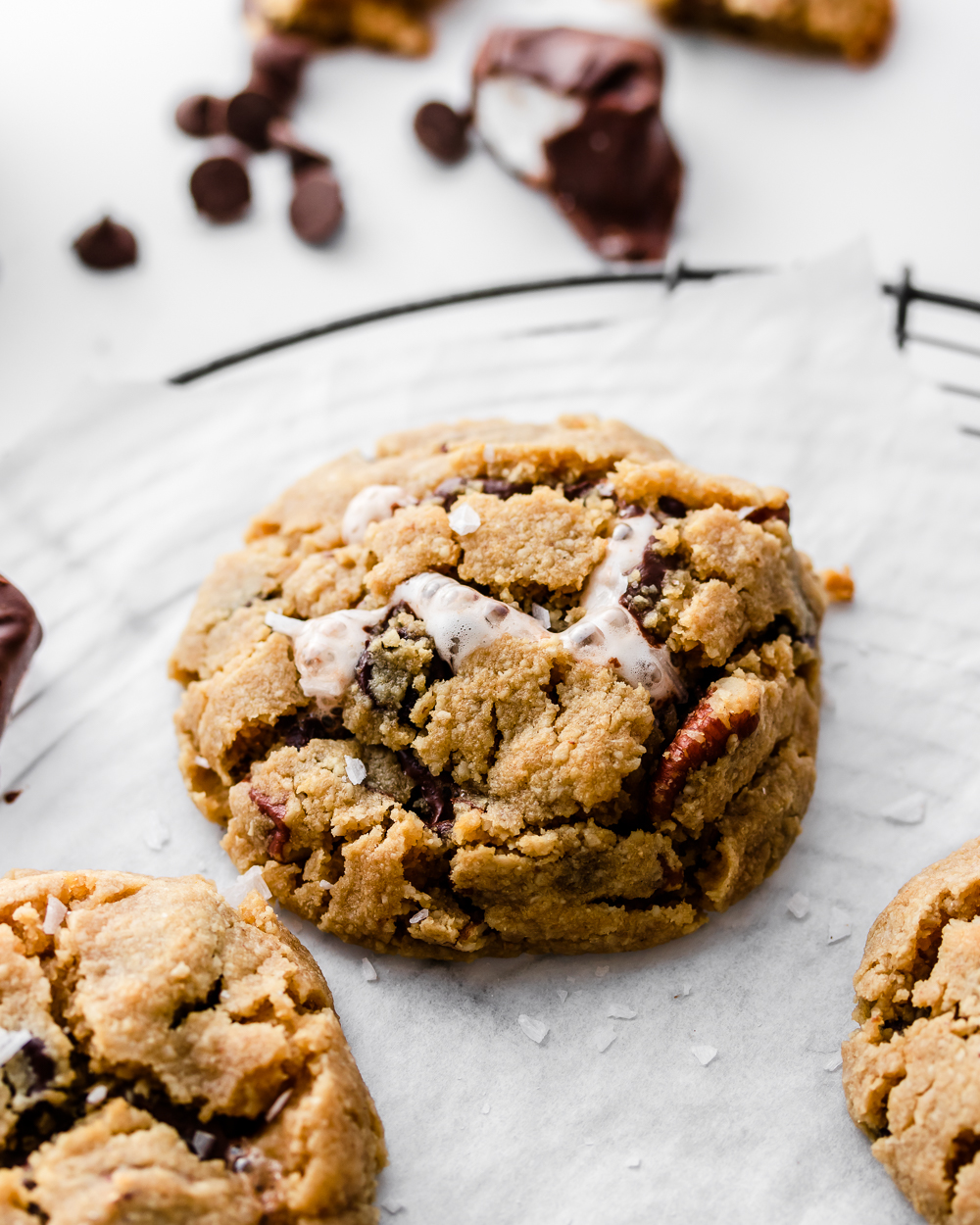 Pop the cookie sheet right into the fridge for about 3-5 whole, painfully long minutes. This helps them set and stops the marshmallow from melting more. Once they have chilled and the dough can solidify, move them with the utmost care and compassion to a rack to cool completely.
OR if you're my mother, grab one before I say I am finished with photos and break that sucker open.
I forgive her because she birthed me and she works for free cookies.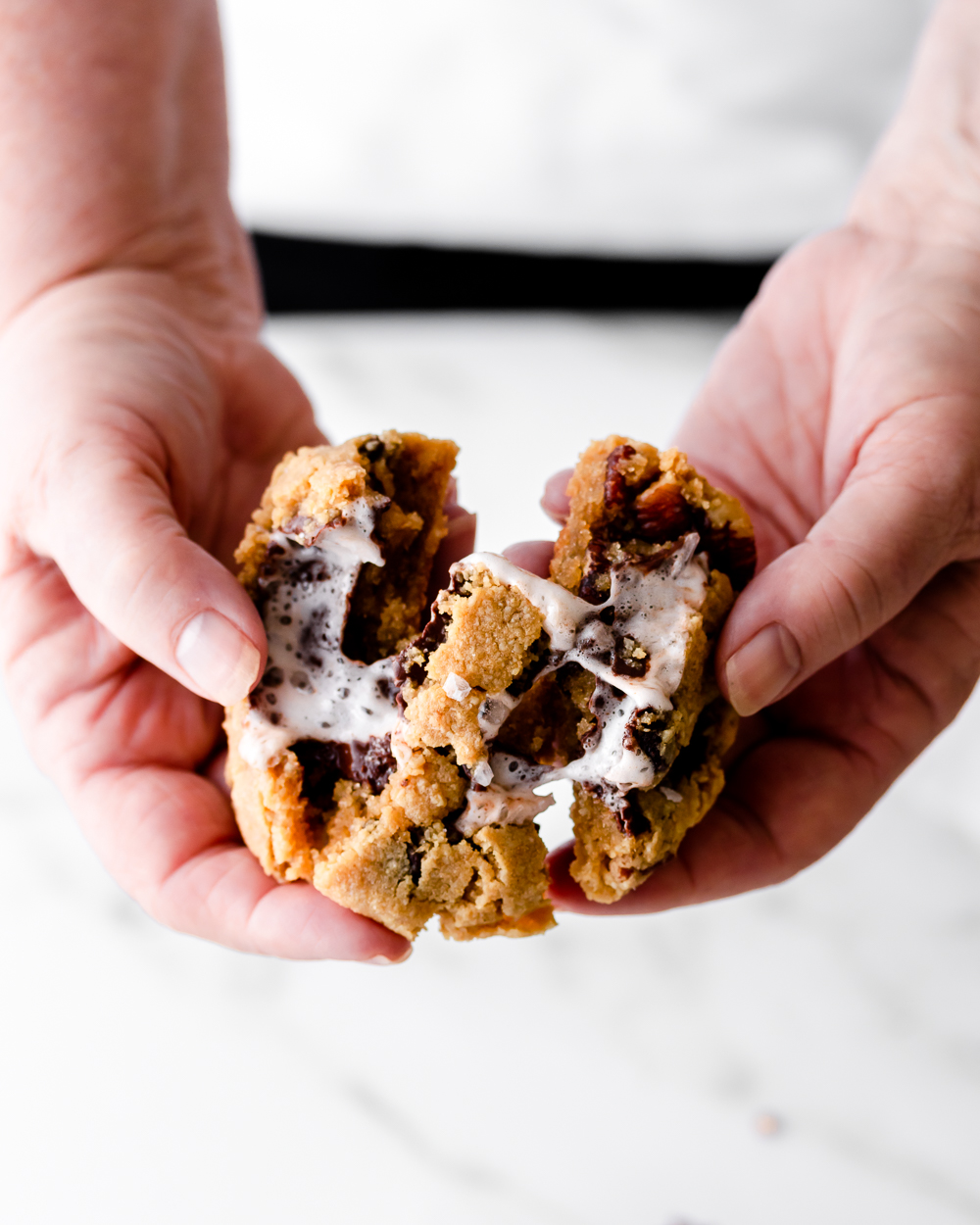 Ingredient Facts 💡
Because substitutions are always a question, I highly recommend making this recipe as written. BOTH the psyllium husk powder and xanthan gum act as binders and help this dough hold together.
Powdered sweetener is my favorite to use in cookies because it lends to a better texture. I use Swerve (erythritol) but Allulose will work too. You need 1/2 cup to get the same sweetness and the cookies will not set as firm as erythritol.
Heads UP! This post contains affiliate links. As an Amazon affiliate, I earn from qualifying purchases.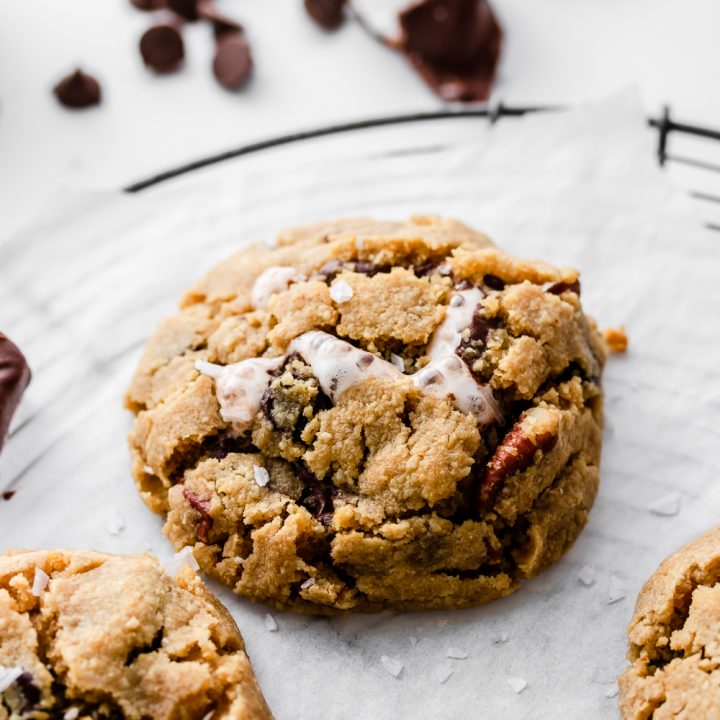 Keto Rocky Road Stuffed Cookies
Additional Time:
30 minutes
Total Time:
1 hour
39 minutes
Super soft and rich keto cookies stuffed with chocolate-covered marshmallow and salted pecans!
Ingredients
For the Marshmallows
For The Cookies
1/2 teaspoon Baking Soda
4 tablespoons Butter, melted and cooled
1/2 teaspoon Molasses, optional for a better cookie
1 large Egg
1 teaspoon Vanilla Extract
1/3 cup Salted Pecan Pieces
Instructions
Make a batch of my Keto Marshmallows and let them rest overnight. For even better results, let the cut marshmallows dry out slightly.
Coat six 1-inch marshmallow squares in a generous amount of chocolate and let set. Keep in the freezer until you're ready to bake.

Make the Cookies
You will be heating the oven to 350°F later in the recipe. For now, line your baking sheet with a silicone baking mat!
In a large bowl, whisk together the almond flour, coconut flour, psyllium husk powder, xanthan gum, and baking soda. Set aside.
In a separate bowl, whisk the melted butter, powdered sweetener, molasses, egg, and vanilla and beat until smooth.
Add the wet to the dry and stir with a silicone spatula, kneading the dough to help all of the moisture get absorbed; about two minutes.
Add the pecan pieces (make sure they are salted!) and the chocolate chips and fold to combine.
Scoop a light 1/4 cup of dough and form into a flat round. Place the dipped and chilled marshmallow square in the center and wrap the dough around to seal.
Arrange the 6 cookies on a prepared baking sheet and place in the freezer for 20 minutes. HEAT oven to 350F.
Bake chilled cookies for 9-11 minutes, just until the edges begin to darken. Remove from the oven and slam the pan on the counter 1-3 times so the tops slightly break open.
Place in the refrigerator for 3-5 minutes just to stop the baking process. Then let cool on the counter to completely set. Store in an airtight container!
Notes
Ingredient Questions! Both Psyllium Husk Powder and Xanthan Gum act as thickeners and binders for this recipe. Without them, the dough doesn't hold together as it should!
Powdered Sweetener works best because it's very fine and keeps the texture of the cookie smoother! Give it a try. If you don't have powdered sweetener, just add the regular stuff to a coffee grinder or blender and pulse, then measure!
Nutrition Information
Yield

6
Serving Size

1 cookie
Amount Per Serving
Calories

274
Total Fat

25g
Carbohydrates

11g
Net Carbohydrates

5g
Fiber

6g
Protein

7g