Sweet and tart cranberry bars with a light crumble top! Totally gluten free, low in carbs, and *high* in festivity.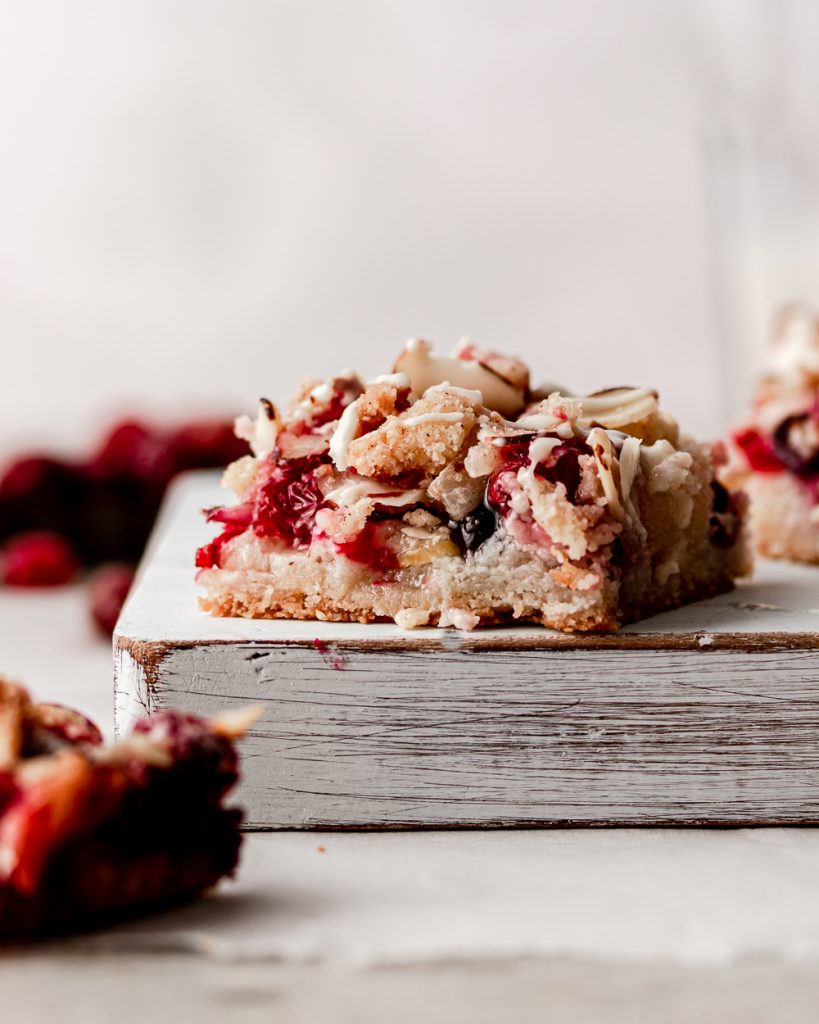 Yes Pears, but hear me out.
Not even plural. JUST ONE!
There are a lot of things that people on low carb diets are afraid of…fruits being one. BUT don't be scared! We are portioning things out and we are planning ahead to enjoy desserts.
We are fine! Have a cran-pear crumble bar and don't fret. #Holidays not blahlidays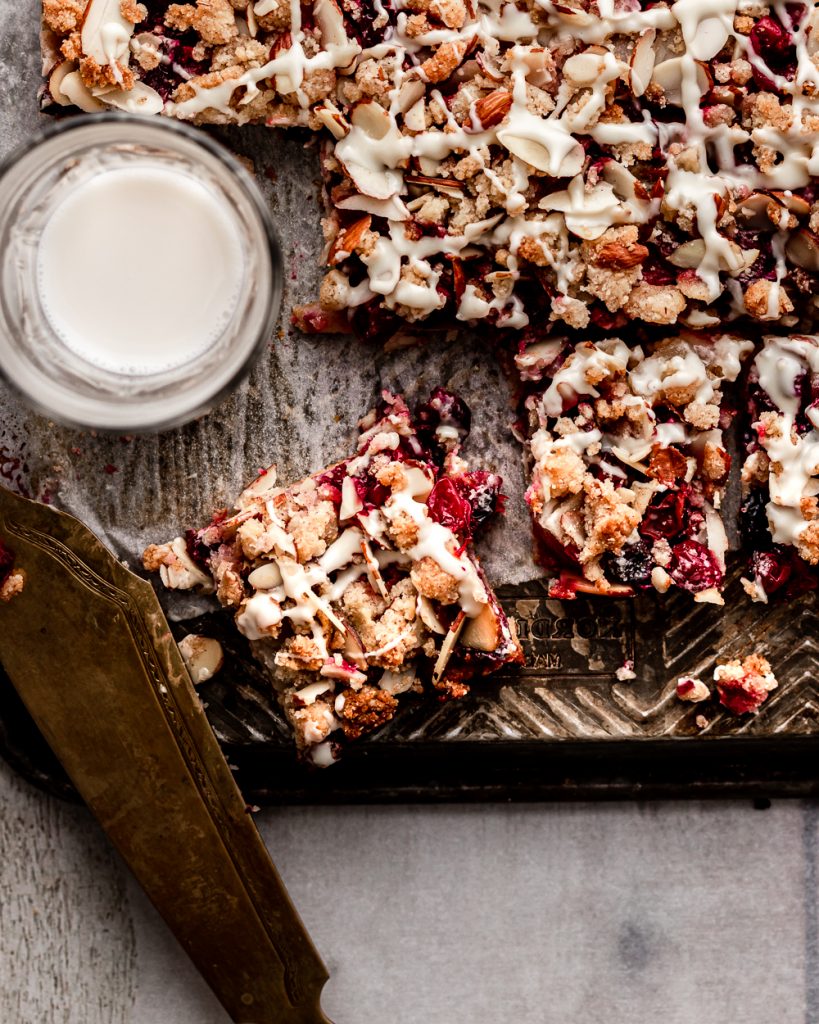 And during our non-blah holidays, we deserve a warm and gooey dessert/breakfast combo with a gratuitous drizzlin' of sugar-free white chocolate.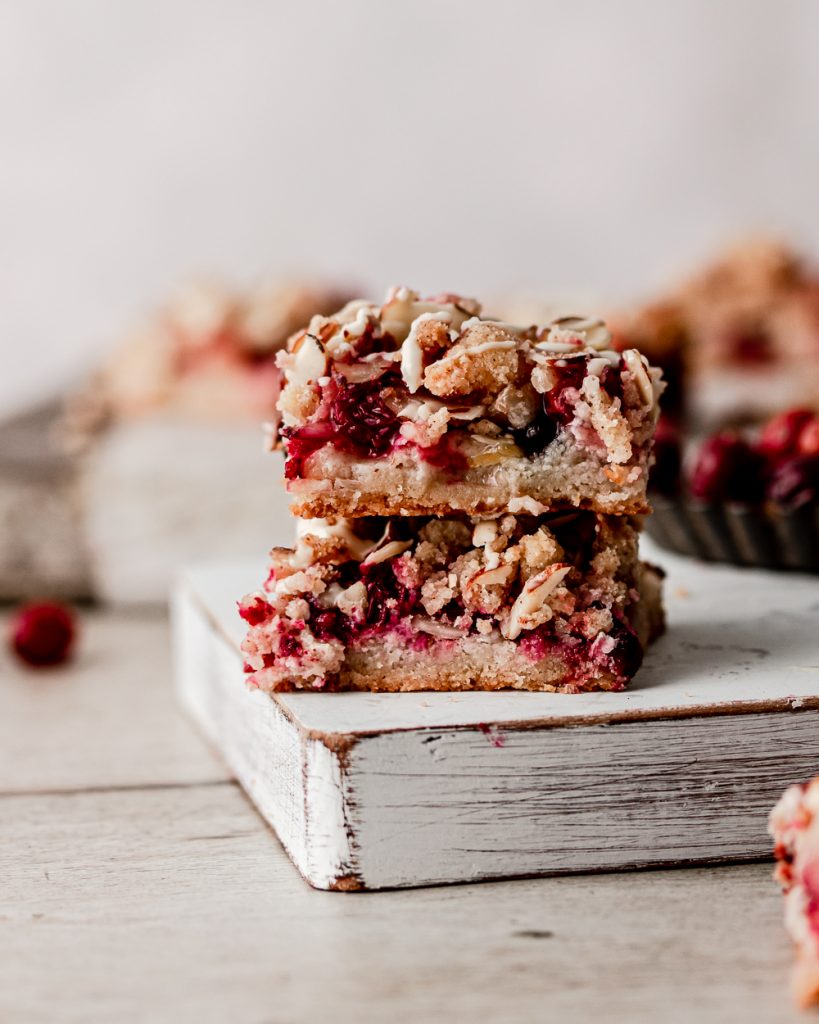 Cran-bar-y Tips!
Because sometimes you try stuff on your own that I have already tried and it doesn't work…so here's that stuff.
Frozen berries are the way to go and it works best if you just leave them frozen!
Use either Lemon or Orange zest/juice depending on your preference (aka what you have in your fridge already) but don't skip this. It's important!
LET THEM COOL! I know I say this in the directions, but I'm going to say it again. Let them cool, at least until they are only slightly warm to the touch. Otherwise, it will be a mess. AND the crust still sort of bakes while it cools, so just cool it. Alright?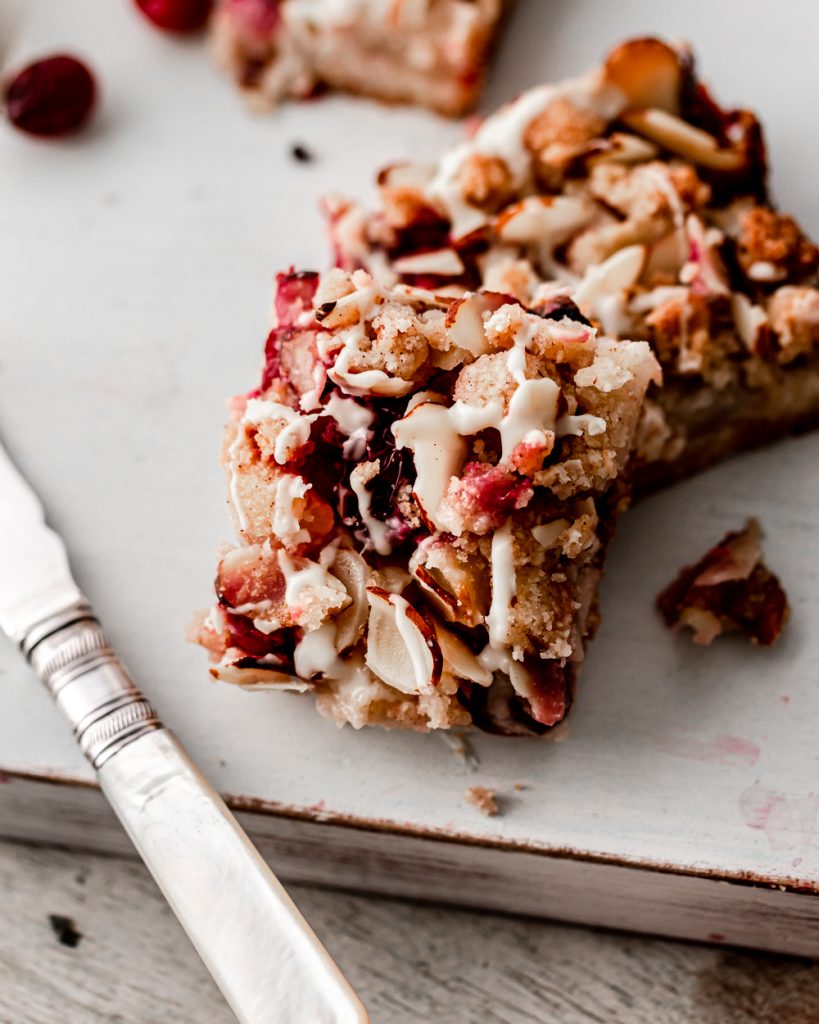 I know cranberry desserts are very "wintery" and all, but this looks like year-round breakfast to me. Especially since cranberries last in your freezer for like, ever.
Heads UP! This post contains affiliate links. As an Amazon affiliate, I earn from qualifying purchases.
Low Carb Cranberry Pear Crumb Bars
Total Time:
2 hours
10 minutes
Deliciously tart yet sweet, these cranberry bars can't be beat! Make with almond flour, cranberries, and LOVE.
Ingredients
For the Crust/Crumble
1 1/2 cups Almond Flour
2 tablespoons Coconut Flour + 1 tablespoon for crumble
1/4 cup + 1 tablespoon Erythritol, or other granulated sweetener
1/2 teaspoon Baking Powder
1/2 teaspoon Xanthan Gum
5 tablespoons Butter, chilled
1 large Egg
1 tablespoon Cinnamon, for crumble only
1/2 cup Slivered Almonds, for crumble only
Cran Pear Filling
2 cups Frozen Cranberries
1 small Pear, peeled and cubed
1/3 cup Erythritol, or other granulated sweetener
1 teaspoon lemon juice, or orange juice
1 tablespoon lemon or orange zest
1/8 teaspoon xanthan gum
Instructions
Heat oven to 350° and line a 9x9 glass or ceramic baking dish with parchment.
MAKE THE CRUST/CRUMBLE: In a large bowl whisk the almond flour, 2 tablespoons coconut flour, sweetener, baking powder, and xanthan gum. Slice the butter into small pieces and add to the flour; cut in with a fork (or clean hands!) until the mixture is soft and crumbly.
Add the egg and mix well to form the dough. RESERVE a heaping 1/2 cup of the dough for the crumble top and place in the refrigerator (you'll add the extra flour, cinnamon, and almond slivers later). PRESS the remaining dough into the prepared pan and set aside.
MAKE THE FILLING: In a large bowl mix the frozen cranberries, pear, sweetener, zest, and lemon or orange juice and fold to coat. Layer over the prepared crust.
Add the remaining 1 tablespoon of coconut flour, cinnamon, and slivered almonds to the reserved chilled crust mixture and gently mix with a fork to break into tiny pea-sized crumbles. Sprinkle evenly over the cran-pear mixture and bake for 25 minutes, lightly cover with foil then bake for an additional 30 minutes. (About 55 minutes total).
Let cool completely before slicing!! They are very delicate until the crust sets! Drizzle with melted white chocolate if desired.
Notes
Watch the video for a helpful visual of what the crust will look like!
Nutrition Information
Yield

16 bars
Serving Size

1 bar
Amount Per Serving
Calories

140
Total Fat

11g
Carbohydrates

6g
Net Carbohydrates

3g
Fiber

3g
Protein

3g