Let's make the holiday bright, one keto kiss (cookie) at a time. Actually, no. Let's go for two at a time.
---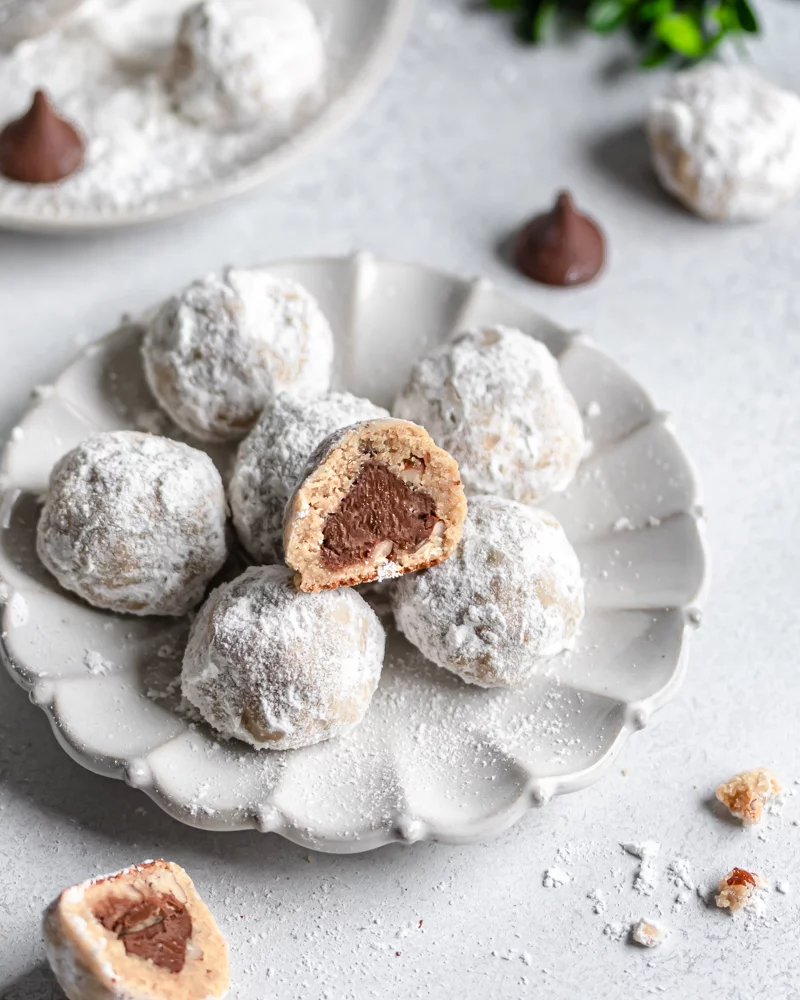 Snowballs Used To Be My Least Favorite Cookie.
What was once was a gross, second-string Christmas cookie, is now a beloved holiday treasure.
How, you ask? Simple. We add a little keto chocolate kiss center and we don't over-bake the crap out of it. The end.
Keto Snowball Cookies That Aren't Gross and Dry: A Christmas Miracle
Okay, so making these keto snowball cookies isn't just about getting kissed and underbaking—it's also about getting the right amount of fat without having your cookies spread and flatten.
Basically, follow the recipe because I tested it a bunch of times and A LOT of those tests failed miserably.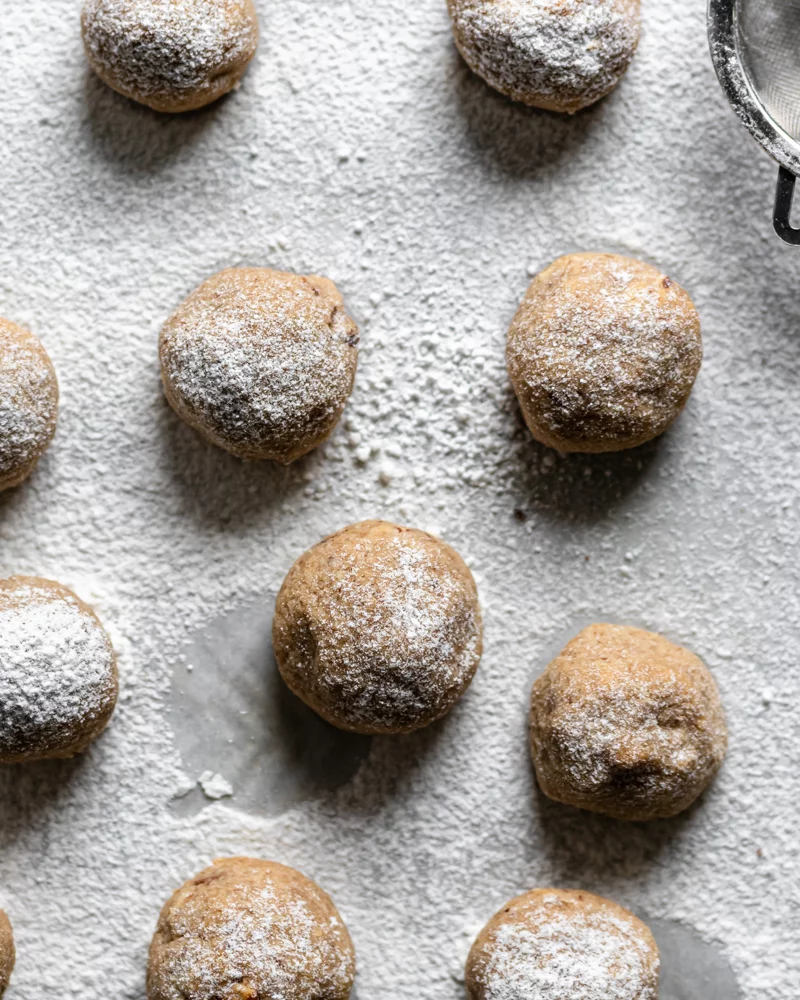 Keto Sweeteners
Getting sugar'd up on keto can happen a few different ways. For these cookies, I honestly prefer Swerve Brown (erythritol and oligosaccharides) because it adds moisture and tastes good. Then I dust with Swerve Confectioner's style.
You could also use Allulose if erythritol isn't your thing, but you'll have to use a bit more to get the same level of sweet. AND my dear sweet mother is super sensitive (gut wise) to all sweeteners except for this one, so it's worth a shot.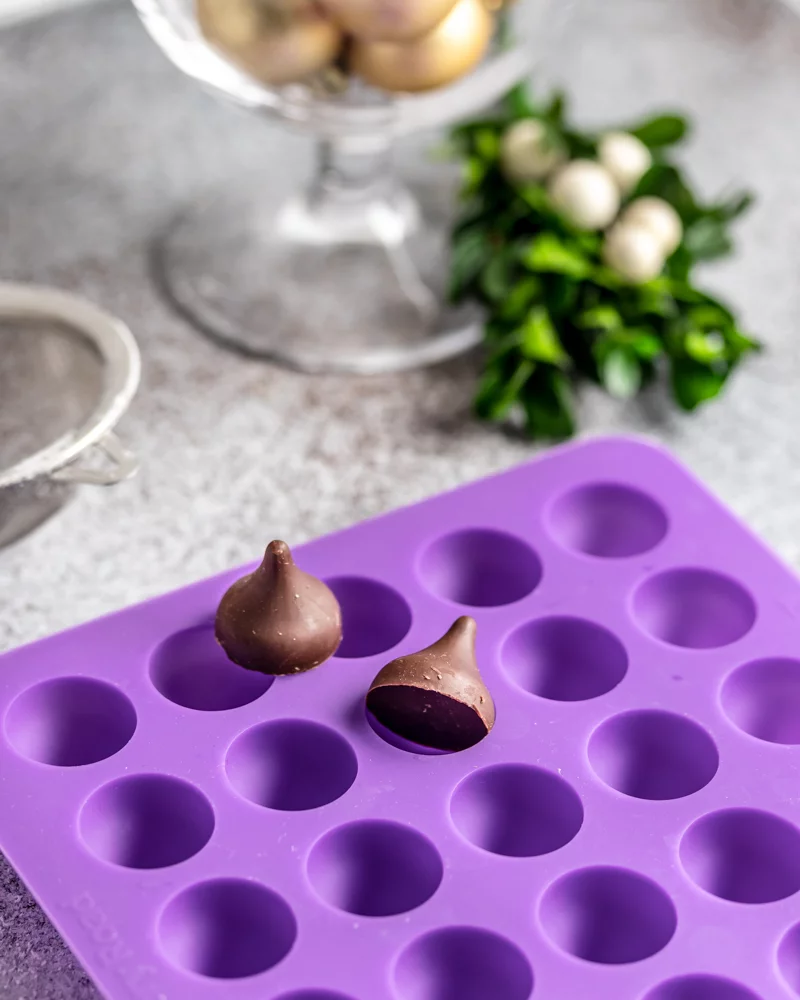 Kiss Me, but Make it Keto
I'm sure the folks at choczero or lily's are going to eventually make keto "kisses" but until they do, I make my own. Just melt down your *fave* keto-friendly chocolate and fill these super easy-to-use silicone kiss molds. DONE.
You could probably also make some pretty killer flave combos like peppermint or white chocolate. SNOWCAPS?! Other things?!?!
It's worth the investment, for sure. But definitely put these cookies on your to-do holiday list. Right next to the Keto Peanut Butter Blossoms and (messy but somehow necessary?) Iced Sugar Cookies.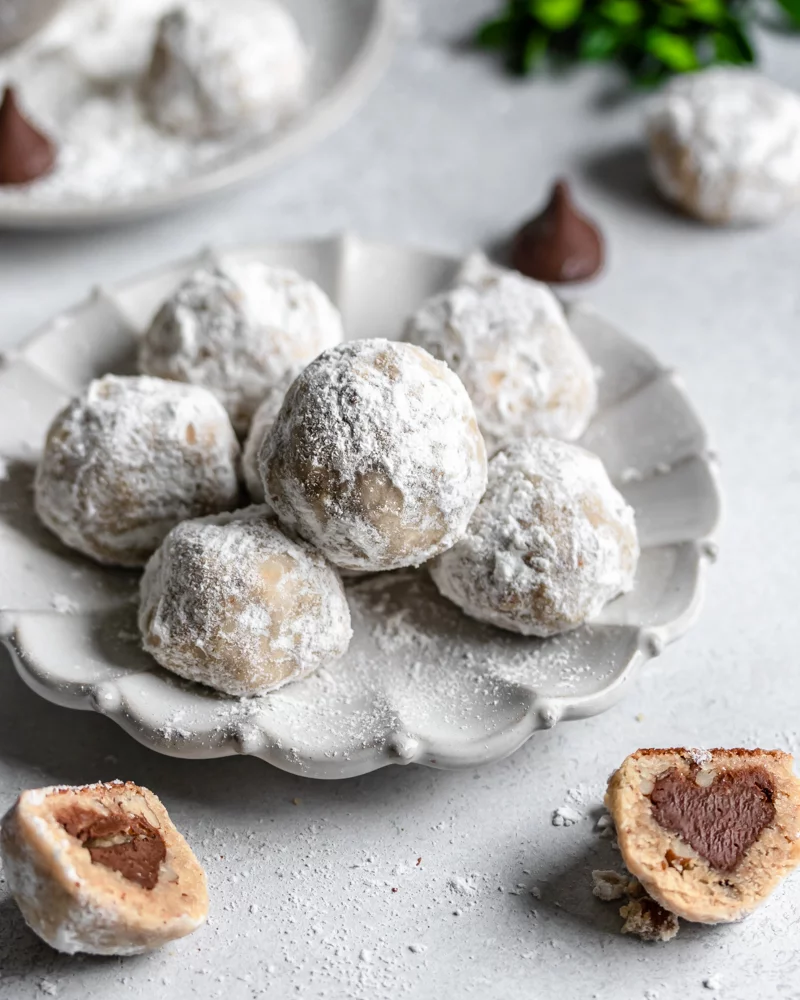 Last thing, I promise…do they or do they not look like upside-down hearts?!?! Could they double as Valentine's Day Cookies?!?!
I say yes. You can fight me agree with me in the comments 😘
Looking For More Keto Treats? Try These On For Size!
Mini Cookie Cups with Silky Dark Chocolate Ganache
Peppermint Snowball Cookies
Copycat Keto Vanilla Wafers That Are Actually Crisp!
Keto Cinnamon Roll Cookies (and only 1g Net Carbs!)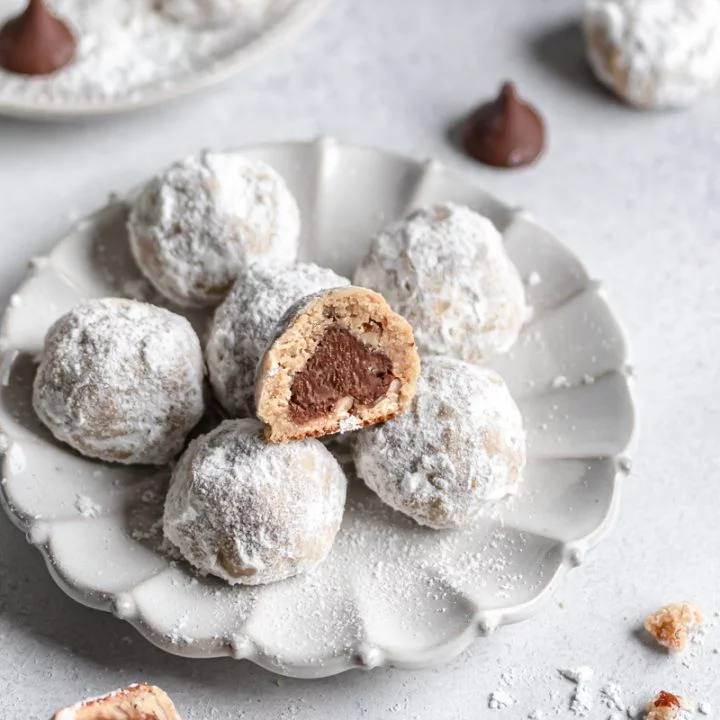 Keto Secret Kiss Cookies!
All cookies are better with keto kisses, even tradish pecan snowball cookies. It's a fact of life! Embrace it.
Ingredients
Keto Chocolate Kisses
For The Dough
1 cup Almond Flour
2 tbsp Coconut Flour
1/2 cup Pecan Halves
1/4 tsp Xanthan Gum
Pinch of Salt-literally, just pinch it and go
4 tbsp Cold Butter
1 Large Egg White
1/2 cup Swerve Confectioners **or powdered Allulose for no cooling** to roll/dust cookies
Instructions
Make the Chocolates: Melt 3 oz of low carb/keto chocolate (or make your own!) and fill each cavity of your silicone mold.
TAP the molds until all of the air bubbles rise, then use a toothpick to make sure chocolate gets all the way to the tippy-top. Refrigerate until solid, unmold, then keep refrigerated until you are ready to make cookie magic happen.
Make the Dough: Pulse 1/2 cup pecan halves in a food processor until crumbly. You want them "chopped" but not too fine!
Whisk together the cup of almond flour, 2 tbsp coconut flour, chopped pecans, swerve brown sugar, 1/4 tsp xanthan gum, and pinch in some salt.
Cut cold butter AND egg white into the flour mix. It's easiest to mix with clean hands or a pastry cutter, then finished off with a big spoon. Just really work the dough so everything is smooth and evenly distributed. But clean hands work best!!!
Scoop a tbsp of dough into a ball. Press a chilled kiss into the center and wrap the dough around to seal. Arrange on a plate or baking tray. Refrigerate for at least 30 minutes or pop in the freezer.
Bake at 350° for 10-12 minutes, watching at 9 to make sure they don't burn. Dust with powdered Swerve while warm, then chill and roll in powdered Swerve to finish.
Notes
**THIS DOUGH works best when you don't cream the butter and sugar. It's because creaming adds a lot of extra air (normally good) but you won't get the fine and buttery texture like these. You also run the risk of them spreading too much! Just get in there and mix the dough with your clean little fingers.
Nutrition Information
Yield

15 cookies
Serving Size

1
Amount Per Serving
Calories

120
Total Fat

11g
Carbohydrates

5g
Net Carbohydrates

2g
Fiber

3g
Protein

3g