Half zoodles, half gluten-free pasta, and a whole lot of creamy parmesan goodness. Plus, SO MANY VEGGIES!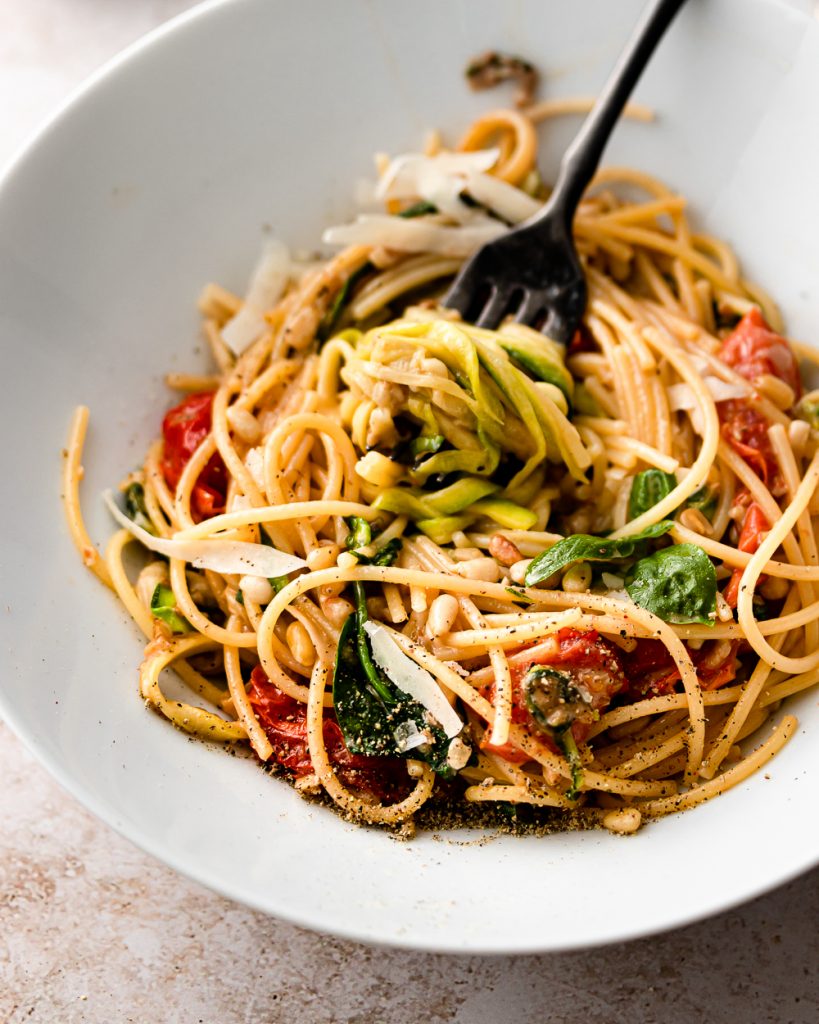 Picky about Pasta?
Let's Go Halvsies!
Not everyone loves eating 100% zucchini noodles, but almost everyone can agree that ⬆VEGGIES and ⬇PASTA is good for your bod and stuff. SO how do we eat more plants and less pasta without being sad and missing pasta?
Compromise!!!!
I'm a firm believer in this and you can't change my mind. I mean, isn't it better to eat a little more carbs and actually ENJOY the meal vs not feeling satisfied and forever labeling zucchini as "diet food" and loathing it???
The same rationale goes for cauliflower. If you don't like cauliflower mash, then why torture yourself and add a block of cream cheese just to make it palatable? That's dumb. Give half-cauliflower half-potato a try instead. You can still portion it out properly and maybe your family will eat more cauliflower that way!!
Bottom line, I gave up trying to be perfect a long time ago and decided that I love noodles AND zoodles, so why not mix it up with both and satisfy all of my noodle-related desires???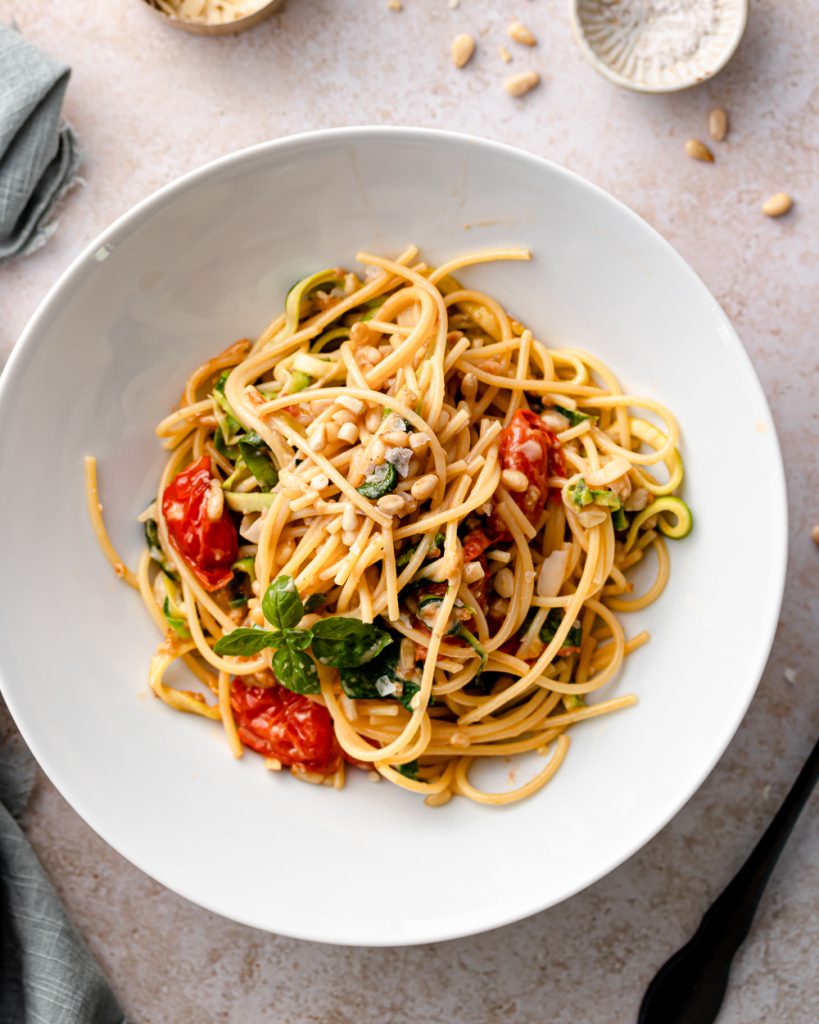 Pasta Picks
I go-go-gluten-free when I do any pasta but I always try to choose those with the highest fiber count (like the bazna noodles or chickpea flour noodles). If you're a keto dieter and carbs are gettin' counted, shirataki noodles are an option here as well! Personally, I can't do the texture of the shirataki noodles but that's just me!
Quick n' Easy Zucchini Pasta
This recipe NEVER fails me. It's so easy and light because it's just a touch of cream, a handful of parm, and the noodles/zoodles with some blistered tomatoes for good measure.
Fresh basil is also always a toss-in, as well as basically any delicate greens that are about to expire in the fridge. Mostly arugula or spinach.
Use it or lose it, baby!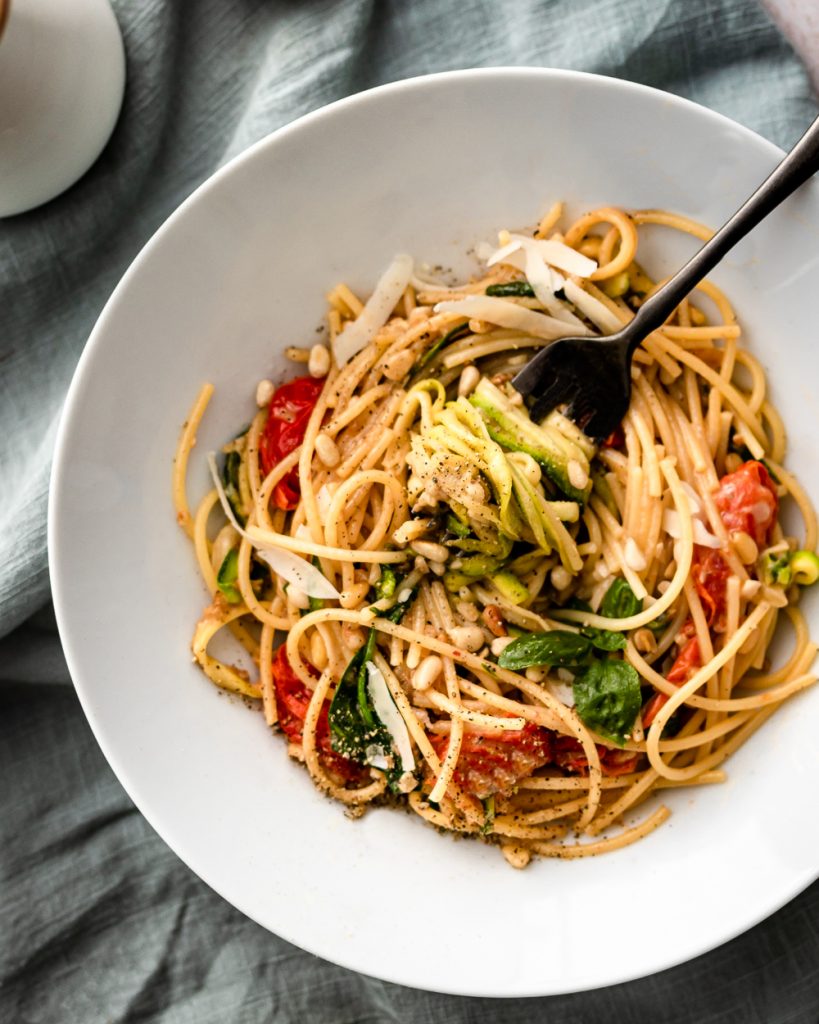 To top it off, I like to add TONS of toasted pine nuts and a healthy dose of cracked black pepper. Literally, so simple. You'll be whipping this up weekly because it's so fast.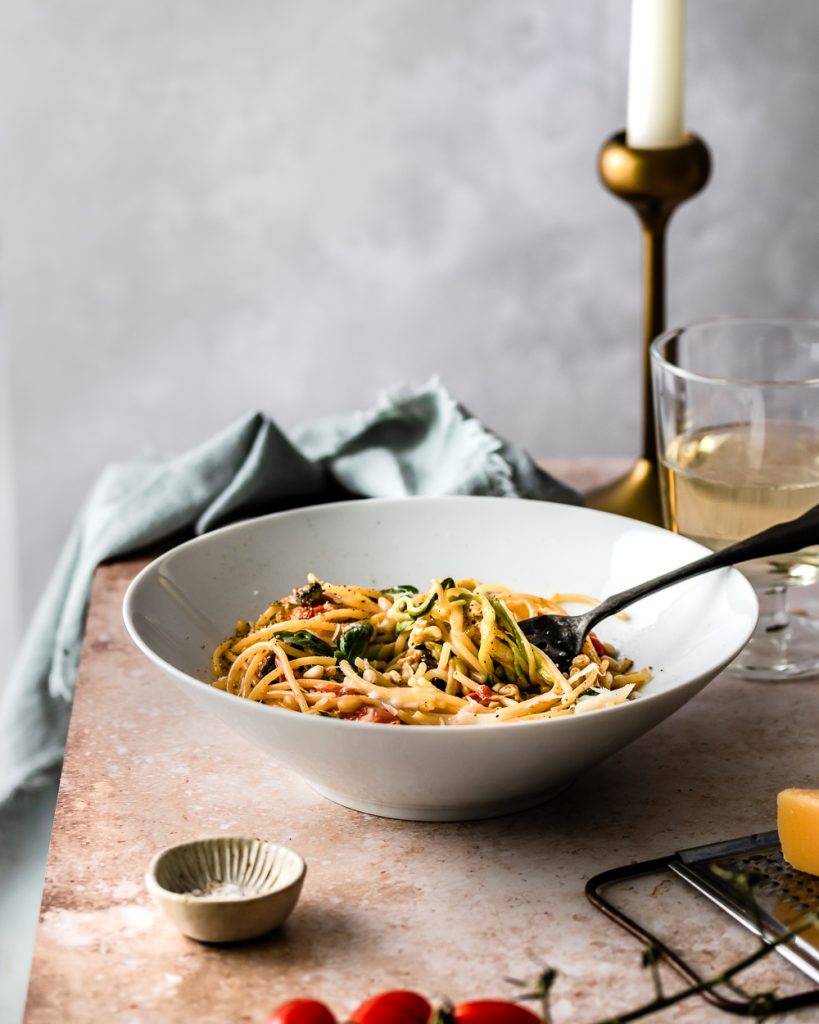 Heads UP! This post contains affiliate links. As an Amazon affiliate, I earn from qualifying purchases.
Want More Veggie Heavy Meals? Try These!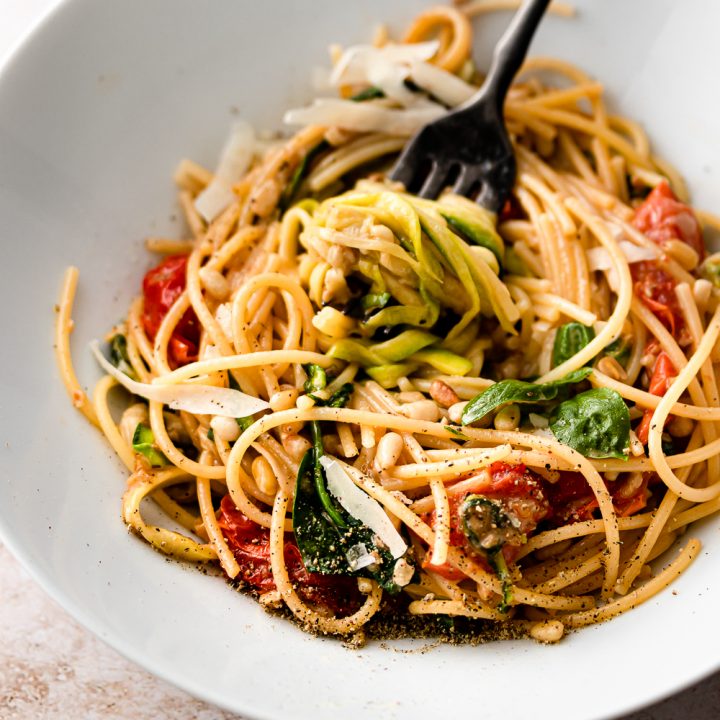 Zucchini Pasta with Tomatoes Basil and Parmesan
Eating well isn't all or nothing! You can have some zucchini noodles AND pasta noodles and still feel good about your meals! Especially when there's cheese and tomatoes involved.
Ingredients
6-8 Cherry Tomatoes
1 teaspoon Minced Garlic
1 tablespoon Olive Oil
2 tablespoons Heavy Cream, plus a splash if needed
1/2 cup Shredded Parmesan Cheese, fresh is best
1 tablespoon Pine Nuts, toasted
Fresh Basil
A handful of fresh arugula or baby spinach, optional
Generously season with Salt and Black Pepper!
Instructions
Toast the Pine Nuts: Grab a clean skillet and toast the pine nuts over medium-high heat, stirring frequently. Once they start to lightly brown, remove to a small dish and set aside.
Make Noodles/Zoodles: Turn your zucchini into noodles with a zoodle-maker and begin boiling water for your gluten-free pasta and cook according to package directions. Alternately if using keto shirataki noodles, prepare according to package.*
For the tomatoes and sauce, heat a large skillet with olive oil over medium-high heat and pierce each tomato with a fork. Add to the skillet and toss to heat evenly. Once it starts to pop and the tomatoes release their juice, reduce to medium and add the minced garlic. Cook for 1-2 minutes.
Once the garlic is fragrant, pour in the cream and give it a stir. Drain and add the prepared pasta noodles along with the zucchini noodles, spinach (if using) and shredded parmesan. Toss to coat and let the zucchini soften and release moisture; about 1-2 minutes. If needed, add another splash or two of cream at this step.
Season with salt and pepper and plate your easy noodles. Top with fresh basil and toasted pine nuts. Oh, and DEFINITELY more cheese too!
Notes
The nutrition is calculated using Chickpea pasta! If you are keto, feel free to go all zucchini noodles or to use a keto-friendly substitute.
Nutrition Information
Yield

2 servings
Amount Per Serving
Calories

356
Total Fat

21g
Carbohydrates

23g
Net Carbohydrates

17g
Fiber

6g
Protein

17g