Spicy portobello mushrooms and veggies with the added protein of hemp seeds!
---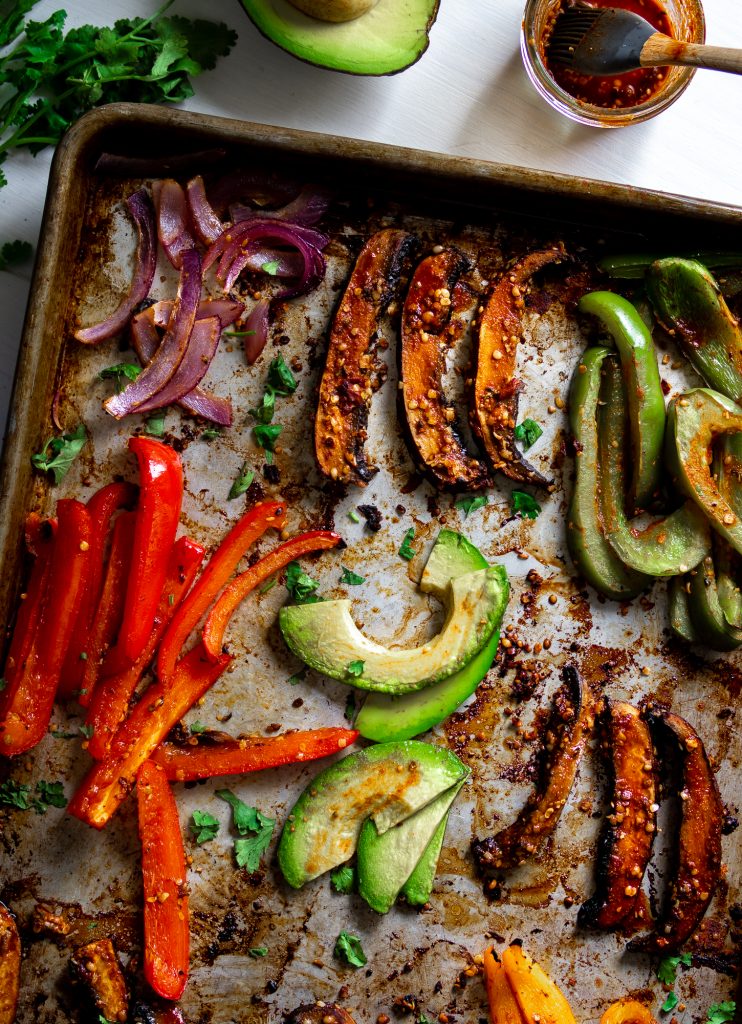 Again with the mushrooms
I can't help it, nor will I deny it anymore- I love a good marinated mushroom. Especially if it's got a lot of health benefits smeared all over it. Maybe I'm in a rut, or maybe I've just stopped denying myself what I love and now I'm living my own culinary happy ever after?
Actually, I think it's the hemp…
Fajitas for Health!
Not too far of a stretch since fajitas are typically veggies and protein, but the vegetarians are really not getting served in that category. The meatless options are also fairly tasteless, and if they aren't tasteless they are full of gluten which is a no-go for a lot of you. These fajitas are full of charred slices of Portobello mushrooms are coated in a spicy mix of seasonings and a sprinkling of hemp seeds–one of the few plant-based foods that is a complete protein. And completely delicious. No soy and no vital wheat gluten.
The spices!
The Avocado!
The glory of eating directly from a pan! Every single girl's fantasy and my typical Tuesday night 🌮
---
Spicy Portobello Sheet Pan Fajitas
They taste prettier than they look!
But they are just as healthy as they look.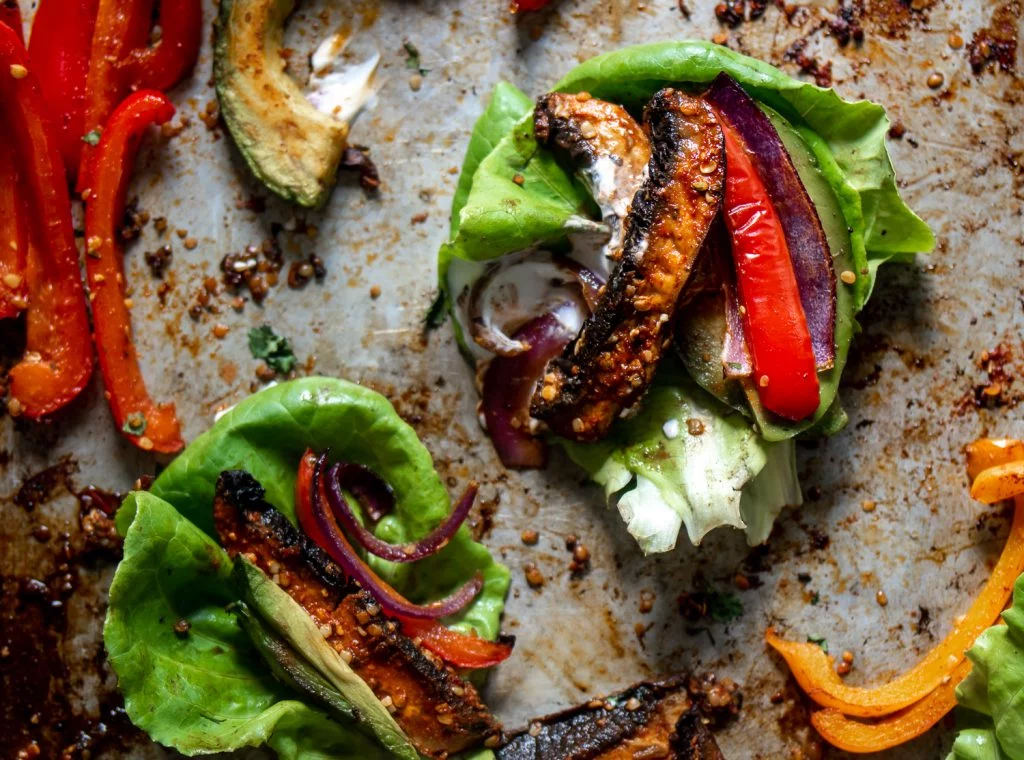 Chipotles in adobo is the way to ado-go.
They give this pan some heat and some flavor.
Just be sure to get a brand that isn't full of sugar and silly, unnecessary additives.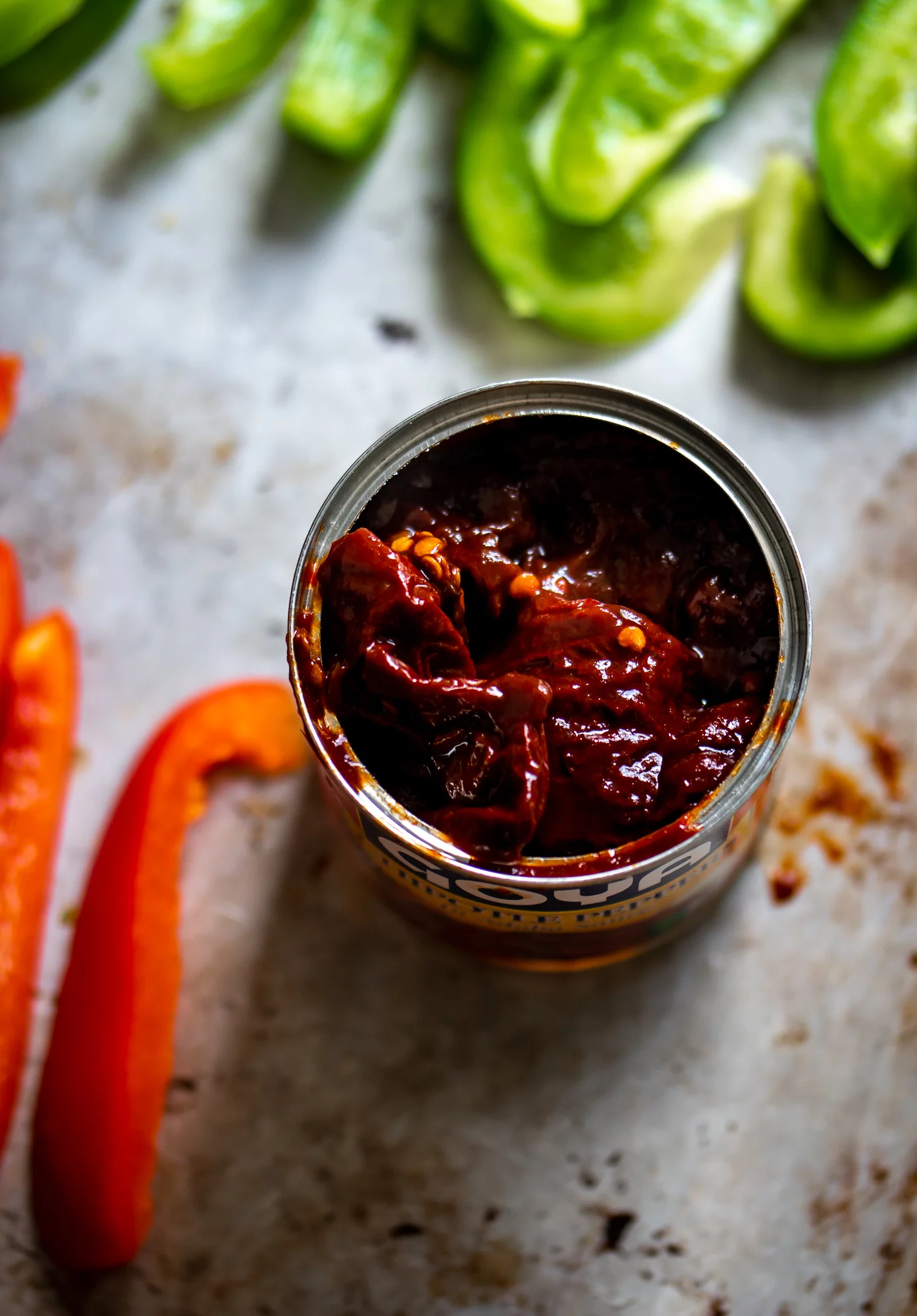 The mix of spices, avocado oil, and the hemp seeds get spread all over the mushrooms.
Be careful not to break your mushroom pieces.
Thick slices are still delicate. I used a pastry brush to gently distribute the sauce.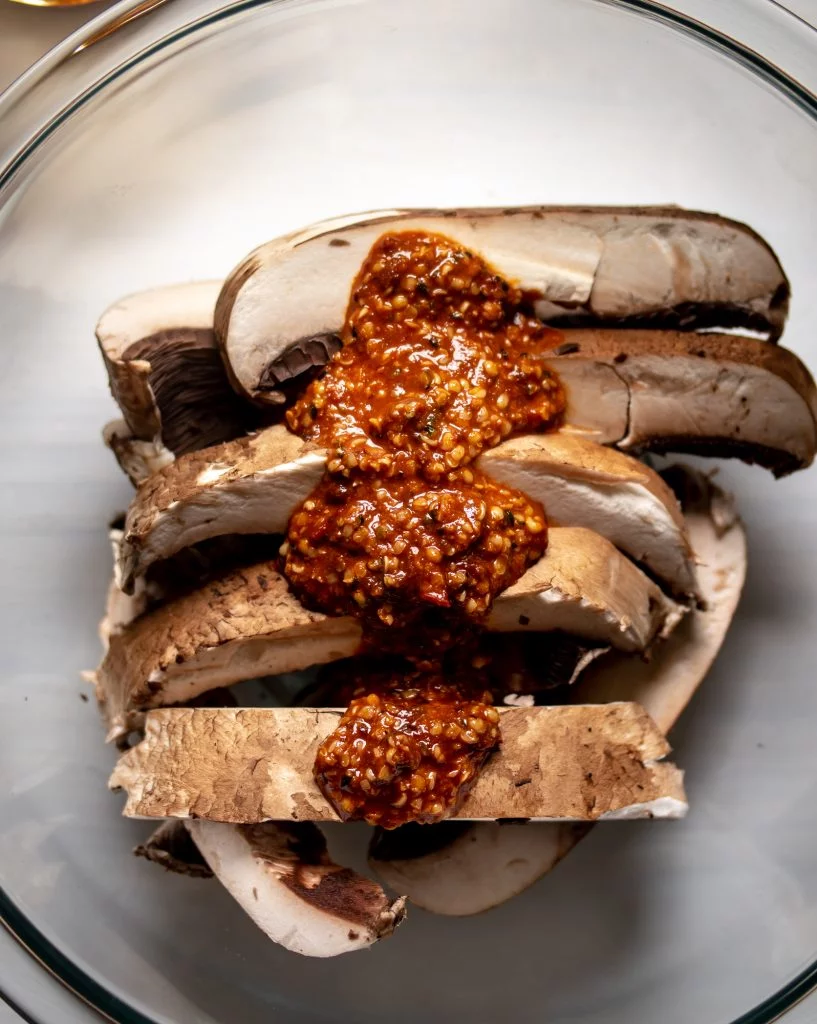 Roasting Note: for photo purposes, you see all things on one pan now.
In reality, roast the peppers first and add the mushrooms later.
Peppers take a while to get roasty and mushrooms cook in five seconds.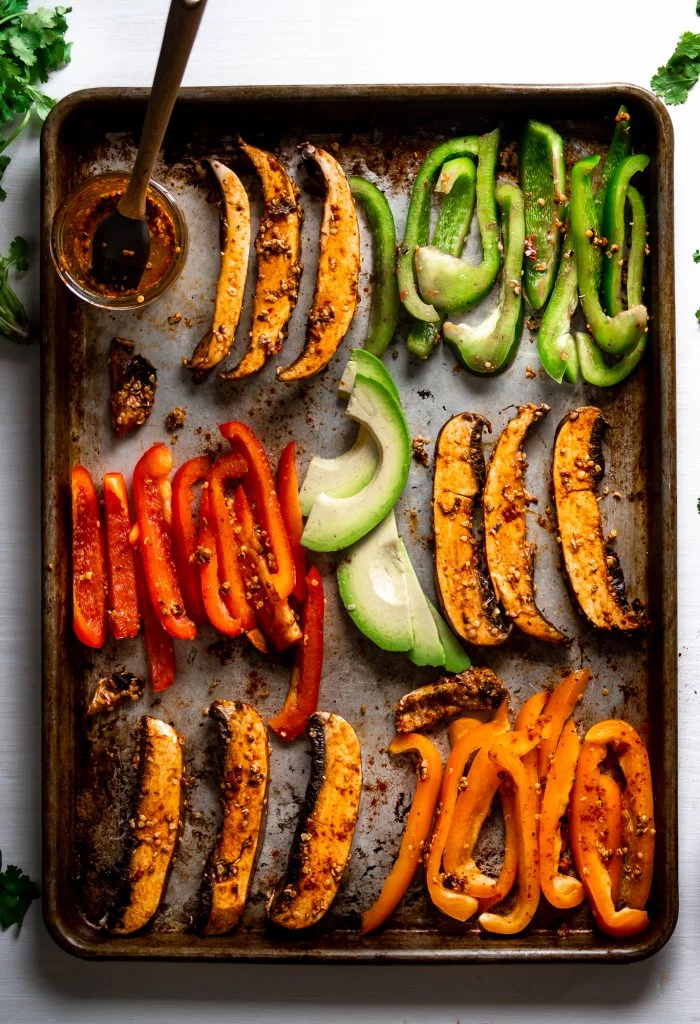 Post bake, you'll have something that looks like this (down there) and you'll want to eat it right from the pan. Do it.
As you may also notice, the avocado goes in the oven to get roasty as well.
If you have never had baked avocado, you are about to be very thankful to me.
I accept thanks via paypal.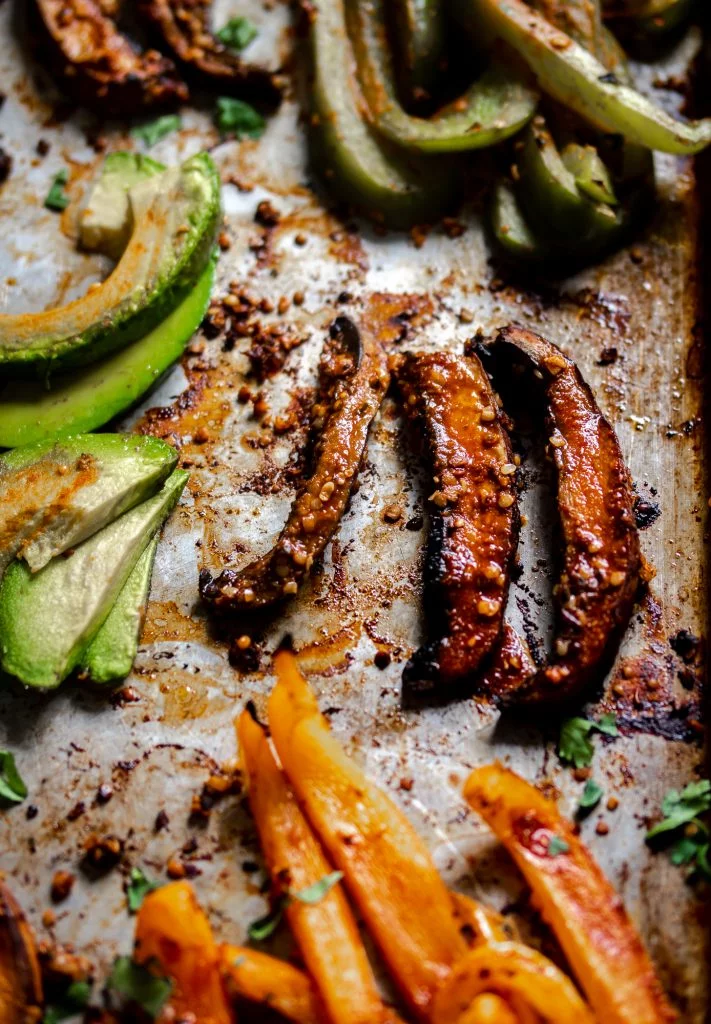 The hemp seeds give it a nutty taste so I wouldn't skip 'em.
And did I mention the protein?
Because they really bring the protein.
Eat it with a fork, out of a bowl, or in a lettuce cup.
Optional add ons are Frank's Red hot and some cool sour cream, vegan if you need.
Cilantro is nice, too.
I like cheese on my fajita but I was out of everything but Gouda…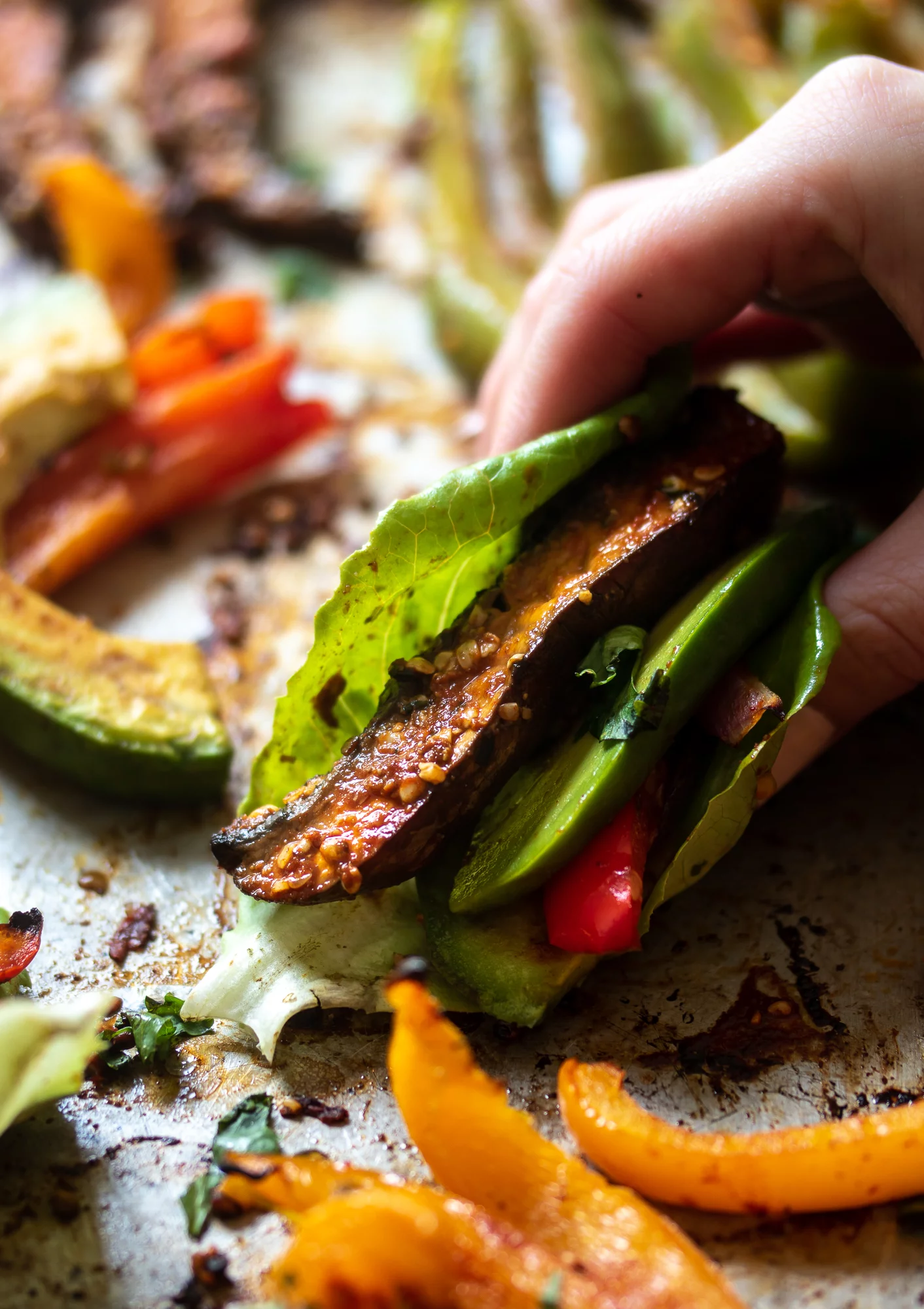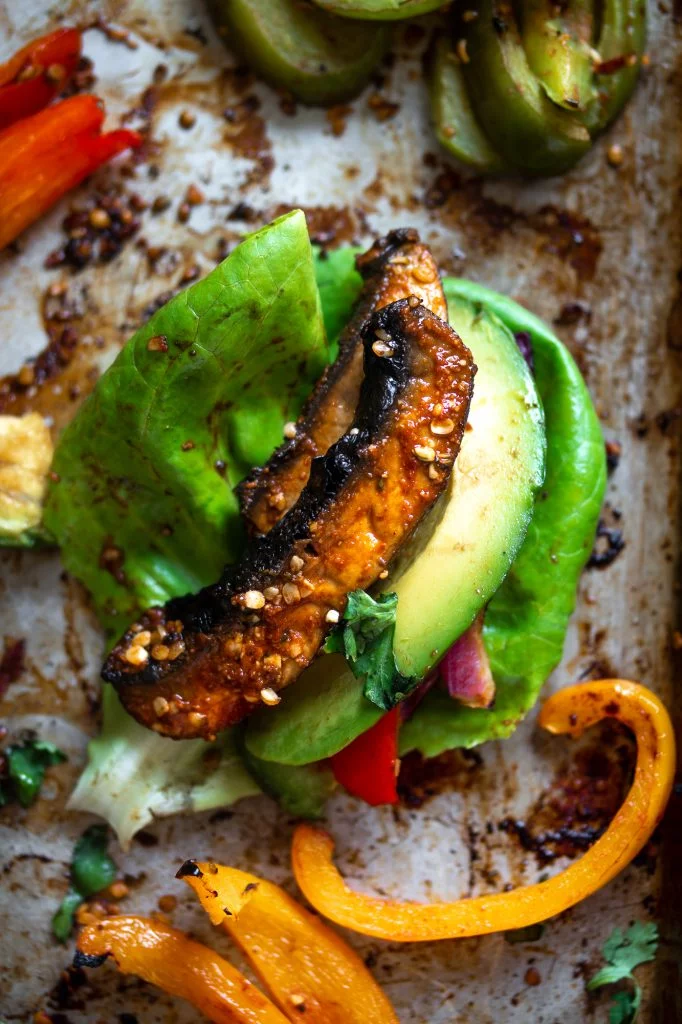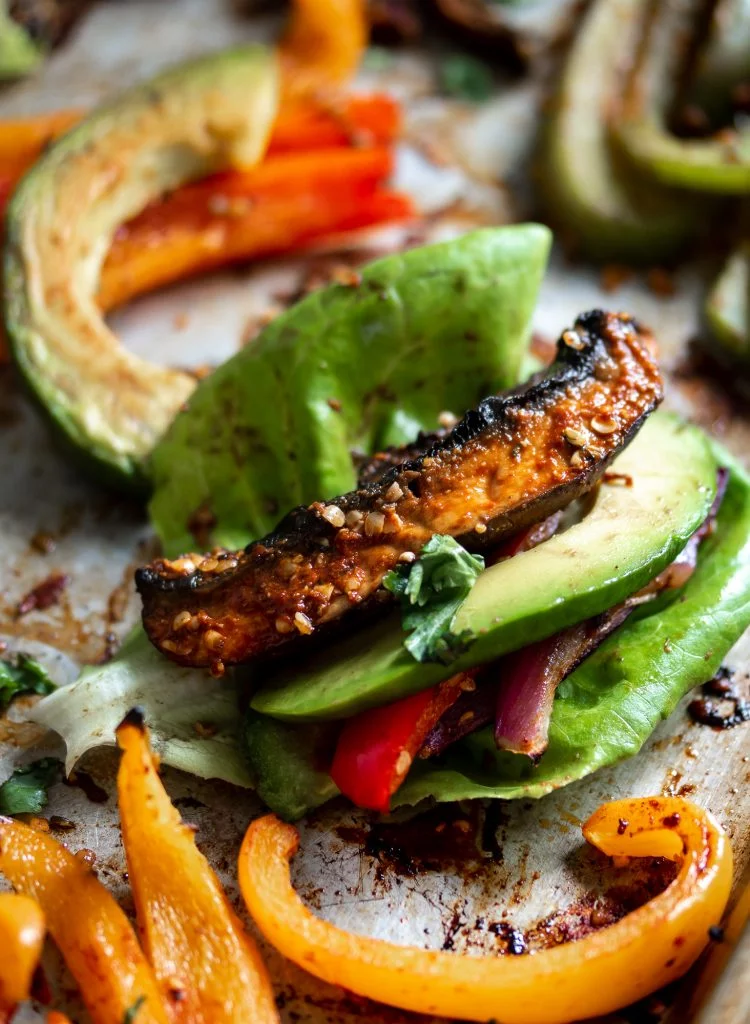 Spicy Portobello Sheet Pan Fajitas
Spicy! Veggie! Fajitas! All on one pan and ready to devour in 30 minutes!
Ingredients
2 Portobello Mushroom Caps, stems removed, gils optional
1 Red Bell Pepper
1 Green Bell Pepper
1 Orange Bell Pepper
1 Avocado
1/2 Purple Onion
For the seasoning
1 tsp Adobo from the peppers
2 tsp Smoked Paprika
1 tsp Garlic Powder
1 tsp Cumin
a lot of Salt-or to taste, but I like to taste a lot of salt
3 tbsp Avocado Oil (or the oil you prefer)
*Water to thin your seasoning if needed
Garnish-Lime Juice and Cilantro
Instructions
Prepare the seasoning by mixing everything together with 1 tbsp Hemp Seeds. If the mixture isn't thin enough to brush, add a little water until it's a little thicker than a marinade.
Slice your veggies into long strips, keeping the mushrooms very thick. They shrink considerably.
Brush the seasoning on the mushrooms first, then add any remaining seasoning to the veggies. Set mushrooms aside.
Arrange the peppers, onion and avocado on a baking sheet and roast at 400 F for 10-15 minutes, turning half way.
Add the mushrooms to the pan, sprinkle with remaining hemp seeds and roast for an additional 8-10 minutes.
Serve hot with a shot of tequila and probably more salt.
Notes
Serves THREE for a big meal or 4 for a side to a meal of other delicious things.