Take a peanut butter break with a couple of Copycat Keto Nutter Butters! These crispy PB shortbread cookie sandwiches are full of nutty flavor and creamy peanut buttery goodness. Welcome to your childhood!
---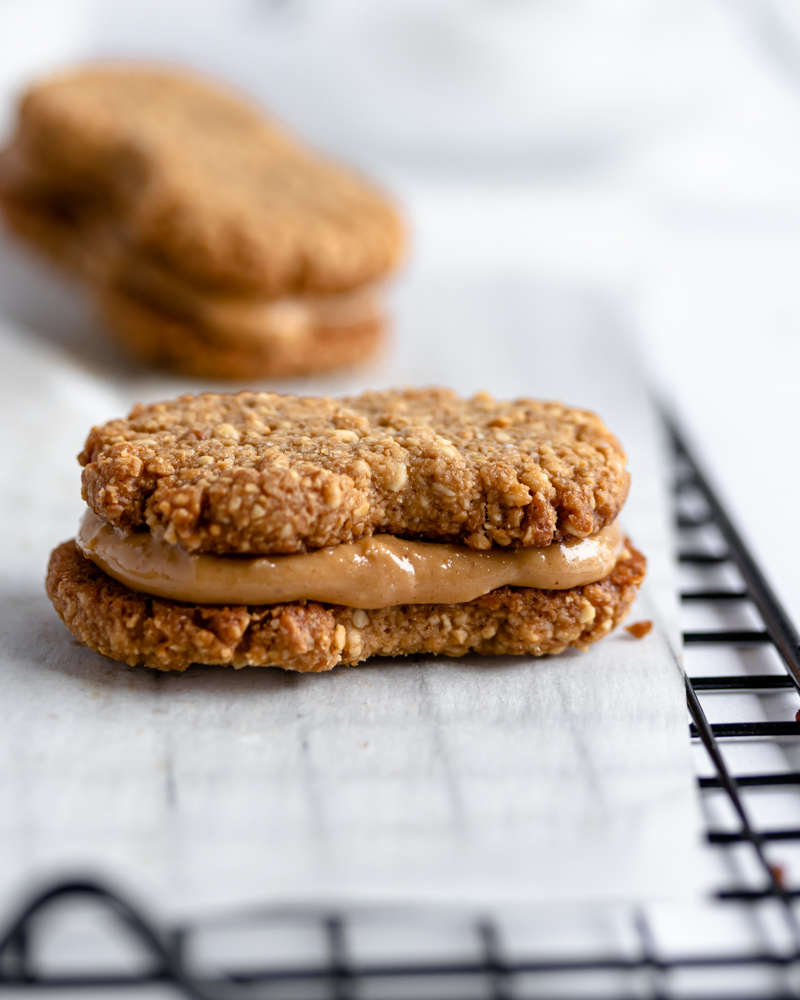 One Tough Cookie
Because don't we have enough soft and chewy cookies?
You might not agree with me on this, but in my humblest of opinions, if you're going to make a copycat of the classic Nutter Butter by just whipping up plain old basic peanut butter cookies and sandwiching them with some Jif…that's the culinary equivalent of giving up.
Don't you dare quit on me. Or cookies.
Also, hi. That's not a Nutter Butter.
The truest version of a PB sandwich cookie is a crisp cookie with a creamy sweet peanut butter center, right? Not some soft-baked imposter nonsense that we've had a million times.
Be Better, Nutter Butter
Our gluten-free and keto-ish version of the nutter butter starts with a secret ingredient. PEANTUS. Okay, so not that secret. But the thing that sets these cookies apart from the rest is that they are a peanut butter shortbread rather than the ever popular egg-based versions.
No eggs = Crispy Crunchy Cookies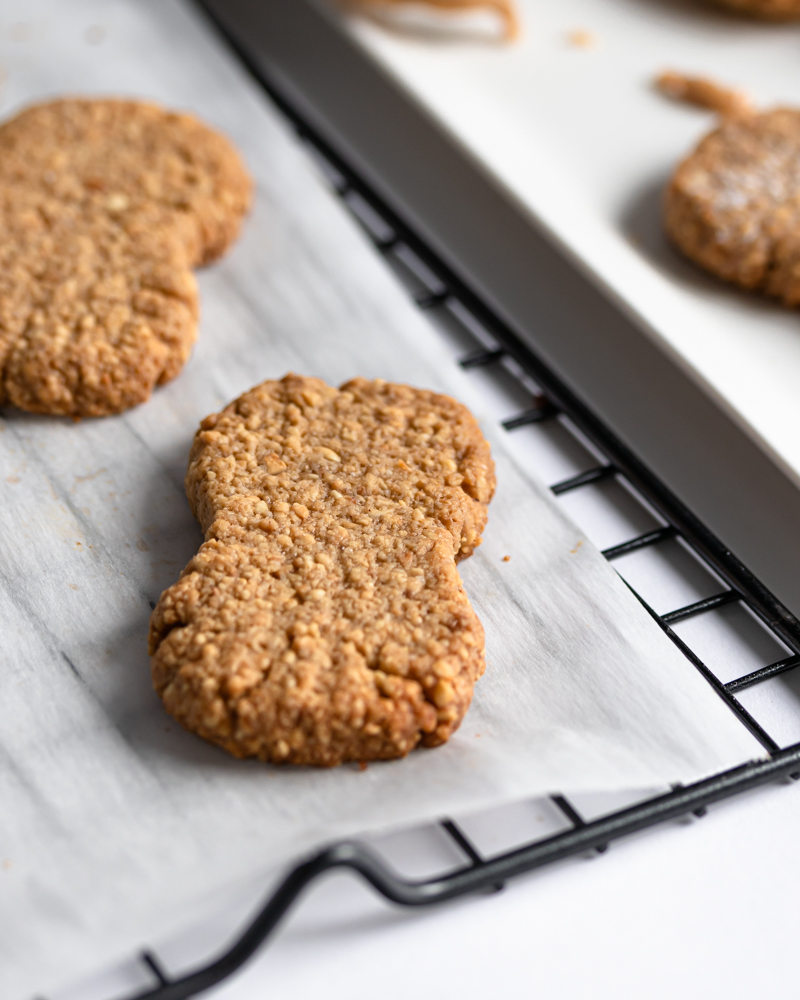 Heads UP! This post contains affiliate links. As an Amazon affiliate, I earn from qualifying purchases.
What You'll Need
Then it's a matter of extreme patience to form each piece of cookie dough into the shape of a peanut, bake it, cool it, and FILL IT with creamy nutty goodness.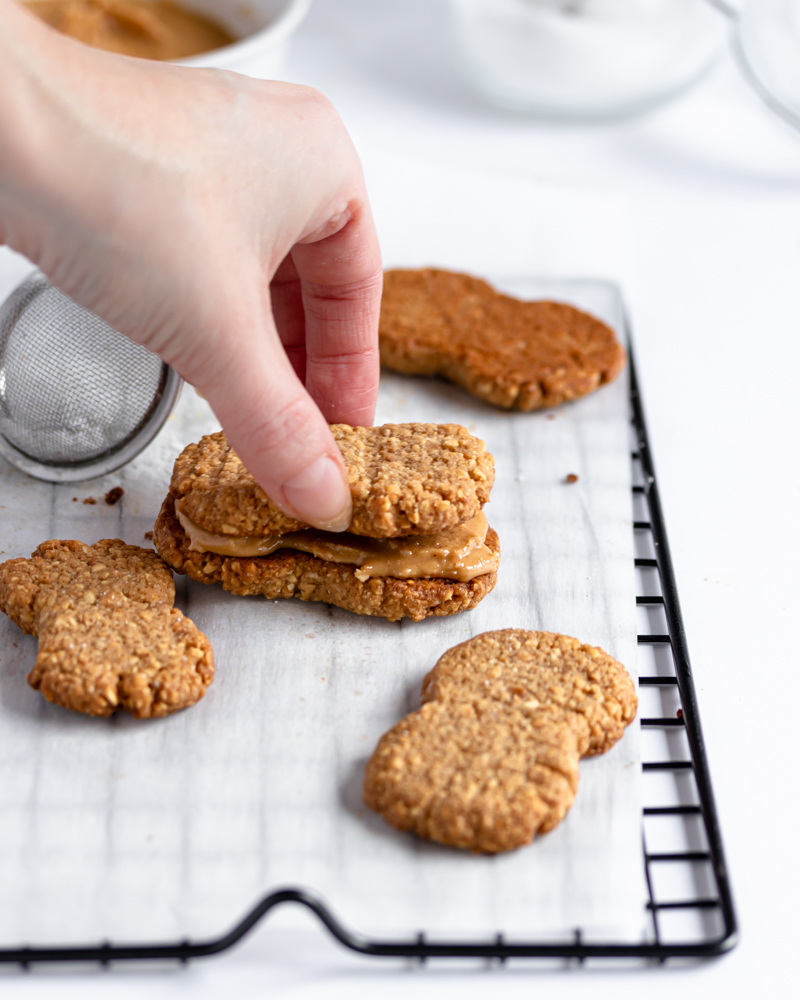 Shape Up
Tips for shaping your peanuts properly:
Scoop about 1/2 tablespoon of the dough into the palm of your hand.
Squish it into an oval and smooth the edges so you have a uniform thickness.
Place the oval/soft rectangle onto the baking sheet and squeeze the center like a mini cookie corset. Once it starts taking shape, you can fiddle with it from there until it resembles a peanut!
Using a fork, drag the tines over the top in a cross-hatch pattern for maximum cuteness.
P.S. chill the cookies before you bake them to prevent overspreading!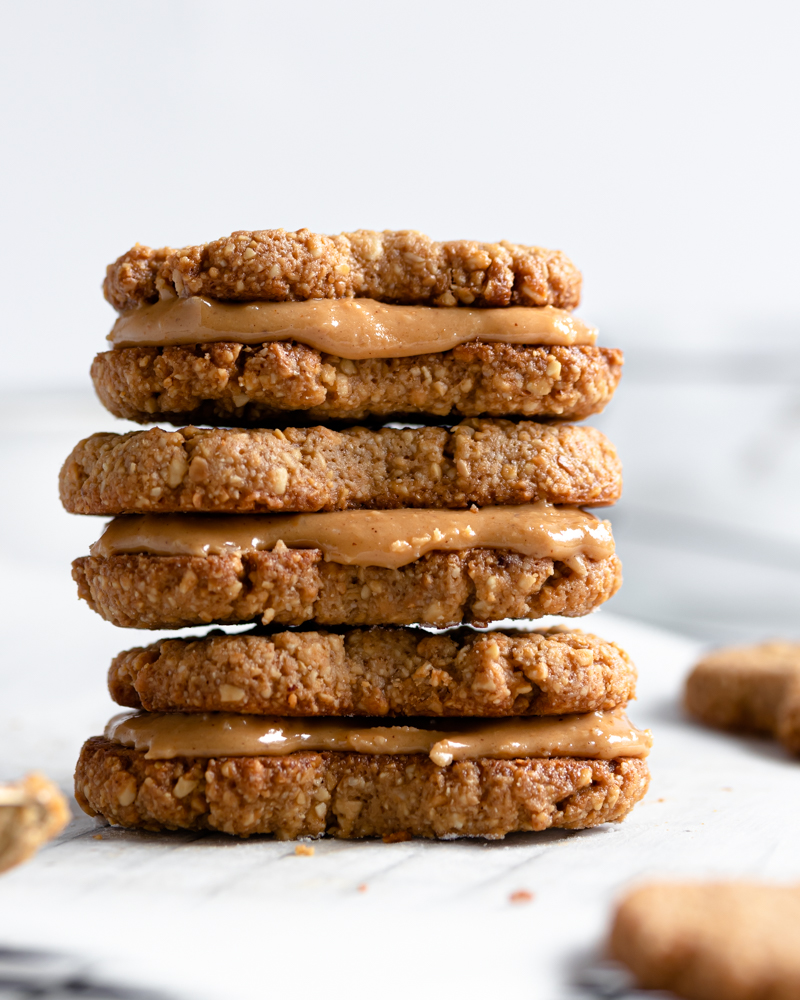 The Fine Print
As far as cookies free of both sugar and gluten go, these are pretty darn good. They aren't 100% peanuts because even though I tried, that just didn't work.
You will taste a touch of almond flour, but I promise you it is pleasant.
If you'd like to be ultra lazy (no judgment) you can certainly just spread these cookies with straight peanut butter instead of making the filling recipe. It's still delightful and not at all a cop-out.
White Chocolate Macadamia Peanut Butter Cookies! Gluten Free & Keto
Super Soft 4 Ingredient Peanut Butter Cookies! Keto & Gluten Free
Keto Peanut Butter Twix Bars!
Copycat Keto Nutter Butters with REAL Peanuts!
Yield:
7 sandwich cookies
Additional Time:
30 minutes
Ingredients
Peanut Shortbread Cookie
Peanut Butter Filling
1/2 cup Creamy Natural Peanut Butter
2 tbsp Powdered Swerve, or sweetener of choice
Instructions
Heat oven to 350°F and line a cookie sheet with parchment or a silicone baking mat.
Add the peanuts and sweetener to a food processor or a bullet blender cup and pulse until the nuts are finely chopped. Add the almond flour and pulse a few more times.
In a medium bowl combine the nut mixture, xanthan gum, and 3 tablespoons butter. Use a fork (or your clean hands) to work the butter into the flour until a dough forms.
Scoop out a generous 1/2 tablespoon of dough and use your palm to form the dough into an oval or a soft-edged rectangle. Place on the cookie sheet and gently pinch the center of the oval to form a peanut shape. Smooth and press the edges as needed.
Repeat with the remaining dough and CHILL in the refrigerator for 30 minutes. *This keeps them from spreading. Bake for 10 minutes, watching for the edges to brown.
Cool the cookies on the counter for at least 15 minutes before trying to move them. As they cool the cookies will be more sturdy.
Make the Filling: In a medium bowl, beat the peanut butter and powdered sweetener until smooth. Spread a spoonful of filling onto half of the cookies, then top with remaining cookies. Serve or store at room temperature.
Notes
*Sweetener Notes* 1/4 cup Sweetener is very sweet and might be too much for those just starting to use erythritol. Feel free to scale the sweetener back to 2 to 3 tablespoons and taste the dough before you bake your cookies!
My cookies were GOOD SIZE so you definitely won't need more than one sandwich cookie. Or two.
These are also great alone and unsandwiched! FYI
Nutrition Information
Serving Size

1 sandwich cookie
Amount Per Serving
Calories

260
Total Fat

23g
Carbohydrates

8g
Net Carbohydrates

5g
Fiber

3g
Protein

9g