Sometimes you just need a keto cookie that's better than the microwave but not an oven-baker either. Meet the air fryer keto cookie that is pretty decent and not that complicated.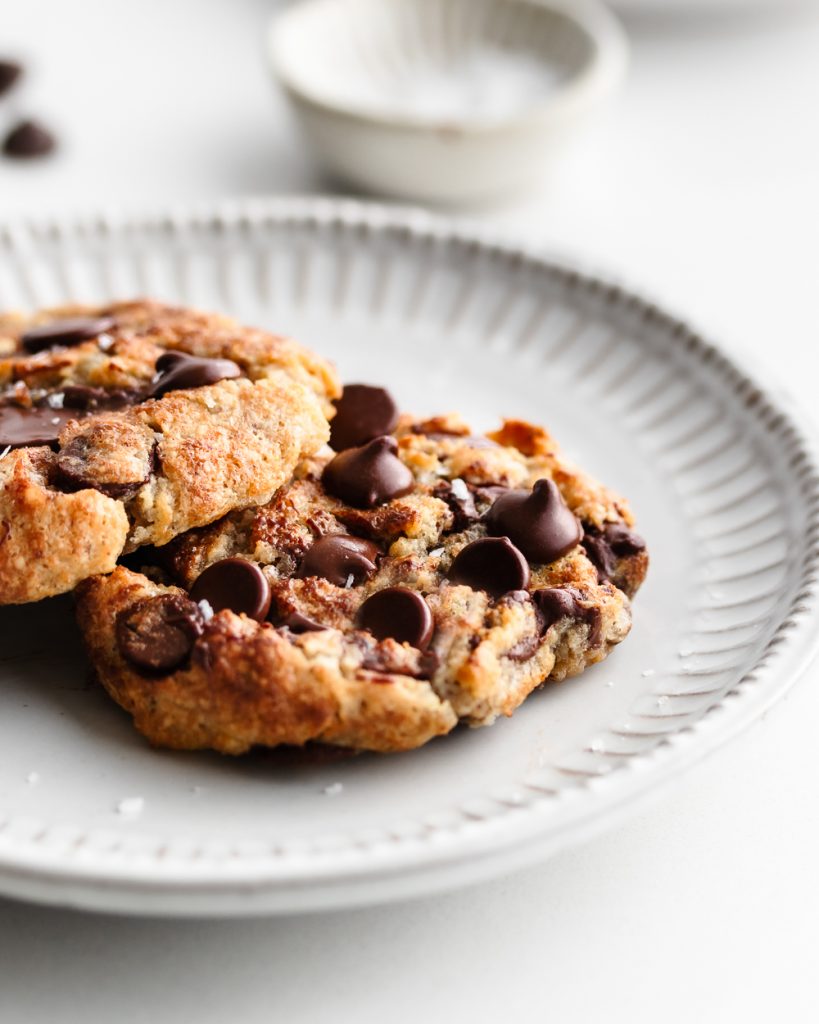 Pretty Decent For 1 Keto Cookie
I mean, the bar isn't set very high considering microwave single-serve cookies are not really cookies.
Not that there isn't a time and place for those cookies! There is. It's when I'm incredibly desperate and can't even wait five minutes for the oven to preheat. We've all been there. I'm currently living there! But now I have an air fryer so I don't have to settle for microwave cookies.
THIS COOKIE IS…special
The thing that sets this keto cookie-for-two apart from its microwaveable cousins is the crisp, super brown exterior and the warm gooey center. You just have to put in a little effort (totally worth it) and time it jusssst right.
Do that, and you'll have two perfect cookies that are begging to be eaten with a big bowl of vanilla halo top and extra chocolate chips.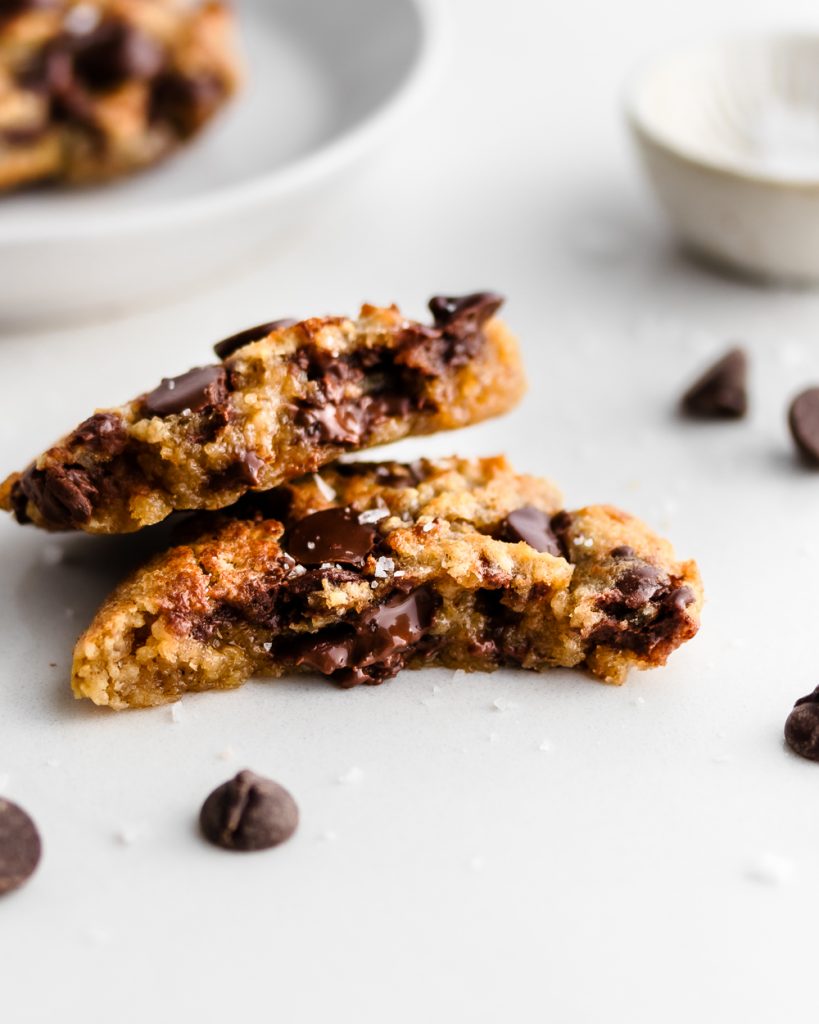 Troubleshooting Tips & Things That Ruin An Air-fryer Cookie
Turns out, keto air fryer cookies (for two) are temperamental and require a little bit of finesse. Here's what I learned!
1. Make sure to mix your almond butter very, very well before adding to the dough.
Unmixed almond butter is lumpy and tough to work with. If the almond butter is not mixed very well IN THE JAR, an imbalance of oils is inevitable which ruins the texture of your cookie.
2. DON'T fully melt your butter. Soft but still firm butter works best in this cookie!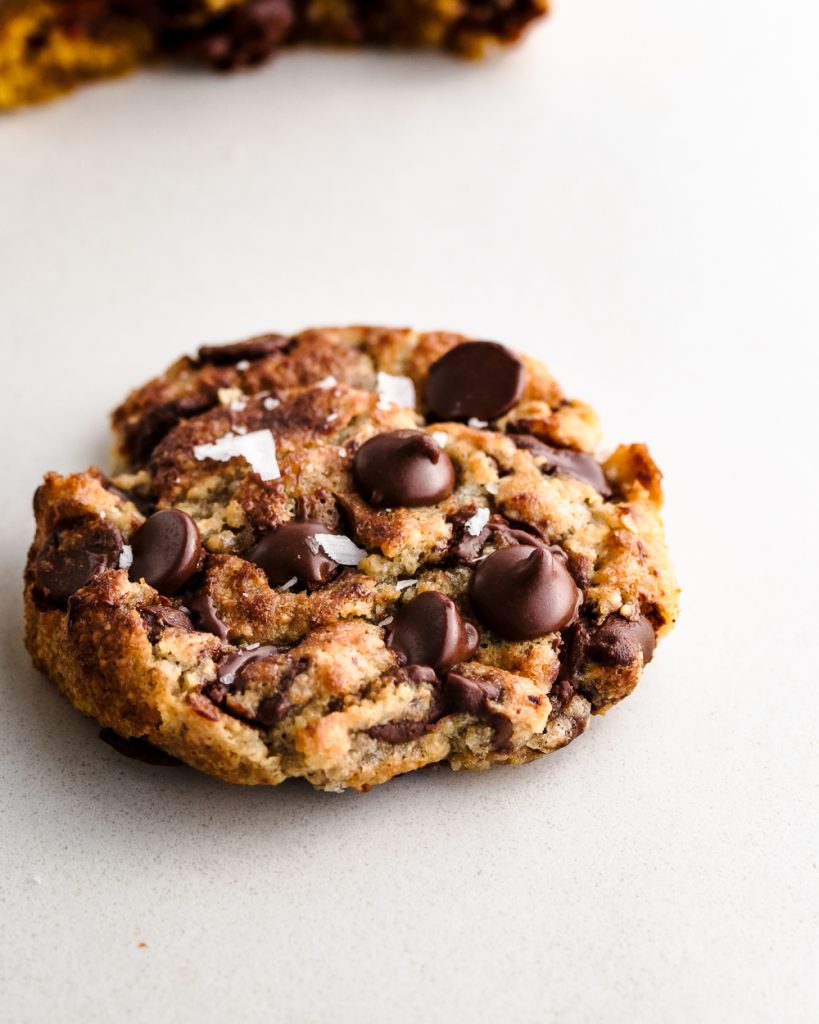 3. Knead your dough with a silicone spatula.
I know this sounds crazy but it helps the xanthan gum do it's thing. You need to work this dough like you would bread dough (with a spatula) for 1 minute. If it still feels too gooey, refrigerate or freeze it for 5-10 minutes!
*the same applies to my yeast cinnamon rolls!*
4. Make sure to FLIP the COOKIE if you have an older model airfryer! It needs to bake on both sides if you have a smaller, basic airfryer. My Ninja air fryer can bake a cookie at 350F in about 3-5 minutes but my older DASH air fryer had more issues.

Because the air fryer's heating element is above the cooking basket, you have to flip the cookie (once it has cooled for about 1 minute) and let the underside get some heat. If you have a high-end air fryer you may be able to skip this step because the air circulation and heat is more consistent.
Air Fryer Cookie Bake Time
I have made 11 batches of these cookies (5 of them the exact same recipe) and I found that the air fryer timer is a joke and unreliable with cookies. Or at least my Dash air fryer is, but it's best to be cautious. Really watch your cookies and check the browning frequently. Do that and you're in for a cookie-tastic treat!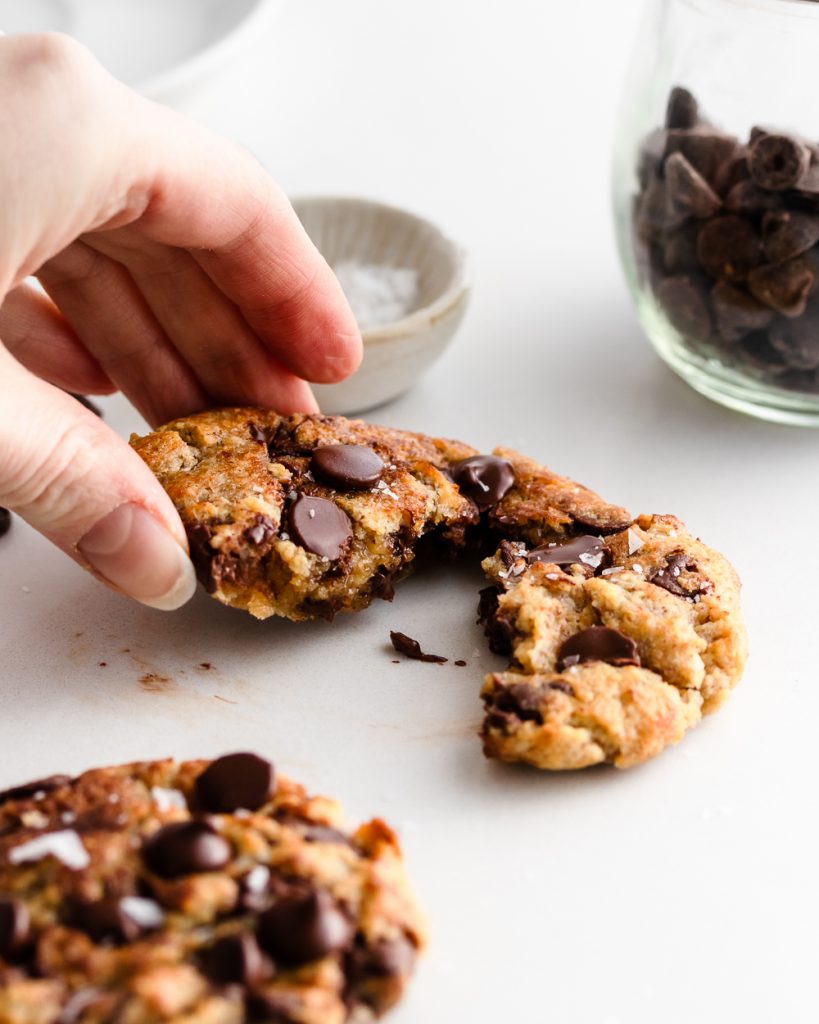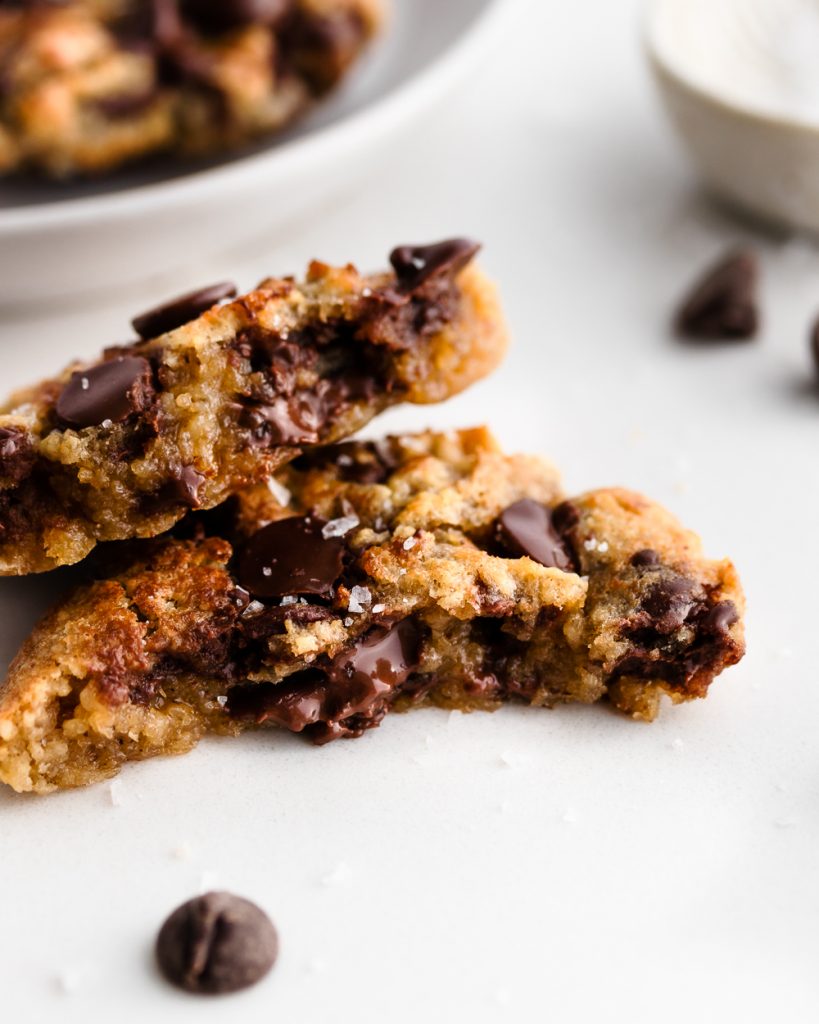 Look at that deep golden brown exterior! Bet your microwave can't do THAT.
Heads UP! This post contains affiliate links. As an Amazon affiliate, I earn from qualifying purchases.
Want More Small Batch Treats? Try These!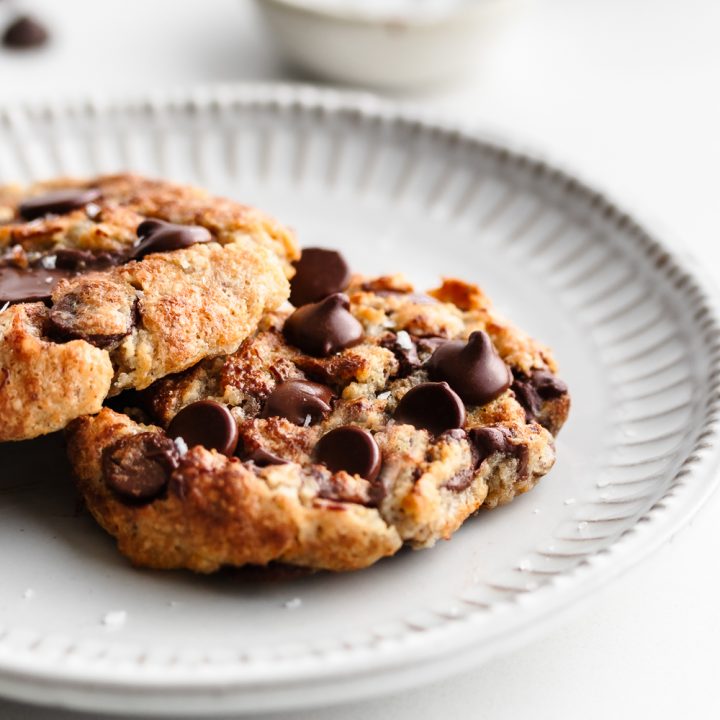 Keto Single Serve Air Fryer Chocolate Chip Cookie!
Additional Time:
5 minutes
Give your oven the night off and whip up a couple of keto chocolate chip cookies in the air fryer!
Ingredients
1/2 tablespoon Butter, softened
1 teaspoon Creamy Almond Butter
1 large Egg Yolk
1 tablespoon + 1 teaspoon Erythritol
2 tablespoons + 1 teaspoon Almond Flour
1/8 tsp Xanthan Gum
1/4 tsp Baking Soda
1/8 tsp Vanilla Extract
Pinch of Salt
Keto Chocolate Chips, about 2 tablespoons or more!
Instructions
Watch the video in the blog post for a quick demonstration and read through the tips!
Grab a small piece of parchment or two cupcake liners. Use a toothpick to poke holes in the paper to allow air circulation!
Stir your almond butter VERY well to make sure the oils are mixed evenly. Mix the softened butter, almond butter, egg yolk, and vanilla extract until combined.
Add the sweetener and mix, followed by the almond flour, baking soda, xanthan gum, and a pinch of salt. Mix well and really knead the dough together with a spatula to allow the xanthan gum to absorb the moisture. *Skipping this affects the cookie texture!
Fold in the chocolate chips, then divide the dough into two balls.
Place the dough on the parchment or paper liners and put in the air fryer. Flatten the top, then set the dial to 4 minutes at 350°F. Check at 3 minutes for browning.
The cookies WILL NOT SPREAD. After 3-4 minutes, remove the cookies from the air fryer basket and use a spoon to flatten each cookie if needed. They should be lightly browning.
Next, press 3 chocolate chips into the top of each cookie and return to the air fryer for an additional 2-4 minutes. *Watch them closely as air fryer models differ and may cook faster/slower.*
If you have a new model air fryer, your cookie is done! If they seem underbaked, then gently flip the cookies over onto more parchment and bake the underside for an additional 1-2 minutes.
Let cool before enjoying! They will be very gooey at first, which is my favorite, but firm up as they cool!!
Nutrition Information
Yield

2
Serving Size

1 cookie
Amount Per Serving
Calories

184
Total Fat

16g
Carbohydrates

8g
Net Carbohydrates

4g
Fiber

4g
Protein

8g