It may look like a swirly-topped ice cream cone, but this Hi-Hat cupcake has a secret peanut butter cheesecake filling under it's keto chocolate shell!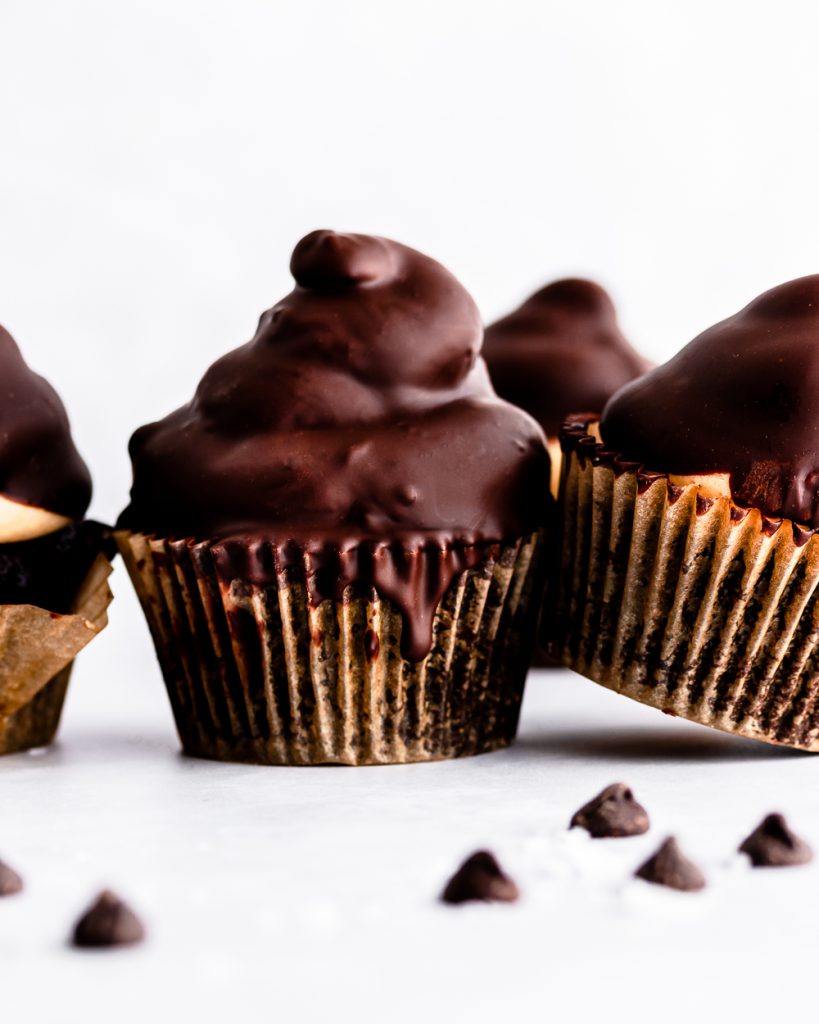 Hi-Hats, Low Carbs
And basically like two desserts in one.
There's nothing better than double-duty dessert. The "brookie". The "cronut". ICE CREAM CAKE.
All culinary works of genius. All things on my to-eat list.
But there's something even better than a freshly-baked brookie and that's the classic hi-hat cupcake. Essentially, it's a chocolate cupcake topped with a whipped peanut butter frosting swirl and dipped in a magic shell coating.
Whatever magnificent mind thought of this (btw, it wasn't me) bravo. You deserve the Nobel prize for excellence in cupcakery.
How To Get From Whipped to Dipped
Here's a ton of semi-helpful photos of how to make the peanut butter cheesecake-topped cupcake of your dreams!
If we were traditionalists (we aren't) then this frosting would be made with whipped egg whites (it isn't) for a light meringue-style frosting which would then get folded (not today though) into peanut butter.
We didn't do that.
Maybe we will eventually, but in the interest of time and love for all things cream cheese-based, we decided to mix it up and bite incisors-first into a lush whipped cheesecake-esque frosting.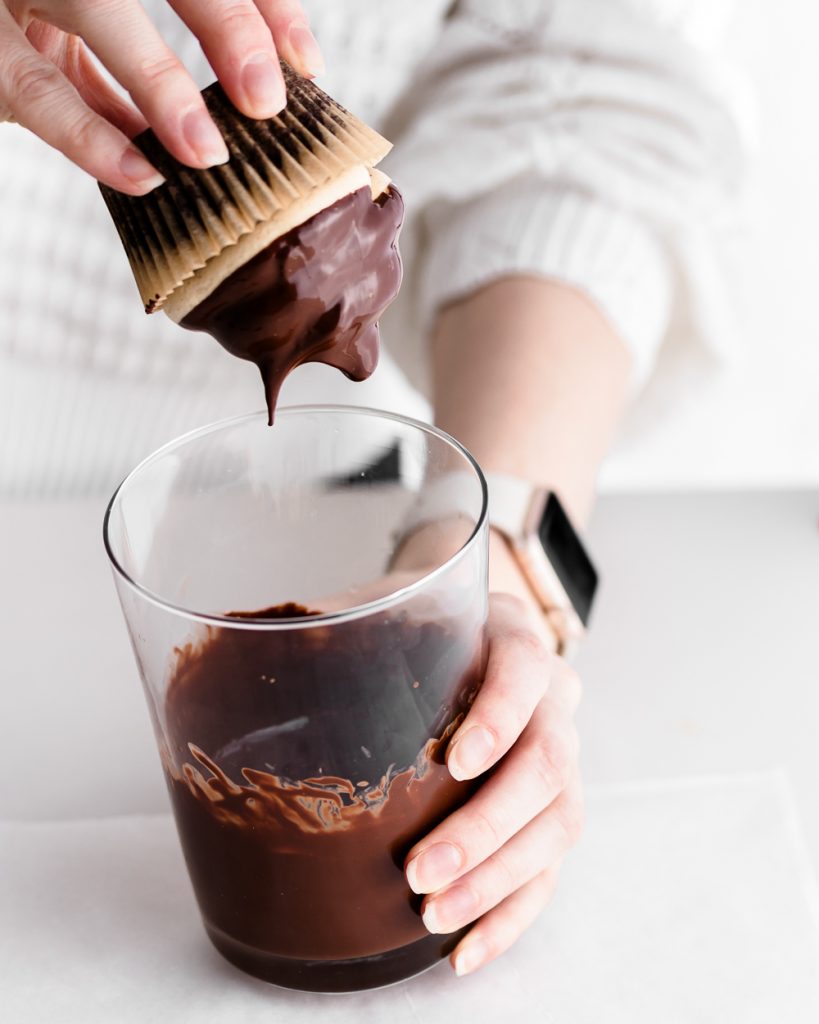 Let's talk about the fear in your eyes right now as you wonder how we dunked these tops so perfectly—well, perfectly imperfect—without ruining our swirls.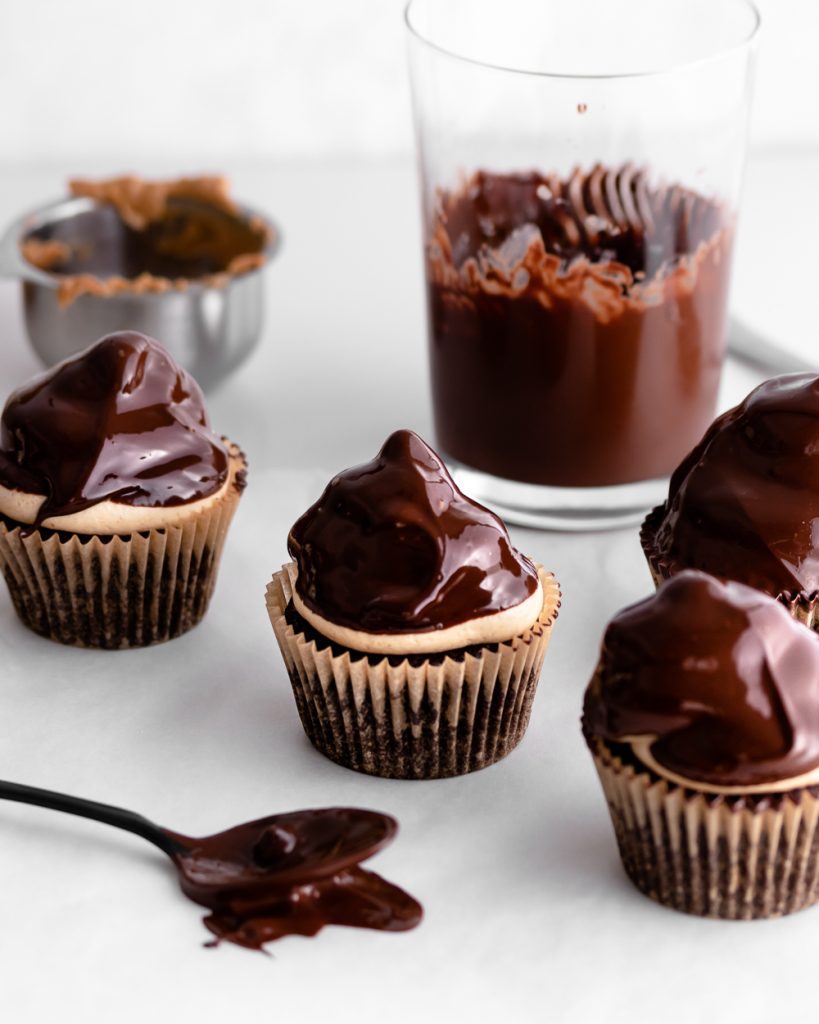 Trust me, it's not hard. If those punk teenagers who work at the local Tasty Freeze can dip an ice cream cone, you can dip a cupcake.
The key is to make sure that once you've baked your cupcakes and piped on your frosting, you let them chill FULLY before dipping.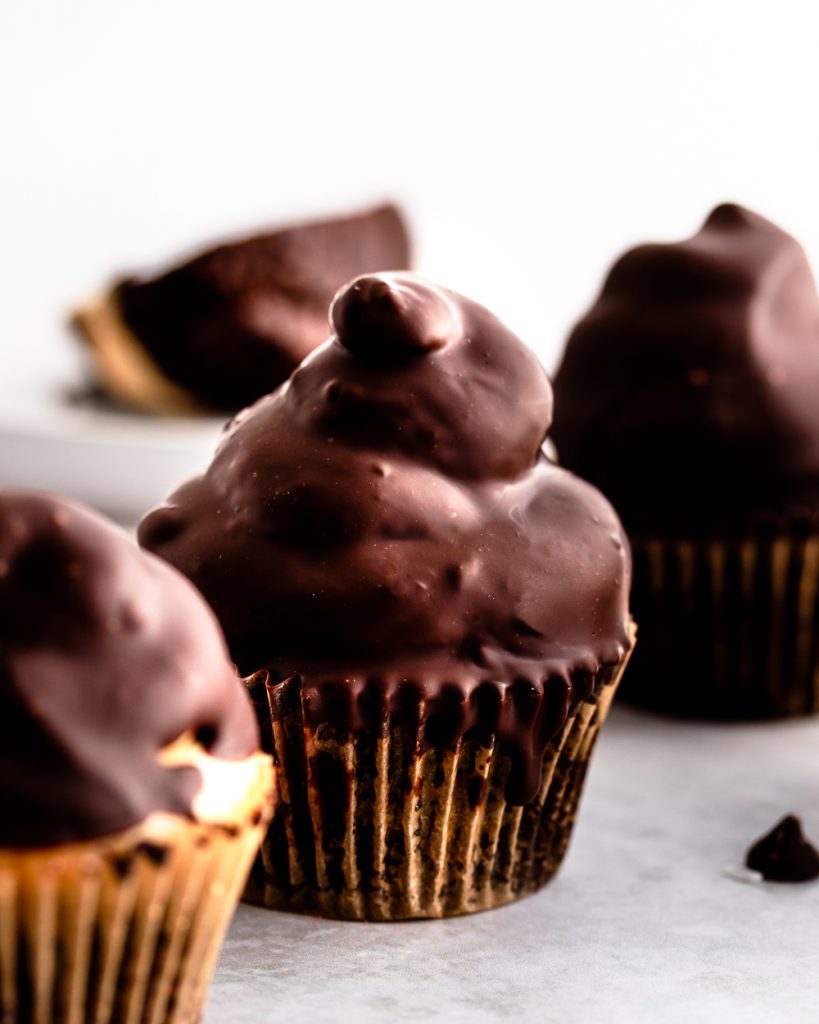 Will it melt a little? Probably. Will it still taste like a chocolate-covered cheesecake ecstasy with a fluffy cake bottom?
ABSOLUTELY.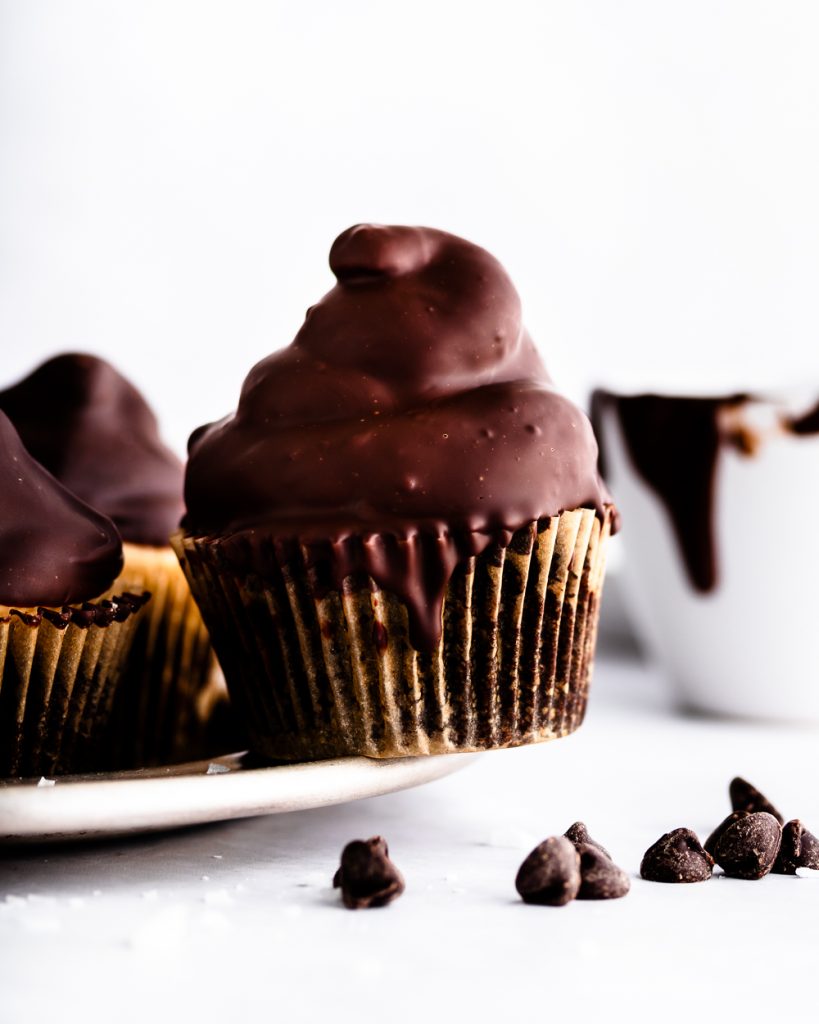 But a word of warning—don't let them linger while you dip every cupcake. That's a recipe for disaster.
Instead, take a few out of the freezer, dip them, then put them back in the freezer and get a few more cupcakes.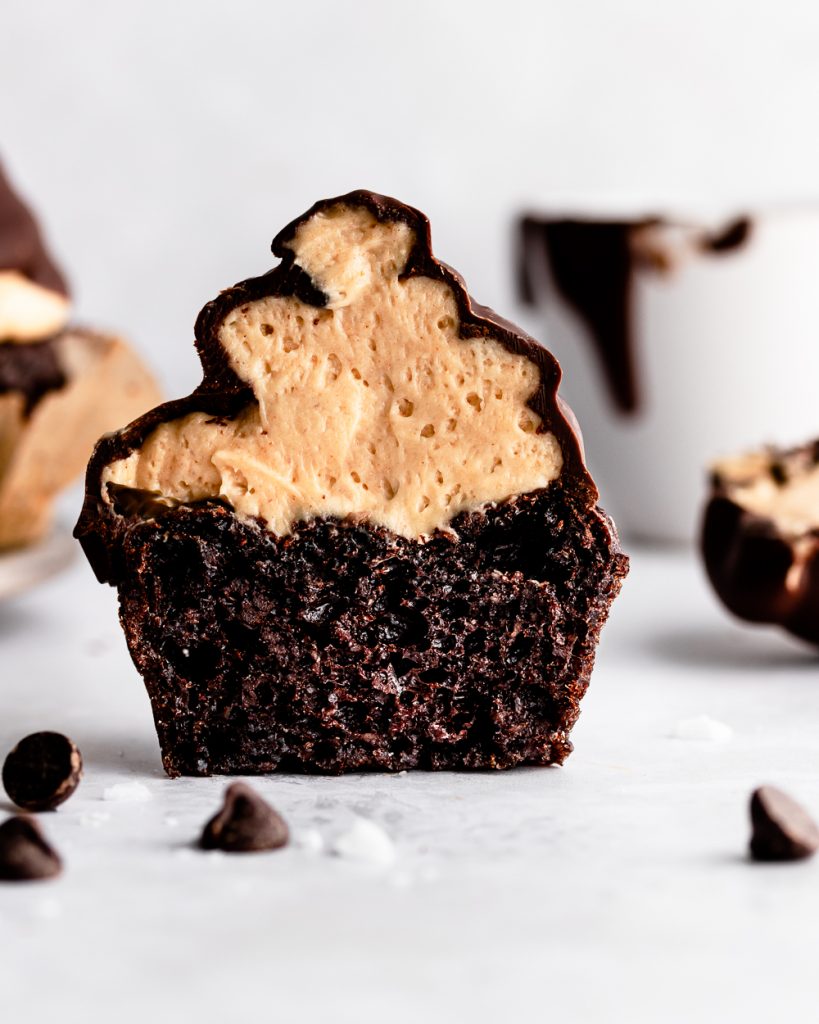 Store these beauties in the fridge (no one likes food poisoning) and enjoy them within a few days for optimal tastiness.
Heads UP! This post contains affiliate links. As an Amazon affiliate, I earn from qualifying purchases.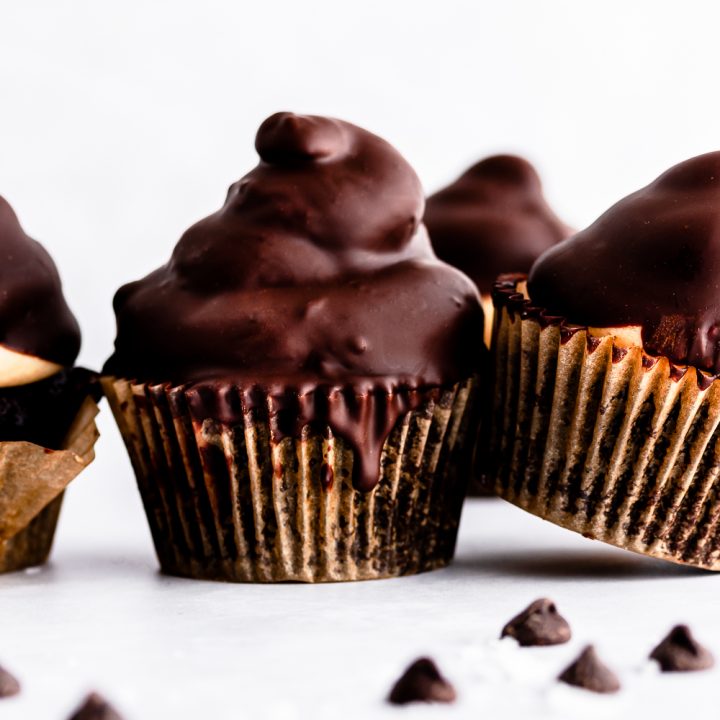 Keto Peanut Butter Hi-Hat Cupcakes!
Additional Time:
20 minutes
Whipped Peanut Butter Cheesecake Swirled Cupcakes with a magic shell top! These keto cupcakes are sure to smash all of your sweet teeth.
Ingredients
For the Cupcakes
3 large Eggs
1 tablespoon Sour Cream
3 tablespoons Butter, softened (not melted)
4 tablespoons Unsweetened Cocoa Powder
1/3 cup + 1 tablespoon Granulated Allulose
3/4 cup (75g) Almond Flour
1/4 teaspoon Xanthan Gum
3/4 teaspoon Baking Powder
1/2 teaspoon Baking Soda
1/8 teaspoon Salt
For the Peanut Butter Frosting
6 oz Cream Cheese, softened
6 tablespoons Butter, softened
3/4 cup Creamy Peanut Butter, not the runny kind
1/2 cup Powdered Erythritol or Allulose
3/4 cup Heavy Whipping Cream + 1/4 cup Powdered Erythritol or Allulose
For the Chocolate Shell
3 oz Low Carb Dark Chocolate
1 tablespoon Liquid Coconut Oil
Instructions
Heat oven to 350°F and line two cupcake pans with 10 liners. Depending on my eggs, once in a while, I get 11 cupcakes. Spritz liners with non-stick cooking spray.
In a medium mixing bowl whisk the egg, sour cream, softened butter, sweetener, and cocoa powder until smooth.
Add the almond flour, baking powder, baking soda, xanthan gum, and salt. Whisk together until smooth.
Portion the batter into the prepared cups. I use a standard spring-loaded ice cream scoop as a size guide! Make sure the cups are filled ONLY about 3/4 full so they don't overflow during baking. Bake for 18-20 minutes (mine baked for 20) or until a toothpick inserted comes out clean. While they cool, make the frosting.
For the Frosting and Shell
Whip the heavy cream and powdered sweetener until stiff, about 2-3 minutes. Set aside.
In a separate bowl, beat the softened cream cheese, butter, powdered sweetener, and peanut butter until smooth.
Gently fold the whipped cream into the cream cheese mixture. Don't overmix or you will lose the light and airy texture from the whipped cream!!
Add the filling to a piping bag with a 1A round tip and top each cupcake with a generous swirl of frosting. Freeze for 20 minutes to firm.
To Dip: Melt the chocolate and coconut oil in the microwave in 15-second intervals stirring frequently until smooth.
Dip each cupcake in the melted chocolate and quickly move to the refrigerator to prevent melting. Keep chilled until serving!
Nutrition Information
Amount Per Serving
Calories

350
Total Fat

33g
Carbohydrates

10g
Net Carbohydrates

5g
Fiber

5g
Protein

7g