If you're sick of eating pancakes that are as flat as, well a pancake…try these puffy tender keto pancakes!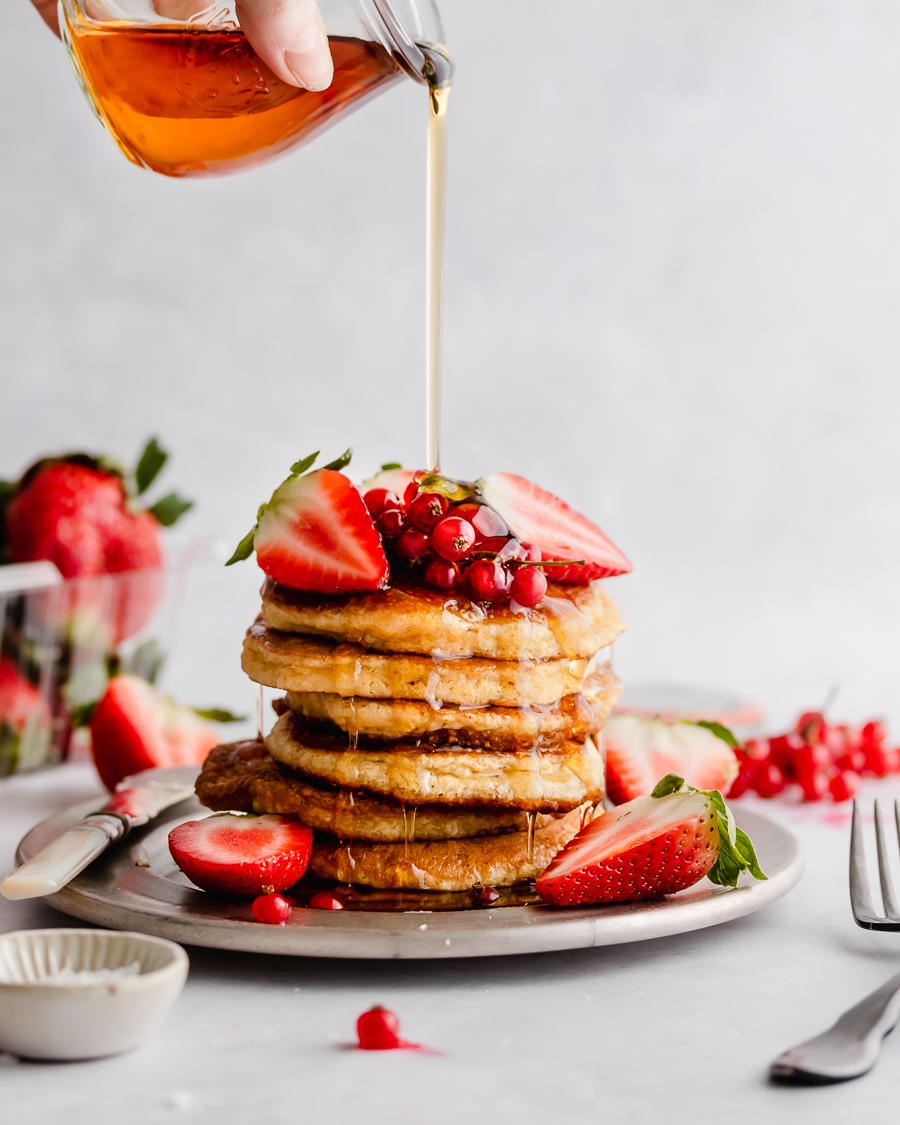 What Can You Say About Pancakes, Really?
They are essentially just the middle-man.
A socially acceptable way to eat a vat of syrup and stick of butter at the breakfast table. And the same goes for waffles—edible syrup sponges with a hint of vanilla. And as keto-eaters (keaters?) we accept a lot of things that "look like pancakes" for pancakes.
Even a bad pancake covered in syrup is still a pretty okay (mostly edible) pancake I guess.
But we can do better!
We MUST do better. Which is why this pancake is fluffy, tender, slightly sweet, and has the butter flavor built-in!
Oh yeah, and it's grain free and keto, too.
Fluffed Up & Totally Tender Pancake Secrets
You might be wondering what could possibly be different about THESE keto pancakes, and it's all about the egg white and the Tiger Nut Flour. Well, the butter extract helps, too.
If you aren't up on the tiger nut, it's a little root veggie with resistant starch that is ground into flour. It's pretty low in carbs and high in fiber.
Sort of like a nut flour, only with less fat (for a lighter, fluffier baked good)!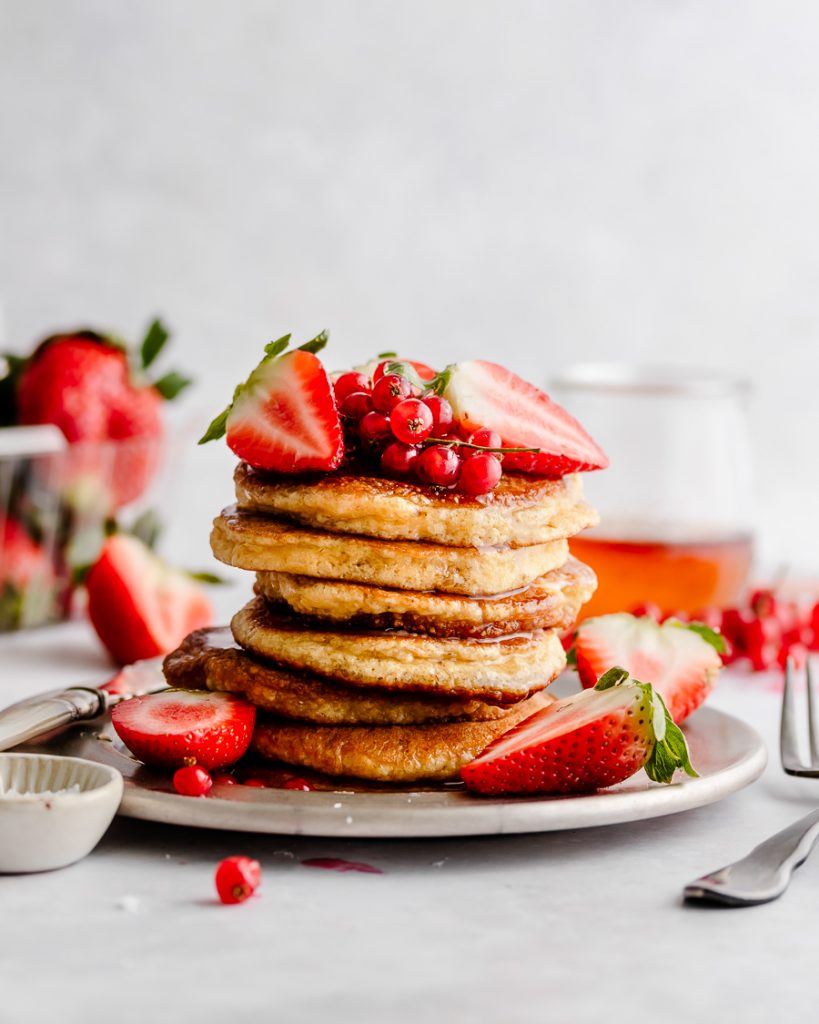 And sure, there's always coconut flour…but sometimes I literally choke on baked goods with too much coconut flour because it sucks all of the moisture from your desserts and your esophagus.
TRUST ME. Tiger nut flour tastes mild and won't choke the life out of you mid-bite.
Butter Extract = Happiness Extract
And that's not an exaggeration.
By adding butter flavoring to the mix, you've removed the need to add actual butter. Normally, I would be adding a solid tbps or two…but we want to keep the fats to a minimum and give this puffy little pancake the opportunity to rise.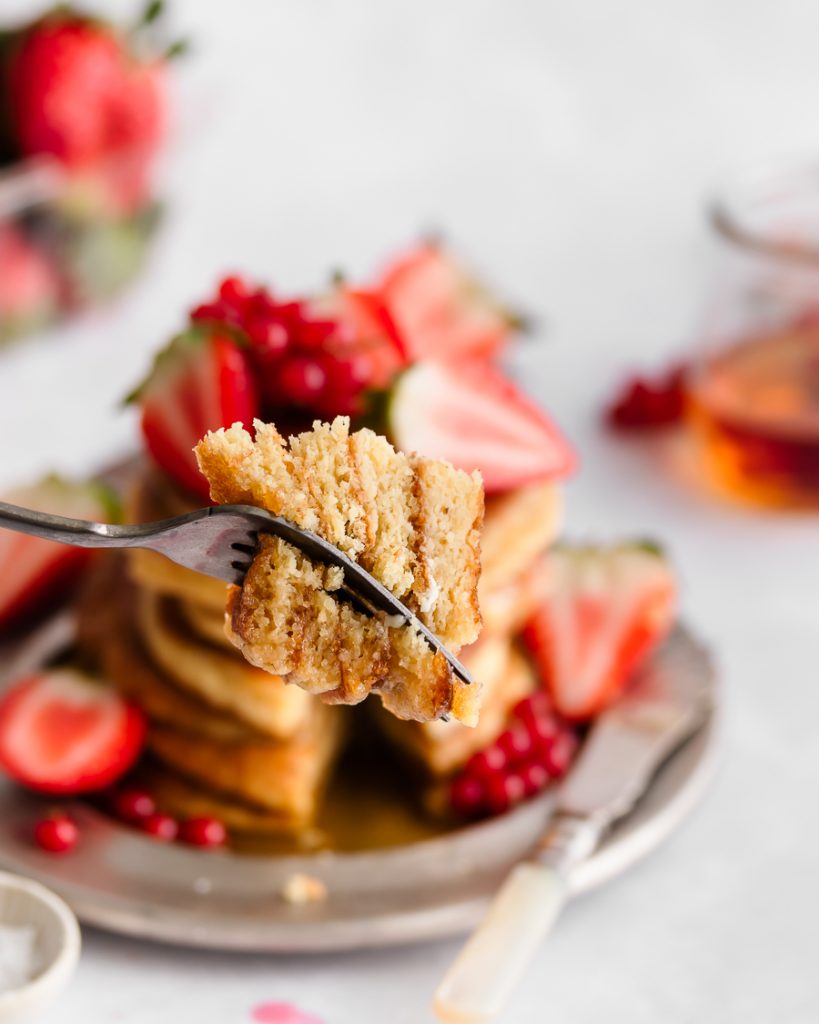 It may not have buttery insides, but I promise there's butter flavor allll through this stack.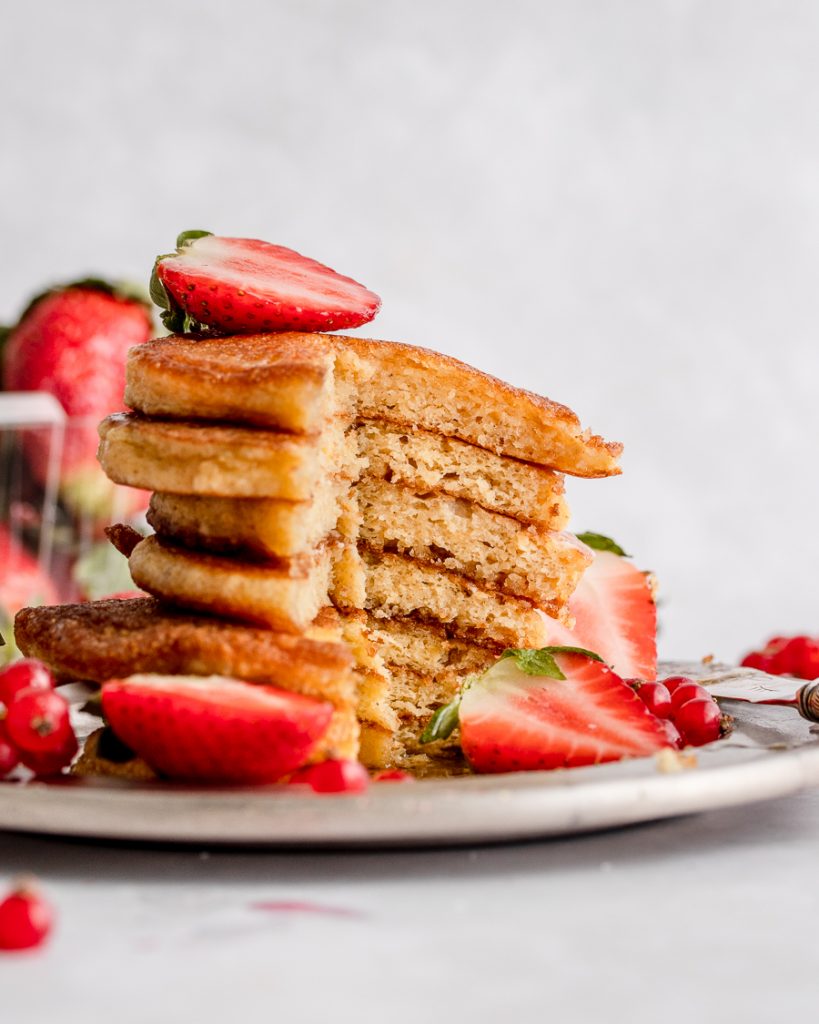 Also, butter on top along with a gallon of syrup and I won't apologize.
Heads UP! This post contains affiliate links. As an Amazon affiliate, I earn from qualifying purchases.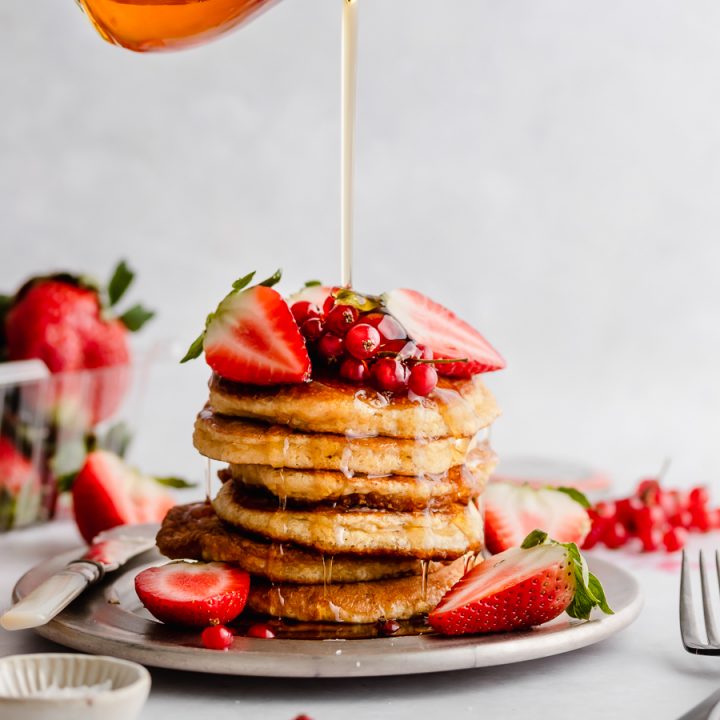 Fluffy Keto Pancakes
For those of you who wanted keto pancakes without the coconut flour...you got it! These are made fluffy with almond flour and Tigernut flour!
Ingredients
2 large Eggs + 1 Egg White
1/4 tsp Vanilla Extract
1 tablespoon Skim Milk, or water
1 teaspoon Apple Cider Vinegar (or lemon juice)
1/2 cup + 1 tablespoon (60g) Almond Flour
1.5 teaspoons Baking Powder
Instructions
In a large bowl, whisk together the eggs and egg white, both extracts, skim milk (or water), and apple cider vinegar (or lemon juice). Add the sweetener and beat until it's mostly dissolved.
In a separate bowl, whisk the almond flour, tigernut flour, baking powder, and xanthan gum until the are no lumps. *I like to sift the dry ingredients but it's not required*
Combine the wet and dry and mix until there are no visible lumps. It will take a minute or two!
Grab a heavy non-stick skillet and spritz the inside with cooking spray. Place over medium-low heat (if your range has a number dial, turn it to 4) for about 2 minutes to warm.
Once the pan is warm, fill a 1/3 cup measuring cup a little over half full and gently pour into the pan, spreading it out gently into a round. Immediately cover the pan with a lid and cook for 3-4 minutes.
When the bottom of the pancake looks set and the top is still jiggly, carefully flip with a good spatula. Cook for another 1-2 minutes with the lid on, then move the finished pancake to your plate
Repeat this process with the remaining batter, and feel free to do two at a time once you get the hang of it!
Notes
Tigernut Flour: I made this recipe specifically with tigernut flour because it adds a lightness to the texture without drying it like coconut flour would. Keeping that in mind, if you try to sub coconut flour, you need to use much less and the texture won't be as puffy and soft.
I use Anthony's Tigernut Flour but it does sell out. If you try a different brand, read the reviews as they are not all created equal!
THE SPATULA: I wish I would have snapped a photo of this little spatula flippin' pancakes because it's the best. I love that it is the perfect angle, small, and sturdy. It's the only pancake flipping tool I'll use.