Switch up your dense and eggy breakfast waffles with these Soft and Fluffy KIeto Waffles that can absorb every ounce of melty butter and sweet, sweet syrup!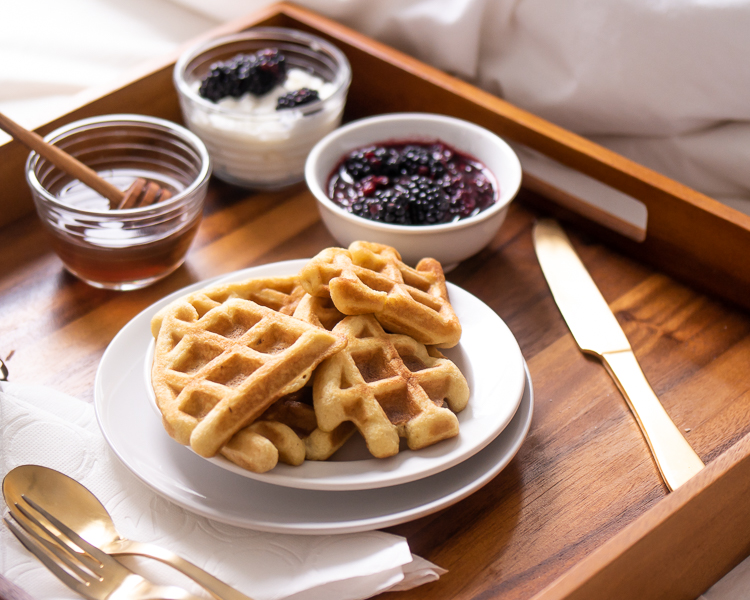 Bed & Breakfast & Keto Waffles
Is there anything better?
I doubt it! This is why I'm sharing one of my (not guilty) pleasures of a super decadent breakfast in bed with a showstopper waffle recipe!
These waffles are gluten-free, dairy-free, and low-carb, and I honestly think they are just as easy as the unhealthy version. If that isn't incentive enough, you can eat them snugly in your bed with zero guilt because they are good for you. (#selfcare)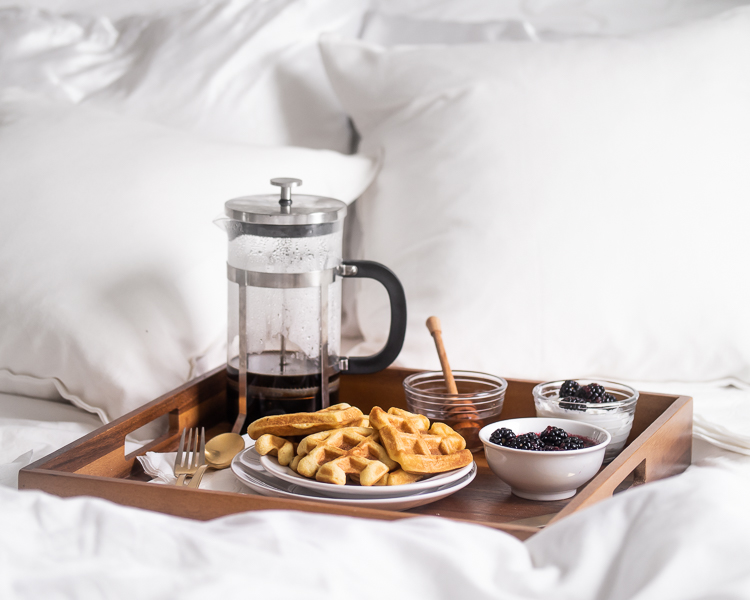 Keto Waffle Ingredients
Unlike my crispy almond butter waffles, these soft keto waffles have a few more ingredients (and science) to make them softer, more tender, and fluffy. Like biting into a waffle-flavored cloud covered in syrup and smashed berries, I swear. Here's what you need!
Almond Flour and Coconut Flour are both essential for this particular recipe. I can't recommend any swaps here because this recipe was designed exactly for these two flours! Almond flour adds bulk and flavor, while coconut flour absorbs moisture and adds a nice texture.
Both Baking Powder AND Baking Soda may seem a little overboard, but this keto waffle recipe needs it! We get a soft and fluffy texture from using baking powder and baking soda to lift the batter while cooking. Don't worry, you won't taste it but the texture will speak for itself.
Milk Options- For the best keto waffles almond milk or 2% milk work best because of the ratio to fat and other liquids. Whole milk can also be used and may result in a slightly thicker batter, but still amazingly delish.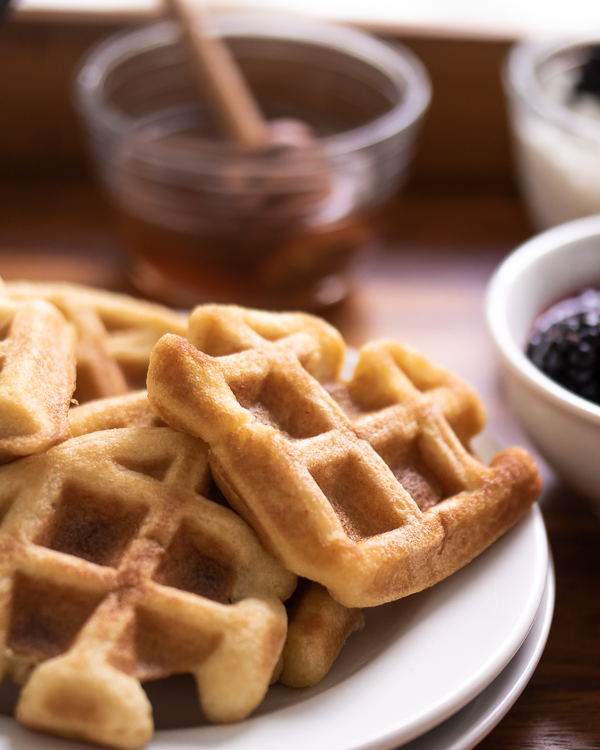 Keto Waffle Size and Nutrition Facts!
This is a small-batch waffle recipe! It makes 1.5 whole waffles OR as shown in the photos, 6 waffle pieces. My 8-inch waffle iron has four "wells" so when you fill the entire well will batter, it makes a waffle with four segments. Because I personally like to have waffles as a side along with a good portion of bacon and eggs, I opted to make this recipe TWO servings (3 waffle pieces per serving)!
Doubling (or Tripling) this recipe works just fine! Whether you make enough for you today plus you tomorrow, or if you have a family of waffle lovers to feed, this recipe can handle it. Just scale everything up by 1x or 2x and make sure to let the batter rest for the recommended time! Easy Peasy!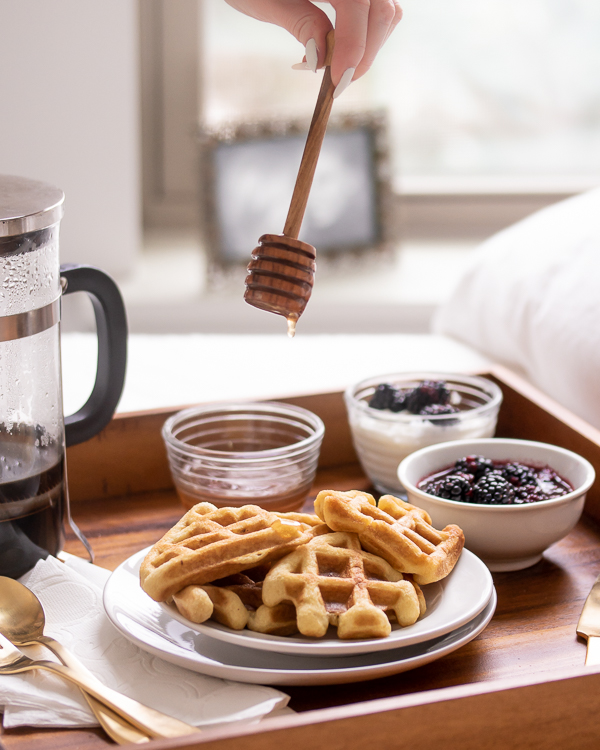 Keto Waffle Toppings!
I don't go crazy counting carbs over a few berries, but that's okay if you do! Wherever you are in your keto diet journey, there's a topping for you!
Fresh Fruit is a great option if you can play fast and loose with your carbs. I love a mixture of fresh blueberries, strawberries, or blackberries! Simply pop them in the microwave for about 2 minutes to soften the berries slightly, then add a little keto sweetener and smash!
Sugar-Free Syrup– I'm not a huge fan of sugar-free syrups so a lot of the time I just mix a little liquid Allulose with a splash of maple extract! There are some popular keto syrups on the market too if you want to go that route!
Whipped Cream- Yes. IF I have it on hand to make, absolutely! It's like reliving my childhood breakfast order at Bob Evan's. Minus 72g of carbs (ha!)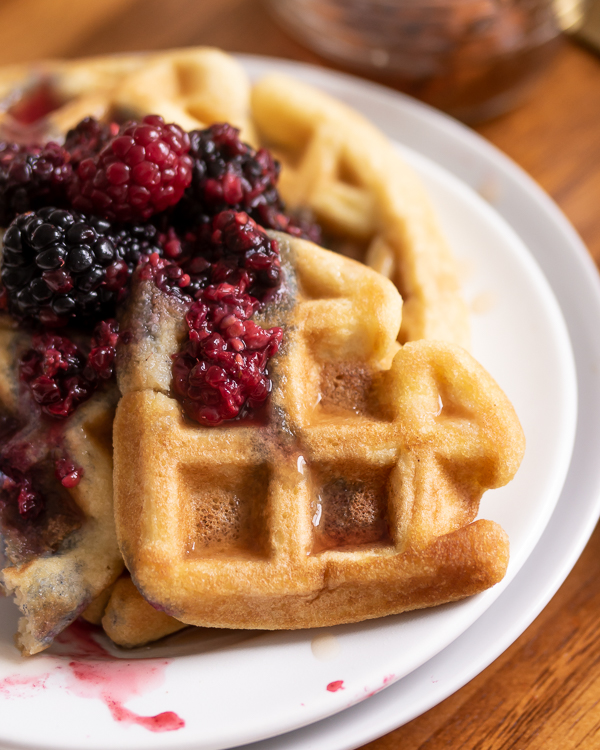 Looking for More? Try These!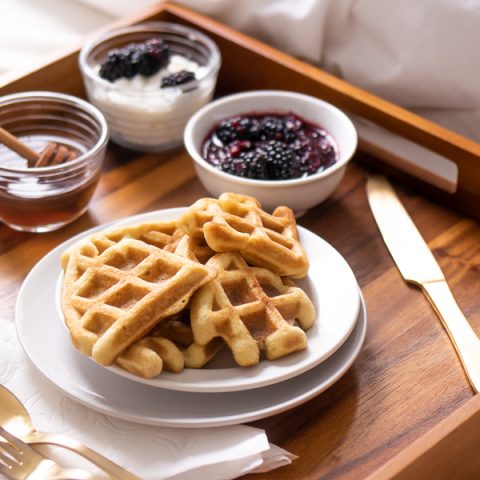 Soft and Fluffy Keto Waffles!
Soft and tender keto waffles that are dairy free!
Ingredients
Dry Ingredients
1/2 tsp Baking Powder
1/4 tsp Baking Soda*
Wet Ingredients
2 large Eggs
1/4 cup Milk of choice
1 tsp Lemon Juice
Pinch Salt- but seriously don't skip it!
Instructions
Whisk together the dry ingredients until combined.
Beat the eggs, milk, and lemon juice until smooth.
Combine the wet with the dry and mix. Let the batter rest while you heat the waffle iron. This helps the coconut flour absorb some of the moisture!
Heat the waffle iron to medium-high and spray with non-stick oil.
Portion 1/4 cup into each well (my iron has four wells) and close. Cook until golden.
Repeat with remaining batter, about two more 1/4 cup portions.
Stack and serve with smashed berries and syrup!
Notes
My waffle iron is a small round and has 4 wells. This fills the waffle iron once (all 4 wells) and then again with two wells for 6 small waffle slices total.

*Baking soda does 2 things in this recipe: a little leavening and browning. You can skip the bs and lemon juice if you don't have it and they still work but are a bit lighter!
Nutrition Information
Yield

2
Serving Size

3 waffle pieces
Amount Per Serving
Calories

157
Total Fat

11g
Carbohydrates

6g
Fiber

3g
Protein

9g