---
When breakfast and dessert love each other very much, they make a waffle ice-cream sandwich.
---

Ice Cream, but Sandwiched
And what better way to sandwich a pint of low carb ice cream than between two plump waffles?!
I can't think of any!
It's like those nights when you have breakfast for dinner, only you're having dessert for breakfast and it's 1000x better! Plus, it's low carb, keto friendly, and suuuuuper filling.
Like, you won't be able to hammer down the whole thing. One-fourth of this baby will be plenty of frozen goodness to satisfy your dessert/breakfast cravings. Especially if you dip it in chocolate and add macadamia nuts.
Why Do I Need A Recipe For This?
This almond flour waffle is good. It's great actually! But it's also pretty dense because we needed it to stand up to the task of holding ice cream. You could do this with any gluten-free/keto/normal waffle recipe, but I really liked this specific mix best.
Trust me.
Note: You will want to eat these pretty soon after freezing. Not that they won't last in the freezer, but if you've ever tried to eat a frozen waffle…you know that it's not that exciting. Kinda gross actually.
You can make the waffles ahead and keep them in the refrigerator or at room temp, then assemble by adding your ice cream and pop them in the freezer just to firm up slightly. Then eat and enjoy the glory of an ice cream laden waffle.
Dark Chocolate Dipped Waffle Ice-Cream Sandwiches
Like the name, this recipe is a mouthful!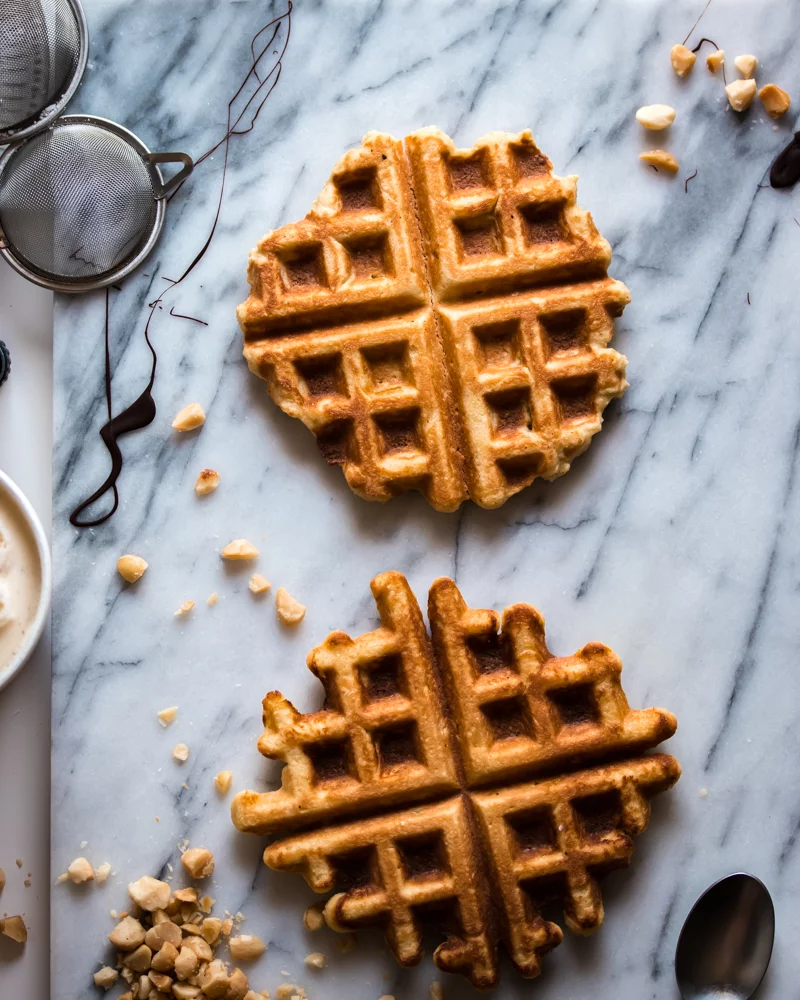 Two almond flour waffles will make four ice cream sandwiches so you can share or you can count that as meal prepping for the week.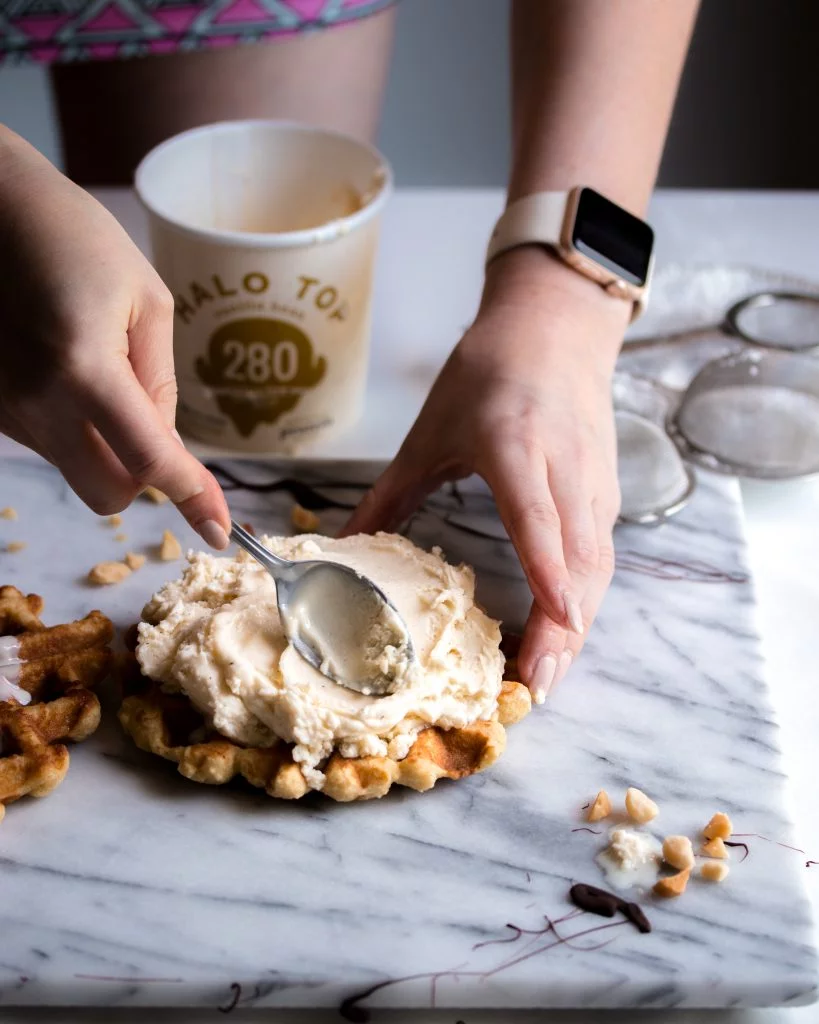 I like to use Halo Top Vanilla Bean because it's decent on carbs and the flavor is good.
Or, you could make your own keto ice cream!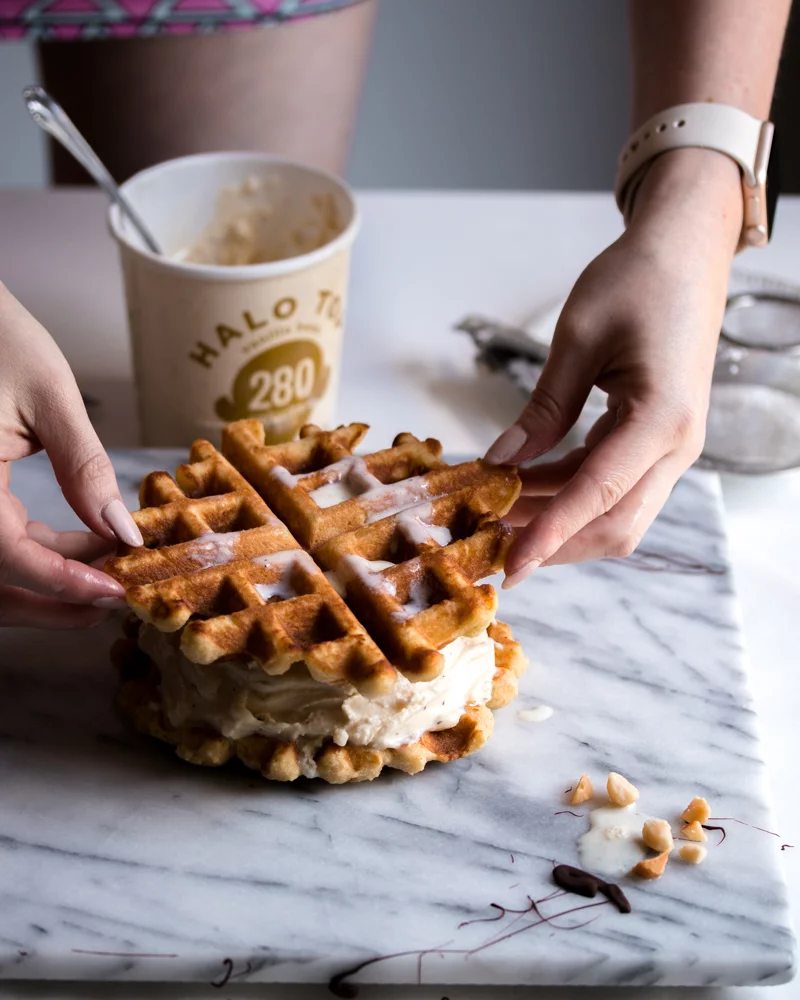 Pop the whole waffle back in the freezer for about 20 minutes, then you can slice it into quarters, dip it in chocolate, and enjoy!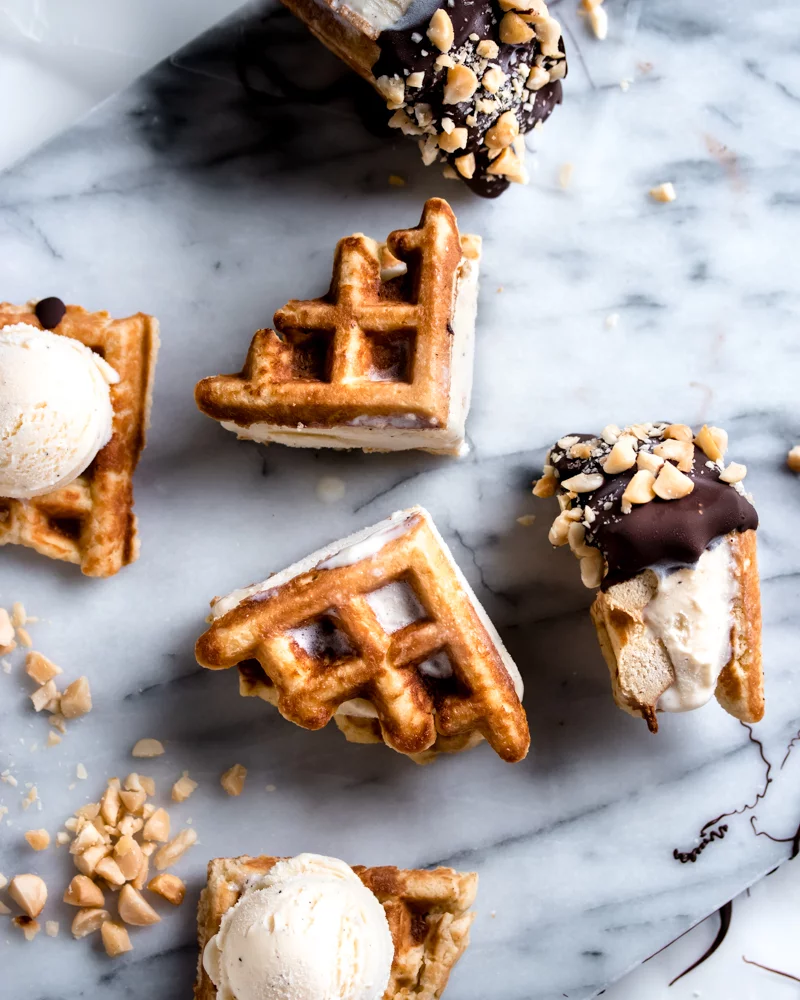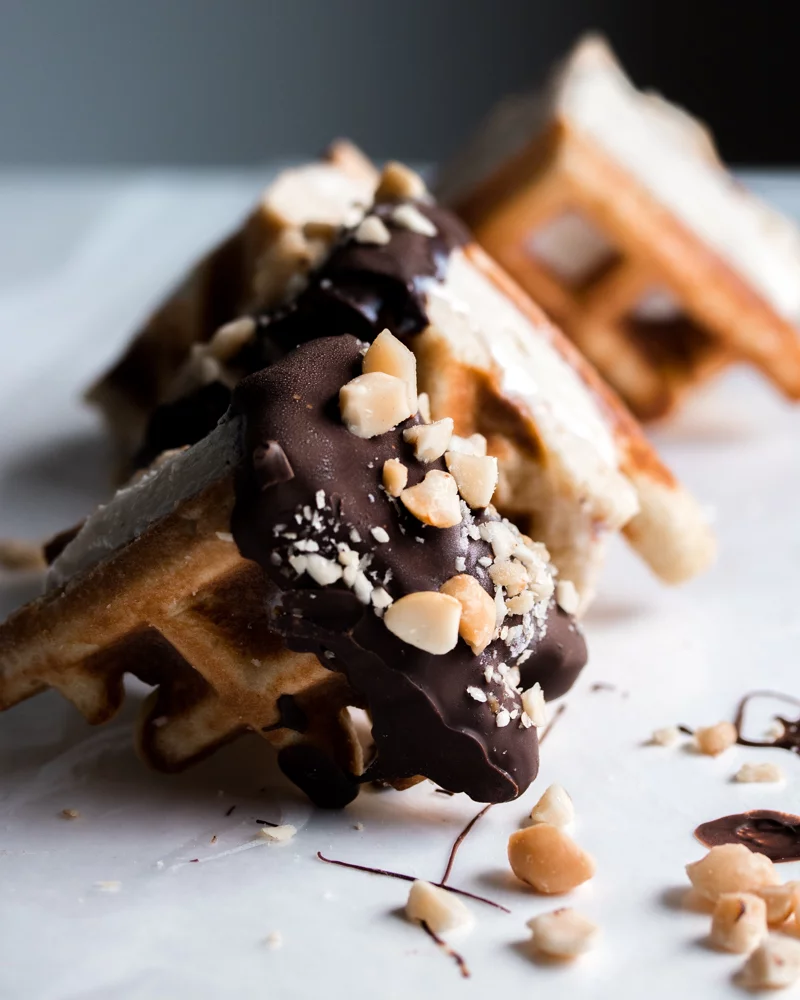 OR just take half of a fresh waffle and put ice cream and melted low carb chocolate on it……….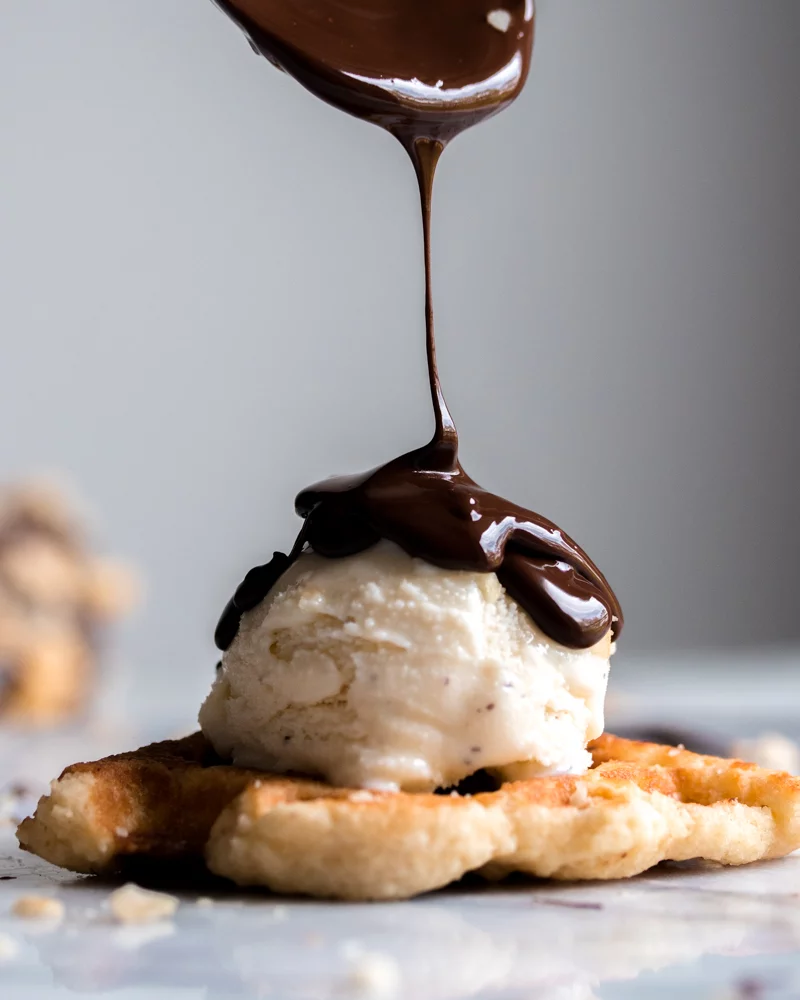 ---
Lookin' for a little cookie action instead? Check out my Keto Ice Cream Sandwich Cookie that is berry-licious.
---
Chocolate Dipped Waffle Ice Cream Sandwiches
Total Time:
1 hour
3 minutes
Melty ice cream sandwiched between two gluten-free keto waffles and dipped in dark chocolate!
Ingredients
Waffles
2 Eggs
2 tbsp Butter melted and cooled
1/2 tsp Vanilla extract
Pinch Salt
Assemble It
1 Pint Low Carb Ice Cream of Choice
1 oz Chopped Macadamia Nuts
Instructions
Waffle
Beat the two eggs, vanilla, xanthan gum, and butter until frothy.
Gently mix in the flours, granulated sweetener, and a pinch of salt until a thick batter forms.
Turn your waffle iron to medium-high and coat with butter or non-stick spray.
Scoop half of the batter into the center of the waffle iron and cook for about 90 seconds. Repeat with the remaining batter.
To Assemble
Top one waffle with ice cream, about 3/4 of 1 pint, and use a spoon to smooth out any uneven spots. Place the other waffle on top to make a sandwich and place in the freezer for 1 hour to firm.
In a small bowl, melt the coconut oil and dark chocolate together and set aside.
Slice the waffle into 4 pieces and dip the edge into melted chocolate. Sprinkle with nuts.