I hope you like eating chocolate cake for breakfast because that's what these donuts taste like!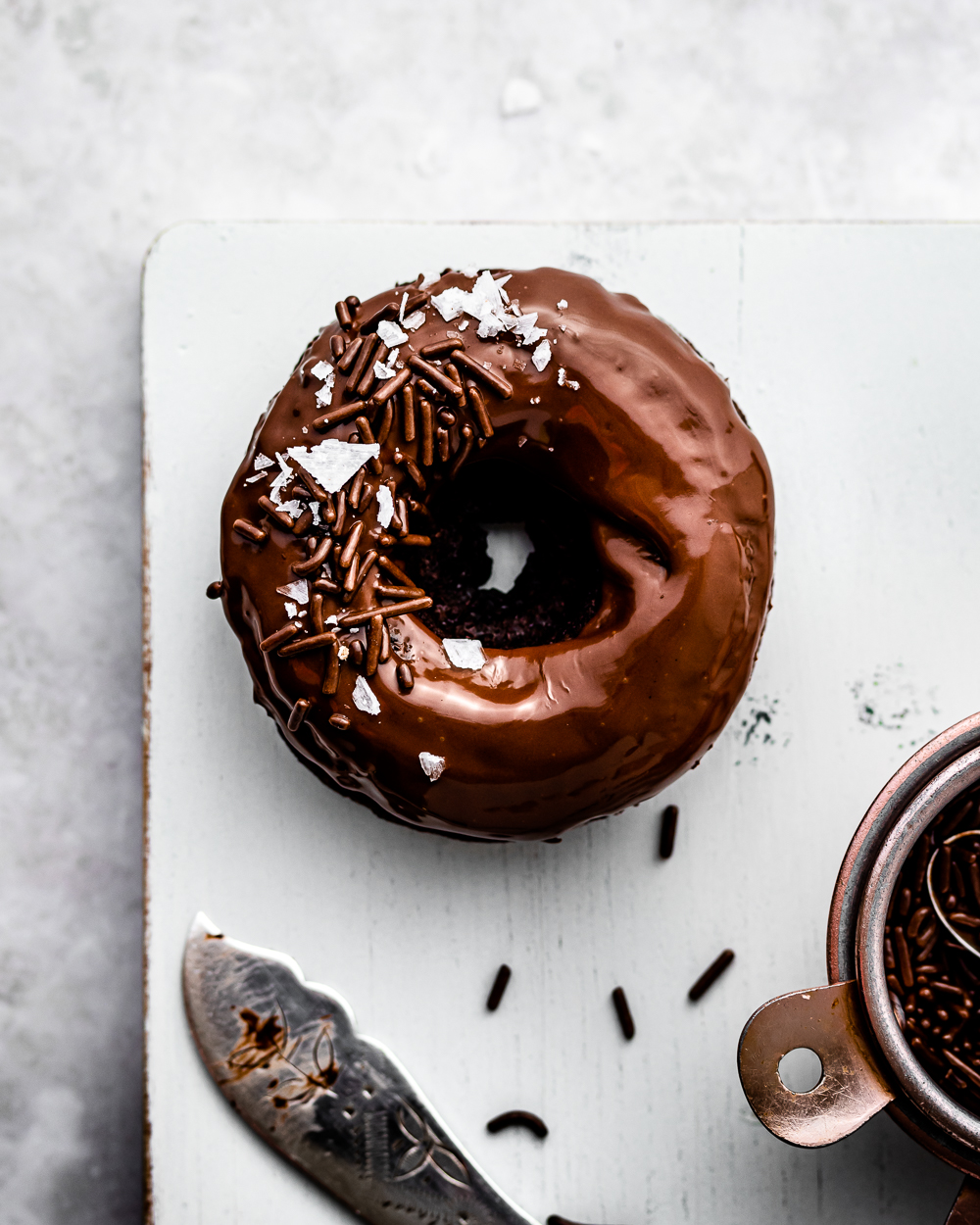 Kinda Like Cake, Donuts
You heard me! Cakey…donuts!
Look, you may be scoffing at the idea of a light and airy donut, but I'm gonna let you in on a little secret—not EVERY chocolate dessert item needs to be fudgy. Shocking, I know.
We've been programmed to believe that everything that is chocolate must also be fudgy, but guess what? A donut that is cakey and topped with chocolate IS BASICALLY CAKE.
And cake for breakfast is a good thing.
The end.
Topping Or Just Melted Chocolate?
You guessed it! It's just melted chocolate. Because what really tastes better than warm melted chocolate? Definitely not frosting!
And you can't tell me "frosting" is healthier than chocolate. Keto or not…chocolate wins every time because of antioxidants and whatnot.
So yeah, somebody let the health branch of the government know that it's official. We are just dipping our donuts in Lily's chocolate from here on out.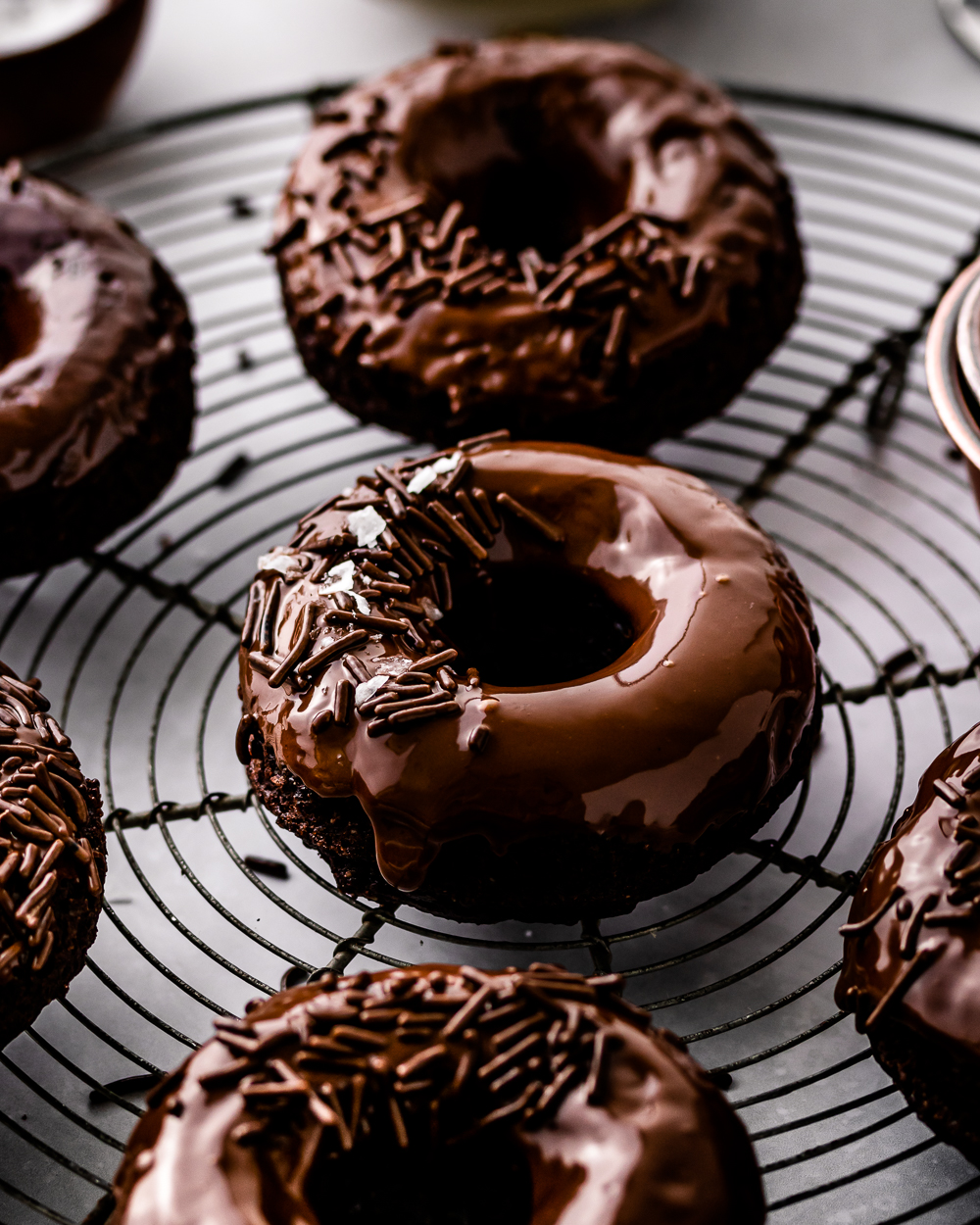 AND (sorry) we are sprinkling with sprinkles that have real sugar. Not because I want to, but because I have to.
I didn't have time to find keto sprinkles and I refuse to eat donuts that are unadorned because I have standards. Plus, they pair perfectly with big hunky flakes of sea salt.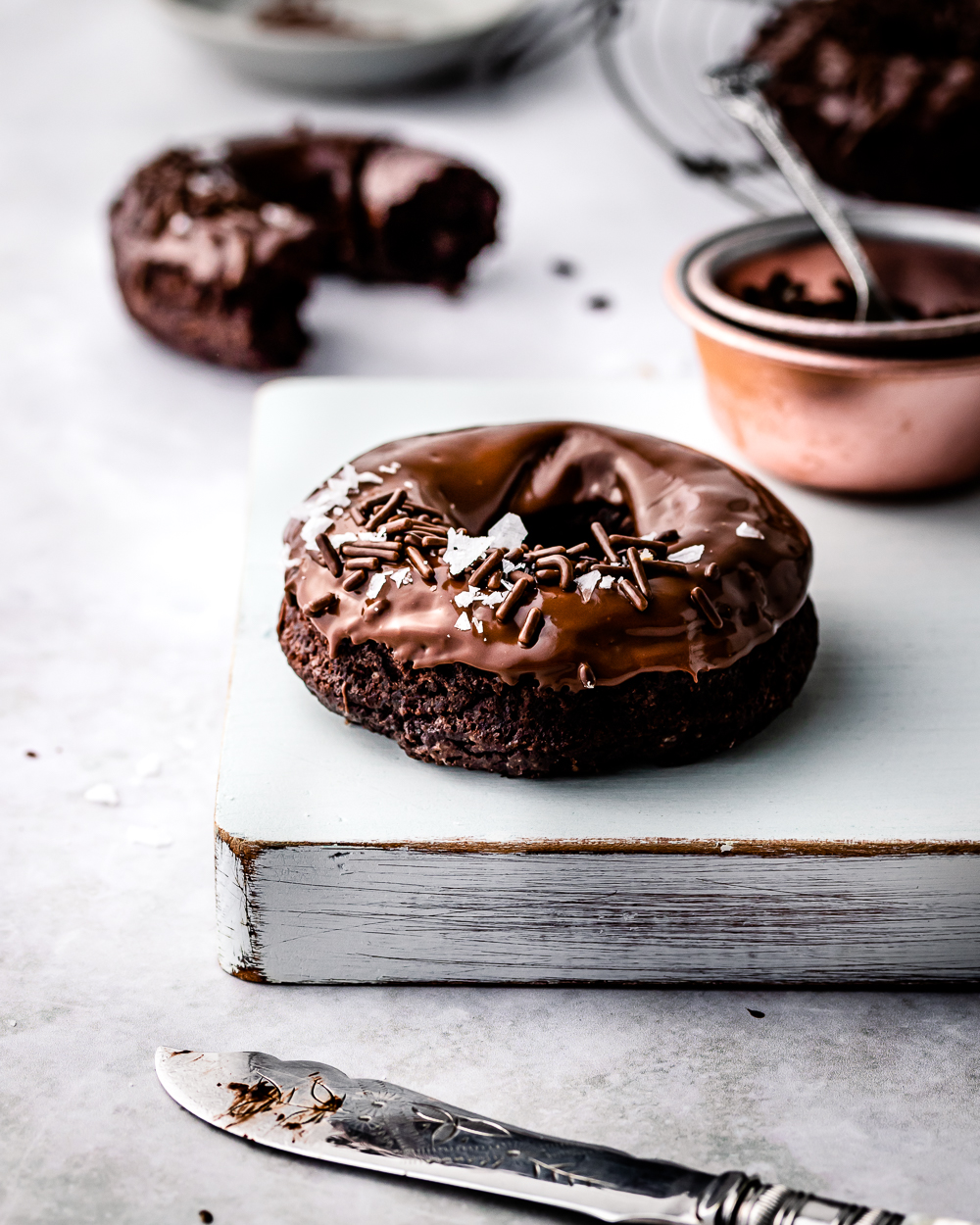 It's the perfect mix of salty crunch, creamy chocolate, light and tender cake, and waxy bits of chocolate sprinkles. Breakfast of champs, right?? 😍
Heads UP! This post contains affiliate links. As an Amazon affiliate, I earn from qualifying purchases.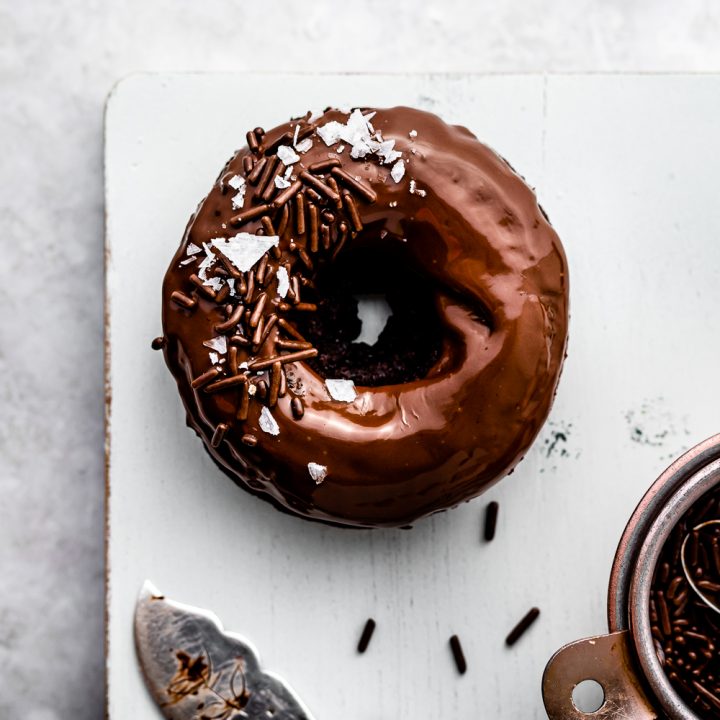 Light & Fluffy Keto Chocolate Donuts
Additional Time:
20 minutes
Ingredients
For the chocolate
1/2 cup Lily's Milk or Dark Chocolate Baking Chips
1/2 teaspoon Coconut Oil
Instructions
Heat oven to 350°F and spray a donut pan with non-stick spray.
Beat the eggs, greek yogurt, and vanilla extract until smooth. Add the softened butter and beat until mostly combined, then add the cocoa powder; beat until smooth. *Butter is easily softened in the microwave (most have a setting) but it doesn't have to be perfect!
Whisk together the flour, flax, xanthan gum, baking soda, and sweetener. **The baking soda will react with the acidic Greek yogurt so don't mix the wet and dry until you are ready to bake!*
Add half of the dry mix to the wet and mix well with a silicone spatula. Add the remaining flour and continue to fold into the batter until it becomes thick and smooth. About 20 to 30 folds.
Fill a large plastic bag or piping bag with the batter and cut the tip about 2 inches up. Fill the wells of the pan with batter and smooth any rough ends.
Bake for 10-11 minutes, watching closely so they don't overbake! Let cool, then slide a knife around the edge to release the donuts.
Decorate: Melt the chocolate in the microwave at 20-second intervals, stirring frequently. Add the coconut oil and mix until smooth. Top donuts with chocolate (and flaky salt and sprinkles!) and let cool.
Notes
Nutrition: The Nut. Facts were calculated without the chocolate since it varies so much!
Nutrition Information
Serving Size

1 donut
Amount Per Serving
Calories

248
Total Fat

27g
Carbohydrates

7g
Net Carbohydrates

3g
Fiber

4g
Protein

9g