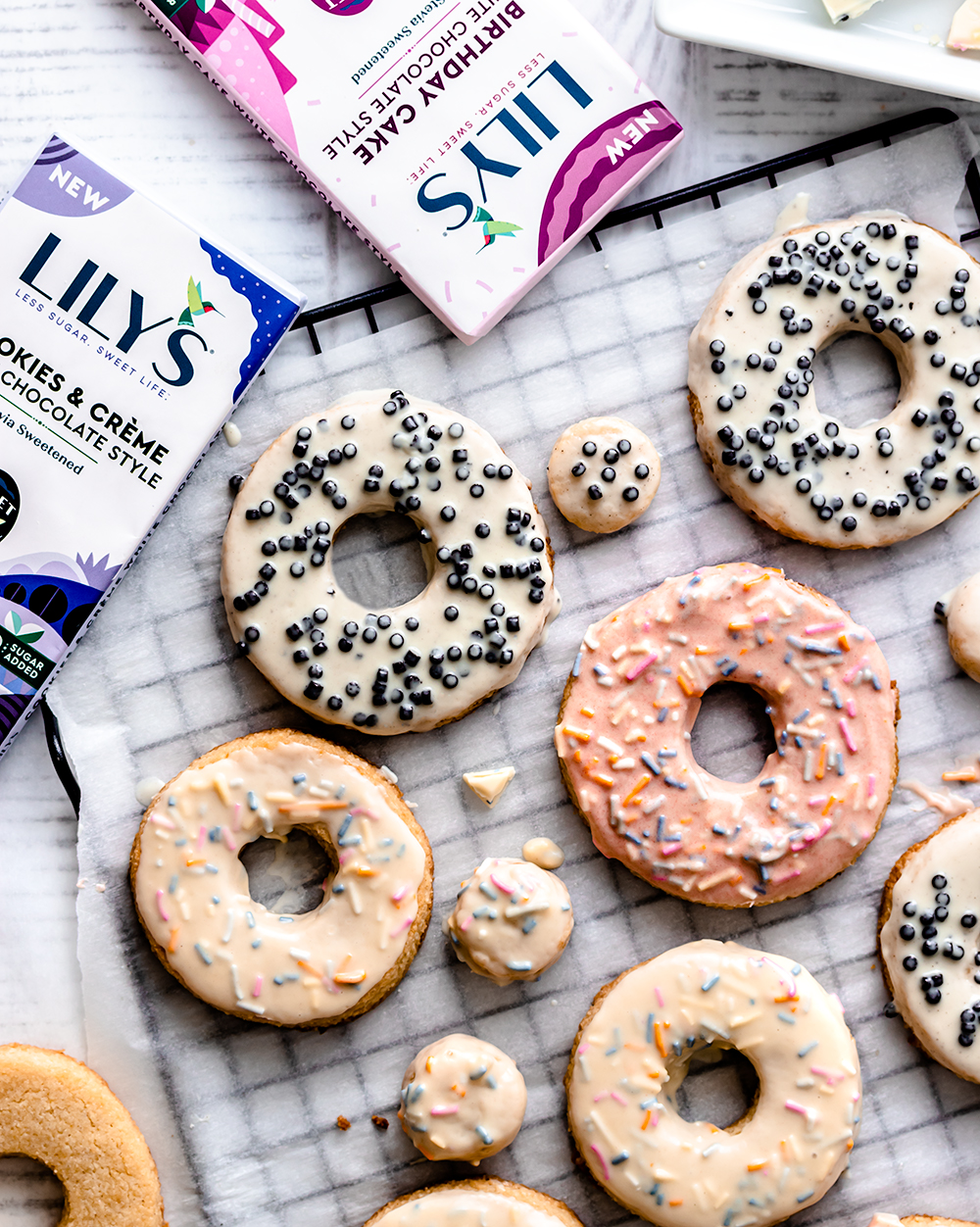 Donut Cookies? Cut it out!
Really! Because these are cut-out keto cookies with zero added sugar and 100g of cuteness.
We've all see the expertly decorated donut cookies on Pinterest and thought "hey, I can do that" only to find out that 99% of us cannot, in fact, do that.
But these cookies aren't expertly decorated with royal icing and immeasurable skill. They are decorated with 1 bar of melted Lily's White Chocolate and ZERO skill!!!
Basically, it's Pinterest fail-proof. AND they taste like Birthday Cake…or Cookies and Creme!
Making The Cut(outs)
There are 3 basic things you need to make these cookies work.
Dough that will stand up to being cut without spreading in the oven.
A biscuit cutter/round cookie cutter.
Some sort of tiny round hole-cutting cutter. I used the business end of a Wilton Decorating tip!
Then it's just a matter of getting them baked before you consume all of the chocolate you've set aside for decorating purposes. Good luck.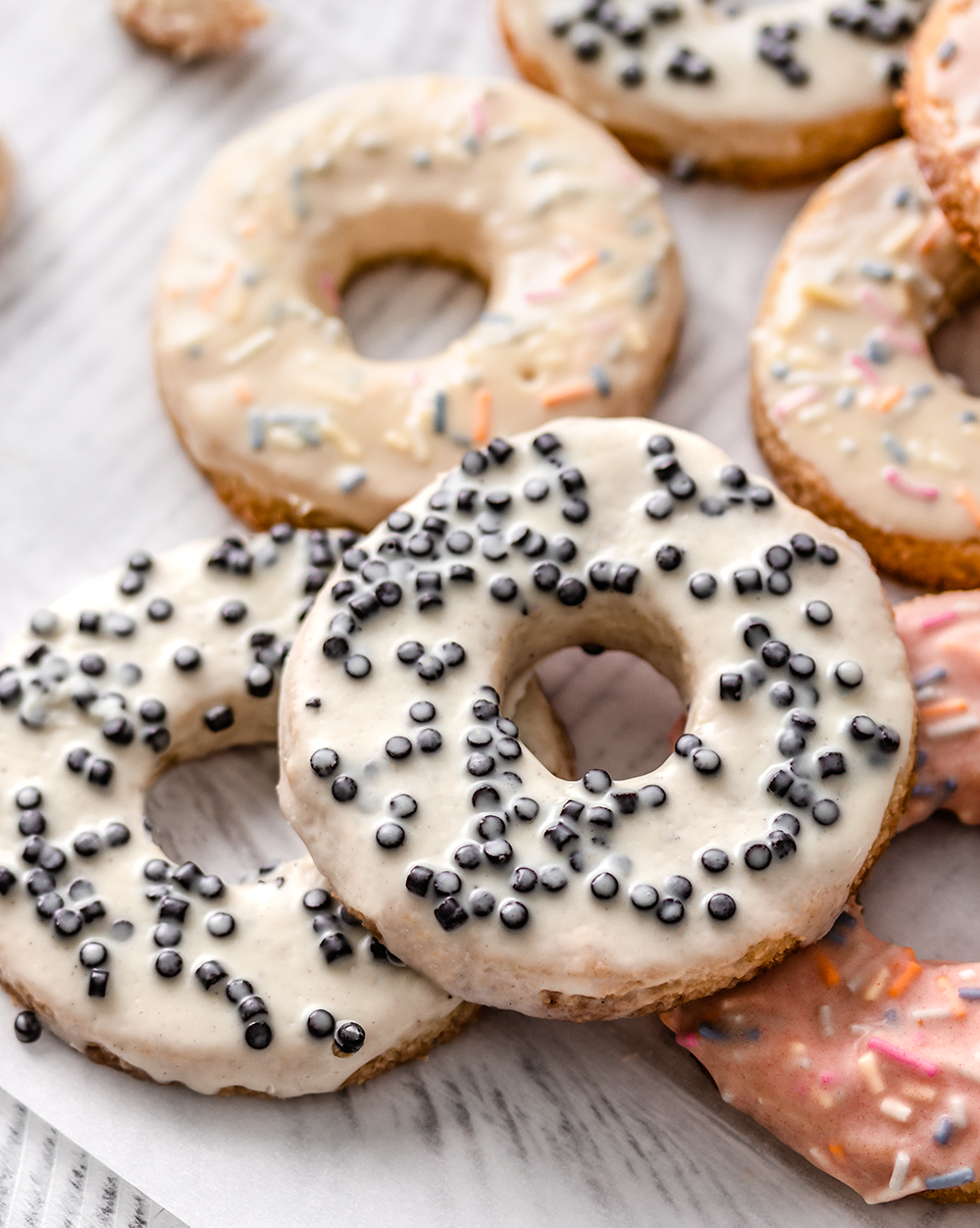 The Easiest
Decorating You'll Ever Do
To transform your simple, unadorned cookie rounds into the delightful donut desserts, all you need to do is mell your chocolate. Literally. Just melt it and dip your cookie.
MAYBE use a spoon to add more chocolate so you can get extra sprinkles, but that's IT!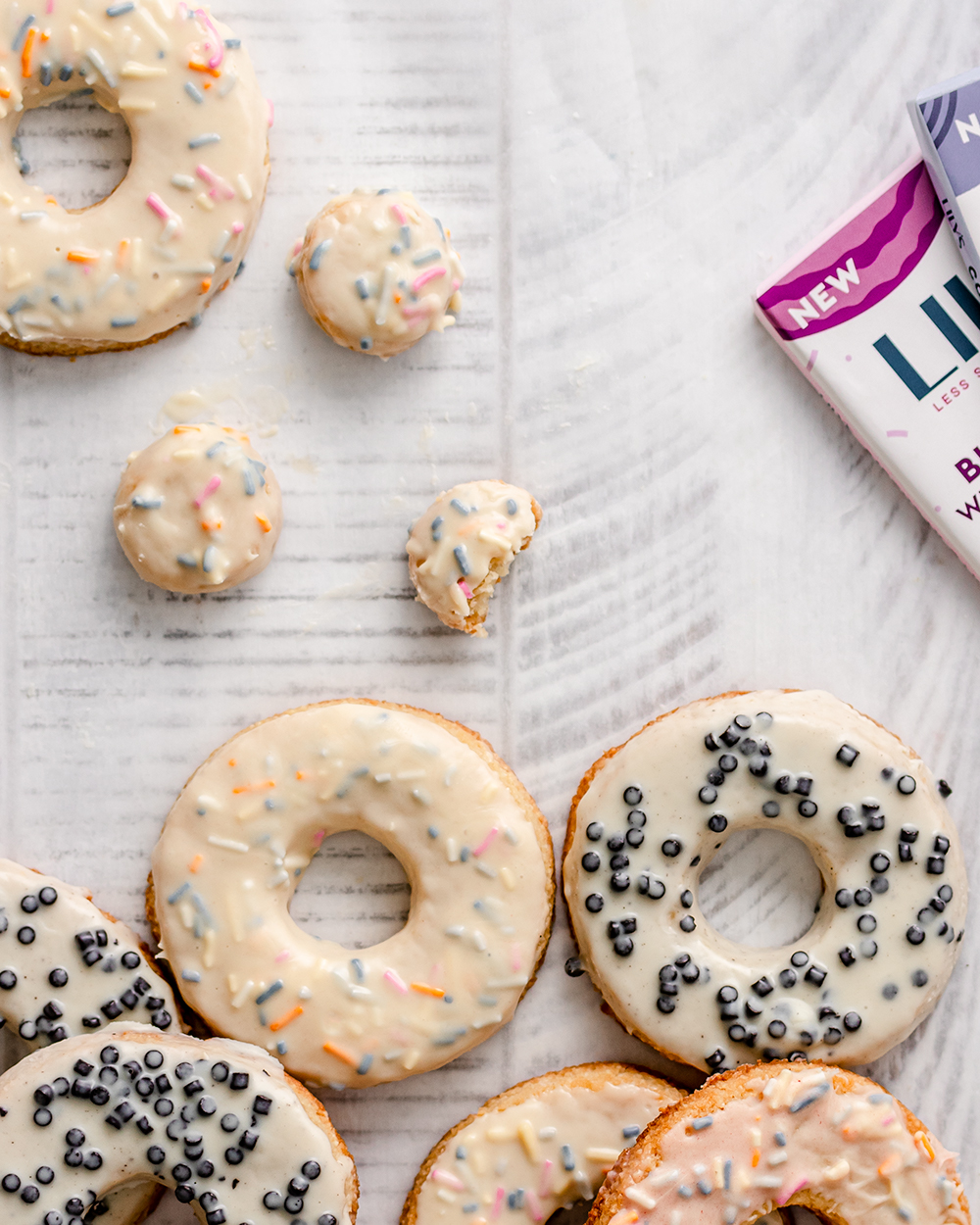 You don't even have to be attentive!! The more chocolate that drizzles off the edges, the better!
Why aren't all cookies decorated with melted bars of chocolate??? I'M LOOKING AT YOU CHRISTMAS COOKIES.
It's way better (and prettier) than frosting.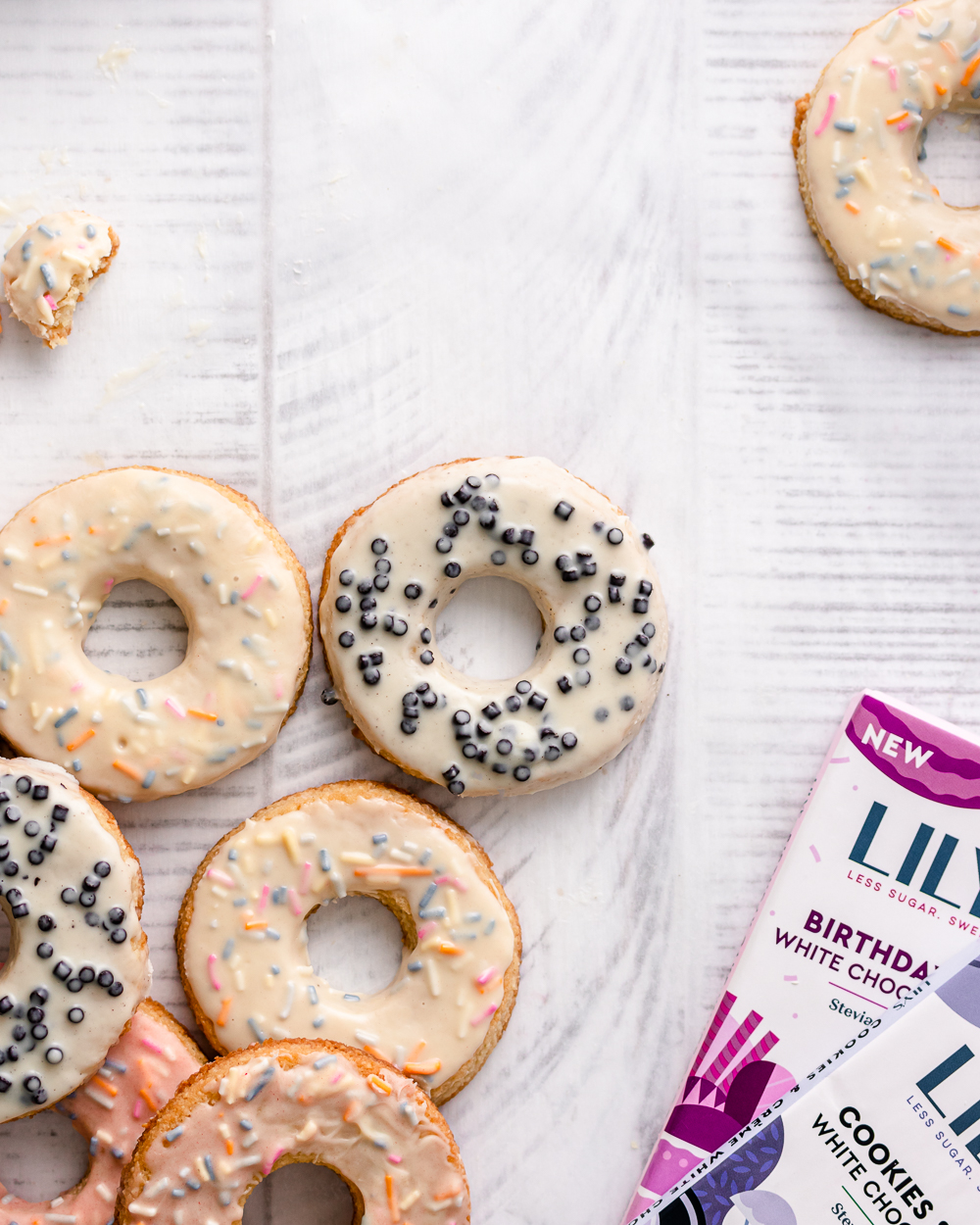 The hardest part about this cookie is trying to decide between cookie donuts in Birthday Cake flavor or Cookies and Creme. Or both? Which brings us back to EASY 😍
Heads UP! This post contains affiliate links. As an Amazon affiliate, I earn from qualifying purchases.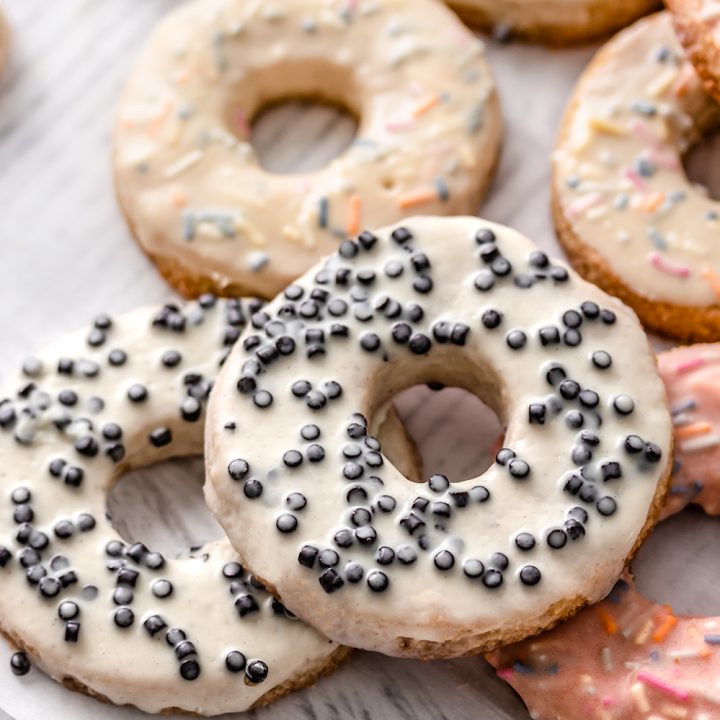 Keto Donut Sugar Cookies
Cookies that look like donuts and taste like birthday cake?? Cut it out! But seriously, these little keto cookies are deliciously simple and effortlessly cute!
Instructions
Heat oven to 350°F and line a baking sheet with a silicone mat or parchment.
Soften butter (the microwave is fine) then beat with vanilla and sweetener until smooth. Add the egg and beat just until combined.
In a separate bowl whisk together the flour, baking powder, salt, xanthan gum, and psyllium husk. Add to the wet mixture and stir with a spatula until a sticky dough forms. Work the dough into a ball and tightly wrap in plastic wrap. Refrigerate for 20 minutes.
Once chilled, roll the dough between two pieces of plastic wrap to about 1/2 inch thickness. Use a round biscuit cutter to cut the cookies, then cut out the center with the end of a piping tip (or another tiny round object). Place the donuts and holes on the baking sheet and repeat with remaining dough.
Chill for an additional 5-10 minutes before baking to prevent spreading!
Bake for 8-12 minutes watching very carefully to remove right as the edges begin to brown. For the softest cookie, you don't want to bake them long!
Let cool completely before decorating.

To Decorate:
Melt your chocolate bar in 15-second intervals in the microwave. Gently stirring each time.
Dip the cookies face down in the chocolate and shake off excess. Using a spoon or fork, ladle more chocolate over the cookies to add more sprinkles. Repeat with the donut holes.
Let cool completely. Store at room temperature in a sealed container.
Notes
Sweetener can be tricky since some people are more sensitive to the sweetness of erythritol! Just know that 1/3 cup is not very sweet at all land 1/2 cup is sweet enough to eat without frosting. I went for 1/2 cup because I love them sweet for dunking in milk.
Nutrition Information
Yield

12
Serving Size

1 donut and donut hole
Amount Per Serving
Calories

154
Total Fat

14g
Carbohydrates

5g
Net Carbohydrates

2g
Fiber

3g
Protein

6g