Feed your insides and your outsides with this healthy fall soup that's good for the body and the soul!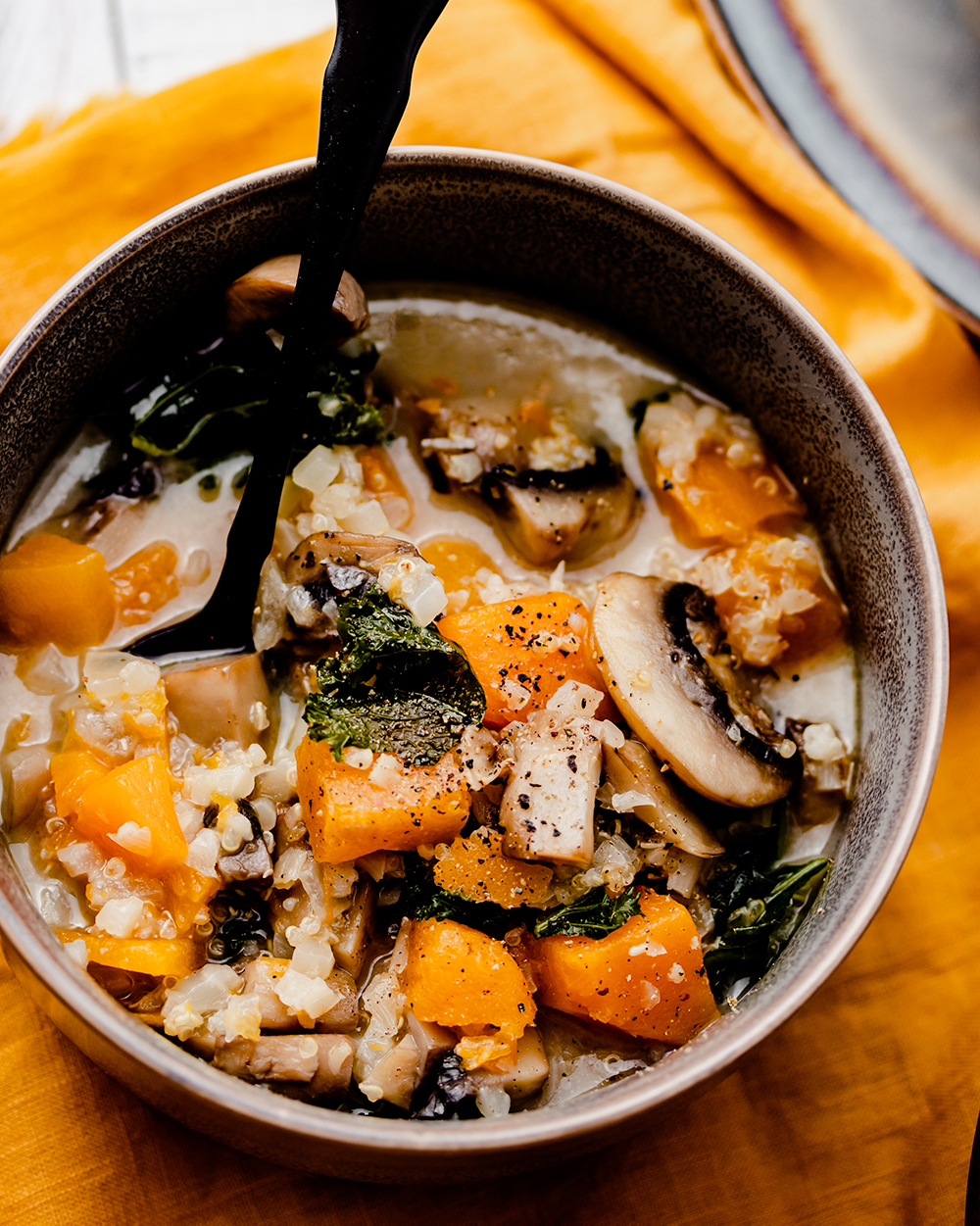 Hearty Vegetarian Seeking Someone To Spoon-
Age not an issue. Must love animals. Will reheat if the mood is right.
Some fun news: isolation has brought me to the brink of my sanity. I know this because I've been reading quirky personal ads from the 90's for the last hour and I've now mentally written one for myself, plus everyone I know…and this soup.
In case you were wondering, this soup is into a group thing: bring friends. No photos required. And top(pings) optional.
A Soup You Can Glow With
Aside from being the perfect soup for a sassy personal ad, this ✨GLOWING✨ Harvest Soup is packed with delightfully nutritious (and pretty delicious) foods to make you feel like a million bucks inside and out.
THE ASSETS aka what's in it!
A bunch of vegetation including Butternut Squash, Mushrooms, Kale, and onion+garlic for tastiness.
Some carbs…but not a ton! I used half Quinoa and half Riced Cauliflower to make this soup feel soupy. And to add protein!
A touch of Heavy Cream and a bit of thickener to make this a little luxurious. It's soup season, not swimsuit season. Let's do it right.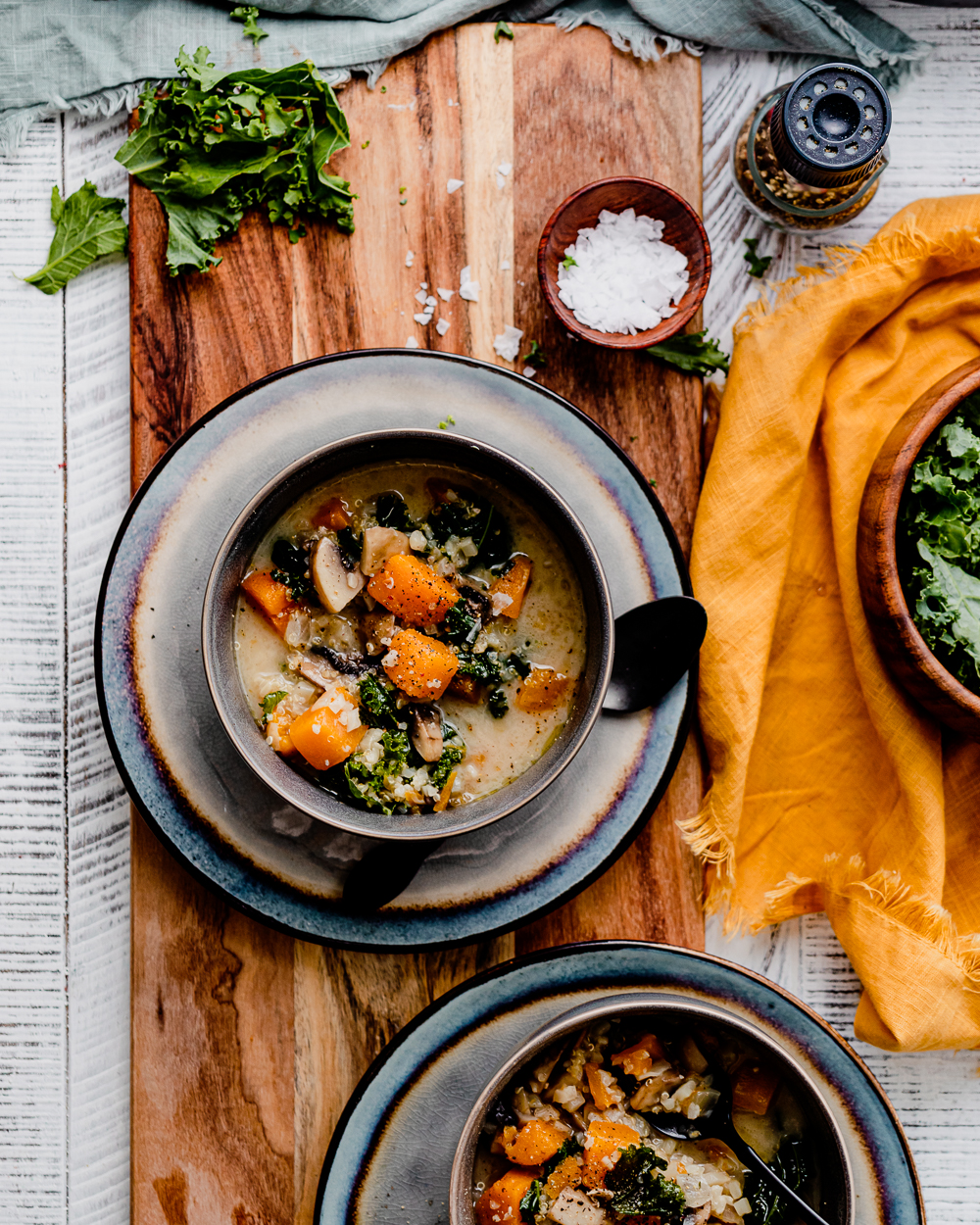 That is actually a serving spoon full of soup and that's how I ate it. With a spoon as big as my face.
I have no regrets.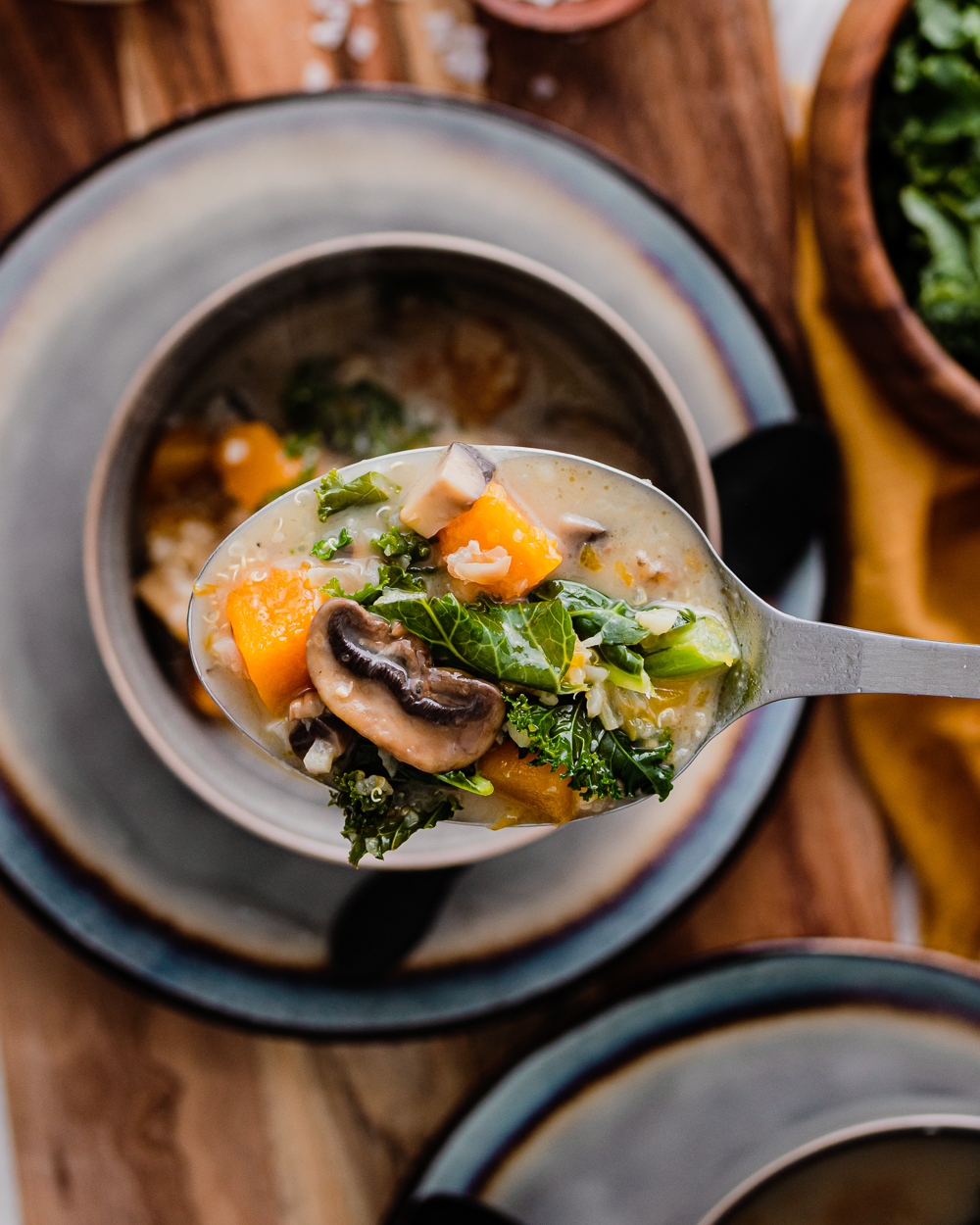 You know what they say, "Big Spoon, Bigger Heart".
Or some variation of that. The point is that this soup needs a big spoon and that big spoon is in your drawer. You and this soup—match made in heaven. Go forth and glow! Eat all the soups! You deserve each other ❤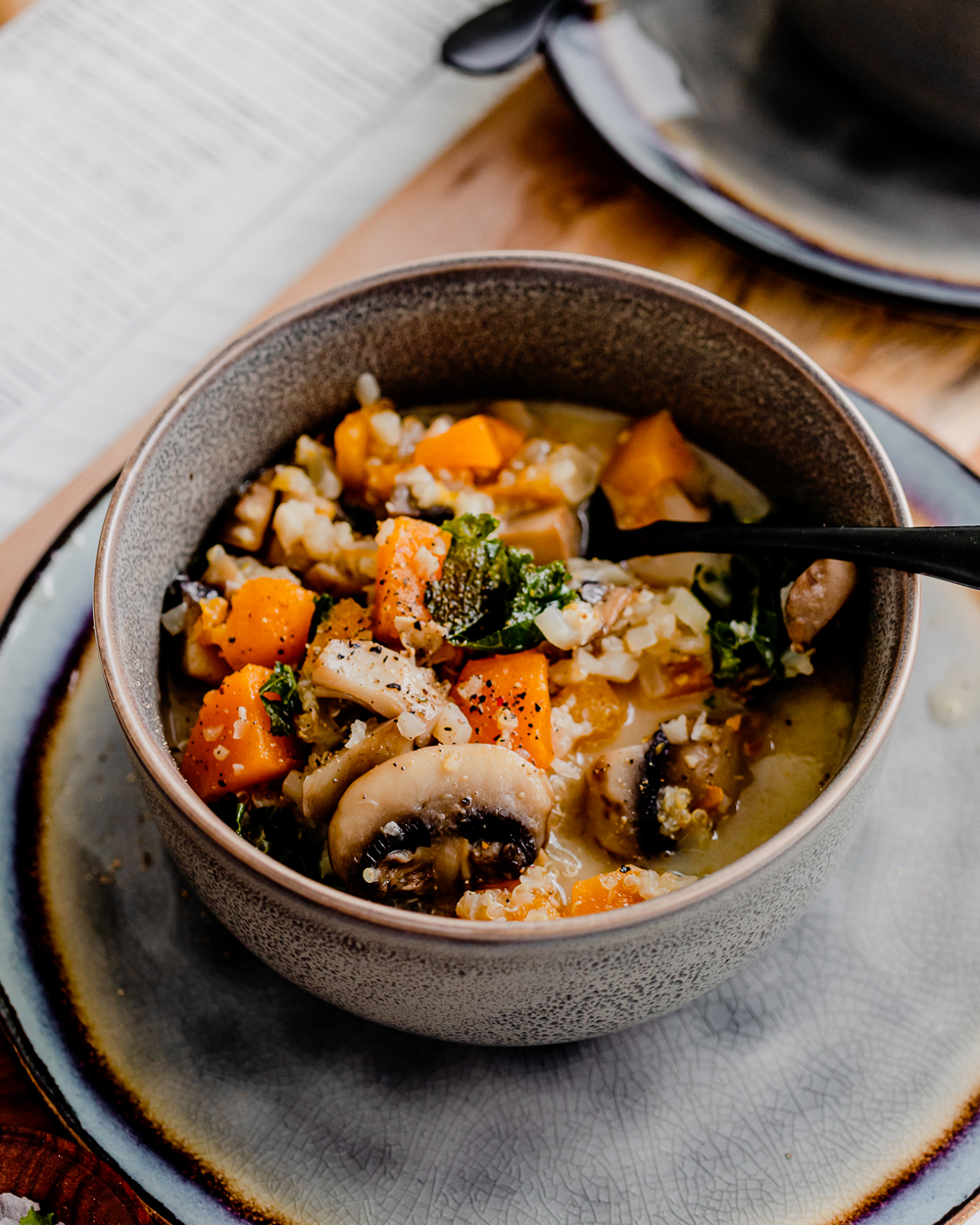 Want More Cozy Meals? Try These!
Heads UP! This post contains affiliate links. As an Amazon affiliate, I earn from qualifying purchases.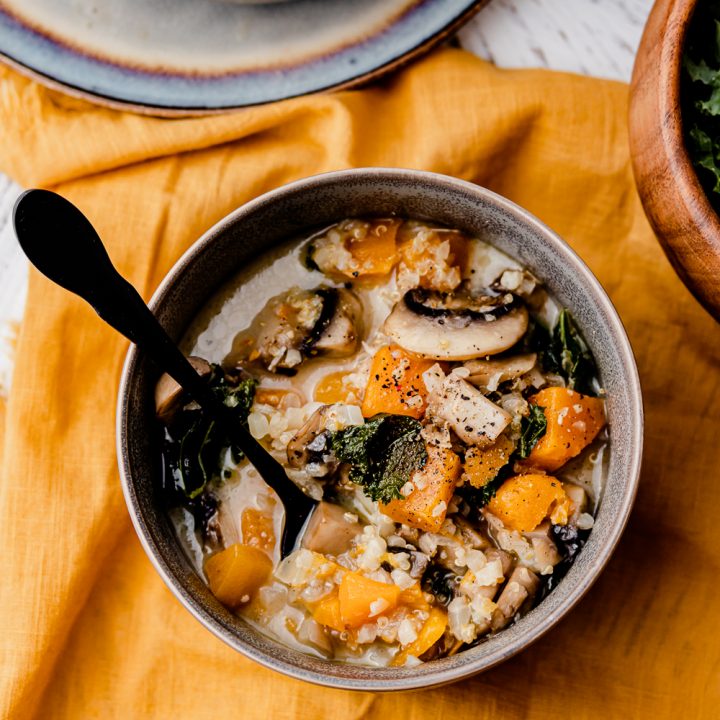 Glowing Harvest Veggie Soup (GF LC VG)
Get that harvest GLOW with a whole buncha fall veggies in soup form and ready to spoon.
Ingredients
2 tablespoons Olive Oil
1 tablespoon Salted Butter
1 small White Onion, diced, about 1/2 cup
4 cloves Garlic, minced
8 oz Sliced Mushrooms, about 2 cups
2 big handfuls of Kale, chopped and stems removed
6 cups Vegetable Stock
1/4 cup Heavy Cream
1/8th teaspoon Xanthan gum, or corn starch
1/4 teaspoon Ground Pepper, or more to taste
Instructions
Heat oil and butter in a large saucepan over medium-high heat. Add onion, squash cubes, and garlic; cook until the squash begins to soften, stirring often. About 5 minutes. Add the mushrooms and continue to cook another 2-3 minutes.
Add the stock, riced cauliflower, quinoa, and season with salt and pepper. Turn heat to high and bring soup to a light boil for 1 minute. Reduce heat to medium and cover half-way with a lid; simmer for 15 minutes.
Whisk the milk and xanthan gum or thickener of choice until it's mostly lump-free, then pour into the soup. Stir in the kale and continue to simmer until wilted, about 2 minutes.
Ladle into bowls and serve with your favorite gluten-free bread!
Notes
FOR REDUCED CARBS you can swap all of the quinoa with cauliflower rice to make the total carb count 11g net. Make sure to add protein from a different source like eggs, tofu, or meatless meatballs!
Nutrition Information
Yield

6
Serving Size

1 1/2 cups
Amount Per Serving
Calories

235
Total Fat

15g
Carbohydrates

23g
Net Carbohydrates

19g
Fiber

4g